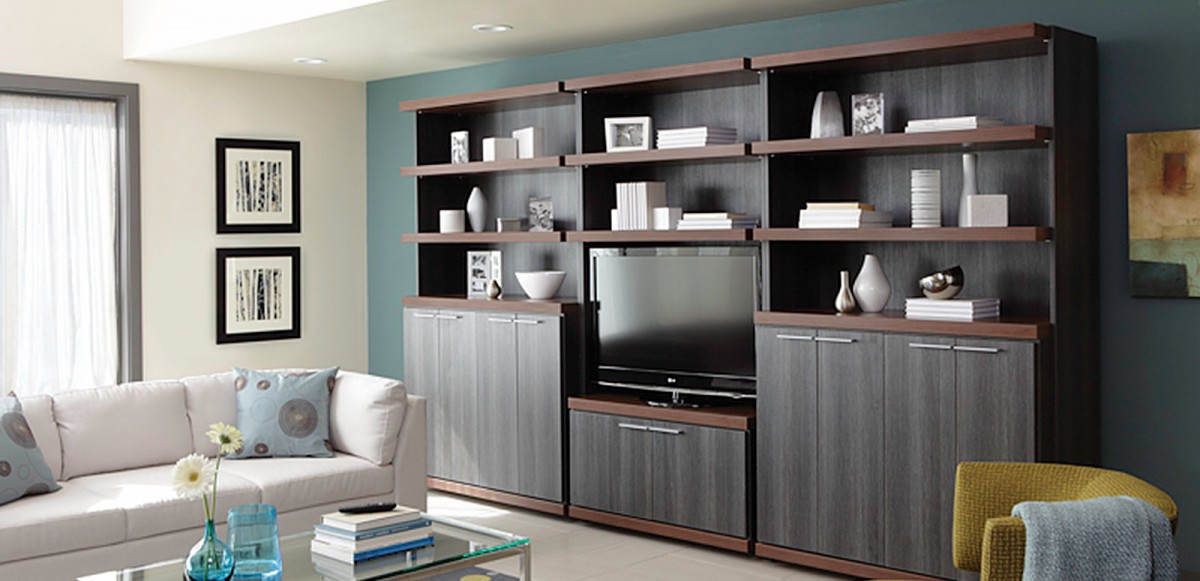 Cabinet Colors, Finishes & Drawer Styles
for Your Columbus Home Organization Project

The details, colors, finishes of your closet, pantry, garage organizer system should be a personal choice which reflects your sense of style and taste (cabinetry selection should not be a standard one size fits all proposition). Let an Innovate Home Org Designer learn about your tastes to help you determine the right architectural style to create the right look (and improved function) for the organization and storage needs of your Columbus home. Let's explore some key elements (like door and drawer selections, hardware and colors and finishes) so you can get the custom look you want at an affordable price.

Product Pages – Contact Us Box
---
Closet Door and Drawer Styles/Finishes to Match Your Design Tastes
Closet doors and drawers should do more than just conceal things – they should be a positive reflection on your style and sense of architecture. With 6 different styles and 4 finishes (luster, silk, true and natural) there are plenty of choices to match any decor. Let's explore how to match cabinetry door fronts to match with your interior design desires.


Click a swatch to view full size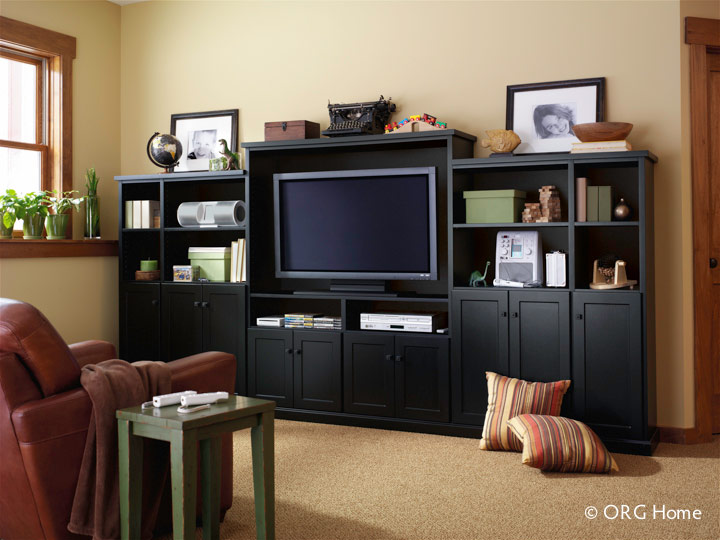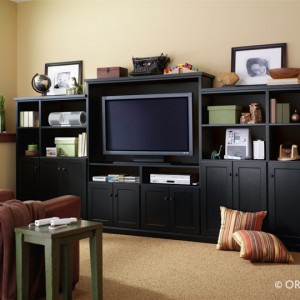 Shaker Drawer Style in an Entertainment Center
A Shaker door style works in Contemporary, Traditional and Transitional décor styles. With it's simple clean lines and 5 panel design it's a versatile choice. It looks right at home in this entertainment center in a Midnight black color.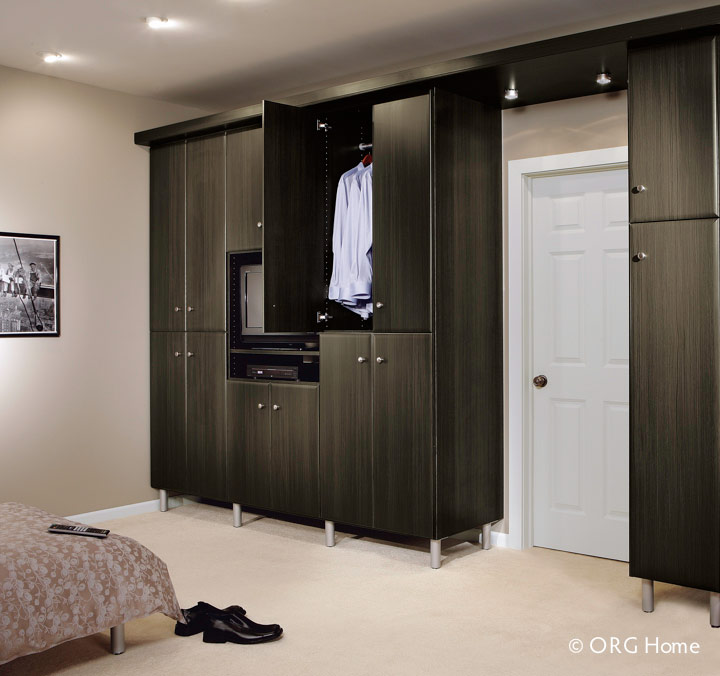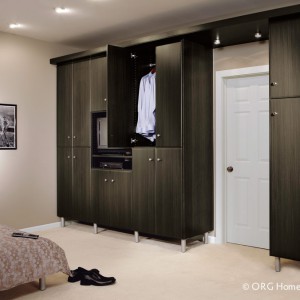 Euro Drawer Style in a Wardbrode Suite
Sleek, contemporary, simple and minimalist accurately describe the "euro" drawer style. Shown here in a wardrobe suite (an excellent place for garments, extra bedding or media) in an "Ambassador" pattern it's a perfect choice for someone with modern tastes.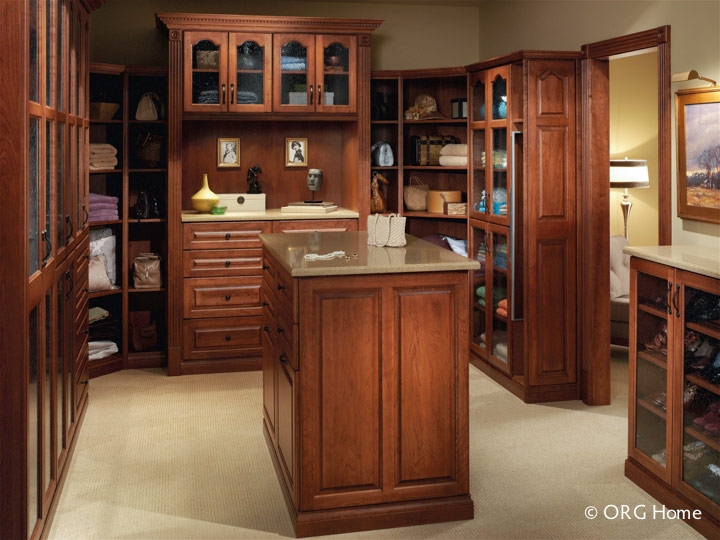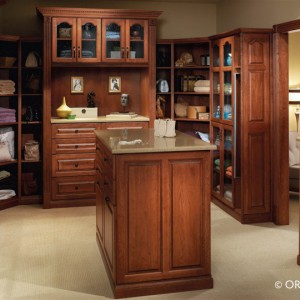 Cathedral Style Glass Door with Raised Panel Cabinet Drawer Fronts in a Walk in Closet
The Cathedral style glass doors in this walk in closet are inspired by the Gothic architectural style of the 11th Century. The height of the Cathedral style moves the eye upward. This traditional style walk in closet also used raised panel cabinet drawer fronts.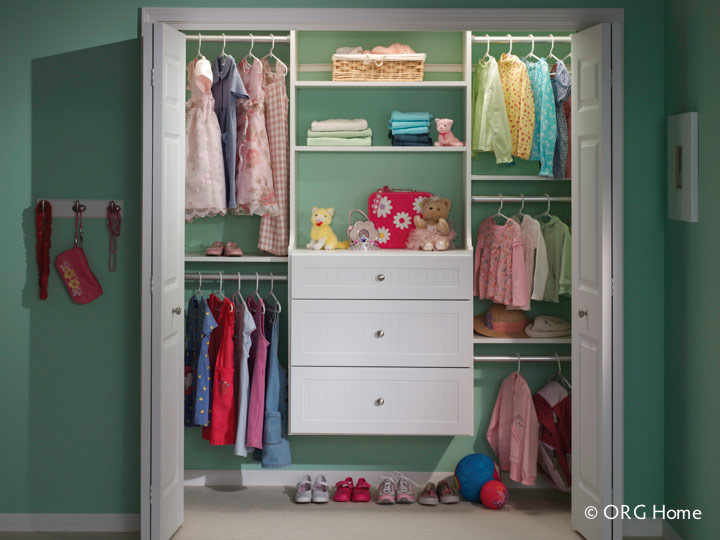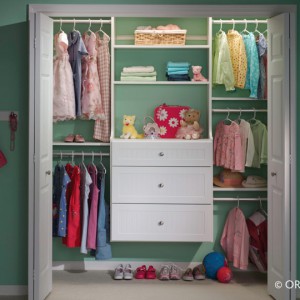 Bead Board Drawer Style in a Childs Reach In Closet
Do you love the cottage chic style? The bead board cabinets fronts in this kid's reach in closet provide the bright, clean traditional look of bead board paneling while being simple to maintain.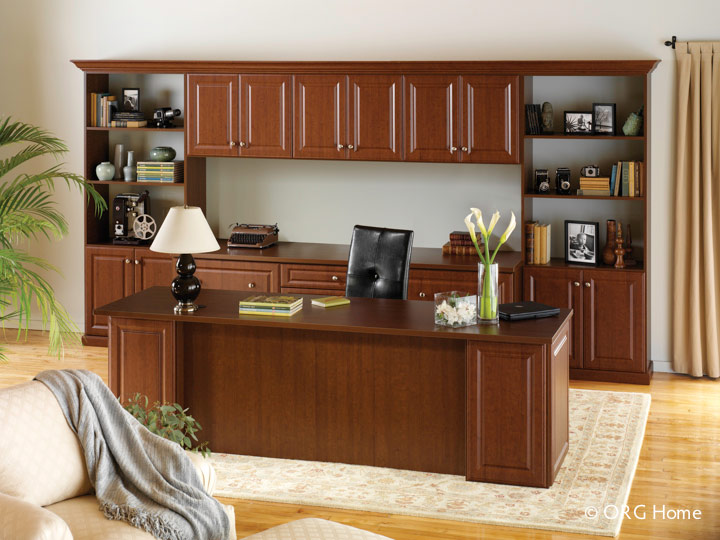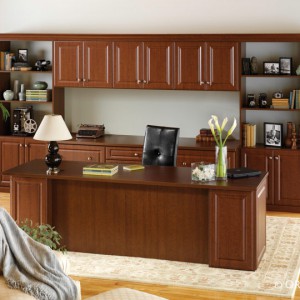 Raised Drawer Front in a Den
The terms classic and traditional come to mind when you think of raised drawer fronts. The name comes from the center panel being "raised" up from the surrounding frame. It's an excellent choice for a den, closet, entertainment center or pantry.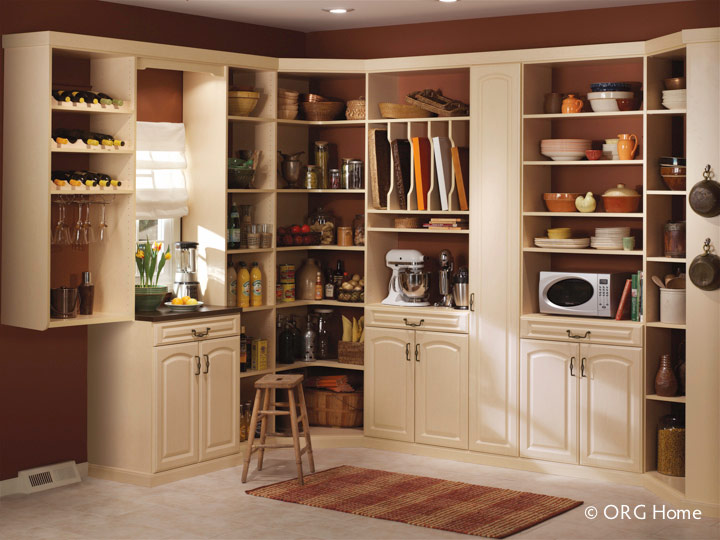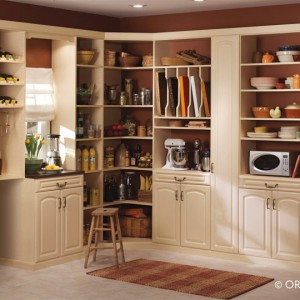 Arch Drawer Style in a Kitchen Pantry
The arch style drawer front is a variation on the traditional raised panel. It has a nice look for this classic looking panty shown in a Heritage Maple pattern.
---
Solid Color Cabinet Finishes
Sometimes simplicity in your cabinet color choices can say it best. There are 4 classic colors in the Innovate line which can be used alone or paired in conjunction with the natural wood grain finishes.
Click a swatch to view full size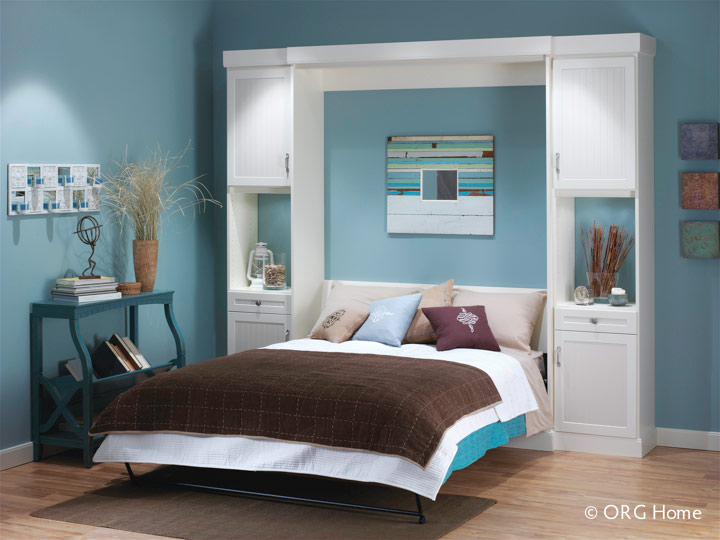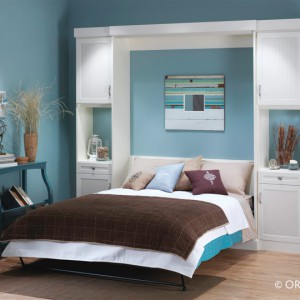 Arctic White Color Cabinets in a Bead Board Drawer Style in a Lustre Finish for a Murphy Bed
This bright Arctic white color can be a perfect compliment for a Downtown Short North apartment or loft.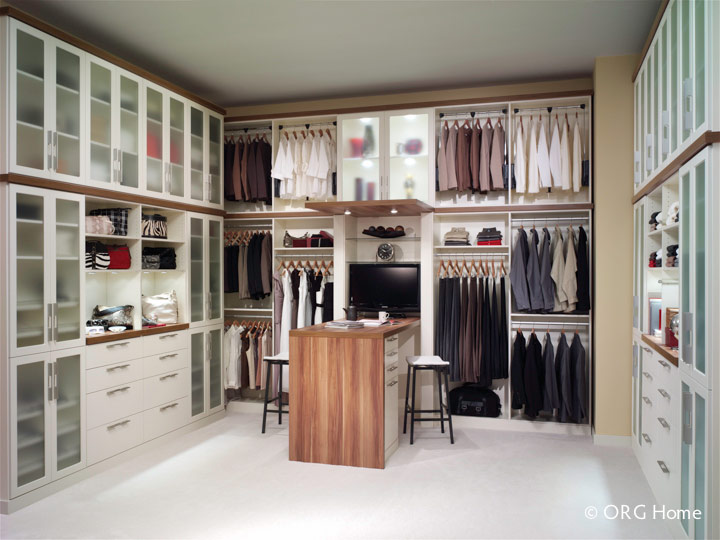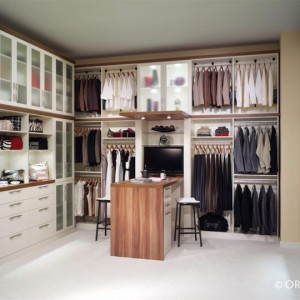 Walk in Closet in Eggshelf Ivory and Canyon Plum Thick Forterra Shelveing Using a Euro Drawer Style
Now here is walk in closet you could be proud of whether you're in Upper Arlington, Powell or for any luxury home in Columbus. The use of the luste finish eggshell Ivory color with the "canyon plum" thick Foreterra shelving provides a distinctive contrast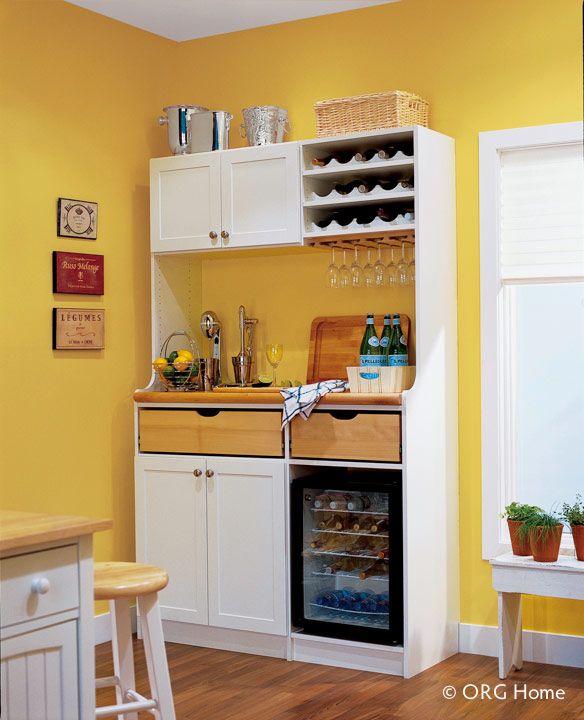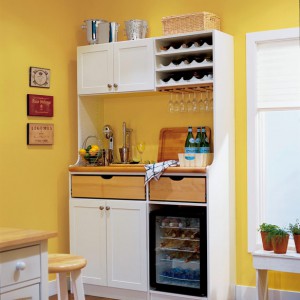 Arctica White Color in a Lustre Finish for a Panty with Shaker Door Fronts
Bright colors like this artic white are excellent for reflecting light – which can be a nice feature for a kitchen pantry remodeling project where natural light is at a premium.
---
Wood Grain Cabinet Finishes
For a sophisticated and natural look there is nothing like the texture of natural wood grain finish. Whether you use laminate drawers with a natural wood grain texture, a wood veneer or real wood drawers, doors and molding you'll love the luxury feel of your cabinetry.
Click a swatch to view full size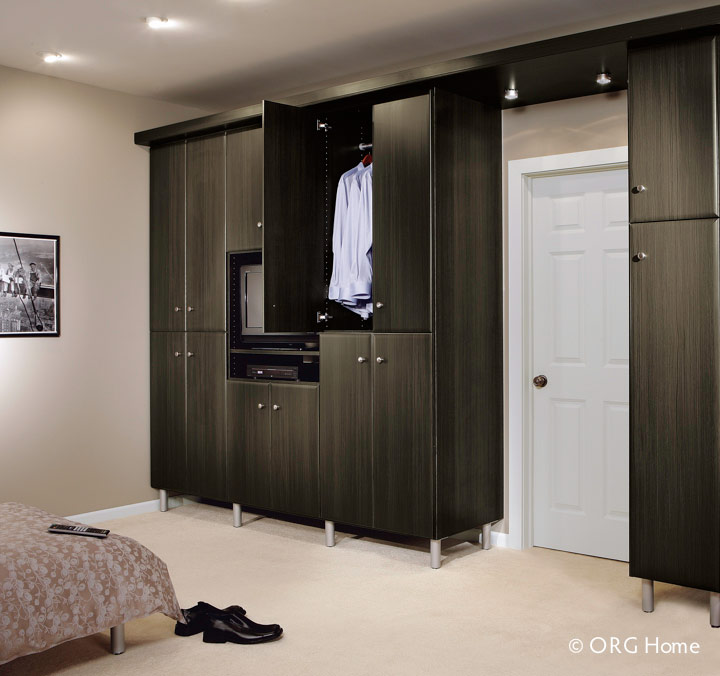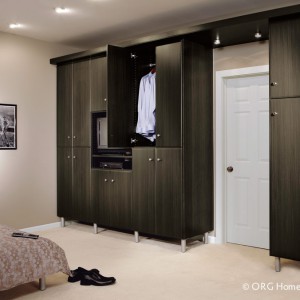 Ambassador Pattern Wood Grain Silk Finish Wardrobe Closet
This Ambassador natural wood grain pattern offers a polished look for this wardrobe cabinet. An excellent way to add storage where a closet does not exist.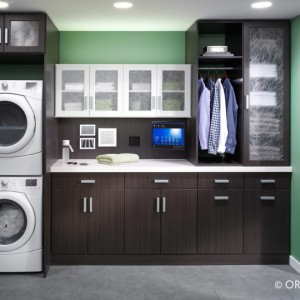 Caviar Wood Grain Finish Cabinets in a Laundry Room With Glass Doors
Even your laundry room can be inviting with these "caviar" wood grain pattern cabinets. The Euro cabinets doors and Shaker glass cabinet door fronts create a sleek look and the ability to see your clothes before you put them away.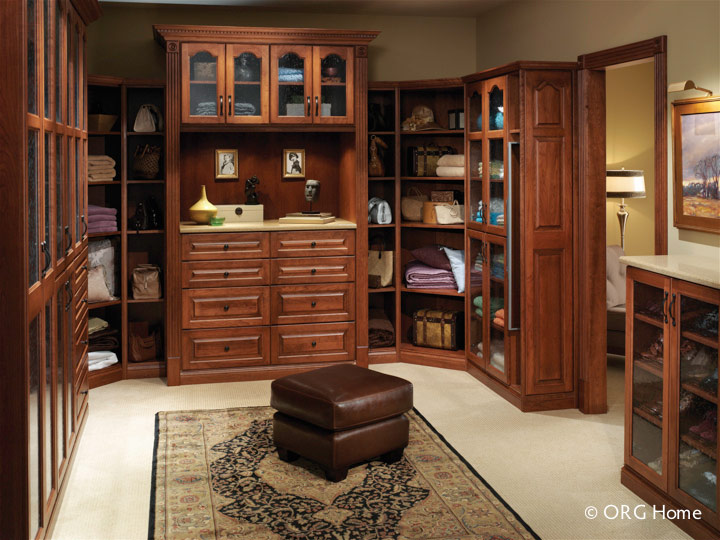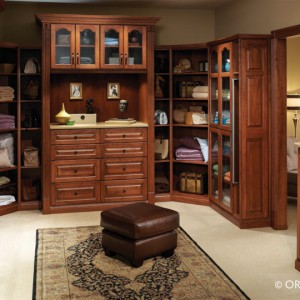 Cherry Veneer Cabinets with a Custom Stain Walk In Closet with Cathedral Glass Doors
Traditional elegance can describe this custom walk in closet with cherry veneer cabinets. The cathedral glass doors and crown molding add to the sophistication.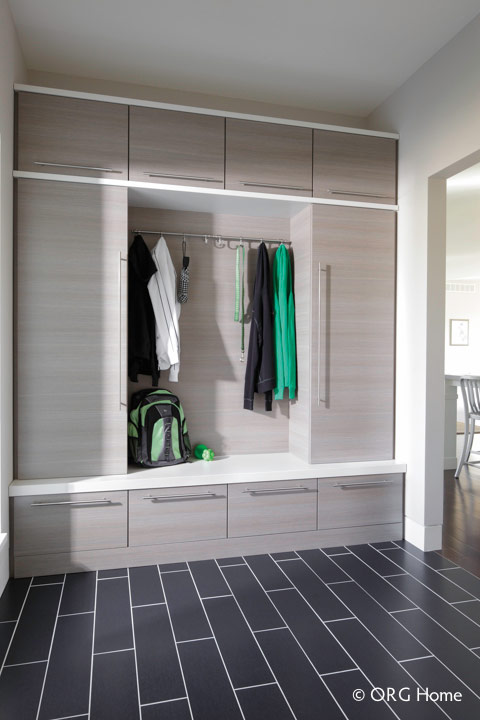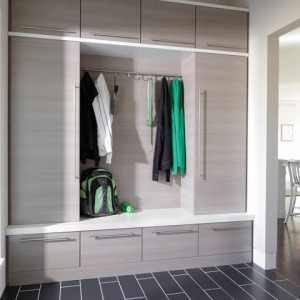 Driftwood Pattern Wood Grain Finish in an Entryway
The natural wood grain driftwood pattern in this mud room hall entrance is modern and sleek and creates a clean, minimalist feeling – even in the frequently used garage entrance of your home.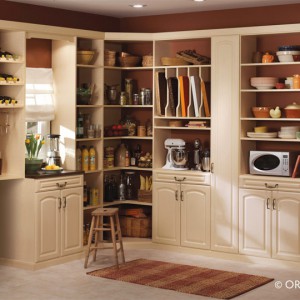 Heritage Maple Pattern in a Pantry
This heritage maple panty with a silk finish can conceal your cookware and create an easy place to get platters and cutting boards.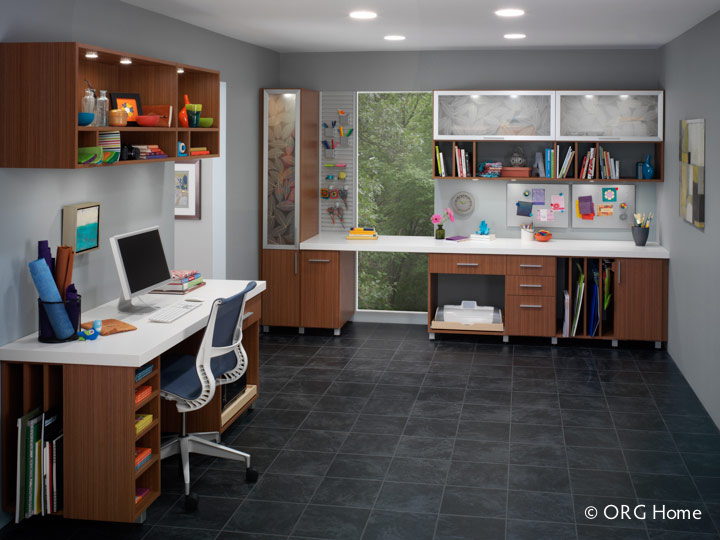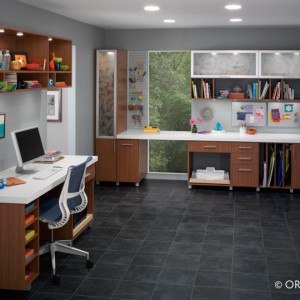 Thoroughbred Pattern Wood Grain Natural Finish for a Craft Room
This craft and study room will be a stress free place to do project or hobbies with your kids or a quiet place for homework. The "thoroughbred" pattern in the wood grain natural finish with the Euro style cabinets doors is functional and contemporary.
---
Garage Cabinet Colors, Finishes
Who said a garage had to look nasty. Utility and style can co-exist with these heavy duty robust 1" shelves and storage cabinets. All the garage cabinets have an Arctic white color interior. Caution - the choices of colors and finishes you'll see below may cause your neighbors to want to hang around maybe a bit too long!
Click a swatch to view full size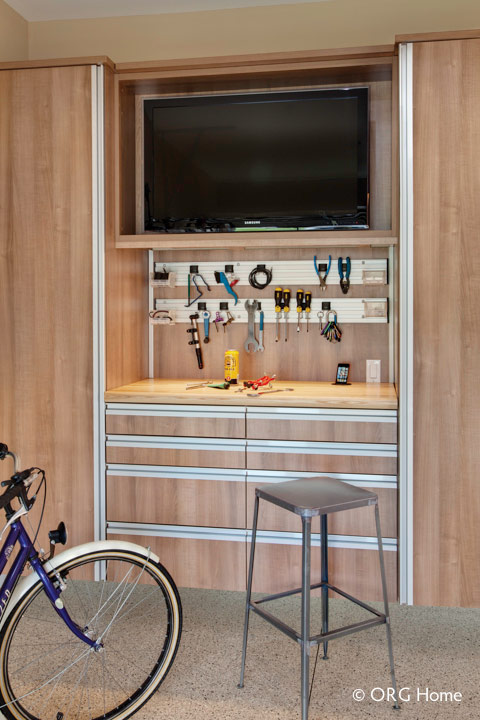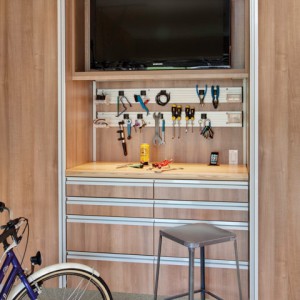 Chateau Finish Garage Cabinets with Media Center And Workbench
The Chateau finish provides an enticing space whether you're entertaining around the media center or using the handy workbench.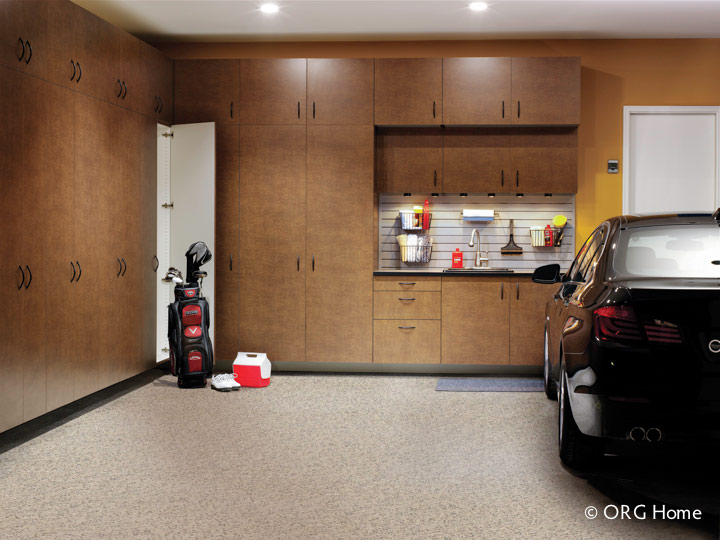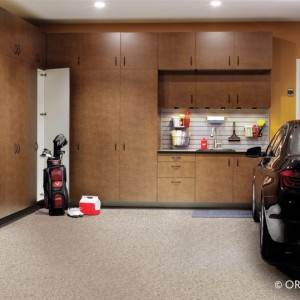 Copper Blaze Finish (white interior) for Wall to Wall Garage Storage
Copper blaze gives a sophisticated look for this garage with wall to wall storage and a convenient place for golf clubs.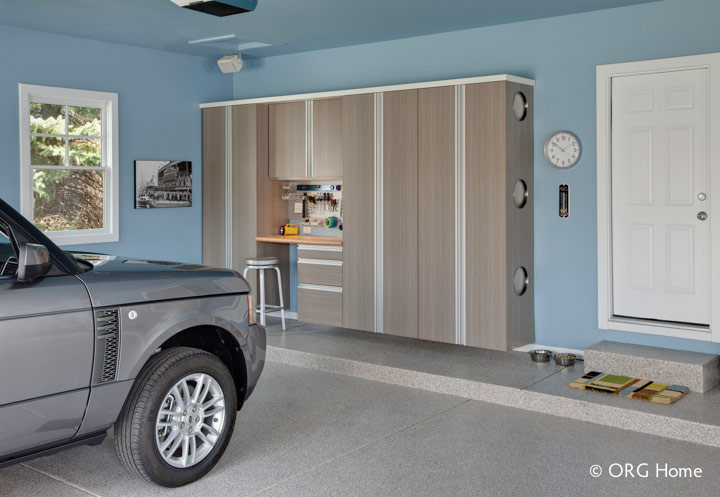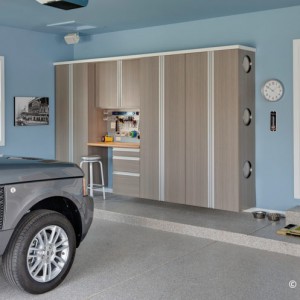 Driftwood Garage Cabinet Storage Cabinets with Reach In Recycling Center
The driftwood garage pattern is contemporary and clean - kind of like your garage will be when you use these cabinets. Check out the reach in recycling center.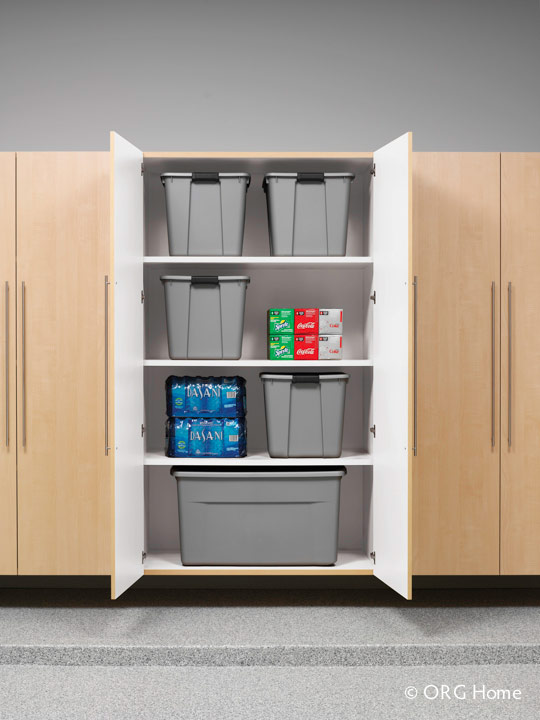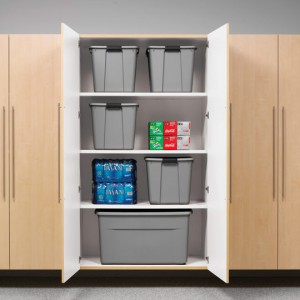 Heritage Maple Garage Cabinet Finish with White Interior
The heritage maple color is clean and bright. These deep white cabinets are also adjustable.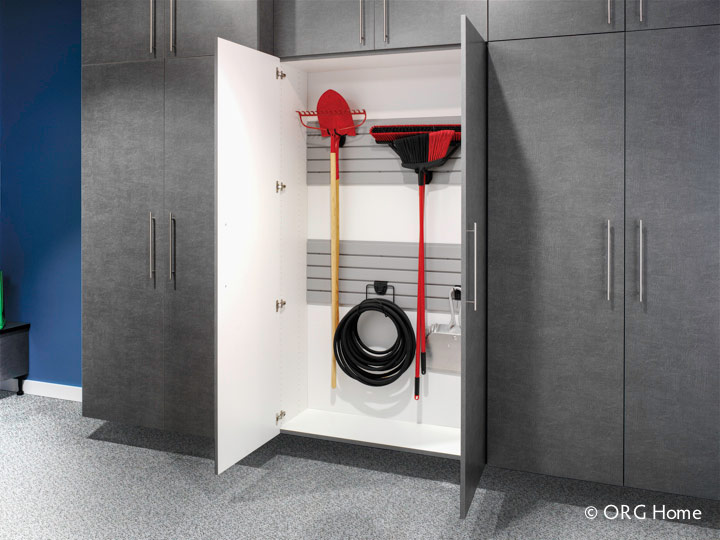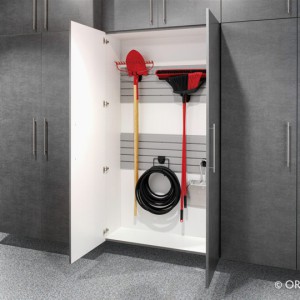 Platinum Garage Cabinets with White Interiors with Wall Accessories
The platinum finish provides a contemporary look for your garage. The heave duty accessories system makes it easy to store your hoses and rakes and shovels.
---
CTA – Free Consultation Button
Get the most out of your space and schedule a free design consultation today!
Free Consultation