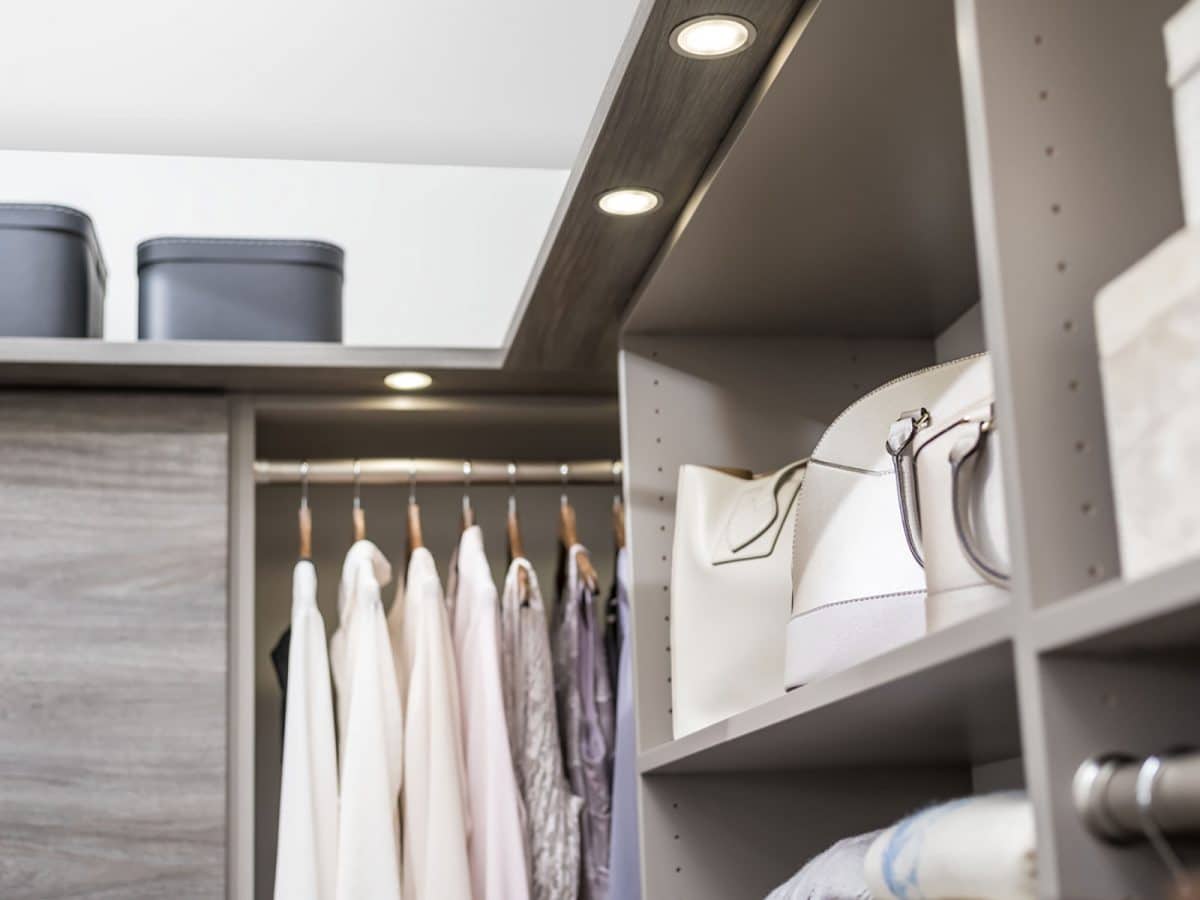 Closet Organization Systems
Custom Closet Shelves & Cabinets for Your Columbus Home
Having a cluttered and disorganized bedroom closet adds stress and takes time away from your busy days. Turn to Innovate Home Org, a professional supplier and installer of custom closet organization systems throughout the Columbus area, to stop fruitlessly searching for items in your messy closet space. Whether you want to add a custom closet wardrobe to increase storage space for your downtown Columbus loft or you just want a built in closet design that will fit your suburban home, our designers will help you select custom closet organizers that will transform your space.
Our custom closet cabinets, wardrobes, cabinetry and rods will make sense of your messy closet while keeping with the decor style of your Columbus home. And our Free 3D walk in closet designs will help you visualize how we can dramatically increase your storage space.
Let Innovate Home Org, an authorized Dealer of Org Home, provide you with the benefits and features of our many custom closet organizers so that you can best understand how closet organizations systems will be effective for your Columbus home.

Product Pages – Contact Us Box
---
Custom Closet Shelving
Gallery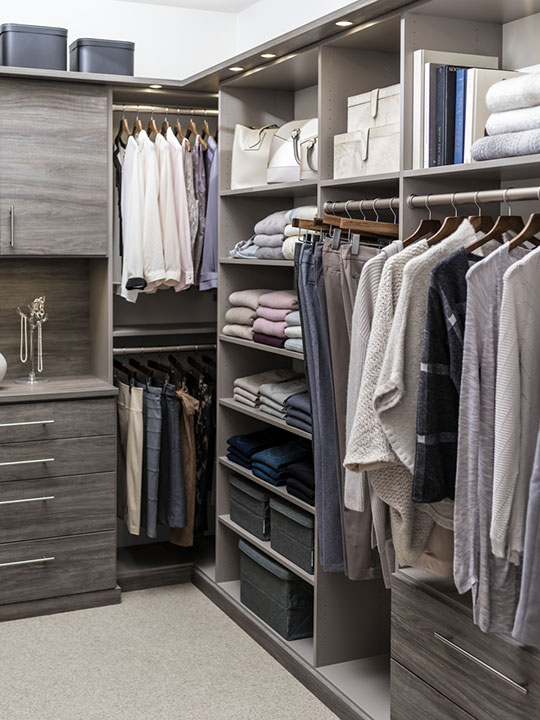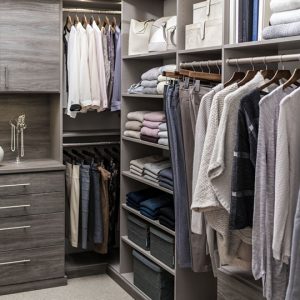 Space efficient walk in closet design with modern style
'Fort' pattern built in closet design is sleek and clean looking
Two levels of hanging rods increase hanging storage
Matte nickel studio bar handle pulls
Euro style drawer design make these custom closet cabinets contemporary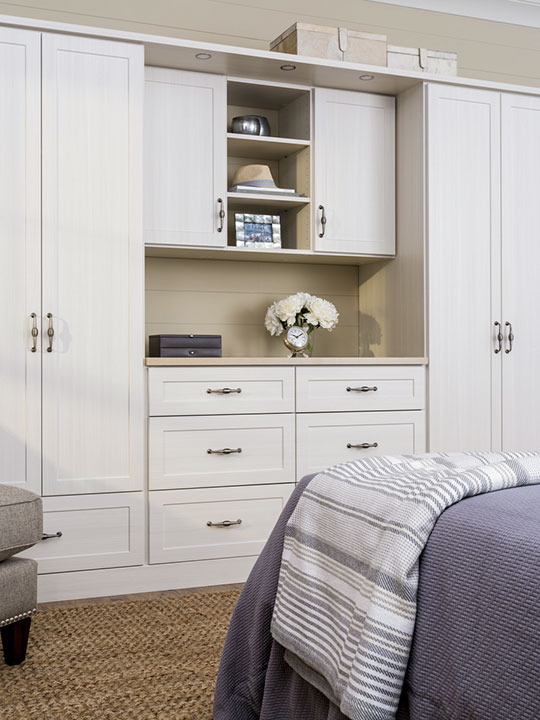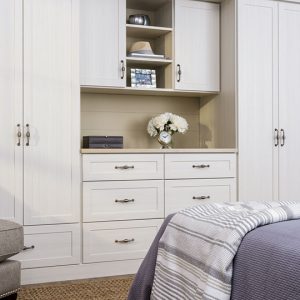 Custom closet wardrobe with a shaker design
'Morning mist' pattern with beige and subtle gray tones
Shaker style drawer fronts with matte nickel traditional handles would perfectly suit a classic Columbus home
24" deep side doors for hanging clothes
4" baseboard trim for a finished cabinetry look
This built in closet design is perfect for bedrooms without walk in closet space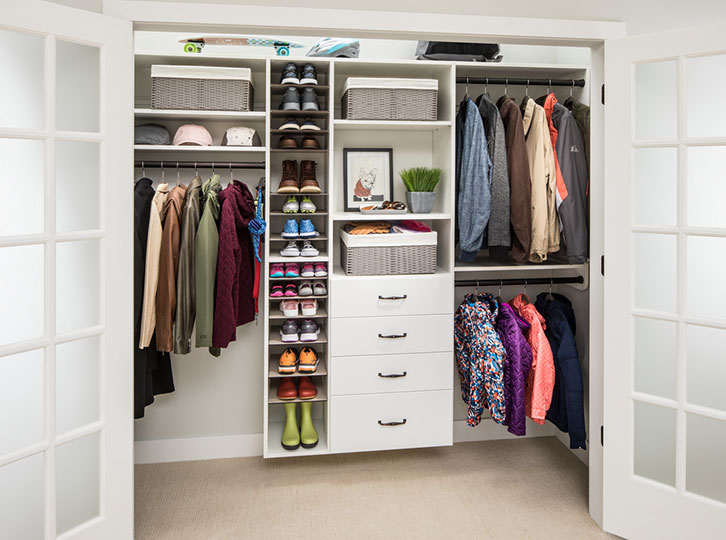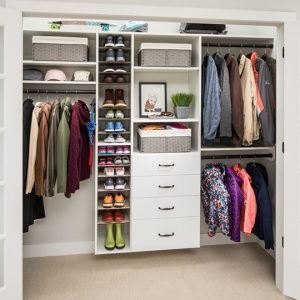 Maximize your reach in closet with custom closet shelving
These wall hung custom closet shelves allow storage of more than just hanging clothes.
Adjustable shoe shelves keep mess off the floor
24" wide full extension drawers
Adjustable, stacked clothing rods make your blouses, pants, and long dresses easily accessible for nights out in Columbus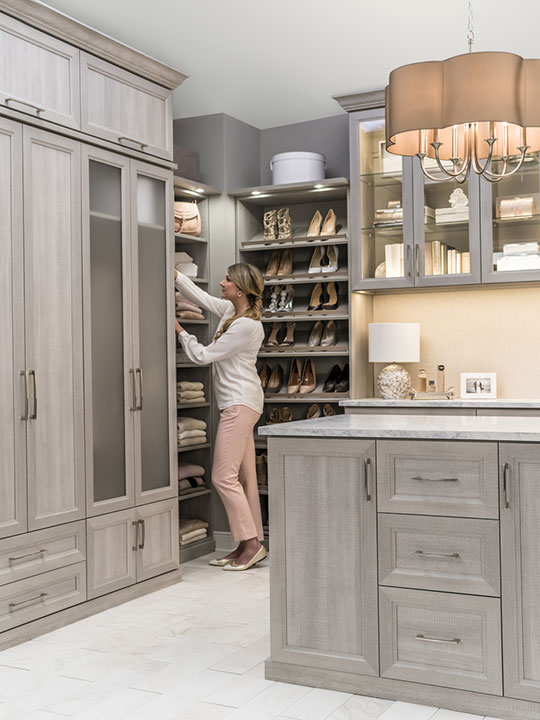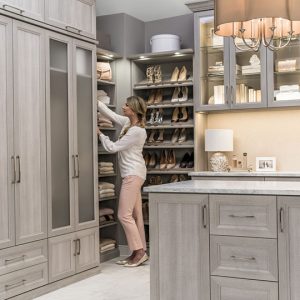 This custom walk in closet organization system fits every nook of this space
'River rock' pattern provides a cool and refreshing look to this walk in closet design/li>
Modern rectangle matte nickel drawer hardware
Slanted shoe shelves for an elegant display
Traditional crown molding
LED lighting in a custom overhang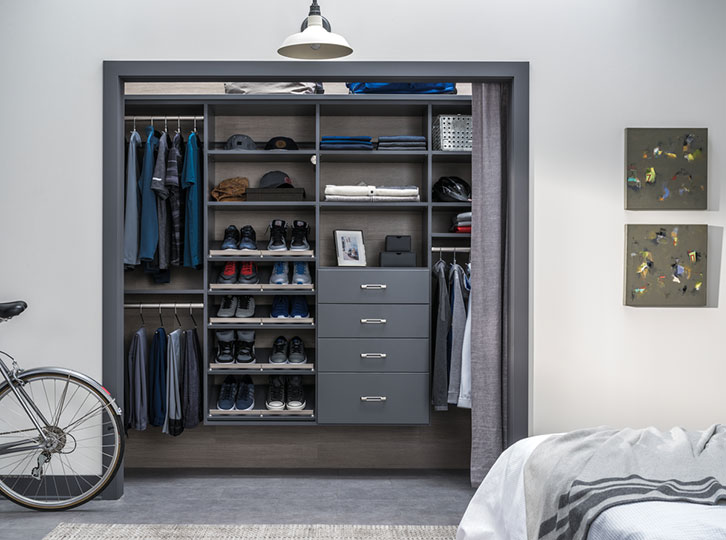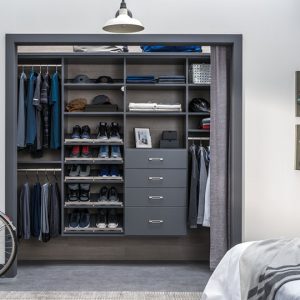 Men's wall hung custom closet cabinetry
'Bedrock' pattern closet finish is just the style of a young Columbus professional who's always on the go
Euro style drawers
Adjustable shelving to maximize storage flexibility
Matte nickel clothes hanging rods
Built in custom closet wardrobe holds smaller items like socks, belts, and undershirts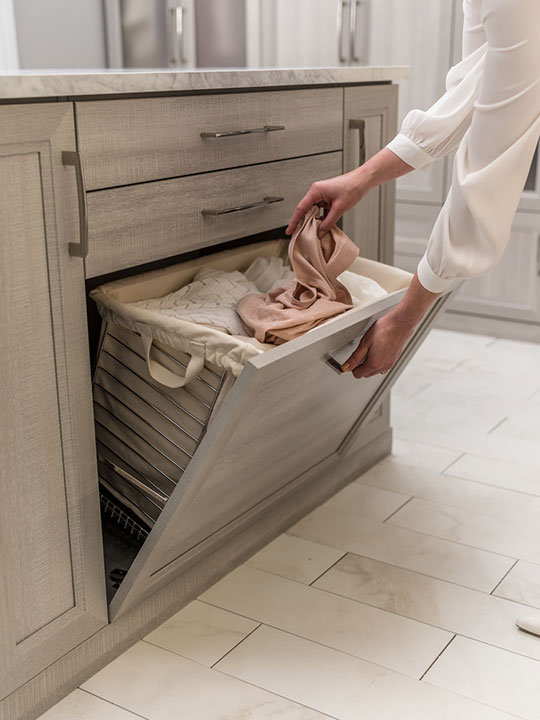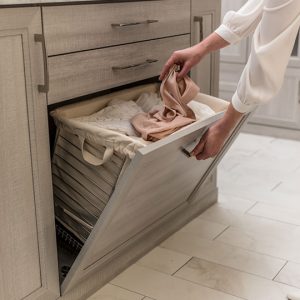 Pull down hamper keeps laundry hidden in your walk in closet design
24" wide hamper with 'river rock' exterior finish
Fabric clothes hamper is removable so you can grab your laundry when you're ready to start a load
Your Columbus home deserves to feel (and smell) clean, so keep your dirty laundry tucked away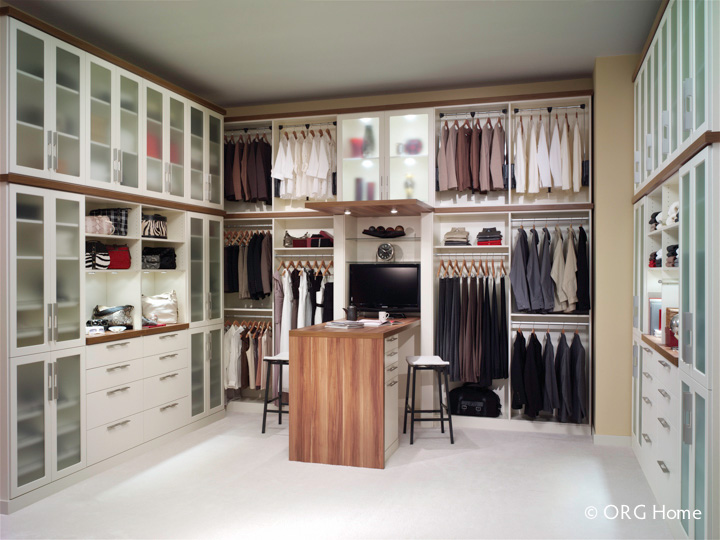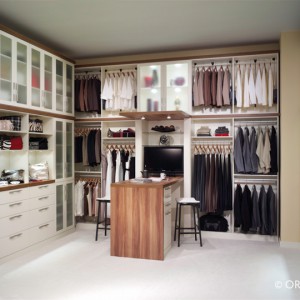 Luxury walk in closet design attends to every detail
Thicker Forterra panels for a bold modern look
A central "captains quarters" to check the weather, sip your coffee and converse in the mornings
Plenty of hanging clothes storage and custom closet shelves for all your accessories
Hidden mirror and shoe storage keeps the space looking sleek
Shown in Eggshell Ivory with Forterra in Canyon Plum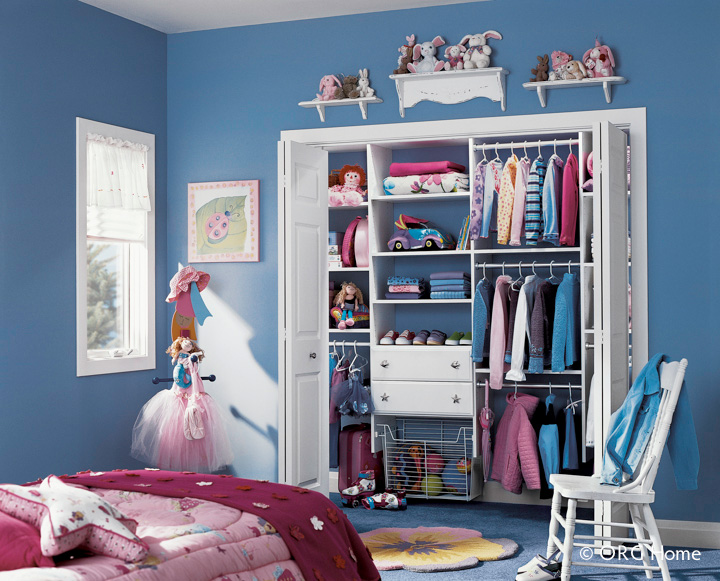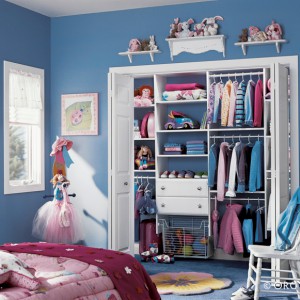 Custom closet organizer for small kid's closet
Arctic White organizer has 3 rods which can change to 2 rods as your child grows older and their clothing needs more space
Never deal with toys scattered across your Columbus home again. The wire basket provides a place for dolls, legos and more.
2 pull out drawers for sock and underwear storage
Frequently worn items placed on custom closet shelves near the bottom to make it easier for your child to reach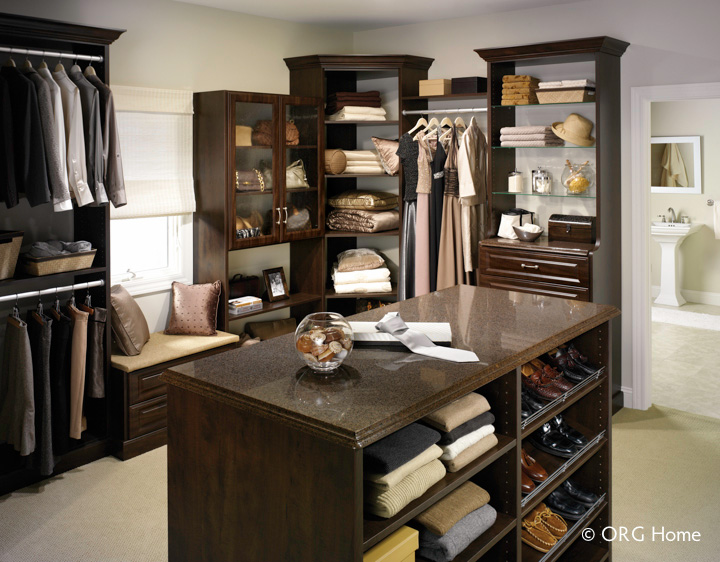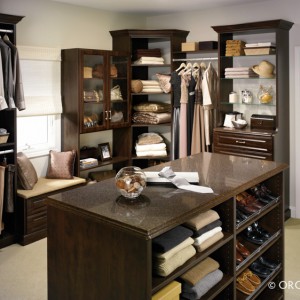 Classic corner corner closet design with island
Floor mounted custom closet cabinetry in a mocha color with a raised panel design and decorative crown molding
A closet island provides a convenient place to set out the clothes for the next day
A "shoe fence" keeps shoes visible but neat
Tall rods allow ample space for long dresses and slacks to keep wrinkles at bay so you're for any event out in Columbus
Clear glass doors in the hutch make it easy to find purses or larger items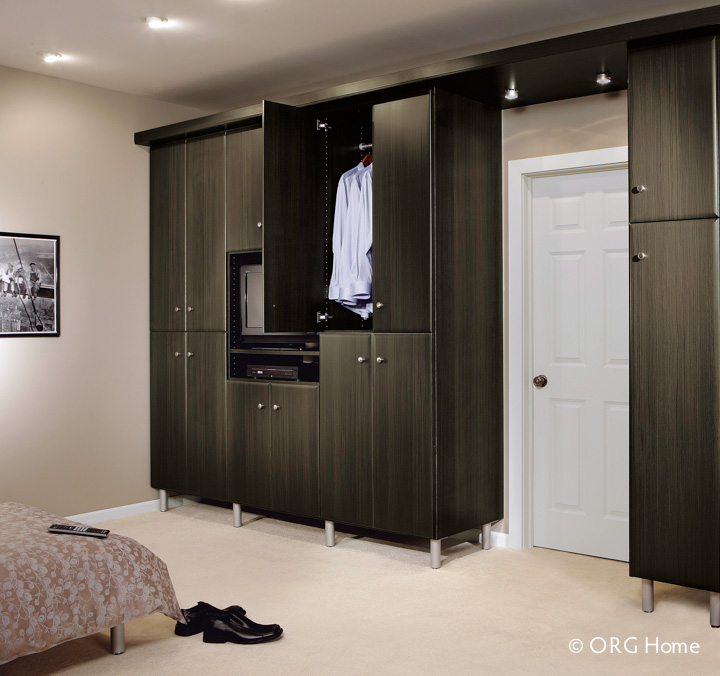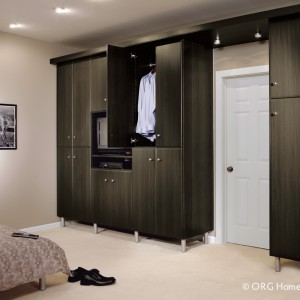 Euro inspired custom closet wardrobe
This custom closet wardrobe looks great in bedrooms without a closed closet so you Columbus loft apartment can have storage and style
This wardrobe uses an "Italia" styled door front in an Ambassador color and provides a way to keep clothes, technology or accessories handy where there is not adequate closet space
Silver legs and polished chrome rods provide a contemporary look
An upper valence with lighting provides an architectural point of interest while improving the ability to match up your clothes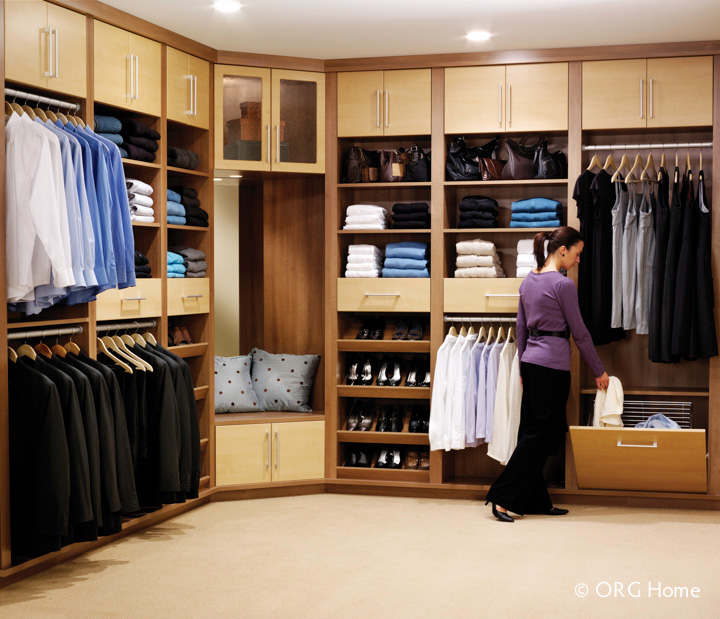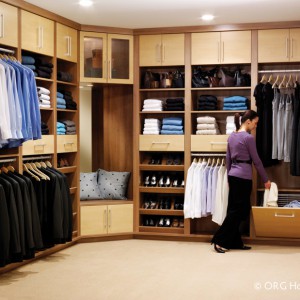 Floor to ceiling two-toned walk in closet design
This walk in closet design provides a sophisticated look combining Chateau and Heritage Maple patterns
A metal fold down hamper keeps the laundry out of sight
Corner closet designs with a nook like this one offer the perfect spot to sit down and take off your shoes after a long day at work
This floor to ceiling layout provides upper shelves to store seldom used items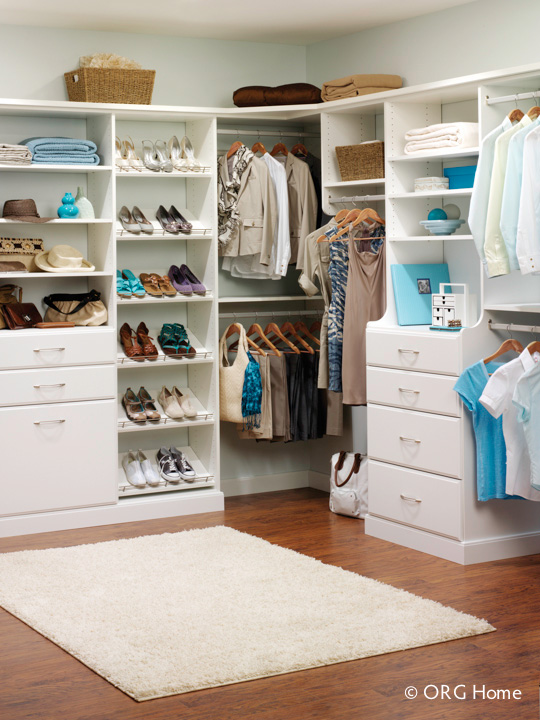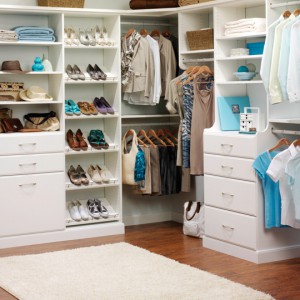 Floor mounted walk in closet design with a custom hutch
A built in hutch provides drawers for your belongings and counter space to display items or fold clothes
Custom closet cabinets in arctic white are dispersed throughout the built in closet design
Shoe fences placed at multiple heights eliminates the hassle of rooting around on the floor for the right pair
Molded panel drawers accentuate the traditional look and can match classic homes in Columbus.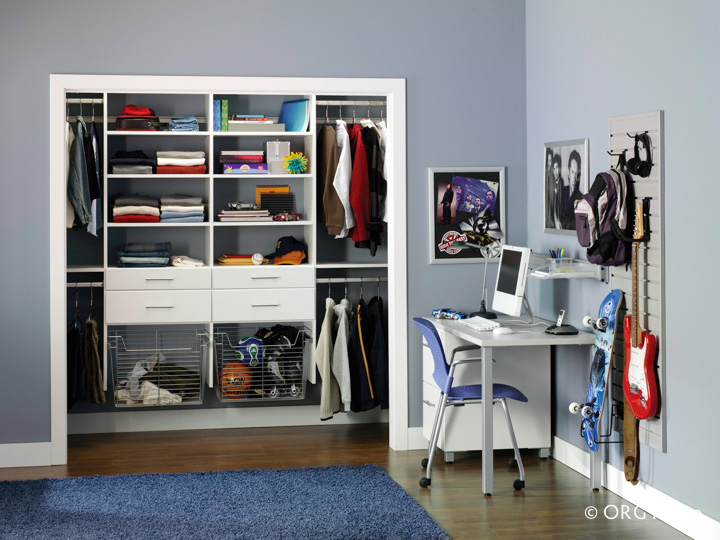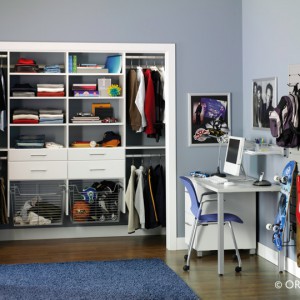 Boy's reach-in closet organization system
Two pull out wire baskets for balls and bulky sports gear
Double rods on both sides maximize the amount of clothes you can access without having to cram things in
Arctic white sliding drawers provide a convenient place for socks and underwear
Custom closet shelves can be adjusted for different sized items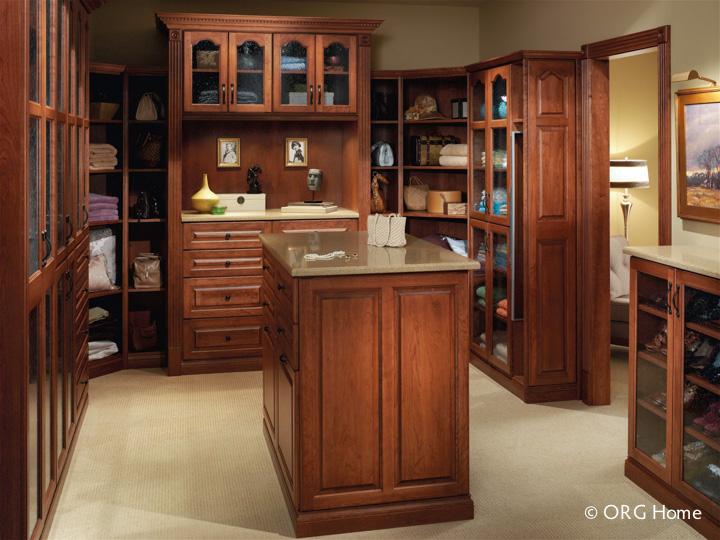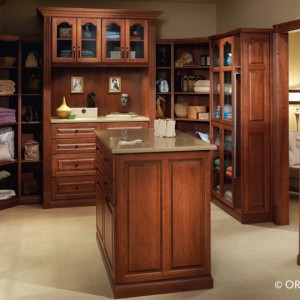 Custom wood veneer & glass walk in closet organization system
Wood veneer custom closet cabinetry in a cherry stain has the classic look of a colonial style Columbus home.
Cathedral raised panel door fronts for a traditional feel with architectural crown molding
Center closet island with storage drawings and a granite countertop
Corner closet design for large and bulky items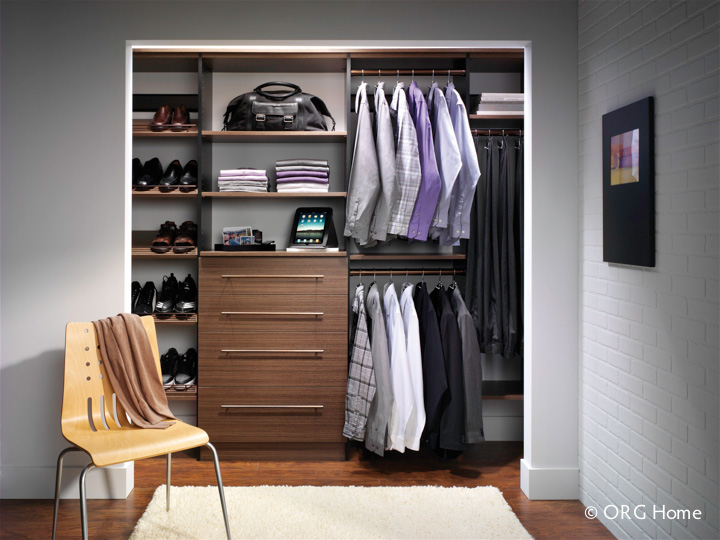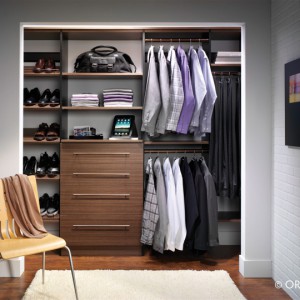 Modern men's built in closet design with euro inspired drawers
This midnight black custom closet shelving is complemented with Cocoa colored drawers that would look great in any Columbus bachelor pad
Adjustable "Shoe fences" keep your dress and athletic shoes off the ground and easy to see
Convenient custom closet shelves above the drawers can be a landing spot for keys, cell phones and other essentials
Belt and tie racks make it easy to get ready for meetings and formal events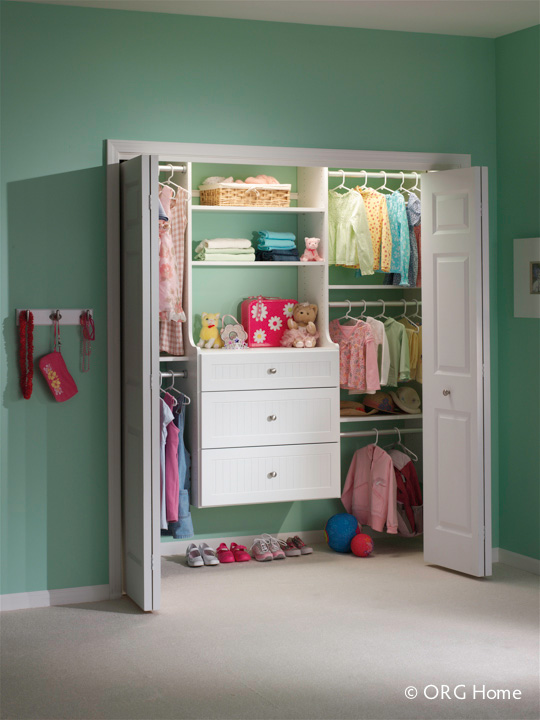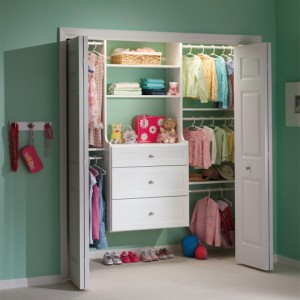 Wall mounted custom closet organizers for baby or toddler room
3 closet rods on the right for smaller blouses and coats maximize your space – while 2 rods on the left provide room for longer skirts and dresses
Arctic white bead board drawer fronts are as classic as they are easy to clean
Vertical custom closet shelving can hold toys, diapers, and blankets
These custom closet shelves can be adjusted to grow with your son or daughter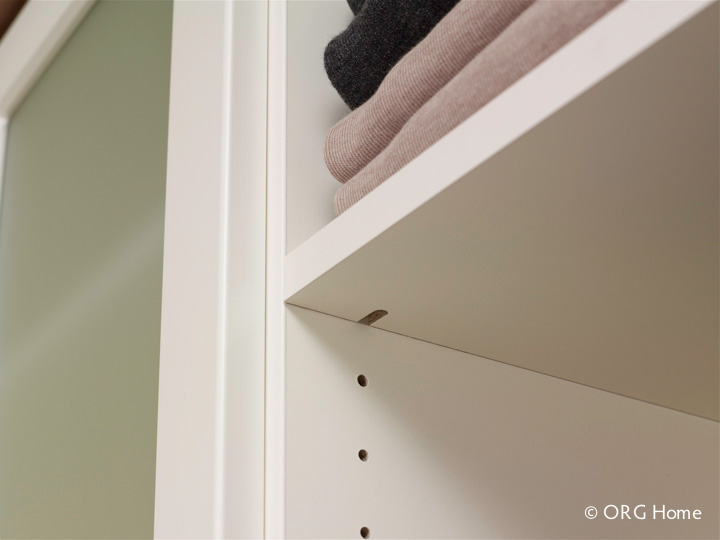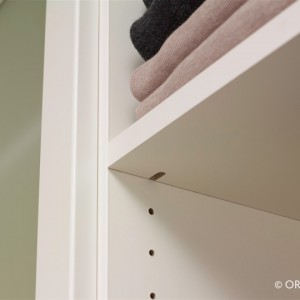 Notched custom closet shelves
Every Columbus home is different so these notched closet shelves help you customize your closet organization systems.
They securely hold items while making it easy to change shelf height when autumn arrives in Columbus and it's time to bring out the bulky sweaters, or as your kids grow older and need more storage space

---
Custom Closet Shelving
Demonstration
CTA – Free Consultation Button
Get the most out of your space and schedule a free design consultation today!
Free Consultation
---
Benefits of Custom Reach or
Walk In Closet Design
Reduce stress – there is nothing quite like the frustration of not being able to find things in the morning. Imagine how nice it will be to have custom closet cabinets, rods, drawers, shoe storage, or an area for your jewelry or even a hidden ironing board in your walk-in or reach in closet.
Increase your available time – When you're getting ready for work, ushering the kids off to school, going to the Columbus Blue Jackets game or wedding time is not always your best friend. Properly designed closet organization systems can get you out of the closet and into downtown Columbus in no time.
Design flexibility to fit your growing family and needs – The baby becomes a toddler and the toddler quickly turns into a teenager…..but the size and standard design of your closet storage and shelving stays the same. Our custom closet organizers can change with your family. Go from 3 shelves for your baby's small clothes to 2 shelves as your child grows up. No matter what the needs are in your Columbus home, adjustable custom closet shelves can adapt to your family.
Increase the value of your home – A recent study by HSH.com showed a lack of storage is the biggest annoyance homeowners have with their existing homes. To not only improve the current function of your Columbus home but add to its resale value as well create walk in closet designs or add a custom closet wardrobe to increase future selling points for your Columbus home.

Innovate Home Org, a reputable professional here to serve you – As part of Innovate Building Solutions, our parent company, we have served over 190,000 customers since 1977. Over this time we have learned to listen to our Columbus customers and offer suggestions to your best closet organization systems. Since we are not burdened by franchise fees our pricing will provide a good value – without the need for sales and marketing gimmicks.
---
Product Leadership for your Columbus
Built in Closet Design
Design flexibility – Whether you need a reach in closet for your kids closet, a luxury walk in closet design for a new home, or a custom closet wardrobe for an urban renewal home in Columbus – Innovate Home Org has a custom closet organizer for you. And when you see our Free 3D design you'll be able to see the closet organization systems 'come to life.'
Fun style, color and finish selections – Your custom closet shelving can express your individual style with 20 standard colors and multiple door and drawer fronts to create a contemporary, sleek or even a transitionalist design.
Accessorize – Beautiful design can blend with function when one of our designers helps recommend the right accessories. Options include a concealed ironing board, pull out baskets, a variety of hooks, pull out drawer hampers, or even an upscale jewelry box to name a few.
An environmentally conscious product with superior strength – As you Innovate Home Org rep to tell you more about our "Forterra" line. It is a 2″ thick product built from recycled content which can span up to 60″ and creates a contemporary and bold look that you can feel good about including in your walk in closet design.
Advanced product manufacturing for improved quality and better lead times – Our manufacturing partner, the Stow Company, uses the most advanced equipment in their state-of-the-art 400,000 square foot facility to make our custom closet cabinets, door and drawer fronts. Production happens in one integrated plant (not sourced to a 3rd party). This provides you with a coordinated finished product with higher quality and shorter lead time.