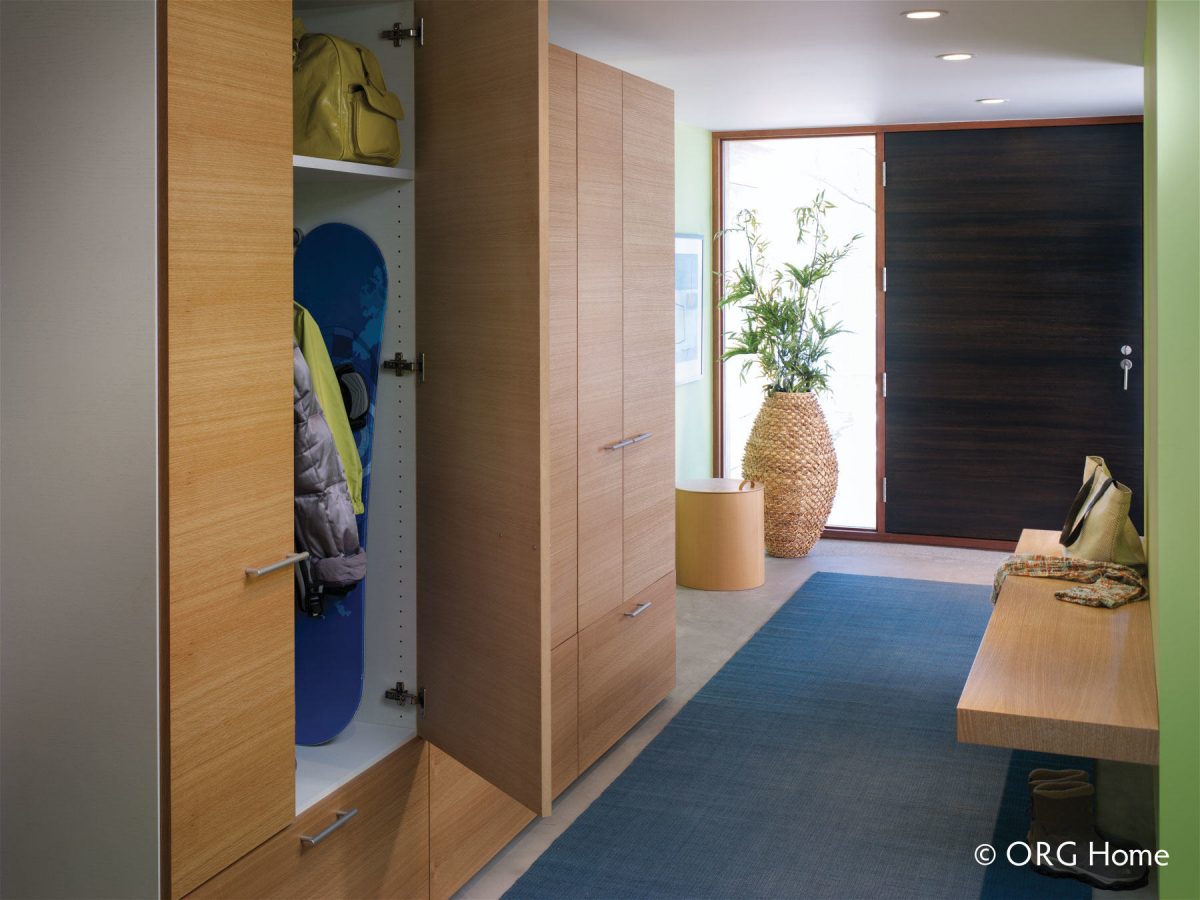 Custom Mudroom & Entryway Storage
Design Systems for Your Columbus Home
When you pass through the entryway or mudroom of your Columbus, New Albany, Westerville or Worthington home is it complete madness? Shoes in a mangled mess on the floor. Backpacks thrown in any available corner. Coats stacked one on top of another. Finding your coat is like a needle in a haystack process. Shipping packages and extra waters and paper towels in a jumbled mess. Muddy shoes being worn through the house because there is no place to store them. Would you like to end this storage madness?
Organized entryway and mudroom storage cabinets, benches, cubbies, closets and lockers can help you get your families stuff under control. With these customized and flexible storage and organizer systems you can combine stylish doors, drawers and shelves in a wall to wall design specifically built for your space. What's even nicer is you can get a Free 3D design to see how it will work for you and your family.



In this page Innovate Home Org will show you the benefits and features of an organized mudroom and entryway. Check out fun and functional benches, cubbies and lockers. You'll get answers to your frequently asked questions and can browse a gallery of images for more ideas.

Product Pages – Contact Us Box
---
Product Gallery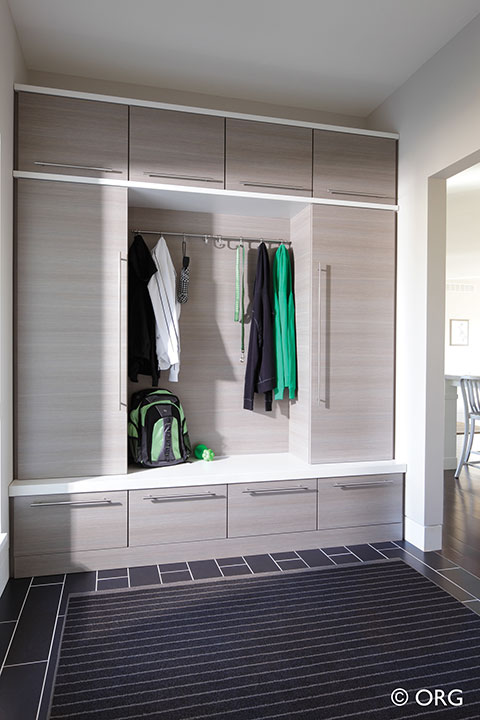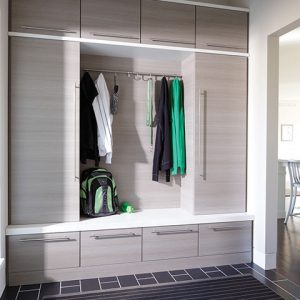 Modern mudroom cabinetry with closed doors and an open cubby system in the center
Driftwood color, 3/4" thick laminate cabinetry which is easy to clean.
2" thick Forterra bench seat is durable, can span long distances and is environmentally friendly.
Wall to wall design to use every inch of space.
Slide out bottom drawers for boot and shoe storage.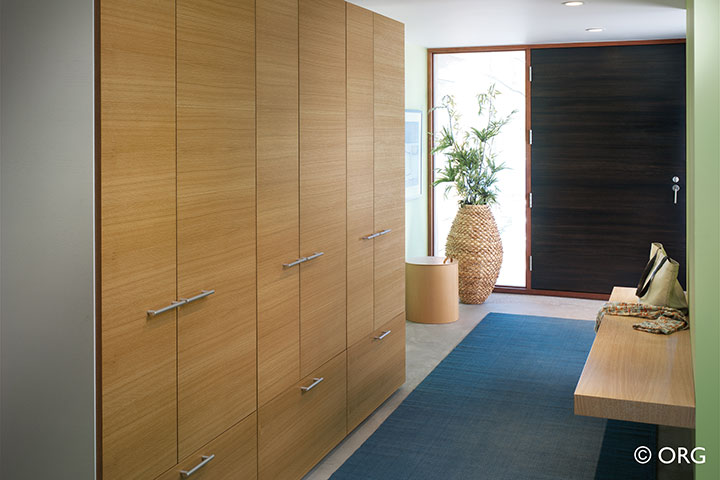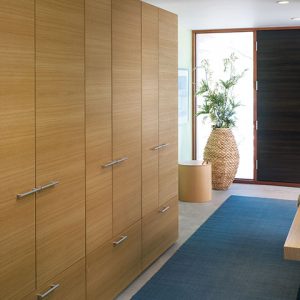 Euro style entryway storage cabinets in a front entrance
Sleek European styled cabinets provide a clean contemporary look.
19" deep cabinets work well for the width of this space.
Rectangular handle bar pulls are modern and simple to operate.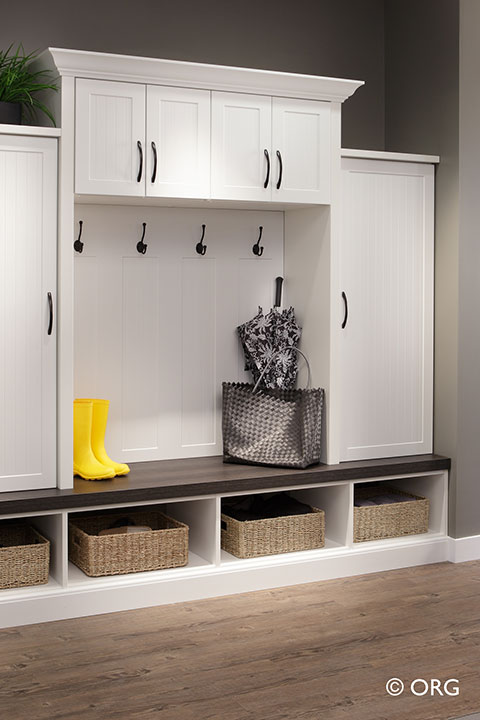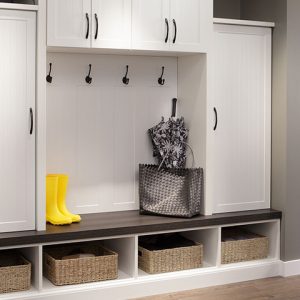 Beadboard white entryway cabinetry system
This solution combines the boldness of oil rubbed bronze hooks and pulls with the brightness of white doors, drawers and back panels.
4" thick baseboard trim offers a finished look – and since it's a laminate finish it won't scuff like wood.
Shelving inside this unit is adjustable.
The open cubby design offers flexibility in storing book bags and coats.
Traditional crown molding trim finishes off the storage design.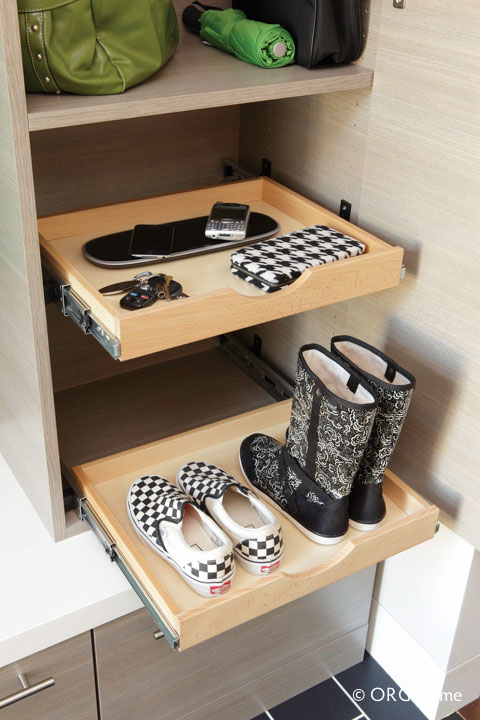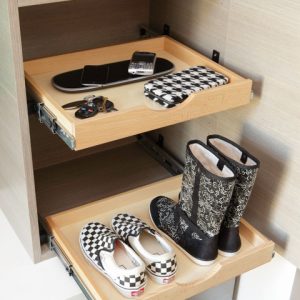 Birch sliding drawers in an entryway
Options like sliding scoop style drawers allow your shoes and storage to come to you.
Shelving can be spaced at any increment to fit the height of your storage needs.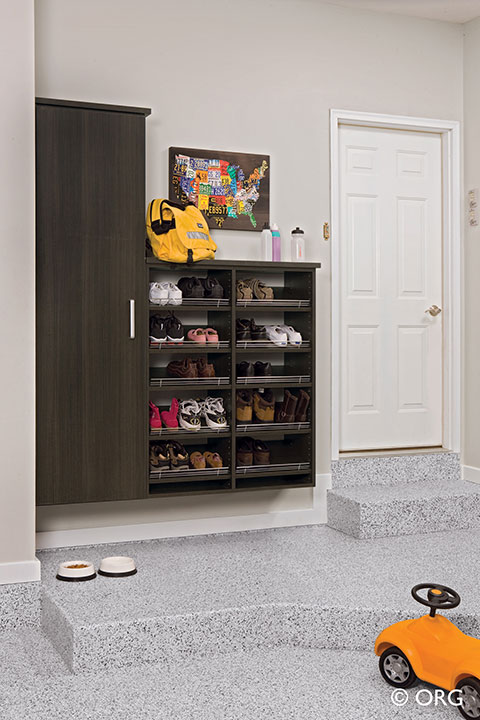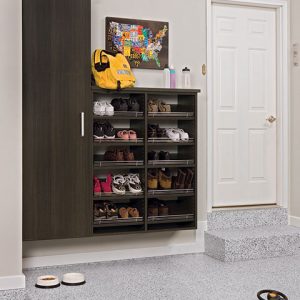 Entryway storage system in a garage in a mocha color
This 16" deep entryway cabinet has adjustable shelves in a 3/4" thickness.
Raised shoe shelves make it simple to find what you need.
Durable laminate finish is simple to clean.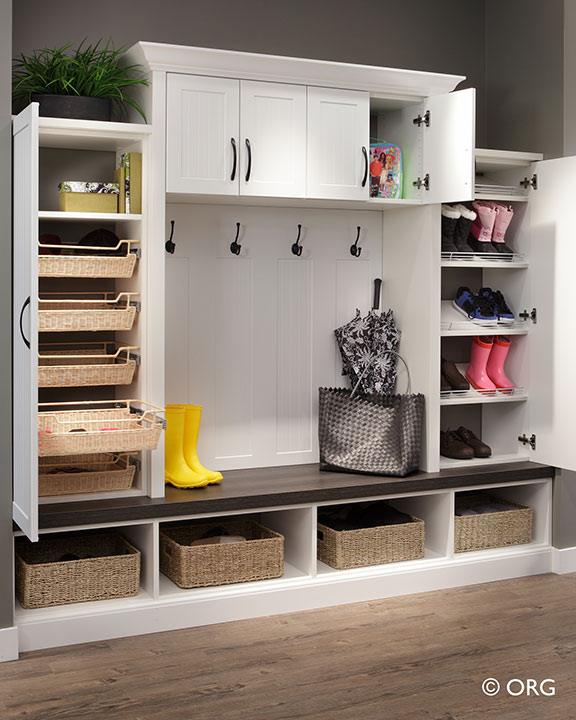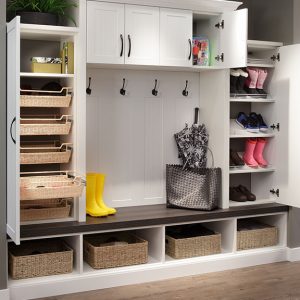 Decorative beadboard design entryway with open cubby style cabinetry
Slanted shoe and boot shelves.
Slide out storage baskets
Bottom cubbies are 23" deep with 14" shelving on the top section.
2" thick Foreterra top bench seat in a Bistro Walnut color.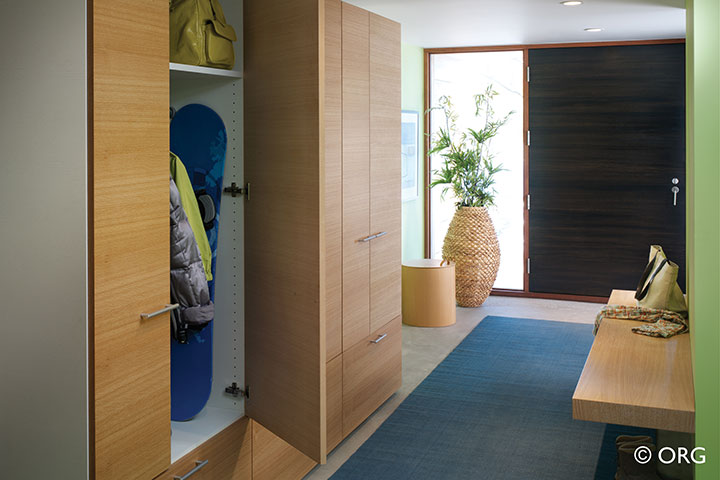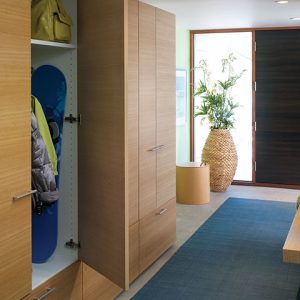 Euro style entry way storage
Modern matte finish handles
Heavy duty hinges.
Increment holes for adjustable shelves.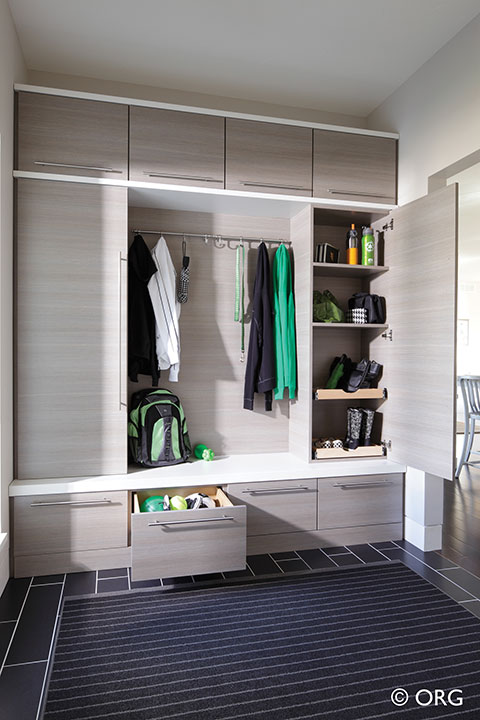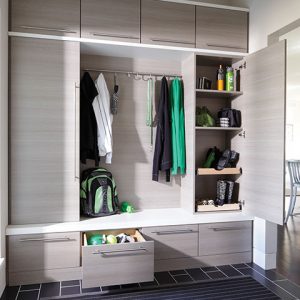 Combination of Closed Cabinetry and Open Cubby Entryway Storage In a Driftwood Color.
Slide out drawers bring items to you.
14" deep upper cabinets take advantage of a 9' tall ceiling.
The Driftwood colors offers a modern look when combined with the white laminate bench and top trim.
Modern eased edge laminate baseboard trim.
---
Product Video
CTA – Free Consultation Button
Get the most out of your space and schedule a free design consultation today!
Free Consultation
---
Benefits of Organized Mudroom and Entryway Cabinets
Create efficient wall to wall storage – Unlike a piece of furniture you put in your entryway – our custom designed mudroom and entryway systems use every inch of space so you can fit in backpacks, shoes, boots and coats for every member of the family. There's no reason not to maximize the volume of your mudroom or entryway.
Eliminate the stress of a cluttered entryway – No more piles of shoes or coats hanging piled up one on top of another. You can use a mix of drawers, cabinets doors and pull outs to have an organized mudroom where your things are hidden from sight. You don't need to be embarrassed when guests come over any more.
Easy to clean surfaces which won't warp or require maintenance when exposed to the outside elements – Wood entryways can weather and warp over time – requiring your time to maintain them. With our textured laminate surfaces you'll get the warmth and architectural elegance of wood with an easy to clean and no maintenance surface.
Save time finding your coats, keys or kids book bags in the morning rush – It's estimated you spend 1 year of your life looking for lost things. Get rid of this hassle with open style cubbies or a locker style entryway where everything has its place.
Everyone can have their own storage cubby or locker – Your daughter hates your son's stinky gym shorts being next to her new book bag. Your husband would like a separate place to charge his cell phone. Everyone has their own hooks, shelves and drawers. With a custom designed mudroom solution everyone can have their own space. This will save you time and family arguments.
Innovate Home Org, a reputable professional designer and installer – As part of Innovate Building Solutions (our parent company) we have served over 190,000 customers since 1977 in the Central and Northeast Ohio areas. Since we are not burdened by franchise fees our pricing will provide a good value – without the need for phony sales and gimmicks . Our goal is to help you with a Free 3D design for your entryway and mudroom – improve your space – and do it at a fair price.
---
Product Features & Decor Ideas for Your Mudroom
Design flexibility no matter how large or small your space is – Since our systems are available in standard and custom sizes we can make EVERY INCH of your space work for you. We will help you with the right mix of mudroom cabinets, benches and hooks to fit your things – with a style which compliments your home.
Sturdy mudroom bench seats to add style and function – Nobody likes to drop down on the floor (especially when you have nice clothes on) to take off your shoes or muddy boots. Choose from 3/4", or 1 1/4" top for a seamless bench seat. Choose from warm solid or textured laminate colors .
Adjustable shelves, rods, and hooks for maximum flexibility - When your kids are young you will want your entryway hooks and rods lower so they can hang up their own coats. As they get older you will move your storage components up. Don't be stuck with fixed systems which won't change as your kiddos get bigger.
Styles, textures and finishes to draw out the architectural feel of your home – Whether you like a Farmhouse, Modern and Minimalist or Traditional architectural styles we have 6 different door and drawer styles and 22 colors and finishes to compliment the look you want.
Accessorize for the look and function you want – Choose from a wide array of knobs, pulls and decorative hardware to pull off the look you want at a budget you can afford.
Free 3D custom designed system built to fit around your space – Is there a window smack dab in the middle of the wall you want to put your entryway? Do you have an outlet which makes standard solutions unworkable? Or do you have tall 9' or 10' ceiling with a lot of volume of unused storage capacity? Let an Innovate Home Org Designer create a solution which fits your space like a glove. We can even give you a Free 3D design.