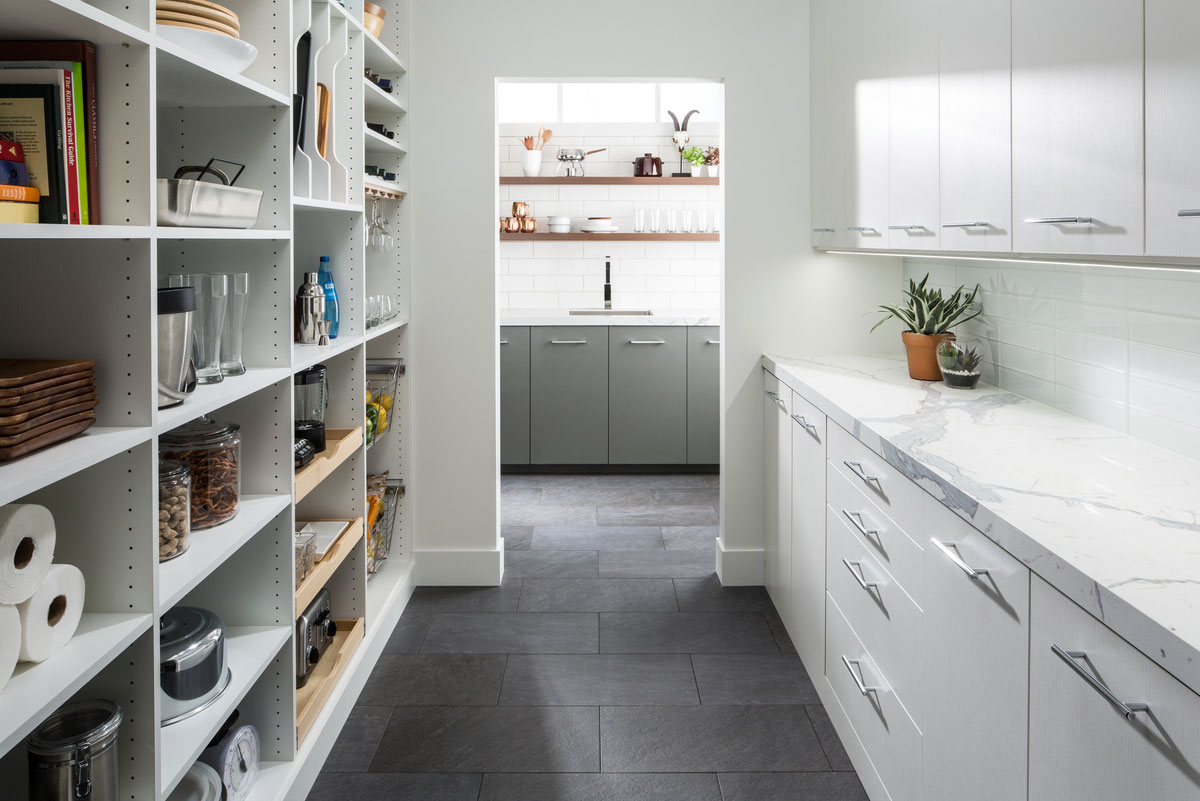 Pantry Storage Organization Systems
Columbus Custom Pantry Shelves & Cabinets
Is your walk in or reach pantry a disaster? Is it so tough to find what you're looking for that you end up buying the same items 2 or 3 times at the grocery store? Do things 'fall through the cracks' of the cheap wire pantry shelves and end up on the floor? Durable and stylish walk in pantry shelves and custom pantry cabinets will keep your ingredients – and therefore your weeknight meals – effortlessly organized.

Designed for any kitchen pantry, our line of adjustable pantry shelving and cabinets come in a wide range of door, drawer and finishing styles that can match your Columbus home's unique style. Double the functionality of your pantry with an added meal preparation counter or select from our pantry organization bins for wine, root vegetables, and cooking utensils.


As an authorized Dealer of Org Home, Innovate can provide you with the benefits, features and FAQs about pantry storage organization systems that will fit in your Columbus home. See how walk in pantry shelves, cabinets, storage zones, pull out drawers and baskets, and vertical dividers will turn your pantry from nightmare into food prep dream. Whether cooking for a crowd or working with a tight space in Columbus, you deserve a pantry shelving design that makes meal time a pleasure, not a frustration.

Product Pages – Contact Us Box
---
Pantry Storage Organization
Product Gallery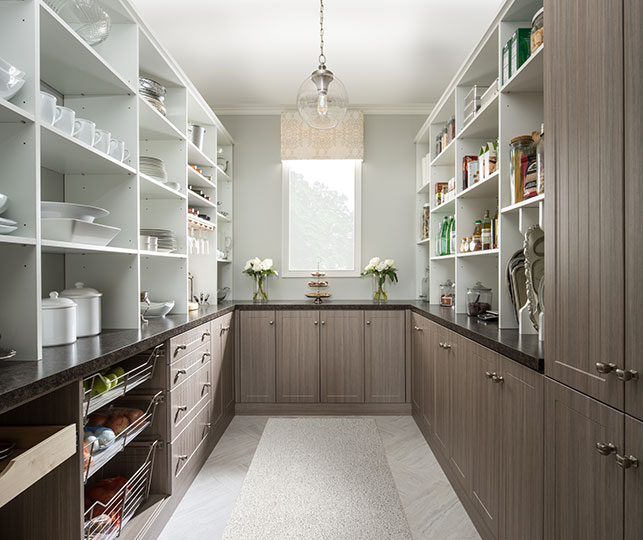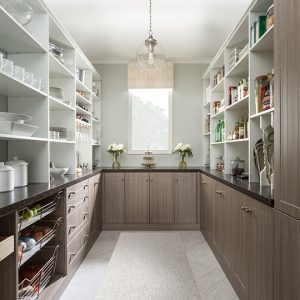 Walk in pantry cabinets in driftwood color with open custom pantry shelves
Traditional beadboard cabinets compliment the white, adjustable pantry shelving in the upper section of this walk in pantry storage organization system.
Pull out drawers and scoop style drawers bring your ingredients to you so cans and jars never get lost at the back of the shelf.
Eliminate any wasted space in your Columbus kitchen by adjusting shelves to perfectly fit every pot and pan.
Matte nickel cube style knobs.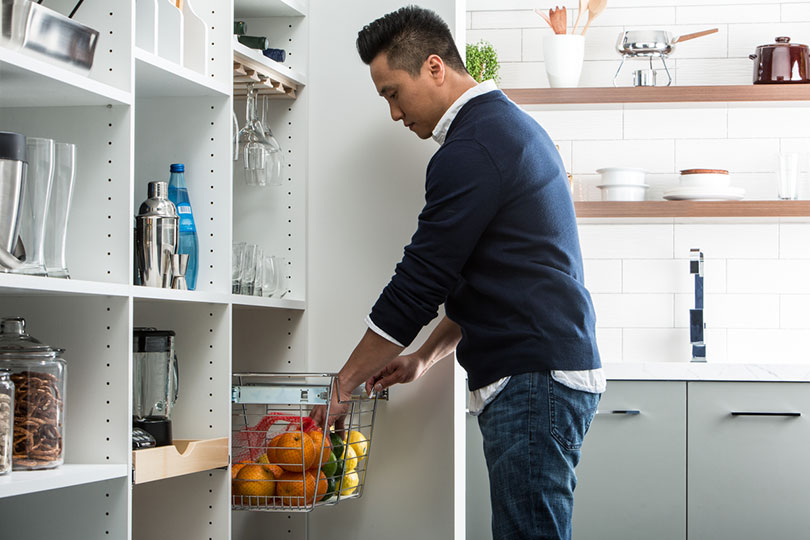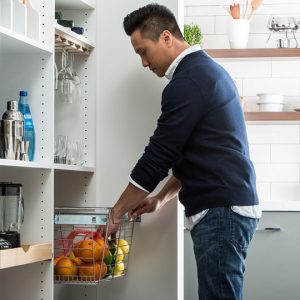 Chrome pantry organization bins go perfectly with white adjustable pantry shelving
The baskets bring your potatoes or vegetables to you.
Adjustable shelves move up and down to accommodate your storage needs.
White laminate shelves never need to be painted and don't sag like wood.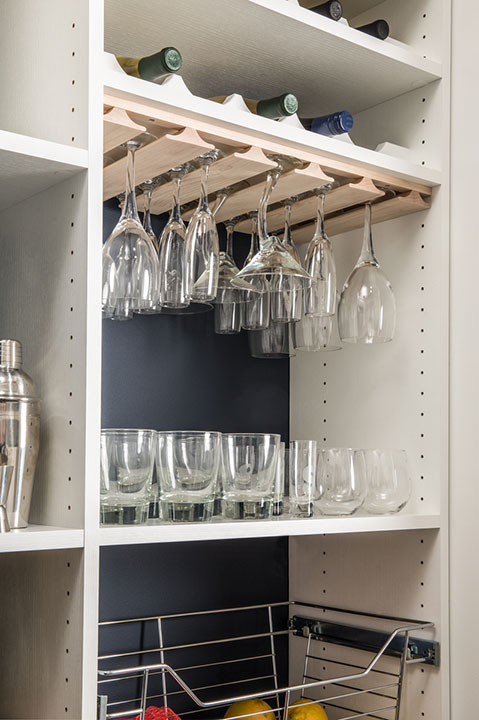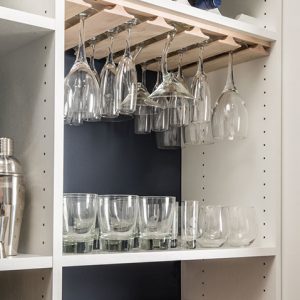 How beautiful would this wine rack & stemware organizer look in your Columbus home?
Keep your favorite wines and stemware accessible for guests with this organizer.
Sliding, wire pantry organization bins make it easy to quickly grab your fruits, vegetables, or other items you want to store.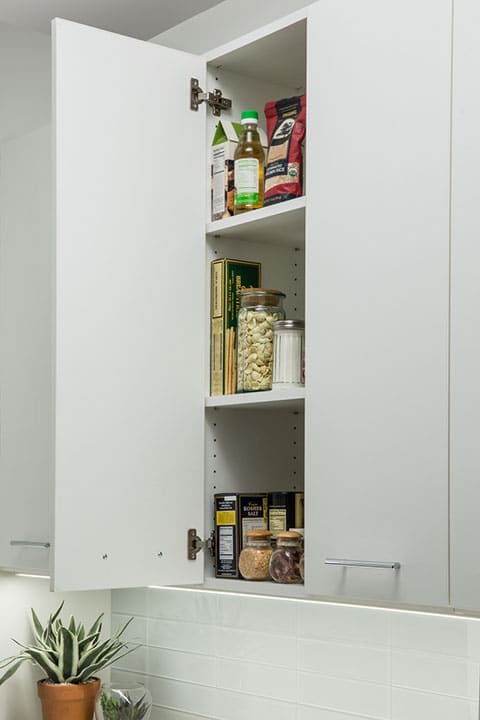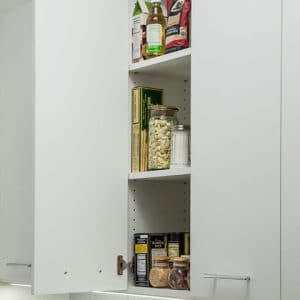 Euro style custom pantry cabinets in breakwater color
Heavy duty Euro style hinges with a slow close operation will even stand up to your hungry teenagers.
Adjustable pantry shelving can be moved to fit your glassware, plates, or canned goods.
Modern chrome handles are just one of many decorative hardware choices.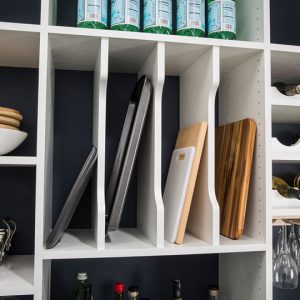 Wine rack and vertical cooking tray separators keep your Columbus kitchen neat
Easily select your favorite bottle of wine with this pantry storage wine rack.
Vertical dividers make finding the right cooking tray quick and easy.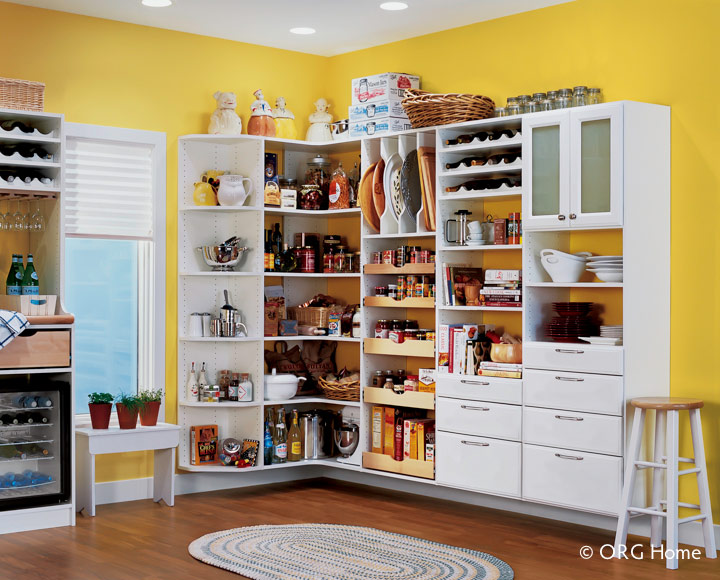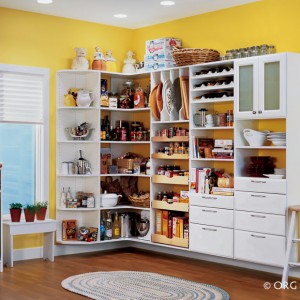 Our custom pantry shelving design can even accommodate corners
3/4" thick adjustable pantry shelving provides flexibility to store tall items like cereal boxes of smaller items like spice bottles.
Vertical shelf dividers are perfect for large platters, cutting boards or trays.
Open scoop style slide out drawers make it easy to see what jars or canned goods are in the back.
Arctic white, Shaker style, walk in pantry cabinets offer a classic and clean look which would fit perfectly in a classic Columbus home.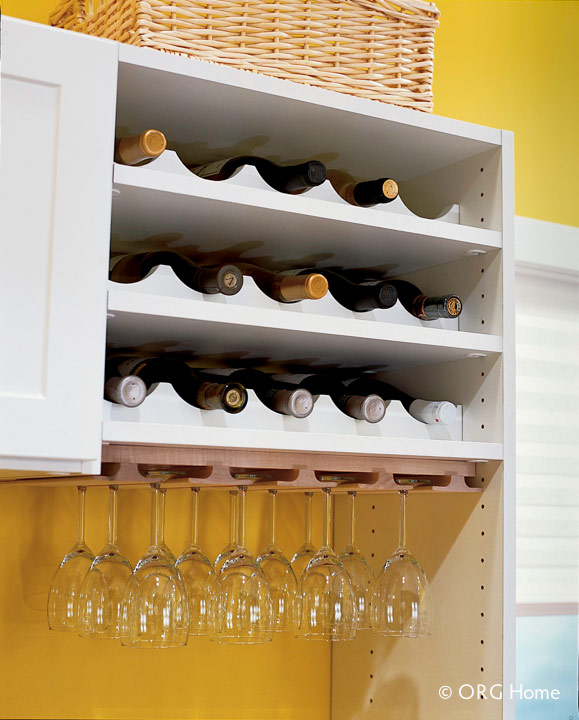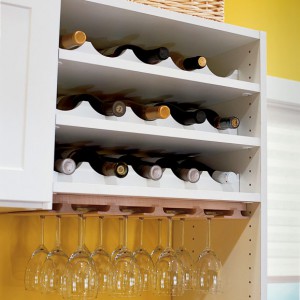 This pantry wine rack is cause for celebration!
Entertaining guests in your Columbus home will be a snap with this easy access wine rack.
Glass stemware is tucked neatly under the wine bottles for convenient access when you're rushing around hosting friends for a big Ohio State Buckeyes game.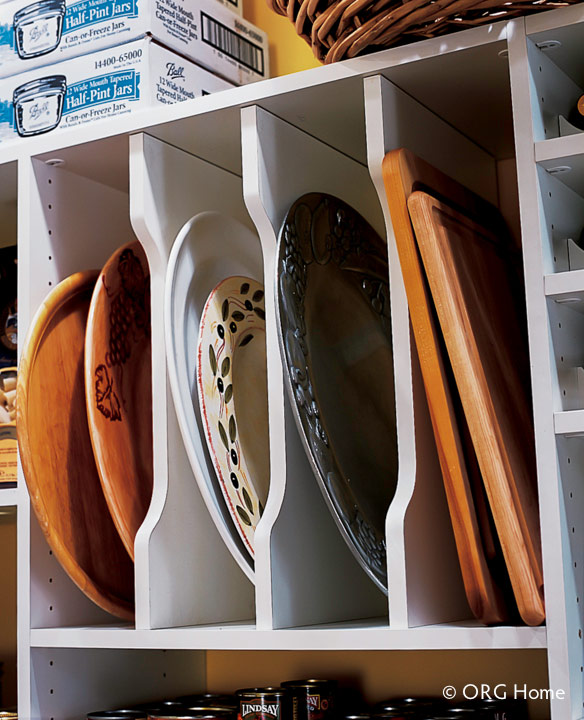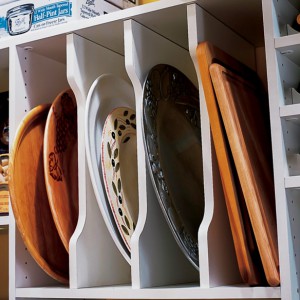 Neatly store all your trays, platters and cutting boards
Stop stacking large platters and cutting boards on top of one another. These vertical dividers make it easy to one out and serve snacks for a Friday night football game.
The "scoop" divider profile makes it simple for your hand to reach in and grab these bigger items.
This pantry divider is shown in the Arctic white color.
Thermally fused melamine finish is scratch resistant and durable.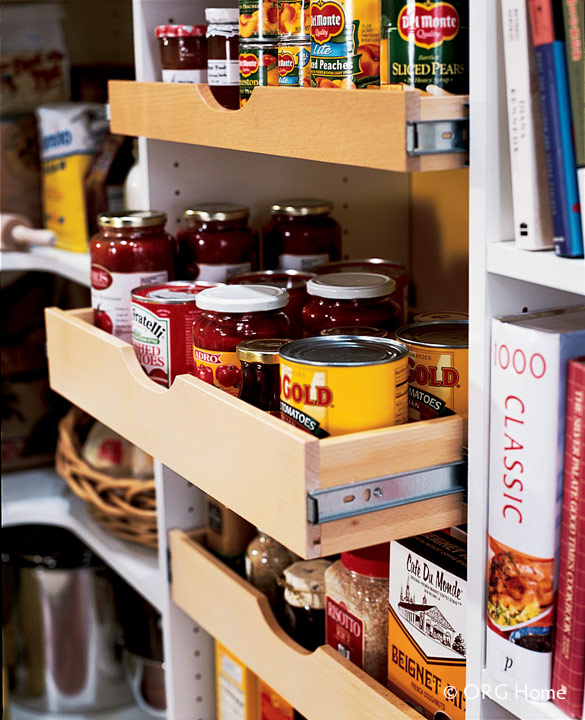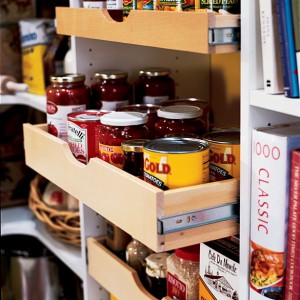 Sliding pantry drawers let you take quick inventory of pantry ingredients
These custom pantry shelves feature a scoop that is easier to grab and slide open
Heavy duty drawer glides can handle the weight of your jars and cans.
Drawer sizes can be adjusted to fit your space.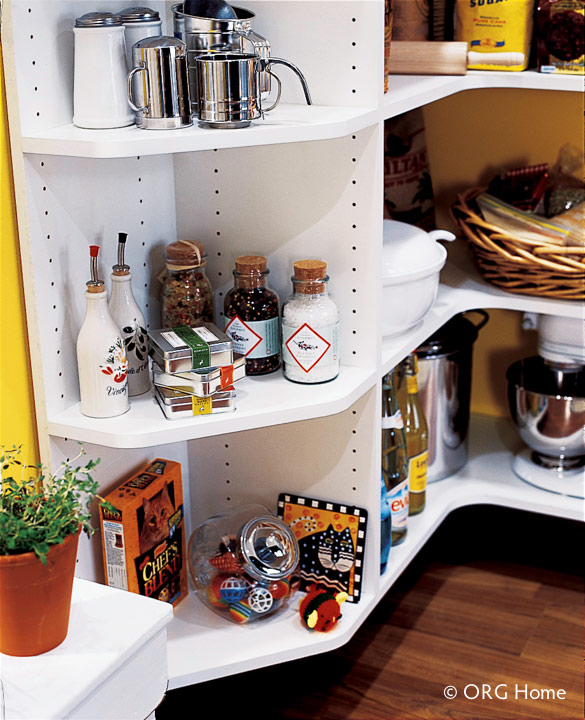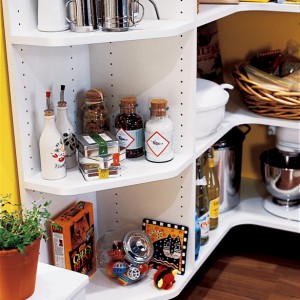 Adjustable pantry shelving customized for any corner in your Columbus home
It's nice to be able to use the corner space of a walk in pantry. The rounded design is attractive and makes it easy to reach into the back.
Adjustable shelves offer you the flexibility to design – and change – the space as your storage requirements evolve.
Shown in an Arctic white color.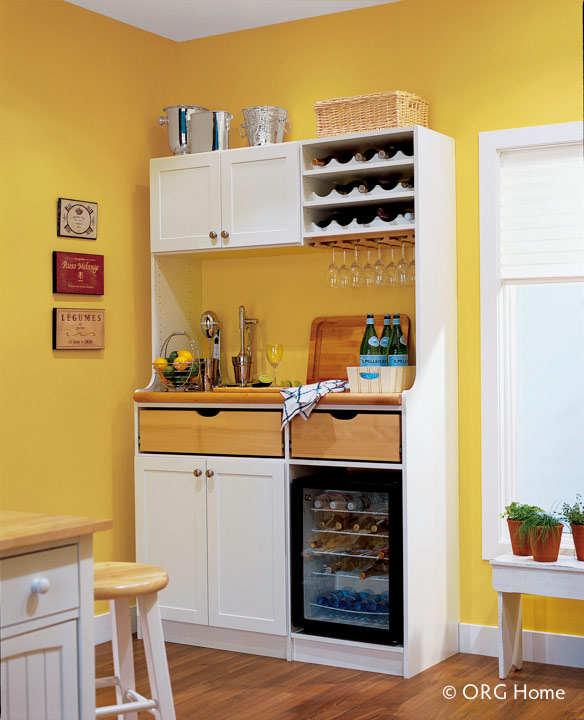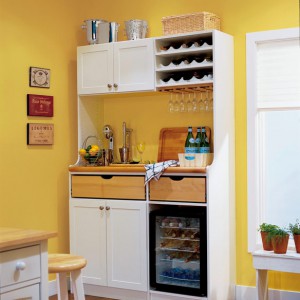 Step up your entertaining with a custom beverage station for your Columbus home
Upper level wine rack and stemware system provides you easy access – but it's out of reach of small children.
Concealed cabinets are a good place to store large appliances like blenders and mixers.
Slide out open scoop drawers provide a fun contrast to the Shaker style cabinet door fronts.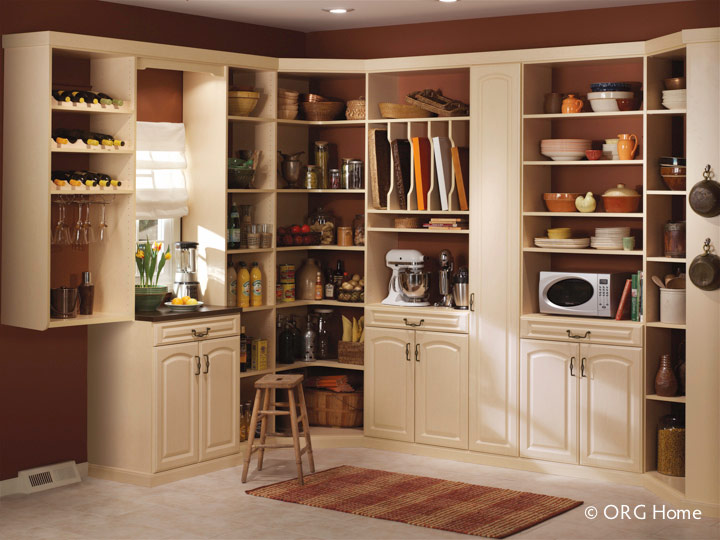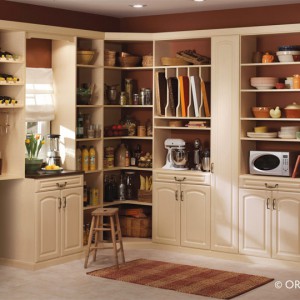 Walk in pantry cabinets with an Arch door and drawer design
The Arch door style and oil rubbed bronze hardware provide a traditional look which is right at home in a classic Columbus home.
Small prep counter by the window takes advantage of the views and provides more meal preparation flexibility.
Corner shelf design makes it easy to see what you've got.
Vertical shelf dividers are convenient for your cutting boards and large platters.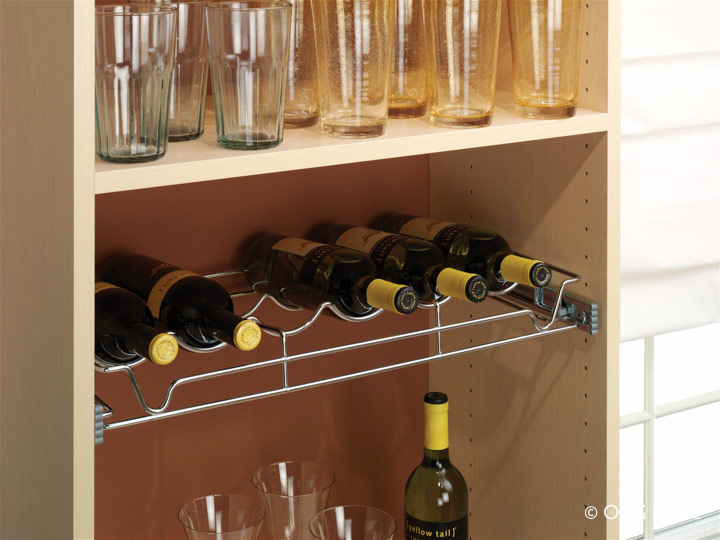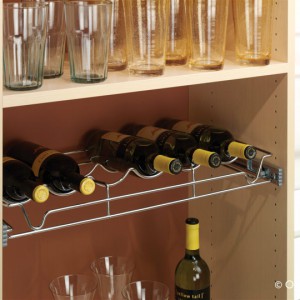 Adjust the height of this sliding wine rack
Keep your favorite wines close at hand with this chrome slide out wine rack.
3/4" thick adjustable pantry shelving can be easily moved up or down.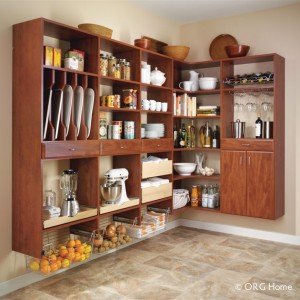 Wall mounted walk in pantry shelves make for easy cleanup
This wall mounted unit makes it easy to keep the floors in your Columbus home mess-free
A light cherry finish offers traditional elegance.
Slide out baskets are a convenient place for fruits, vegetables or table linens.
Wire racking makes it easy to get wine glasses for your events.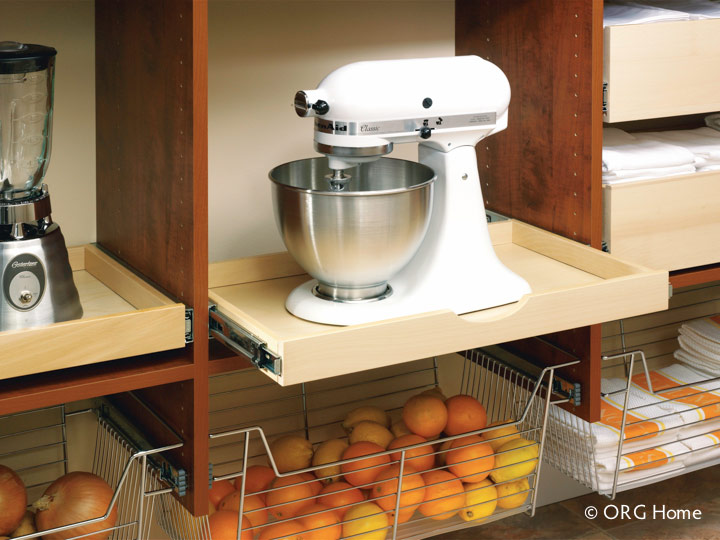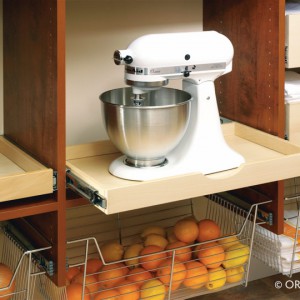 So many styles and uses for these pantry organization bins
Pull out drawers with a scoop design are easy to operate and work well to house your small appliances or linens.
Wire baskets are versatile. Use them for fruits, vegetables – or any items you want to group together.
---
CTA – Free Consultation Button
Get the most out of your space and schedule a free design consultation today!
Free Consultation
---
Benefits of
Custom Pantry Shelving
& Cabinets
See what you've got – It's hard to know what to buy at the store when you can't see what you already have in stock. Slide out drawers, cabinets, wine and stemware racks, and vertical cookie sheet dividers make it easy for you to know what's in your pantry.
Gain more storage space without anything slipping through the cracks – With adjustable pantry shelving, you can maximize each shelf and get more canned goods, cereal boxes, plates, linens or food into your existing space. And since these shelves aren't made of wire nothing will 'slip through the cracks.'
Simplify meal preparation – Consider adding a meal preparation counter inside your walk in pantry so you can prepare foods outside the hustle and bustle of your holiday parties with your Columbus family and friends.
3D custom pantry shelving design will maximize your space and create a one-of-a-kind look that matches your Columbus home's unique style– Innovate Home Org can custom design a large walk in pantry for your new home or develop a reach in solution for even the smallest closet space for a classic Columbus home. Work with our specialized kitchen pantry designers to get a Free 3D pantry shelving design. They'll not only create a kitchen pantry with your ideas, but bring new design ideas to the table to take your Columbus home to the next level.
Door, drawer and finish styles to suit your tastes – Whether you like the classic look of Raised, Arched, Shaker or Bedboard drawers and doors or a sleek Euro contemporary feel, we have the styles and finishes to add to your Columbus décor. Your pantry doesn't need to look like a disorganized afterthought with some cheap pressed wood or wire shelves slapped in. Coordinate your pantry shelving design so it works perfectly with your new kitchen.
Innovate Home Org, a reputable professional here to serve you – As part of Innovate Building Solutions (our parent company) we have served over 190,000 customers since 1977. Over this time we have learned to listen to you and offer suggestions to your best solutions. Since we are not burdened by franchise fees our pricing will provide a good value – without the need for sales and marketing gimmicks.
---
Reach or
Walk in Pantry Shelving
Product Options
Design flexibility – With a wide array of adjustable pantry shelving, custom pantry cabinets, open scoop slide out drawers, pantry organization bins, vertical cookie trays dividers and wine racks you'll be able to design a pantry that fits your food storage, preparation and entertaining needs.
Style, color and finish selections to fit any Columbus home – Your custom pantry cabinets and shelves can express your home's style with 19 standard colors, 9 wood veneer finishes and 5 texture options. Whether you have a classic luxury home or a modern minimalist townhouse in downtown Columbus we have a design to match.
Shelving design specifically for pantry storage organization – Design and function go hand in hand. With the Innovate Home Org system you'll find divider shelves, adjustable pantry shelving and corner units which were designed to make meal preparation and entertaining easier for you. In addition, your adjustable pantry shelving system can be moved around to fit your tall appliances or short cans. No more wasted space!
An environmentally friendly counter – Ask about the environmentally friendly "Forterra" 2" thick counters. You'll enjoy not only their function and ability to add another food preparation surface – but knowing you've chosen a sustainable product as well.
Advanced product manufacturing for improved quality and better lead times – Our manufacturing partner (the Stow Company) makes our door and drawer fronts in one integrated plant 400,000 (not sourced to a 3rd party). This provides you with a coordinated finished product with higher quality and shorter lead times. We're not building your pantry shelving system with outdated manufacturing equipment in a tiny woodworking shop.