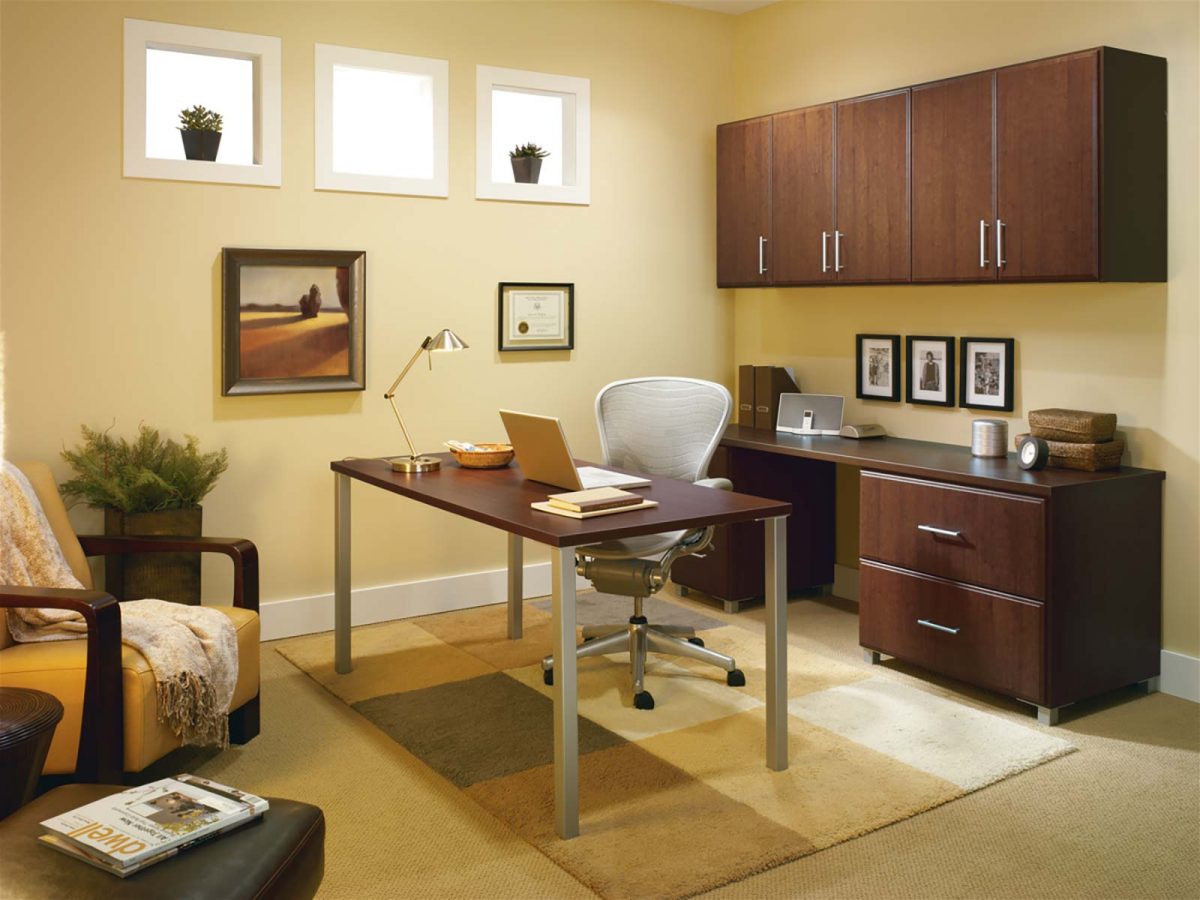 Custom Home Offices
Columbus Built-In Home Office Designs
The ability to work at home has never been more critical. Employers are demanding remote workers. If you're freelancing in the 'gig' economy, you need to be productive to make money. Or you may simply need a place to pay bills without pulling your hair out because you can't find anything.

It would be nice to have an organized home office. A place where you can focus. A place with less distractions from the kids, your spouse or partner. However, this isn't your reality.
You may be living with home office problems like these:
A lack of office storage
Cheap office 'furniture' which is 'pieced-together' and on its last legs (literally)
Constant interruptions because you don't have a dedicated workspace (your living room chair or kitchen table isn't cutting it)
No organized work 'flow'
Your workspace is ugly and is a dumping ground for everyone's junk
You have an office desk which is clunky, outdated and eats up your space
Here's how Innovate Home Org can fix your home office problems:
Innovate's home office organizers and designers can help create a home office space you'll love. Regardless of whether you've got a large den, a small closet alcove you need to transform into a workspace or a guest bedroom you want to 'double up' as a home office, help is available to you.
No matter if you live in a downtown Columbus loft, an expansive estate in New Albany, Blacklick or Upper Arlington or a ranch home you're looking to renovate in Westerville or Grove City – Innovate's design team can help design a home office complete with storage or filing cabinets, shelving and even a custom desk. And it doesn't matter whether your space is big or tall.
Let us show you the benefits of a custom home office with product features to eliminate your frustrations. Schedule a Free 3D design with a virtual appointment or an in-home design consultation and get on the road (or should we say in the home) to an improved home office today.

Product Pages – Contact Us Box
---
Product Gallery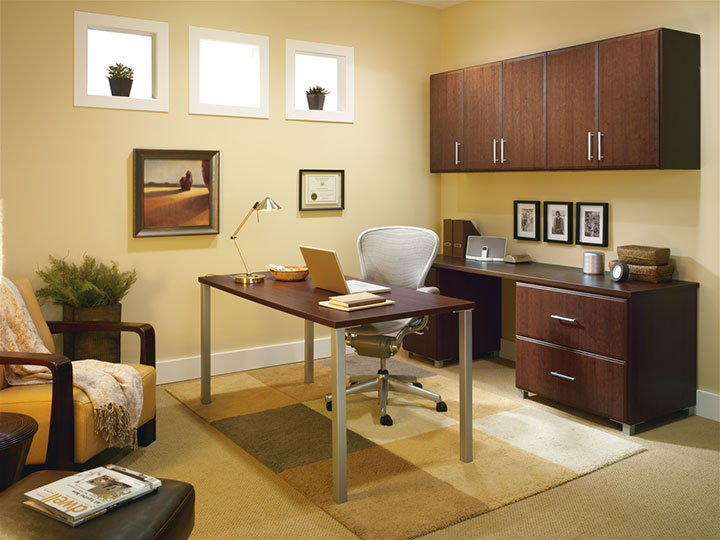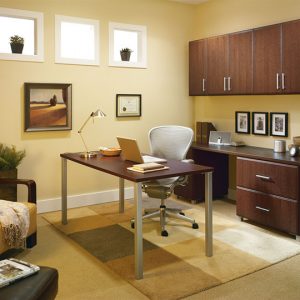 Contemporary custom home office desktop with double and single wide filing cabinets and upper cabinets
Tannin luster finish doors, drawers and desktop for a warm contemporary look.
Eased edge door and drawer design.
1-1/8" thick durable laminate top.
Slow close drawers and doors.
Studio bar matte nickel handels.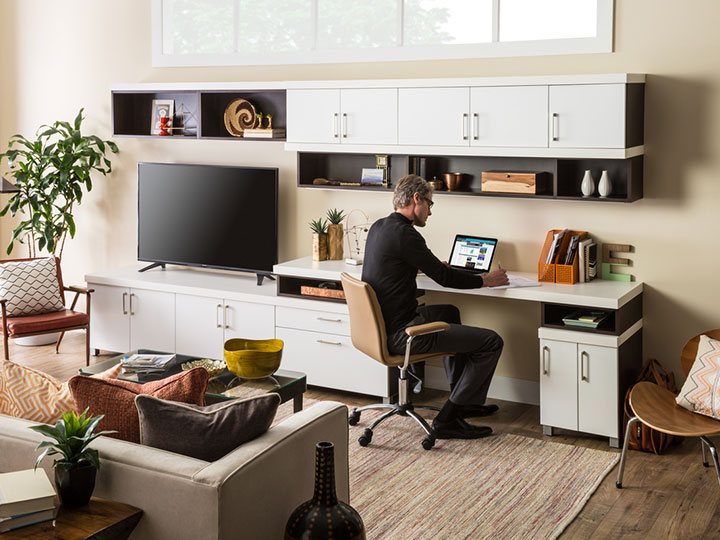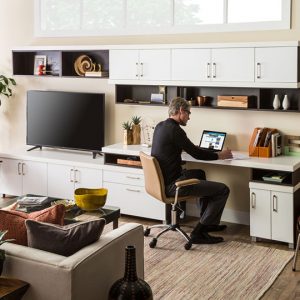 Modern built-in home office organization system
Euro style drawer and door fronts.
Two-tone contrasting black shelves and white drawer fronts and doors.
2" thick countertops in white.
Modern handles in a matte nickel finish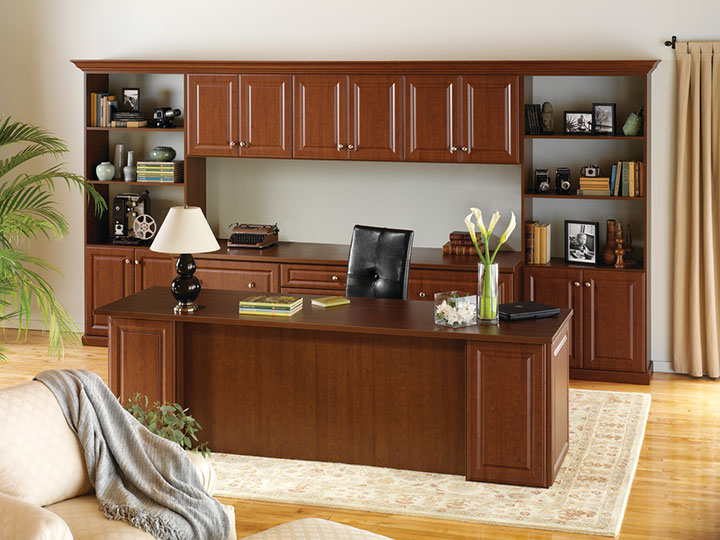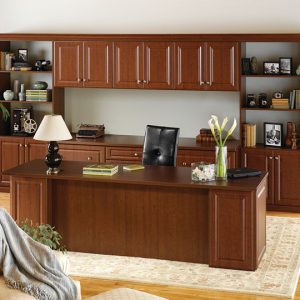 Traditional cherry style executive desk and matching credenza cabinet
Wide executive desk in a cherry style durable laminate with 1-1/8" thick desktop.
Full extension drawer with dovetail drawer boxes.
Round chrome knobs.
Formal crown molding for traditional elegance.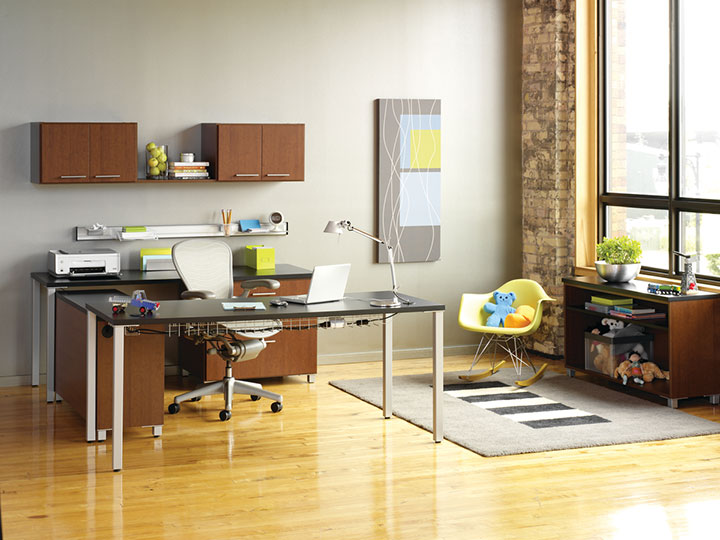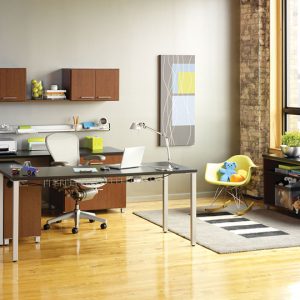 Contemporary Euro-style desk with upper cabinets and open credenza cabinet
Easy to clean cherry-look laminate open desk, upper cabinets and credenza system.
Fold up upper cabinets with slow close hardware and brushed nickel handles.
Aluminum home office storage tray.
Contemporary brushed nickel legs with a 1-1/8" thick durable desktop.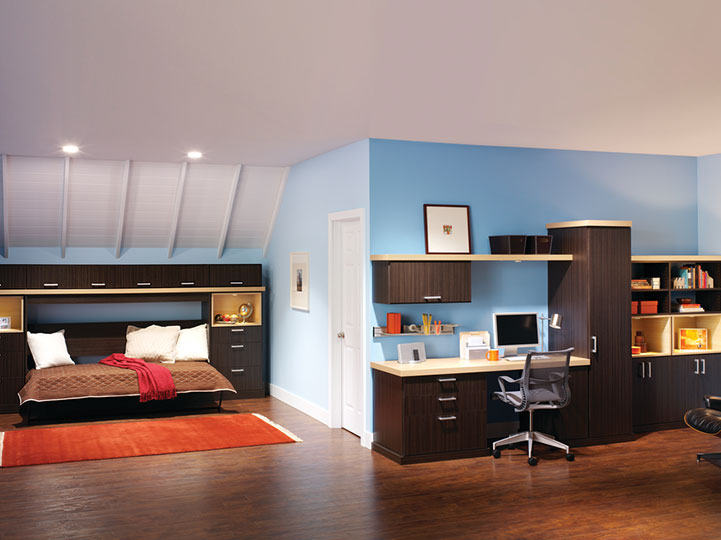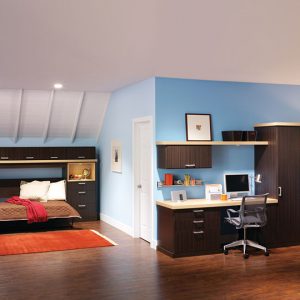 Contemporary mocha-colored desk in a dormer with a horizontal fold up Murphy wall bed
1-1/8" thick 'wheat pattern' desktop with contrasting mocha-colored cabinetry.
Matte nickel modern rectangle handles.
LED desk lighting.
2-3/8" thick decorative modern baseboard trim.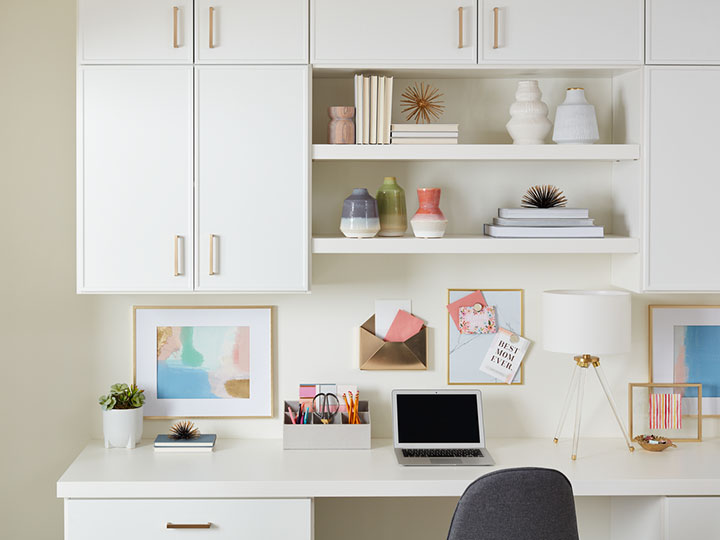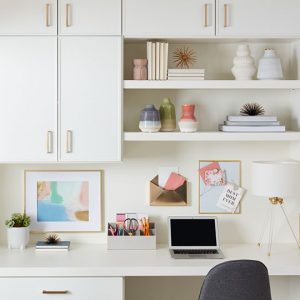 Slim shaker office cabinets
Slim shaker style white contemporary cabinets.
Heavy duty white laminate countertop 1-1/8" thick.
Matte nickel modern handles and slow close cabinet hinges.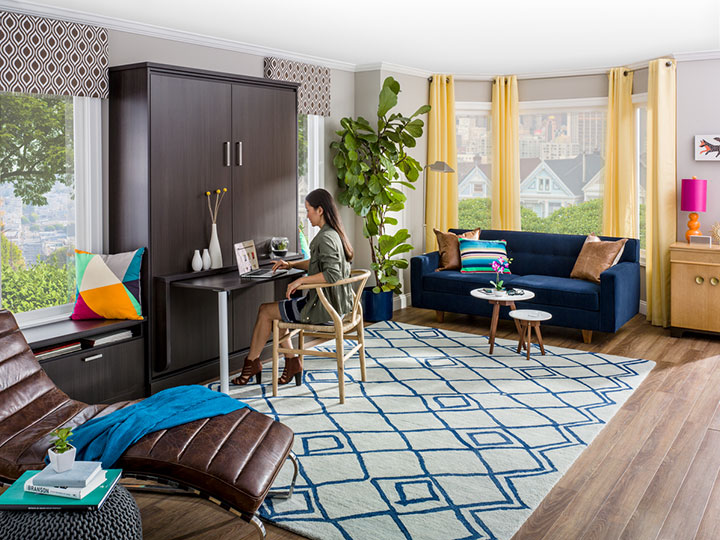 Fold up Murphy Desk Bed in a Columbus Victorian Village Loft
Queen sized Murphy bed with a fold up 20" deep desk extension.
Double wide filing cabinets.
Rich 'ore' color pattern.
Modern rectangle brushed nickel handles.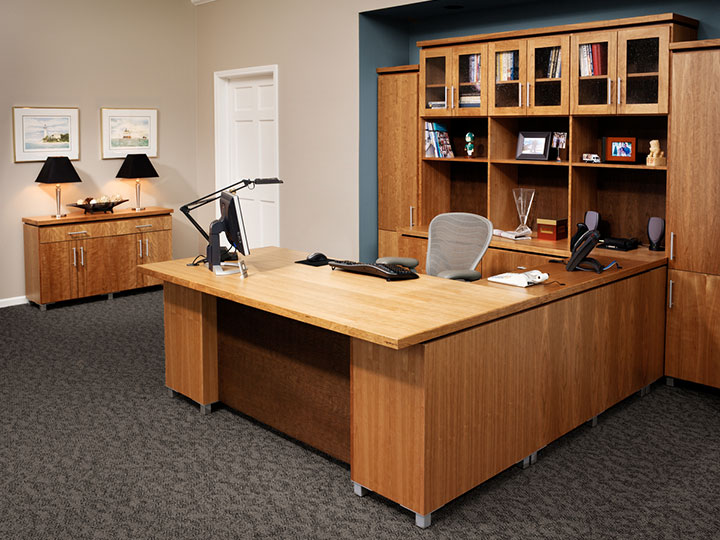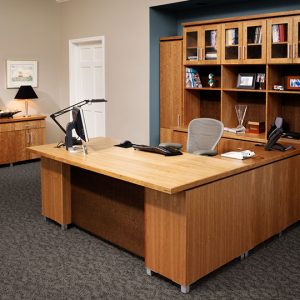 Contemporary bluff colored desk and credenza set
Wall to wall cabinet credenza built into a den alcove.
Upper glass door cabinets with slow close hinges.
Grommet built into the desktop to hide computer cords.
Adjustable shelves.
Bluff colored finish.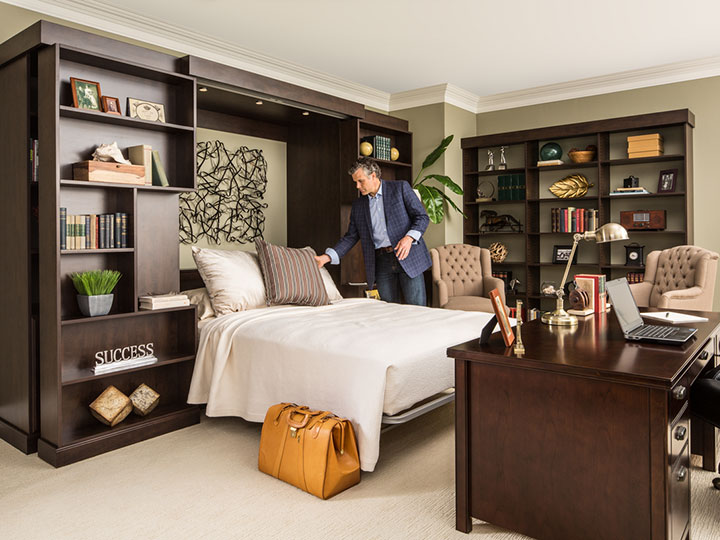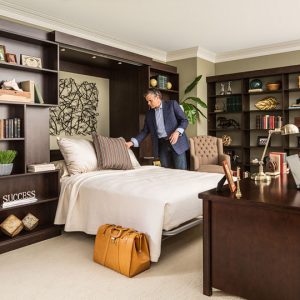 Library Desk Bed with sliding shelving
This Library wall bed has moveable shelving systems which slide to the sides when the bed is lowered.
LED lighting built into the top of the Library bed.
4" decorative base trim in a Mocha color.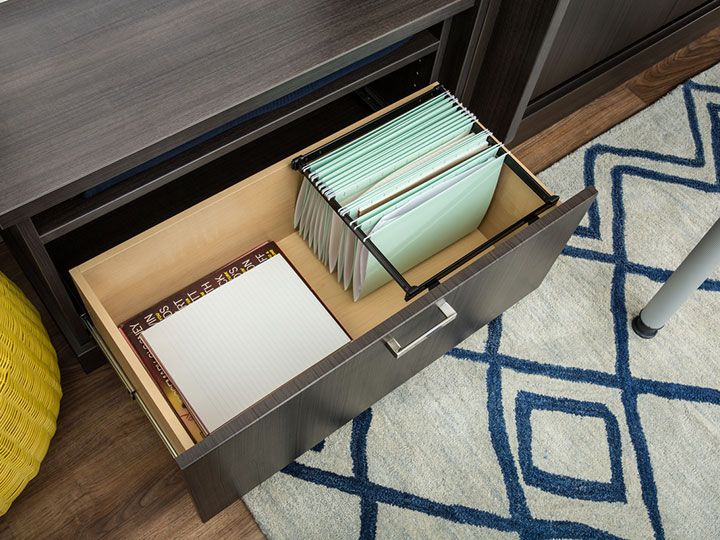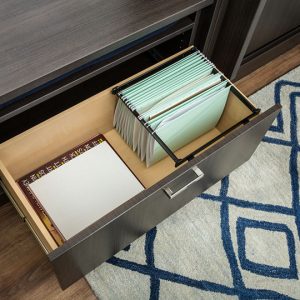 Full extension double file drawers
These full extension drawers allow you to 'double up' your filing needs.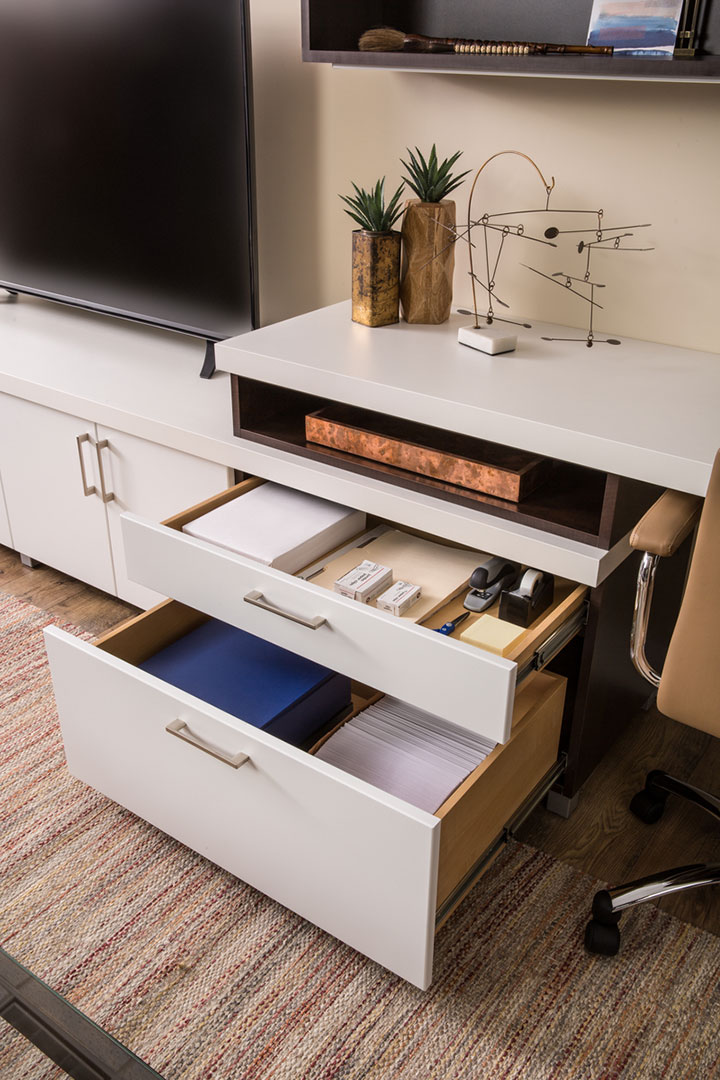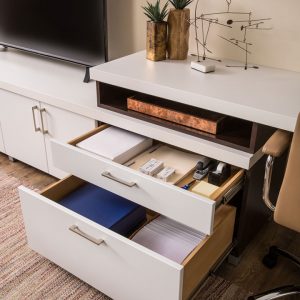 Full extension 5" and 12" drawers
Euro style 5" and 12" drawers with full extensions made from birch wood.
Slow close operators.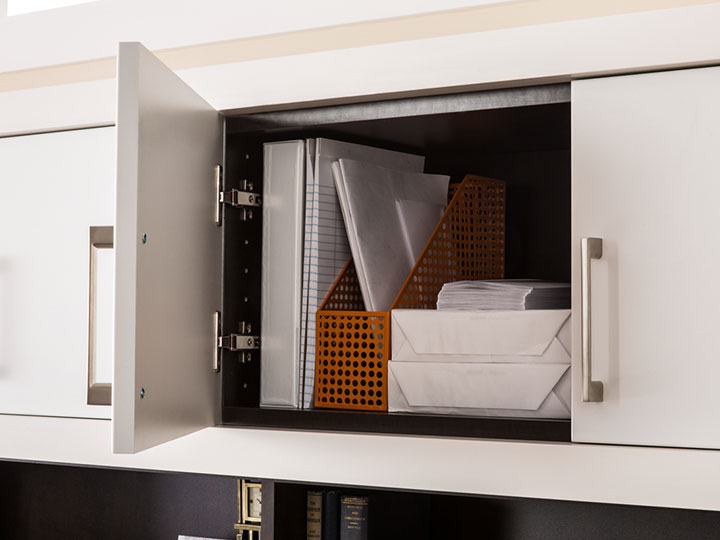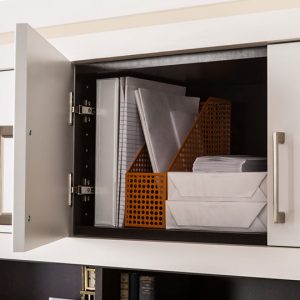 Upper cabinets in a home office organization system with slow close hinges
Heavy duty Euro-style hinges with a slow close mechanism.
Matte nickel modern style door handles.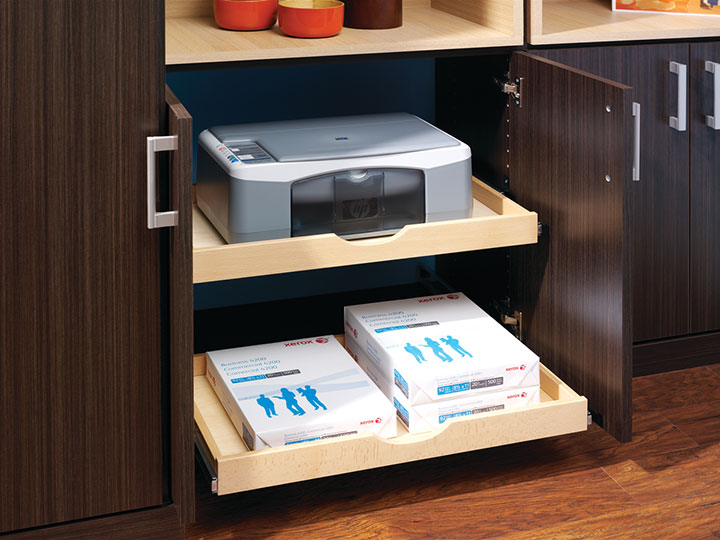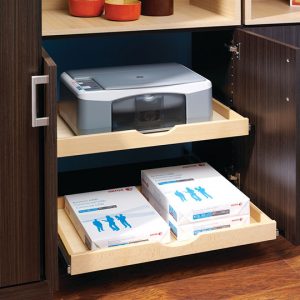 Slide out birch scoop desk drawers
Scoop style drawers are simple to pull out and a smart way to keep your copier and copier paper hidden.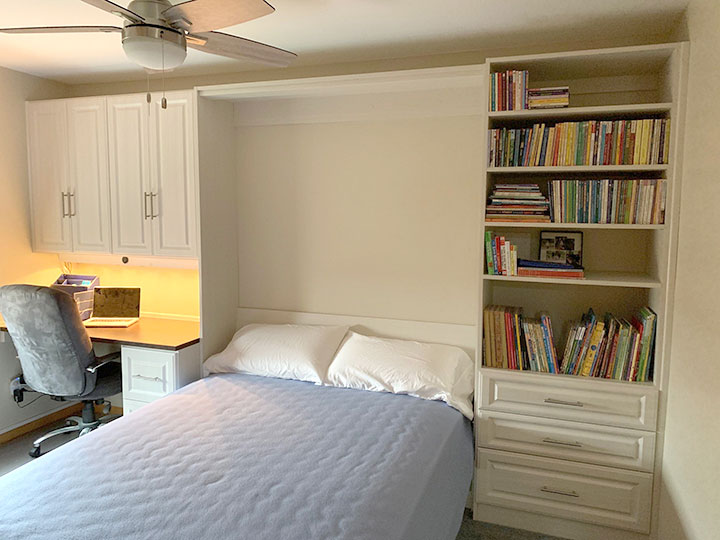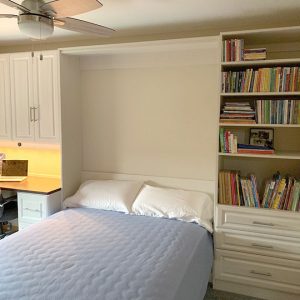 Custom desk and Murphy bed in a Columbus spare bedroom
Custom desk with a grommet hole for computer and laptop wires.
36" wide shelving unit with 19" deep drawers with slow close operators.
Queen sized Murphy wall bed in a Morning Mist pattern.
---
CTA – Free Consultation Button
Get the most out of your space and schedule a free design consultation today!
Free Consultation
---
Benefits of Custom Home Office Organization Systems
Designed around your space – Get ideas to improve the use of a spare bedroom which you'd like to double as a home office. See how to convert a small closet into a home office niche in your ranch home or tiny loft. Or learn how to effectively use your den to gain storage or add a contemporary desk or wall or floor shelving and improve your workflow.
Fits your decor – Don't put up with your 'hodge-podge' of cheap department store 'furniture' which screams out, tacky. With 22 patterns and 5 drawer and door styles, you'll not only get an efficient home office, but also one which compliments the rest of your home, loft or condo.
Reduce your stress – It's so aggravating to not find what you're looking for (and this is especially true if the report is due in 15 minutes!). With storage cabinets, custom desks and drawers designed around how you work, you won't be panicked when the boss (or client) demands your work RIGHT NOW (OK, maybe not as panicked)!
Gain useable space which is ergonomically correct – Although you may have a desk for your laptop, do you lack drawers for files, or a place to store copy paper, manuals and supplies? With a custom home office, your storage and work areas are designed around your needs. Add upper wall cabinets to use the height in your room. Install drawers for folders. Put in a slide out tray for your keyboard or printer to free up desktop space. Design a custom desk which is just the right size.
Eliminate clutter – Does visual clutter stress you out? Then get your supplies behind closed cabinet doors or pull out drawers. Or add grommet holes in your desktop to eliminate the 'spaghetti-like' mess of wires which your family is constantly tripping over.
3D design to see your space come to life – Its hard knowing what will (or won't) fit your space. Let our home office organizers and designers take the guesswork out for you. Get a Free 3D home office design which is not only developed based on the size of your room, but also works around outlets, heat registers and windows.
Precision made with a time-effective installation process through Innovate Home Org – Have you ever had the construction project which never seemed to end? Well with a custom home office system from Innovate Home Org your design will be made into custom manufactured sections on CNC (Computer Numerical Control) equipment BEFORE your installation date arrives. You'll get a better-quality finished project (it sure beats a contractor cutting wood with small hand tools in your house) with much less mess. Your project will be done in less time, with materials which are built to last. And with over 190,000 customers served since 1977 and a lifetime guarantee, you'll feel secure you've made the right choice with Innovate Home Org.
---
Features of Built-In Home Office Organization Systems
Prefabricated for better quality and quicker installations – Your home office design is premade to fit your room. Our storage, wall cabinets and desktops are custom machined to size, so your system is stronger, installed in less time with little mess.
Adjustable shelving and multiple sized doors and drawers – Shelves are adjustable so they can be moved up and down as your storage needs change. With 4 standard height and width drawer options, you'll get the mix of storage spaces which fit your needs (at a budget you can afford).
Designed to work around outlets, heating registers and odd sized walls - Standard systems are nice, if you have standard walls and there aren't things in the way (like light switches, outlets, windows and air returns). With a custom home office system, we'll design around your obstructions to minimize the need (and expense) of adding or moving outlets, light switches of register grates and duct work.
Styles, colors and finishes to fit your decor – Your custom home office and built in cabinets will express your style. With 22 standard colors and textures and 5 different drawer and door options, you'll find a look which works whether you're into Contemporary, Modern, Transitionalist or Traditional styling.
Accessorize to improve function and add fashion – Top off your home office system with contemporary or traditional crown molding, decorative fluting or a two-tone look. Add LED lighting to make a dark workspace come to light. Add grommets to efficiently handle wires. Install slide out drawers so your keyboard, printers and office supplies come to you.
Durable laminate finish will make maintenance a breeze – Even if you spill your drink, or your kids leave their wet cup overnight, these laminate surfaces are simple to clean. They also won't chip or need to be repainted or stained.
3D Design and transparent pricing – Whether you schedule a virtual design consultation or have one of our home office designers and organizers makes a personal visit, you'll enjoy seeing your plan come to life with 3-dimensional reality and priced so you know exactly how much it will cost you.