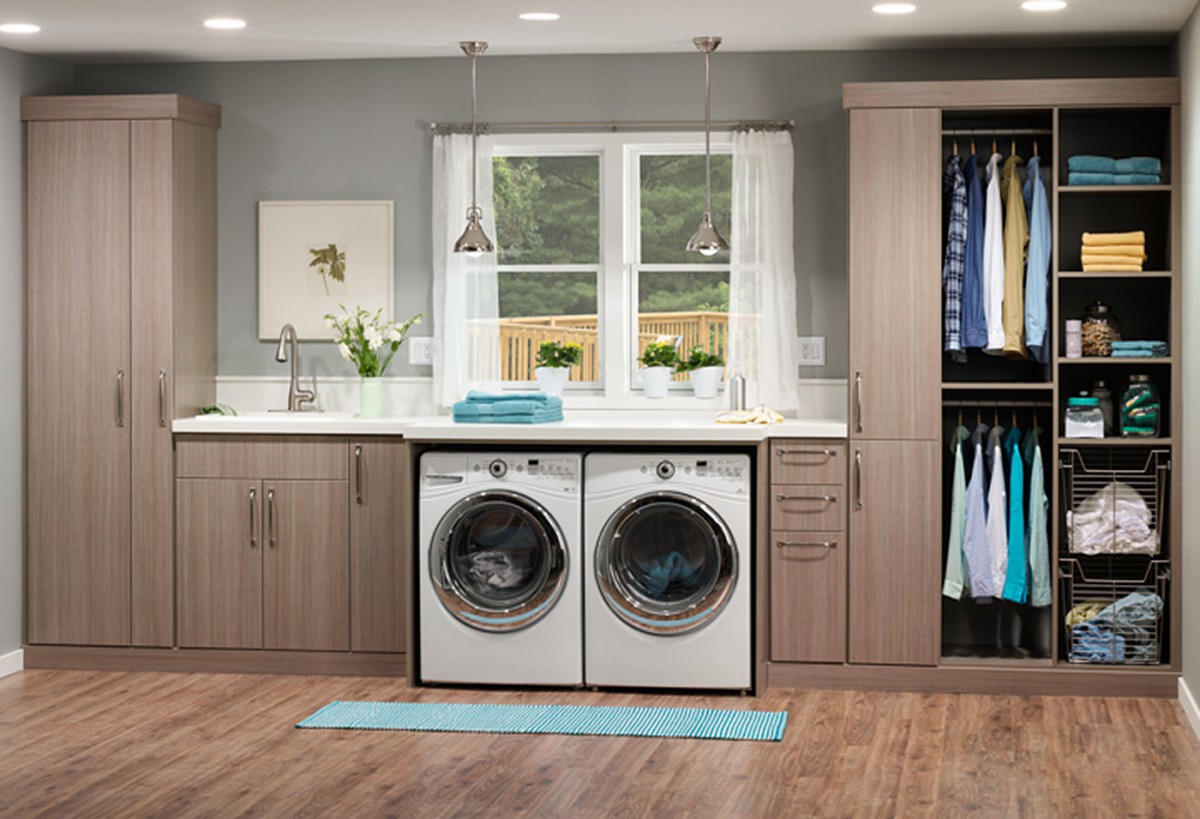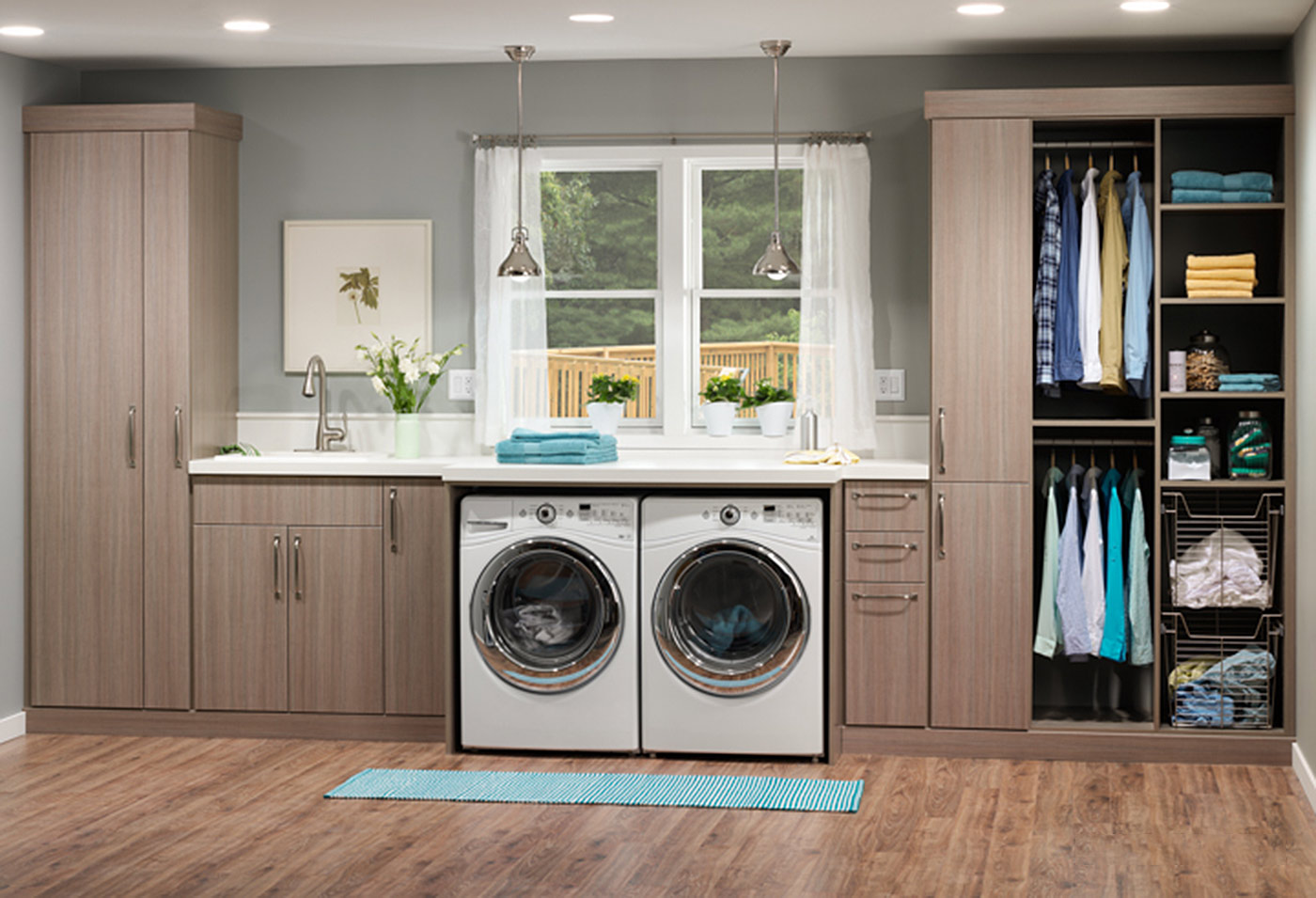 Custom Laundry Room Storage Systems| Shelving & Organization
Who wouldn't love a more efficient laundry room. One which was neat, organized and reduces the stress of doing the not-so-fun task of laundry? Innovate Home Org (a professional designer and installer of laundry room cabinet, storage and shelving systems) can help you turn your cluttered Columbus laundry room into a more organized and space-efficient area with customizable laundry room cabinets.

In this page Innovate Home Org (an authorized Dealer of Org Home) will provide you with the benefits, features and answer your questions about laundry room cabinets and provide you with solutions to this often over-looked (but frequently used) room of the home.


Product Pages – Contact Us Box
---
Product Gallery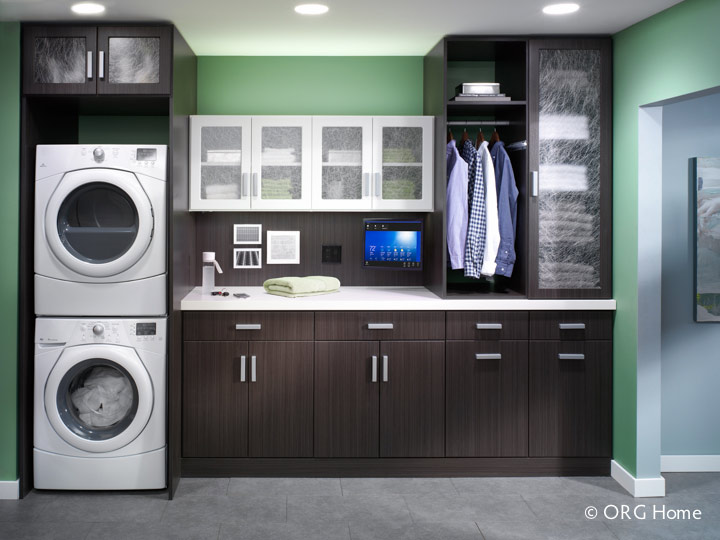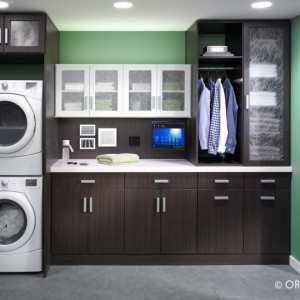 Caviar finish laundry room cabinets with white upper cabinets
Thicker Forterra 2" thick environmentally friendly countertop for sorting and folding clothes
Open hanging rod for freshly pressed shirts and blouses
Translucent resin door panels will offer an upscale look for your Westerville or Dublin home
Euro style cabinet fronts in a "Caviar" finish
Arctic white upper cabinets with a Shaker style door front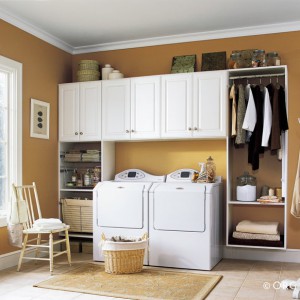 Traditional white wall mounted cabinets with a raised panel design
Arctic White laundry room cabinetry provides a classic and clean look which blends well with white woodwork.
Pull out basket makes it simple to reach cleaning supplies.
Hanging rods provide a convenient place to put shirts after ironing or to air dry delicate garments.
Shelves are easy to adjust as your needs change.
Slide out hamper can help to separate clothes before you put them in the wash.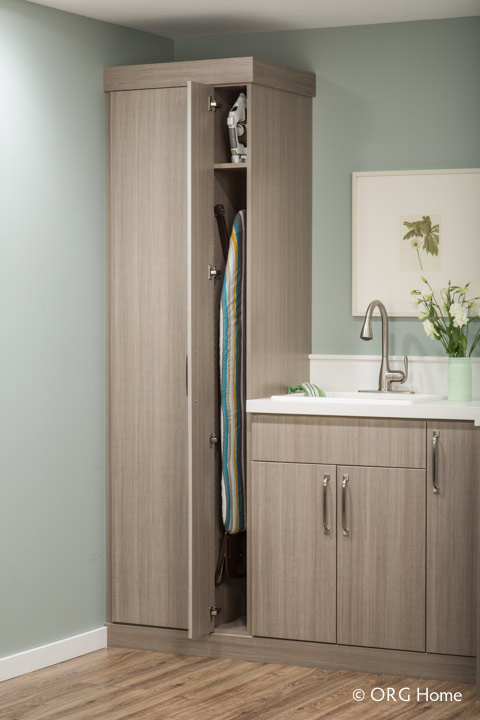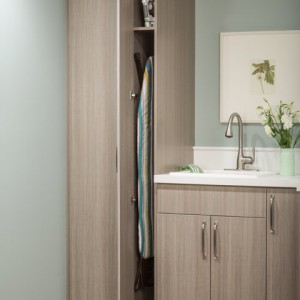 Thinner Euro cabinet design in Driftwood for the ironing board
This thinner cabinet was specifically designed to fit a full sized ironing board without taking up too much room.
Floor mounted cabinets with decorative trim at the top provide a finished and upscale look.
2" thick Forterra white counter around the sink provides a clean work surface. You'll also love the sustainable design elements of this counter.
C shaped handles are easy to open and ergonomically correct.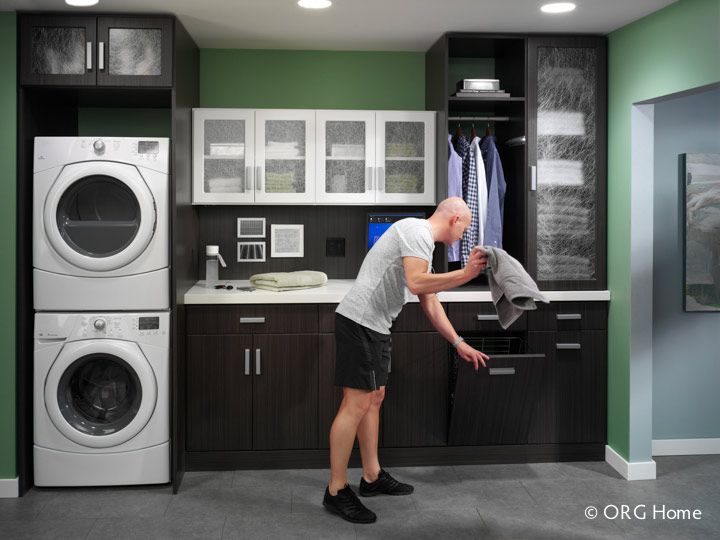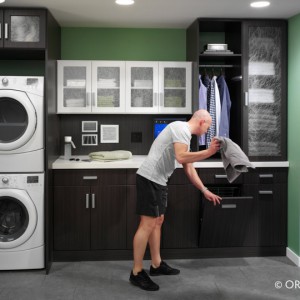 European designed laundry cabinets with a flip open laundry hamper
Convenience is key – this flip open laundry basket is an easy place to throw (and keep organized) different color clothes before you're read to throw a load in the washer.
The upper cabinets by the stacked washer and dryer were custom sized to fit to match the width of these appliances – maximizing space.
Floor to ceiling cabinet design makes use of every vertical inch of space.
The white cabinets tie in the color scheme of the white washer and dryer.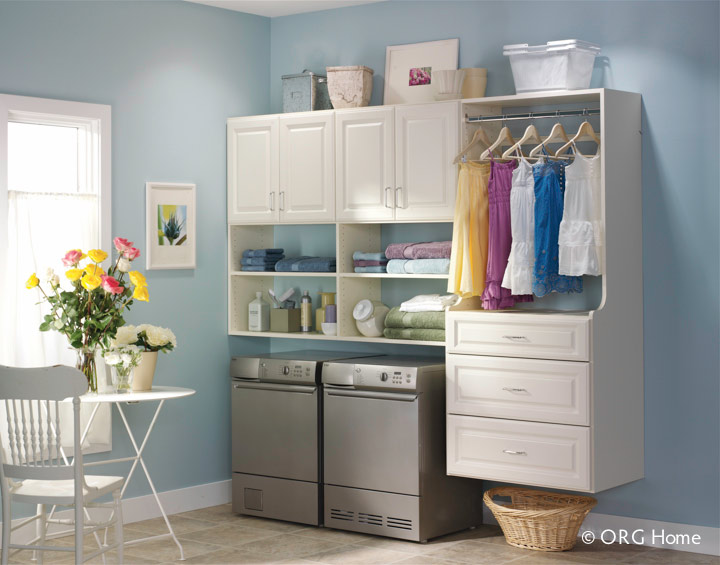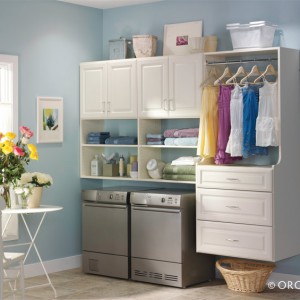 Wall hung raised panel laundy room cabinets
This wall hung cabinet offers a cost effective storage option whether your home is in Upper Arlington, Pickerington or anywhere in Columbus.
Drawers fully extend to be able to reach items in the back.
The open rod is a convenient place to hang clothes after they've been ironed.
The raised panel design is a perfect fit for a traditional home.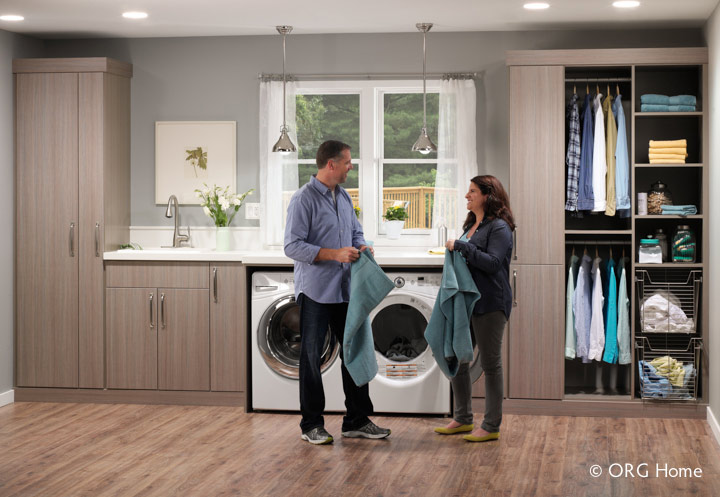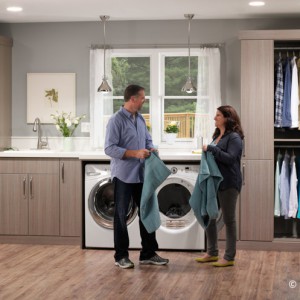 Contemporary design using open shelves and concealed cabinets
Open shelves work to stage freshly ironed shirts and folded clothes.
Concealed cabinets are perfect places to put ironing boards and cleaning supplies you want to keep out of the sight of young children.
This floor mounted design makes perfect use of space by designing a higher and level rods to provide 2 times the hanging space.
These Euro designed cabinets look wonderful in the Driftwood finish.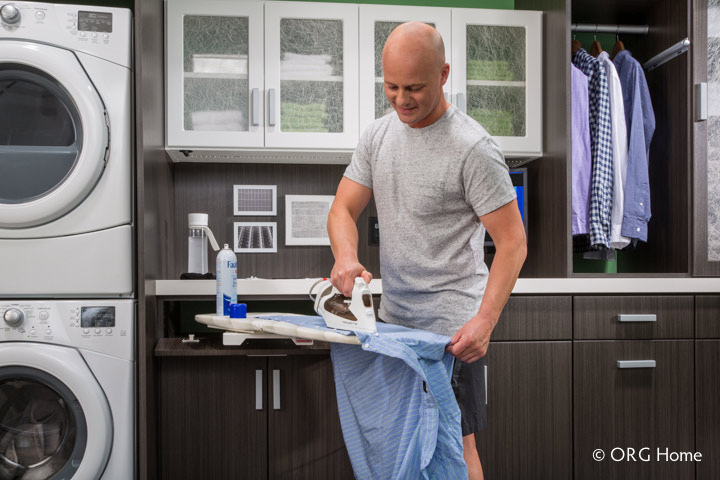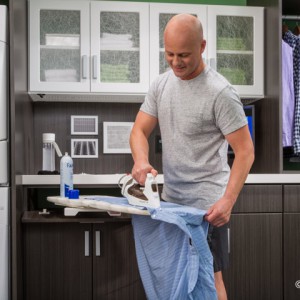 Hidden drawer fold out ironing board for quick touch ups
Here's a convenient idea – a small ironing board which folds out in 3 different positions for quick touch ups before you go that formal Central Ohio event.
Arctic white countertop provides a bright work space to fold clothes.
Polished aluminum drawer fronts provide a modern look and are easy to grab.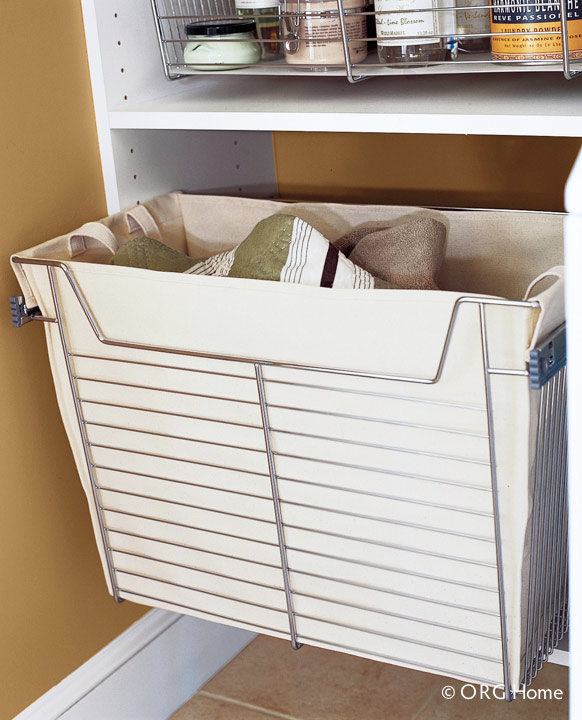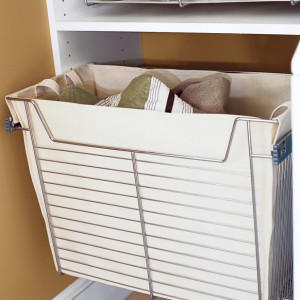 Slide out hamper and adjustable shelves
The slide out hamper in this open shelf design is a quick place to put dirty clothes before you're ready to run the wash.
Shelves can be easily adjusted as your needs change.
The pull out basket – which fully extends – is frequently used for handy place for cleaning supplies.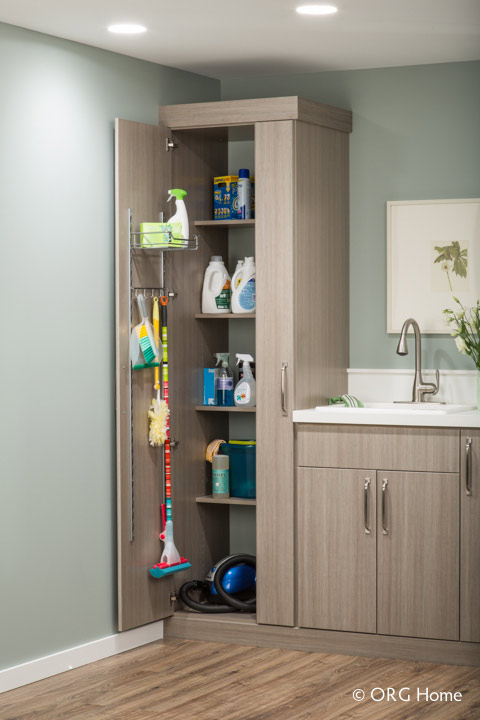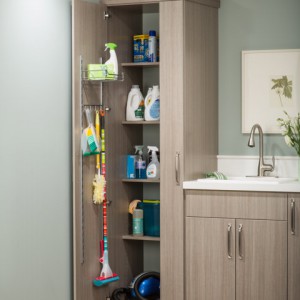 Door mounted laundry room basket and hooks for cleaning supplies
The hooks mounted on this cabinet door put your mops and dusters easily at hand.
Shelves can be adjusted to match the height of your cleaning supplies.
A door mounted basket keeps small items right there for you to grab and go.
The Driftwood door and cabinet finish style is contemporary, yet warm.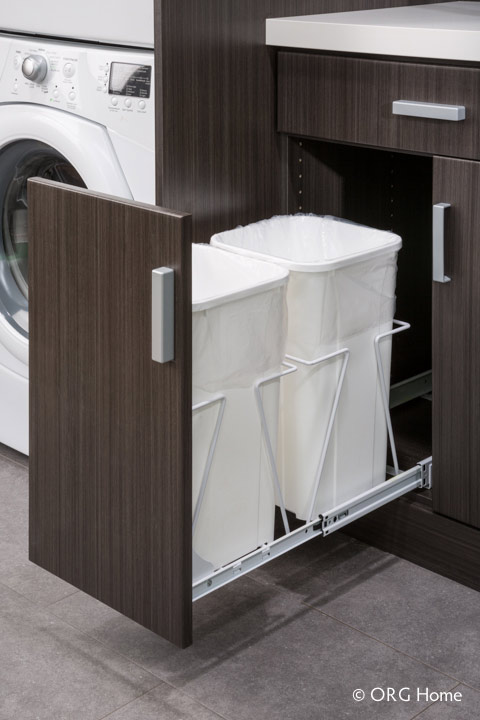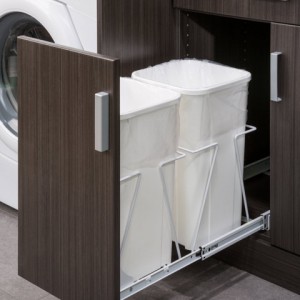 Slide out laundry room cabinet for garbage or recycling containers
Being able to hide trash cans or your items for recycling allows will allow your home to feel neat.
The fully extending cabinet slides out so you can simply get to the back.
The "Caviar" thermally fused laminate finish is easy to clean and provides a luxury look.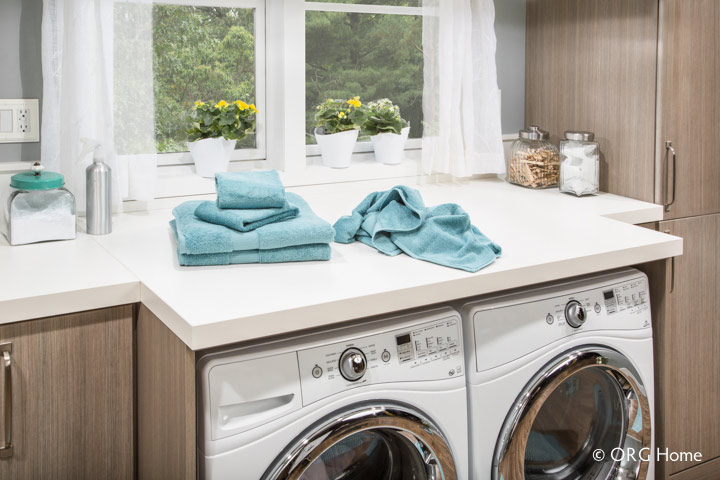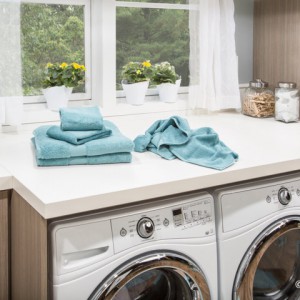 Engineered countertops are sustainable and eco-friendly
This innovative Forterra countertop is a bold 2" thick structural material which has been made with recycled content and is designed for maximum rigidity.
Our manufacturing partner (The Stow Company) uses 100% recycled and/or recovered wood fiber for our cabinetry panels.
---
Product Video
CTA – Free Consultation Button
Get the most out of your space and schedule a free design consultation today!
Free Consultation
---
Benefits of Laundry Room Cabinets & Storage Systems
Cleaner look – When your clothes are organized and stored in hampers, cleaning products are hidden behind doors and drawers, and garments are hung neatly to prevent them from wrinkling, a laundry room can actually feel good to be in.
Gain more storage space – If you don't have enough laundry room storage in your older Bexley or Upper Arlington or Pataskala home adding upper cabinets above the washer and dryer or adding open shelves or hookboards in the small nooks and crannies of your room can really help.
Cabinet and counter designs which are ergonomically correct and environmentally friendly – Having to bend down to reach cleaning products or being cramped finding the room to navigate ironing a dress before a big meeting in downtown Columbus can be tough on your body. With pull out baskets or slide out ironing boards your space is better used and easier on your body. In addition Innovate offers environmentally conscious products which are manufactured with a focus on sustainability.
Custom designed to fit your space and style – Instead of buying stock cabinets which may leave badly needed spaces unused – your Innovate Home Org laundry room cabinets will be custom designed for your Columbus home and the exact size of your walls– ensuring there will be no wasted space.
Saves your time – An efficient laundry room will reduce the time it takes to do this chore to free up more time for family.
Innovate Home Org, a reputable professional here to serve you – As part of Innovate Building Solutions (our parent company) we have served over 190,000 customers since 1977. Over this time we have learned to listen to you and offer suggestions to your best solutions. Since we are not burdened by franchise fees our pricing will provide a good value – without the need for sales and marketing gimmicks.
---
Product Options to Improve Laundry Room Storage & Function
Design flexibility – Since we offer adjustable shelves, pull out bins and baskets and different ironing board options you'll know your space can grow and change with your ever-changing family.
Style, color and finish selections to fit any home – Your laundry room cabinets and shelving can express your individual style with 20 standard colors, 9 wood veneer finishes and 5 texture options . So whether you have a contemporary minimalist home or loft in Short North or a sprawling traditional luxury home in Dublin or New Albany we have a style to cover your tastes.
Drawers and rods to make things easier on you – Our full extension drawers make it easy to see what's stored deep in the back of your laundry room cabinets Several rod options – including a wardrobe valet rod and tiered valets allow you to neatly hang clothes so you'll know they won't get wrinkled before you have the time to move them into your bedroom closets.
Locking cabinets – If you have little ones it's always concerning what they're going to open up and get into. Ask your Innovate Home Org Design Specialist to tell you about locking cabinets for your dangerous liquids.
Advanced product manufacturing for improved quality and better lead times – Our manufacturing partner (the Stow Company) makes our door and drawer fronts in one integrated 400,000 square foot plant (not sourced to a 3rd party) using the most advanced CNC equipment. This provides you with a coordinated finished product with higher quality and shorter lead times.