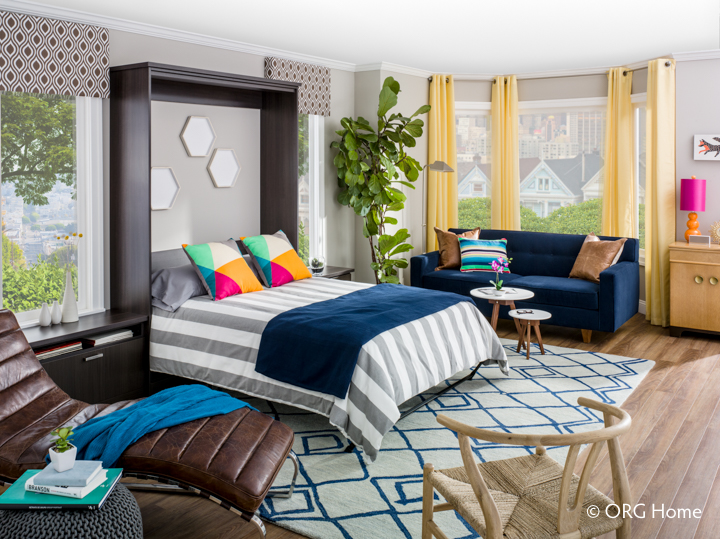 Murphy Beds & Wall Bed Designs
For Your Columbus Guest, Loft, or Spare Bedrooms
Do you wish your spare bedroom didn't go unused 99% of the time? Wouldn't it be nice if you could gain space in your loft or studio apartment or spare bedroom but still have a comfortable place for guests to sleep when they visit? Is sleeping on your sofa, couch or futon an exercise in torture?

If you answered yes to any of these questions you need to learn more about professionally designed and installed Murphy Beds (sometimes called Wall Beds). These units are more than a simple bed which drops down from the wall. Murphy beds can turn your cramped Columbus bedroom, loft or studio apartment into a multi-purpose space for a home office, workout or craft room. They're sleek, space-efficient and comfortable.



In this page Innovate Home Org will show you the benefits, features and answers to your frequently asked questions (such as what size fold away bed will work for your bedroom, spare room or loft space) about Murphy and Wall Beds for your Columbus, New Albany, Westerville, Pataskala or Upper Arlington home.

Product Pages – Contact Us Box
---
Product Gallery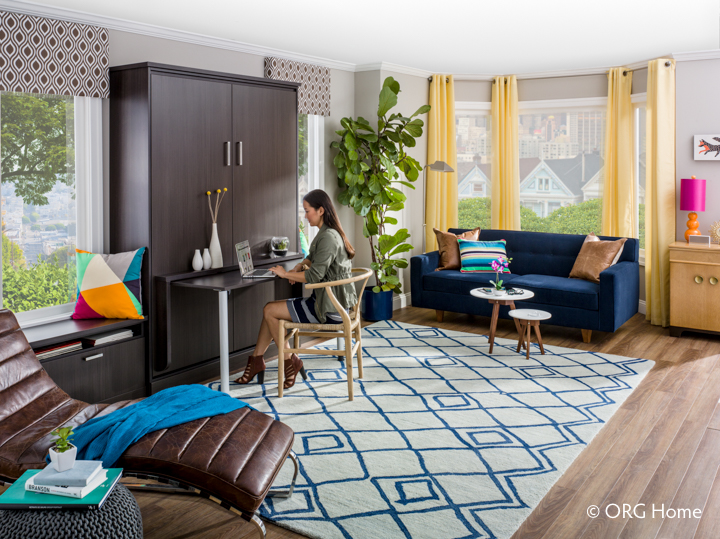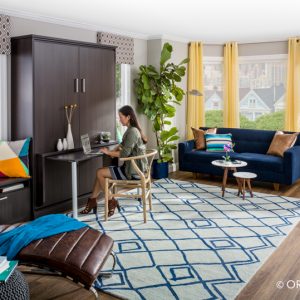 Flip up desk murphy bed for offices and bedrooms and studios
The desk function in this Murphy provides 2 functions (sleeping and working) into one small space.
This desk flips up from a slim-line cabinet box.
These sturdy and stylish aluminum folding legs are durable.
Heavy duty magnets and a catch latch holds the desktop surface securely in place and gives a quality feeling when opening and closing the desk.
This unit is shown in the color "Ore" – although there are 19 textures and colors to choose from.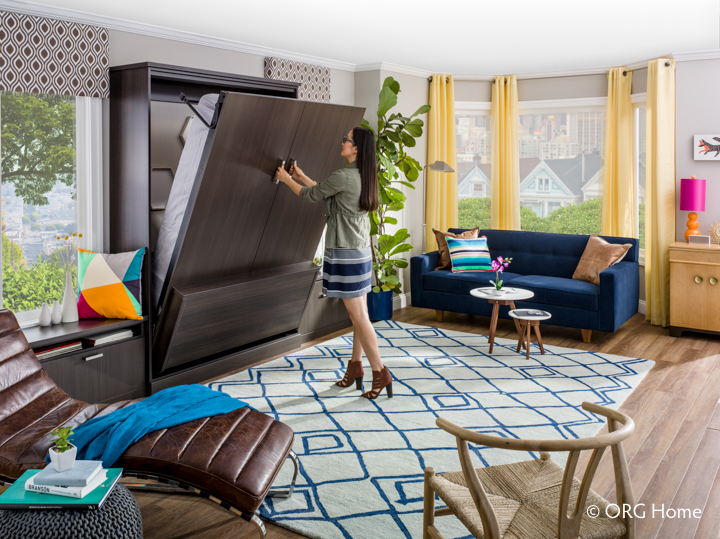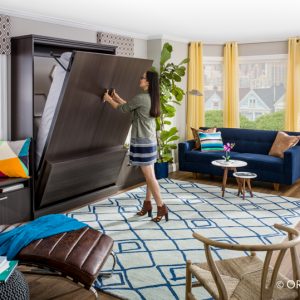 Flip up desk Murphy bed is simple to set up
When you're ready to sleep just fold down the bed and pull down the cabinet to bring down a twin, full or queen-sized bed.
This unit uses a 10" thick mattress.
This cabinet is available in 16" and 19" depths with an optional pillow box to store extra blankets and pillows.
Add filing cabinets on the sides for a complete home office/bedroom.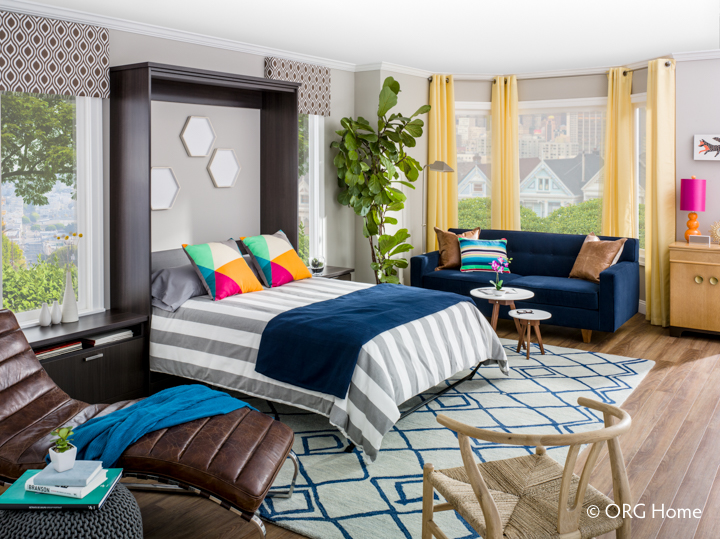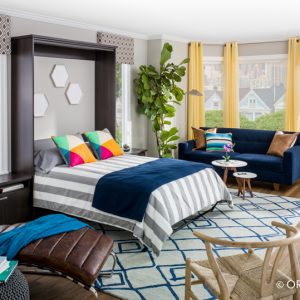 A comfortable bed for overnight guests or everyday use
Whether you use this bed every night, or just once in a while, a 10" thick mattress is much nicer than sleeping on a futon or sofa bed.
On the sides of the bed you can incorporate filing cabinets, a wardrobe closet or an entertainment center to perfectly fit your space.
A deeper shelf can be used at the top to mount LED lights for reading at night.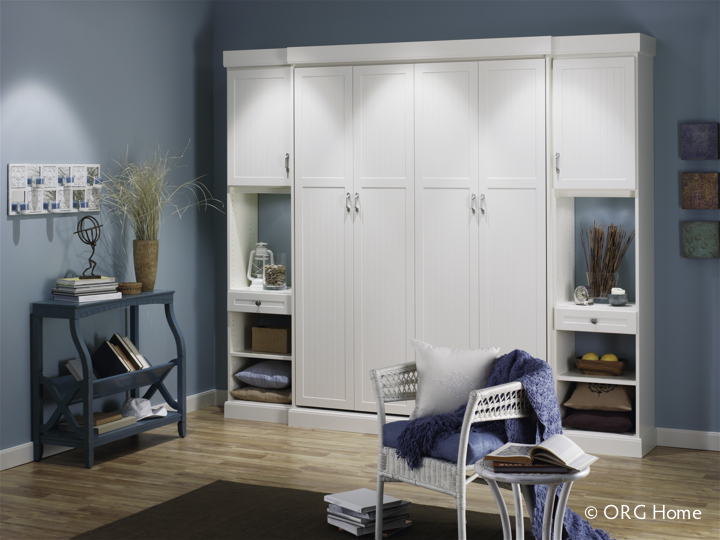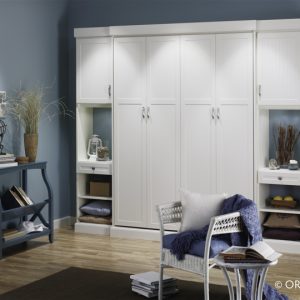 Standard Panel Murphy Wall Bed
If you're looking for simplicity and function this standard Murphy bed will do the trick. It is available in full, twin and queen-sized mattresses.
Available in 6 different decorative fronts (arch, bead board, cathedral, Euro, raised and Shaker styles). Shown in shaker style here.
Available in 19 different colors and wood textures.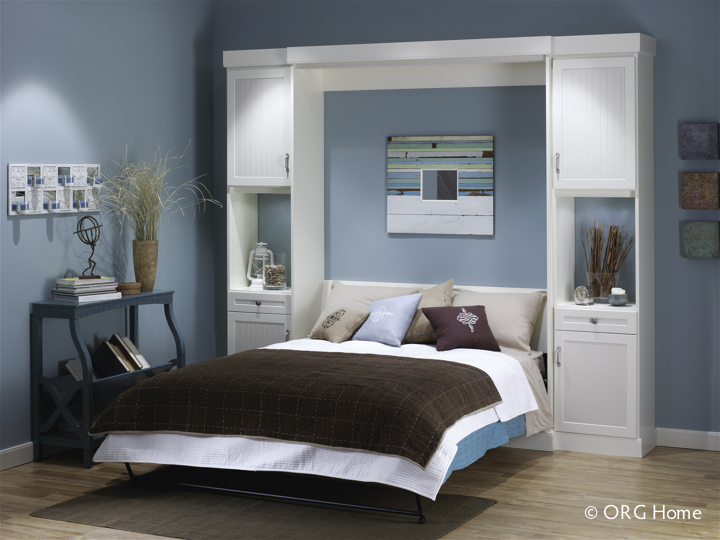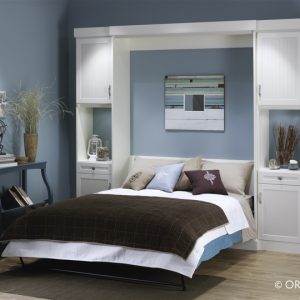 Standard Panel Murphy Wall Bed is Simple to use
These beds are available in either a vertical (for standard 8' and higher ceilings) or horizontal tilt (for lower ceilings in dormer style rooms).
They are available in 16" and 19" cabinet depths with or without a pillow box storage area.
This bed uses a 10" thick mattress.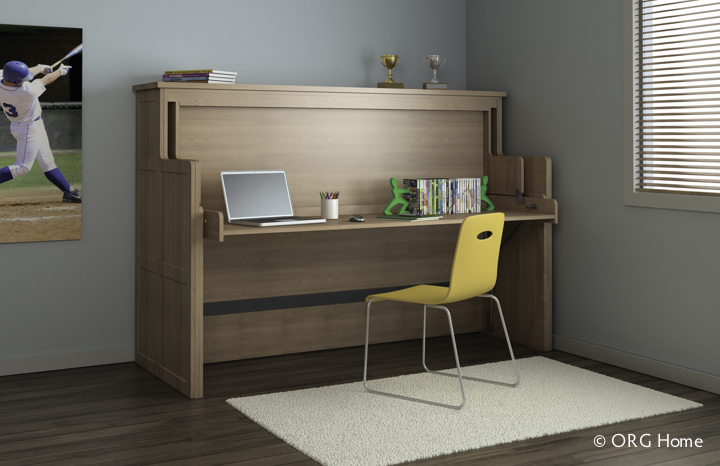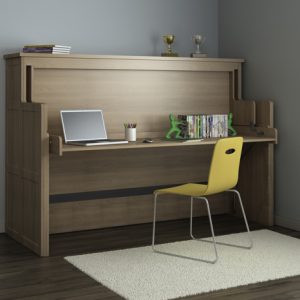 Horizontal twin desk bed for kid's bedrooms
Kid's bedrooms are the smallest rooms in the home and this horizontal style Murphy beds makes the most of this small space. It opens out in a horizontal fashion to show a twin sized bed which is perfect when friends sleep over.
Available in all 19 finishes to compliment any decor.
Optional decorative end panels are available for a beautifully finished look.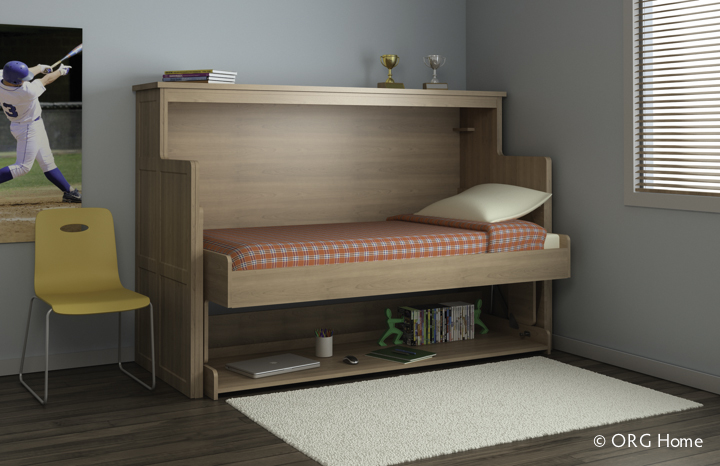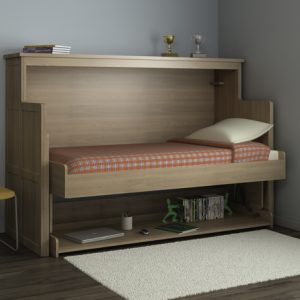 Twin bed Murphy desk bed perfect for sleepovers
This compact 10" thick mattress and bed is perfect when your son or daughter's friends come over for a sleepover. A unique balancing mechanism creates a smooth transition from the desk to the bed feature.
You can leave the bedding in place saving you time setting up a bed for their friends.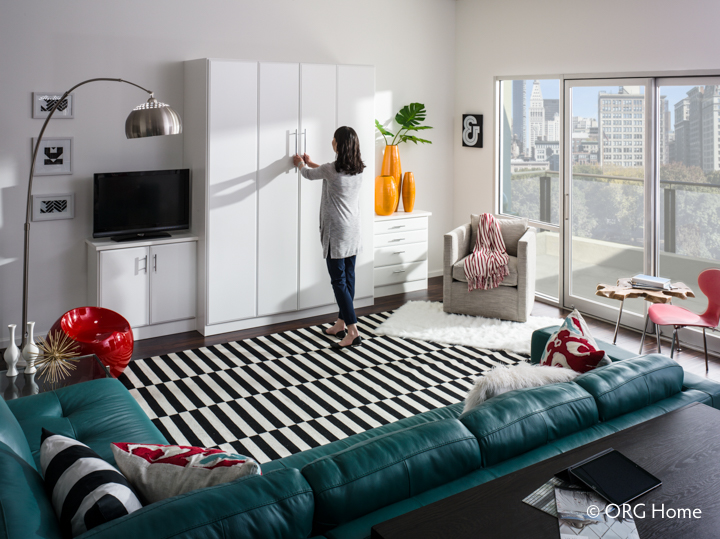 Bi-Fold Murphy Wall Beds for Guest Rooms or Lofts
These bi-fold doors (available in 19 different colors and 4 door styles) open wide to accommodate cabinetry on the sides.
Behind the doors you can use a twin, full or queen mattress.
Use up to an 11" mattress for a good nights sleep – every night.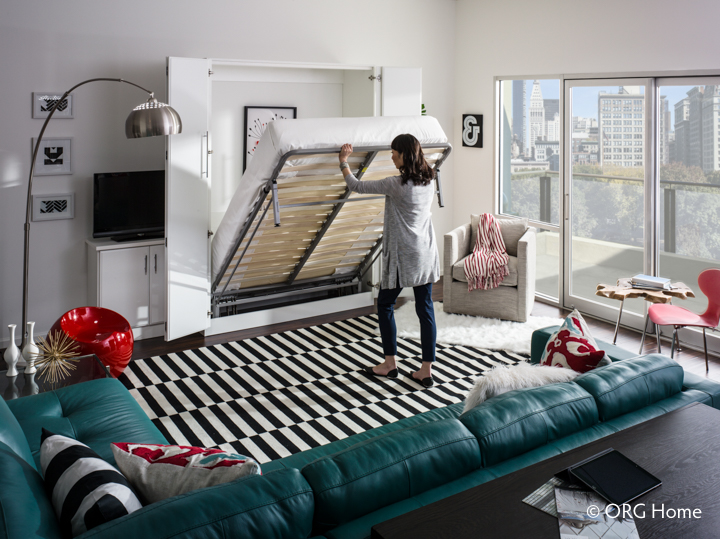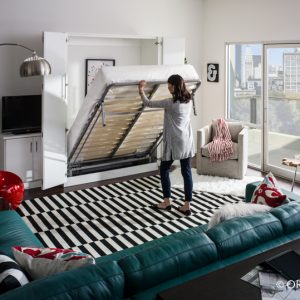 Bi-Fold Murphy Beds are Simple to Pull Down
A spring balanced mechanism makes it simple to pull the mattress down and convert from a finished cabinet into a bed at a moments notice.
A folding headboard ensures things don't slip behind the bed.
Sturdy wood boards support the mattress for a comfortable night's sleep.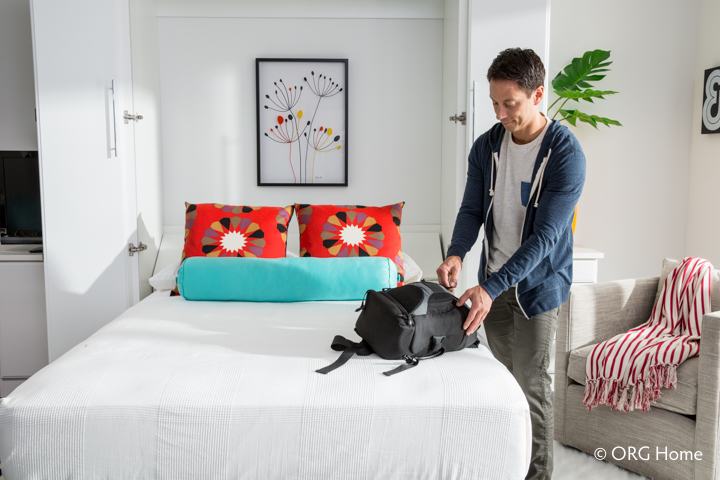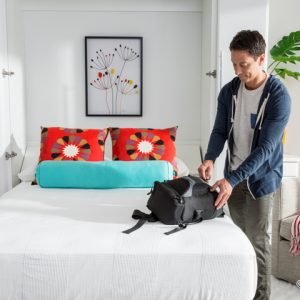 Bi-Fold Murphy Beds are Flexible
The thick 11" mattress makes a comfortable sleeping excellent for a guest vs. using a futon or sofa bed.
This bed comes in twin, full and queen sizes to fit in the space you have available.
---
Product Video
---
Benefits of Murphy Beds and a Fold Away Wall Bed for Your Columbus Home or Studio Apartment
Create multi-purpose spaces (or even a desk and bed combination)- Since a Murphy bed easily folds into a framing system attached to the wall, you'll have extra area for a home office, craft room, living room or workout space when the bed is not being used for sleeping. Your guest bedroom can become a place you use year-round - not only when guests stay over. If you really want 'multi-function' ask about our Murphy desk beds.
More comfortable than a futon or couch bed – If you've ever slept on a thin futon or sofa bed you know it can be painful. With a 10" or 11" thick mattress a Murphy bed combines space-efficiency and a bed comfortable enough to use every night. This is essential if you're using the bed in an efficiency apartment, a spare bedroom in your Bexley home or small downtown Columbus, Victorian Village, or a Short North loft.
Can be custom designed to fit the décor and size available in your home or apartment – Murphy beds can be designed with complimentary bookshelves (in a home office), entertainment centers (in a studio or loft apartment) or with nightstands in a spare bedroom. They add impact, style and increased function to your home or apartment. Since the beds are available in multiple sizes (for a Queen bed, a full size or twin mattress) you'll be able to find one which suits your needs.
Easy to enjoy a smaller space – Home prices and rents have never been higher. This has forced people to own or rent smaller spaces. A wall bed (or fold down bed) frees up space you can enjoy during the day – while it's simple to bring down your bed to sleep at night.
Simple to operate and the bedding stays in place – Murphy beds eliminate the problems of sofa beds which are difficult to open up, and have no place to put the seat cushions and the bedding must be removed to use the couch function. Walls beds save you set up time and transform quickly for sleeping each and every night.

Free 3D Design - We understand you may not know if you have enough room for a Queen, full or twin sized Murphy wall bed, desk bed or library bed. You may not know if you have enough room to combine a wardrobe closet, or a full sized desk or bookshelves to complete your storage unit (or if there are patterns and designs to fit your decor. This is where your Innovate Home Org Designer can help. They'll help you with a complete storage design and help you to know if you have enough room for the bed - and even work around outlets and light switches to maximize your design.
Innovate Home Org, a reputable professional here to serve you – As part of Innovate Building Solutions (our parent company) we have served over 190,000 customers since 1977 in the Central and Northeast Ohio areas. It's our goal to listen to you and offer suggestions on how to improve the use of space. Since we are not burdened by franchise fees our pricing will provide a good value – without the need for phony sales and gimmicks. Our goal is to help you with your Murphy Bed, Wall Bed or Murphy Desk Bed– improve your space – and do it at a fair price.
---
Murphy and Wall Bed Product Features
Design flexibility no matter how tall or short your ceiling is – If you have a tall ceiling in your loft or an 8' or 9' ceiling in the bedroom of your suburban home in Pataskala, Worthington or New Albany, a vertical Murphy Bed will work best. On the other hand, if you have shorter ceilings in a spare dormer in a Cape Cod style home a horizontal Wall Bed will be best.
Multi-function product innovation takes our Murphy Bed's to the next level – While you can get a simple fold up Murphy bed for a twin, full or queen-sized mattress – with our innovative product line you can get much more than that. How about a flip-up desk Murphy bed which also gives you, your guests or son or daughter a place to work on. A Library Murphy bed provides storage for books and binders by day and a place to sleep at night. Add nightstands or a wardrobe closet on the sides of the bed for a built-in storage conveniently located next to your bed. Do not let any space go unused every again!
Easy to open and close and your bedding stays in place - With a spring-balanced mechanism your Murphy bed swings up and down easily. With a built-in strap the bedding stays in place so you don't have to remake the bed every day (like a sofa-bed).
Fun style, color and finish selections – Your custom and standard designed Murphy beds, shelving and cabinetry systems can express your individual style with 20 standard colors, 9 wood veneer finishes and 5 texture options to compliment your decor.
Accessorize to improve function and add fashion – Top off your wall bed with contemporary or traditional crown molding. Add a pillow box in the back for convenient hidden storage. Have professionally installed LED lighting to make it easy to read at night.
Custom designed furniture system built specifically to fit your space – In a small bedroom or studio loft, space is at a premium. You've got to get the maximum function in the minimum space. Our systems are custom designed so you can add wardrobe closets, nightstands, an entertainment center or home office custom-fit for the specific area you have.

Professional installation service - Innovate's professional installation technicians will know exactly how to adjust the Murphy bed so it's easy to open and close, yet secured properly to the wall.
Unique Murphy Bed Product Options
While we offer the simple single twin, full or queen-sized mattress Murphy beds our options go well beyond that. See 4 unique choices below to add style and function to your home.
Flip up Desk Murphy Bed for Home Offices or Spare Bedrooms
It's a desk, it's a bed, or stow it away to free up space. This multi-purpose flip up desk wall bed is sleek when folded up, but comfortable to sleep on with a 10" thick mattress. It's available in twin, full and queen sizes.
---
Murphy Desk Bed for Small Rooms, Kids Bedrooms and Dormer Spaces
This slimmed down horizontal Murphy bed works in the smallest kids bedrooms or dormers. Using only a 82" x 44" area (when opened) it serves as a desk during the day and uses a smooth balancing mechanism to fold out into a twin bed at night. It's perfect for your son or daughter's room and makes sleepovers with friends a breeze.
---
Bi-Fold Murphy Bed for Guest Bedrooms & Lofts for a Finished Cabinetry Look
Concealed behind these bi-fold doors is an 11" thick twin, full, or queen mattress which is simple to pull down with a spring balanced mechanism. The bi-fold doors look neat and provide space behind them for cabinetry in a guest bedroom or studio apartment.
---
CTA – Free Consultation Button
Get the most out of your space and schedule a free design consultation today!
Free Consultation
---
Murphy Bed Design Options, Finishes, Accessories & Frequently Asked Questions
Adding color, a textured finish, or an architecturally correct door and drawer selection can help you fashion your Murphy bed to match your budget, needs and interior design style. Explore the wide array of options below or with your Innovate Home Org Design Consultant.
---
Murphy Bed Accessories
Pillow Box for Murphy beds
A pillow box in a 19" deep Murphy bed system gives you a convenient place to store pillows and blankets.
LED Puck Lighting
Installing LED puck lighting at the top of your Murphy bed will make it easy to read at night and add ambiance to your room.
Storage cabinet
Keep your desk clear – but also have your printer handy – by adding a side storage cabinet.
Aluminum legs for flip up desk
This flip up desk option for a Murphy Bed is not only convenient but sturdy with these aluminum legs.
Built in filing cabinets
A combined home office and sleeping area is complete by adding filing cabinets on the side(s) of your Murphy Bed.
Crown molding
Whether you have a traditional or contemporary space a nice finishing touch is crown molding.
Wardrobe closet
f you need to build in a closet next to your Murphy these built in cabinet units can be customized to fit your space – no matter how big or small an area you have.
Frequently Asked Questions
Can I use my own mattress with your Murphy and Wall bed systems?
Any 10" or 11" coil spring mattress will work with our beds. It's helpful to have the mattress on site when the bed frame is installed to make sure the mechanisms are properly balanced.
Do I need a box spring?
Our murphy wall beds are designed to be comfortable without the need for a box spring.
Do I have to remove the bedding and pillows from the Murphy like I do with a sofa bed?
No – this is one reason a Murphy bed is preferred over a sofa bed. A strap system is provided which holds the bedding in place saving you time by not having to reset the bed. Pillows can either be left in place or put into an option pillow box behind the bed frame.
Is it possible to use this bed daily or is it only for occasional use?
Whether you're using this Murphy bed in a guest bedroom, studio apartment, loft of live-work space it's comfortable enough for every day use. With a 10" and 11" mattress it is as comfortable as a standard bed with a box spring. It doesn't give you pains like a pull out couch, sofa bed or futon with a cross bar which knifes into your back at night.
How do I know which bed style is right for me?
Innovate Home Org will help you determine which size bed will not only fit – but provide the maximum amount of functionality for your room and budget.
Does the baseboard need to be removed to install the Murphy wall bed?
Yes – the baseboard will be removed to finish the fully integrated storage and bedding solution.
Do your Murphy beds need to be locked into place?
No – our beds do not require a lock to stay in place. The spring mechanism keeps the bed closed when stowed away and provides an easy transition when you want to open it up.
Can I take the Murphy bed with me when I move?
Yes – it is possible to take the bed with you when you move. Since this is a fully integrated bedding and storage solutions it is recommended you contact us to professionally disassemble your unit to protect it's operation and structural integrity.