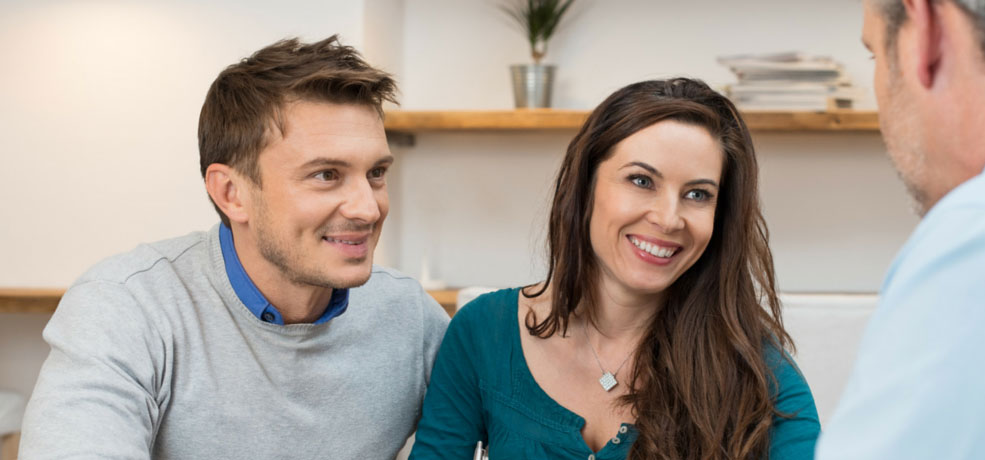 Frequently Asked Questions
About Columbus Closet Organization and Garage Cabinetry Systems
Product Questions
for my closet, garage, pantry or laundry room storage solutions
What are your shelves made of? How thick are they?
Our standard shelves are a thermally fused laminate applied over a 3/4" thick furniture grade (fine-particles) board. This material performs better than other brands which contain large particles and are only 1/2" or 5/8" thick.
For extra strength you can choose our eco-friendly 2" thick Forterra shelves which can span over 60 inches. Both of these shelves are designed to provide a high quality, long lasting solution.
Click an image to view full size
What are your cabinet drawer fronts made of? Are there different styles available to match my décor?
There are two choices for cabinets fronts – a custom wood veneer or the thermally fused laminate. The laminate fronts are less expensive than the wood veneer. There are 6 individual drawer styles form bead board, arch, cathedral, raised panel shaker and a contemporary euro pattern. Check out 3 options below:
Click an image to view full size
How are your closet systems mounted? Are they mounted to the floor or to the wall? Is one less expensive than the other? What are the advantages of each system?
Our closet organizer systems can either be floor mounted or wall mounted. The floor mounted unit are popular for walk in closets and the wall mounted units are seen more frequently in reach in bedroom, hall and linen closets. Generally the wall mounted closets are less expensive and a bit easier to clean where the floor mounted units are more elegant looking and can provide larger drawers. Here's an example of wall and floor mounted closets.
Click an image to view full size
How can I see Innovate Home Org's products?
Our goal is to make it easy for you. We will come out to your home for a free in home design consultation and bring samples as well. Send us a message!
How can I design my closet rods to maximize my storage and makes things accessible to members of my family who differ in height?
When it comes to designing a closet it doesn't matter whether you live in Westerville, Upper Arlington or in a chic condo downtown — but what does matter is who we're designing it for and how tall they are. For example for younger kids it's nice to have a double or triple hanging rods and keep the items you want them to reach near the bottom. If a woman has long dresses a tall hanging single rod at 65" is a good idea. If you're kind of short – but want to reach the to shelf the pull down rod is way cool. Check out a couple of examples below.
Click an image to view full size
What is different between the Innovate Home Org system vs. the products I see at the home center stores?
There are several differences. Here are advantages of our systems over the home centers:
Custom design - They are custom design to fit your space (so there will be no unused space).
Quality - The shelves are thicker to accommodate more weight.
Increased storage capacity - Our standard 14" deep drawers provide more room.
Selection - There are 15 standard colors, 9 wood veneer finishes and 5 texture options.
Professional installation – there is no need to invest your valuable time in this home improvement. The Innovate team does this work everyday with the right tools to get the job done right the first time.
What is your warranty?
Our products carry a limited lifetime residential warranty. The products will be free from defects in material and workmanship. Innovate Home Org will repair or replace any component you purchased at no charge to you.
Do your closet and garage cabinets have back panels?
In the case of the garage cabinetry or wardrobe closets all of our units do have back panels. In the closet it is your choice to have a back or not. Most reach in closets tend to be purchased without backs to make them more cost effective.
Click an image to view full size
Are you shelves adjustable? Can I add drawers and baskets down the road?
Yes – our shelves are fully adjustable – they sit on pins and are easy to reposition. As far as adding drawers and baskets down the road this is certainly possible when your Innovate Home Org Designer creates a layout to plan for this future potential growth.
Click an image to view full size
Does Innovate Home Org offer closet and garage cabinetry in the Columbus market?
Our services are much more versatile than that. If you own a small loft in downtown Columbus or the Short North we can assist you with a Murphy Bed, custom shelving, an entertainment center or home office. For your single family home in Westerville, Dublin, or Upper Arlington (etc.) we can help to organize your laundry room, craft room, panty or entryway with a wide variety or storage solutions.
Click an image to view full size
What is the advantage of your thermally fused laminate (TFL) shelving vs. standard wire shelving?
The advantage of the solid TFL shelving vs. wire shelving is you won't see "lines" on your clothes, smaller items can't drop through the cracks, they are more sturdy and the finished look is more elegant. The biggest advantage of wire shelving vs. TFL is it costs less.
Can I take my closet or garage system with me when I move?
This is generally not the best idea. Each system is designed to custom fit into your existing space and the cost and time to remove and reinstall the system is usually not worth the time and expense. Plus – your custom organization system is a positive feature to assist in the sale of the home (improved storage can help your home sell faster than another – and at a better rate – than your neighbors).
---
Design Consultation Questions
for my home organization project
How long does the initial design consultation take?
The initial design appointments generally takes 1 to 2 hours. During this time our designer will take the time to understand what you don't like about your existing storage space and how you would like the new space to work better. We will then show you products, images of our work and designs to help you achieve your objectives.
What do I need to do to prepare for the initial design consultation?
If you guessed nothing, you are correct! We'd like to see how you use the space today and what challenges this causes you. Seeing what you have today will help us design a better space for your organized solution tomorrow.
Click image to view full size
---
Installation Questions
for my closet, garage, pantry or laundry room
How do I prepare for my closet or garage cabinetry installation?
Preparing for your installation is a simple 3 step process:
1) Remove all personal items – This will allow Innovate's team to build your new storage cabinets quickly and efficiently. It is also helpful to remove knick-knacks and pictures from adjoining walls which may become loose during installation.
2) Clear the work area – make sure to have your pets in a safe area so they don't get out when our team brings materials into your home. It is also helpful to have small children away from the work space so they won't get hurt.
3) Allow access to an entrance close to the driveway – Please give us an efficient area to enter and exit your home or apartment.
How long does the installation take? Do I need to be there the whole time? Do you use subcontractors?
Our installations generally take 1 to 2 days depending on the scope of the project. While it is not necessary to stay at your home during the entire duration of the installation it is helpful for our team for you to be there when we arrive (to review any questions or special requests you have) and to be available by cell phone during the project in case questions arise.
Innovate Home Org does not use subcontractors – our field technicians are employees who are specifically trained in cabinetry and closet installations.
Do you paint the walls with for an organization system without backs?
Our installation process covers patching the holes with spackle from the old shelves and rods we remove. We can put a bit of touch up paint over those holes if you provide us with that paint…but this is not a finished painting job. If you do want a finished painted surface we recommend you have the shelves and rods removed and the area finished painted before our installation begins.
Can your closet and garage cabinets systems be installed into concrete walls?
Yes – our systems can be installed into concrete home or garage walls.
CTA – Free Consultation Button
Get the most out of your space and schedule a free design consultation today!
Free Consultation