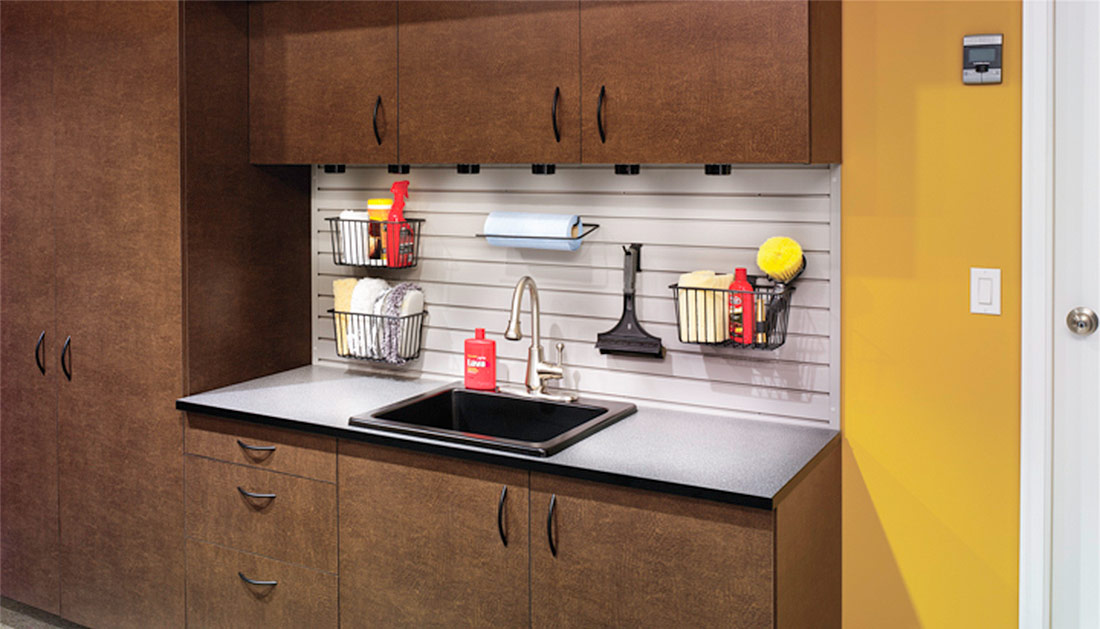 Garage Storage & Accessory Ideas
Slatwall Workbench Sporting Equipment & Shelving Ideas – Columbus
Have you spent too much time searching for a tool you can't find to do some yard work? Ever had a rake or shovel drop on your head or a bike topple over on your car? If so – adding the right garage organization accessories in your Upper Arlington, Dublin, Powell or New Albany garage can end this frustration right now.

See the broad array of garage slatwall, cabinetry and work bench accessory options from the Innovate Home Org line. Check out the two wall organization systems, innovative hooks, racks, baskets and drawer trays to save you time and end your frustration. You'll even find some inventive ideas to hang up your bikes, kayaks or lawn and garden tools. What's cool about these products is they may even free up space to create a man cave and entertainment area in your garage.

Product Pages – Contact Us Box
---
Garage Slatwall Organization Systems for your Columbus Home
To gain more storage space and to make your Columbus garage safer you need to get things off the floor. An excellent way to do this is by choosing from our two garage wall organizing systems – the Sliver Track or the OrgWall systems.
Garage Slatwall Accessory Ideas
The OrgWall system offers a decorative and flexible approach to store your tools, sporting equipment, bikes, kayaks and more. Available in 5 colors – these 12" high sections can help you to be neat and stylish at the same time. Use this pegboard style system on your walls or even inside your cabinets. Check out these images to get your imagination going.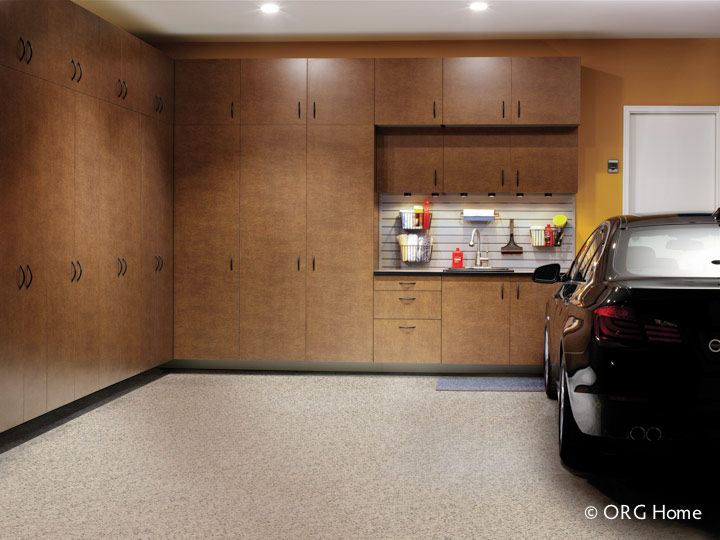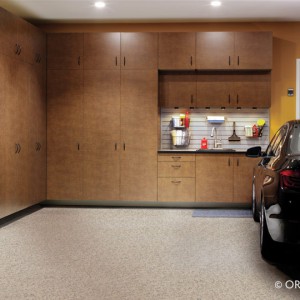 OrgWall Slat Organization System
Flexibility is the key with this system. With multiple hooks, racks, baskets and trays you'll be sure to find the right storage option for your upscale Columbus garage.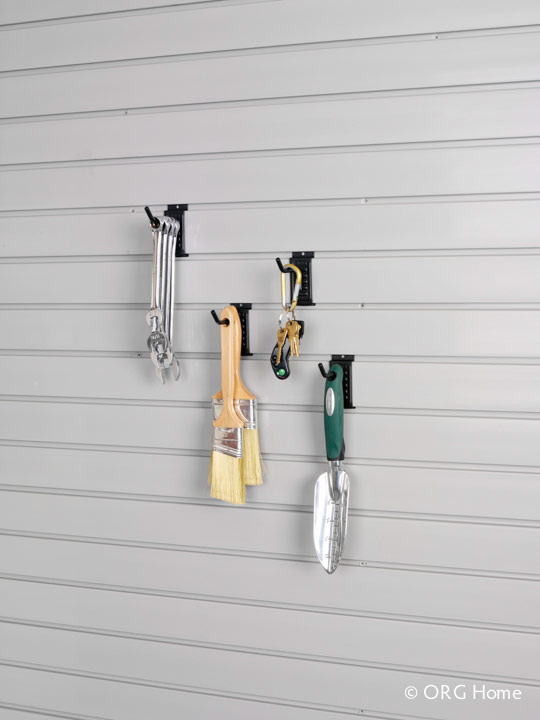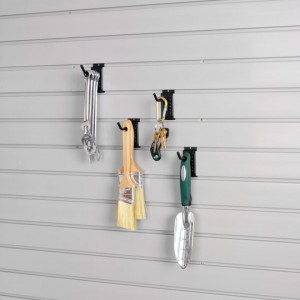 Single Hook
The sigle hook is versatile. Use them for your keys, wrenches, paint brushes or garden tools.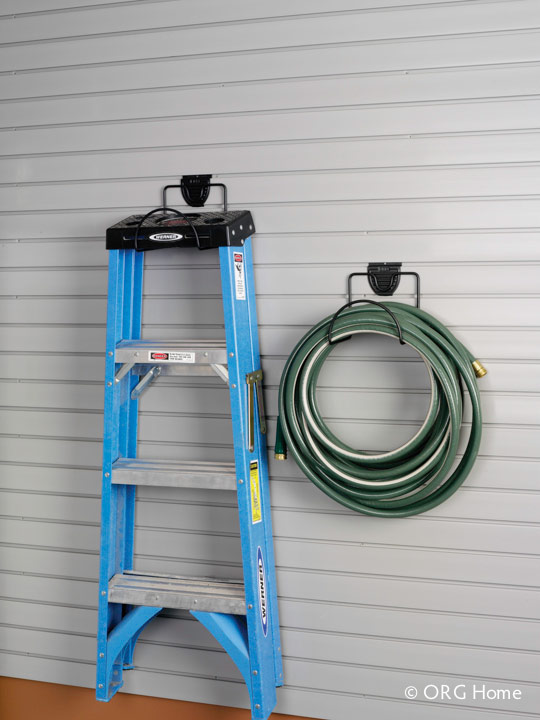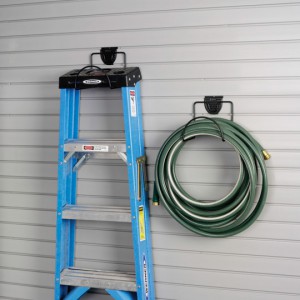 Hoop Hook
The hoop hook is perfect for hoses, ropes or ladders.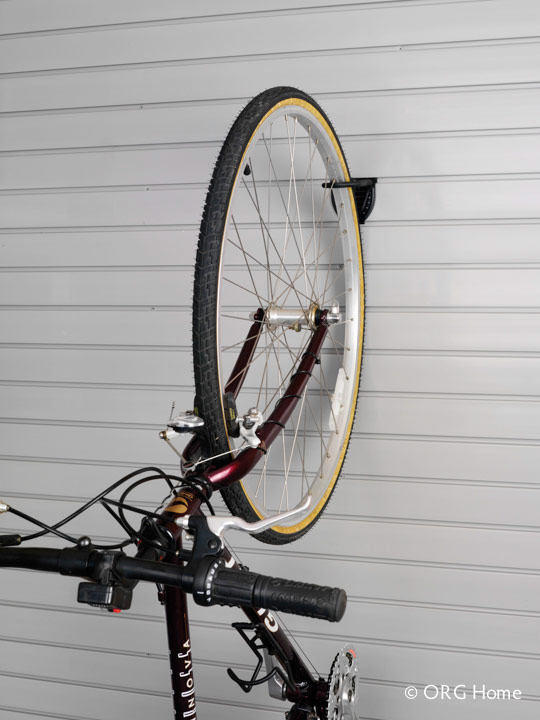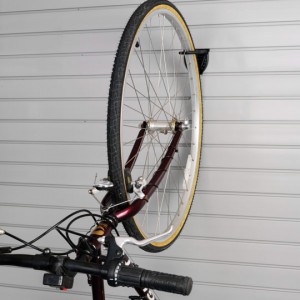 Vertical Bike Hook
This hook system will save your floor pace and keep your custom garage neat.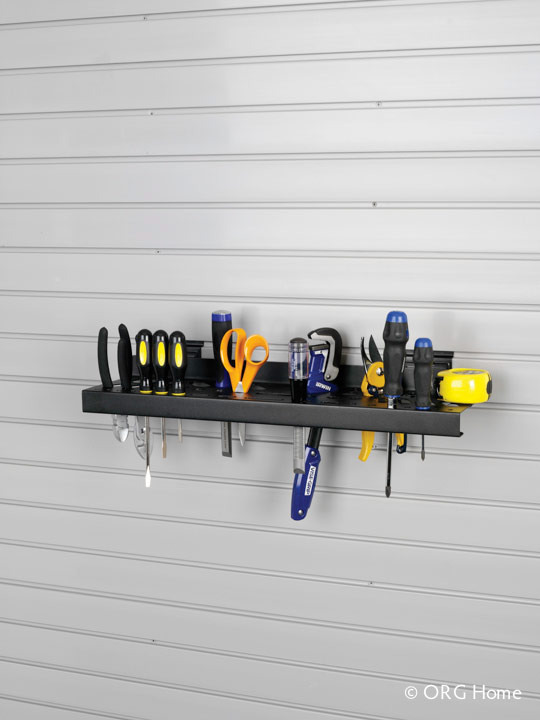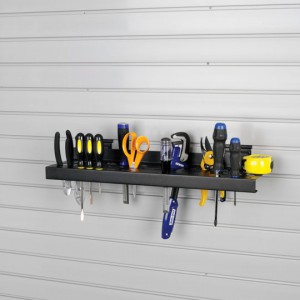 Hand Tool Rack
Imagine being able to find all your small tools – screwdrivers, scissors, pliers and tape measures all in one place.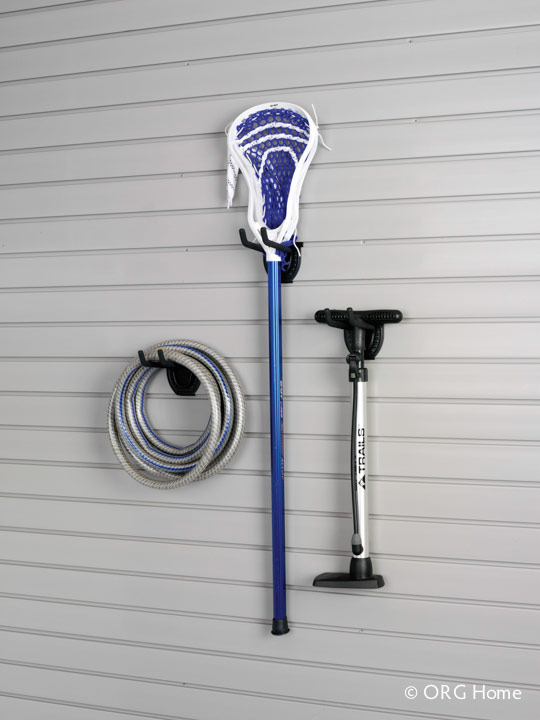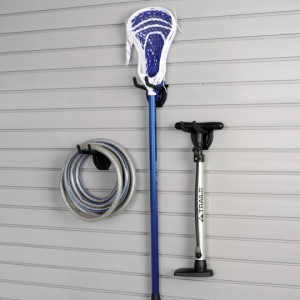 4in Double Hook
This hook keeps items close to the organization wall which is helpful for tight spaces in the garage.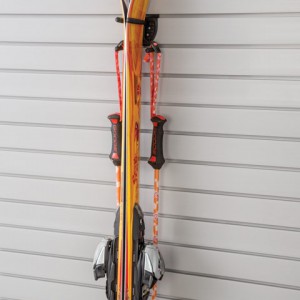 Ski Hook
Protect your downhill and cross country skis with this hook – and make more room in the garage by getting them off the floor.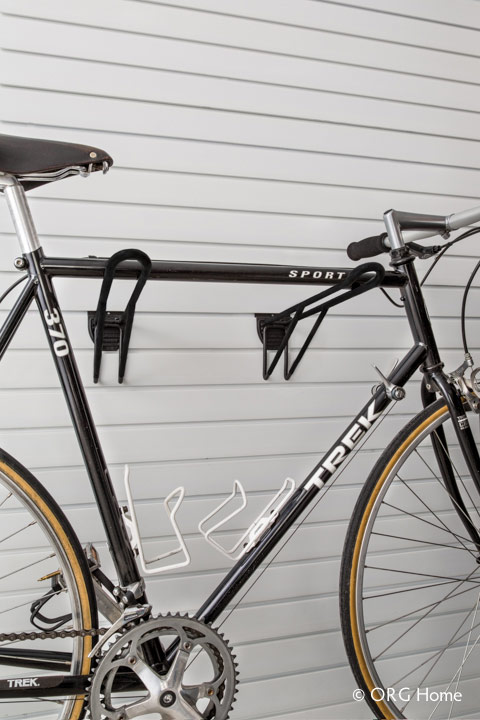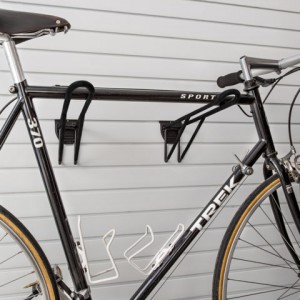 Horizontal Hook
Put together two of these horizontal hooks for bikes, ladders or sled storage.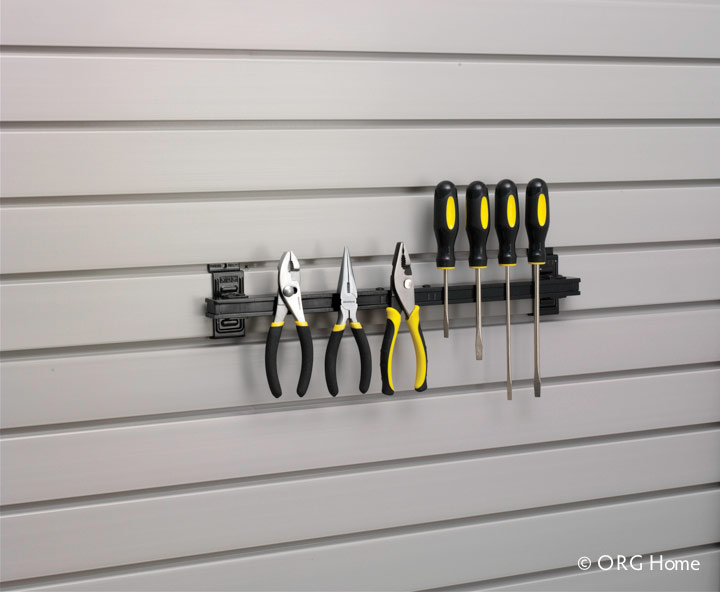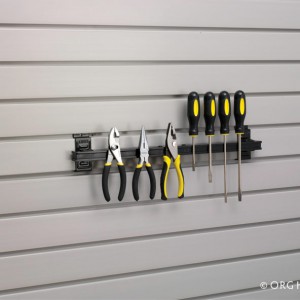 Magnetic Tool Bar
This powerful tool bar keeps everything within reach over your workbench.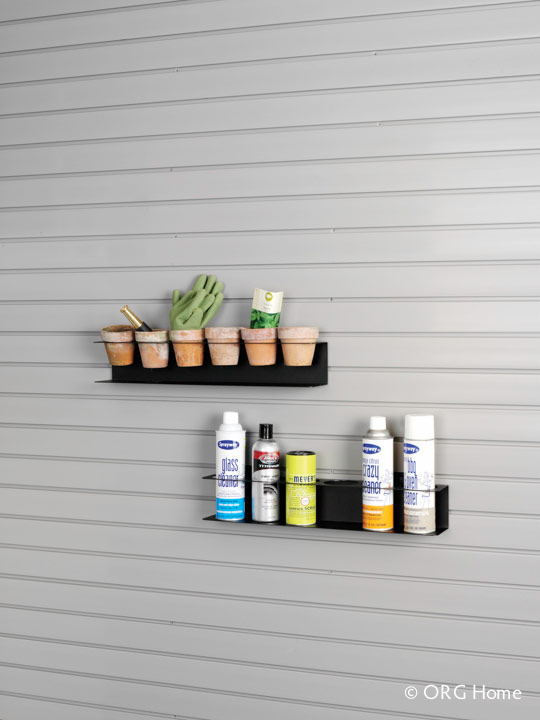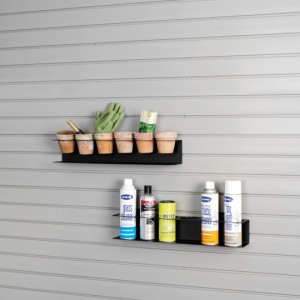 Spray Can Rack
The perfect place for spray cans, gardening materials, flashlights and cleaners.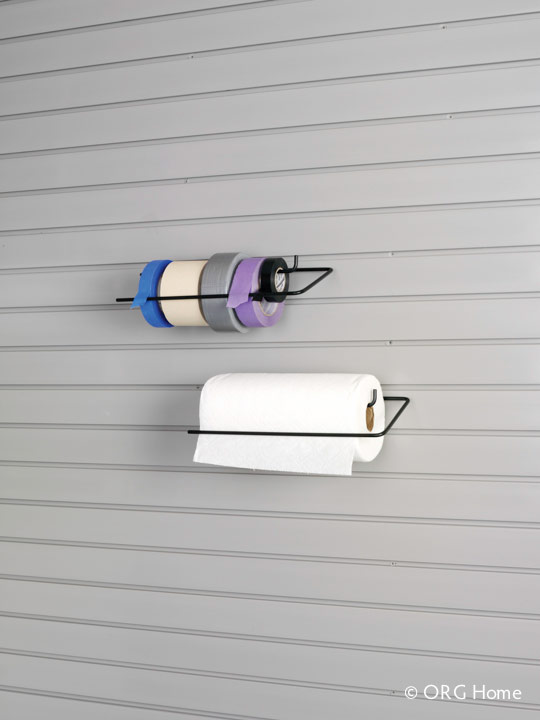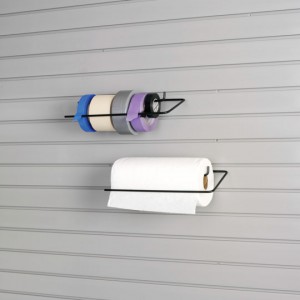 Paper Towel Rack
Handy access to your towels and tape is easy with this holder.
---
Silver Track Luxury Wall Garage Accessory Ideas
For a more elegant look the Silver Track system is often the system of choice. It has a unique grooved styling with an aluminum matte finish. These 5" high wall slats are mounted to the wall and a variety of light duty hooks (5 lb. capacity), heavy duty hooks (25 lb. capacity) and even the rugged (50 lb.) bike hooks can be hung from the system. With a wide variety of hooks and brackets it will be easy to find the right tool for the job. See some of the selection in this image gallery.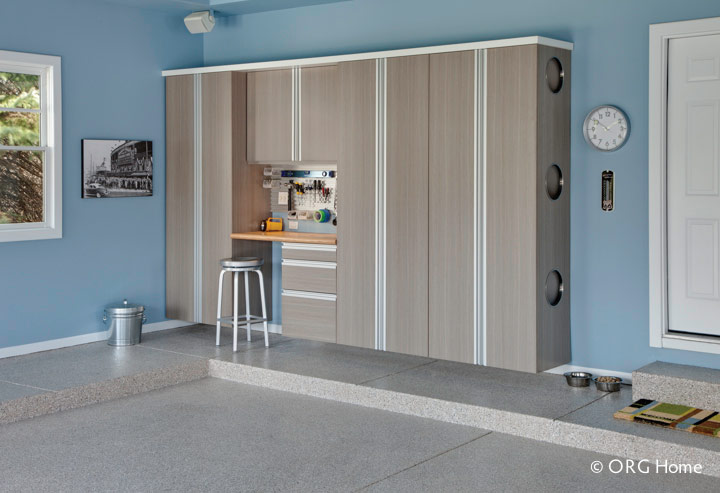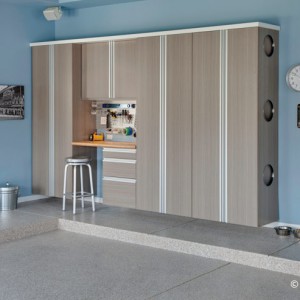 Silver Track Wall Organization & Bench
Sleek yet functional describes this work bench are with the Silver Track Wall system.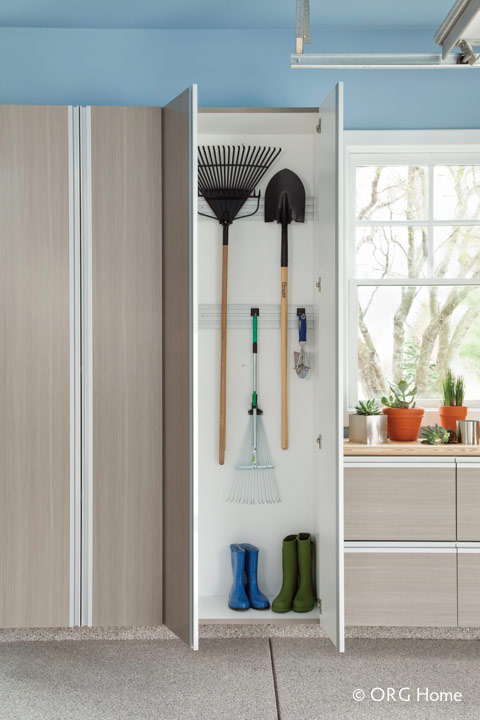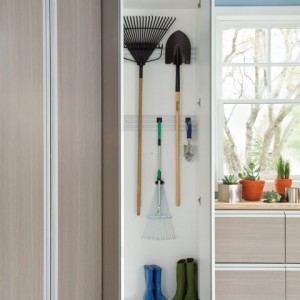 Silver Track System to store Yard Equipment Including Rakes and Shovels
Flexibility and the ability to move your tools around is the hallmark of the Silver Track system.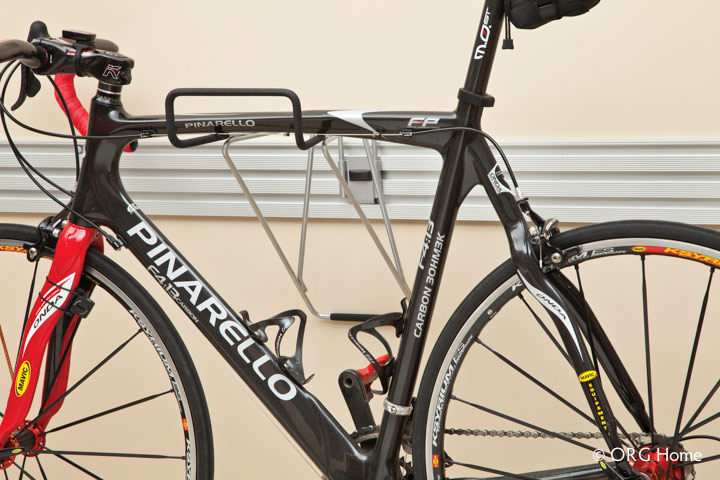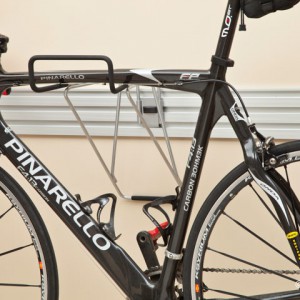 Horizontal Bike Rack
An excellent way to free up floor space in your Powell or Worthington garage.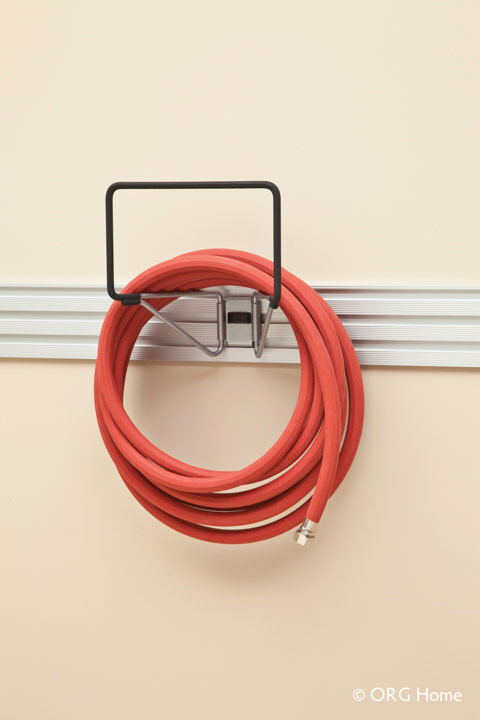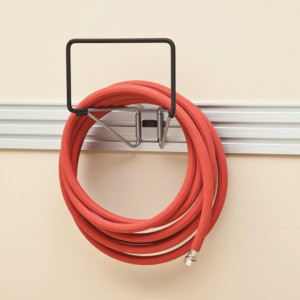 Hose Hook
Perfect for keeping your hose, ropes from being a tangled mess. Ladder can also be stored on this hook.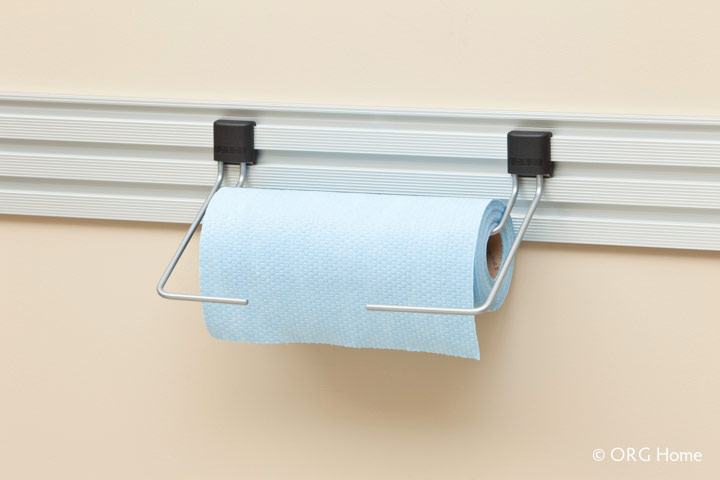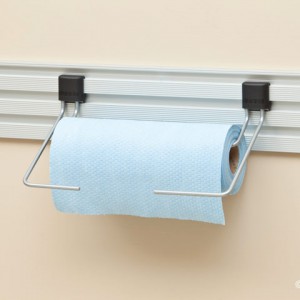 Paper Towel Holder
Provides easy access to our paper towels or tape. Can be used on the wall or under a sink.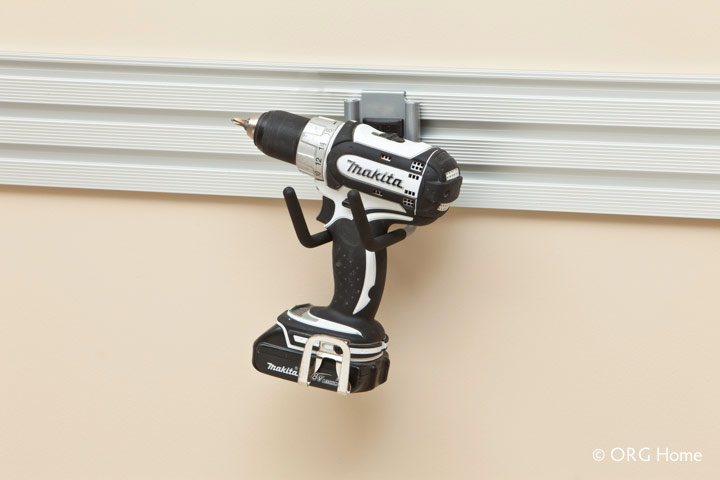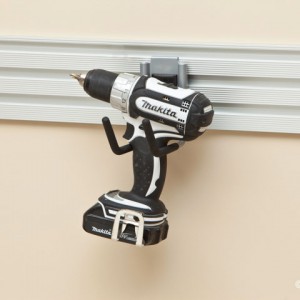 Big Tool Hook
This heavy duty hook keeps your most used power tools right within your grasp. The curved design keeps them in place and the black rubber makes the tool not slip around.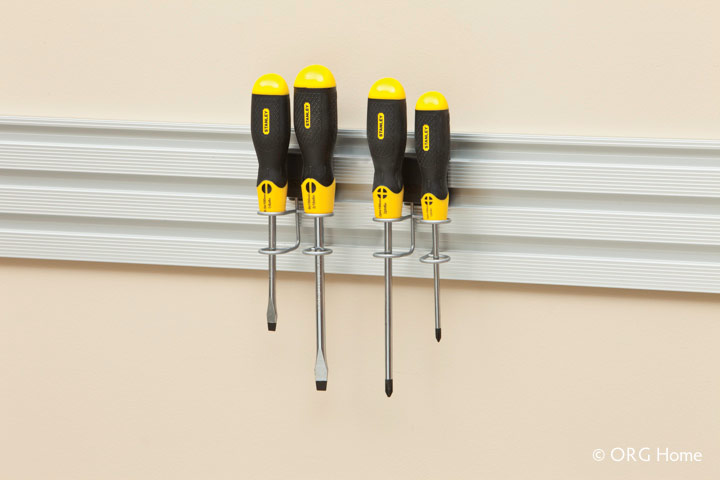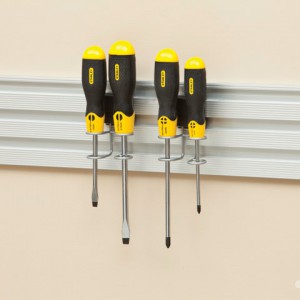 Screwdriver Hooks
This garage accessory is specifically design to make your screwdrivers easy to find.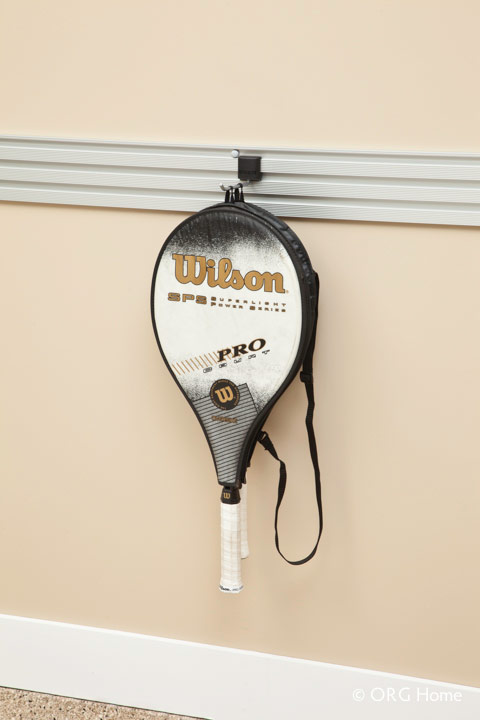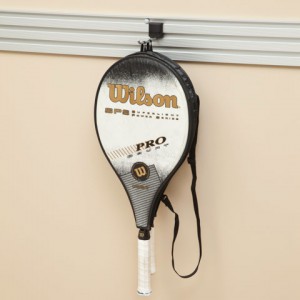 Single Hook
This versatile hook can be used to hold coats, sports equipment, umbrellas and keys.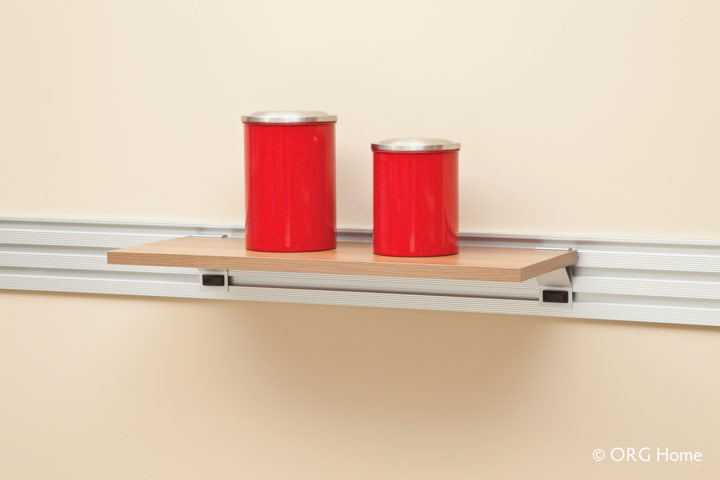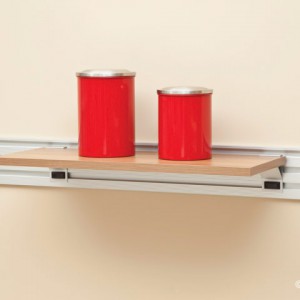 Shelf Brackets
This shelf is handy for your grab and go type of items.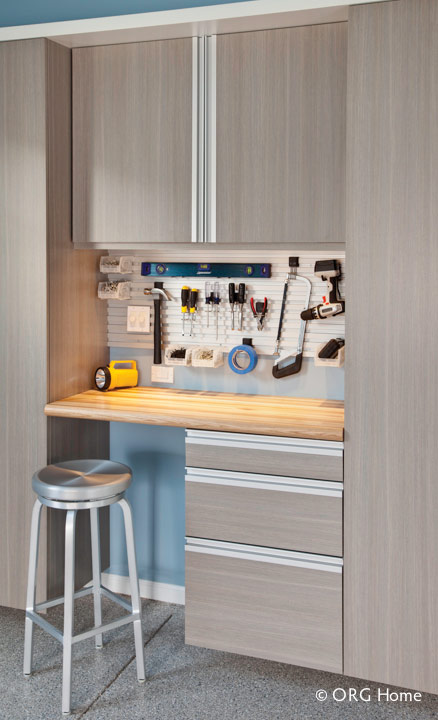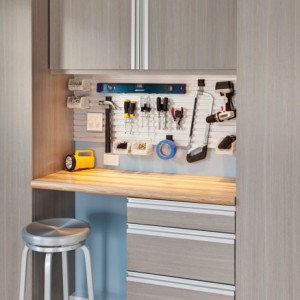 Silver Track Accessories Behind a Garage Workbench
Combining several pieces of the Silver Track system allows for numerous tools to be stored above this workbench.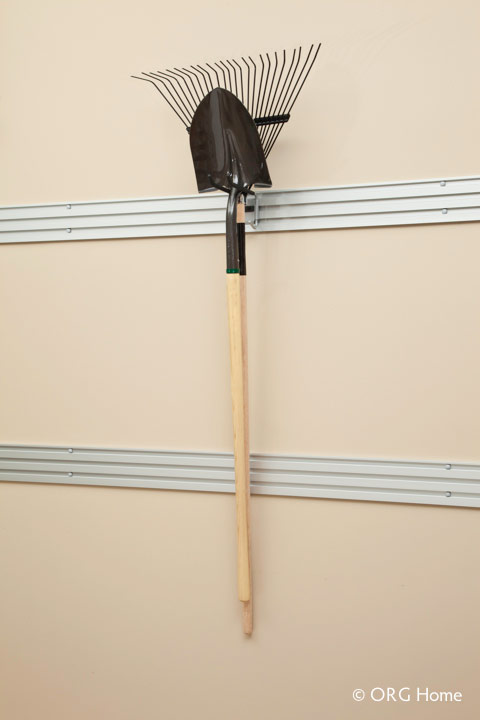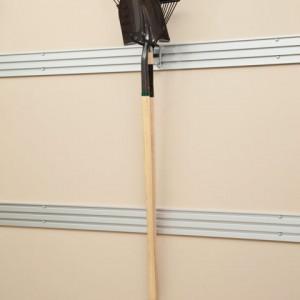 9in Double Hook
Allows for multiple yard tools to be stored together on the same hook.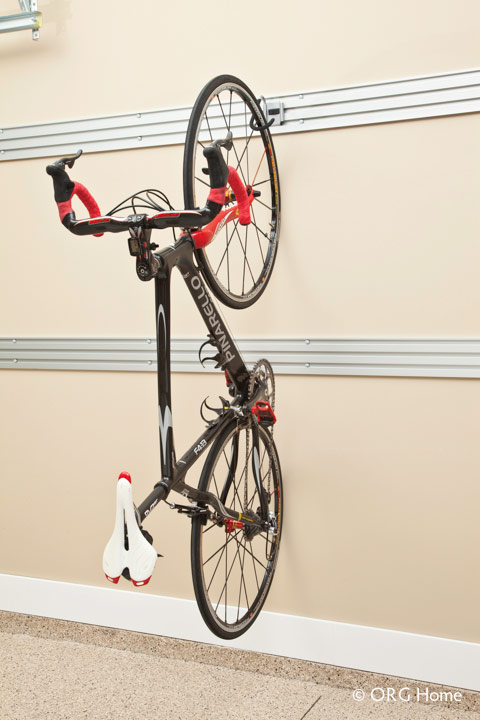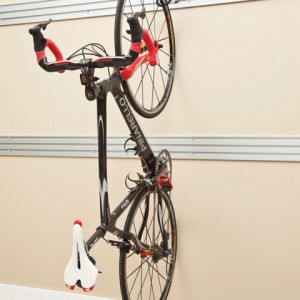 Verticle Bike Hook
This vertical hook is a safe way to get your bikes off the garage floor.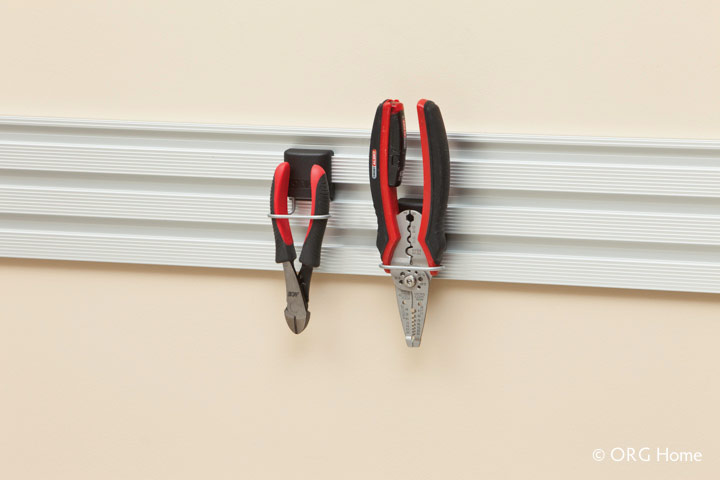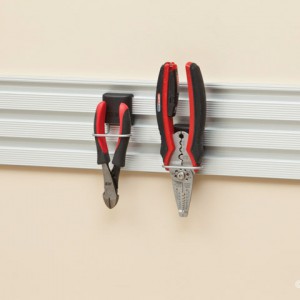 Pliers Hook
You'll love knowing exactly where to find the pliers for your next project.
---
Garage Organization Accessories: Baskets, Storage Bins, and Drawer Organizers
Baskets, storage bins and drawer organizers are essential when you want to group like items together …and be able to find them at a moments notice. Check out Innovate Home Org's wide selection for both the Silver Track and OrgWall products.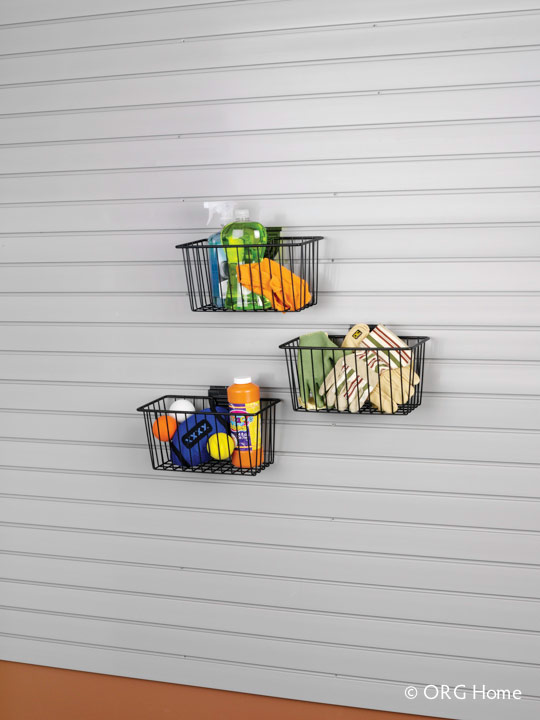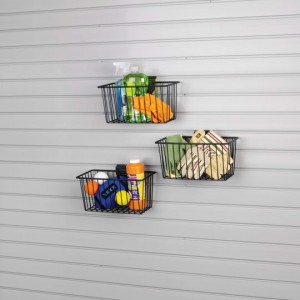 Small Baskets
Perfect for little items like gloves, lotions, bug sprays and lotions. Since the spacing in the metal is smaller items won't fall through.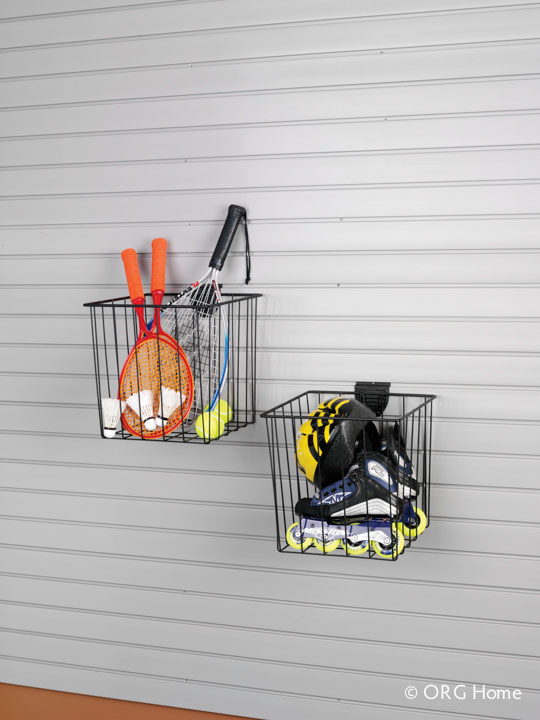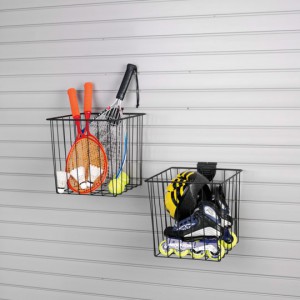 Medium Baskets
This basket is good for sporting gear, bags, toys and skates to name just a few possibilities.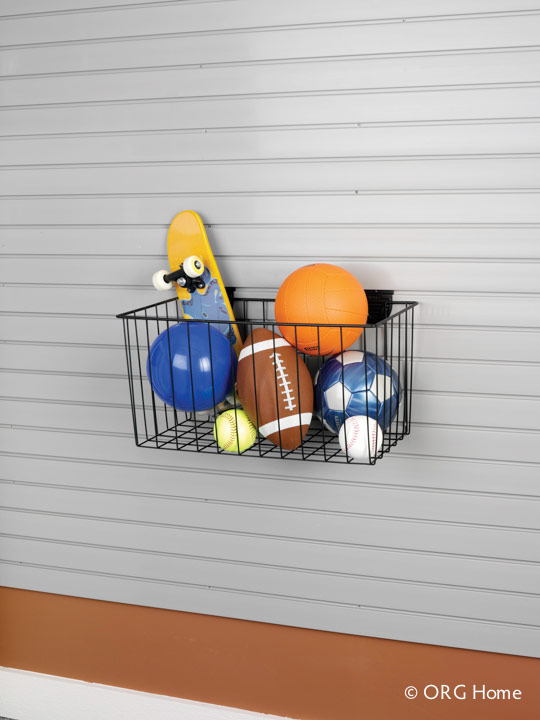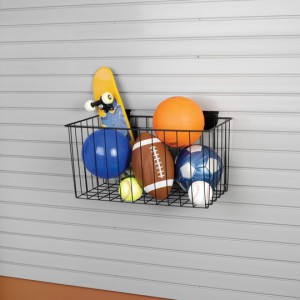 Large Baskets
An excellent place for your basketballs, footballs, sporting gear and other large bulky items.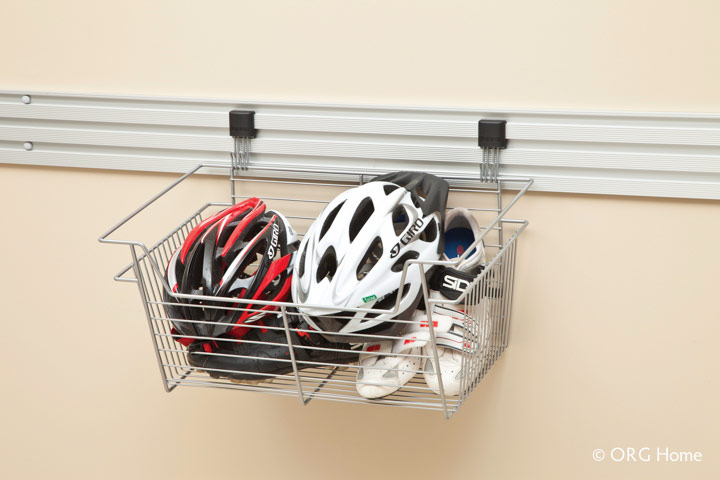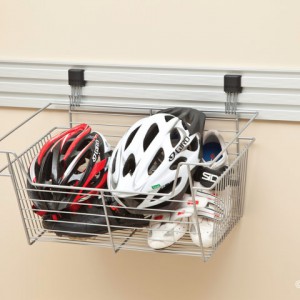 Basket Hooks
These heavy duty hooks will keep you baskets in the Silver Track system securely in place.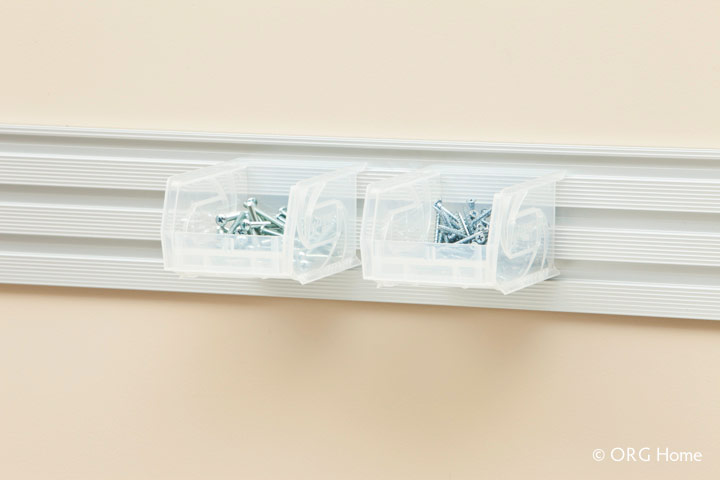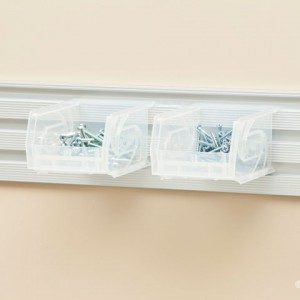 Small Storage Bins
Just the place for our tiniest items like screws, nuts and bolts.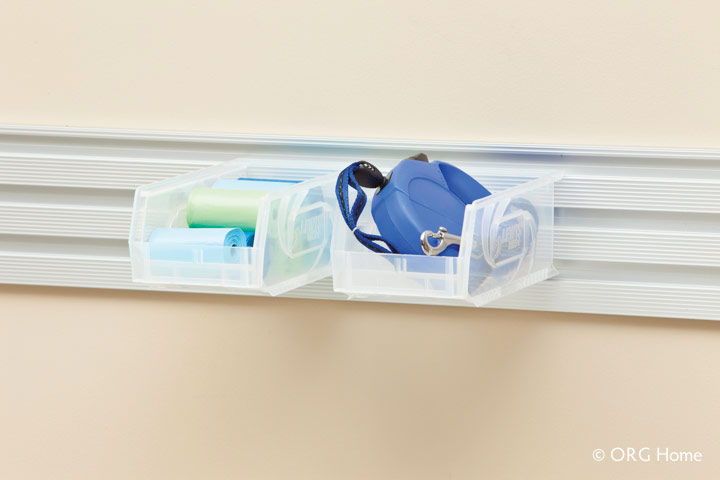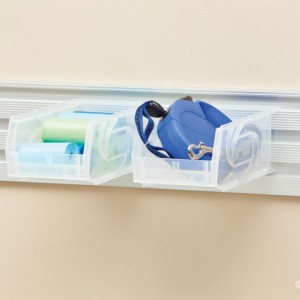 Medium Storage Bins
A bit more depth than the small bins.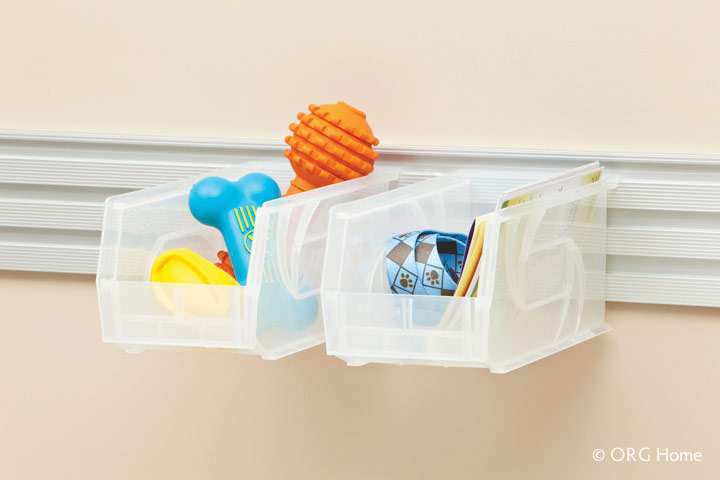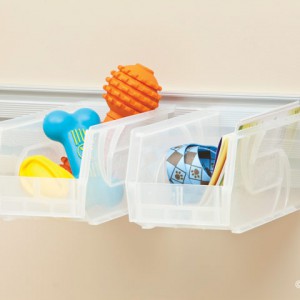 Large Storage Bins
For bulkier items the large bins work best.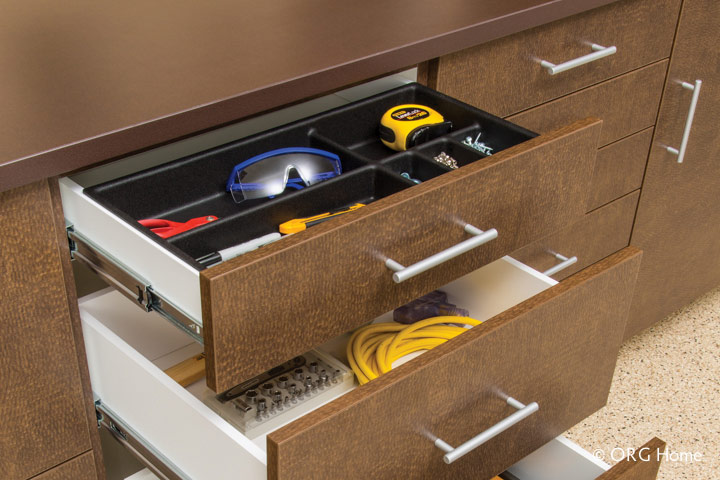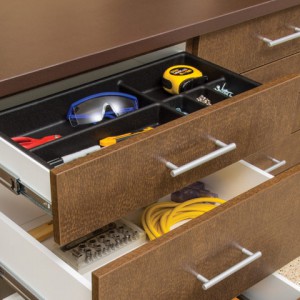 Drawer Tray
This tray slides back and forth. It can help store your small tools, tape measures, hardware in a compartmentalized fashion.
---
Garage Bike and Sporting Equipment Storage Ideas
Where to store your bikes, Kayak and kid's footballs and basketballs can be a nightmare. And no one likes needing to pick them up before entering the garage. Get practical ideas on how to space-efficiently store your sporting equipment through these pictures.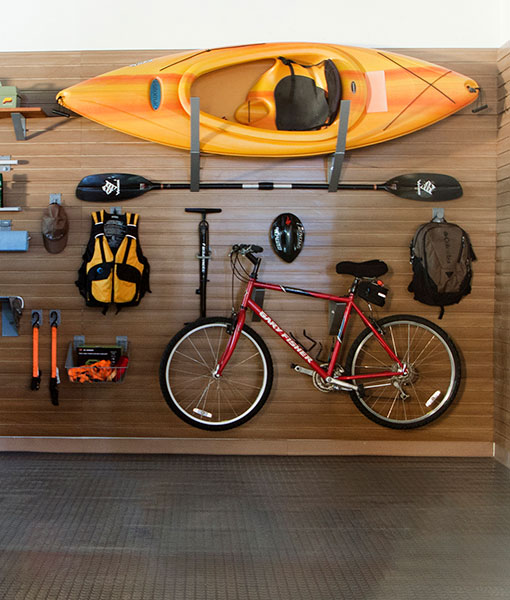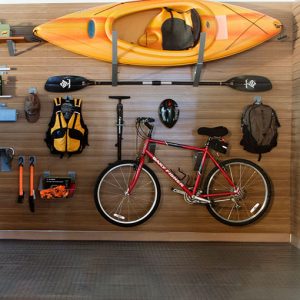 Bike and kayak storage on a slatwall system
Gain floor space for your SUV, truck or car by getting bulky storage items like bikes and kayaks off the garage floor.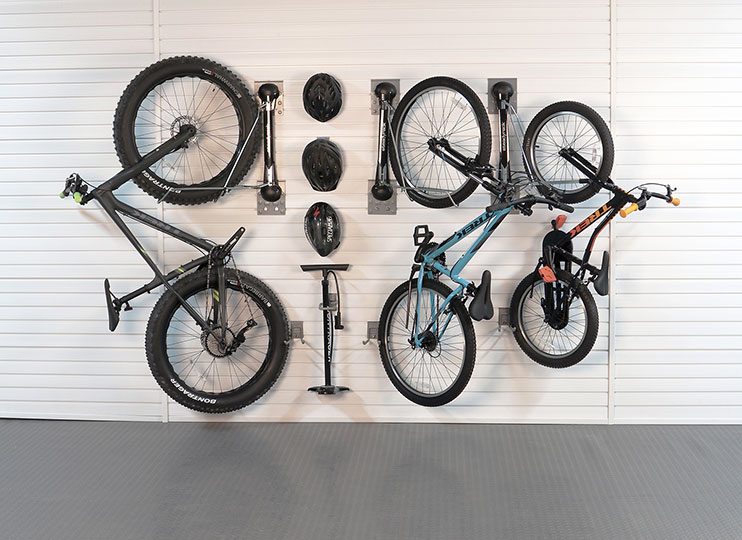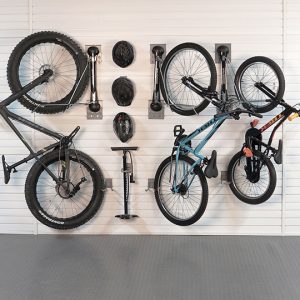 Steady rack bike storage allows you to get more bikes per square foot of wall space
This pivoting bike storage system works perfectly if you have a lot of bikes, but not a lot of wall surface to put them on. Perfect for the bike enthusiast in your family.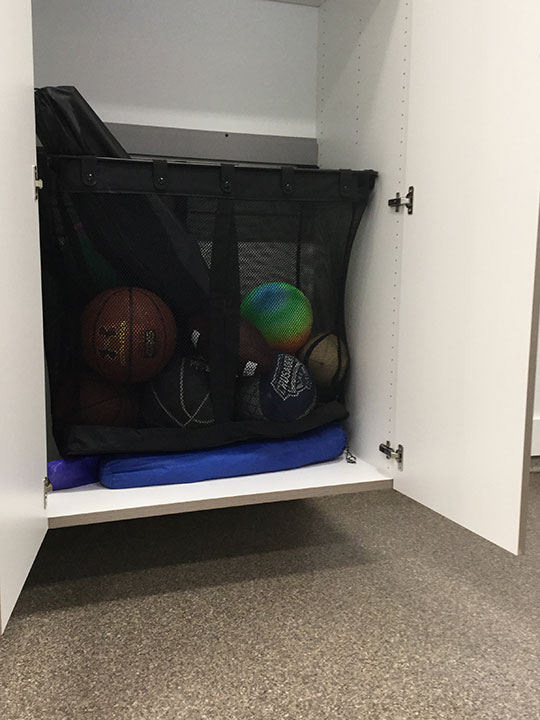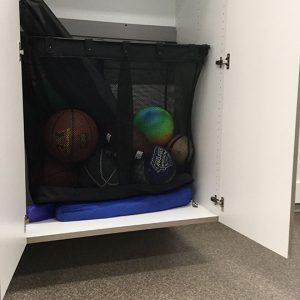 Garage mesh storage basket
If your kids (and your older 'kids') love to play sports of all kinds this is perfect for you. Your ball will all be in one place.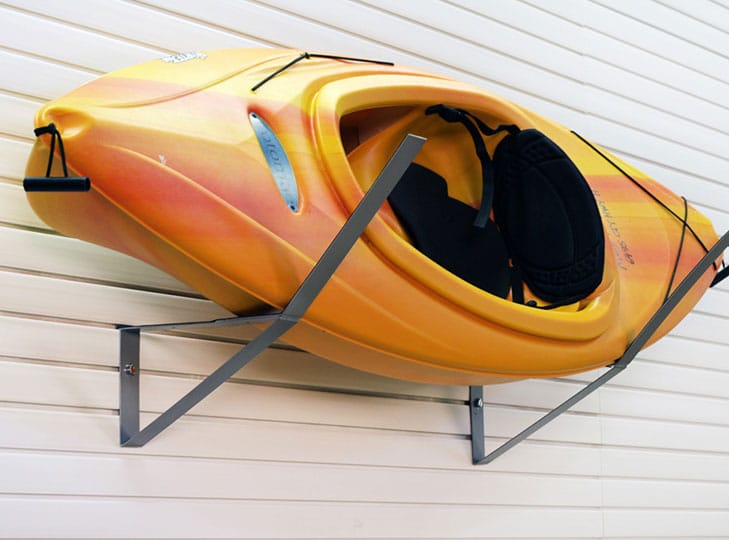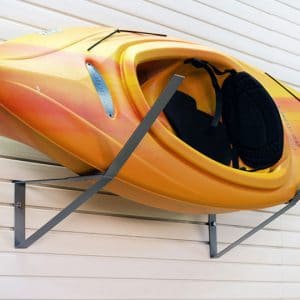 Heavy duty kayak storage
You don't use your kayak a lot – but it can eat up all your garage floor storage year-round…unless you use this bracket system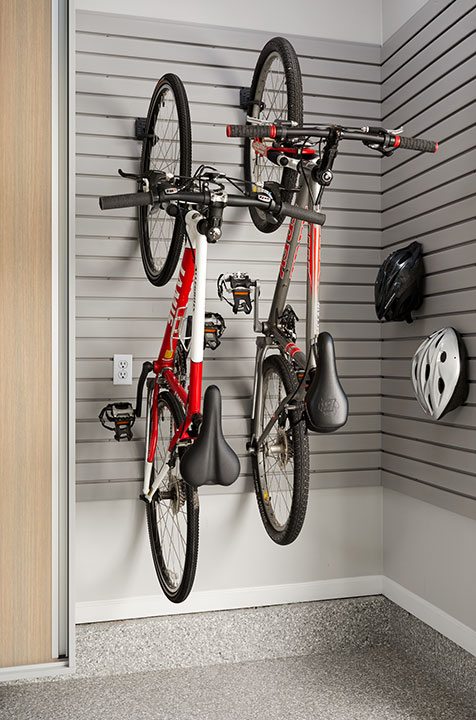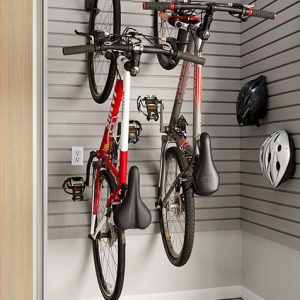 Bike hook storage
These simple hooks help to get your bike off the garage floor and get your vehicle parked indoors.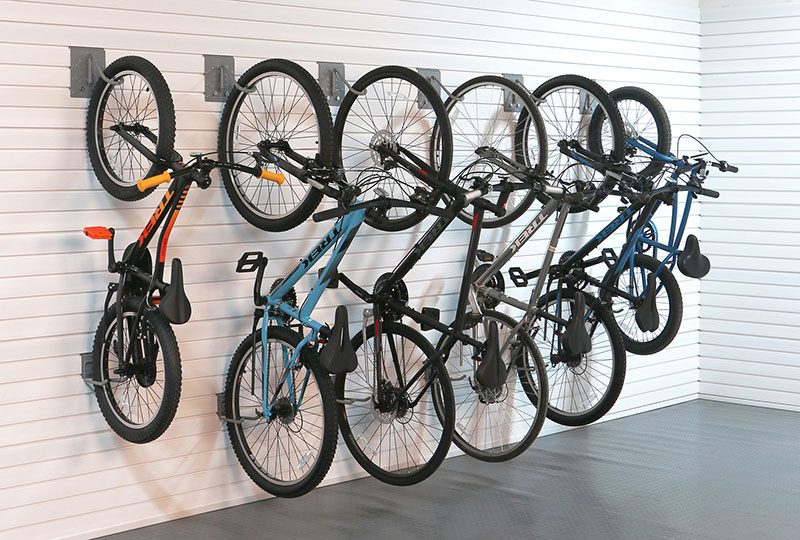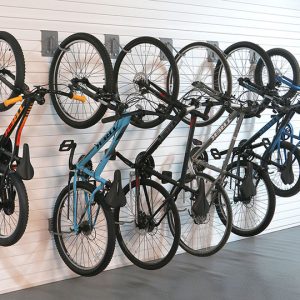 Multi-bike storage system
This gray slatwall system with multiple hooks will get all the members of your family's bikes off the ground.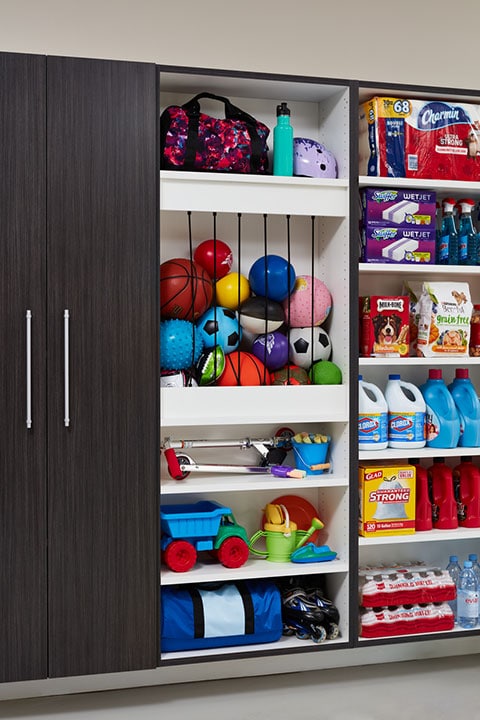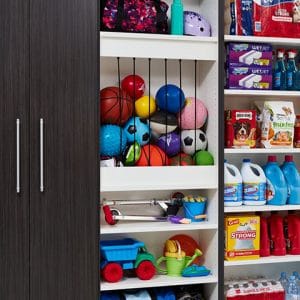 Ball stay inside a garage cabinet system
This ball stay works exactly like you've seen in the grocery store with bungy type cords which keep the balls from rolling around on the garage floor.
---
Garage Workbench Storage Ideas
See how you can use a durable (and adjustable) Slatwall system to have a place for hooks to hang your yard tools, storage baskets and even a place for a handy roll of paper towels. Get ideas for a durable workbench top ranging from high pressure laminates to a butcher block top.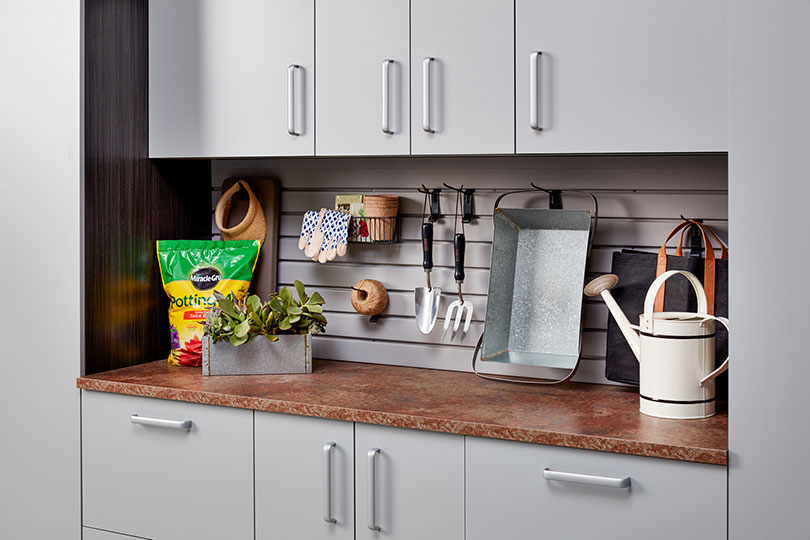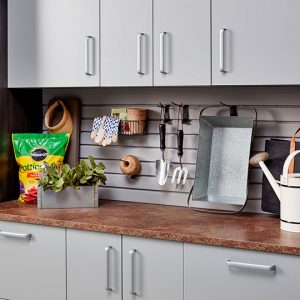 Garage gray slatwall with hooks for lawn supplies and tools
This heavy duty slatwall system with hooks is perfect for garden supplies and tools.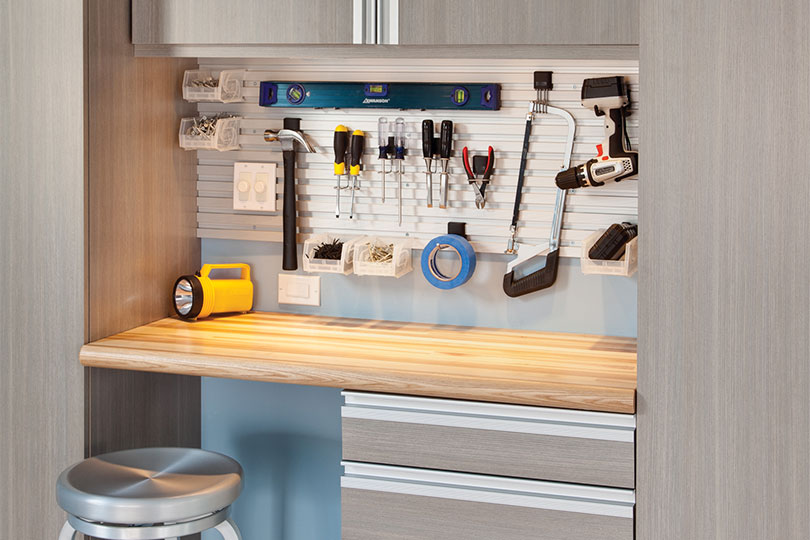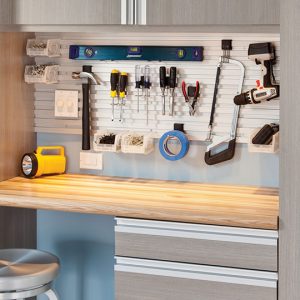 Luxury silver track wall storage system for tools and hardware supplies
This heavy-duty wall storage system is high-end and will keep you organized.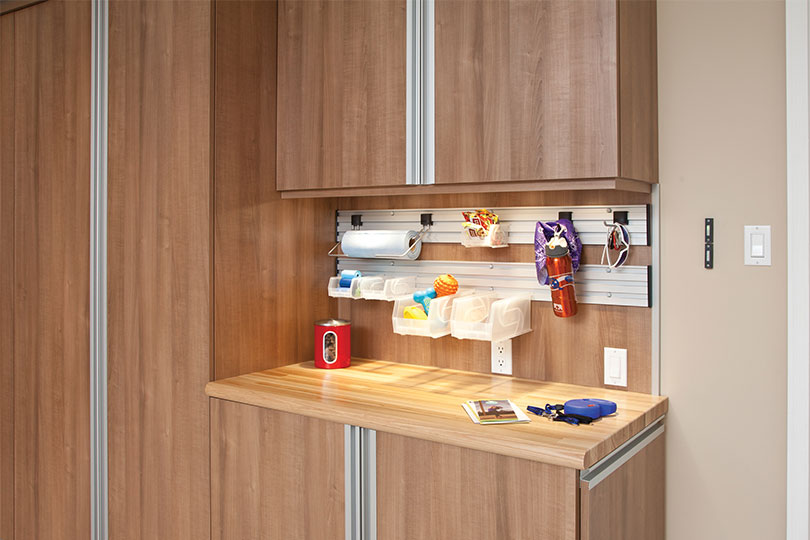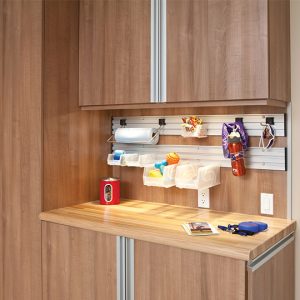 Silver trac luxury wall organization system
Smart garage storage is complete with a paper towel holder and a place for baskets for small supplies.
---
Garage Entryway & Shoe Storage Shelves
Wouldn't you love a place to get your kids and spouse to take off (and store) their muddy shoes and athletic equipment? Or a place for raincoats or bookbags or those stinky athletic bags? You can actually get this organized with an entryway and shoe storage shelves in your garage! Check out these images so you can finally keep your home clean (and your garage organized).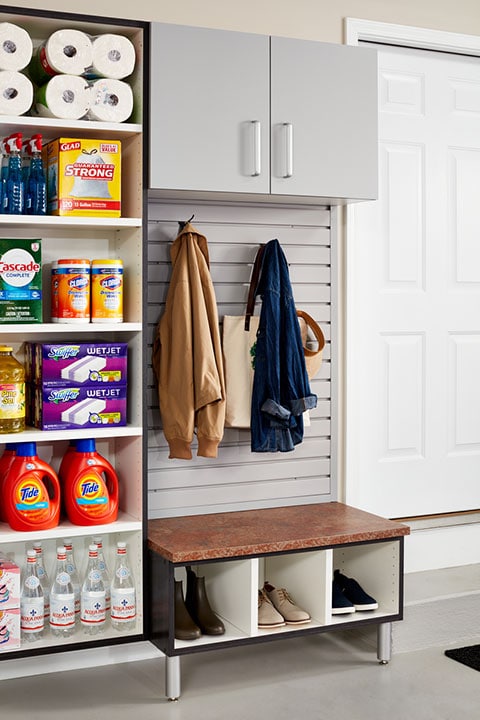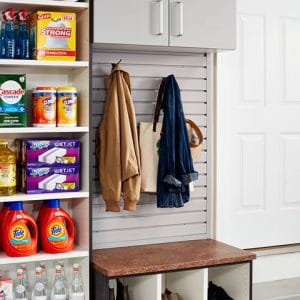 Garage entryway seating and hooks
Put your wet coats from working outside on your custom entryway and hook system.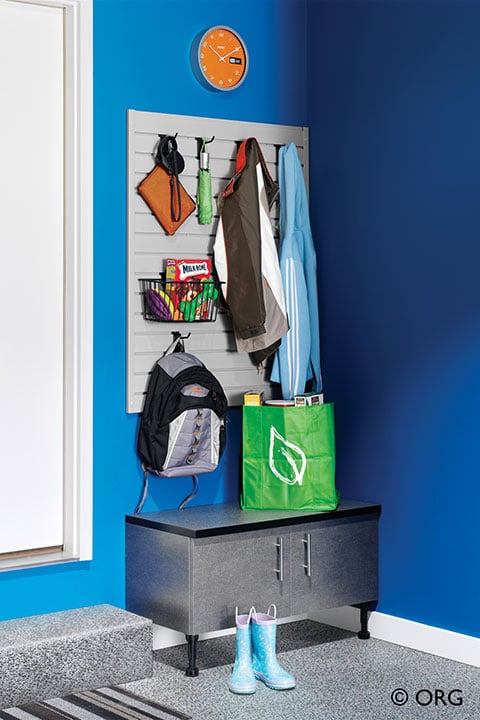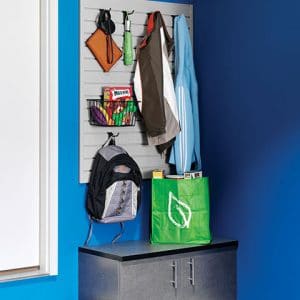 Hooks and baskets for bookbags, coats and tools
Have your coats and tools ready by just reaching outside the door of your home with this entryway and slatwall system.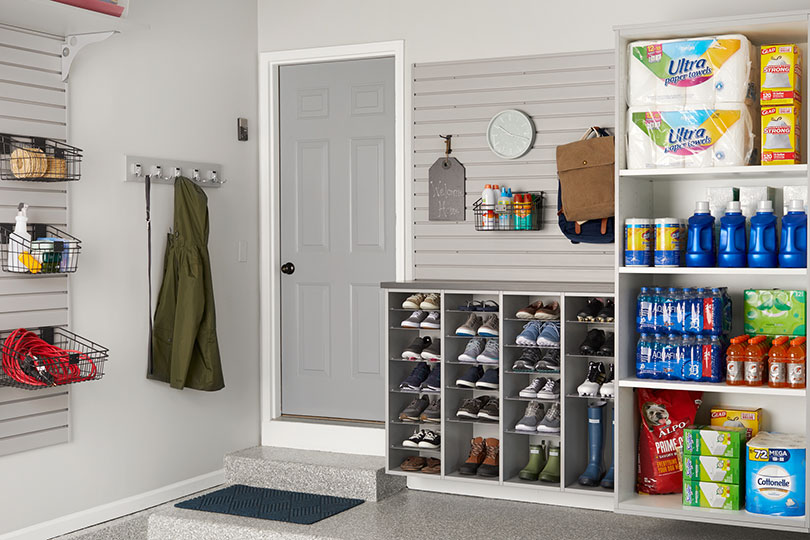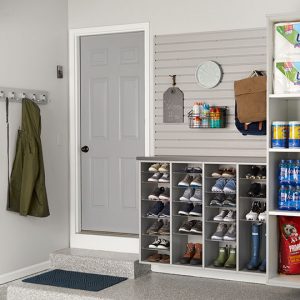 Shoe shelving and slatwall and pegboard system
Free up closet storage by creating an entryway in your garage. These shoe organizers are perfect for muddy boots, tennis shoes and cleats.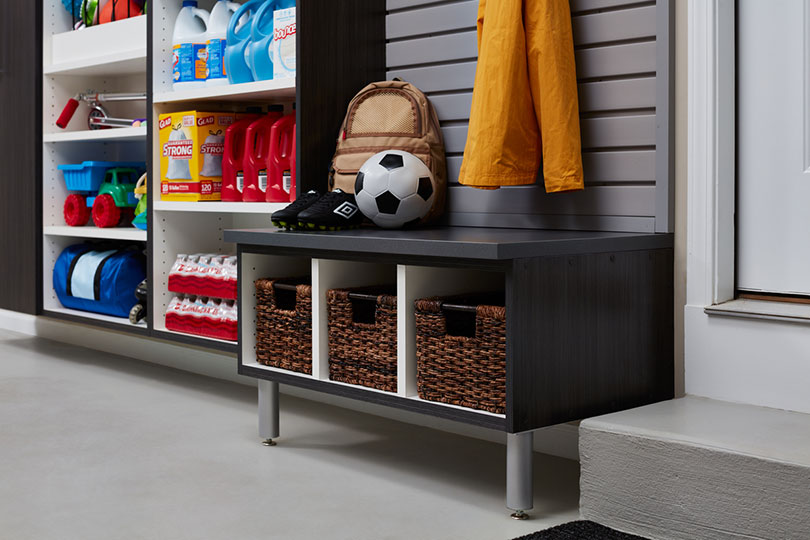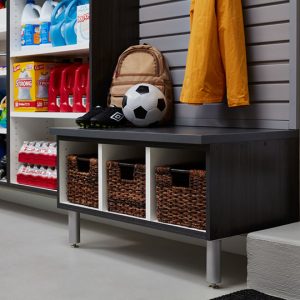 Bench seating in the garage
This bench seating and slatwall system will keep you organized.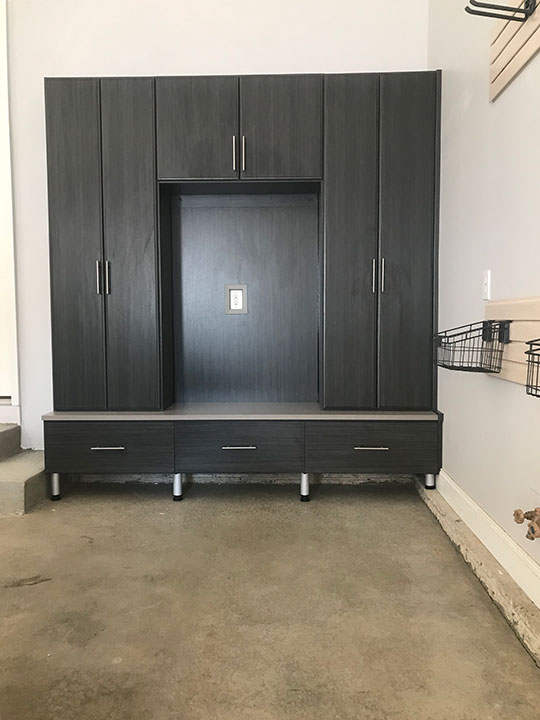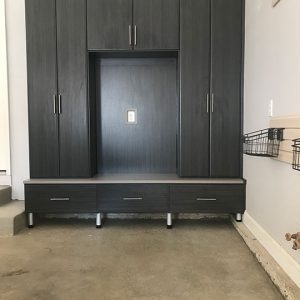 Garage bench and entryway storage system
This 'Ore' pattern garage cabinetry system is the perfect accessory if you lack mudroom storage.
---
Garage Open Wall Shelving & Ceiling Storage Ideas
Are you looking for a way to get more things off your garage floor so you can actually park your cars, trucks and SUV's inside? See how you can use durable slatwall system with open shelving units to get your bins with holiday lights, sporting equipment, coolers and hoses off the ground. Another smart way to 'claim' unused space (and volume) is with a ceiling storage unit. Click on these images to see and learn more.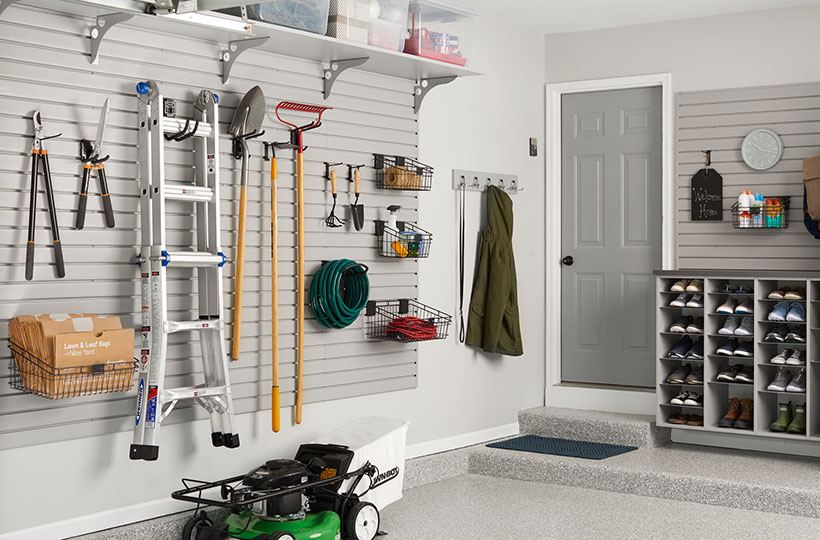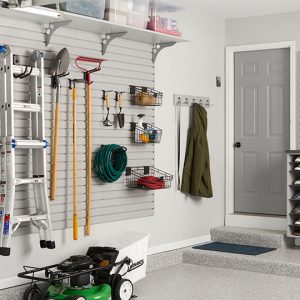 Open shelving and garage slatwall system
The open shelves at the top of this slatwall system give you a place for holiday lights or more bulk storage.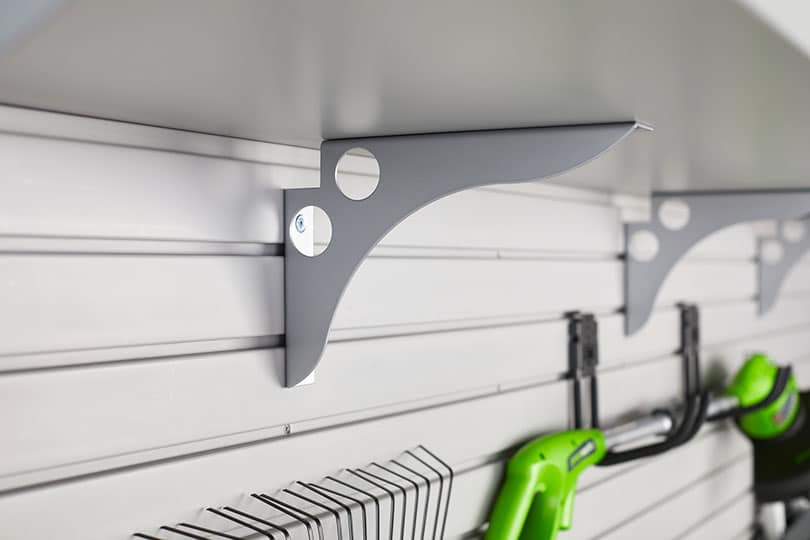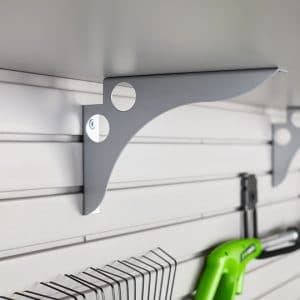 Close up of aluminum open shelving bracket system
These shelves are sturdy and stylish and can match with your inside shelves (or in some cases) outside shelves of your cabinets.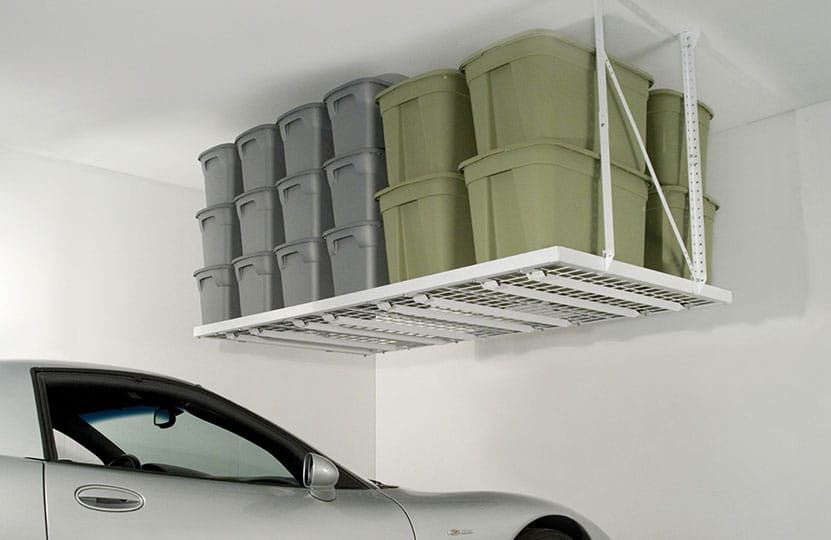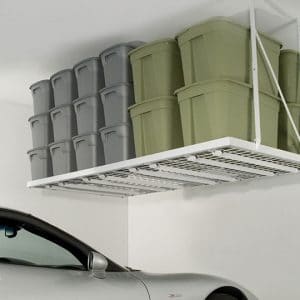 Overhead ceiling storage
This 4' x 8' overhead storage unit is perfect for out of season or bulk goods you buy.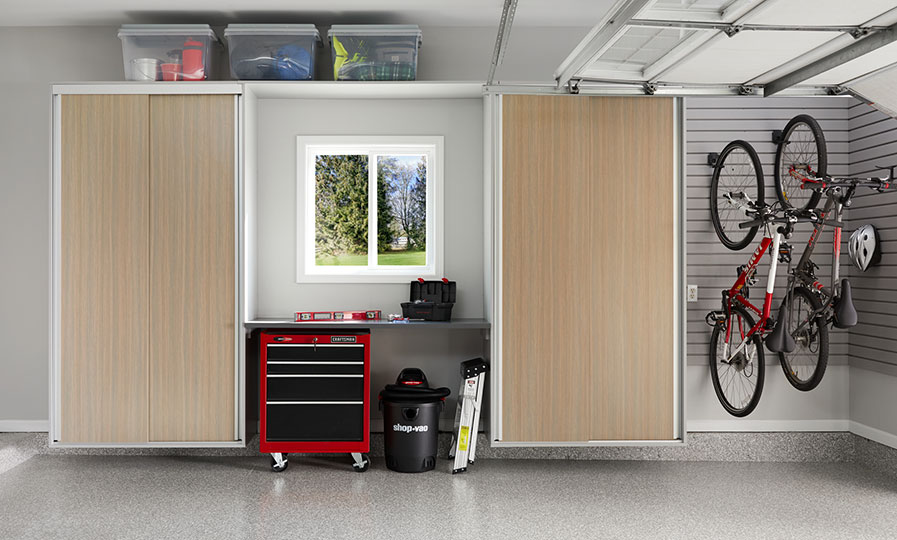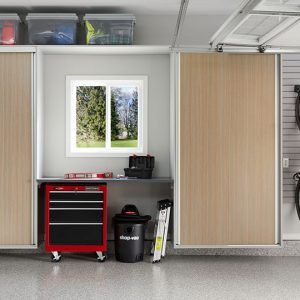 Open shelving above sliding garage cabinets
This inventive open shelving approach gets you more storage and better use of the volume of your garage.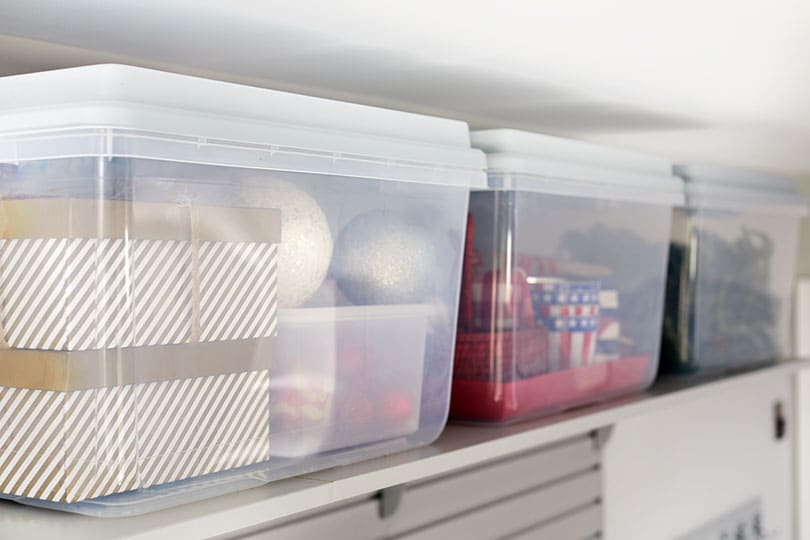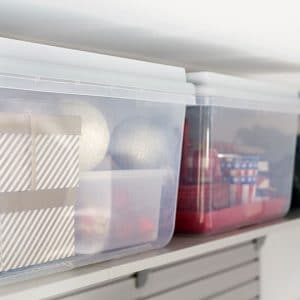 19" deep storage shelves
These deep shelves are perfect for more bulk storage.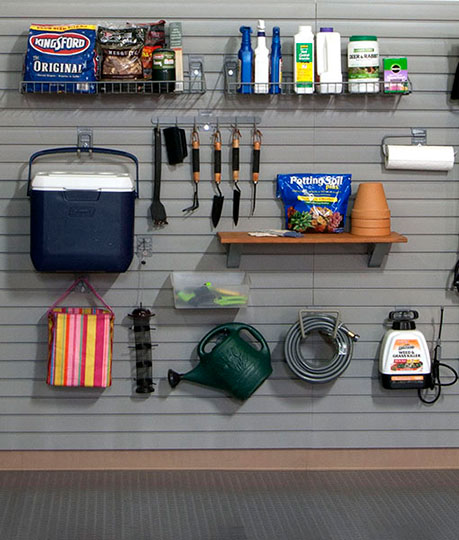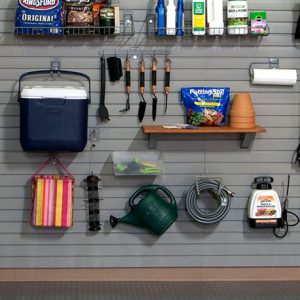 Baskets and open shelving systems
These open shelves, hooks and baskets maximize the use of your garage walls. The hooks and baskets can also be adjusted.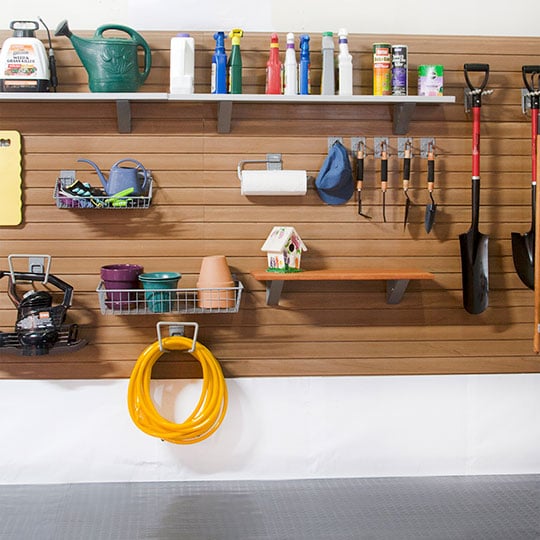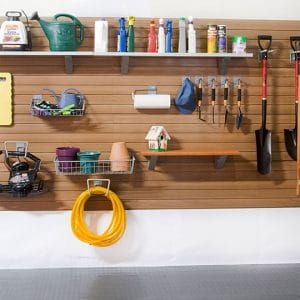 Lawn and garage slatwall system
Put of all of your lawn and garden supplies on one centralized place.
---
CTA – Free Consultation Button
Get the most out of your space and schedule a free design consultation today!
Free Consultation