3 Simple Questions to Design a Custom Closet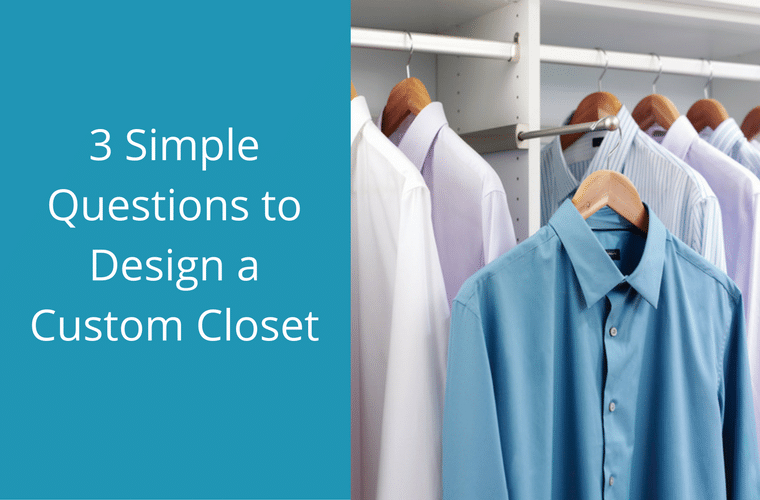 Custom closet design can seem like an amazingly complex process. Whether you live in the suburbs of Columbus, the cool downtown section of Tremont in Cleveland or anywhere in the country the questions for custom closet designs are the same. What is the right amount of hanging space? Would this garment or piece of jewelry be better hung up or stored away in a drawer? Should this sweater or t-shirt be put into neat piles (or hopefully neat piles!) or shelves or tucked away in drawers? What can you do with all those shoes buried in the deep, dark crevices of your closet floor?
Well – and this might come as a "Ripleys' Believe it or Not Moment" for you – your best strategy to design your custom closet can begin by asking 3 simple questions. Let's check out those questions.
Question 1 – Should it hang?
You've probably seen the funny YouTube videos from Blendtec titled "Will it blend?" For an efficient and effective closet design the key questions most people don't ask (but should) is not "will it blend" but "should it hang?"
'The question in a #closet is- should it hang?'
Click To Tweet
With most builders' grade closets (like the one shown below) the space to hang clothes is often uninspired, poorly designed and inadequate.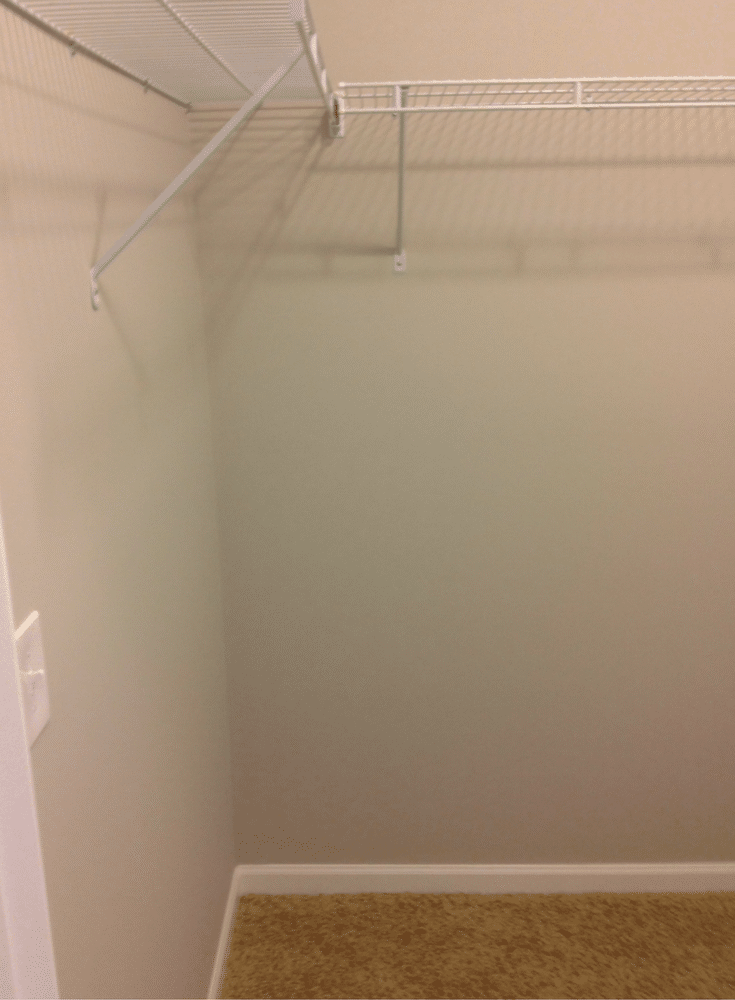 A thoughtful approach to hanging can make all the difference in a closet. Here are two strategic things you can do to get the max out of your closet and optimize your hanging strategy.
Tip 1 – Use the right type of hanging sections (long hang, double hang or triple hang)
There is usually only a single rod installed at shoulder height (which is often called long hanging space) in most original closets which were installed by home builders. The only items which need this much space are long gowns, top coats, longer dresses and robes. Since there aren't usually a lot of those in a closet much of the lower part of the closet space is wasted. By changing the closet to double hanging (or even triple hanging sections if you have little kids) you can gain a lot of hanging space and increase your storage in the same sized closet.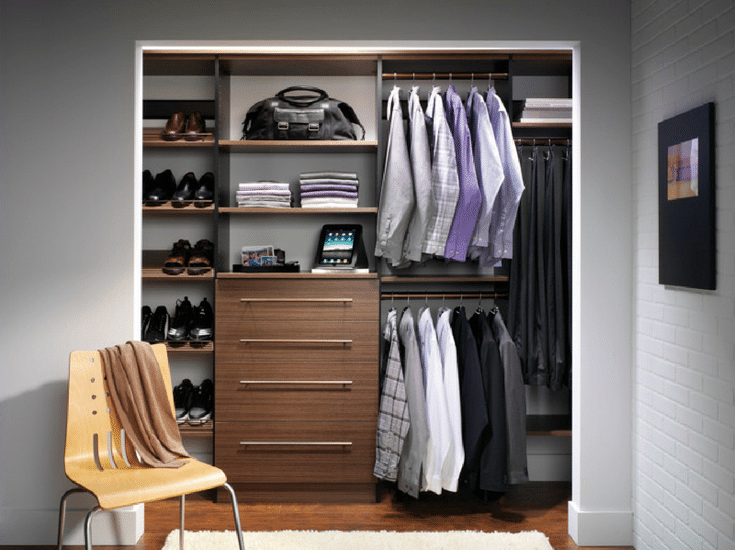 Tip 2 – Only hang up the right items
Although the closet design strategy mentioned in tip 1 can help you gain hanging space that doesn't mean it's a good idea to hang everything. If you hang too many clothes what happens is they get squished together. This will prevent you from seeing what you have and you'll need to iron a lot more because they'll come out of the closet wrinkled! Not a good thing. Since you can actually get 3x as many clothes stored neatly in a drawer vs. hanging in a closet it makes sense to reconsider what you're hanging vs. what you're folding.
'You can get 3x more #clothes stacked in a drawer vs. hanging on hangers!'
Click To Tweet
Some of the items which make more sense to store in drawers include sweaters, t-shirts, jewelry, running shorts and shorts.
Question 2 – Will it adjust?
As in life we all need to adjust. Whether it's your kids going off to the college or the military, being relocated to a new town, or a loved one who needs more of our time and help – things and people around us change and we need to change with them. Our closets are just like our lives – they need the ability to adjust as well. One example of this is as our kids get older their bodies get taller – and the length of their clothes- get longer with them.
To have the optimal closet design (or to determine if your current closet will have the ability to grow with you and your family) see if your current shelves and closet rods are adjustable. In most cases – unfortunately – the answer will be a big old NO! Having a hanging rod system which can be varied will allow the closet to work for your son or daughters as they move from being beautiful little kids into those – maybe a bit challenging – teen years! Fortunately, there are closet rod and wall mounting systems which are designed with this flexibility.
In addition, as the seasons change the type of clothes you pull out of your closets change. In the Fall you know you'll want to grab those warm winter sweaters and on Saturday afternoon you need your favorite Ohio State Buckeyes sweatshirt handy! Since bulky sweaters and sweatshirts are stored most efficiently on shelves it's helpful if these shelving units are adjustable.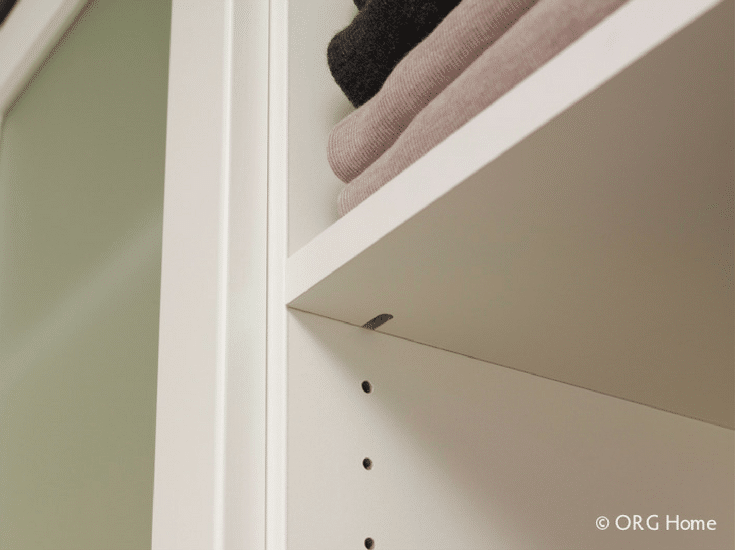 With new adjustable wire or laminate shelving the ability to gain more space for your Fall/Winter vs. Spring/Summer wardrobe is easy. Ask yourself, "is my closet equipped to adjust to my needs and that of my family as we grow and the seasons change?"
Question 3 – Is it better stored?
If your closet today doesn't have drawers or baskets for storage you are likely missing out on an excellent, efficient space-gaining opportunity. There are some no-brainer items you'll want to put into drawers like socks, underwear, pantyhose and bras but have you ever thought about putting ties (which are always dropping to the floor) and jewelry (which are always becoming tangled when they are hangers) into drawer compartments?
In addition to drawers pull out bins can be a useful place for a dirty clothes hamper, balls and bulky toys which can be located low enough to the floor so little kids have access to them and for your purses and handbags.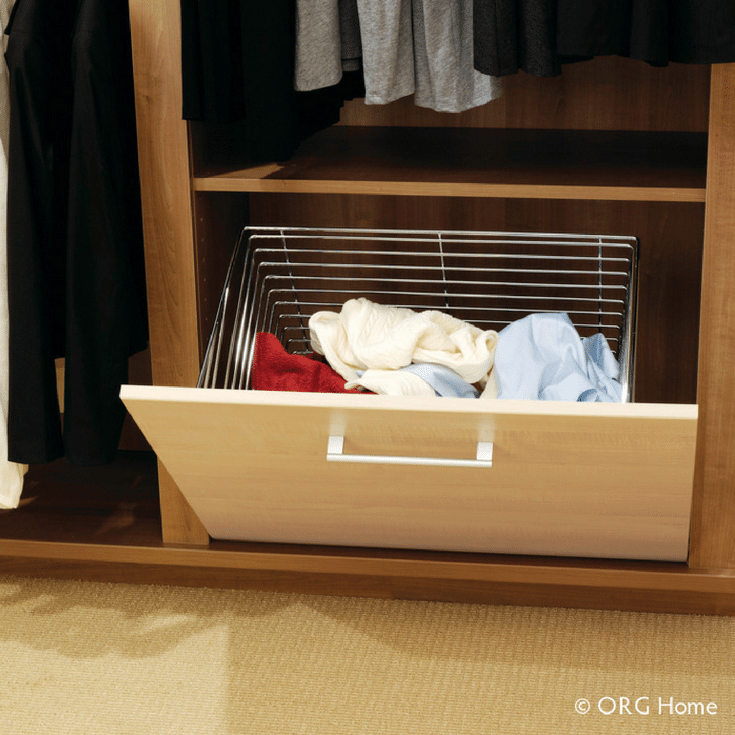 Conclusion
Closet design doesn't have to be as complex as it's cracked up to be. Simply ask yourself these 3 simple questions to see if your current closet design and storage system is working for you or could be altered for a better design:
Question 1 – Should it hang?
Question 2 – Will it adjust?
Question 3 – Is it better stored?
If you find your current Cleveland or Columbus closet system is lacking call the numbers below for a free design consultation.
Contact Innovate Home Org in Columbus at 614-545-6888 or for a Cleveland custom closet call 216-658-1290.
---
Tags: adjustable closet rods, Cleveland custom closet, closet design, closet design Cleveland, closet design Columbus, closet organizer, closet rods Columbus, closet Tremont, Columbus closet system, Columbus custom closet, custom closet, new closet, new closet design