6 Slick Shelving Ideas to Add Pizzazz and Function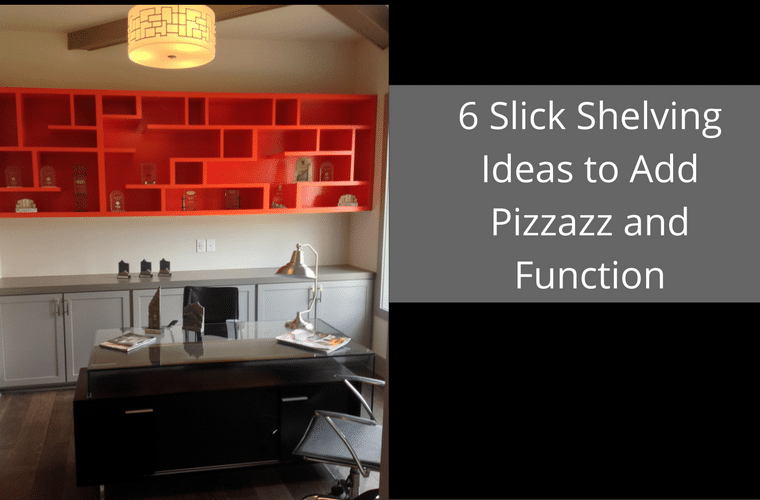 Why does shelving seem like the red-haired stepchild in the design of dens, closets and rec rooms? Is it because potential new homeowners don't pay attention to these details until they notice how the shelves actually work (or don't work) on a daily basis?
The reality is you and I really NEED our shelves today! If we look at our closets and check out a bit of history we'd find the average woman had 36 pieces of clothing in 1930 and today this has ballooned to 120! Can you relate to this? I certainly can.
I went to the 2016 Columbus Parade of Homes in search of what's cool and hot in new custom homes and couldn't help but notice the good, the bad and the ugly in shelving and storage choices. In some cases the storage ideas had style, pizzazz and function rolled into each other. In other cases – the shelving was literally "fixed" and will not function as well as it could (and these are in homes where the sales prices range from $850,000 to $1.3 million!).
Since I'm known to be a "glass half full" guy this article will focus on 4 cool ideas I saw at the show (and 2 from outside the show) to kick up the style and usefulness of our shelves. If you're like most people – who don't own a 4,000 to 6,000 square foot home and needs to get their storage right- you need to get the correct shelving to keep up with your stuff. This article will give you practical ideas to make sure your storage works for you.
I would love to get your feedback on which idea you think is best!
Idea #1 – Don't be afraid to use bold shelves

Why build a new home, redecorate or remodel a home and drive the style on what will be best for resale? Life is meant to be enjoyed (by you) and lived to the fullest so why not use the inside of your home and make it fit with your unique personality and style? I loved the bold and distinctive Asian-inspired red shelving units in the study of the Dani Homes model at the Columbus Parade (see this picture at the top of this post). The shelves are striking, memorable – yet can store some pieces which matter to you. No boredom here!
Idea #2 – It's not sexy, it's smart space planning – insisting on adjustable shelving
I was amazed at how many of the pantry and closet shelves in The Parade's new custom luxury homes where simply fixed shelving of white painted wood. They are not only boring, but will not allow the owner to adjust the shelves to fit their (often changing) storage needs. Simple increment holes in wood or laminate shelving allow for complete flexibility. This fun rec room (I love the Lego theme and the Lego dog – how cool!) from Compass Homes of Columbus creates a craft and family TV room in the lower level. It is not only a multi-purpose and fun, but the shelves can be adjusted for future flexibility.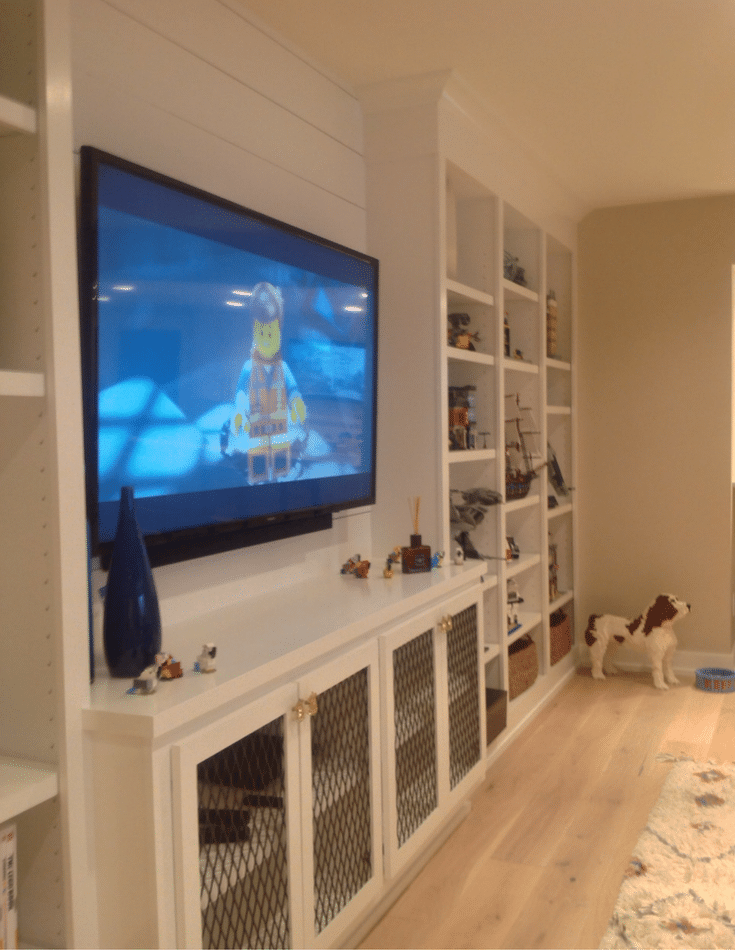 Compass also used this same theme in the master closet. The adjustability in this master closet will help it's owners get a more thoughtful use of every square inch of their home!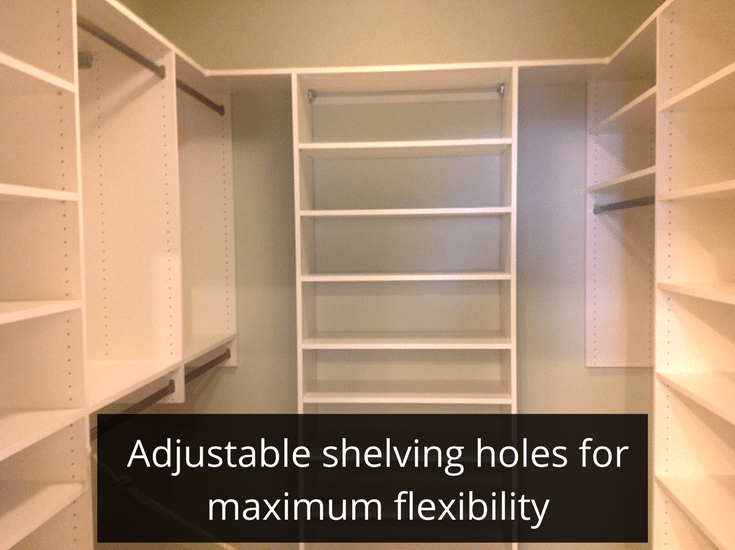 Idea #3 – Light up your shelves to spotlight your good tastes
Proper lighting can make any feature of a home more interesting. What's really neat is with the advancement in LED lighting the cost of making the pieces sitting on your shelves a focal point has been reduced dramatically.
'Add impact to #shelving with LED lighting.'
Click To Tweet
In addition the life span of the LED bulbs is extensive. Whether you live in a suburb of Columbus (like Upper Arlington, New Albany or Pickerington) or anywhere across the country wouldn't it be cool to enter your
custom closet
and for it to have the flair and interest of a celebrity closet?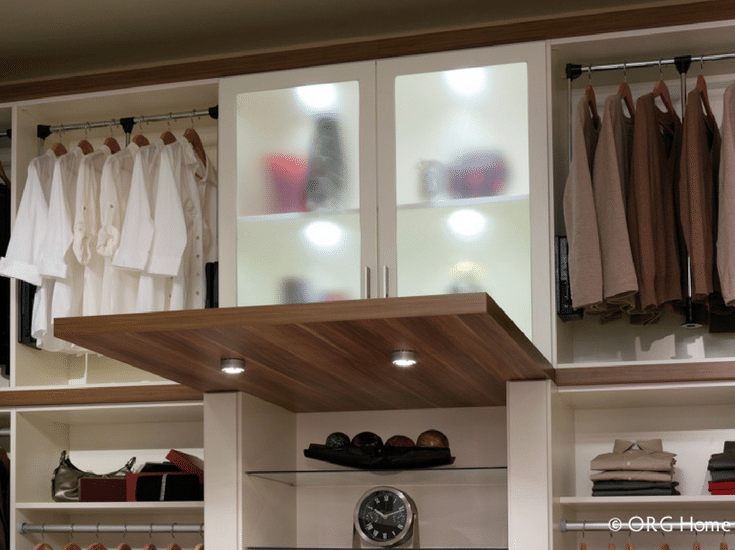 Idea #4 – Shelves should be humble
OK – you're probably saying right now, "Mike – how can an inanimate object like a shelf be humble?" The answer is – by not taking "center stage" in a design. The goal in custom home design – whether it's a closet, den or anywhere in the home – is to balance beauty and function. In the example below the cabinetry was allowed to take "center stage" not only for the beauty of the design – but also because it allows the drawers to fully open and shelves to be easily reached.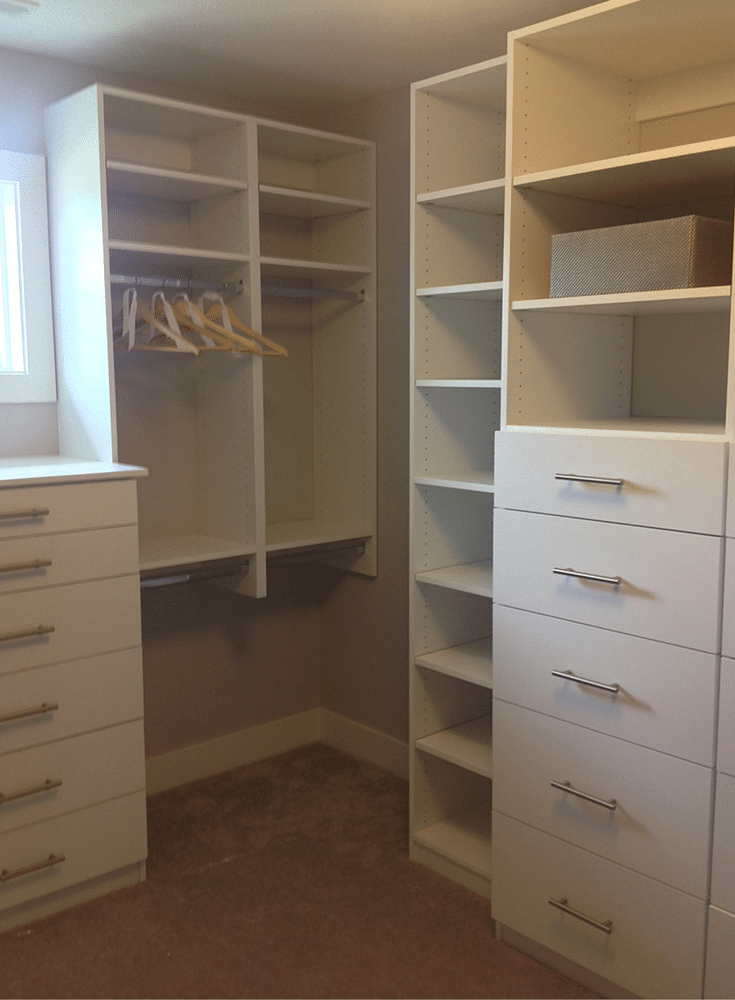 Smart (and efficient) design should also look good. As Ricardo Montalban might have said, "It's not only important to look good, but to feel (or work) good as well!"
Idea #5 – Use geometry and space planning to elevate your shoe shelf storage
In the old days of closet design (or I might say in the days of no real closet design) your shoes were the forgotten souls (sorry about the bad pun) tossed on the floor and buried under a sea of racks of clothing. Possibly never to be found again! With contemporary shoe storage your favorite pumps, boots, mules, sandals or sneakers should be elevated to the status they deserve. Place them on shelves so they are visible and easy to choose.
The challenge becomes what's the best way to store your shoes to not only get them off the floor, but to display them in a space-efficient way. You might ask, "is it better to use flat shoe shelves or to angle them (which provides a nicer display)?" What geometric angle is best? The answer is if you have a lot of shoes (and/or a limited budget) it's most space and cost efficient to put them on flat shelves (you'll get more pairs in the same space). If you're creating a premium closet the angled shoe shelves will take your collection into the celebrity closet status.
'Angled shoe shelves give the celebrity #closet look!'
Click To Tweet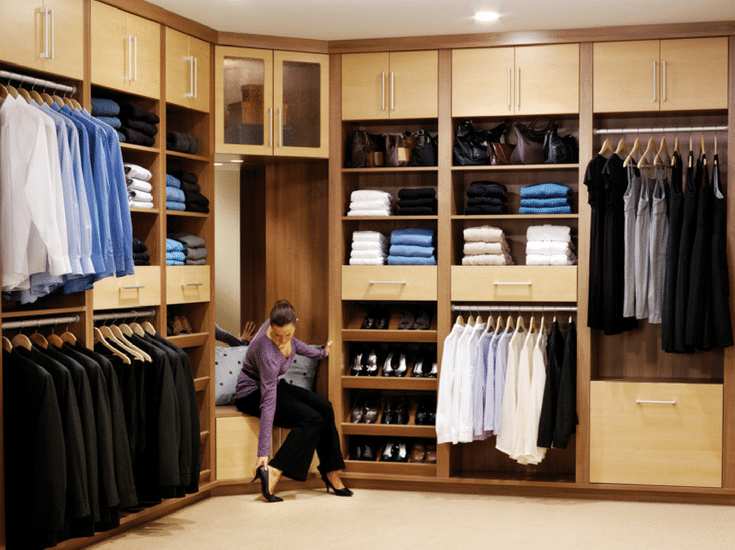 Idea #6 – Make function fit the form
Shelves are made to provide function. They are the workhorses to store or elegantly display your belongings. The question is what do you do when the form (area) you have for storage is not a traditional square or rectangle? The answer is – go with the flow of the space. I love how Bob Webb Homes of Columbus built shelving to fit into the vaulted design of this home office space. It's functional and architecturally interesting. The function fits the form.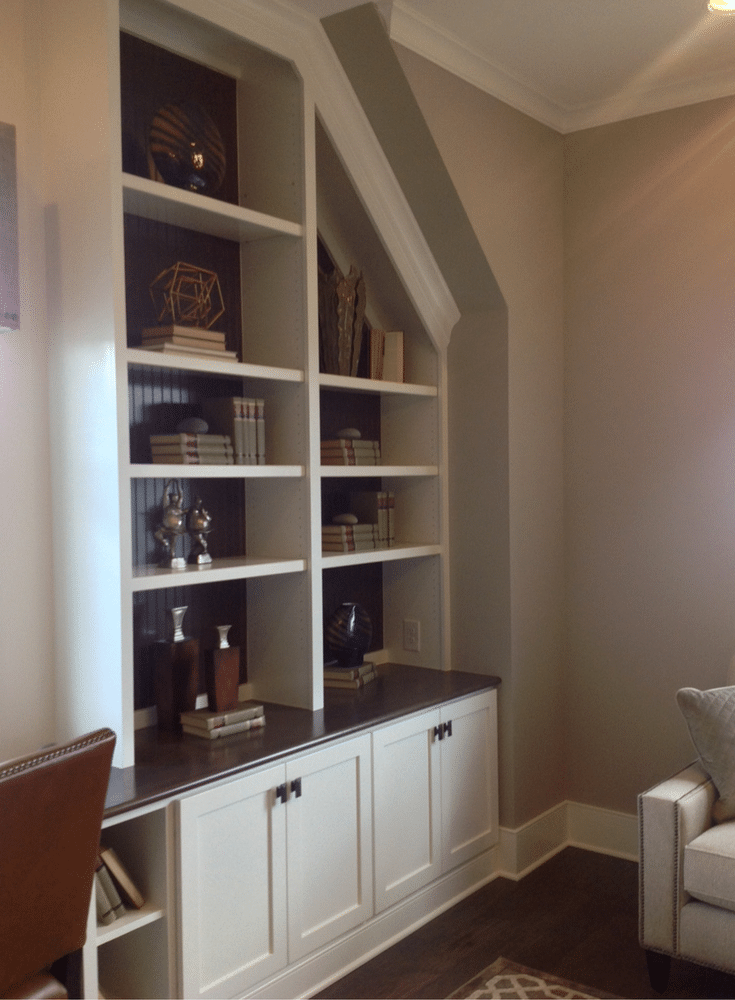 Conclusion
I hope you can see from this article there can be more to the "red-haired" stepchild (AKA shelving) than meets the eye. Yes – they need to be functional, adjustable and designed to work in your specific space, but they can be much more. Shelves can be inspirational, cool and made to show off your unique personality and style. Don't let your shelving be boring – or worse yet – non-functional ever again. For tips on more exciting shelving systems and/or a luxury custom home in Columbus Ohio call the numbers below.
Now – getting back to my question – which shelving idea above would be best for you?
###
For a custom home in Columbus call:
Bob Webb Homes 614-530-4926
Compass Homes 614-895-1800
Dani Homes 614-354-8087
For an interest in shelving, closet and home organization products call:
Innovate Home Org (in Columbus) 614-252-7294
Innovate Home Org (in Cleveland) 877-668-5888
For a Columbus master closet call Innovate Home Org in Columbus at 614-545-6888 or for a Cleveland walk in closet 216-658-1290.
Follow the author on Twitter @Mike_Foti or our companies' @InnovateBuild and @InnovateHomeOrg.
Save
Save
Save
---
Tags: adjustable shelves, adjustable shelves Columbus, Bob Webb Homes, bold shelves, Compass Homes, custom closet Columbus, custom shoe shelves, Dani Homes, premium closet Columbus, shelving, shelving design, shoe shelves, shoe storage, shoe storage Columbus, shoes Columbus, stylish shelving