7 Amazing Laundry Room Storage Ideas to Add Fun and Function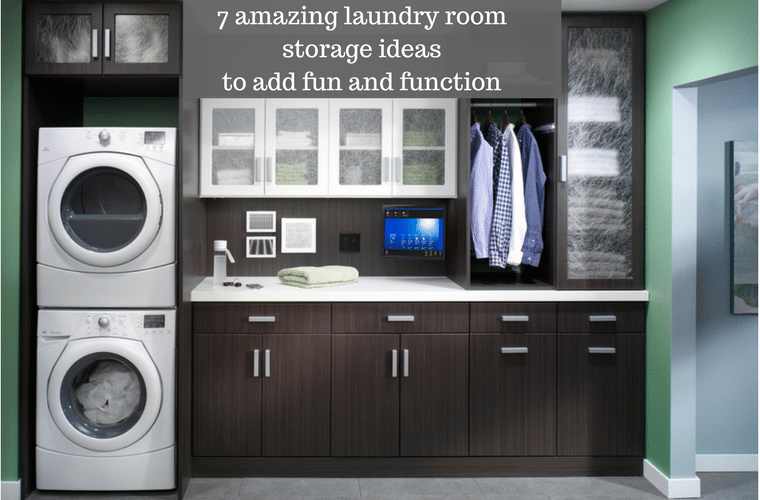 A laundry room which is fun and functional? You may be saying right now, "Mike you've got to be crazy!" If your laundry room is a cluttered mess with mounds of dirty clothes which has been overtaken by un-paired socks you're not alone. Let's face it, the laundry room is the "Rodney Dangerfield" space of the home. It gets no respect. Is it possible to love a room which is associated with dirty laundry? Could it be possible with the right laundry room storage ideas this space could be both functional and fun – or have I lost my mind?
If your laundry room has devolved into a place you absolutely HATE to go your like most people. It is possible for it to experience an evolution with the right mix of laundry room cabinets, shelves, hanging rods, décor and a few hidden storage tricks. In this article, I'll give you 7 practical ideas to kick up your laundry room organization so you might enjoy laundry (maybe just a little). Let's dig in.
Laundry room storage idea #1 – Use your height for safety & storage – vertical cabinets
When the size of a room is smaller than you'd like (and in laundry rooms, this is usually the case) the first storage opportunity to use is vertical space. In many cases the area above your washer and dryer is unused and perfect for upper cabinet storage. These cabinets are not only functional – but also can be critical for safety. Since they are located about the washer and dryer you can keep you cleaning detergent, bleach and dryer sheets outside of the reach of your little ones. In this case, you get the bonus of keeping your supplies close to where you'll use them and keeping the kids safe as well.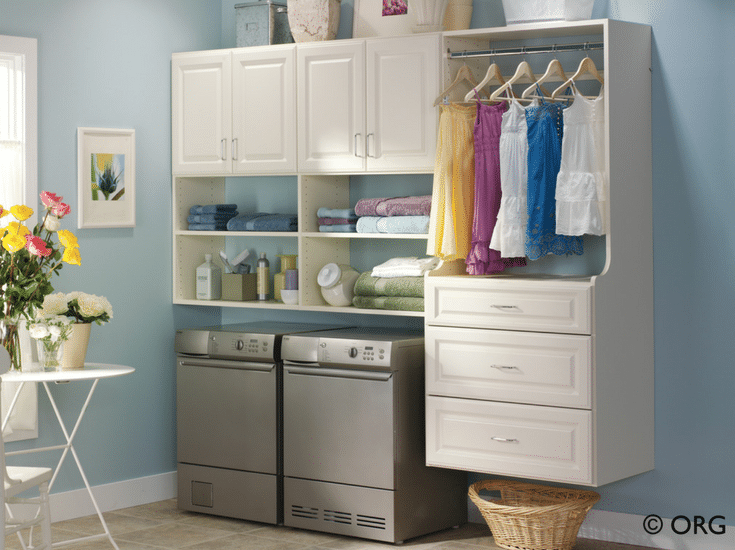 Laundry room storage idea #2 – Create an easy to reach place to so you won't "hang yourself out to dry"
Isn't it a pain when you do the laundry and have to throw everything back into a basket and bring it into another room for folding? Then you get sidetracked and come back to the clothes and everything is wrinkled (so you throw them back into the dryer and/or wash them again). Wouldn't it be fantastic to have a place to hang wet delicate sweaters to air dry – or hang dry shirts and blouses so you can save time ironing (and don't hang yourself out to dry with more work)?
A way to accomplish this goal is to have a hanging space in your laundry room.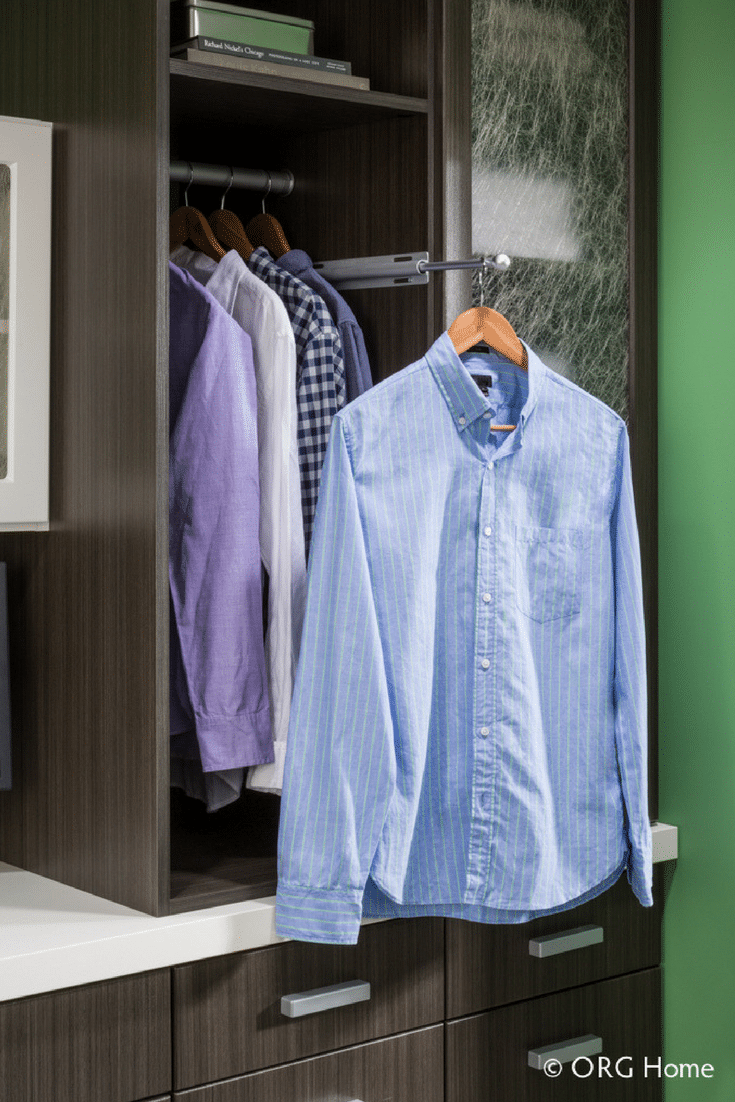 To make it ergonomically sweeter another options is a pull-down rod so the clothes will come to you.
Laundry room storage idea #3 – Become a (space) conservationist
Wouldn't it be nice if your laundry room wasn't so cramped so you could do a quick ironing of your blouse before heading out to work without setting up the big ironing board? Well – here's a space conservationist idea to gain hidden functionality in a smaller area. Consider using a fold out ironing board which is stored inside a drawer cabinet.
'Be a #laundryroom space conservationist with a pull out ironing board.'
Click To Tweet
You can "press into action" (bad pun) when you pull out the board from a hidden drawer – and it doesn't take a bunch of room to set up or store like a full scale ironing board.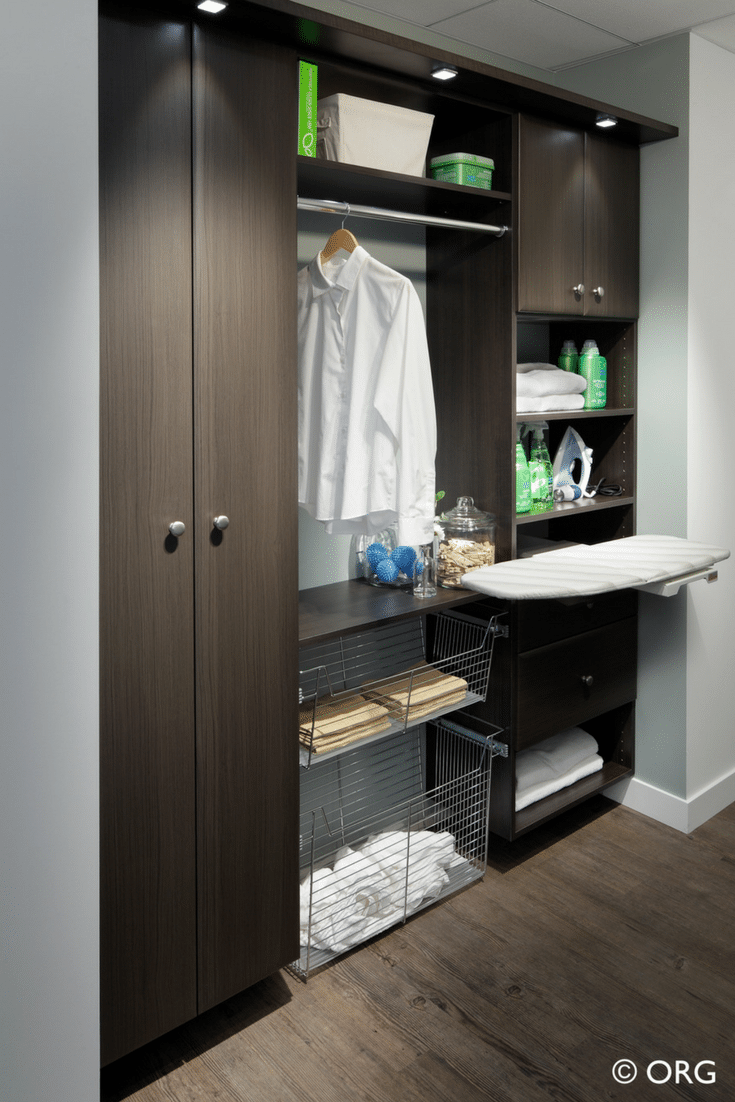 Laundry room storage idea #4 – Keep your friends close and your cleaning supplies closer
Simple design leads to an efficient and effective laundry room organization system. Whether you design your updated laundry room yourself or use the help of a professional laundry organizer you want to think about closeness. By "closeness" I mean putting things right where they need to be. Put laundry room hampers before the washer and dryer so you can sort things before getting them in the wash. Place your detergents and dryer sheets in cabinetry or a storage cart next to (or above) the washer and dryer. Make sure your stain removal products are close to a flat counter surface where they will be used.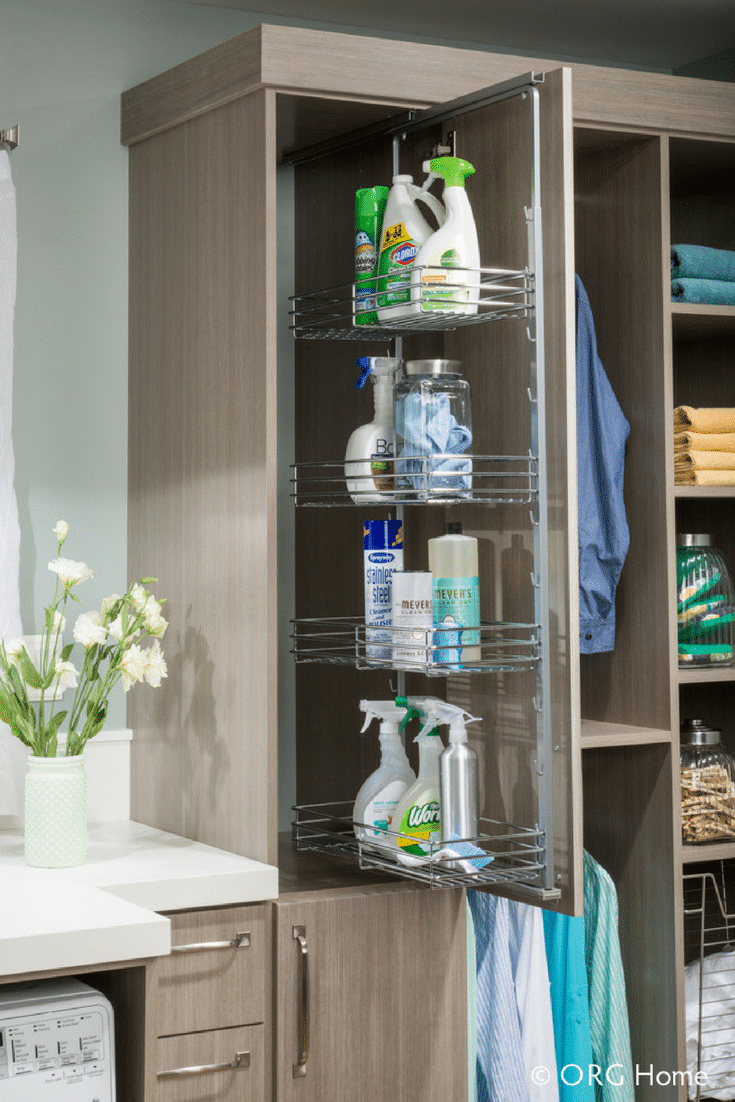 Laundry room storage idea #5 – Keep yourself in order with bins, baskets and hampers
There is nothing more frustrating and unpleasant than piles of dirty laundry on the floor. Then you start searching for the one dark blouse you've got to clean tonight for work tomorrow and can't find it. Get rid of the piles and go to a bin or basket system. Have a bin for darks, lights and delicates so you can cut down your laundry time and organize your washing and drying process.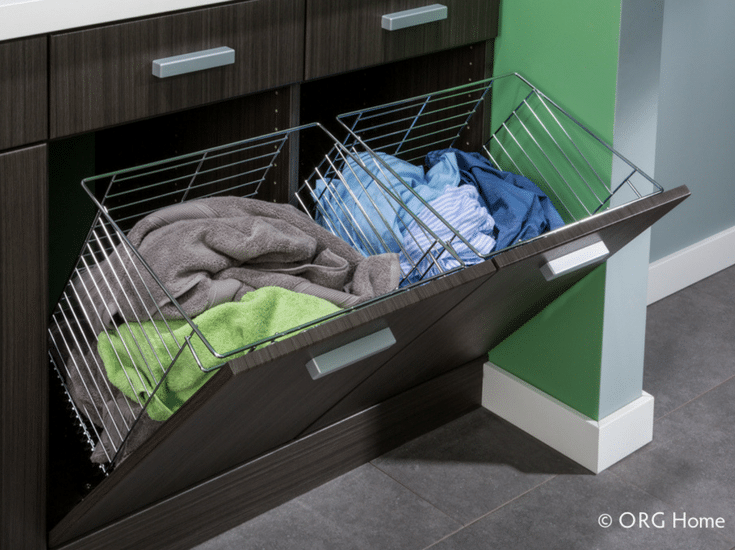 Laundry room storage idea #6 – Create a workspace to make your job quicker
Sorting, folding and removing stains are all tasks you need to accomplish to get the laundry done. It becomes simpler if you can do all of these tasks in one room. One key to multi-tasking in the laundry room is to have a multi-purpose work surface. If you have front loaded washer and dryer, consider adding a counter over these appliances. If you have the room, install a group of laundry room cabinets with drawers with a counter above. This area will then serve double duty – offering more storage with the cabinetry below and a place to sort, fold and work with the countertop above.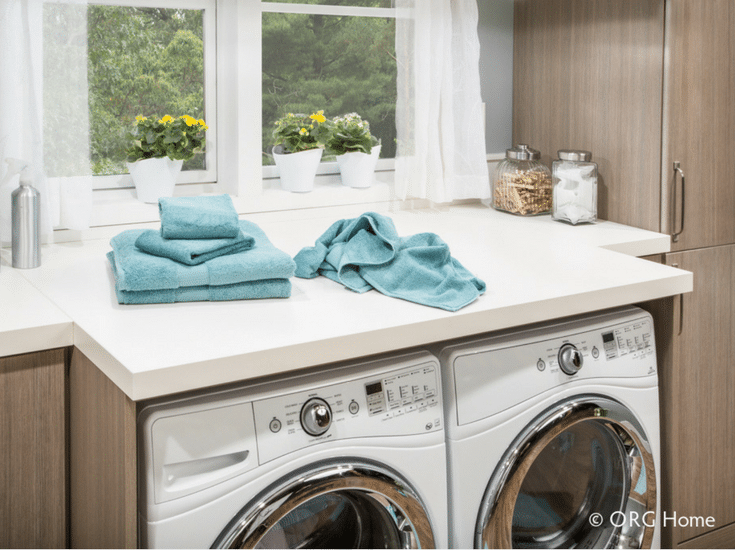 Laundry room storage idea #7 – Efficiency is good, but style and lighting will make the job more pleasant
All the ideas above are focused on making your laundry room more efficient and effective. If you really want to take the drudgery out of laundry you need to think beyond simply storage and look at how to make the room feel better for you to use. Two ways to accomplish this is to add your unique style in your laundry room décor by using colors or patterned wall papers which compliment your home. Another idea is to add a skylight to bring in natural light. A bright and cheerful room is much more pleasant than a dark confined space.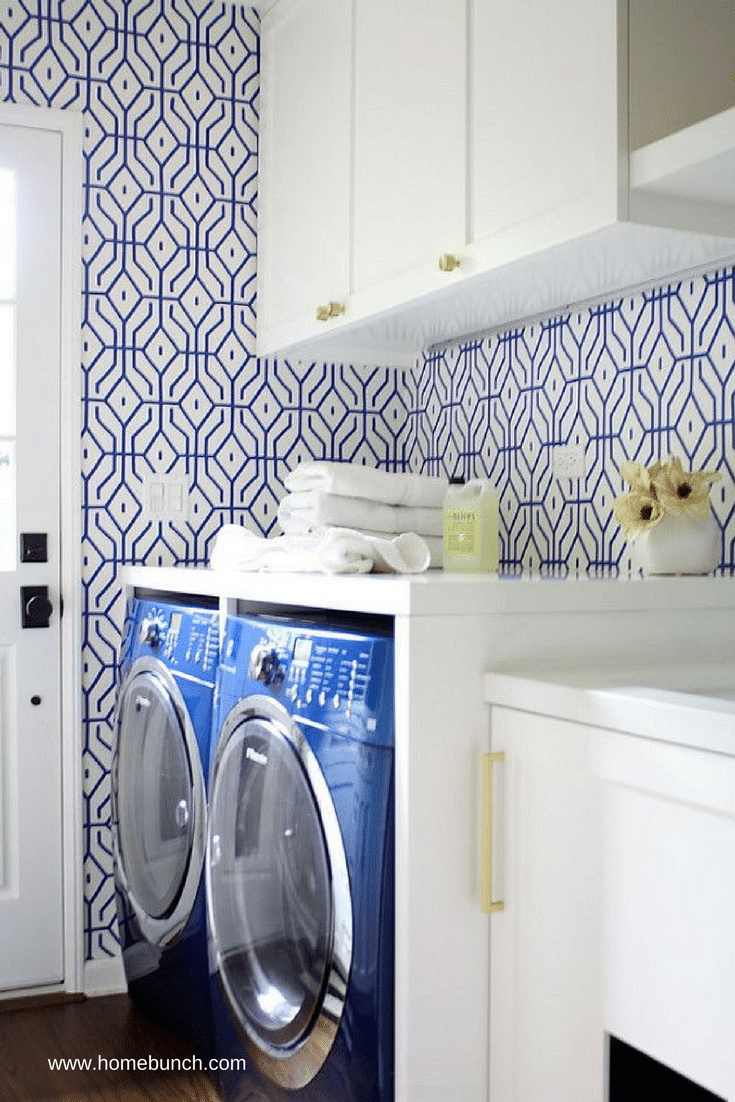 Conclusion
While the laundry room isn't traditionally the sexiest room of your home, it shouldn't be a place you dread. Using the right laundry room storage ideas your space can be transformed and work will become easier!
If you have questions, comments or would like help from a Columbus or Cleveland laundry organizer and get a Free 3D design call the numbers below or add your thoughts to this post.
###
For help with laundry cabinets for your home call Innovate Home Org in Columbus at 614-545-6888 or in Cleveland call 216-658-1290.
Follow the author @Mike_Foti or our companies' @InnovateBuild and @InnovateHomeOrg on Twitter.
Save
Save
Save
---
Tags: Columbus laundry cabinets, Columbus laundry organizer, Columbus laundry room cabinets, Columbus laundry room ideas, Columbus laundry room storage, fold out ironing board, laundry cabinets, laundry organizer, laundry room cabinets, laundry room ideas, laundry room storage, laundry storage, pull down rod