6 hot interior design trends to rock your next closet, pantry or home office project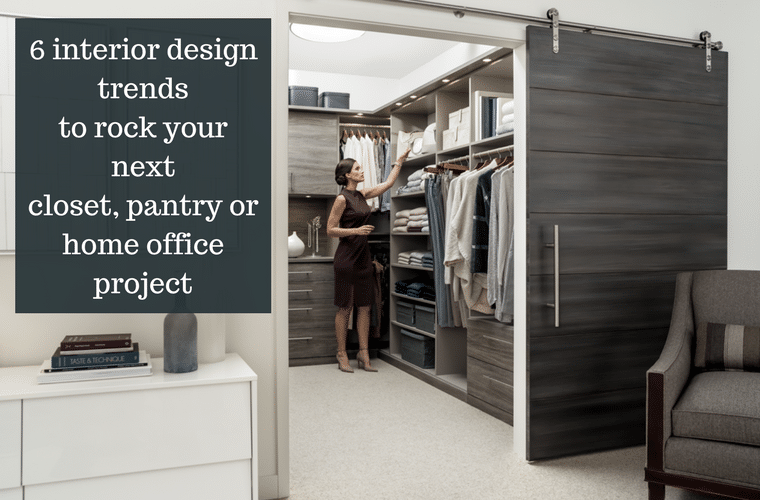 You've worked hard in your practice….in your business. The kids are almost "off the payroll" and getting their careers started (can you say Amen to that!). Now it's time to put a little "YOU" back into your life. Less stress. More enjoyment. A more refined and organized home you can relax and entertain in.
You may be thinking about improving your way-too-messy walk in closet, or pantry where you can't seem to find ANYTHING, or even the home office since you are working more from home, but at this stage in your life you're not looking for boring run-of-the-mill products. You want something which will reflect your personal sense of style. You want a forward-thinking design like you see in the luxury hotels or restaurants you and your husband enjoy. The challenge is what home organization systems are available which will leverage todays' interior design trends without totally busting your budget?
If the description above describes your stage in life, I'm excited to share this article with you. I had the pleasure of attending the 2017 Cabinets and Closets Conference in Chicago last week and seeing the latest, greatest and hottest trends in home organization products. These products will take a walk-in closet, pantry, entryway or home office to a new level. I'm excited to share with you 7 hot interior design trends (many which started in the hospitality industry) to help you transform your disorganized spaces into stress-free areas with a sense of style you'll actually be proud to show off. If you can't imagine even thinking about showing off your closet, pantry, entryway or home office read on and learn how to use these fun trends.
Interior Design Trend #1 – To crank it up you need to mix it up – getting rid of the "matchy-matchy"
Interior design trends can and will change. In the early 2000's it was all about matching. Staying consistent. Not mixing contemporary and traditional in the same space. Today – things are 'a changing.' According to Michele Weitzel of Northern Contours, "The mixed look is HOT. Now you're seeing wood grain kitchen cabinetry with high gloss wall panels. Metallics mixed with matte finishes. Using different textures, colors and finishes in the same space." Basically – it's OK to be bold. It's cool to let your personality (as eclectic as it is) shine in a new closet, a new pantry design etc.
'A mixed texture look is hot in #closet design today!'
Click To Tweet
Interior Design Trend #2 – This isn't "nana-technology. Using nanotechnology to add style, reduce clean up time and make more durable storage spaces.
Imagine not worrying about having to wipe the fingerprints from your grandkids off your kitchen pantry cabinet fronts or island. While you may not be a material science geek (and certainly I don't play one on TV) the study of small things (molecules, atoms etc. AKA nanotechnology) can make your life as a Nana (or Mom) a whole lot better. Nanotechnology science today has allowed the creation of laminate finishes which capture the look of painted wood – but you don't have to worry about cracking, pealing or fingerprints. The work in high-tech is helping you use decorative low-maintenance laminates which will allow you to enjoy more, maintain less and have longer lasting cabinet and closet surfaces. Laminates are beginning to blow wood away!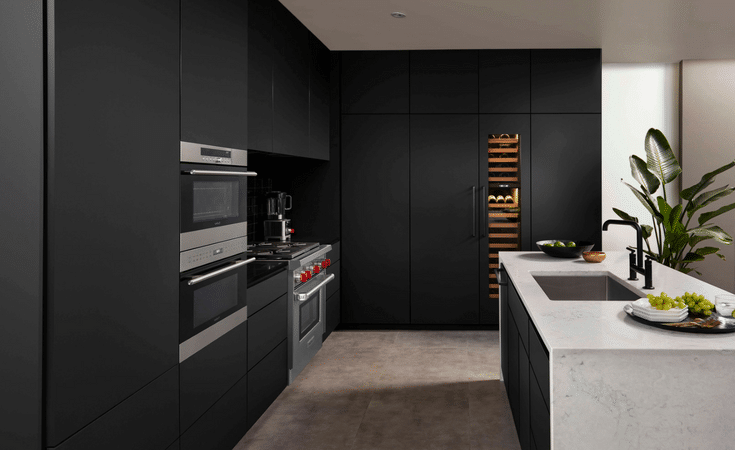 Interior Design Trend #3 – It's time to embrace the clean, contemporary minimalist look
If you're like me and love to stay at the "W Hotel" raise your hand. There is something inspired about the minimalist style. It's clean, fresh and above all – neat (it's the exact opposite of a cluttered busy look). Whether you're remodeling a bathroom or creating a new closet or pantry the Euro and Scandinavian looks are hot and trending. One of the new features I saw a lot at the conference was high gloss finishes. They are not only sleek but there is now edge finishing technology where the doors and drawers are seamless (so you don't have to worry about cracks!). This darker matte finish men's closet system is a good example of the minimalist look.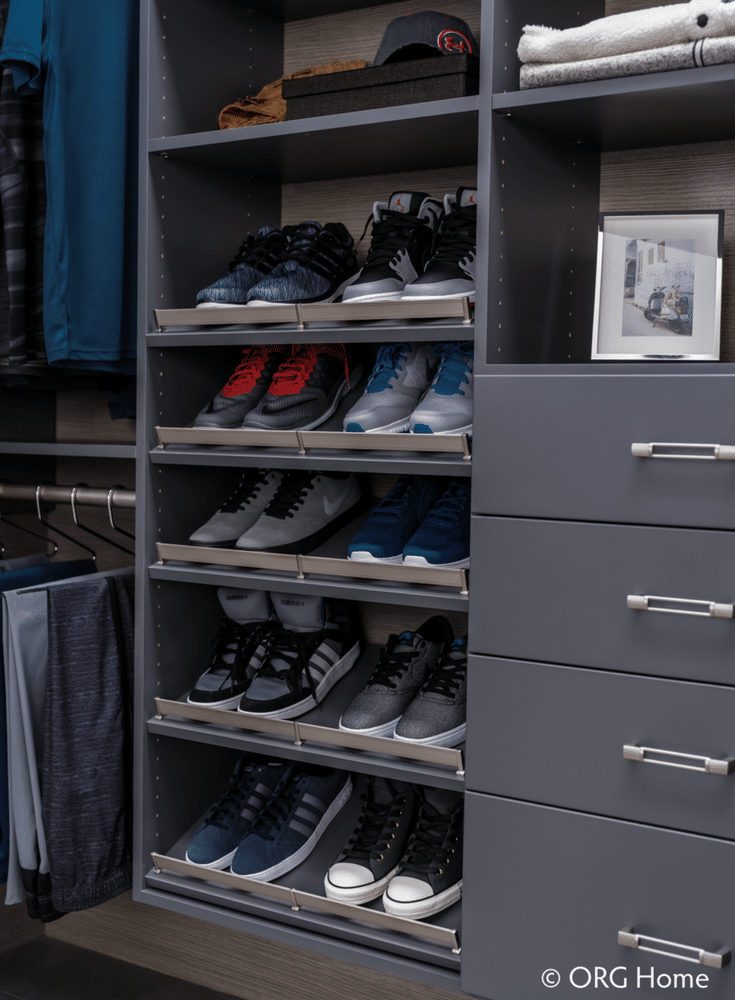 Interior Design Trends #4 – 3D is not just for movies anymore – textured laminates you'll swear are wood
When you think of a laminate surface does your mind automatically go to the word "smooth?" If it does that's certainly logical. What is happening in mind blowing proportions right now is 3D laminated surfaces are available and so life-like you (and your friends, family and neighbors) won't be able to tell they are not wood. Whether you want an eclectic charred wood look, a rustic feel, or a sleek contemporary Scandinavian design, there are textured laminate cabinet door and drawer fronts which will be so real – yet simple for you to take care of – you won't believe it.
Interior Design Trends #5 – You need to see it to match it up properly – using effective LED lighting in a closet
Don't you wish your eyesight was as good as your grandkids – who can (and do) practically read in the dark. The reality is – those days are gone! It's a bummer our eyesight doesn't get better as we get older (as someone who had a serious eye problem about 20 years ago called uveitis I don't take vision for granted anymore). You may be asking at this point what does eyesight have to do with interior design trends for organized spaces?
Well one of the hot interior design trends is the use of LED's to create lighting which is both efficient and effective. According to the Lighting Trends Market Report LED lighting grew from $25.7 billion in 2015 to $30.5 billion in 2016 and is now 36% of the total lighting market. One of the places in your home (if it's at all like mine) which is begging for better lighting is the closet.
Most walk-in closets have no natural light (although it's great when they do) and only a one or two bulb fixture at the top of the closet. This "lighting design" (or lack of design I should say) makes it practically impossible to differentiate your blues from your blacks (I know this from experience because I'm partially color-blind) let alone how to put coordinate your printed scarves with your blouses. This is where closet lighting design can make a huge difference. One of the neat things I saw was not only putting lighting above closet countertops and at the top of the hanging sections, but also putting lighting up the side of the closet supports to illuminate your garments from top to bottom. Effective lighting can create a mood – but also practically make a space work for you.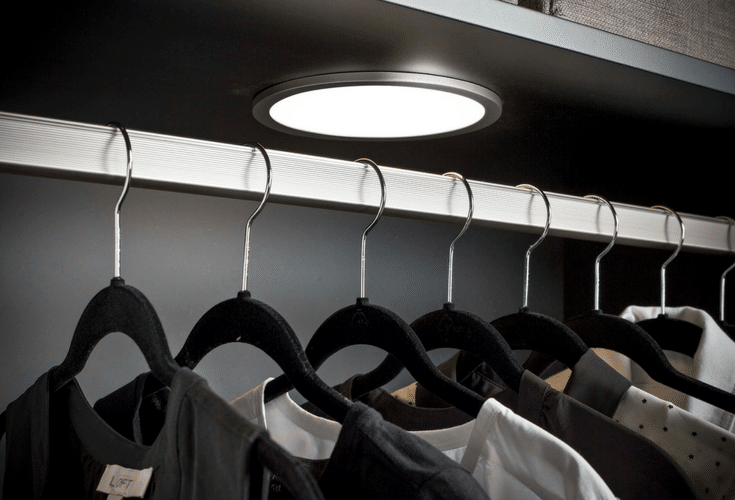 Interior Design Trend #6 – A bit of magic – floating shelves and organization systems
As we talked about in trend #3 the contemporary minimalist look is growing rapidly today. The use of floating shelving has really taken off in kitchen and bathroom designs. What I thought was cool was the new floating closet systems. Using a specialized bracket in the back this unit by Hafele combines complete adjustability with a sleek Euro design (the leather drawer boxes are also wild). This system shows that style and organization can be perfect compliments for one another.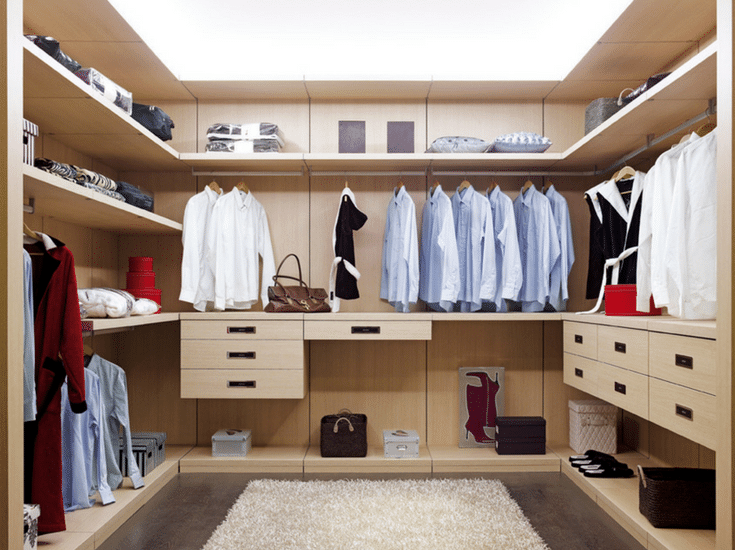 Conclusion
Attending the Cabinets and Closet Conference this month I was amazed at the technological innovations and trend-setting designs centered around not only improving the function of closets, pantries, entryways and home offices – but also how they will look and feel for you. Which interior design trend in this article is the most appealing to you? Are there any technologies or products you want to learn more about for your Columbus, Powell, New Albany, Upper Arlington or Cleveland home?
Can I (or a member of my team) help you more?
Are you looking at doing an organization project in your Columbus or Cleveland home and aren't quite sure where to start? Feel free to call us and we will not only help you to visualize and reinvigorate your space, but can provide a Free 3D design as well. We look forward to hearing from you. In Columbus call 614-545-6888 and in Cleveland 216-658-1290.
###
Follow the author @Mike_Foti or our companies' @InnovateBuild and @InnovateHomeOrg on Twitter.
Save
Save
Save
Save
---
Tags: 3D closet, 3D closet texture, 3D laminate, 3D laminates, closet design, closet trends, entryway trends, floating closet, floating closet system, home office trends, home organization trends, interior design, interior design Cleveland, interior design Columbus, interior design trends, LED lighting, LED lighting in closets, mud room trends, New Albany closet, Powell closet, Upper Arlington closet