7 deadly sins of a bad garage storage design (and how to fix them)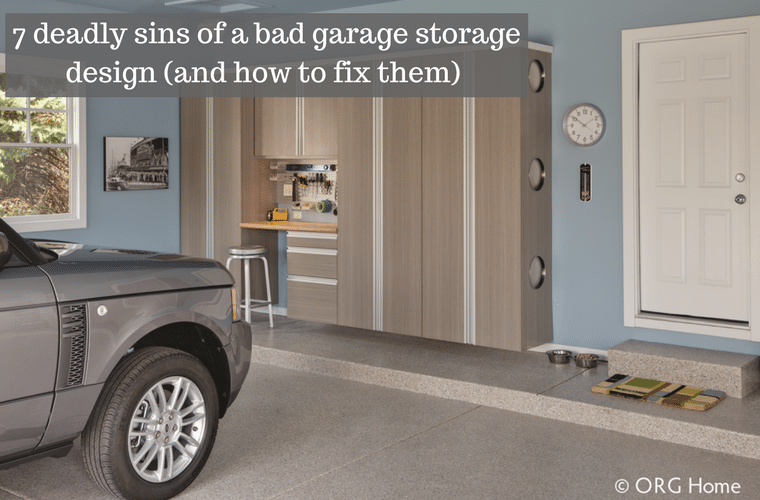 Who wants to be an expert in how to design garage storage when it's an area of your home you'd like to avoid like the plague? Overstuffed with junk. Creepy crawly bugs everywhere. Tons of obstacles in your way. Who does half this stuff belong to anyhow?
When you decide to "tackle" your garage organization problem (two-hand touch won't work for this space) it can be overwhelming. How do you design your garage to be an efficient place to find tools, decorations, sporting equipment? How can you make it safe so your storage won't topple onto your cars, trucks and SUV's (if you even have the space to park them inside right now)? How do you make sure cabinets, pegboards or open shelving will work given the depth, width and height of your garage?
Clutter is a HUGE problem in most garages. The need to design this space correctly and choose the right storage products is critical for efficient and effective storage. So how do you get your arms around this problem – and tackle it once and for all?
In this article, I'm going to give you a peak at the top 7 deadly sins of a bad garage storage design and provide simple ideas to make sure you don't repeat them in your project. Let's check out the sins (and most importantly the solutions of an effective garage design).
Garage storage design problem #1 – Your cabinets won't open when the garage door is shut
Maybe you've invested in garage storage cabinets and you're excited to finally get your storage behind doors to enjoy a neat appearance when you drive in. You're appreciating your new cabinets until that fateful day in winter when you go to retrieve the tote with the Christmas decorations from your Columbus garage and figure out you can't open up the cabinet doors (and stand behind the cabinet to get the tote out) without opening the garage doors and moving out the car. Bottom line is – the depth of your garage storage cabinets are too deep. Now you've got to freeze your butt opening up the garage overhead doors. Bummer.
Solving this problem is not difficult (if you're more thoughtful in the initial garage design). Before choosing the size of your cabinets write down the following dimensions.
(1) The depth of the cabinets you want
(2) The depth of the doors on these cabinets when they are opened up (for example if you have a 30" wide cabinets with double doors – each door will be 15" deep when it's opened).
(3) Add in 24" of depth for you to stand behind the open cabinet doors.
(4) Write down the depth of your longest car or truck.
(5) Add 10" extra inches of "wiggle" room.
Add up all the dimensions in items 1 through 5 and subtract it from the total depth of your garage. If you get a positive number your cabinet design is good. If your number is negative you either need to reduce the depth of the cabinets, go with double door cabinets vs. single doors, sell your cars or trucks (that's probably not happening just to have more storage space) or live with the fact you'll have to move your vehicles to fully open the cabinet doors.
Garage storage design problem #2 – Your car doors bangs into stuff when you "attempt" to get out
While the depth of your garage can be challenging as we've seen in problem #1 – the width can be a problem also. I've seen the "side walls" (the wall area between the garage door and the left and right garage walls) be as small as 7" wide. This doesn't leave a lot of room for storage on the side of the garage for open shelving units or cabinets.
To fix this problem I would recommend not putting cabinets or open shelves (which are often 12" deep or more on the sides where your car doors open). Reserve this space for either pegboard or a garage slat wall system. They are a perfect place to hang brooms, rakes, shovels, bikes and even put up a basket or two to house your balls and bike helmets.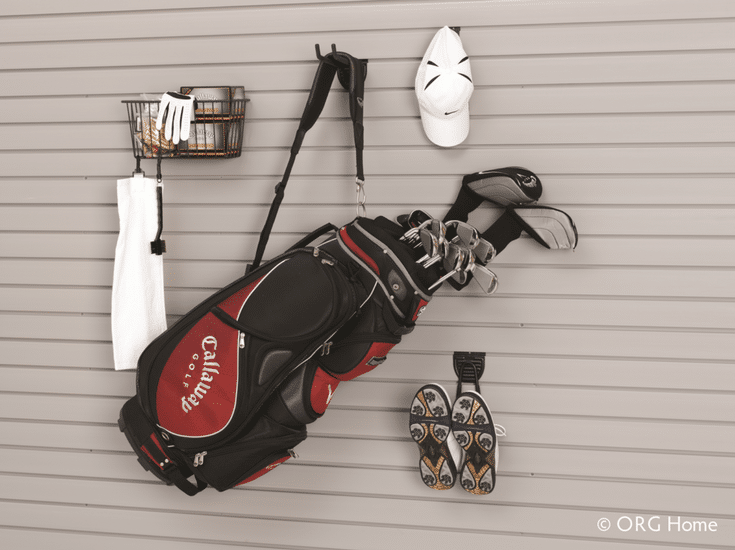 Garage storage design problem #3 – You don't use your garage "height" advantage
In basketball when you're the biggest guy or gal on the court people will talk about your height advantage. This is one thing I can't relate to. When I was in 9th grade I was so desperate to "sprout up" because I was the second smallest guy in the class (I was 5'2" tall). Fortunately, I made it to 5'11" and even made the basketball team after being cut in 2 previous years (although I was the 12th man on a 12 man team with a record of 2-13) – but I digress.
In your home do you know which room has the biggest "height advantage?" It's usually the garage. Most garages range in height from 9' to 11' tall – which is usually 1' to 2' taller than the rooms inside your home.
'Using height to your advantage in a #garage design with tall cabinetry.'
Click To Tweet
The problem is many off the shelf storage cabinets and shelving units don't leverage this height. Here are two excellent ideas to use your vertical volume.
(1) Use storage cabinets which are 84" or 90" tall. This will give you a full 1 to 1 ½ feet of additional storage vs. the standard 72" units you'll find in big box stores.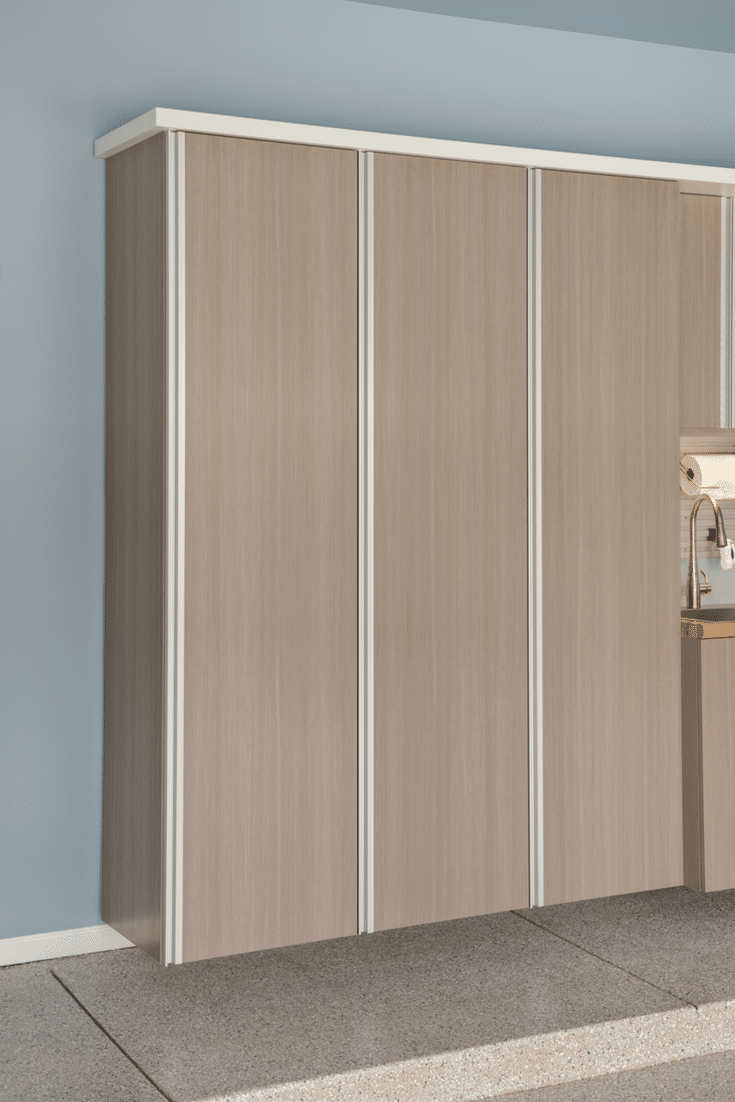 (2) Add an overhead ceiling storage unit. These are mounted at the top of your garage and are handy for lighter items which are not frequently used.
Garage storage design problem #4 – You throw into the garage cheap particle board cabinets with ½" thick shelves you used inside the house
Every product has its place – and also places it shouldn't be used. Particle board cabinets with ½" shelves which sit on the floor of a carpeted room can make sense in your bedrooms, mud room or laundry room. However, when you take this product into your garage you have problems. First the cabinet sits on the floor of the garage. If you live in Columbus, your garage floor is a conduit for moisture. Your SUV gets dumped on with snow (you may be asking, "do we have to bring up winter?") and not all the snow stays on your car on in the drive way – it melts on your garage floor. This moisture on the floor will penetrate into these cabinets and the boards will rot. The other challenge with indoor cabinets is the shelving is ½" thick. When you look at garage storage many of the items you may be storing are heavier (car parts, car batteries, potting soil to name a few). Thin ½" shelves will bow, buckle and break with heavier loads.
It's simple to solve this problem. Don't use cabinets made for inside in the garage. Go with a wall mounted garage cabinet system so it won't be subjected to the rain, snow and salt on the floor) since it's not sitting on the floor. Make sure the cabinet has 1" thick shelving with a back panel so all of your contents on the inside are protected from the elements – there are no exposed wood or particle board sides.
Garage storage design problem #5 – You don't have a handy place to work
When you're working outside if I'm a betting man I'll guess you're not wearing your suit or fancy skirt you wore for the last wedding you attended. You're in your grubbiest, nastiest work-around-the house clothes with mud on your boots and dirt on your sweatshirt. When you're in this "beautiful state" and need a place to assemble something or pot a plant it can be a pain when there isn't an efficient place to work.
The solution is to include a garage workbench with a durable countertop. If you create a laid-out workbench with a magnetic tool holder behind it you'll not only be able to find the tools for the job, but you'll be able to work in the comfort of your garage without being in the middle of the snow or rain outside (or worse yet tracking mud inside).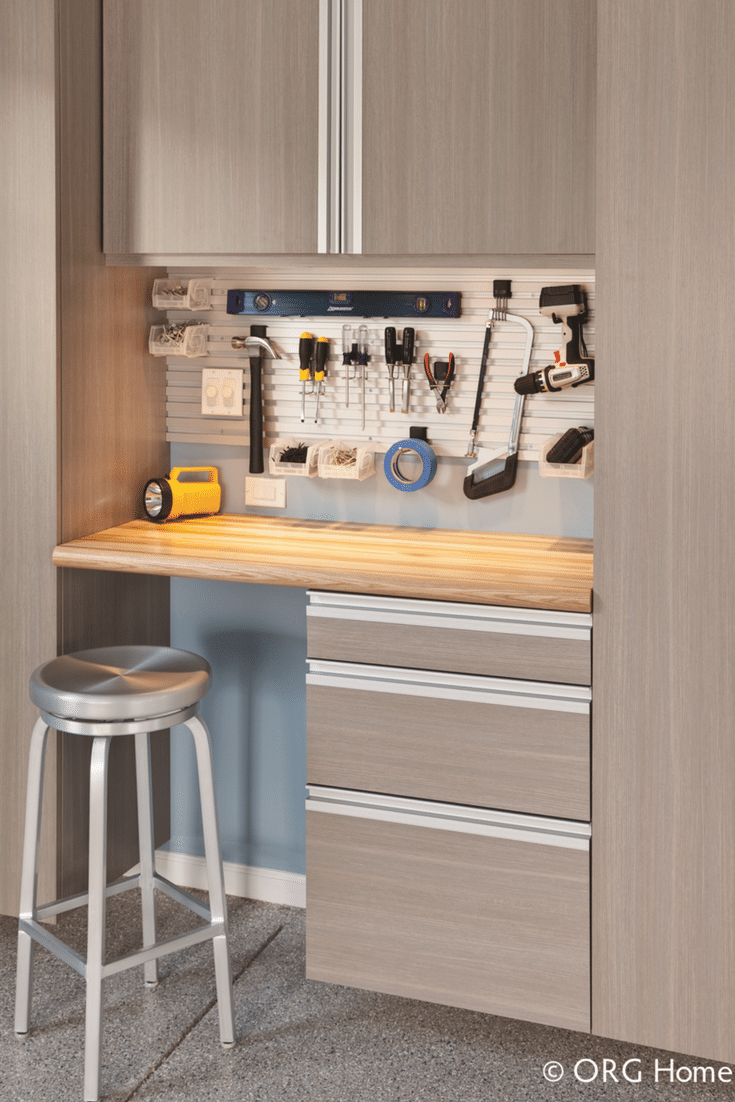 Garage storage problem #6 – Your totes, car seats and golf clubs won't fit into the standard off the shelf garage cabinets
Measure twice and cut once is the mantra in construction. When it comes to garage storage you need to measure your biggest storage item twice before buying any cabinetry.
'Measure your biggest items you will store in the #garage before buying cabinets.'
Click To Tweet
Some garage storage totes for example can be up to 22" deep. If your cabinetry is 16" or 19" deep the big totes may not fit in. Here's two options to tackle this problem:
1) Get rid of big totes and go with smaller ones (this can be an essential strategy if your garage is not very deep (see problem #1).
2) Use 23" deep custom cabinets. What's nice is these cabinets can also be 90" tall so you can use your garage height to your advantage.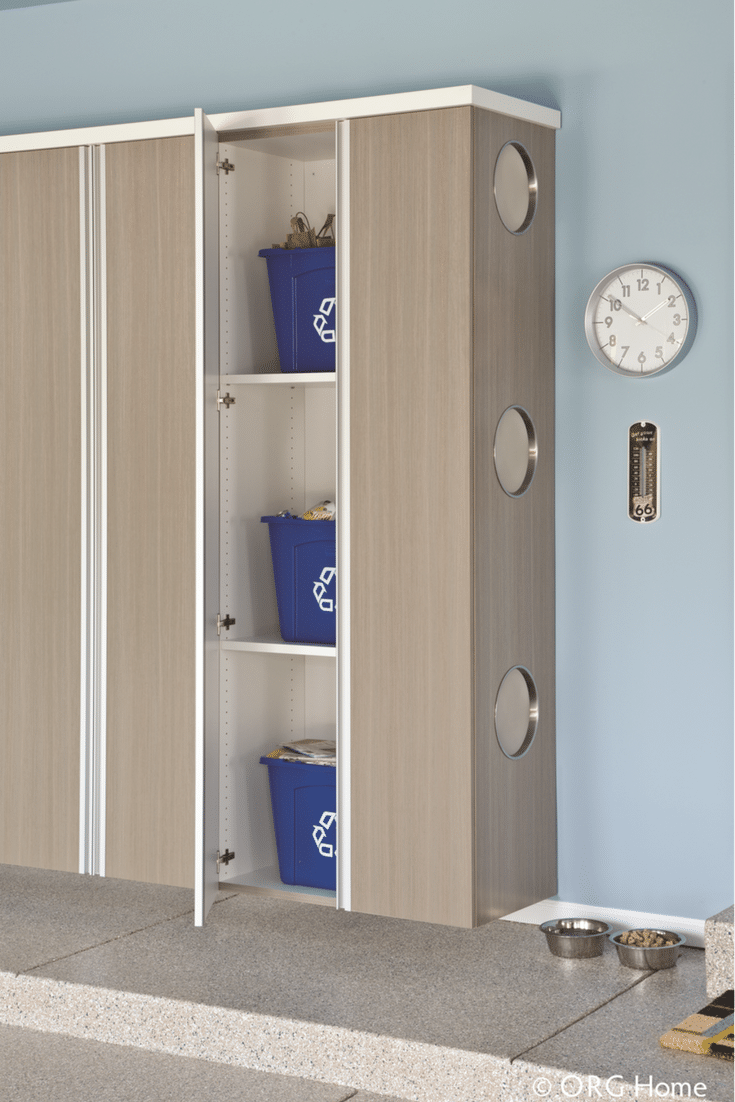 Garage storage problem #7 – Your garage still looks messy with open shelving
Most garages are filled with an eclectic group of plastic or steel open shelving units or worse yet particle board bookcases. Even after you're done with the "tasty task" of the family garage clean-up day, the space still doesn't look great because you can see everything. In addition, a month or two after things have been used and "thrown" back on the shelves (in the haphazard fashion your family has come to know and "love") your "garage organization" from a month ago is a total disaster again. How can you solve this problem?
The simplest solution is garage storage cabinets with doors and side panels. Even when (not if) things get a bit haphazard on the inside, you won't see the clutter and feel your stress level rising when you drive into your garage. What you don't see won't hurt you, right?
Conclusion
Garage storage design is not as simple as you might think it would be. While this is the biggest "room" in your home there are a lot of product choices, a ton of obstacles (AKA your stuff) to be considered to make the right choices. If your garage overwhelms you call in a garage storage design professional (yes – our company can help here – shameless plug). You can get a Free 3D design for a solution which is flexible enough to grow with you and your family.
How can I (and my team) help you?
If you're not sure where to start with this daunting project (and have no concept how much it will cost for a custom garage cabinetry system) we would love to help with a Free 3D garage design service. Give us a call at 614-545-5888 in Columbus or 216-658-1290 in Cleveland.
###
Follow the author @Mike_Foti or our companies' @InnovateBuild and @InnovateHomeOrg on Twitter.
---
Tags: Columbus garage cabinets, garage cabinets, garage design, garage storage, garage storage cabinets, garage storage design, garage storage design columbus, garage storage systems, garage workbench, how to design a garage, workbench in a Columbus garage