A garage designed to be as neat and organized as an operating room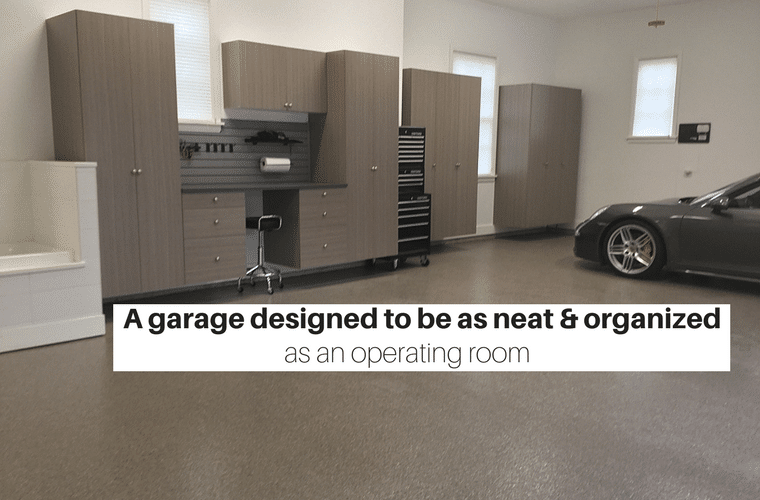 Are you used to driving into your garage and seeing a mess? Can of paint stacked in a haphazard fashion on open shelves. Extension cords, gloves and potting soil in a jumbled mess. Shovels with caked on mud and rakes with a errant leaves still holding on propped against the garage sidewalls (just waiting for someone to trip on them). Your concrete garage floor a mixed-up brew of dirt, leaves, oil stains with a few good cracks thrown in for good (or bad) measure.
What if your garage could be as neat and orderly as an operating room? Your hand tools, garden tools, extension cords, boots, shoes and sporting equipment tucked away – organized – and ready for your use. Does this sound like the impossible garage organization dream?
If you're Jason Hurst (a Columbus homeowner and orthopedic surgeon) this not only isn't a dream, it's the reality of his 4-car garage. As Jason said to me, "Mike, I not only wanted this space to be an organized extension of our home, but also a safe space which would work for our entire family – even our dogs Bunker and Rookie."
In the article below you'll see how using the right plan, and selecting the right garage flooring, cabinetry and workbench products created a custom garage design which serves the most important people – Jason's family. Although this garage is not quite as sterile as an operating room, it looks as neat and organized as one.
Let's take a closer look at the planning and products which makes this garage so cool.
A successful garage design begins with questions and a plan
Just like assisting a patient, a well-thought-out garage design begins with asking good questions. Before the project began, Jason and I not only looked at what was sitting in his garage from his recent move into this new home, but which of these items were going to stay – and which were going to go.
Once we knew what was staying, we discussed what type of garage organization products were needed. Here were some key elements we decided to include:
A long workbench by the window to take advantage of natural light.
A bank of deeper cabinetry along the garage backwall for bulk storage for sporting equipment, rakes, shoves etc.
An area close to the interior house door for shoes storage.
A section on the right side to hang bicycles.
Here's a picture of the 3D garage rendering of the design:
In addition to garage cabinetry, Jason also wanted an easy to maintain garage floor to keep the space clean. Since it is simpler to do the garage floor without the cabinets installed, the flooring was scheduled first. Let's take a look at the products used in this job.
The garage products
No matter how nice your garage cabinetry and workbench look if your floor is cracked, pitted and oil-stained it will take away from the neat, organized look. This is where Jason's garage project began.
Starting on the ground floor with a professional garage flooring system
When Jason mentioned his desire for a professional garage flooring system I told him I thought it was a good idea. Then I shared with him my horrendous experience DIY garage floor application experience from 15 years ago.
I went to my local home center store and bought the best garage flooring treatment they had on the shelf. My wife Rose and I (a non-practicing Doctor herself and someone who likes a neat space as much as anyone) and I spent 6 hours cleaning the floor so well I swear you could eat off it. We applied the coating – as instructed – being as meticulous as humanly possible. Within 1 week 1/3 of the coating came off the garage floor when our cars drove in and out. BIG BUMMER.
In this project Jason was smarter than I. He hired a professional garage floor coating specialist – Aaron Banish of 4 Seasons Floors. Aaron first ground the floor and filled the seams and cracks. His crew used a crushed aggregate and epoxy coat process. It's now simple to clean any spills off the floor with just soap and water.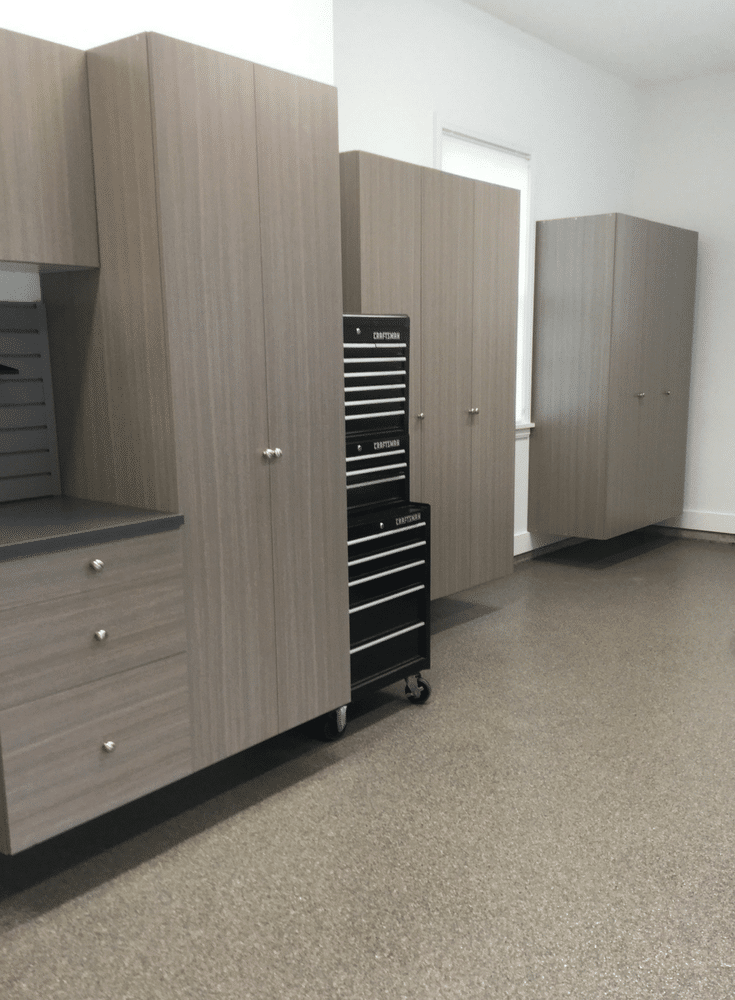 Specially designed garage cabinets, a workbench and even an area for the family dogs!
While a nice flooring system is wonderful, it is by using the right garage cabinets, adjustable shelving and work benches which allows a garage system to either work (or not) for your family. Let's look at the 7 key components used in this job:
Key component #1 – Deep garage cabinetry for sporting equipment
Family time and sports go well together. When you have 3 guys (Jason and his 2 sons) who LOVE sports – you need a lot of room for footballs, basketballs and soccer balls. One way to put these balls away neatly without them rolling off the shelves when you open the cabinet doors is to use a mesh basket. This one is tucked inside a 36" wide by 23" deep cabinet which at 90" is tall enough for a storage shelf above.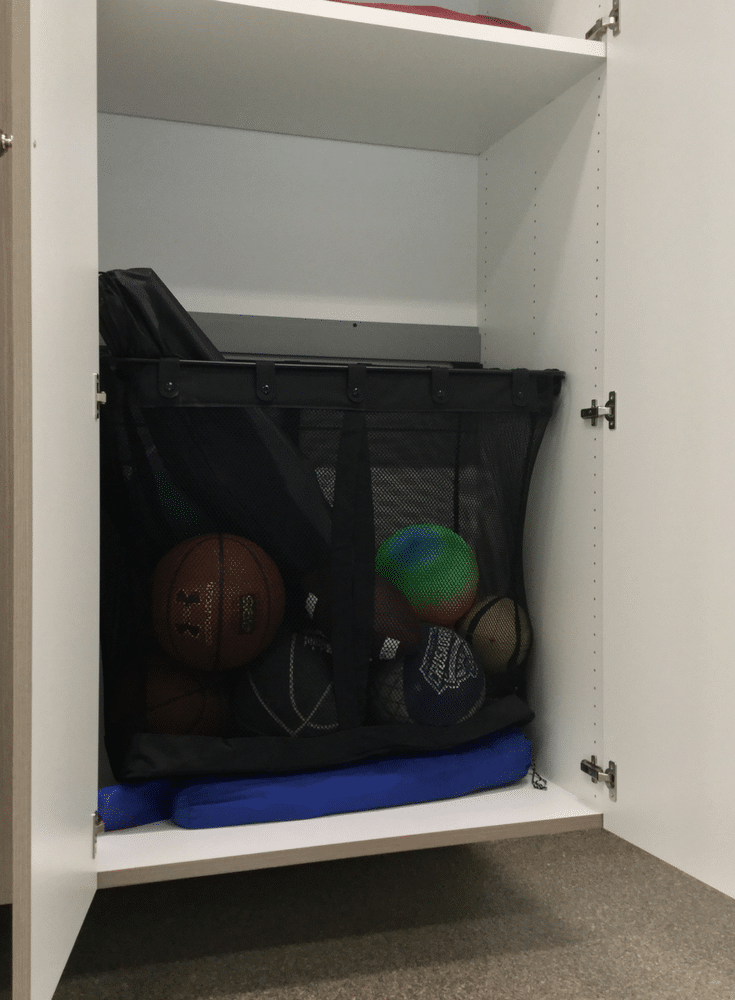 Key component #2 – A wide garage workbench designed by the window for natural light
It's nice to have well light place to work – whether you're in the operating room or your garage. This workbench is not only well light because it was centered around the window, but it has convenient items like a magnetic tool tray, paper towel holder and hooks for small hand tools which can be moved around on this organization slat wall.
Key component #3 – A garage washing station for "Bunker and Rookie" – the family dogs
Attempting to clean your dog from the outdoor mud and muck we get in wet Columbus fall and spring days can be a pain. This wash station in the garage (conveniently located under the heater) is a perfect place to clean Bunker and Rookie (even if they don't want a bath!) and keep the dirt from tracking in the house.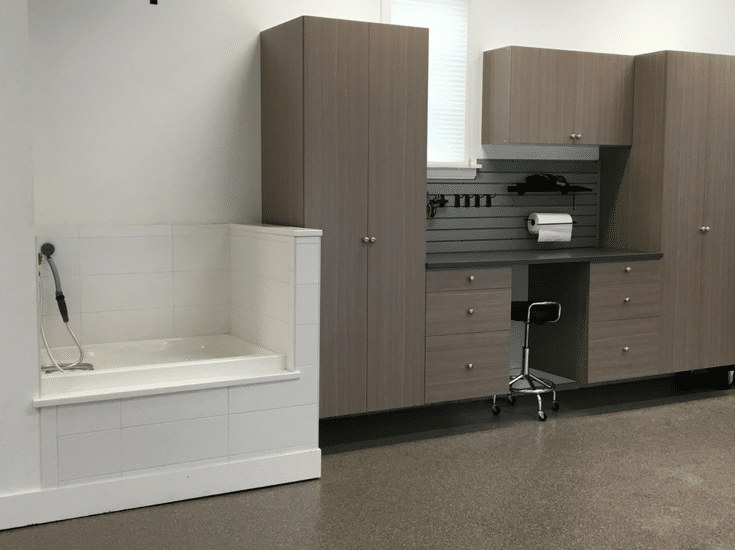 Key component #4 – Accessible shoe storage
This 19" deep by 30" wide garage cabinet has fully adjustable shelves made of a thick 1" white laminate to store boots and shoes galore. It keeps dirt from entering the house and is located close to the side entry door.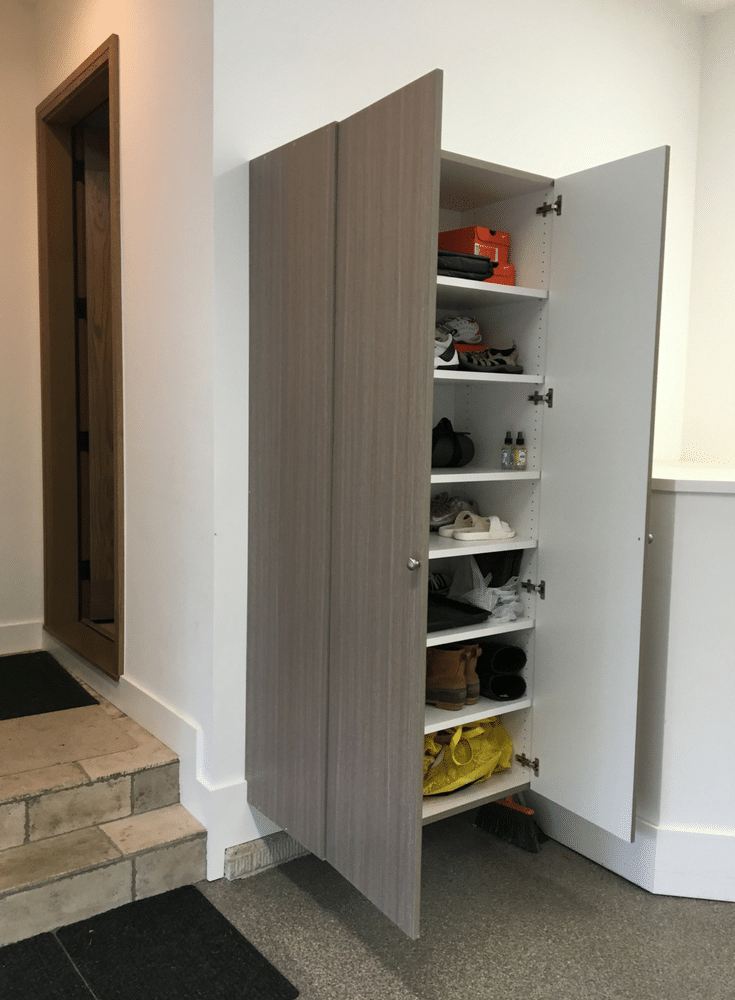 Key component #5 – Sleek aluminum bike storage
These two bikes are easy to hang up and take down with storage hooks. The aluminum wall storage system is also a sleek gray color. It even looks cool (but not as cool) as the Porche 911 sportscar.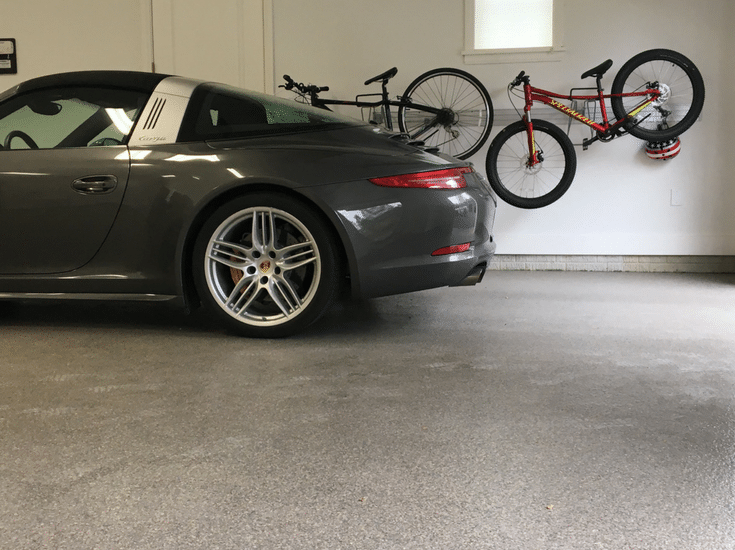 Key component #6 – Durable desk drawers and trays make it as simple to find what you need as in the O.R.
Finding the right tool or part can be frustrating at home and critical to your life in an operating room. There is no need to be frustrated when you have an organized workbench in your garage.
These full-extension 22" deep desk drawers are infinitely sturdier than a flimsy particle board desk you may have in your den or guest room today.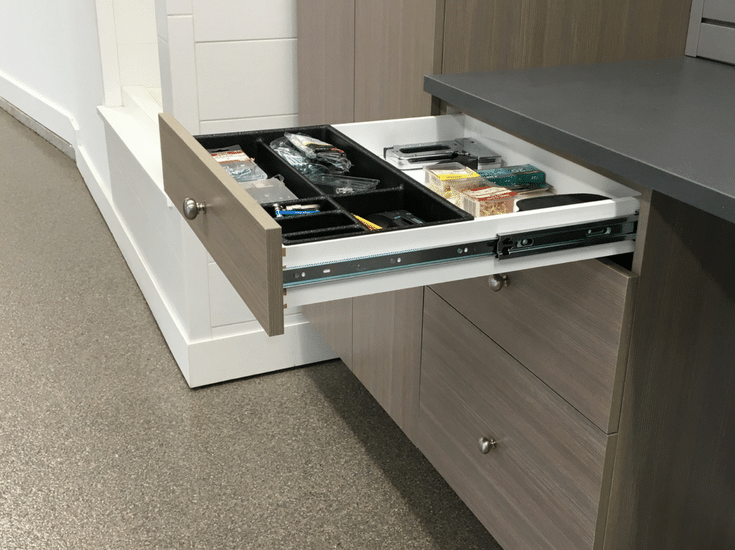 They have an interlocking dovetail construction and come in various heights (see below) to store small parts and large tooling alike.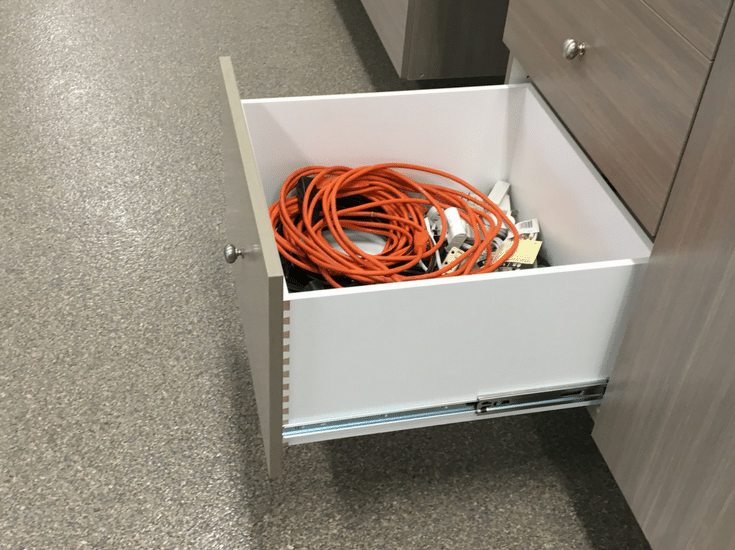 Now that Jason has these workbench drawers he plans to eliminate the rolling tool storage cart he used in his last home.
Key component #7 – Keeping the cars and family safe by storing the yard tools inside cabinets
If you've ever had a shovel or rake fall on your car or come back and slam you in the face – you know how nice (and safer) it will be to get the yard tools off the garage floor. In this project Jason used the organization slat wall system inside the cabinets with 8" hooks so this potential problem is eliminated.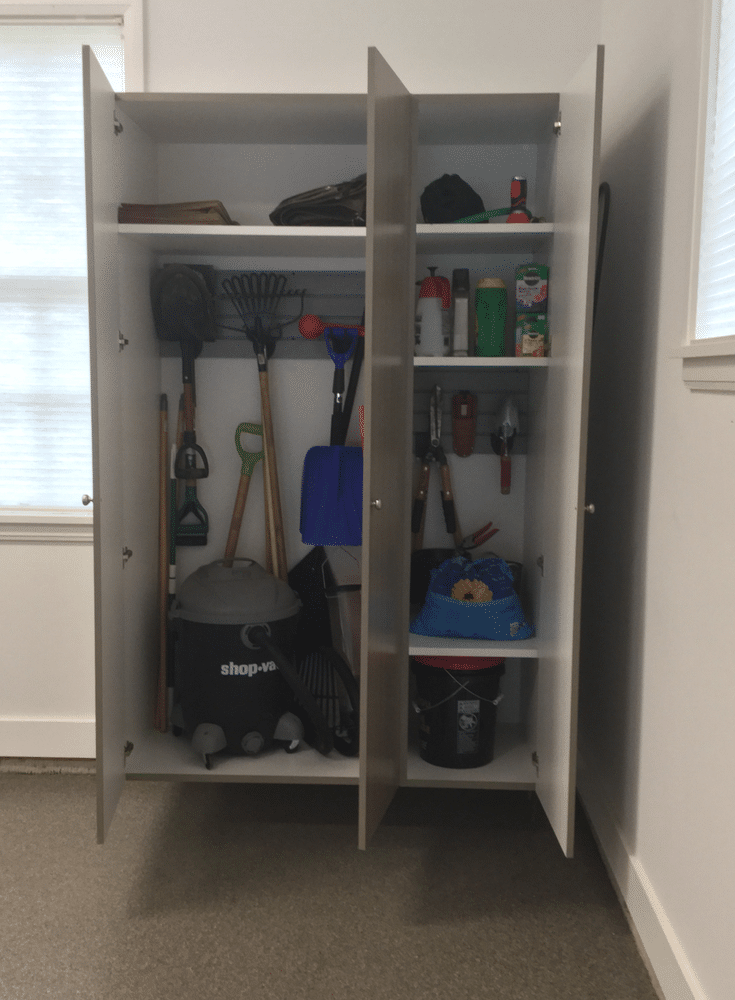 In the end – your garage should be all about your family
A garage (which also happens to be the biggest "room" in most homes) should be about more than throwing storage bins, boxes on the floor and propping up your household tools against the wall. A garage – and your home – should be all about you …and your family. A special finishing touch in this new home garage I thought was cool was the family handprints in front of the garage man door.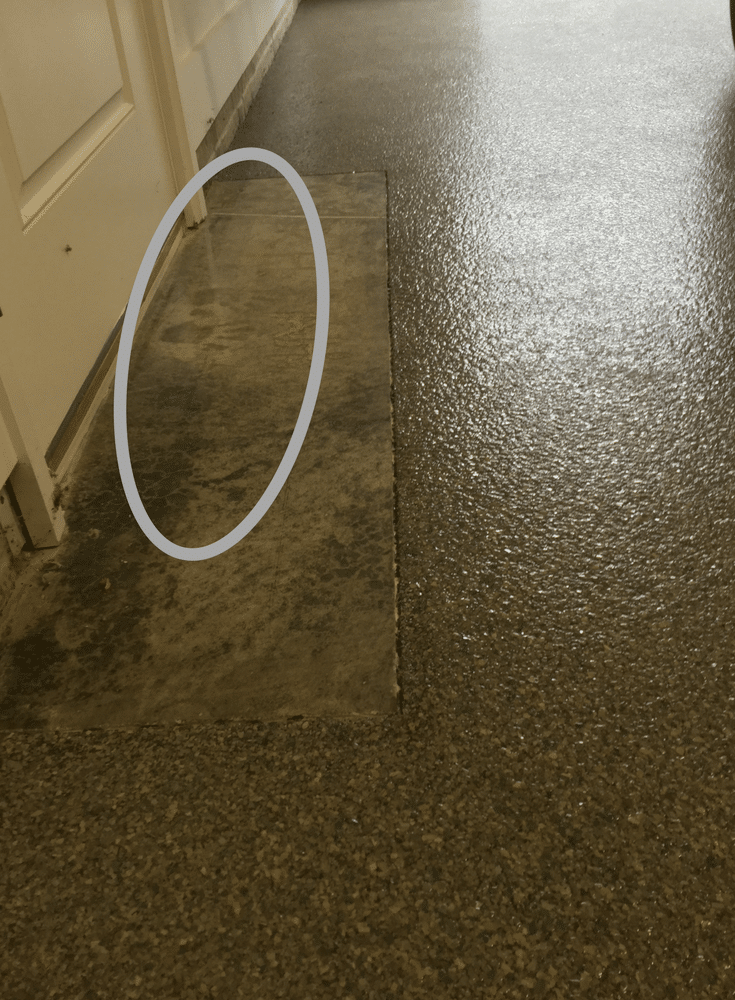 No matter what garage cabinetry, flooring or shelving system you use – in the end your home is all about embracing those you love!
Can I (or a member of my team) help you with a garage design?
If you need help designing a garage which will work for your family give us a call and we'll be glad to do a Free 3D garage design for you. If you're in Columbus call 614-545-6888 or in Cleveland 216-658-1290.
###
Follow the author on Twitter @Mike_Foti or our companies' @InnovateBuild and @InnovateHomeOrg.
---
Tags: 4 car garage Columbus, Columbus garage cabinetry, Columbus garage slatwall, Columbus garage workbench, garage cabinetry, garage organization Columbus, garage slatwall, garage workbench, luxury garage, luxury garage organization, New Albany garage organization, New Albany garage workbench, New Albany Ohio garage