7 Tips to Make Your Garage More Useful Before the Snow Flies (and Be Able To Park Your Car Inside)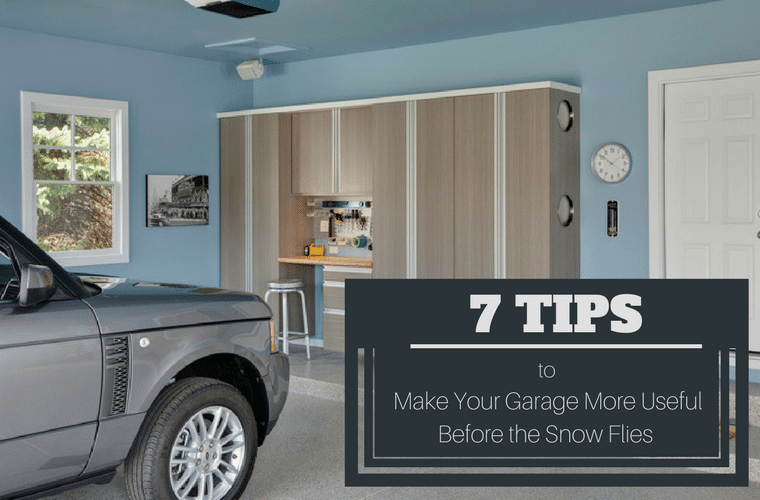 You walk through your garage to your car parked outside covered in snow. You say some choice words (not OK to print here) as you get out your scraper and "unbury" your car from another brutal Columbus snowfall. You think, "I hate Winter! It would be SO nice if I could get both cars parked inside the garage and not deal with cleaning snow off and being late for work because of it."
Does this painful routine sound familiar? If it's any consolation you are not alone with this problem. It's estimated over 1/3 of the people in the United States are not able to park inside their garage because there is too much stuff ('er junk) stored inside.
What you may not realize is you are suffering through the symptoms of a largely undiagnosed disease. You may be asking, "Mike – what is this disease you're talking about?" This disease goes by the name of N.G.D. (AKA Neglected Garage Disease). Some of symptoms of NGD are:
You want to close your eyes when you go into your garage and pray the disorganization will go away by itself.
It's almost impossible not to trip over something (a ladder, sporting equipment, boxes etc.) when navigating through the garage to open your car door.
You worry about someone stealing your expensive tools and equipment because your garage windows and doors offer no security.
You've been late to work because your car parked outside wouldn't start. If you didn't have so much junk inside you wouldn't be parking in the driveway and dealing with this problem.
Can you relate to any of these symptoms? If so – this article will give you 7 practical tips to rid yourself of Neglected Garage Disease. You will be able to gain control (and use) this 400 to 600 square foot space (also known as your 2 or 3 car garage) to work for you – not against you. Let's dig in.

Tip #1 – Change your thinking about your garage. See it as an opportunity, not an obstacle
Would you be excited about a 400 to 600 square foot room addition with high ceilings you could add for little cost? I know I would be. Your garage offers this opportunity.
It's likely the biggest (and poorest used) space in your home. Like Rodney Dangerfield would say it "gets no respect." Instead of thinking of the garage as a disastrous, disorganized appendage change your thinking. Reprogram your mind and view your garage as an "exterior room." How could you reinvent this space to add more function and storage? How could it become a place you use, not just pass through? The ideas below offer ways to make this transformation reality.
Tip #2 – Get real about what you need. Get rid of junk.
Is your garage today the "land of unused things" – a dumping ground when you don't know where else to store something? Holiday decorations you haven't put up in 8 years. Old textbooks from the "good 'ol college days" you wouldn't understand now even if you got the crazy notion to crack them open again. A cute tricycle your 18-year-old son used……15 years ago!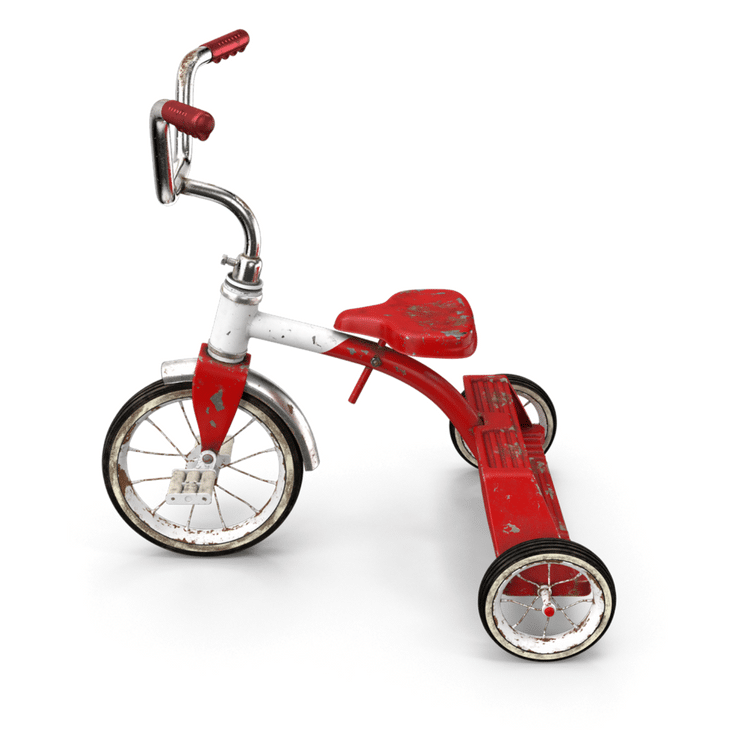 You won't get control over your garage until you come to the realization it's the end of the line for these unused things. If it's broken throw it out IMMEDIATELY. If it's useful for someone (but not for you) donate it to your favorite charity. Do not resist the urge to purge.
Tip #3 – Secure your garage "borders"
The cheapest windows and doors in your home are "saved" for (or most likely slapped into) the garage. With expensive tools, cars, trucks and SUV's it doesn't make sense to improve your garage if it's not safe and secure.
Remove flimsy rusted metal frame and rotten wood frame garage windows and replace them with high-security and high-light transmitting glass block garage windows. If your door frame is deteriorated put in a secure steel side entry door with low e glass package for improved energy efficiency. Securing your garage "borders" will keep your family safe at night and allow you to not worry during the workday about your possessions (this is the time most burglaries occur).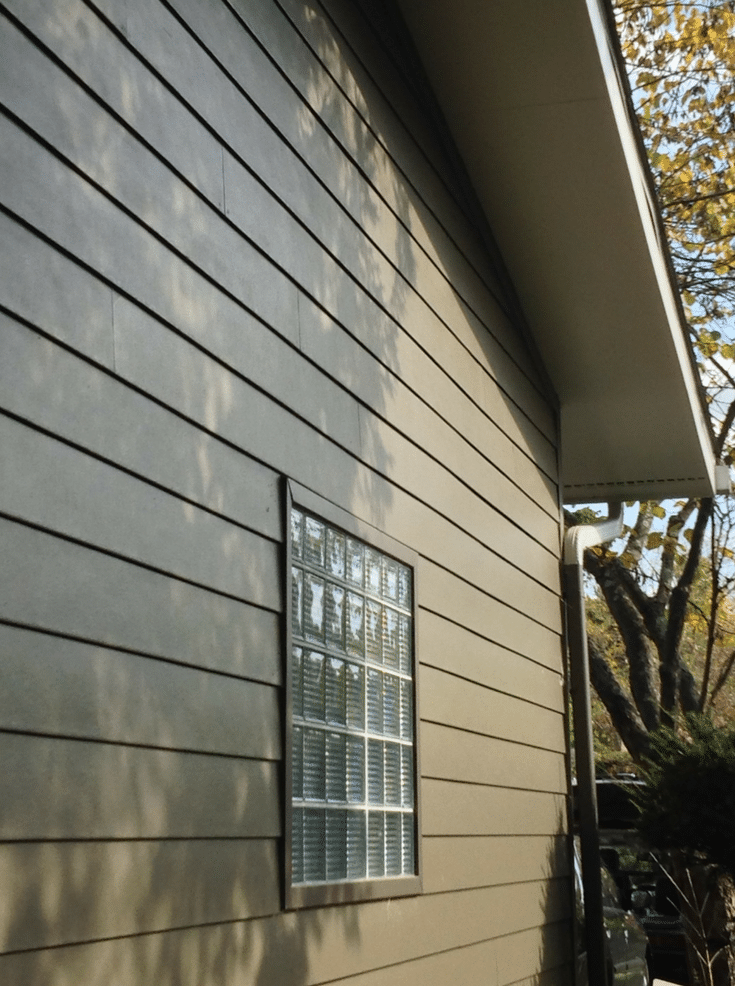 Tip #4 – Give your garage year-round comfort
Who would want to use an unheated space which is freezing in the winter? That would be no one! This is one reason the garage is the red-haired-stepchild of your home (in fact realtors don't even include it in your home's square footage – it's throwaway space). Here are 4 simple ideas to warm it up this Winter and opens up the possibility for a garage "man cave" or "she-shed" you would enjoy.
(1) Install blown in insulation.
(2) Put foamboard around the garage door
(3) Install an electric radiant infrared heating system by a workbench area.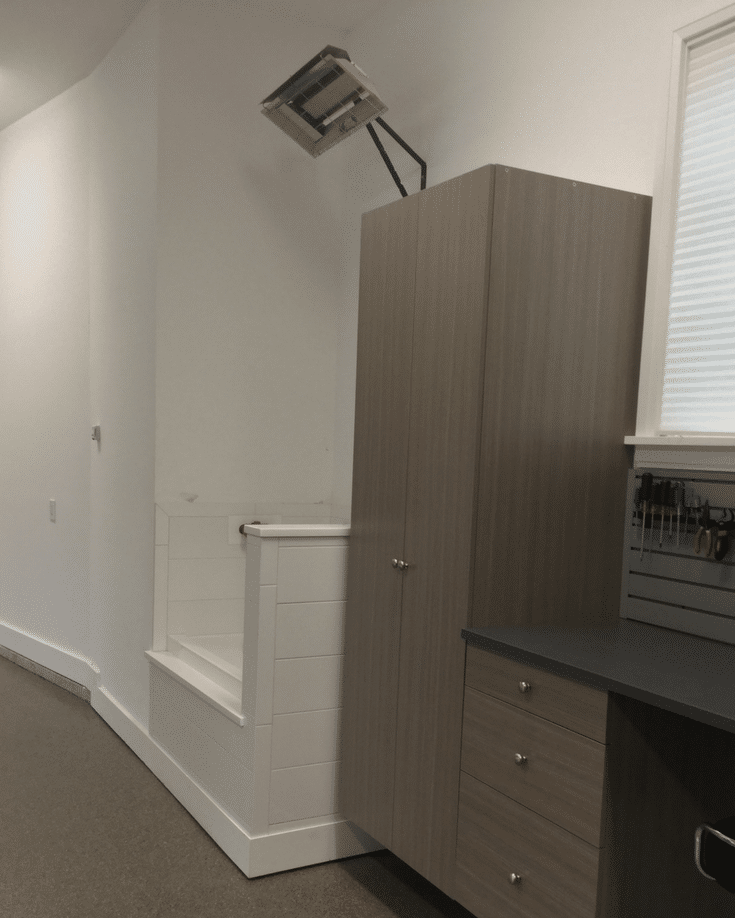 (4) Cover switches and outlets (2 – 5% of air infiltration occurs around these little buggers).
Making your garage warmer will go a long way towards motivating you to see this as a "room of opportunity" not a nasty space to be avoided at all costs.
Tip #5 – You won't have to look to Infinity and Beyond for more storage, but you will want to look up
Getting motivated to transform your garage doesn't require you become Buzz Lightyear and look to infinity and beyond. However, you can find opportunity in your garage simply by looking up…. up to your ceiling. What's cool is garages often have the highest ceilings in the house – 9', 10' and even 11' are not unheard of. The problem is – few people use this height to their advantage.
Assuming you're comfortable and feel safe climbing on ladders this area is a golden opportunity for storage. Install an overhead ceiling storage unit. They are perfect for lighter, bulky and little used items. Think about suitcases you need once or twice a year. A Kayak you pull out 1 to 2 times in the summer. Holiday decorations only needed in the winter. Spare tires you change once a year. Don't let this volume go to waste. Look up to storage which can free up space on your garage floor.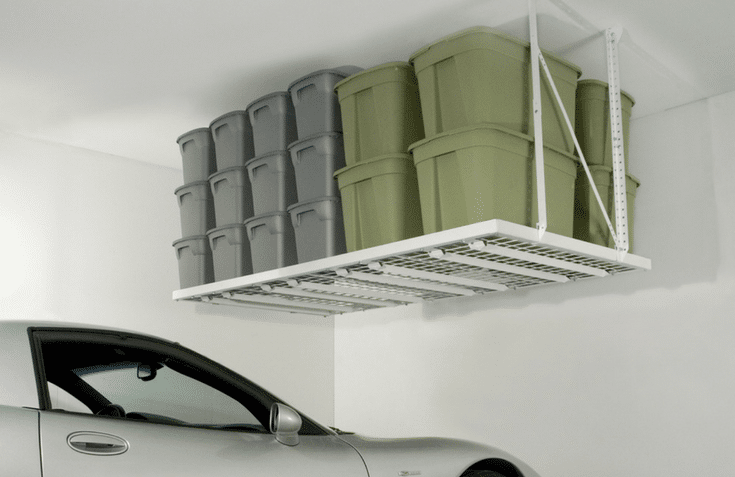 Tip #6 – Make yard work and car repair work, more work-able
You're trying to pot plants while bending over in the grass and know from the stabbing pain, your back isn't what it used to be. You're fixing the lawn mower with parts spewed out on the garage floor (where is the last bolt you need to tighten this thing up anyway?).
When you're working on your car, truck or yard there is no effective workspace outside to make the job simpler – usually. Take control of this challenge with a garage workbench. Use a durable high-pressure laminate or butcher- block style work surface. Install drawers for a convenient place for your extension cords, drill and hammers. Put up a slatwall or pegboard system for small tools, screwdrivers or even a convenient paper towel holder. If possible, locate this workbench close to a window (if you have one) to take advantage of natural light while you're working. A workbench truly makes your garage work-able.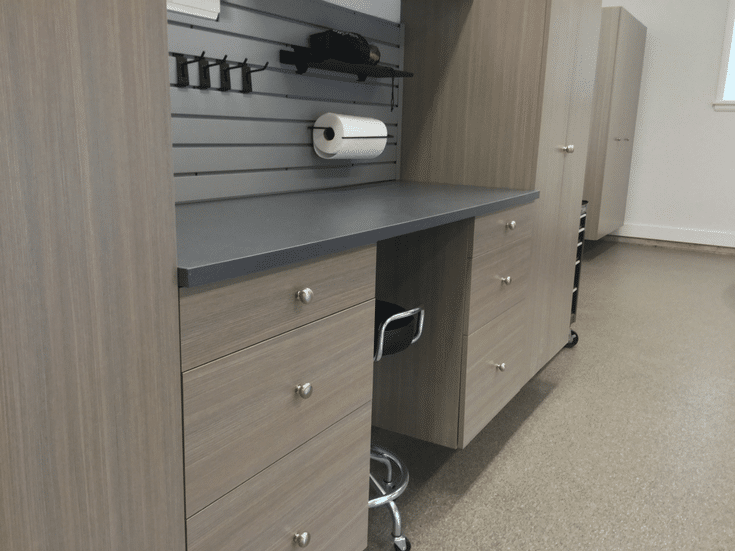 Tip #7 – Use the right depth of garage cabinetry to make an open (and mostly shut) case to an organized, space-efficient garage
Unless you are a completely obsessive-compulsive, neat-freak (and fortunately most of us aren't) a garage with open storage racks and shelves ALWAYS looks messy. Your things don't look neat and you can't use the garage shelves well because they don't adjust to fit the height of what you're storing (they are preset for you).

The open (and mostly "shut" case) for an organized garage can be solved with "concealed storage." Even if you're not completely on top of your 'storage game' (I will have to keep it real dog as Randy Jackson used to say – I am guilty as charged here), it's nice to keep messiness behind closed doors. Since garage cabinets come in various depths (16", 19" and 23") you can use the slimmer ones on the sides of the garage (16" is best) and the deeper ones in the back (19" with double doors are effective so you can park the cars and still open the doors with the garage door shut). With 5 different patterns in a heavy duty, easy to clean laminate surfaces they are stylish, durable and cost-effective.
Conclusion
Don't allow another winter to go by and continue to suffer through a snow-filled car you have to scrape and brush off in the driveway. Fight through the symptoms of N.G.D. (Neglected Garage Disease). Start thinking about your garage differently. Install more secure windows and energy efficient doors. Add workbenches and cabinetry for function and a clean look. Transform this exterior room to a place you'll enjoy driving into (and have the room to park inside of), a space you can use every day of the year (even in the cold, harsh Midwest Ohio winters)!
How can I (and my team) help you?
If you're not sure how to organize your garage and gain control over this space, we would love to help you. Call Innovate Home Org in Columbus for a Free 3D garage design service. Give us a call at 614-545-5888 in Columbus or 216-658-1290 in Cleveland.
###
Follow me on Twitter @Mike_Foti or my companies' @InnovateBuild and @InnovateHomeOrg.
---
Tags: garage cabinetry, garage man cave, garage shelving, garage shelving Columbus, garage systems, garage wall cabinetry, garage wall cabinets, garage wall cabinets Columbus, garage wall mounted shelving, garage wall organizers, garage wall shelves, garage wall shelving systems, garage wall storage solutions, garage workbench, workbench