Out of Disaster Comes a Beautiful Family-Friendly Open Locker Entryway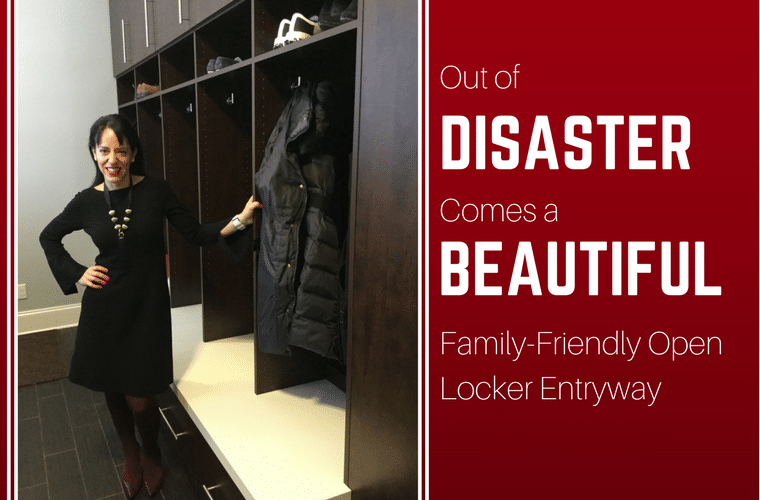 You're sleeping comfortably in the bedroom of your home. It's calm in the middle of the night. Then, you hear a strange sound. It's the sound of running water. Where's it coming from? You search and search only to find…
Oh no!!!
The first floor of your beautiful New Albany home is a layer of water. Panic sets in. Where's the water coming from? How can it be stopped…NOW! It's the water purifier. Find the shut off valve – QUICK!
Disasters are devastating. After the shock and mad-scramble of the event subsides, the reality (and opportunity – yes opportunity – of the situation hits home. Sure, it's a complete mess now…but you now can create a better design than before.
The above challenging situation faced Leslie Brown and her husband one fateful July 20th, 2017 dark (in more than one way) morning. Their mission (and they had no choice but to accept it because of the plumbing leak) was to rethink, redesign and improve all the rooms (not very lucky, is it?) on their lower level. They also had to learn to live on fast food and whatever could be heated up in a microwave (for 4 months) because the kitchen was damaged also.
In addition to kitchen – the living room, laundry room and entryway were also under water. Not a great situation. However, a short-term problem can become a long-term opportunity. Now, Leslie could develop a game-plan to customize these rooms so they would work best for her family of 5. In this article, I'll look at Leslie's goals and accomplishments with one of these rooms – the combined laundry room and entryway. You may want to use these goals and ideas to improve your mudroom or entryway as well.
The "makeover" of the combined laundry room and entryway
Before the fateful morning this combined laundry and entryway room was a lesson in contrasts. A contrast in nice – and not-so-nice. A contrast in efficient and stylish, combined with poor space planning and frustration.
The Siskel and Ebert "thumbs up" was coming from the laundry room side. It has a warm and inviting feel. It has richly colored, dark maple cabinetry with decorative crown molding. It has efficient upper and lower cabinets and an open-feel created by two windows. For a laundry room – it is not a drag to work in.
On the other hand, the thumbs down went to the closet side of the room. An 11'x 2' large closet-on-steroids devoured the rest of the room. Even though it was long– it only had access through two bi-fold doors in the center. Inside there was the "builders-standard" single clothes rod and shelf (leaving hard to use space on the sides of the closet doors). Inspirational? Not. The result – boots and shoes were a jumbled mess on the closet floor and hard to see under the cover of the hanging coats. Dead space everywhere – in the corners of the closet, in the upper shelf with too much space above. Everyone stuff was smashed in together.
Maybe this plumbing disaster was the fuel to blow up this less-than-ready-for-prime-time closet which dominated the room – but still offered limited storage.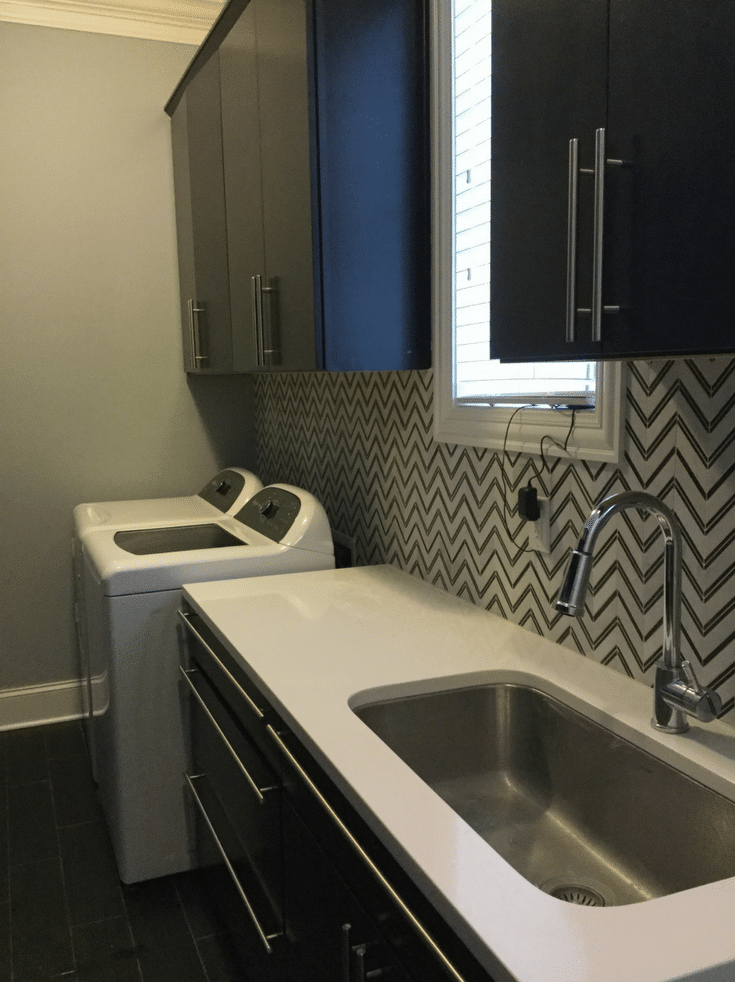 The Mudroom Entryway Closet Makeover
Like many luxury homeowners Leslie started combing through Pinterest for design inspiration. During this research she developed 5 which inspired the project.
Goal #1 – A feeling of openness, yet order for the new entryway
The closed, boxy, bloated look of the old closet had to go. A new open, orderly locker-style design concept was in. As you'll see below the lower portion of the cabinetry uses the full depth of the space available (there are 23" deep bottom drawers which can fully extend). The 14" deep open locker mudroom style upper sections make this New Albany room feel open and airy (note – they are 10" thinner than the old closet). As Leslie said, "Mike, I love this room. We now can instantly see what we have – yet there is also more space to stow things away."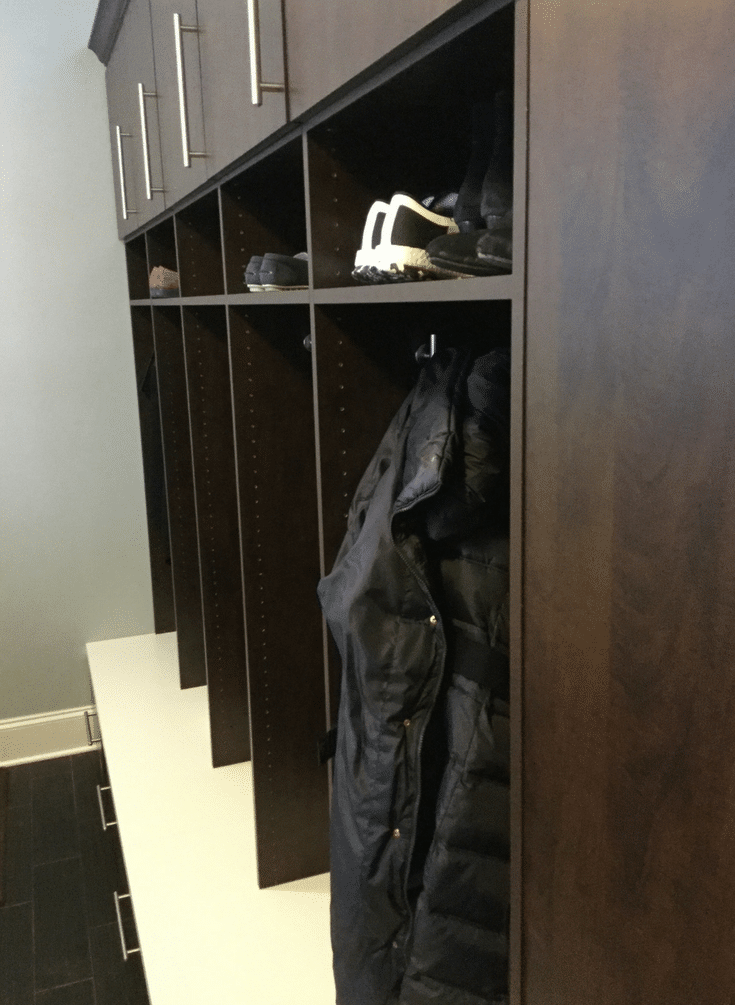 Goal #2 – A design which created continuity with the existing laundry room cabinets
Continuity creates a sense of flow (hopefully not of flowing water anymore – ha! ha!). Creating one unified space offering two functions (organized entry storage and an easy to use laundry room) with one look.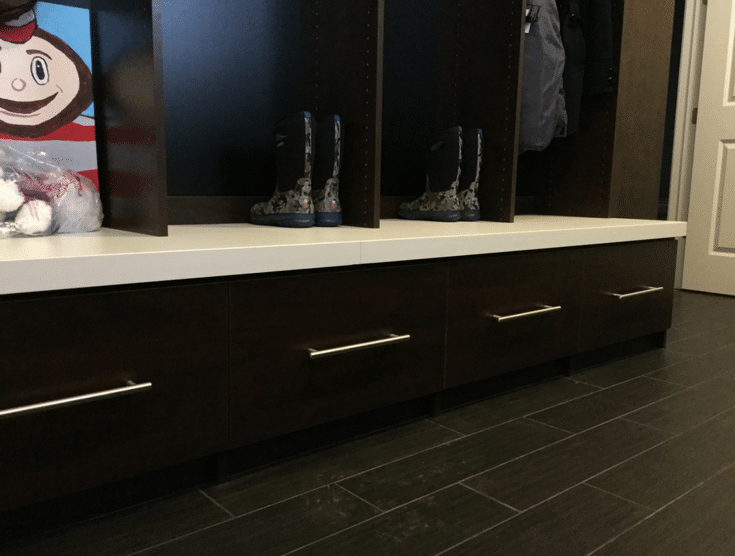 Working with Leslie we were able to visually integrate the laundry and mudroom cabinetry choosing a rich-looking, yet durable (which is critical for a mud room which is open to the elements off the garage) mocha colored laminate surface. A 2" thick (environmentally friendly) white "Forterra" laminate seat top is strong and compliments the white solid surface sink/folding station on the laundry side. To cap the look decorative crown molding and matte nickel (easy to use) rectangular pulls made the new entryway look like it was installed at the same time as the existing laundry cabinets.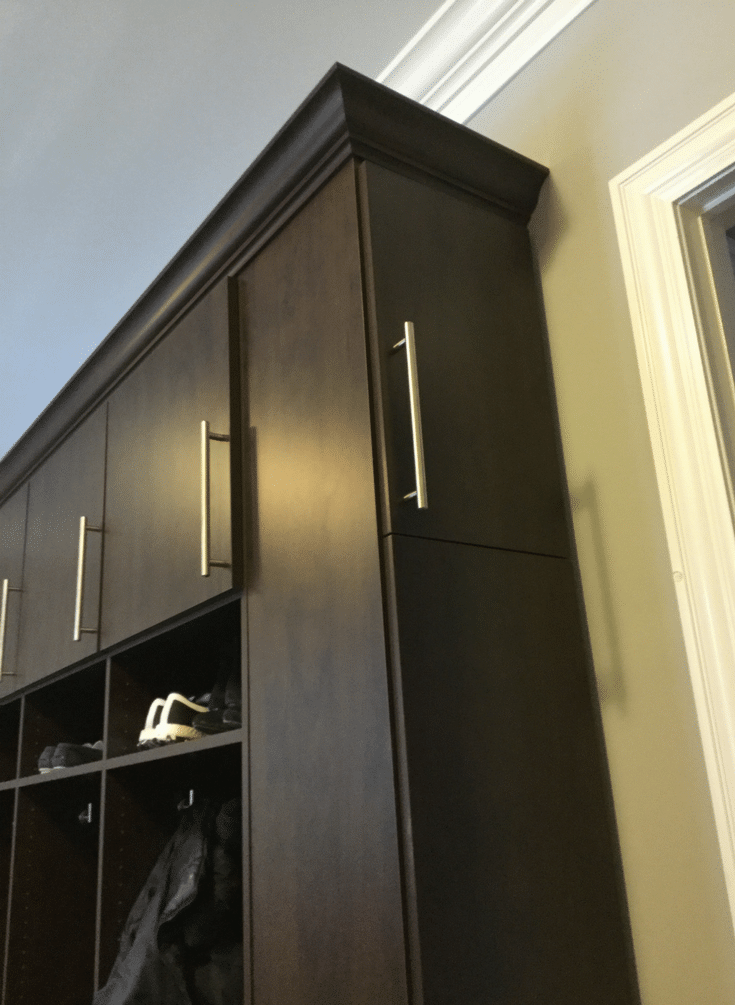 Goal #3 – Eliminating all "space invaders." Personalized cubby storage for each member of the family
It can be frustrating if you can't find your favorite winter coat (in my mind I'm not even sure there is such a thing as a favorite winter coat since I'm the guy who tells my daughter Jade 'winter is evil' – but I digress) if it's jammed in between your son, daughter or husband's stuff.
An essential for Leslie was a storage locker mudroom design which offered separate lockers for all 5 family members. With 22 ½" of separation they are wide enough for everyone to have their own space. The deep slide out bottom drawers are perfect for boots, shoes and mittens. The open locker with hooks works for bookbags and coats. The upper cabinets give "bonus storage" (which was non-functioning in the old closet with a single shelf) for miscellaneous household storage (don't we all need more of this!).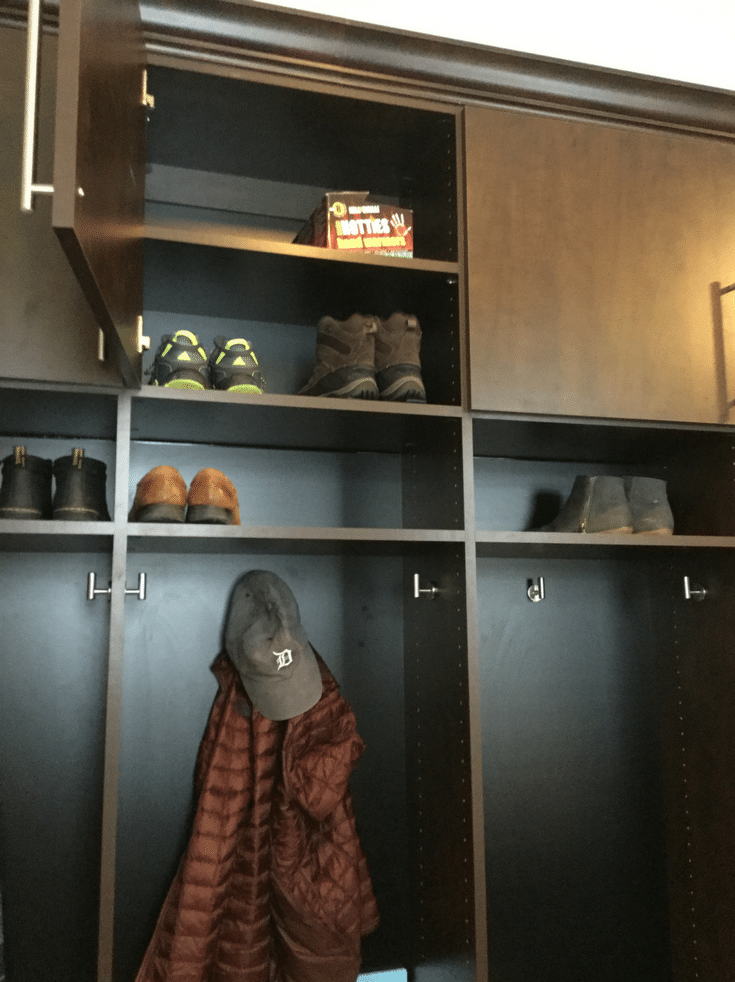 Goal #4 – A wall to wall entryway design to max the space
Like most families – Leslie's troop moves hurriedly through the mudroom to get to and from school, practices and work. This makes the garage door entry area the A#1 drop zone (does your home resemble this remark?). Packages, laundry baskets with too-many-clothes-yet-to-launder, book bags – you name it and it will find its way into this all-purpose space.
How can you make a 'free-for-all' room like this work efficiently and effectively?
The answer – customized wall to wall cabinetry. Leslie didn't buy a standard sized piece of furniture and try to slap it in there. She got a custom entryway designed to fit wall to wall in their New Albany home. Every inch of space was considered (and used) in the design.
Goal #5 – Keep the living room 'minimalist' will require 'maximalist' storage elsewhere
As Leslie told me, "Mike – my husband and I love to entertain. Given this, we need to maximize the seating area in the living room and not have it eaten up by an entertainment storage system. However, storage which would normally be in the living room needs to go somewhere. That somewhere needed to be in this mudroom cabinet design."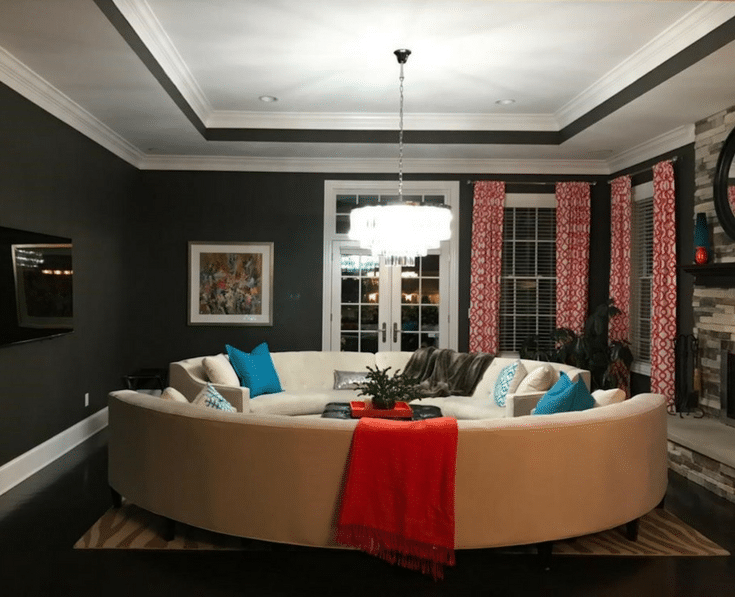 As you enter the mudroom from the living room/kitchen you'll see a tall, thin storage cabinet nestled at the end for this 'spill-over' storage. This cabinet serves the dual purpose of storing tapes (which would have been in an entertainment center) and school supplies. This keeps the living room clean and open for entertaining.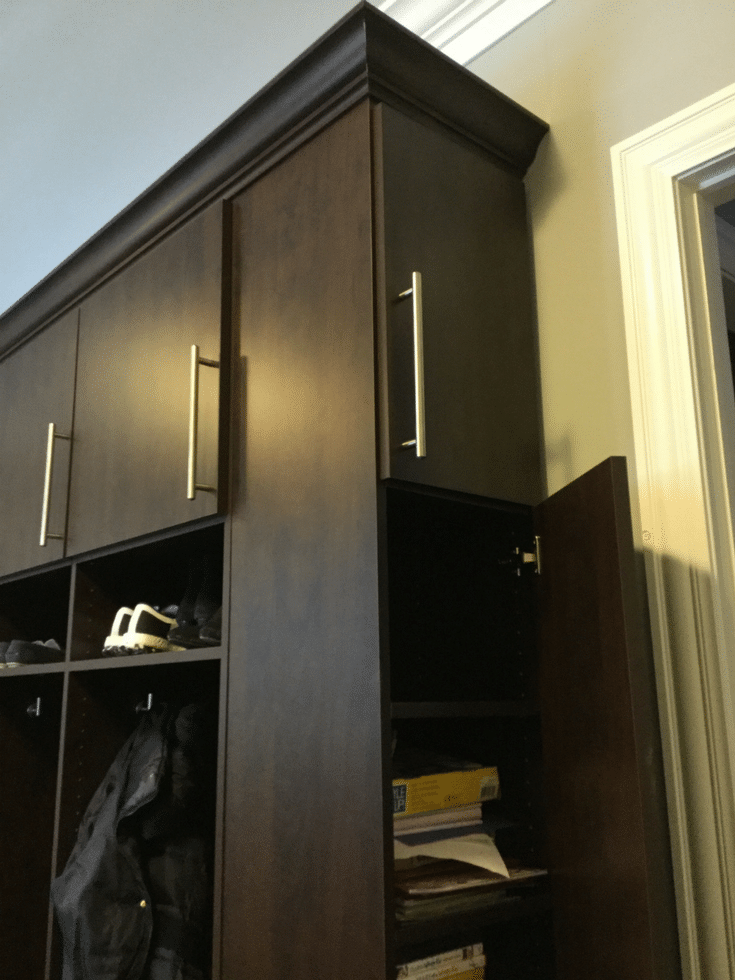 Conclusion
Out of trials can come triumph.
Leslie and her husband used their unfortunate circumstance to rethink, renew and repurpose a poorly designed entryway closet into a family-friendly custom mudroom. Now their home not only lives better, it looks nicer too.
Without having to endure the trials and tribulations of a flood – could your entryway, mudroom or laundry room be re-thought to simplify and beautify your families lives? If you think so – give us a call at the numbers below.
###
If you need help with a Columbus mudroom or entryway system and would like a Free 3D mudroom design, contact Innovate Home Org in Columbus at 614-545-6888 or in Cleveland 216-658-1290.
For more information on organization systems and design follow me on Twitter @Mike_Foti or our companies' @InnovateBuild and @InnovateHomeOrg.
To learn more about this project – or get assistance with your financial goals and planning – contact Leslie Brown at 614-751-3954 or email Leslie.Brown@edwardjones.com .
---
Tags: entryway, entryway New Albany, entryway storage, entryway storage Columbus, mudroom, mudroom Columbus, mudroom ideas, mudroom ideas Columbus, mudroom New Albany, mudroom storage, mudroom storage Columbus