The 10 Commandments of Custom Mudroom and Entryway Success
Your mudroom is a disaster.
Shoes and boots scattered everywhere. Extra cleaning and paper supplies stuffed in a corner. Stinky hockey duffle bags and cheerleading outfits your kids were 'supposed' to wash. Wow – they don't exactly have the 'lemon-fresh-scent.' Coats are stacked 10-deep. Your hooks are begging for mercy.
If only your prayers could be answered and a game-plan to create a mudroom organization system would magically show up to eliminate this mess.
Well – your prayers have been answered. What you'll read below won't qualify as 'divine guidance from above,' but these 10 practical commandments of entryway (or mudroom, depending on what you call it) success will give you steps to calm your chaos.
Commandment #1 – Thou Shalt Not Start Your Mudroom Without a Plan
A mudroom design is often limited to one wall (these systems often exists in narrow 'hallway'). Space is at a premium. If you're not strategic, you're in big trouble.
Start by developing a rough sketch. Measure the width and depth of the wall(s). Ask yourself, "Would I like a 'closed door' or 'open cubby' system? Can I create a cubby (or separate area) for each person in the family (note – you'll need 20-24" wide per person)? Would I like a place to sit down to take boots and shoes off?"
On your drawing, write down the location of light switches, outlets, security pads and other obstructions which can't be moved (or would be expensive to move).
If you don't want to attempt this drawing work yourself, work with a mudroom designer and get a Free 3D design. You'll be able to 'see' what your new system can look like, without spending a dime.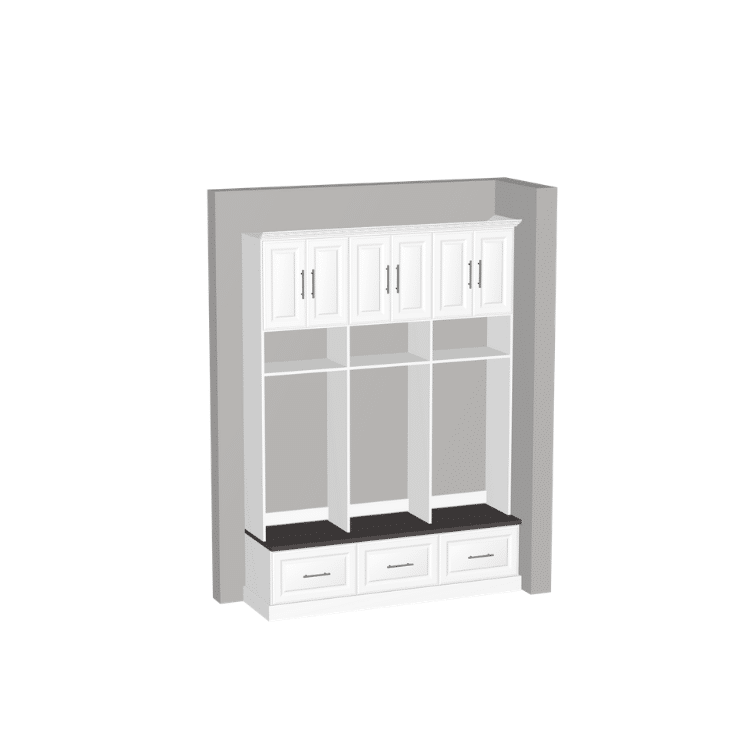 Commandment #2 – Thou Shalt Use your Valuable Vertical Volume
While it's tempting to pick up a generic piece of entryway furniture and slap it into your space, it's height limitations (and fixed designs) are 2 good reasons to think twice. Most entryway furniture pieces are 72" high. This leaves dead space at the top (especially if you have 9' ceilings). This is valuable space you need.
The top of a mudroom system is perfect for out of season clothing (like hats, gloves and scarves you can hide when this evil winter season ends. Can you tell my views on winter?). Put your thanksgiving platters or holiday decorations in this new-found, out of the way storage space.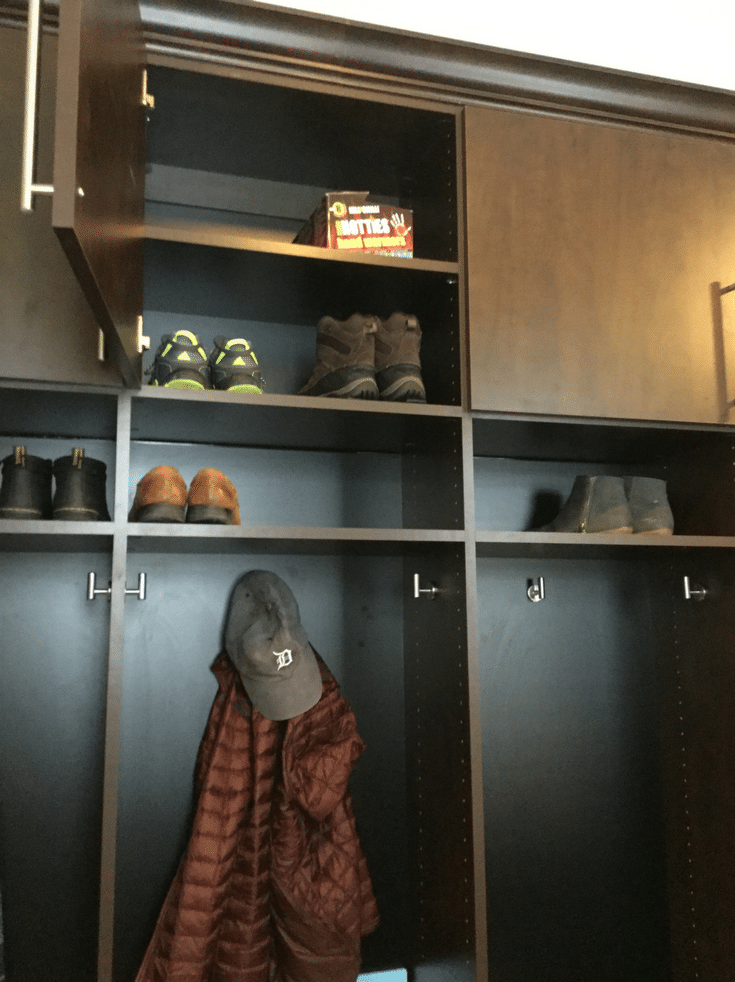 If you build an 8' high mudroom storage system (in an area with 9' high ceilings), you'll not only gain useable space, but can dress it up with crown molding as well.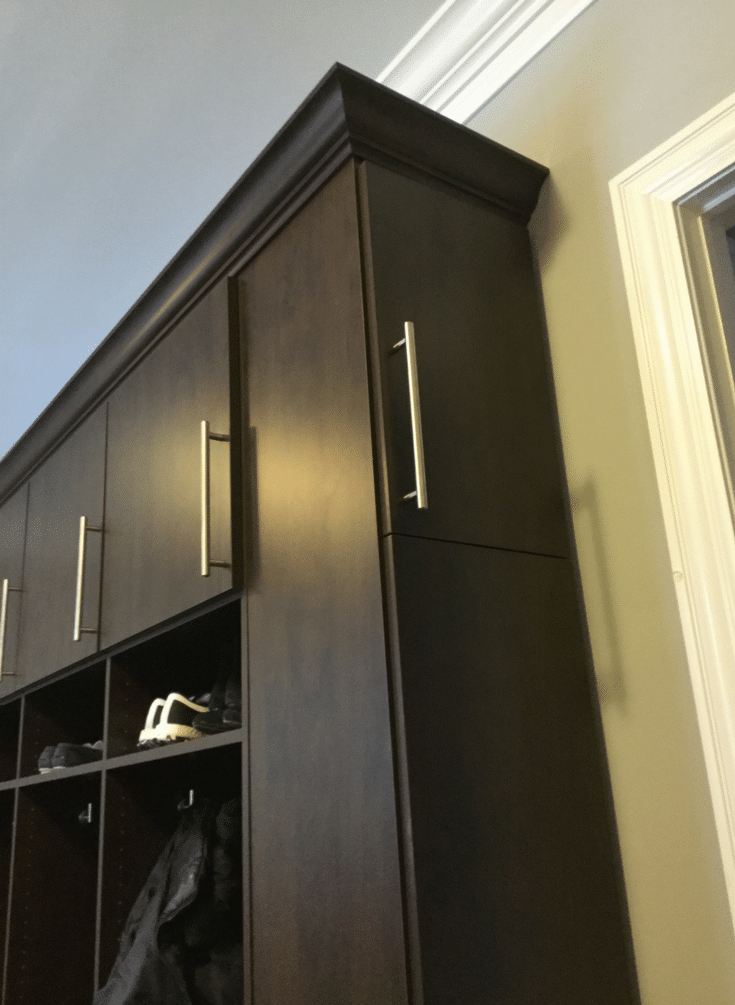 You'll be victorious when you put your valuable vertical volume to use.
Commandment #3 – Thou shalt pay attention to whether your garage or side entry door opens in or out
Most mudroom systems are next to a door. If the door opens in or out has a significant impact on your design.
For example, if your door swings in, and you only have 16" depth, designing pull-out drawers on the bottom (while cool), is a bad idea. When someone opens the door, they may not only bang the open drawer, but also land the person behind it on their butt. The better solution for a shallow (16" depth or less) mudroom system (where you have an inswing door) is to use open cubbies at the bottom.
Commandment #4 – Thou Shalt Not Forget it Gets Cold, Wet & Nasty Outside
If you live in a cold weather city in the Northeast or Midwest (OK Columbus and Cleveland people in winter, are you sick of it all yet?) or a place where it rains aaaaaalllll the time (like Seattle or Portland), you know your mudroom takes a beating. It's the first room to bear the harsh, cruel world outside your garage or side door.
Mudrooms get the 'pleasure' (sarcasm intended) of dealing with wet rain coats, snow-covered book bags and your spouse's famous muddy-boots after digging up beds or planting trees and bushes.
This area needs to be built 'Ford-tough' (I put that reference in hoping I'd get a HUGE influencer endorsement, but not a dime has 'poured' in thus far).
Here's a warning for you. Mudrooms built by builders, remodelers and trim carpenters are often not designed to beat the elements. MDF (multi-density fiberboard) and painted and stained wood (used mostly by builders and remodelers) are going to absorb moisture. They will crack, chip and peal. Yes, they'll look cool after the contractor installs them. However, who has to suck up the maintenance down the road? 'Er – that would be YOU!
Here's a simple solution to combat this problem.
Use a laminate mud room system. Laminate (as you know from countertops) is made to withstand wet. They're simple to clean. They'll take a lickin' and keep on tickin'.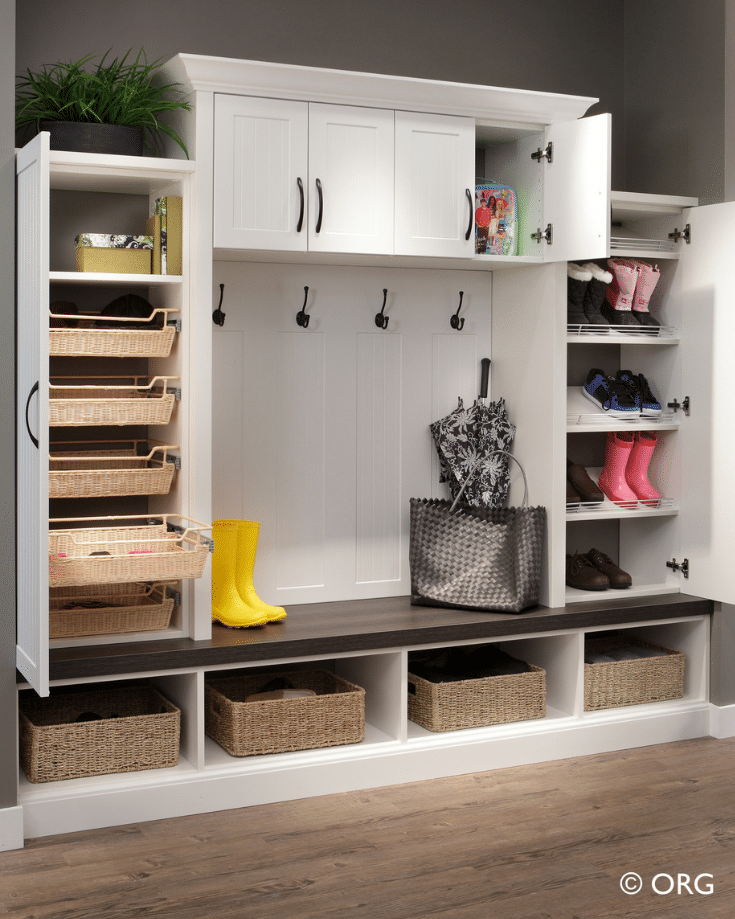 Commandment #5 – Thou Shalt Design it Within the Context of Your Home
I've seen mudrooms which co-exist with laundry rooms.
I've seen a mudroom inside the kitchen in an older home in Columbus Ohio.
I've seen mudrooms in dark hallways which could give local haunted houses a run for their money on the spookiness scale (if such a scale existed).
Mudrooms don't exist in a vacuum. They exist in the context (and often less-than-ideal) confines of your home. Your design needs to compliment (and in some cases – correct) this context. But how, you may ask? Here's how.
If you want a complimentary look and feel pay attention to cabinet styles in adjoining rooms. If you've used Shaker cabinets in the kitchen, consider Shaker for the mudroom (or a complimentary style like a flat Euro look).
When it comes to 'correcting the context' (for example when you've got the dark, spooky hallway), add LED lighting. The space become warm and inviting (and you'll finally be able to tell your brown coat from your black one).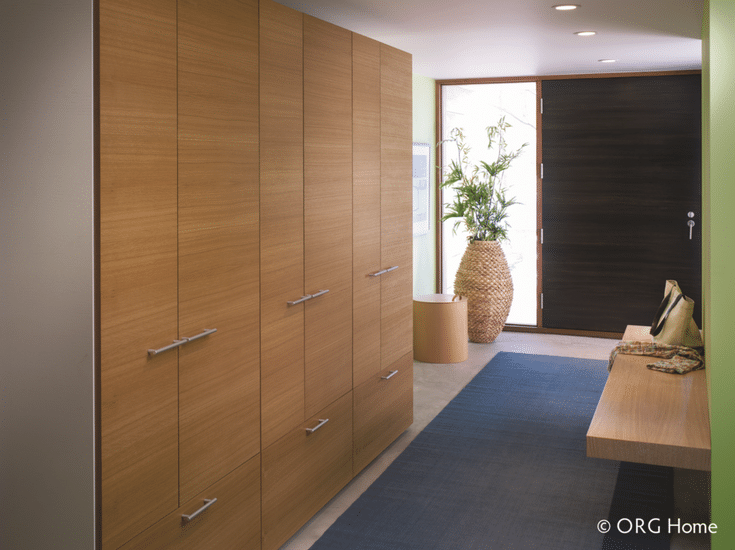 Commandment #6 – Thou Shalt Not Assume Your Trim-Carpenter, Builder or Remodeler are Mudroom or Entryway Design Experts
If you need a triple-bypass or a few plumbing parts for your heart (AKA, some stents) are you going to let your family doctor try his or her hand fixing you up? If you do, you'll likely have as much success with the operation as winning the lottery.
When you need a specialty service, it's best to leave it to a specialist.
Building a mudroom storage system, while not a life or death procedure, can prove to be a deadly expense if not done properly. If your trim carpenter, builder or remodeler are not 'schooled' in mudroom design you may end up living with these problems:
Cubbies which are too big or too small.
Systems which warp, deteriorate or require too much doggone maintenance.
Wasted space at the top.
A 'fixed system' you can't adjust as your needs change.
Don't leave your entryway design to a rookie. Get an expert who will also give you a Free (OK – that's the magic word) 3D design. They've been down this road before. You will find these experts in companies who specialize in closets and home organization systems most frequently.
Commandment #7 – Thou Shalt Understand the Need for the Electrical Feed
Your electrical needs (even in a mudroom) are growing every day. Here's a few reasons why:
Your cell phones need charging CONSTANTLY. What if you could get the cords off the kitchen counter and stowed away in a space you didn't always see them ('er perhaps the mudroom)?
You've got more rechargeable items than ever. Even your new Dyson vacuum cleaner needs to be powered up. Could they be charging behind a closed door in an entryway?
You've got a dark hallway. Could LED lighting be your answer to get out of the dark-ages?
The need for more electrical feeds is growing.
What you may not realize is you 'fold-in' your electrical needs into a mudroom design, your life can actually get better (OK – maybe not as good as a dozen Botox treatments or hot yoga sessions or a vacation, but better). Here's a couple of simple things you can do:
1) Install outlets inside closed cubbies for charging cell phones or small appliances. They will eliminate cords on your kitchen counters (and cut down your kids having them in their hands from 24/7 to 23/7…possibly).
2) Add LED lights to make your hallway feel brighter and work better.
Don't understate the need for the electrical feed.
Commandment #8 – Thou Shalt Understand, When Life Comes at You Fast, You've Got to Adjust.
Your life is evolving so quickly.
You can't believe how fast your kids are growing. Areas once jammed with toys, now sport bookbags and field hockey and lacrosse sticks.
Your family wore you down. You 'gave in' and got a puppy. This puppy turned into a HUGE dog. Now you need a place for his Mondo-sized door food bags. And you know, dog food is not going in YOUR pantry.
Life comes at your fast. The only constant is change. Two trite, but true, statements.
You may be wondering what these examples have to do with mudroom design. Well, most builder-constructed, furniture-bought entryway systems have ZERO adjustability. They're generic. What you see today is what you'll have to put up with tomorrow.
You need flexibility. In your life, and in your mudroom organization system.
Since you're not Nostradamus (and don't work on the Psychic Friends Hotline) you need a system which will adjust to life's twists, turns and evolutions.
Insist on a mudroom system with adjustable shelving. Don't get fixed into a fixed design.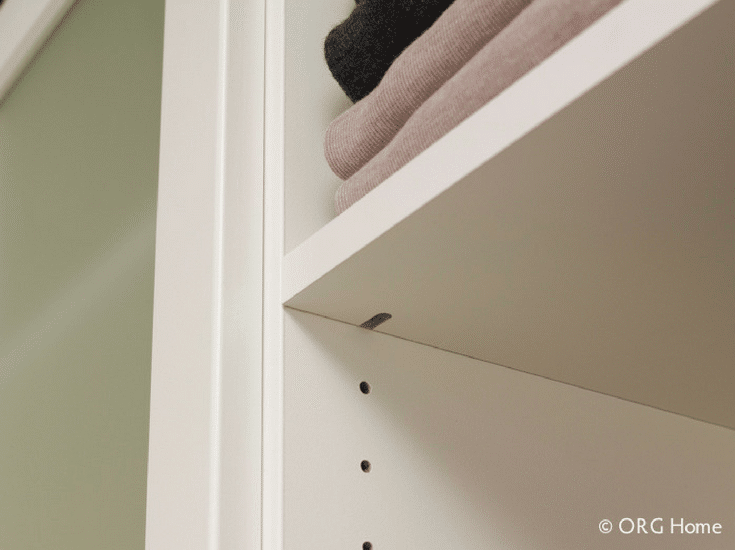 Commandment #9 – Thou Shalt Honor Thy Families' Desire for Personal Space
Is your 13-year-old daughter Emma grossed out by the 'pig' which she feels is her 16-year-old brother Ethan (and you secretly agree with her in many respects)? When his stinky football jerseys rubbed up against her new North Face Recon bookbag laying on the floor in your mudroom, Emma threw a fit.
Is there a way you can stop (at least a few) of their arguments? When it comes to mudroom storage the answer is yes.
First, recognize we all love personal space. Second, add personal spaces.
Create a design where Ethan's 'junk' goes behind closed doors, or at least in his own cubby.
This won't eliminate all their 'battles,' but at least it will be one fewer you have to get in the middle of.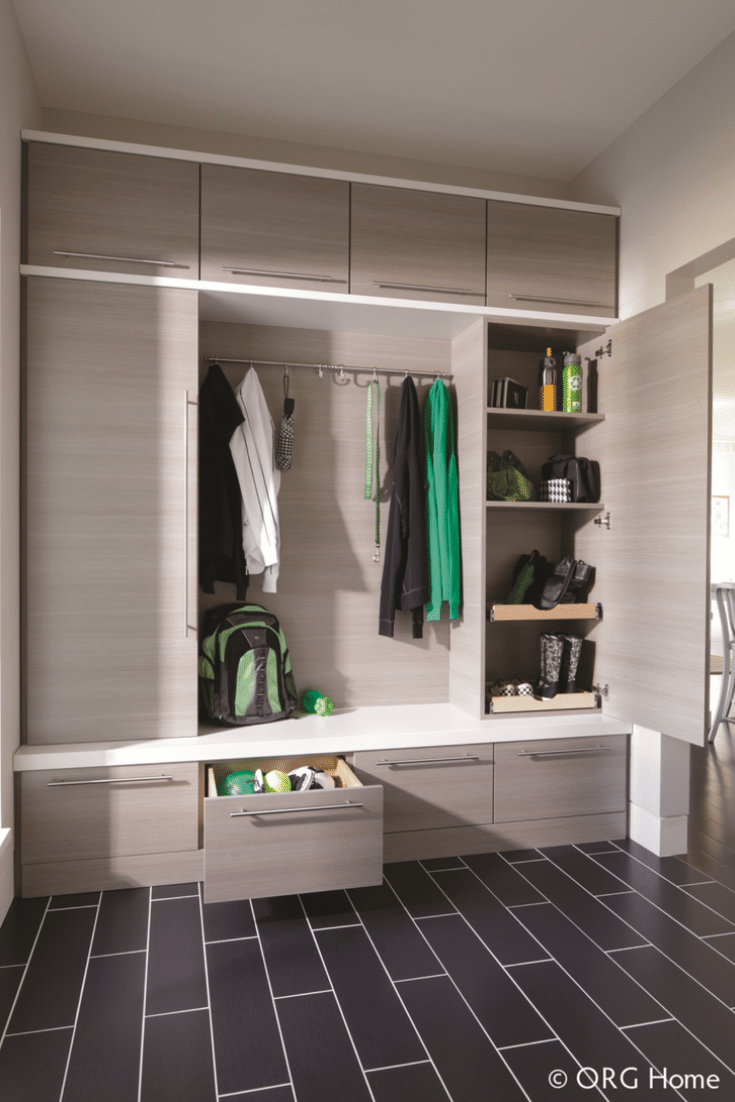 Commandment #10 – Thou Shalt Not Forget to Add Pizzazz
Life is meant to be lived out loud. After all, why would you buy that fab pair of Jimmy Choo's when you could get a dozen pairs at PayLess for less?
You want to express you. Be distinctive. Make a statement.
Since the entryway is the first place you see when you walk in (what family uses their front-door anyway?), why should it be depressing and dull? In short, it shouldn't.
Here's some funs ways to dress this space up.
Add a different colored or patterned wood feature wall in the back of your mudroom system.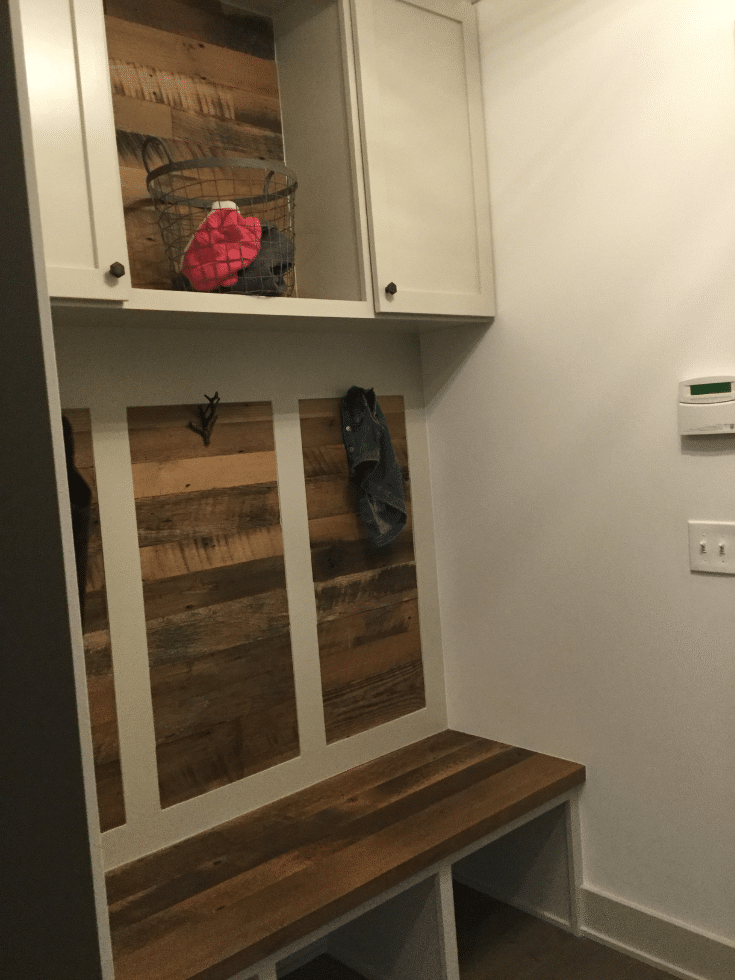 Use a chalkboard which doubles as a family communication station.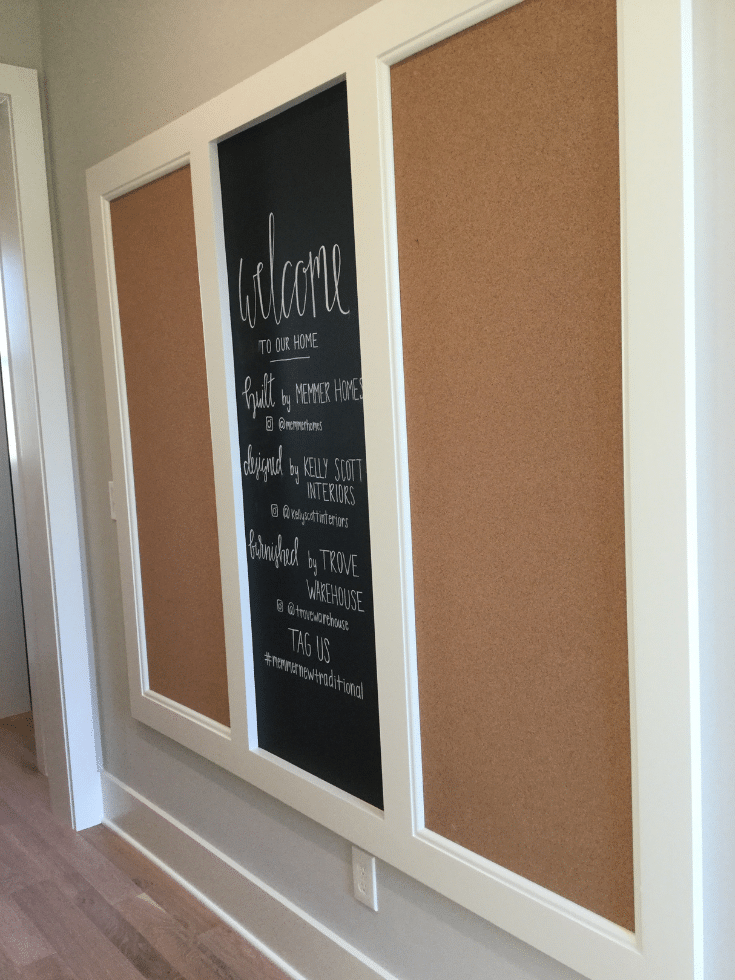 Install fun, modern hooks which aren't the same boring ones you've seen for eons.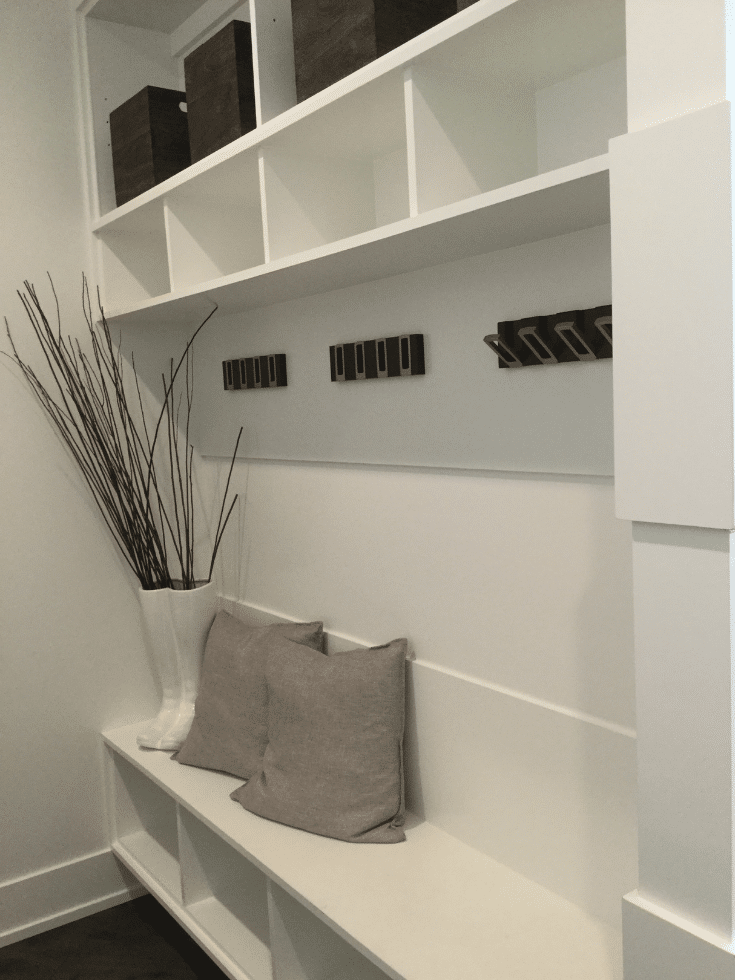 You work hard. You deserve an interior design style which lifts you up, not brings you down.
Conclusion
So, are you convinced you can make it to the mountaintop of organizational efficiency using these 10 commandments of mudroom success (OK – this might be stretching it a bit, but at least more organized)? Are you ready to dump you disorganized, disgusting and dingy entryway and get more order in your life?
If so – or you need more convincing this seemingly impossible task is possible – call Innovate Home Org (especially if you're in Cleveland or Columbus) to help lead the way.
If you have questions, comments or would like a free 3D design, call the numbers below. We'd love to help.
###
If you need help with a Columbus mudroom or entryway system and would like a Free 3D mudroom design, contact Innovate Home Org in Columbus at 614-545-6888 or in Cleveland 216-658-1290.
For more information on organization systems and design follow me on Twitter @Mike_Foti or our companies' @InnovateBuild and @InnovateHomeOrg. Follow me on LinkedIn @MikeFotiLinkedIn.
---
Tags: adjustable shelving, custom entryway Cleveland, custom entryway Columbus, custom mudroom Cleveland, custom mudroom Columbus, durable mudroom, entryway design, entryway planning, entryway styles, mudroom design, mudroom design Cleveland, mudroom design Columbus, mudroom design ideas, mudroom design tips, mudroom designer, mudroom planning