7 Smart Ideas for an Effective Mudroom Storage Design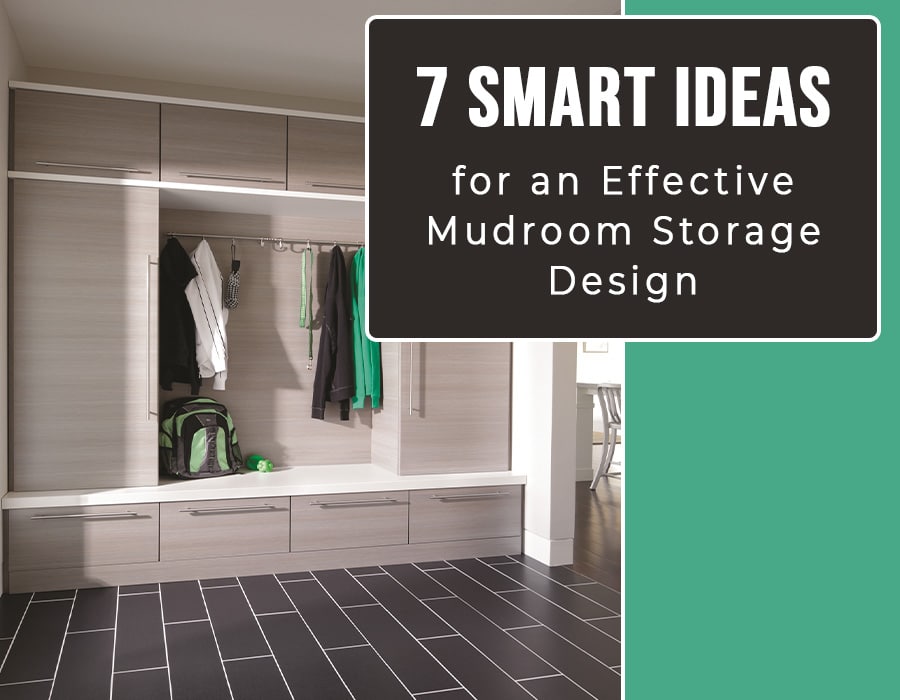 When you think about your mudroom what words come to mind? Is it neat, organized, everything's in its place? Or do the words 'blown-apart' come to mind? Are you looking at piles of shoes, book bags, sports duffle bags and packages waiting to be put 'somewhere' in a jumbled mess?
If your life resembles most people who are 'attempting' to keep your head above water raising kids, working AND trying to keep your home at least 'somewhat' neat – the messy mudroom example is likely closer to the truth.
Although you come into your home using the side mudroom entrance, and it's the place you see EVERYDAY, it's often the second-most messy room of the house (note – if you're wondering about the first, it would be your basement. At least that's a place guests won't see!).
Your mudroom 'system' (or lack thereof), make it near-impossible to keep up with your family's habits of kicking their shoes off, throwing their book bags and leaving extra supplies in the mudroom for 'someone' ('er that someone is often you) to put away.
You may be wondering, is there a way to get a handle on the mess and hassle of cleaning it up again and again? Can you design a mudroom storage system to make sense of this space?
In this article I'm going to give you 7 practical ideas to design an effective mudroom storage system. It will give you a chance to win the battle over clutter (at least for this one heavily used room at least). Let's check out the 7 ideas.
Mudroom storage design idea #1 – Measure your width to figure out if individual lockers or an open cubby system will work best
You've seen the beautiful images on Pinterest with an individual locker style mudroom system. You've wondered, wouldn't it be nice if Emma had a separate place for her cheerleading outfits so she wouldn't complain about them coming into 'contact' with her brother Jacob's stinky football duffle bag?
Individual lockers can be a beautiful thing IF (and this is a big if) you have enough room to make them work.
To figure out if you have adequate space for separate mudroom lockers, first measure the total width. For example, let's assume you've got 4 people in your family and your total available width is 88". Being the math 'genius' that I am (OK, I'll admit I did take 3 statistics courses at Carnegie-Mellon University 'back in the day' so I think I've – at least – got this one) that leaves you 22" per locker.
For a custom entry design with individual lockers I'd use 20" wide per person as the absolute minimum. So, in this example, individual lockers can make sense. However, if you want to put doors on these lockers, you'll need to think through how your existing entry doors swing to make a final call.
Mudroom storage design idea #2 – Use your volume wisely
Who exactly thinks there is enough storage in their house? 'Er, that would be NO ONE!
For example, where do you store seldom used kitchen appliances like the fondue pot or the chocolate fountain your kids 'just had to have' when they were little? Do you really want to put them down in the 'dungeon' (OK – that's your fancy word for the basement)?
How about dangerous cleaning supplies you fear your little ones will open up and God-forbid try to drink!
These are 2 examples why a custom mudroom storage system can 'really help you out – especially if you have 9' ceilings. With taller upper cabinets (and even one with a lock, if needed) you can get those little used fondue pots, thanksgiving platters and/or dangerous chemicals stored away without taking up room in your kitchen cabinets or under the kitchen sink (where your little ones can get to them).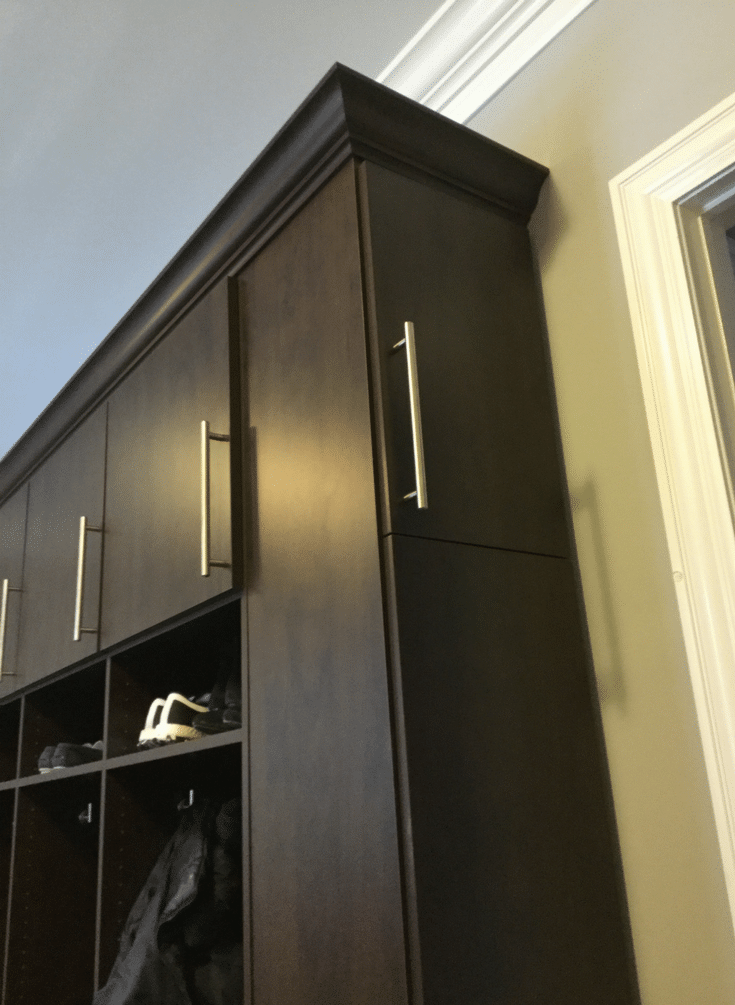 Mudroom storage design idea #3 – Use the space under your bench seat wisely and eliminate visual clutter
You've thought having a bench seat in a mudroom system would be SO helpful. It would be nice (after a long day working in the yard, or at the office) to sit down (and not on the floor) to take your shoes or boots off.
And although you'd enjoy this mudroom seating feature, it won't necessarily eliminate the jumbled mess you see when your sons, daughters and spouse rip their shoes and boots of daily and 'lovingly' (I'm being sarcastic here) places them neatly underneath.
This is where the disorganization begins.
In most mudroom systems there are open cubbies below bench seats. This works fine, if your family stacks them neatly in the spaces underneath (kind of like the studio shots taken of the perfect mudroom).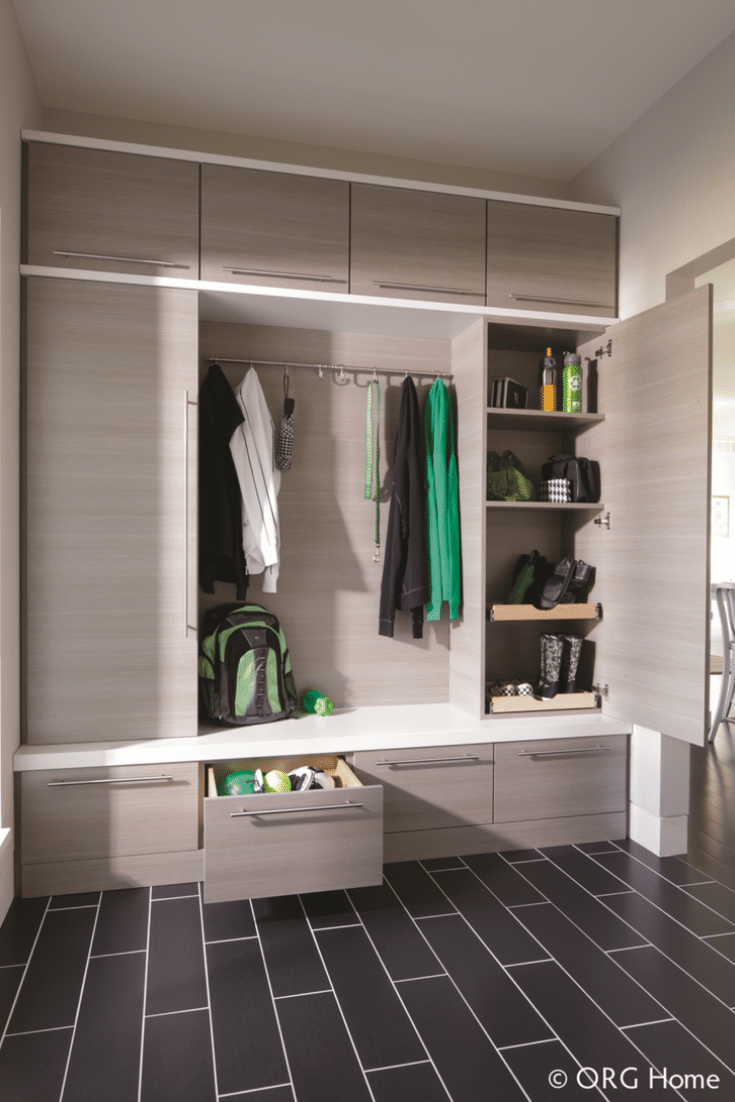 Well – if your reality is like mine – this (to use some 'right-good English) – ain't happenin'. Their shoes are a jumbled mess…all the time!
Solve this visual clutter by adding pull out drawers. Even if the drawers (when you open them) are a messy disaster, at least you don't see the mess.
The mess is out of sight.
You don't have to neaten up OPM (that would be Other People's Mess!).
Just one word of caution before you automatically design with drawers. Pay attention to how entry doors swing into the room. You don't want an entry door which bumps into your mudroom storage system drawer under the bench seat.
Mudroom storage design idea #4 – No wall left behind
In design idea #3 we discussed the challenges of in-swing doors, but there can advantages of them as well.
There is still an opportunity is to use this thin wall space for more storage. The area behind the door is perfect for a hook board where you hang scarves, hats and frequently used coats.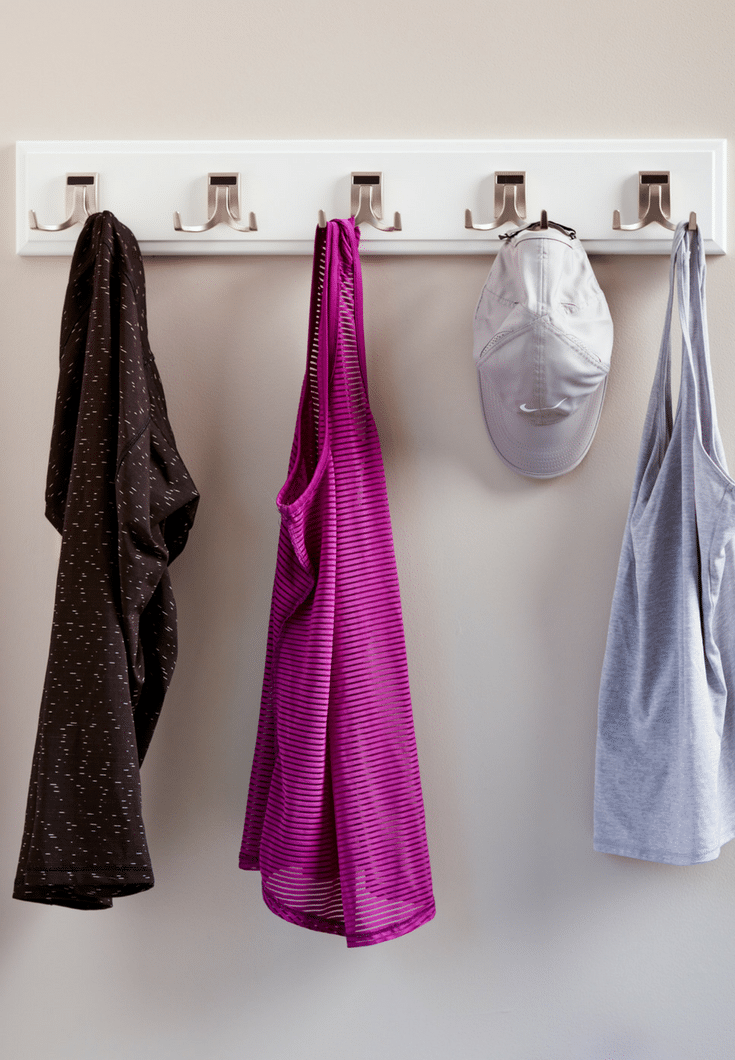 Since this is back-to-school season anyway, you should remember there should be 'no storage wall left behind' (OK, bad pun, but I'm going with it anyway).
Mudroom storage design idea #5 – Use easier to clean materials which won't warp
A mudroom by the nature of its function takes a beating.
Bags are thrown on the bench seat.
Shoes aren't 'lovingly' put into drawers.
Your son's sports bags aren't 'gently' hung onto hooks (if they're hung at all).
Packages aren't softly placed next to your mudroom cubbies.
Your mudroom and entryway system has to be designed to (as the old Timex commercial used to say) 'take a lickin' and keep on tickin.'
In fact, the word mudroom doesn't contain any letters from the acronym T.L.C.
So, how can you keep your mudroom looking nice when you know it's going to take a beating?
First, I'll recommend you DO NOT build your mudroom from painted wood or a multi-density fiberboard. It will get nicked, scratched and possibly warp.
Second, I'd recommend a laminate mudroom storage system in place of wood.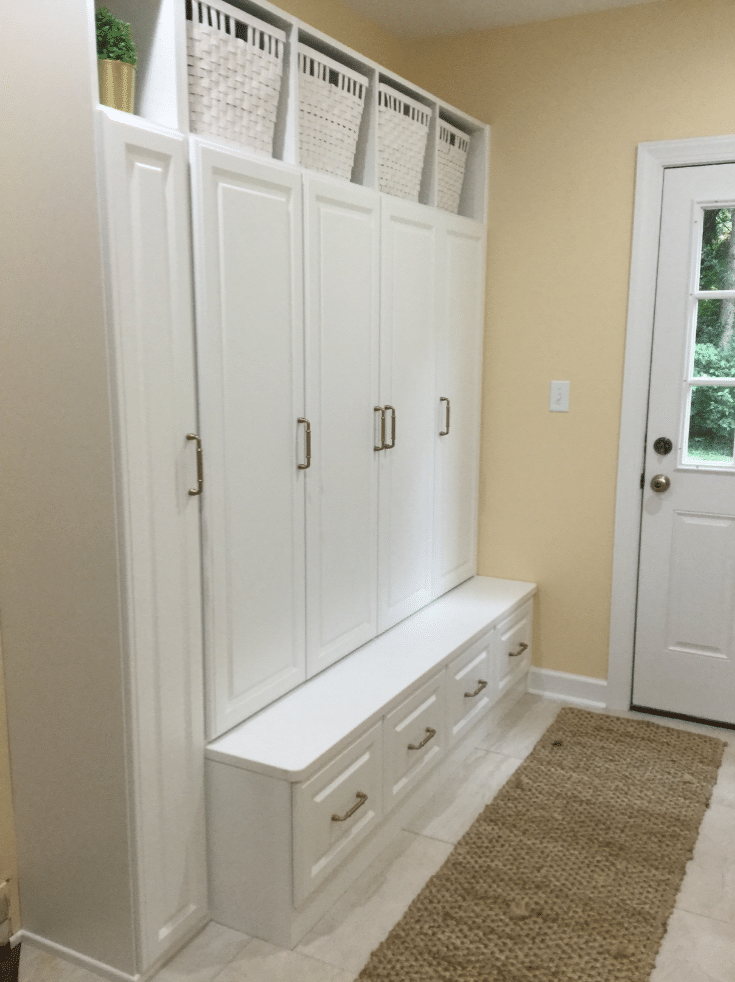 Laminate is simple to wipe off. Laminate doesn't need to be repainted. New generation laminates look exactly like wood (with the texture to match). You'll be the only one who will realize you've used laminate. However, you'll enjoy its durability and ease of maintenance.
Mudroom storage design idea #6 – 'Back it up' with the right material
While many people like a closed-door, individual locker style mudroom, cost and inswing doors can make this design style impractical.
If the closed-door system doesn't work for you, by default you'll need to use an 'open back' (this means the back wall will be seen) design. You'll see the wall your hooks and bars are mounted to for hanging coats and book bags.
This 'back wall' can be a design opportunity, or it can be a maintenance hassle. It depends on what wall finish you use.
The good news is there are many options of back wall materials to choose. Here's a few options, along with their positives and negatives:
Painted beadboard – As a guy who lives in the conservative Midwest (note: we design custom mudroom systems in Columbus Ohio for example), we see painted beadboard mudroom back walls ALL THE TIME. The upside is they offer a classic look. The bad news is they are wood. They are painted. They will need to be repainted.
Reclaimed wood planks – There are many manufacturers of wood planking. Some are even simple to install peel and stick systems (which are cheap IMHO), which add a Modern or Rustic touch to your mudroom system. They're upside is they provide depth and interest. Their downside is cleaning (and dusting) the nooks and crannies around the edges of the planks.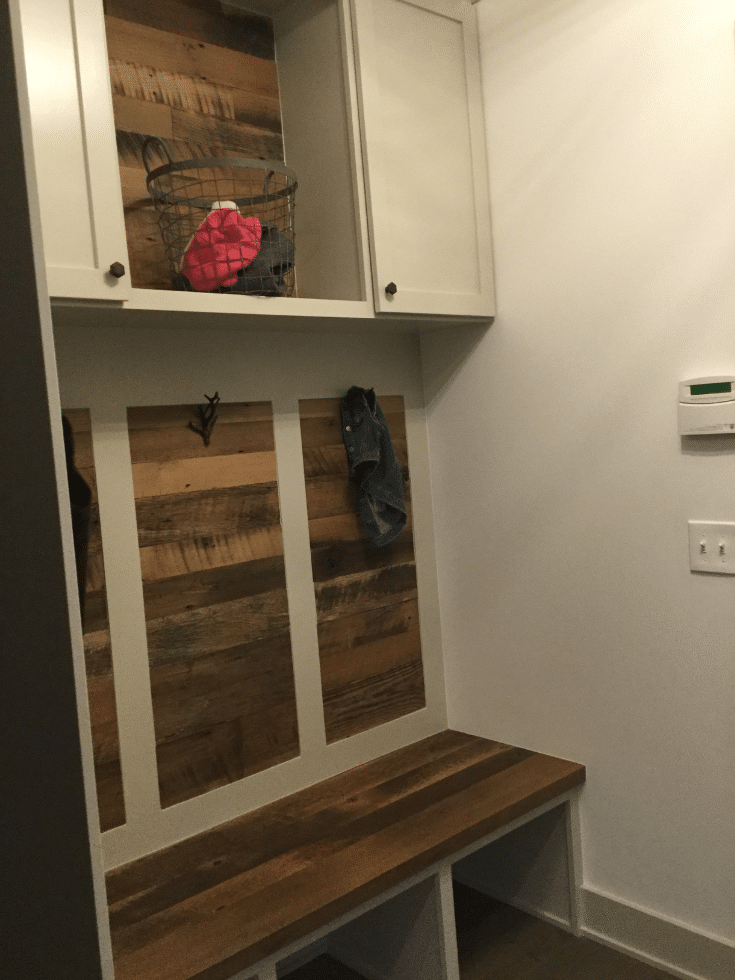 Chalkboard paint – This is a fun idea, since your mudroom wall can then become a 'family communication center.' Leave a note. Leave a shopping list. Leave words of inspiration. Those are the good things about chalkboard paint. The bad is – if you've got some OCD, the sloppiness of a chalkboard will drive you nuts.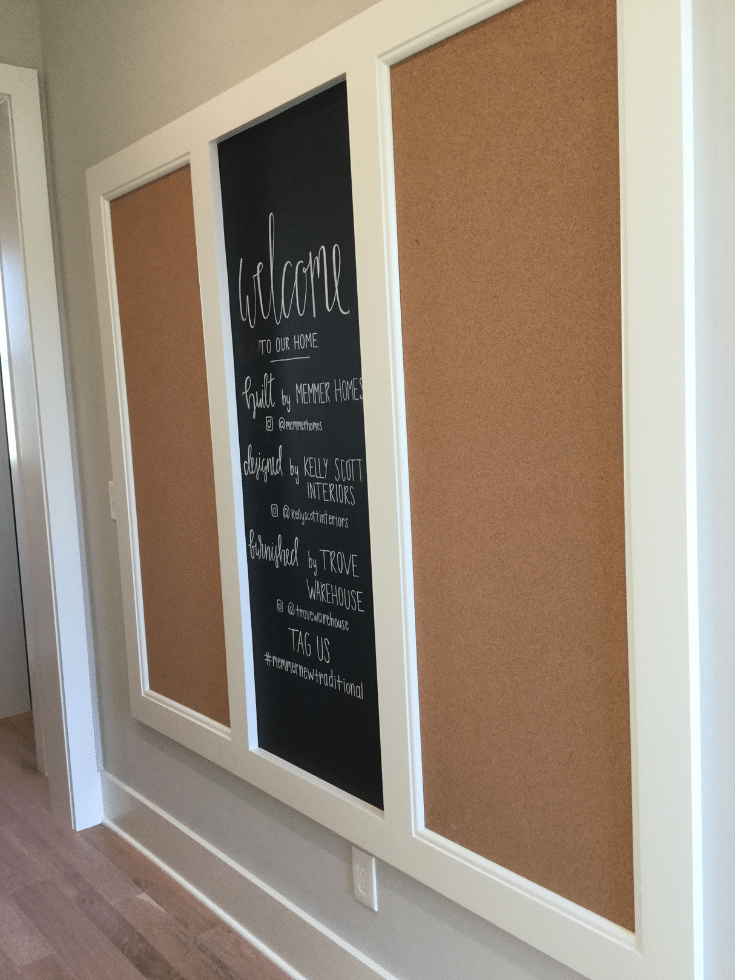 Laminate backer panels – Once again laminate systems come up. They're versatile. Available in limitless smooth, textured, high-gloss or matte finishes. They're easy to clean and won't warp. Their drawback is they don't have the amount of depth of reclaimed wood planks or the distinctive beadboard designs.
Mudroom storage design idea #7 – Create the 'slash room' you never had
Remember the old 'multi-purpose' room in Junior High? The cool thing about the multi-purpose room from your perspective was getting away from the grind of Math class and try to doze off (without getting caught) during the movie. The cool thing from the Administration's perspective was having a room with more than one use to save money.
With a custom designed mudroom you can have your own personal multi-purpose room (even if there isn't room for a projector or a comfortable place to sleep while the teacher is showing the movie).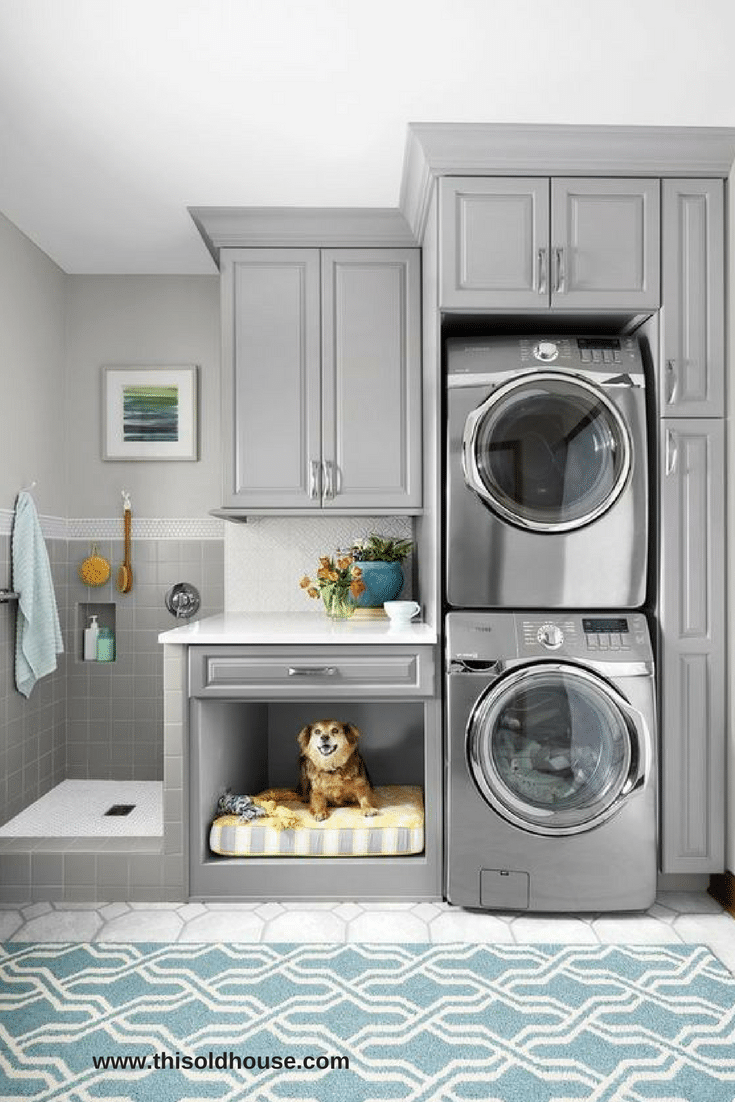 Your mudroom can be (as I like to call it), a 'slash room.'
It can be a mudroom/pantry. You can have a separate cupboard with birch-wood scoop drawers for extra canned good storage or spillover boxes of cereal.
It can be a mudroom/laundry room. You can use upper cabinets for extra cleaning supplies or laundry detergent.
If you'll live the following equation you'll 'invent' storage space in your entryway you never knew existed.
The Mudroom Room = The Multi-Purpose Room
Conclusion
As you know, 'attempting' to keep up with family life, your work schedule and an organized home, can seem like the impossible dream.
While you don't 'control' (by any means) the (bad) habits of your kids and spouse, you can make some headway towards a neat and organized house IF you have systems to keep the clutter down to a dull roar (or at a minimum keep the clutter out of sight – ha! ha!).
Could you benefit from a custom mudroom storage system? If so, if you're in Columbus Ohio and would like a Free 3D mudroom storage design give us a call at 614-545-6888 or in Cleveland at 216-658-1280.
###
For more information on a closet, pantry, garage or entryway organization system and design follow me on Twitter @Mike_Foti or our companies' @InnovateBuild and @InnovateHomeOrg. Follow me on LinkedIn @MikeFotiLinkedIn.
---
Tags: adjustable shelving, Columbus mudroom design, custom entryway Cleveland, custom entryway Columbus, custom mudroom Cleveland, custom mudroom Columbus, custom mudroom storage, custom mudroom storage systems, durable mudroom, entryway design, entryway planning, entryway styles, mudroom design, mudroom design Cleveland, mudroom design Columbus, mudroom design ideas, mudroom design tips, mudroom designer, mudroom planning