How to Take Your Custom Closet to the Next Level – 7 Ideas from ClosetCon you Don't Want to Miss Out On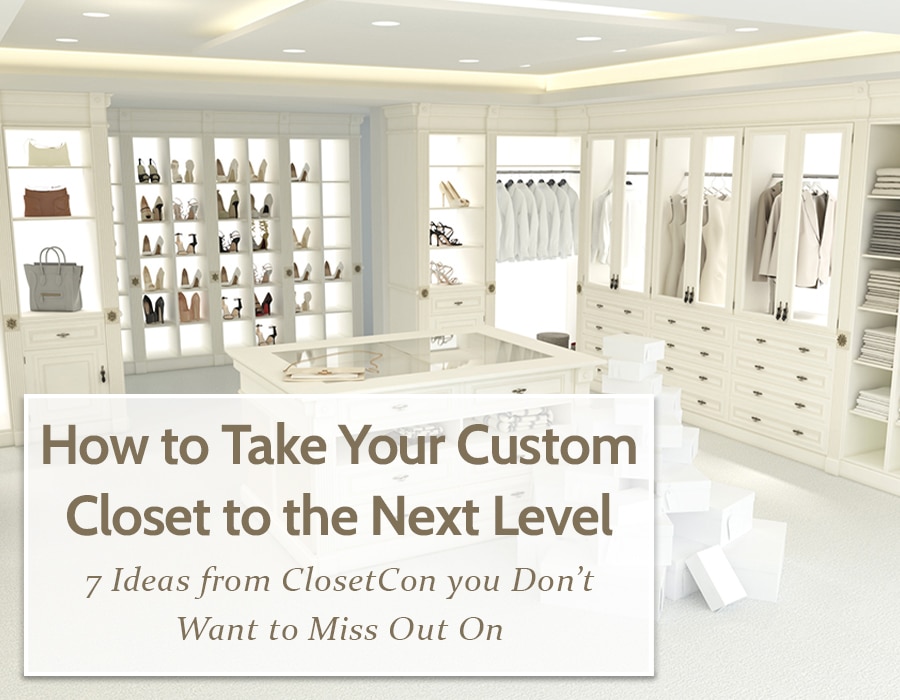 Whether you like it or not, your disorganized master closet is a necessary evil you MUST confront multiple times a day.
And even though your closet's a challenge today – and an experience you would in-no-way classify as glamorous, I'm here to tell you there's still hope for a fun and functional closet.
And even if you're not a 'closet geek' (or closet organization system business owner – like me), you don't have to look any further for ideas, inspiration and ingenuity to get the custom closet of your dreams than by attending The ClosetCon 2021 Conference. This show just wrapped up in West Palm Beach Florida (and yes, don't feel too bad for me since I was 'forced' to attend – ha! ha!).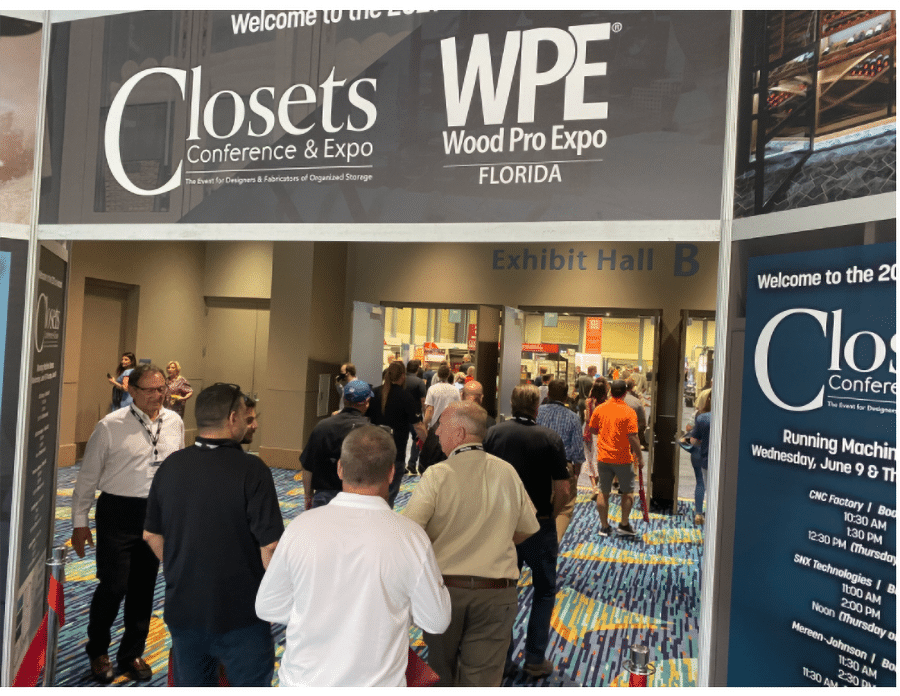 This conference is THE place to find products, people and (software) programs which help closet companies help you get the beautiful closets of your dreams (and get rid of the frustrations you deal with today which make you want to pull your hair out!).
This show is packed with professionals who are designing, manufacturing, and installing standard and custom closets across the United States. And since you likely didn't attend (unless you qualify as a Certified Closet Geek…like me), I want to give you a sneak peak at 7 products, programs and professional associations to elevate your 'closet game' to infinity and beyond. Hey – didn't some guy named Buzz say that before me???
So, without further delay, let's check out 7 ideas to ramp up your closet.
Idea #1– Make sure you have a clear vision of HOW your closet will look before buying – Insist on a 3D design 'as seen on' the show floor of ClosetCon
How can you take your closet game to the next level when you can't see (or understand) how your design will look in real life? And if your (quote/unquote) closet designer wants you to make a buying decision based on hand-sketched 'drawings' like you'll see below, you're taking a 'notorious' B-I-G risk with your hard-earned money.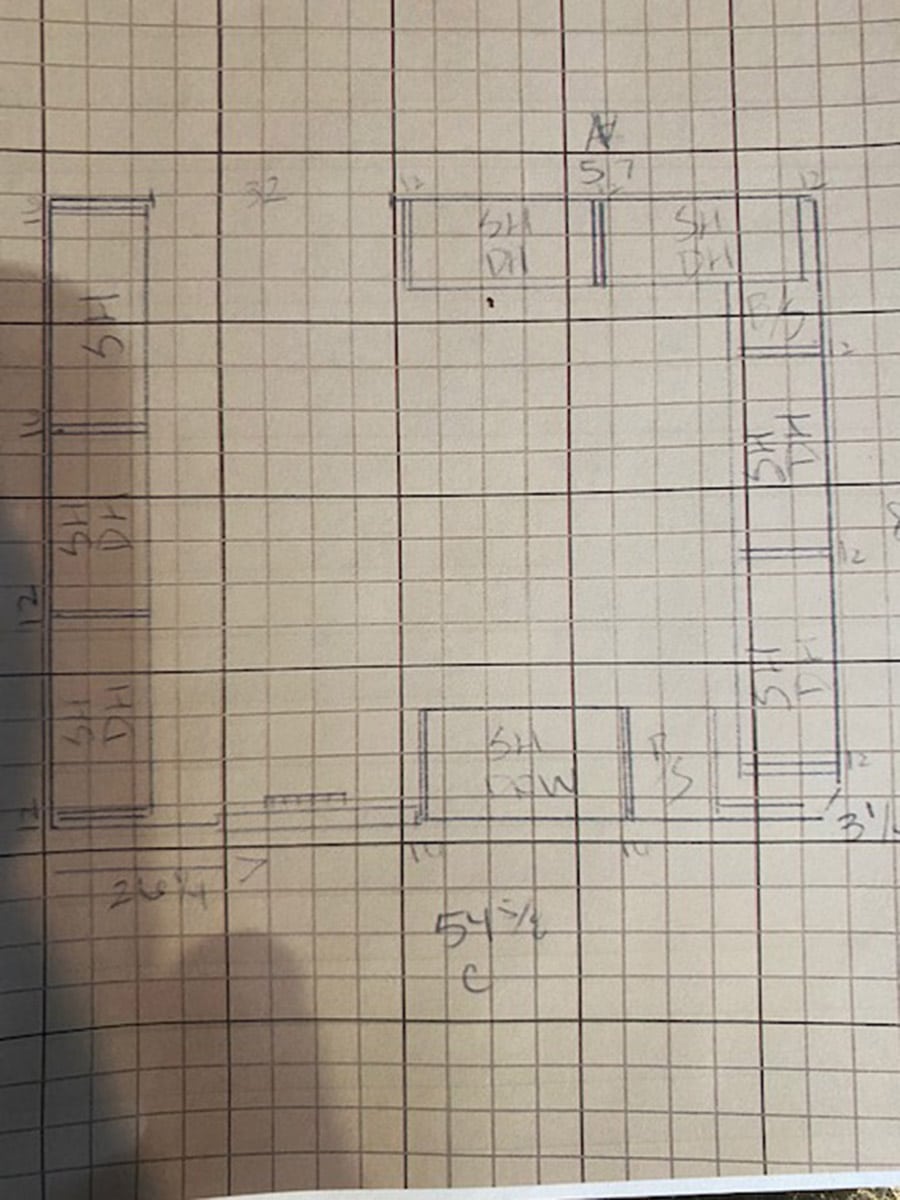 Will the finished project look like what you're picturing in your mind? If not, you may be bummed with the result.
That's why I was blown away with the ClosetPro software system I saw at the show (and yes, I also love the Studio Design program I use in my business today as well). You see with these systems you'll (literally) see these benefits:
You can see – in 'real-time' – how pricing is affected when you add (or take away) options. You'll see where the 'value' ('er that's a fancy word for cost) is in your project.
You can get a color rendering from anywhere in the room to visualize how the closet will 'live' with your clothes and shoes in it.
Why not insist on 'seeing' (in 3D) before 'buying?'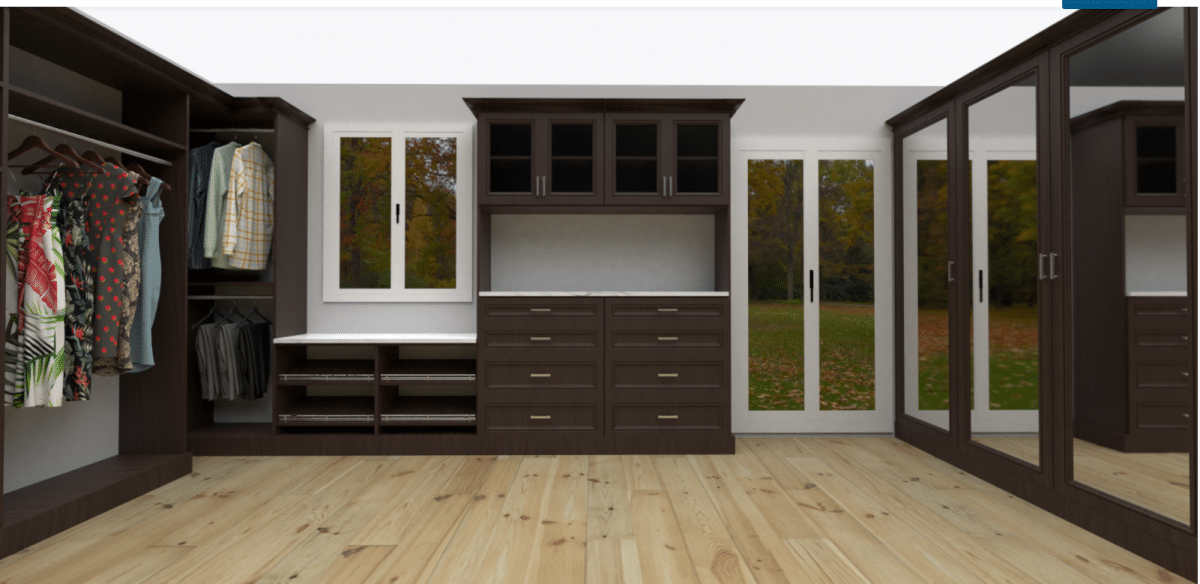 Image Source: www.closetpro.com
Idea #2 – Get rid of dead closet corners and see why 'Lazy Susan' (who hangs out in the kitchen) has nothing on 'Lazy Lee (who hangs out in the closet)!'
If the hanging clothes cramping the corners of your closets makes you want to S-C-R-E-A-M, stand in line because you're NOT alone. Poorly designed closet corners are the norm, not the exception in master closets.
Ok, so now that you have the bad news, I'm ready to unveil the good news.
Well, there's this guy named 'Lazy Lee' (and no, I'm not sure if this is the name his mother gave him because he was a slug about doing his chores) who developed a 360-degree organization system shown by PlusClosets. This rotating organizer (which comes in 40" x 40" and 42" x 42" sizes) can be a Godsend for your closet corners. Add more shoes. Add more drawers. Or you can even add hanging clothes which spin to you. You won't have to weed through your closet corner like you're pushing through a jungle anymore.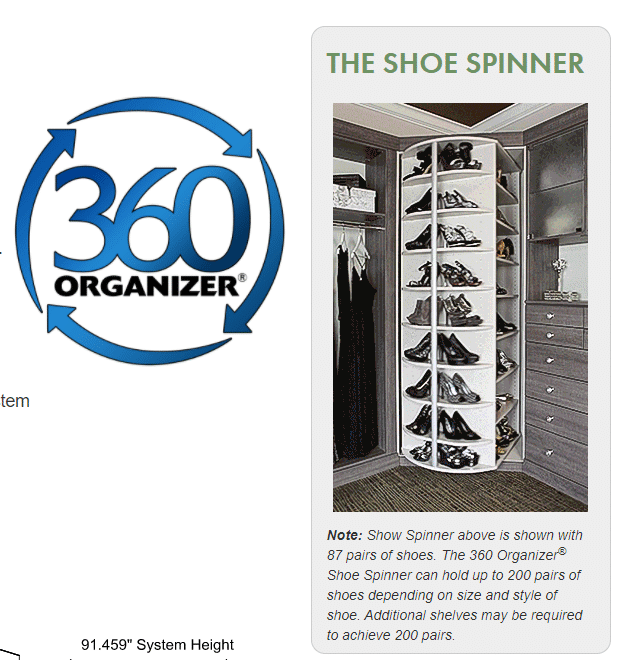 Image Source: www.plusclosets.com
This Lazy Lee guy was very inventive indeed, even if his mom might have needed to give him a swift kick in the pants to do his chores.
Idea #3 – You can't choose an outfit because your closet is as dark as a cave. See (literally) how closet lighting can be your killer app.
If your closet has one dingy lighting fixture on the ceiling (with bulbs which are burnt out half the time because you haven't nagged your spouse or partner enough to change them) – you're not exactly 'livin' the dream' (as Owen Wilson's character, John Beckwith said in the legendary movie Wedding Crashers) when it comes to an easy to use and enjoyable closet. Here's one reality I can tell from years in the closet biz.
That's why it's fun to see lighting advancements through Hafele and Richelieu on the show floor. These LED systems will keep your hubby or wife off ladders changing bulbs. And with today's closet lighting you can go beyond the overhead puck lights and add lighting in the side support sections or even inside drawers.

Escape from your dark closet with LED lighting.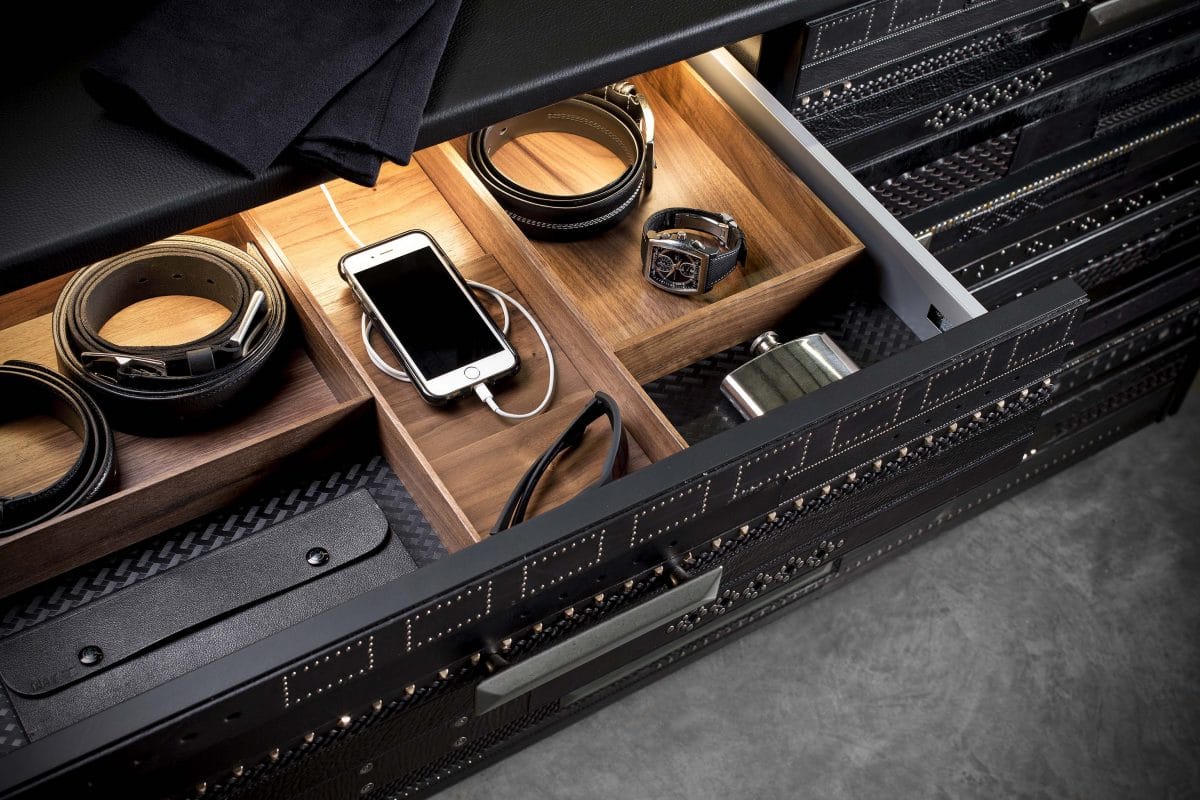 Idea #4 – Your closet won't make you want to sing, until you've come up with a plan for that bling
Oh, how you love your precious accessories. Jewelry, designer sunglasses and watches are your thing. However, finding the perfect one in your closet or dresser can be a pain.
And while you can buy a premade velvet or plastic jewelry tray at a big box store– when it comes to finding the perfect tray designed specifically for your 'gems,' it can be a chore.
That's why I found the 'flexible' and 'stylish' accessory tray organizers I saw at ClosetCon so cool.
One company– The Jewelry Tray Factory – had custom trays in velvet, micro-suede, and ultra-suede fabrics. Their colors went waaay beyond the standard black. They included navy, burgundy, brown, silver, pearl, green and gold. And their watch trays even have 'pillows' so your collection can have a 'good nights rest.'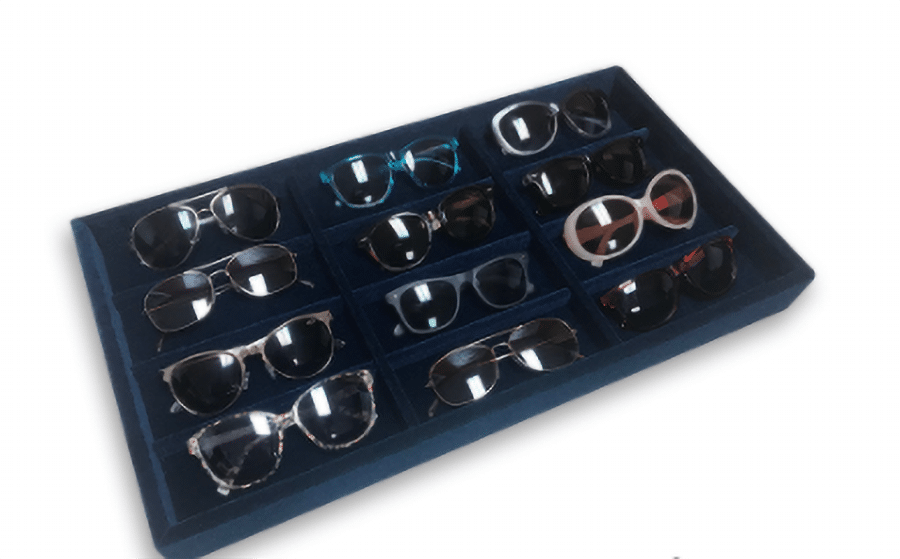 Another company – Tag Hardware (distributed by Hafele) has 'adjustable jewelry trays where the separators can be moved as your mix of the items changes over time. That's cool and super practical!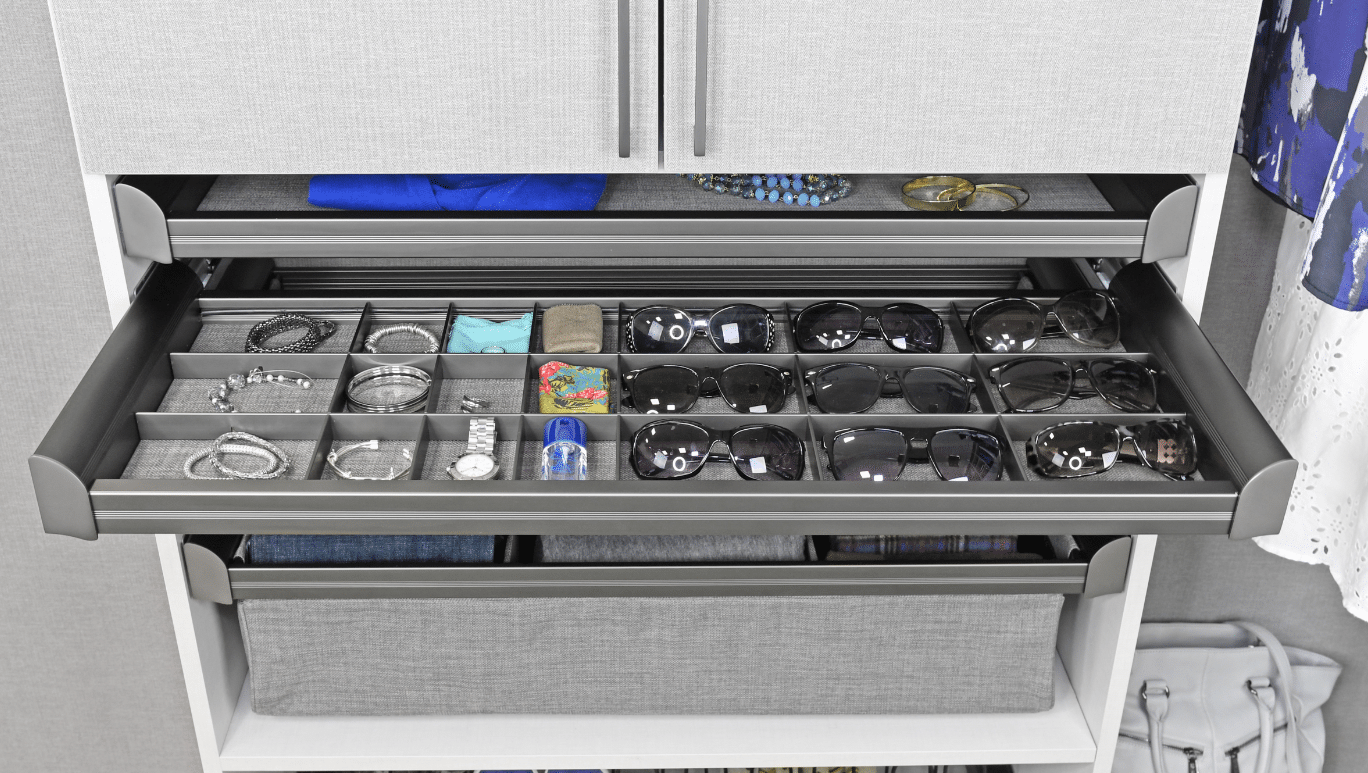 Image Source: www.taghardware.com
Idea #5 – Add peace of mind knowing your jewelry, cash, guns, electronics, medications, and papers are always safe…
When I heard 85% of thefts are done by 'non-professionals' who aren't necessarily breaking in, this stat blew my mind. Thefts are often somebody you know like a housekeeper, handyman, family member etc. who takes things WITHOUT prying open doors or windows.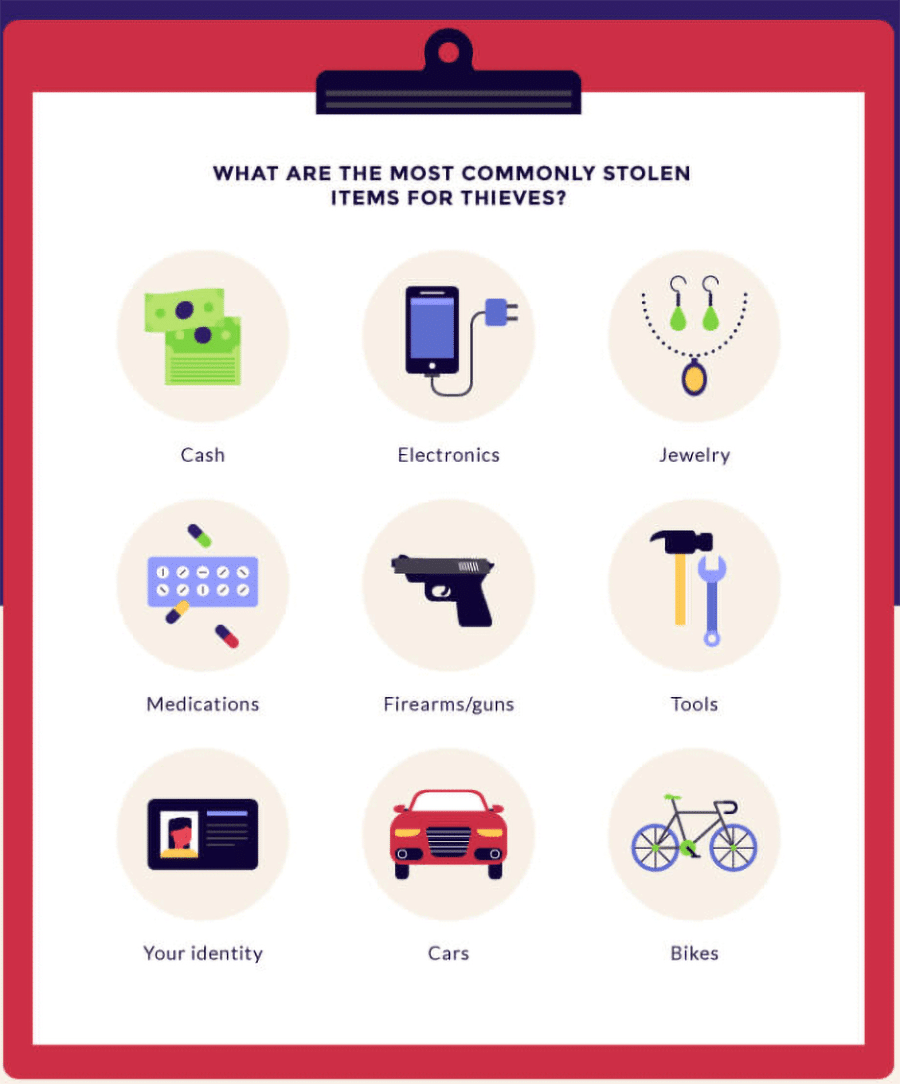 Image Source: www.safeatlast.co
Most of us think of burglaries as something which happens when a 'bad guy (not being sexist, but no one pictures a 'bad girl') with a ski mask breaks in through a window or door late at night. We don't think it's someone we know who takes something in broad daylight (and maybe when we're in our home WHILE it's happening!).
It can be so disheartening to be the victim of theft (whether it's your things – or maybe even worse, your identity). And if you have no place to securely store valuables and paperwork today, you're inviting a problem which can be avoided.
This is why a small safe in your closet can be the ticket.
I saw cool safes from My Cube Safe which made me rethink the 'old time' dial safes I've known (and never loved because I can NEVER remember the combination or how many turns to make) from yesteryear.
Image Source: www.mycubesafe.com
This company has an 'I-Cube Safe' which has an app which tracks your contents and can be opened from anywhere.
There's also a 'Bio-Cube Safe' which recognizes up to 10 different fingerprints.
If your valuables are 'there for the taking,' isn't it time to consider a safe for your closet?
Idea #6 – Don't assume any closet wall is a lost cause. Welcome the Symphony wall organizer
You desperately need more closet space. And while you KNOW you need to declutter; you also wish you could wave a magic wand and 'find' room where none existed before.
And if this describes you, I've got one 'magic wand' to tell you about…. IF you promise not to let our little secret out.
You see this 'magic wand' is a product called a 'wall organizer.' This product can help you use (and beautify – believe it or not) those spaces behind an inswing door – or walls which are too narrow to put shelving or hanging clothes on.
And what's so cool about this wall organizer is the hooks are adjustable (they're not screwed into the wall). Hang up your necklaces, shoes, scarves, belts, purses…you name it. And this isn't an ugly wall hook either. The horizontal support bars use a faux vegan leather and the vertical support bars come in fashion forward finishes like matte nickel, matte aluminum, matte gold, and slate.

Be cool. Be organized.
Idea #7 – If you don't know 'who you're going to call' to help design your closet, Ghostbusters is NOT the place to start.
Look to the ACSP or even the CIA (and no, not THAT CIA) for professionals to make your custom closet a reality
All the products and programs above are 'fine and dandy,' but they're USELESS without the PEOPLE who know how to combine them in a complete closet design built around you and your things.
That's why the very first thing I did – years ago – when I entered the custom closet industry was to join the professional association to learn from the best of the best. And this is the Association of Closet and Storage Professionals. These are the 'industry geeks' you want on your team. They'll tell you about products and programs and how to use them in your design.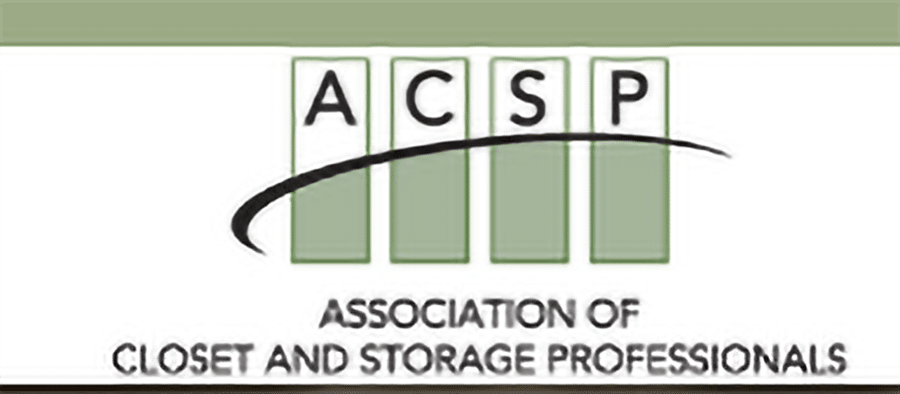 And if you want more input, call the CIA (and no, I'm not referring to the Central Intelligence Agency). I'm referring to the Closet Institute of America. This group of independent closet companies share knowledge to improve how their members help you.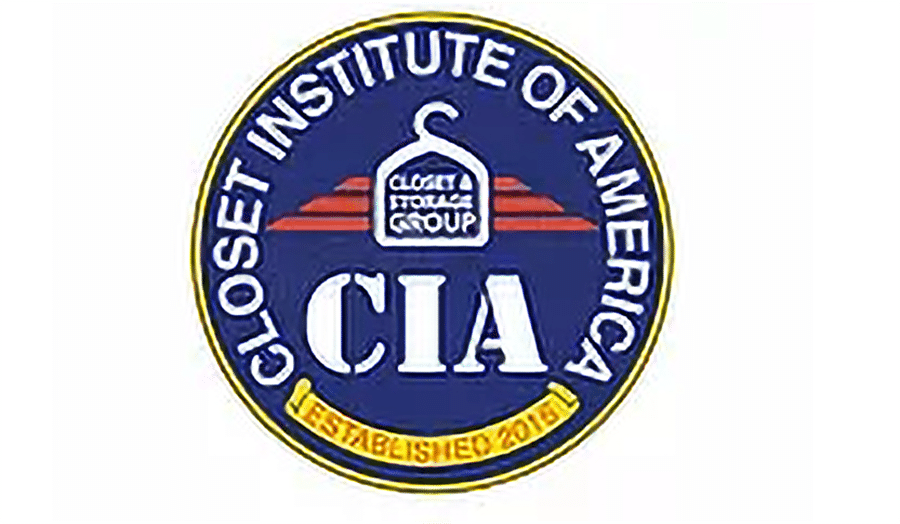 And lastly you can always look to the familiar franchise companies (like California Closets, Closets by Design or Closet Factory) for help.
No matter where you look – seek out a focused closet industry professional like the smart ones who attend ClosetCon. They stay on top of the 'latest and greatest' innovations and help you up your 'closet game.'
So, what's the next step to get the custom closet of your dreams?
There's a lot more to custom closet design than meets the eye. It's not simply hanging rods, shelves and drawers. While rod, shelves and drawers are essential elements, it's how you put them together which makes the difference. It's also how you visualize your closet BEFORE you buy (and not make a bad purchase). It also helps to work with industry professionals who know the perfect products (and installation approaches) to get rid of your closet frustrations.
If you want help figuring this stuff out – and live in Columbus Ohio – I (or one of my designers) would be delighted to assist you. My company is Innovate Home Org. Call 614-545-6888 or click for a Free 3D Closet Design.
And if you're outside Columbus, write where you live and what you're looking to do in the comments below. I'll work to find one of my 'buds in the business' to assist you.
Thanks for reading …any putting up with my wackiness.
Mike
###
If you'd like more information on garage, pantry, entryway or custom closet design follow me on LinkedIn @MikeFotiLinkedIn.
---
Tags: 3D closet design, 3D closet design Columbus, ACSP, Association of Closet and Storage Professionals, closet design software, closet franchises, Closet Institute of America, closet lighting, closet organizers, ClosetPro software, Closets Conference and Expo 2021, Columbus closet lighting, custom jewelry drawer trays, idea from Closets Conference, Lazy Lee closet organizer, lazy susan closet organizer, LED closet lighting, master closet safes, new close organizers, Plus Closets, PlusClosets, safes for closets, stylish wall organizers, Symphony wall organizer, Tag Hardware, tag hardware products for closets, The Jewelry Tray Factory, touchless safes for closets