What's the cost of professionally installed garage cabinets?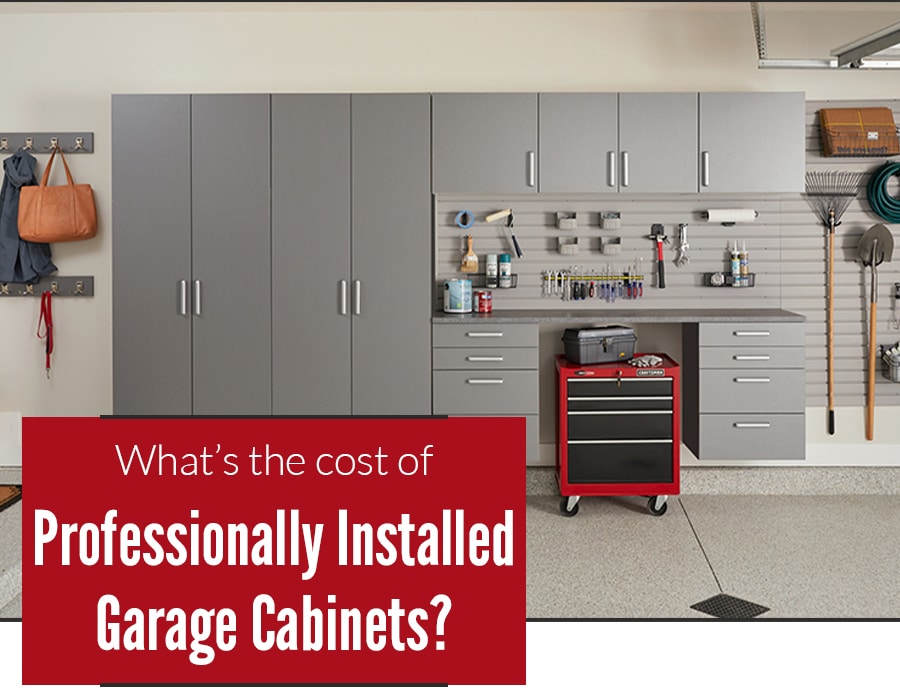 Your garage is STILL a mess!
The cheap open plastic or metal garage shelves you got on sale a few short years ago at your local Home Center are sagging under the weight of paint cans and jugs of windshield washer fluid. And your spouse HATE, HATE, HATES seeing everything NOT neatly placed on these shelves either. Driving into your garage makes them stressed. And as you know by now, their stress is your stress!
Now, you're looking for a custom garage cabinetry system which is not only built to last, but is designed to live and work for your family for years to come …at a price you can afford. However, because you don't have an unlimited budget (and who does anyway) – and you'd like to have it professionally installed (with a guarantee so you know YOU won't have to mess with them ever again), you're trying to learn what professionally installed garage cabinets cost. However, you can't find a website which offers pricing for installed garage cabinetry.
And if this describes your situation you've come to the right article.
Below – I'll look at 10 factors which impact the cost of installed garage cabinets (like the ones I've been involved designing and our team has been installing in Columbus Ohio for years). I'll give you actual pricing so you can not only budget this project, but also see which features you'll want to invest in – and which features would be 'nice-to-haves' but aren't 'must-haves.'
Let's look at the 10 factors which impact the pricing of professionally installed garage cabinets.
Factor #1– Do the garage cabinets have pivoting doors, sliding doors or simple open shelves?
If you're looking to keep costs down, open garage cabinets (i.e., ones with no doors) will be cheapest. And while most people don't want garage cabinets to be open (because they DESPERATELY want to hide their less-than-perfectly organized storage behind doors), open garage shelving can make sense IF you want to store damp or smelly items ('er raincoats or football or soccer uniforms) or shoes which can look (at least relatively) neat in open shelving.
If you're like most people you DO NOT want to see what's inside the cabinets. And in those cases, your next most cost-effective alternative will be garage cabinets with pivoting doors. The pivoting doors – while adding cost – aren't as expensive as sliding garage cabinet doors, but they can do wonders to organize your garage.

You'll want to use sliding garage cabinet doors when your garage depth is lacking, yet you still want cabinets you can open without opening the garage doors.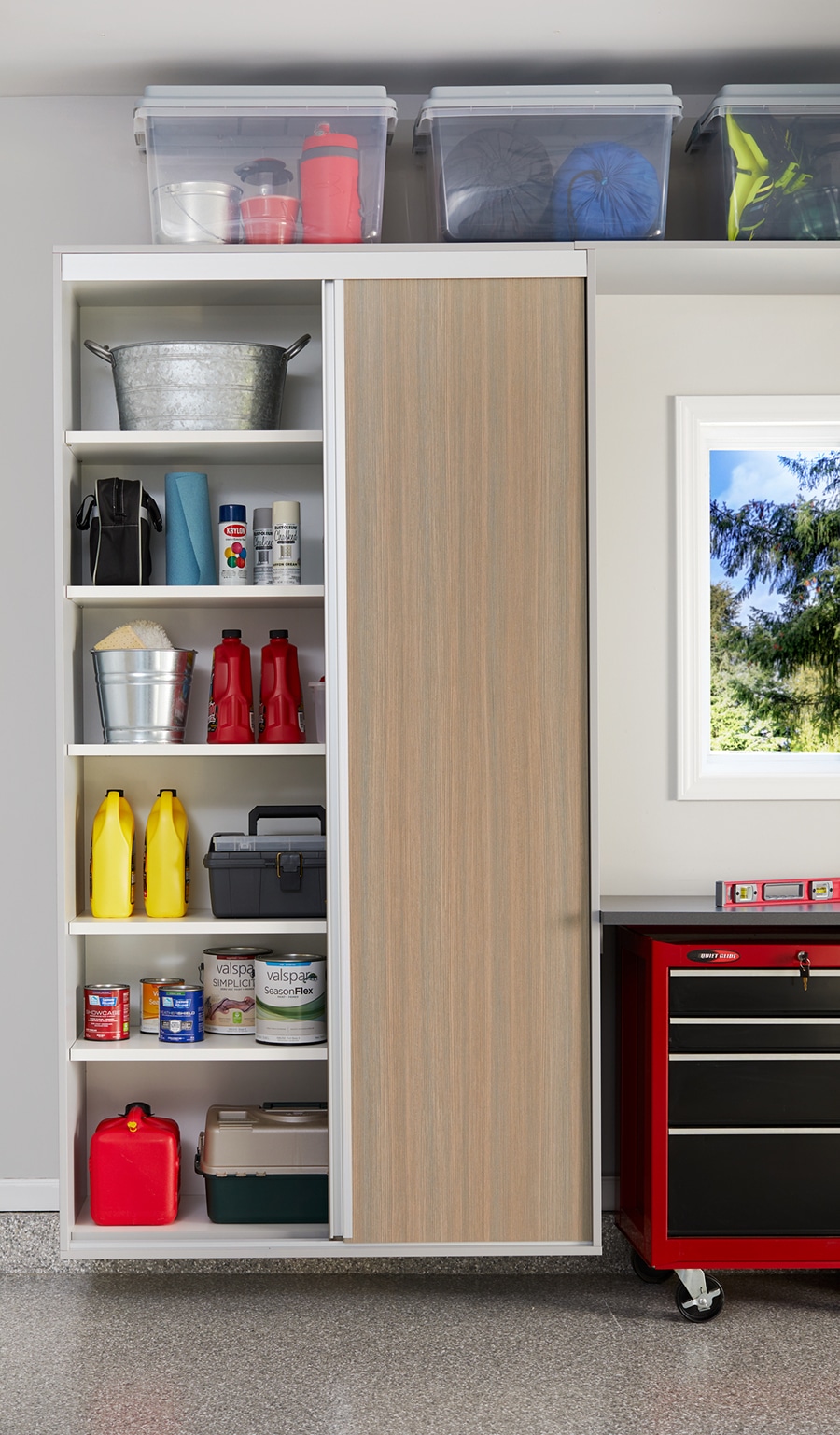 Regarding cost. For a group of 3 (popular sized) sturdy garage cabinets 30" wide x 16" deep x 84" tall (as seen below) with a white interior and colored exterior the 'open cabinets' with 1" thick shelves and full back panels would cost $1,434. The 3 pivoting garage cabinets with double doors would cost $1,924. The 3 sliding garage cabinets cost $2,836.
Factor #2– What's the best depth for garage cabinets? How does the depth impact cost?
Selecting the right depth of your garage cabinets is dependent on (a) where they're located (on the sides of the garage you'll normally use a shallower 12" or 16" depth and on the back wall you'll (normally) be able to fit deeper cabinets. 19" is most common on back walls, but 23" is also available… although it wastes a lot of space.
To give you an idea how depth affects the cost of an installed garage cabinet, you'll see below how installed pricing changes for a 30" wide x 84" tall double pivoting door cabinet as the depth is increased.
A 12" deep cabinet costs $629.
A 16" deep cabinet costs $681.
A 19" deep cabinet costs $792.
A 23" deep cabinet costs $819.
Factor #3– How wide do you want your garage cabinets to be? How does width impact cost?
Before you settle on your best width, look at what you're storing and how sizes will impact how easy the cabinets will be to use. Right now, you may be wondering what I mean by that.
Well – think about this example. Let's say you have two large 38" wide tubs you want to put in the cabinets. Since standard garage cabinet widths are 18", 24", 30", 36" and 48" you'll need to use the 48" wide cabinet to fit your 38" tubs. While this may not 'seem' like a problem, it can be.
You see if you use 48" double door cabinets, each door will be 24" wide (i.e., 48" divided by 2). These wide doors WILL usually be a problem UNLESS you have a very deep garage because you won't be able to open the cabinet doors AND stand behind them to get the tubs out while keeping the garage door shut. Now, you can go with sliding 48" wide cabinet doors but you'll pay approximately a 35% premium for sliding vs. pivoting garage doors.
Although there aren't many 48" wide cabinets used (most are 30" and 36" wide) you'll see (in general) the price per linear inch of width (i.e., the total cost/number of inches of width) gets cheaper as the width of the cabinets grows.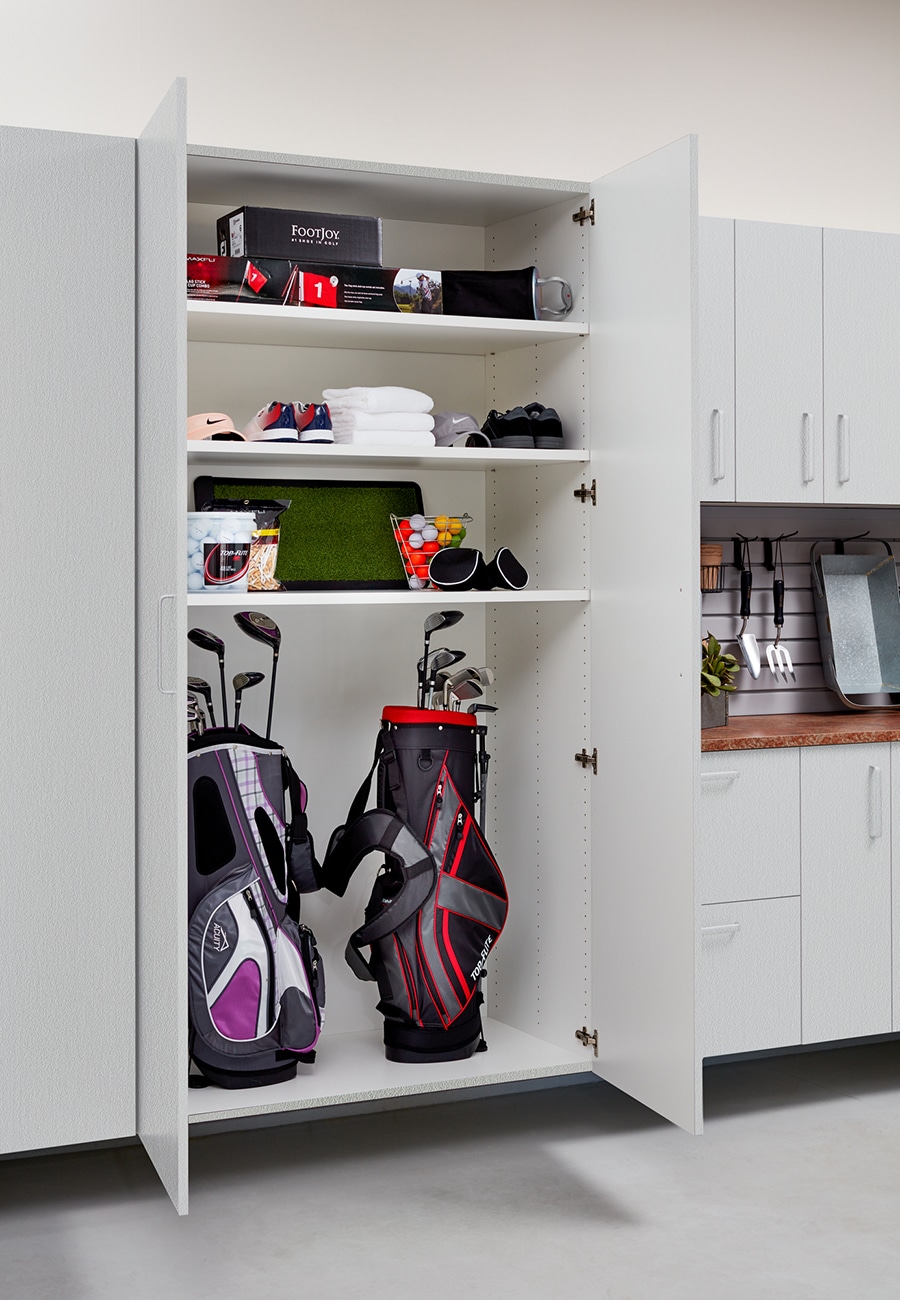 Price per cubic for a 19" deep x 84" tall standard-sized double pivoting door garage cabinets
18" wide – total installed cost $629 price per linear inch $34.94 (this is computed by dividing $629/18" of width).
24" wide – total installed cost $689 price per linear inch $28.71.
30" wide – total installed cost $792 price per linear inch $26.40
36" wide – total installed cost $903 price per linear inch $25.08
48" wide – total installed cost $1,026 price per linear inch $21.38
So, if you can make your cabinets wider – and still have room to open the doors with the car parked inside and the garage door shut–wider cabinets will make (economic) sense.
Factor #4– How tall should your garage cabinets to be? How does height impact cost?
One major advantage of garage storage is the sheer 'volume' of this 'room' (and yes, I know many of you don't consider your garage a 'room,' but it's likely, if you think about it, the largest single space on the first floor of your home).
And what a waste it is to not use this volume. Since standard sized professionally installed garage cabinets are manufactured taller than the cheap open shelving units you find in home center stores (which are only 72" high) – they represent a fantastic storage opportunity for you. In addition, the price per inch gets cheaper as your cabinets get taller as the chart below for a 30" wide x 16" deep double door cabinet shows.
Cost for a 30" W x 16" deep x 72" tall installed cabinet – $612, Price per inch of height $8.50 ($612/72" of height).
Cost for a 30" W x 16" deep x 78" tall installed cabinet – $638, Price per inch of height $8.18
Cost for a 30" W x 16" deep x 84" tall installed cabinet – $681, Price per inch or height $8.11.
Cost for a 30" W x 16" deep x 90" tall installed cabinet – $707, Price per inch of height $7.86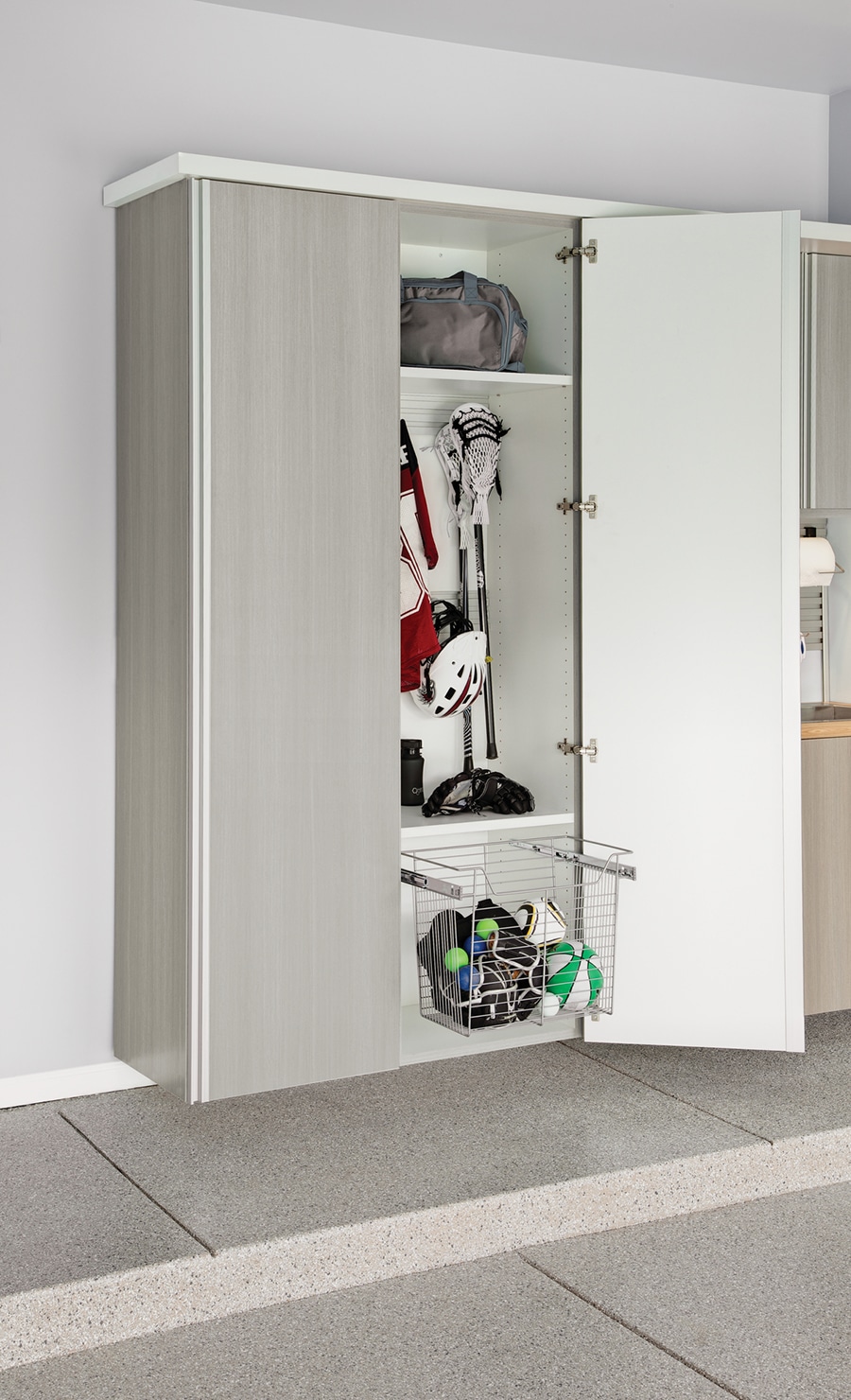 Factor #5– Pay attention to shelf thickness
My Dad would harp on me to not be 'penny-wise and pound-foolish.' In other words, don't fool yourself into THINKING you're saving a few bucks, only to make a purchase which fails in a short period of time. And given my dad's mantra I'm going to warn you about one dirty little secret most people selling and installing garage cabinets WON'T tell you. This secret is….
A major place garage cabinets fail is they have thin shelves which bend under the weight of paint cans, jugs of windshield washer fluid and potting soil bags.
Don't get fooled thinking you got a 'such a deal' (as New Yorkers might say) on garage cabinets which used 1/2" or ¾" thick shelves better geared to hold sweaters in your closet, than heavy things in your garage to only have to replace them a short time later.
Insist on 1" thick shelves so you KNOW you won't have to worry about broken, bent or damaged garage cabinet shelves ever again.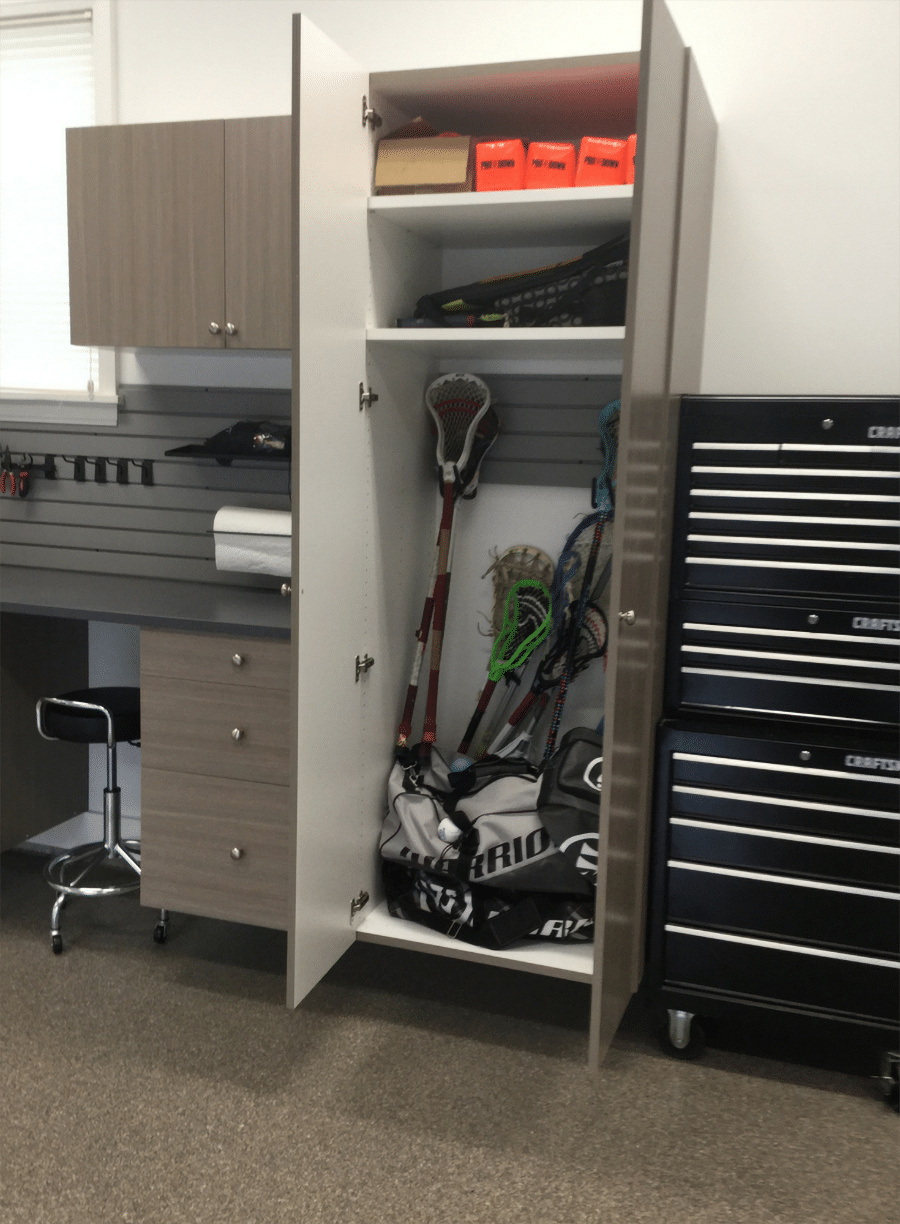 Factor #6– Adding a workbench to your garage cabinetry design
Garage cabinetry can be about more than simple storage. Your cabinets can also give you a place to enjoy hobbies like woodworking and gardening. And the perfect place to accomplish this goal is to add a garage workbench.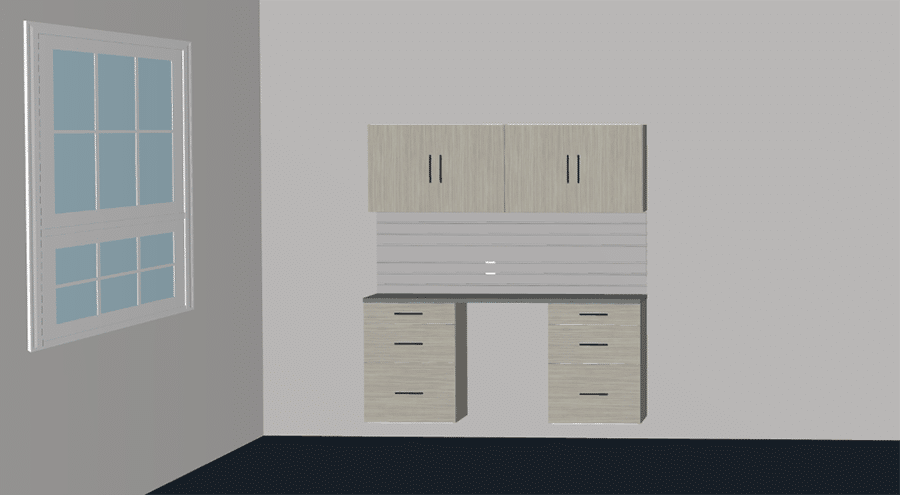 This 72" wide x 20" deep workbench with side drawers, upper cabinets and slatwall shown in this 3D garage design will compliment tall garage storage cabinets. A workbench like this with a sturdy high pressure laminate top will cost $2,467.
Factor #7– Finding an effective solution for your kid's balls and sporting equipment
If you want to scream when you find errant soccer balls, footballs, lacrosse, and field hockey sticks littering your garage floor, you're not alone! However, it's nice to know your garage storage system can actually be a huge asset to keep order – no matter how large your kids or spouse's sporting good collections are.
You see with the right systems you CAN have a place for everything (even their sporting goods which are taking over your garage). To keep balls in order – yet out of sight – this 30" wide (bungy-cord-esque) inside the cabinet 'ball stay' is a garage feature you won't regret. It'll cost $184 as an add-on feature inside a cabinet.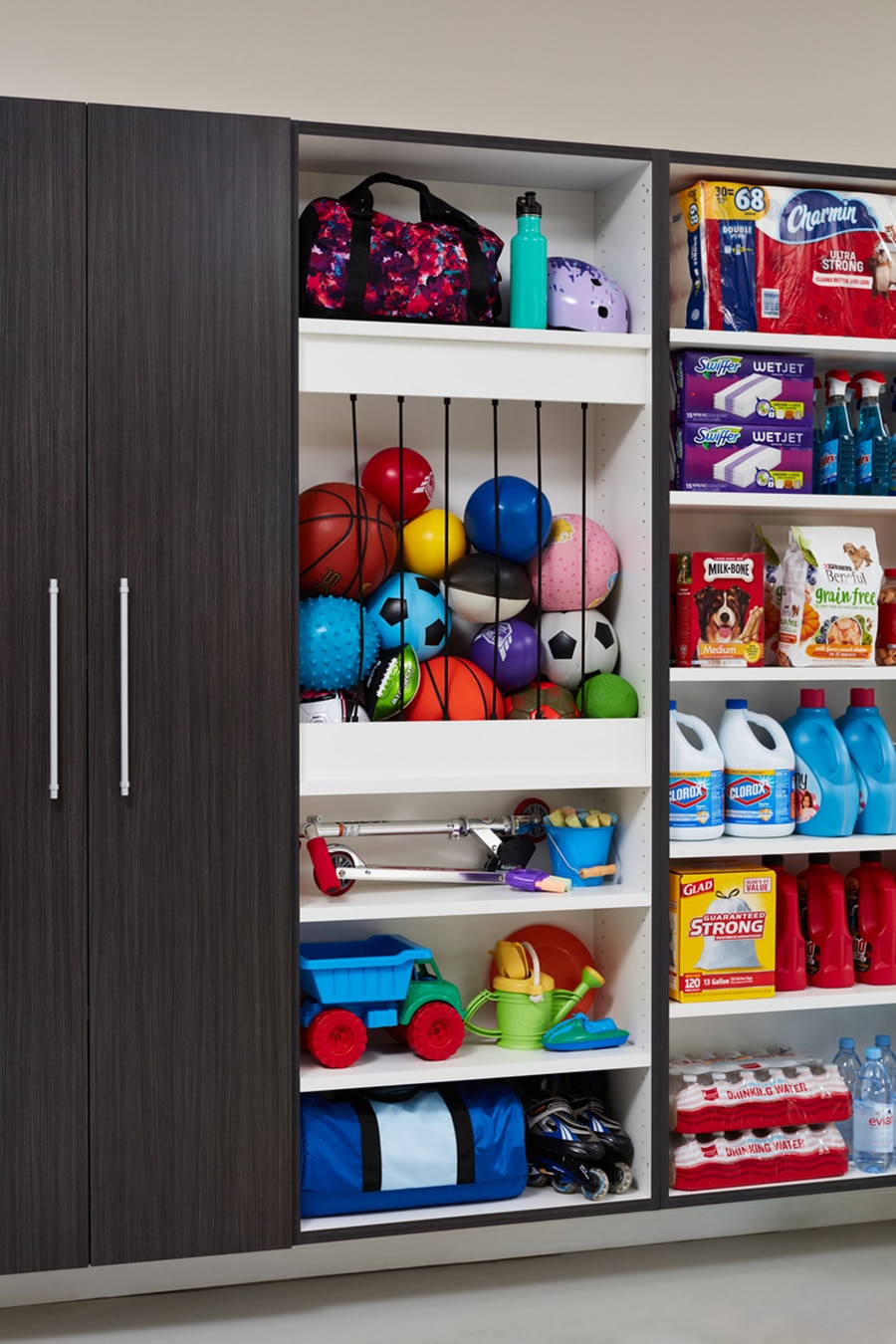 And if you want an even larger bin for balls this 34" wide x 17" deep x 26" high mesh basket hung onto a garage slatwall system is smart. Budget $95 for this accessory.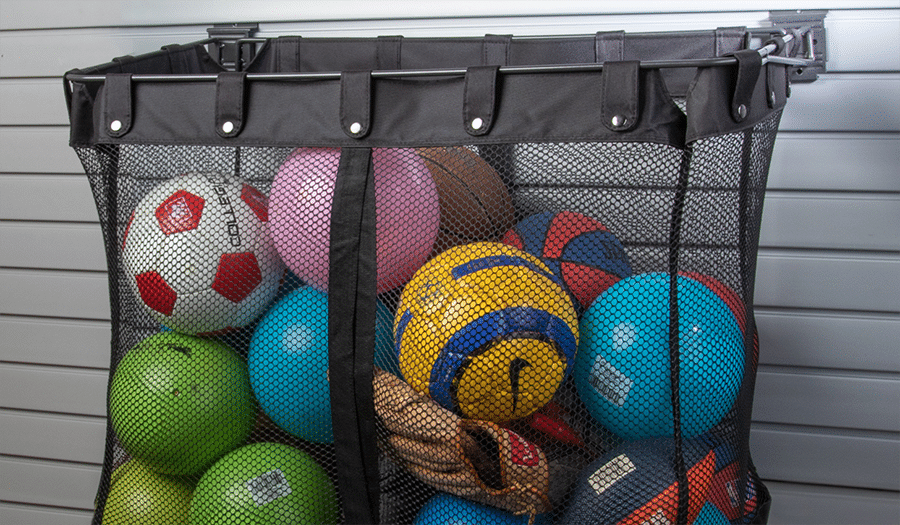 And if you want a simple way to hang up tennis rackets adding a simple 4" hook to your slatwall will cost $15.
Factor #8– Adding colors and patterns to your garage cabinets
It's nice to know garages no longer need to be the 'red-haired-stepchild' (and no offense to you red-haired stepchildren out there) of your home. Your garage – and garage cabinets – can become the stylish extension of the fashionable façade of your home. How, you may be asking?
Well –start by NOT settling for boring white garage cabinetry. Choose from a wide array of textured laminates – or even add a two-tone design to add personality to your garage design. Colored and patterned cabinets add approximately 7% vs. the plain, white cabinets you're always struggling to keep clean.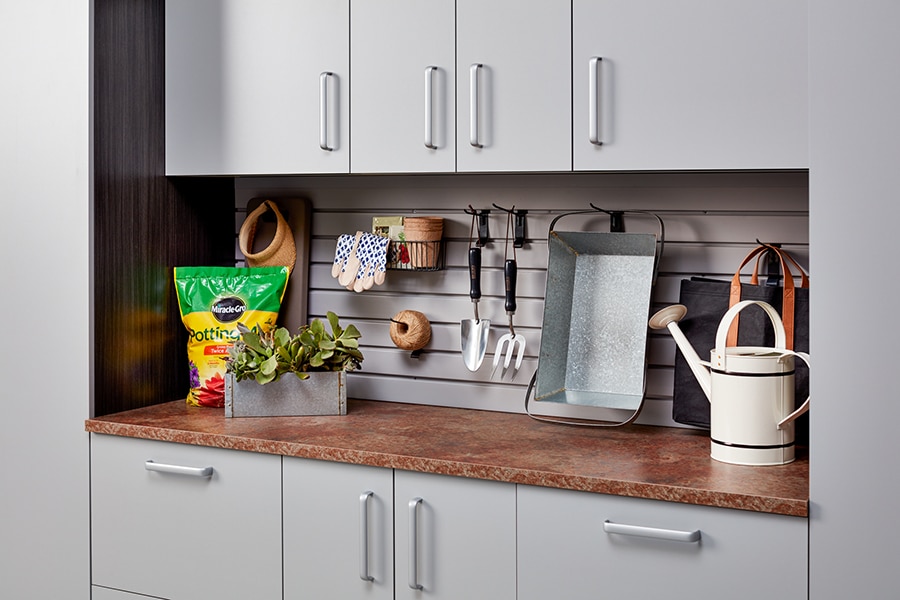 Factor #9– Having a garage cabinet with locks to protect kids and grandkids
Who wants a frantic trip to the E.R. after your little one gets 'accidently' spayed in the eye with bug spray by their brother? Who wants the horror of tending to a grandchild who has 'accepted the dare' of their older sibling and drank windshield washer fluid? This would be NO-ONE!
However, what if I told you, you could eliminate these worries by adding one $16 part on your garage cabinets? Well – it's true. Just add a lock on a garage cabinet. Then you can rest-assured this type of ER visit won't be YOUR ER visit.
Factor #10– Keeping your yard tools secured so they want fall and dent your new SUV
Are your rakes, shovels and brooms hanging on by a thread on uber-cheap wooden pegboard on your garage side walls? Are these tools just waiting to fall onto your new SUV?
While it certainly makes sense to use a pegboard or garage slatwall system to get yard tools off the ground, it can even be smarter (and neater) to stow them inside a cabinet. When you add slatwall and an 8" hook INSIDE a garage cabinet, you're only adding $110 to the cost of this 30" wide cabinet. Your garage will not only be safer but look more organized as well.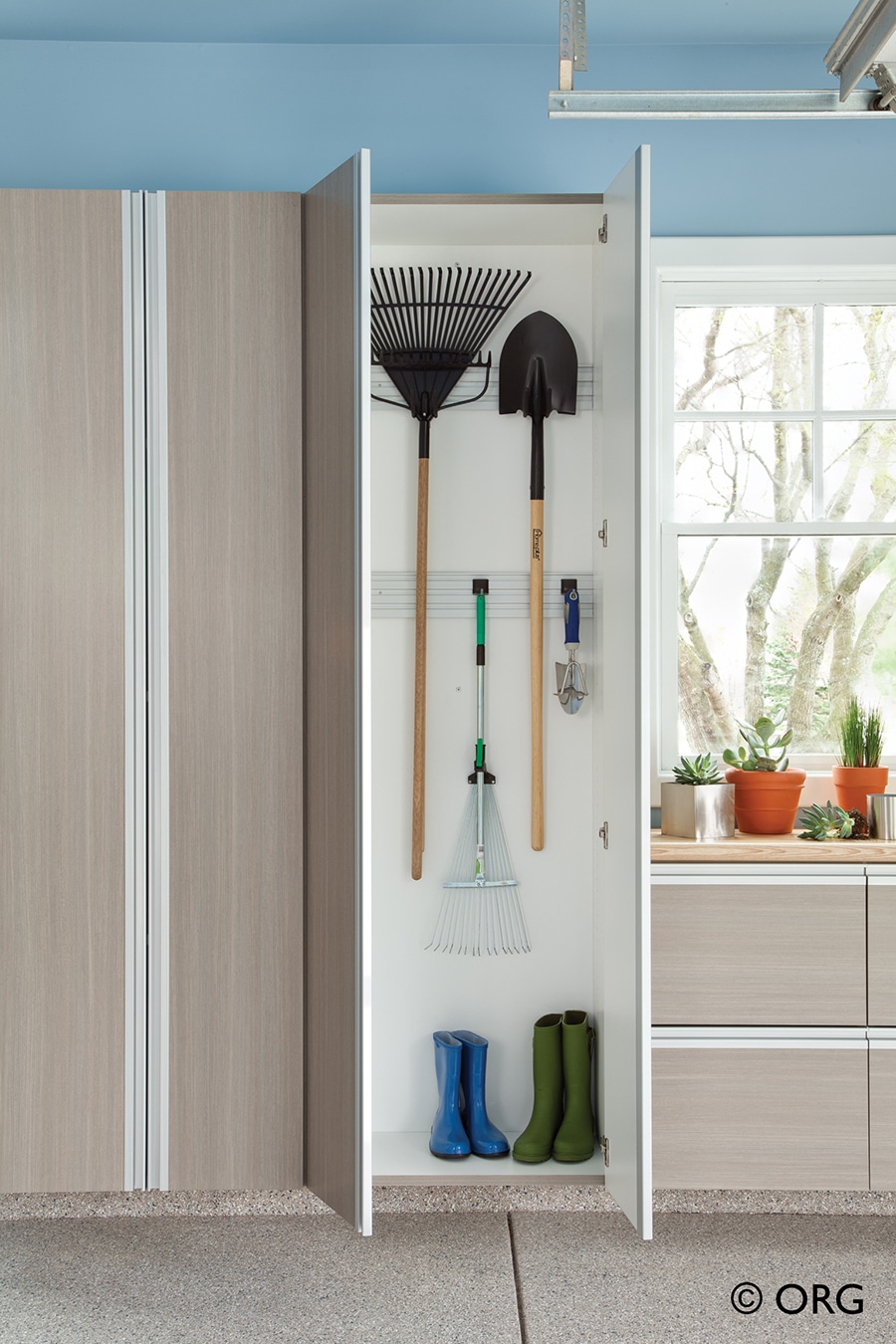 So, do you now have a clearer understanding about the cost of a professionally installed garage cabinet system? Do you need a price for installed garage cabinetry specifically designed for your space?
I know there's a lot of factors when deciding on the best garage system for your Columbus home (or for your home in any city across the United States for that matter). However, there's a smart way to make this process simpler– and to price out specifically what will fit – and work – in your garage.
This simpler approach is to get a Free 3D Garage Design. A garage designer (like someone from my Columbus Ohio team – and yes, that's a shameless plug) can help you determine not only what will fit into your space – but also what it'll cost.
If you're in Columbus Ohio and would like a professionally installed garage cabinet design call Innovate Home Org at 614-545-6888. And if you're not in Columbus, in the comments below tell me where you live, and I'll try to find a friend in our home organization industry association to help you.
Thanks for reading – Mike
###
If you'd like more information on garage, pantry, entryway or custom closet design follow me on LinkedIn @MikeFotiLinkedIn.
---
Tags: ball storage in garage cabinets, Columbus garage cabinetry design, Columbus garage cabinets, cost garage shelves, cost of installed garage cabinets, cost pivoting garage cabinets, cost sliding garage cabinets, decorative garage cabinets, depth garage cabinets, doors in garage cabinets, garage cabinet costs, garage cabinet thickness, garage shelving Columbus, height garage cabinets, installed garage cabinets, width garage cabinets, workbench for a garage cabinet