11 Little Known Facts about Murphy Wall Beds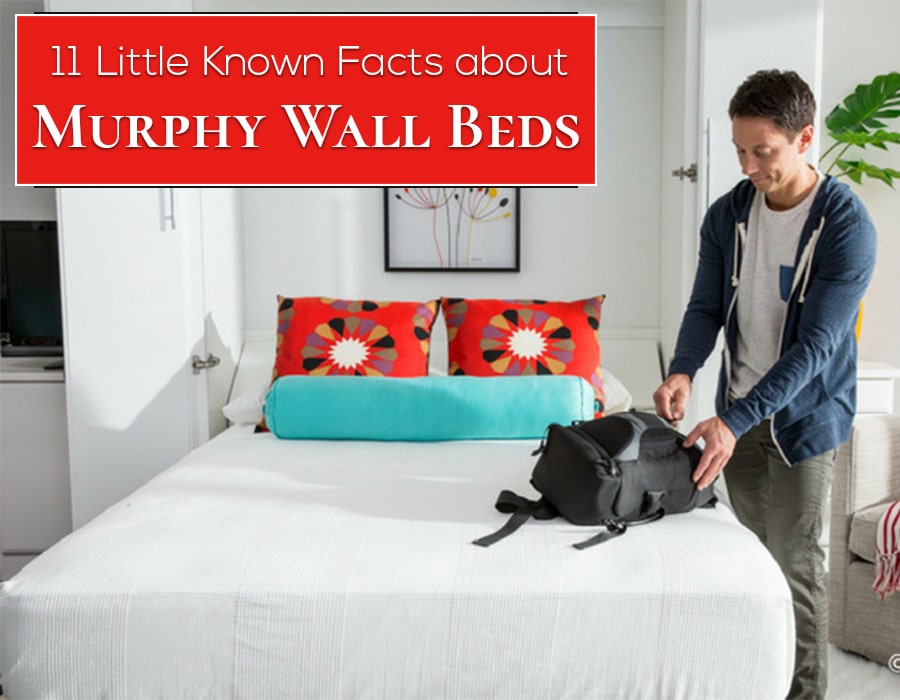 A bed that's propped up against the wall and folds down when in use…. now that's a weird concept!
If you've thought about buying a space-saving Murphy wall bed for a spare bedroom, downtown loft, or a lower-level remodel so you'd have a comfortable sleeping space for guests – but you find this product mysterious, or downright frightening, you're not alone.
Murphy beds can be as hard to figure out as ex-husbands or ex-wives (OK, maybe they're not THAT HARD to figure out IF you learn a few little know facts about them).
And making murphy beds simple to understand is exactly what this article is about. I want to help you eliminate the mystery, intrigue, and worries about buying a Murphy wall bed. Below you'll find 11 practical (yet also little-known) facts you can use to help find the right Murphy bed for your home, apartment, or condo.
Little known fact #1 – It's VERY UNLIKELY a Murphy Bed will kill you!
OK – this is an unbelievably morbid way to start out the little-known facts list, but you might have heard rumors Murphy beds can be dangerous. And I'll tell you it's true in 2005 two people died when trapped inside an improperly installed Murphy bed which closed on them. And in 1982 a drunk guy suffocated inside a closed Murphy bed. These situations – while rare – have happened. However, you're far less likely for this to occur to you than getting struck by lightning or winning the lottery.
However, if you want to get rid of any worries about Murphy beds –have them professionally installed. Since better quality Murphy beds have pistons or springs (which need to be adjusted properly), it can be a difficult (and dangerous) product to install if you're a rookie trying to DIY the job.
Little known fact #2 – You CAN get a Queen-sized Murphy wall bed in a room with short ceilings
So, you want to install a Queen-sized Murphy bed in a room with dormer ceilings or in your shorter-than-you'd like basement so you can entertain out-of-town parents or friends. However, you've been told because your ceiling is only 85" high a Queen-sized Murphy bed won't work.
Well – I'm here to tell you otherwise!
You see with a horizontal murphy bed (which does need more 'side-to-side' space but is shorter on the wall) – you can get a Queen-sized murphy bed in a room with ceilings which are only 69" or higher. Or if you choose a full size Murphy bed, you'll only need a 64" high ceiling.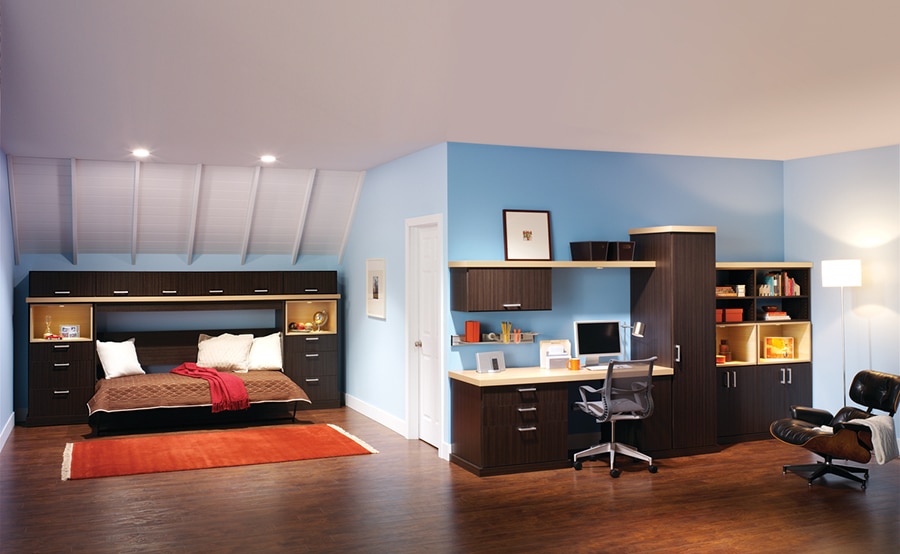 Little known fact #3 – You CAN choose a wide range of styles, patterns, and decorative door options so your Murphy bed works in a traditional, transitional, or contemporary home or loft
You've researched Murphy beds on the Internet but can't find the right color, size, and door style to fit your décor. It's infuriating.
Well, the good news is, your worries can be over. Imagine you could choose from 20 different patterns, 5 different door styles and over 50 different handles for your bed -AND can even add storage units on the side to boot. Yes – all these choices are possible…if you read on.
You see if you don't settle for an 'off-the-shelf' Murphy bed it's possible to expand your options. It's possible to enjoy more choices when you work with a company who specializes in Murphy beds, not an internet retailer who sells a few of them. The options are wider because the beds aren't 'built to stock,' they're 'built to order.'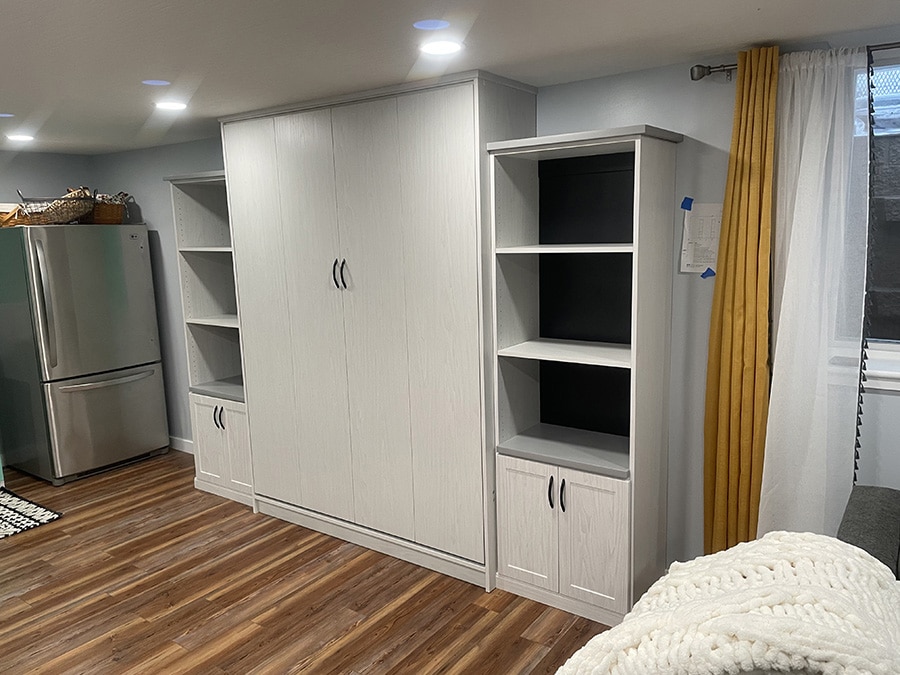 Little known fact #4 – Murphy beds DO NOT have to attach to the wall – however – if you want one which is simplest to operate, they should
It is possible to buy a freestanding Murphy bed which doesn't attach to the wall. It's kind of like buying a 'bed in a box.' It can be moved from place to place like furniture.
And while this may (initially) sound like a good idea, these 'beds in a box' use thinner memory foam mattresses and are harder to open than a piston-styled wall bed. While a freestanding Murphy bed is an option (especially if you're renting and will be moving shortly), you'll need to understand the sleeping experience is not the best – and you'll need to assemble it yourself (or attempt to find a contractor to do it for you).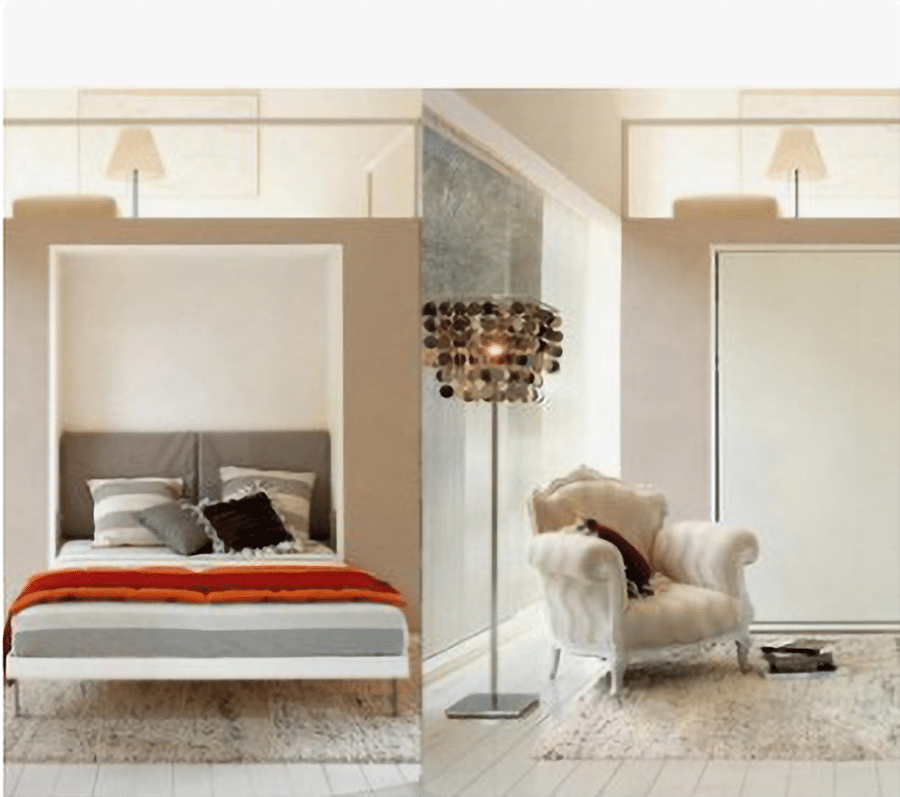 Image Source: www.visualhunt.com
Little known fact #5 – Choose a 'vertical murphy bed' if you want one which is simplest to make in the morning
One major advantage of a vertical murphy bed vs. a horizontal murphy bed is the head of the bed is connected to the wall. This means you can move around both sides to fix the bed. This feature also makes it simpler for a couple who is sleeping over to get out of the bed from either side (and not have to 'climb' over their sleeping mate who's still sawing logs).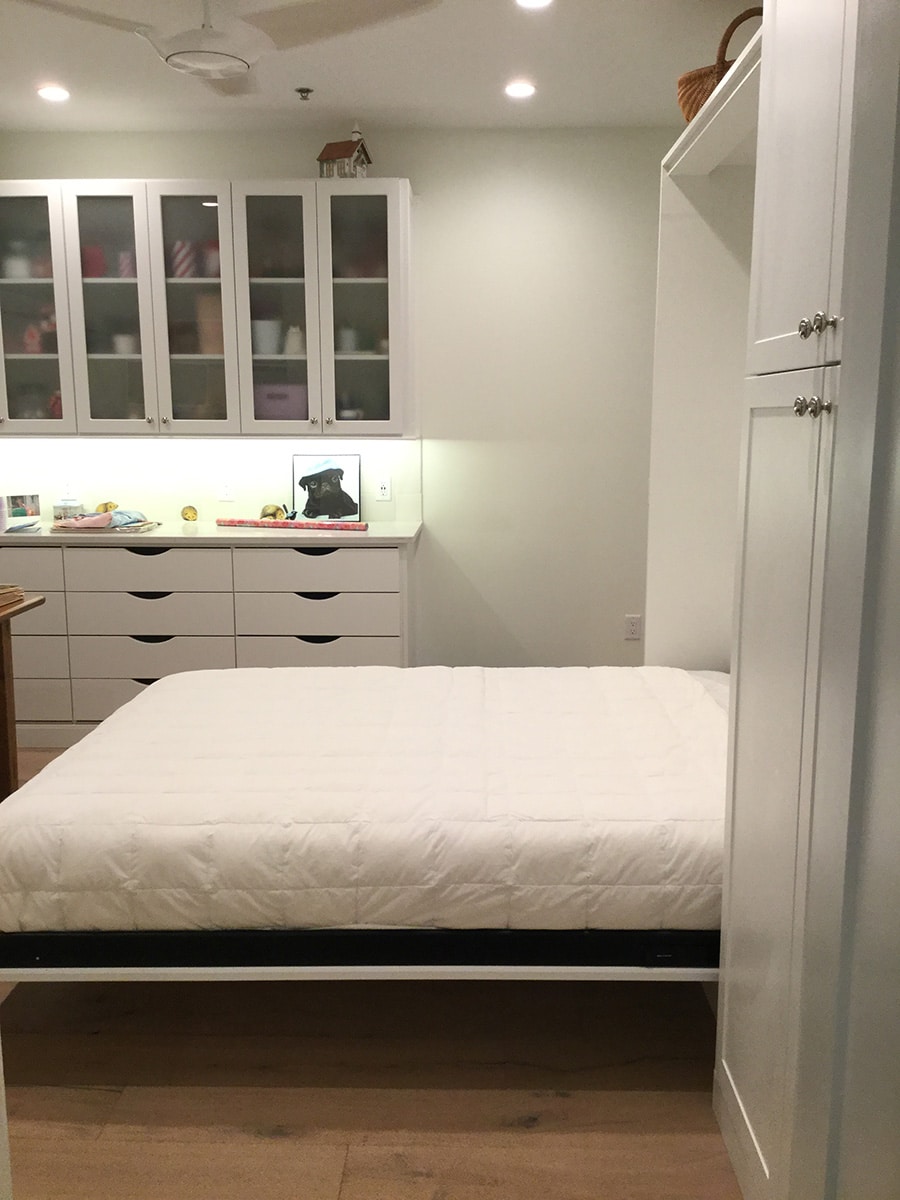 Little known fact #6 – Even Grandma can pull down a Murphy bed with a spring or piston system
OK – I know I may be accused of being sexist for saying 'Grandma' here vs. 'Grandpa' – but the point I'm making is Murphy wall beds are a breeze to pull down (even if you're not the second coming of Arnold Schwarzenegger) when they have properly designed (and properly installed) hardware.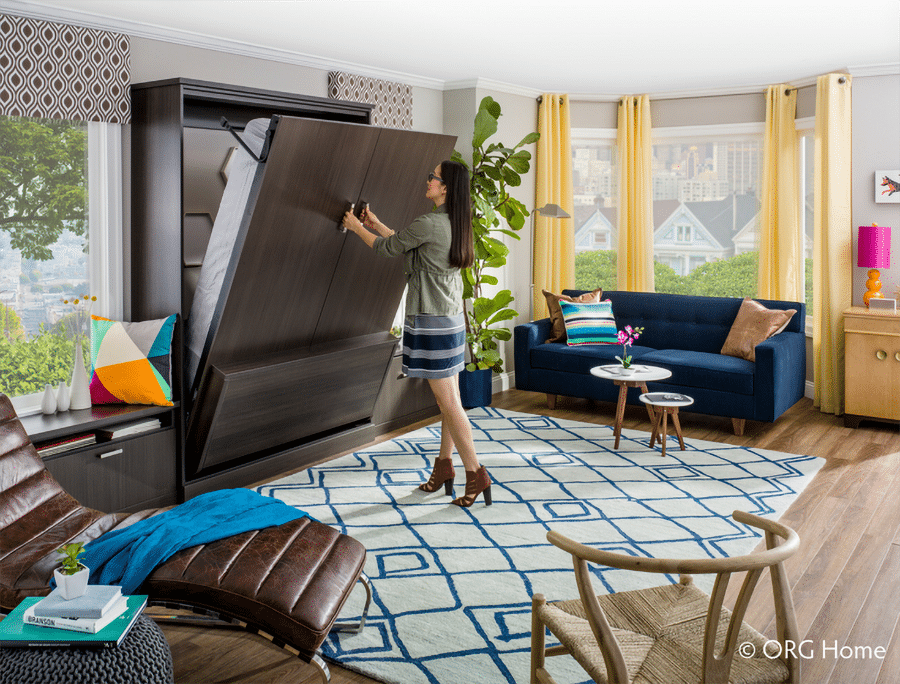 For the simplest bed to operate (and one with the most longevity) – ask your supplier or Murphy bed installer for a piston-based system. Piston units are used (and abused if your kids are playing or sleeping on them in a Disney property) in hotels where durability is a must because the beds are used every night (even when they're used by your not-so-perfect kids or grandkids).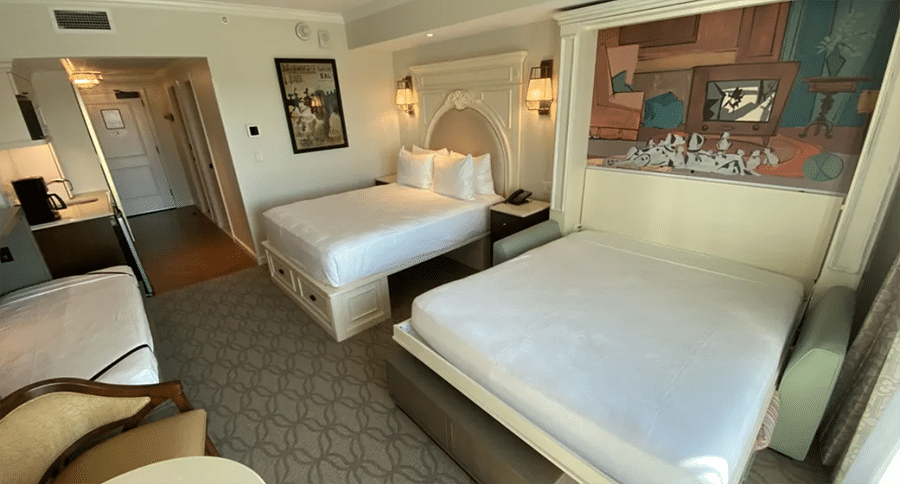 Little known fact #7 – A smart thing about Murphy beds is you can add customized storage or hutches around the bed
So, you find the perfect Murphy wall bed. Then you 'try' to pair it up with bookshelves or nightstands and CAN NOT get anything to match! Boy, is this frustrating. However, here's the good news. With custom-designed Murphy bed systems you can get 'side units' for office supplies, kid's games or books AND they'll be designed to coordinate with the bed.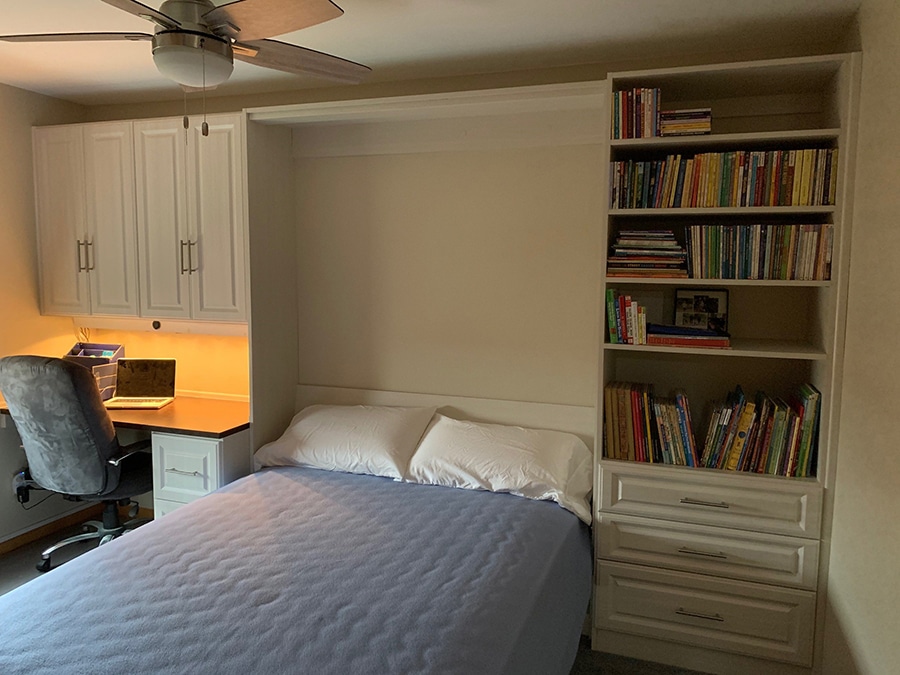 Little known fact #8 – Pillows can't be stored inside the Murphy bed. You'll need a place for them.
While a Murphy bed is the ultimate way to create – what I like to call – a 'slash room' (a home office/guest bedroom or a craft room/guest bedroom or an exercise meditation/guest bedroom), there's still drawbacks to the traditional Murphy bed you must keep in mind.
And one drawback is you can't fold up the bed with pillows inside. And now you may be wondering where the heck (or you may say a slightly less 'flowery' word than that) am I going to store my pillows?
Well – a simple way to lick this problem (hopefully not literally) is to buy a Murphy bed with a 'hidden pillow box.' This is a fancy name for a slot in the back which is designed for pillow storage. However, keep in mind, this pillow box adds 3" depth to how far the bed extends from the wall.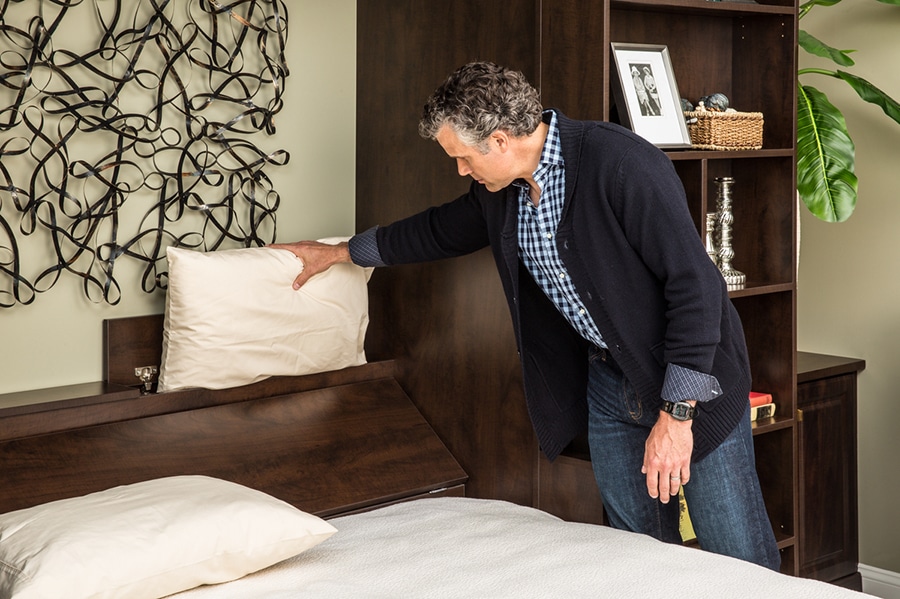 Little known fact #9 – A Murphy bed CAN ALSO BE a work at home station
If this pandemic has taught you one valuable lesson (besides the fact, it's amazing how many people can vehemently disagree about whether it's best to get vaccinated or not) it's that you CAN NOT have enough places in your home or loft to work (or for the kids to …hopefully…get their homework done).
You need more spaces which ARE NOT the kitchen table to lead Zoom meetings or get your work completed. And when you select a Murphy desk bed you can have a comfortable sleeping experience for guests AND a place to work at home in a setting you'll love. And the bonus is you won't find your important papers stuck to the maple syrup the kids or grandkids 'left behind' from their morning pancakes!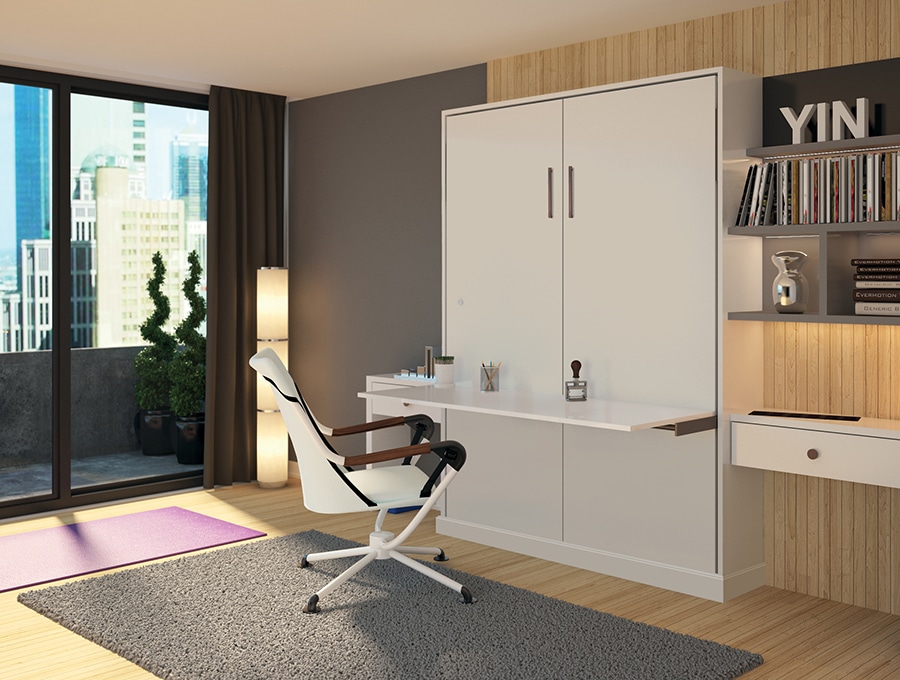 Little known fact #10 – It's hard to find a King-Sized Murphy bed
Maybe 2 times a year my Columbus home organization business (which designs and installs Murphy beds and integrated storage systems in Central Ohio) gets a call from someone wanting a King Murphy bed. Unfortunately – we give them the same answer…which is……
It ain't happenin.'
And the reason it's hard to find a King murphy bed (even from companies like mine who specialize in them) is…
Most people who want Murphy beds are putting them in small rooms which won't fit a King-sized bed, therefore manufacturers don't find it profitable to make them.
Murphy bed hardware for a King-sized bed is cumbersome (and expensive) given the amount of weight of a king mattress.
So – if you're looking for a King murphy bed, get prepared for a long journey to find one AND your options (if you do find one) will be limited.
Little known fact #11 – The Murphy bed was patented by a guy 110 years ago who wanted to entertain a 'babe!'
OK – I know I went very 'anti-PC' with this fact about a 'guy entertaining a babe'– but what fun is life if you can't laugh a little?
But in all seriousness – people wonder where the name Murphy bed came from. And it was named after William Murphy who 110 years ago got the patent for a bed which would fold down from the wall. You see he invented this fold up bed because he only had a one room apartment and (in those days) it wasn't proper to entertain a woman in a room with a bed.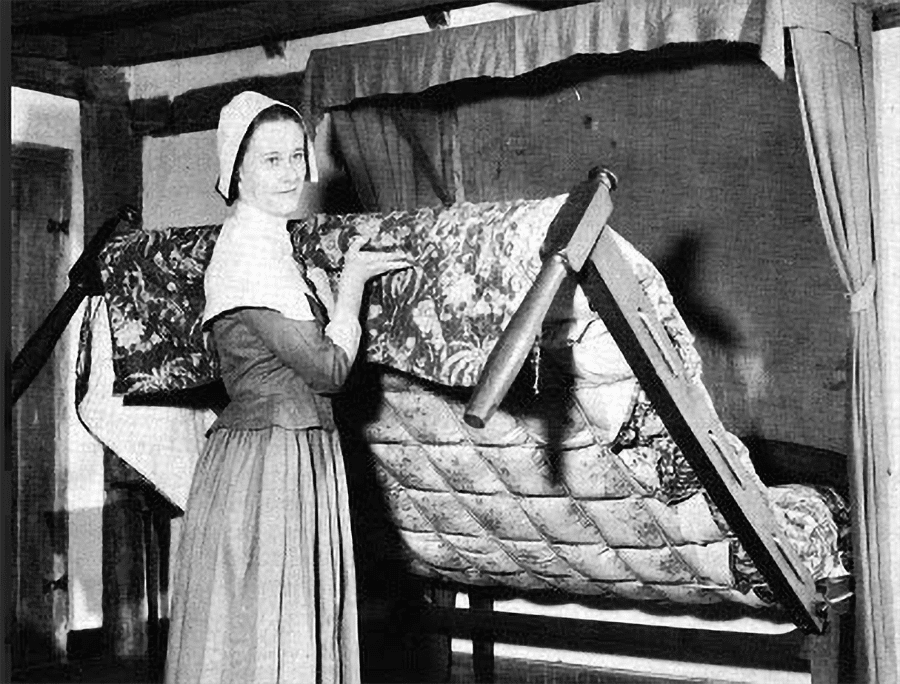 Image Source: www.smartspaces.com
So – being a 'smart guy,' William can up with a way to fold the bed away – so he could hang with 'the babe.' OK – very un 'P.C' of me – but you get the point!
So, did these 11 little known facts help you learn more about Murphy beds? Do you still need help finding the best wall bed?
While my goal in this article was to teach you about Murphy wall beds – I hope you don't mind if I tried to have a 'little fun' – with my wacky humor – in the process.
As a guy whose been in the home storage and bedding systems biz for a while, I know one thing for sure. There's more to choosing a Murphy wall bed than meets the eye. And if you've still got a question or two (or three) and would like a Free 3D Murphy Bed design (and live in Columbus Ohio) me and my team would be honored to assist.
Call us at 614-545-6888 or click for a Free 3D Murphy bed design. And if you're not in Columbus, in the comments below tell me where you live, and I'll do my best to find a friend in the home storage and bedding industry who can help.
Thanks for reading!
Mike
If you'd like more information on home organization, Murphy beds, or interior design follow me on LinkedIn @MikeFotiLinkedIn.
---
Tags: can a Murphy bed kill me, choices of murphy beds, Columbus downtown Murphy bed, Columbus murphy desk bed, Columbus wall bed, Downtown Columbus murphy bed, easiest to fix murphy bed, freestanding murphy bed, Hilliard murphy bed, horizontal Murphy bed, hutches around murphy beds, is a vertical or horizontal wall bed better, king sized murphy bed, Murphy bed, Murphy bed Columbus, murphy bed deaths, murphy bed for short ceilings, Murphy bed styles, Murphy desk bed, odd rooms for murphy beds, Pataskala murphy bed, Pickerington murphy bed, pillow storage in murphy bed, pull down bed, pull down murphy bed, vertical Murphy bed, vertical vs. horizontal wall beds, wall bed