10 Practical Questions to Ask If You're Remodeling Your Master Bathroom and Closet Together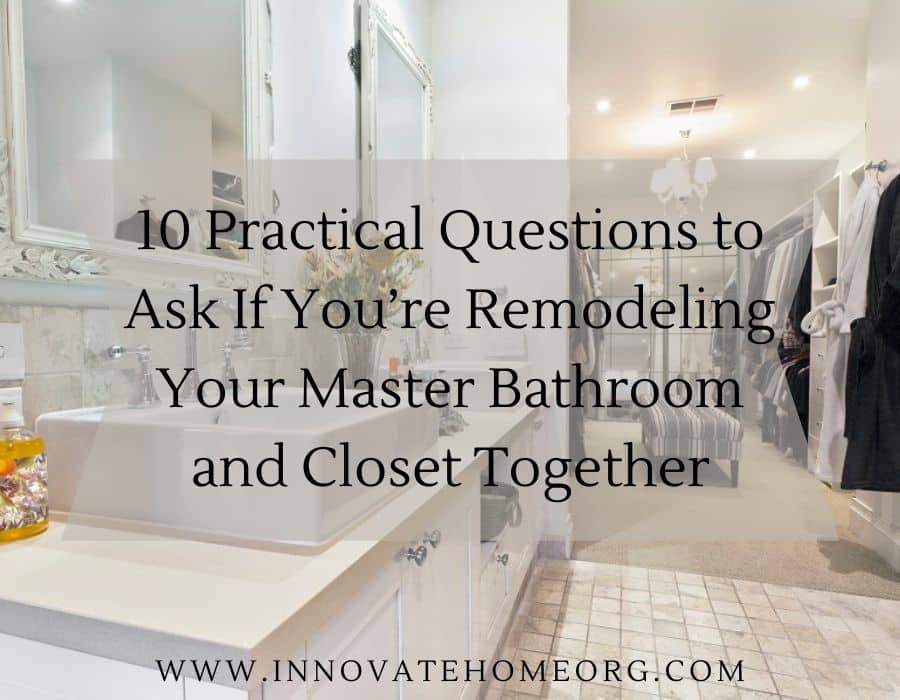 Master bathrooms and master closets are joined at the hip. You could say they're 'kissing cousins' (and yes, that's a little creepy, I know).
This is because in many home plans the master bathroom and master closet are right next to each other. And if these rooms in your home haven't been remodeled in 10 plus years it's a fair guess, they're out of style and a pain in the rear to use.
And if you've decided to remodel your closet and bathroom because they are less than optimal (OK – if we're being real, they're downright nasty), you may be asking these questions:
Question #1) How can I get these spaces to look nice together?
Question #2) How can I have the right space in each room, and create more storage?
Question #3) How can I add style without tapping into the kid's (or grandkid's) college savings to fund these renovations?
If these questions are keeping you up at night, you've come to the right article. And while you'll undoubtedly find article after article about bathroom remodeling and custom closet design on the Internet, you'll be hard-pressed to find an article which focuses on how you make both spaces work well together – which is what you need to do if you're remodeling them at the same time.
Below you'll find 10 practical questions to ask your architect, general contractor, interior designer and/or closet designer if you're looking for a coordinated, cost-effective, and cool closet and bathroom design you'll LOVE using every day. And after all – it's impossible to ignore your master closet or master bathroom any day of the week – unless you're going without changing your clothes or showering – like your stinky teenage son.
Let's check out 10 questions for an improved (and well-coordinated) master bathroom and master closet remodel.
Question #1) Can your architect, general contractor, interior designer, or closet designer provide in-depth advice on bathrooms AND closets?
I'm going to tell you in most cases this IS a big problem. Most high quality bathroom remodelers don't know squat about closets. In addition, most high quality closet designers don't know squat about bath remodels.
So, I'm going to let you in on an 'Ancient Chinese Secret' with a formula to get the best of both worlds.
First, for the bathroom remodel look for companies who focus on the bathroom. They'll be experienced in showers, tubs, flooring, cabinetry, and lighting to bring together a fun and functional design.
Then, look for an experienced closet designer (not a general interior designer). They'll know how to use the 3 'primary' tools of the closet trade (drawers, shelves and hanging) to grow your storage. In addition, they'll also know how to make it stylish and adjustable at the same time.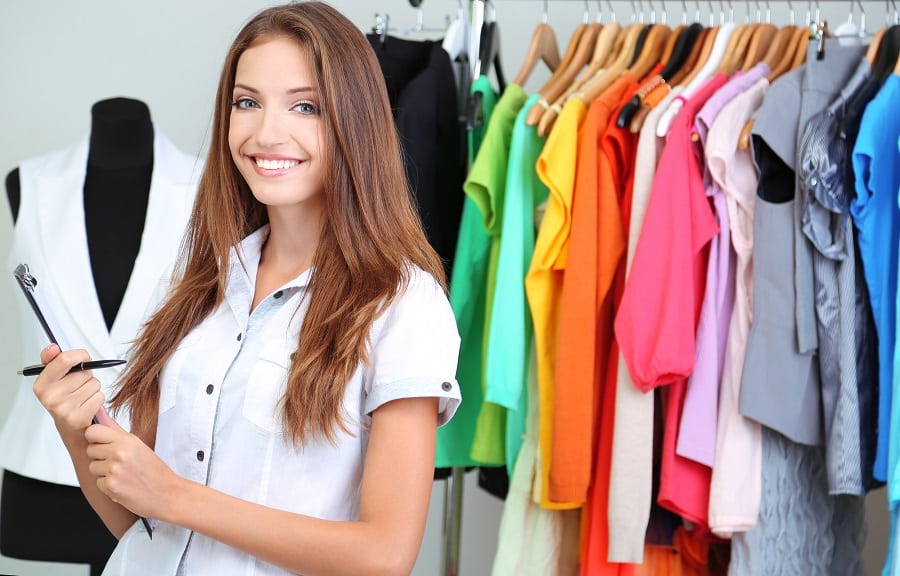 Communicate to your bathroom contractor and closet designer the style and finishes you like. Ask them to collaborate with each other on their designs (or hire an architect or interior designer who can coordinate the look across the 2 rooms).
Question #2) Does the mix of space between the bathroom and closet make sense?
Maybe you've got a 'postage-stamp' closet with clothes bulging (literally) at the seams, however your master bathroom has tons of wasted space with a big 'ol step in Jacuzzi tub you haven't used in years. Or you've got a big closet with an elbow-banging bathroom. Or worst of all, both spaces are too small, and you need to 'borrow' room from an adjoining bedroom, attic, or hallway.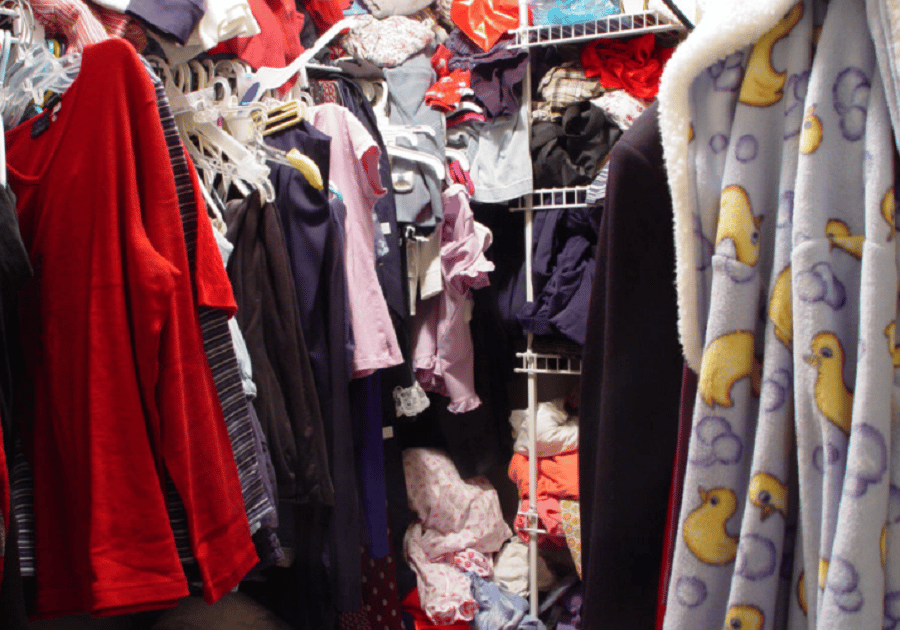 Look at the mix of space between the bathroom and closet today. Properly designed, will their sizes work for you? Should you move a wall(s) to make both work better? And if so – is it a load-bearing wall? Could you add more bathroom storage for medications, supplies and linens with a cabinet in the closet without moving walls? Could you add a small vanity to do your make up in the closet or bathroom?
Think about big-picture space allocations before thinking through the design within each room. Where do you want or need more space? Where can you get by with less space?

Question #3) Does your storage work?
Is your bathroom vanity a 'mosh-pit' of soaps, shampoos, hair products and linens? Do you need to 'dig through' them to 'attempt' to find what you need? Does sifting through the vanity leave you mad as "H-E-Double-Hockey Sticks" (as you used to say when the kids were younger).
Is your closet an 'unmitigated' (as opposed to a mitigated) DISASTER? Since you only have a single closet rod you've got dead space at the top and it's hard to see your shoes scattered on the floor below your hanging clothes. And while you've 'attempted' to fix these problems buying cheap dollar store organizers, it's been like putting a bandage on a gushing wound.
Most storage systems in bathrooms and closets ARE NOT a sight to behold.
Perhaps you could value from a bathroom vanity with pull out drawers so you can actually see what you've got lurking in the back.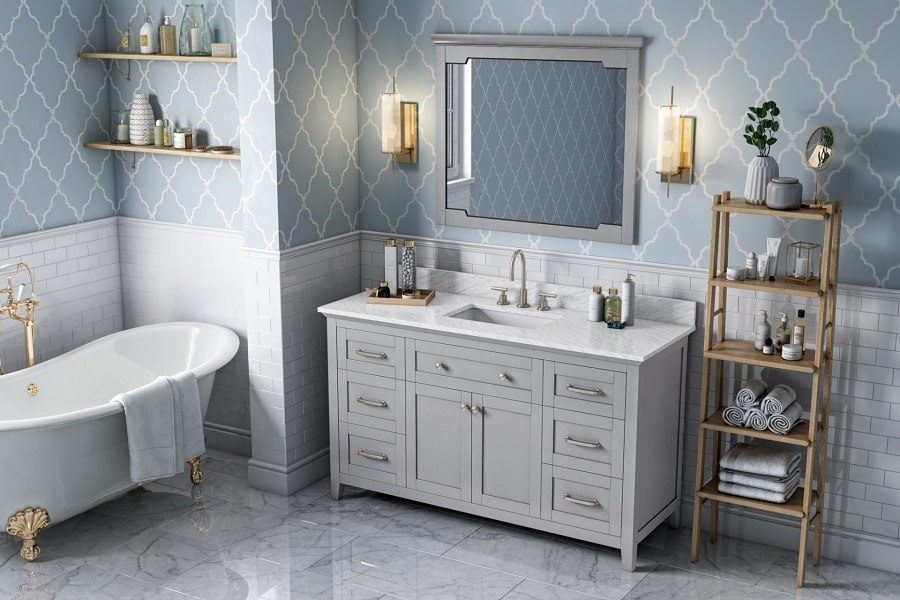 Or could you gain space in your closet with double hanging sections (where one closet rods are above another) or add drawers since you learned you can fit 2 to 3 times more things in a drawer than hanging.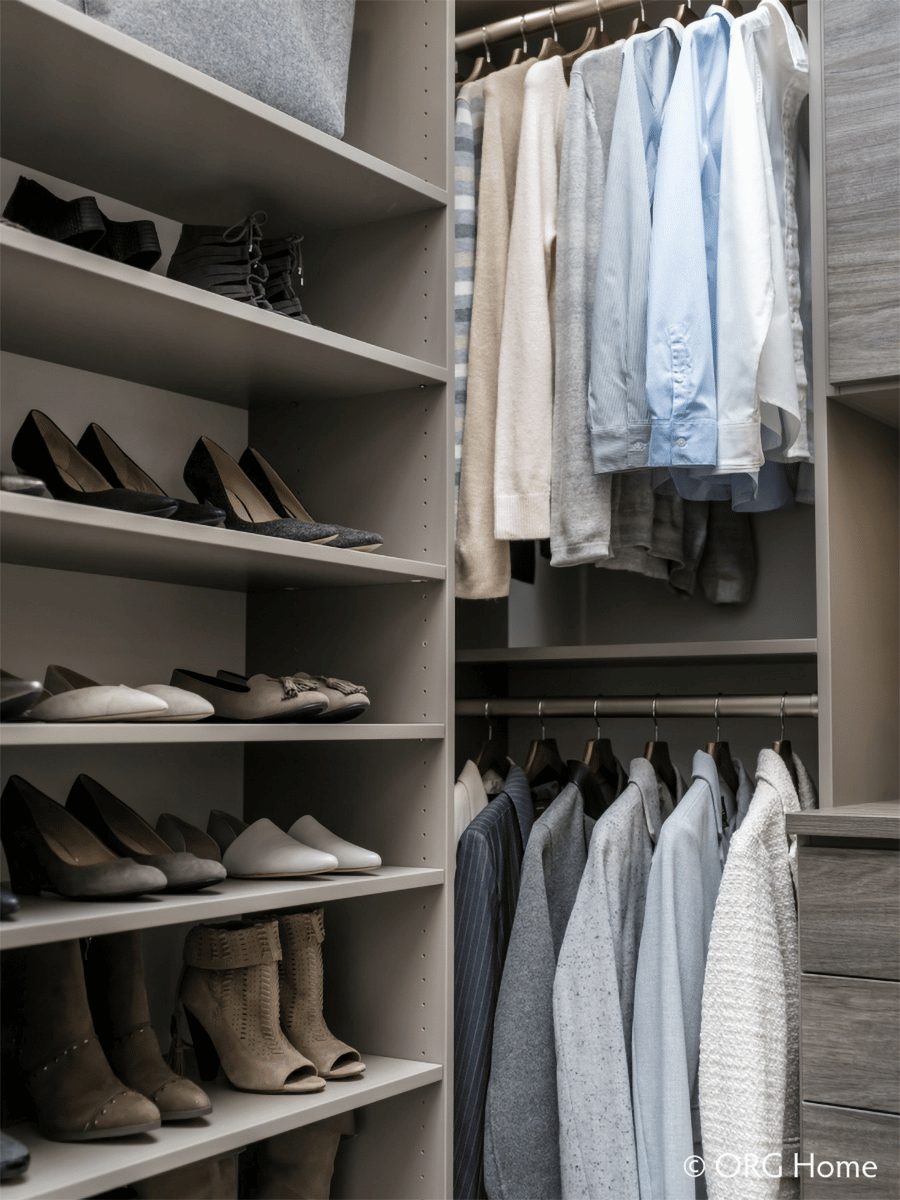 Your bathroom and closets need adjustable and flexible storage to end your storage nightmare. And the time to fix these problems is when you're remodeling.
Question #4) Will the materials recommended by my contractors, designers or architects be simple to maintain?
I'll let you in on a dirty little secret. It's fun for a contractor, designer, or architect to recommend stylish materials for you, irrespective of whether they're a pain to clean. They love how these materials look after the job is completed and they take pictures to build their portfolio of completed jobs they share with prospective clients.
However, here's what – unfortunately – many of these designers and contractors ARE NOT considering. It's YOU who has to maintain these materials – day after day, week after week, year after year.
And while it can look cool to install a fancy tile shower, your contractors and designers ARE NOT signing up to come back to help you clean dirty, moldy grout joints. This is where a product like laminate shower wall panels (which look like the real tile and stone) make sense. Or this is where a well-built hardwood vanity which stands up to bathroom moisture (unlike cheap MDF systems) makes sense.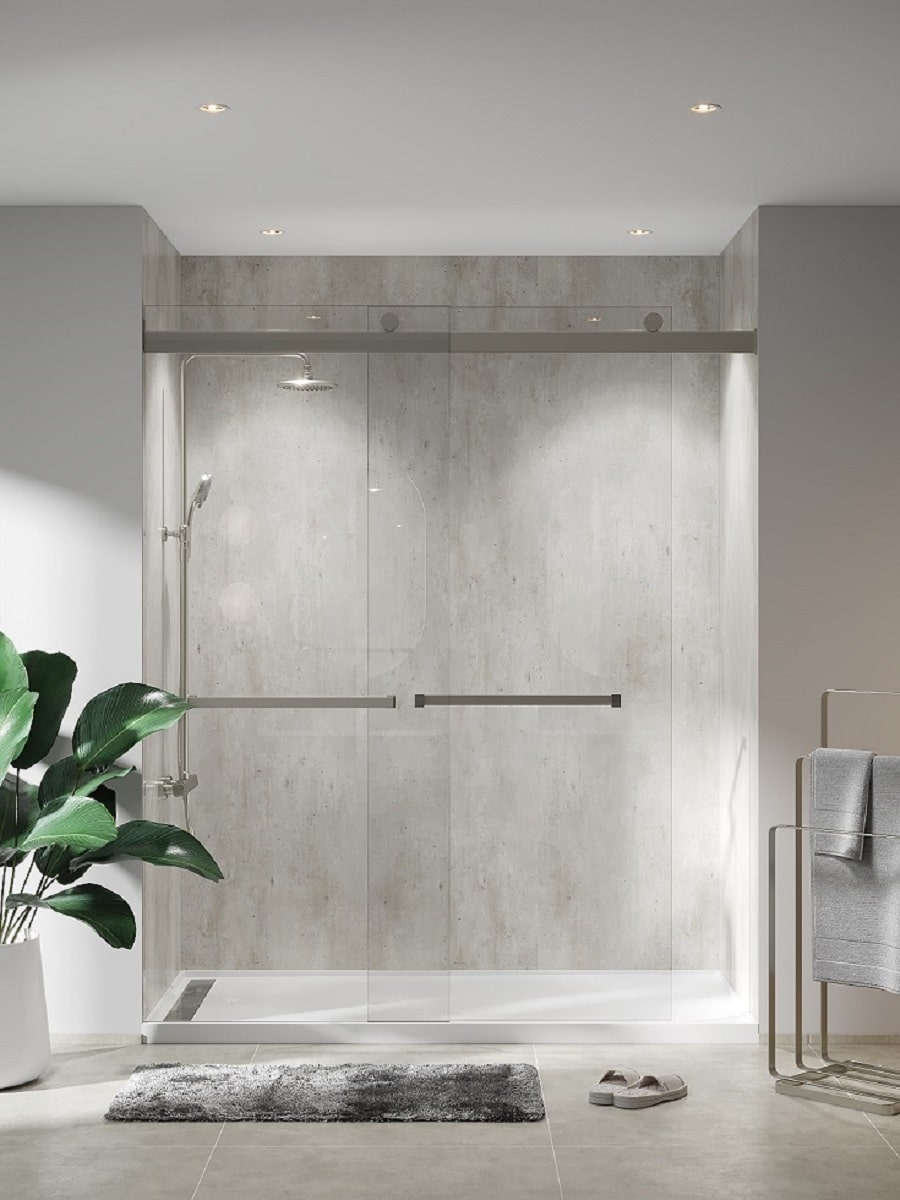 Or when it comes to a closet, your designer may recommend a painted MDF (multi-density fiberboard) system because that's what their trim carpenter likes to put in. However, they won't be the one repainting chipped shelves after they're abused by your spouse. This is where an adjustable laminate closet – which doesn't require repainting – comes in handy.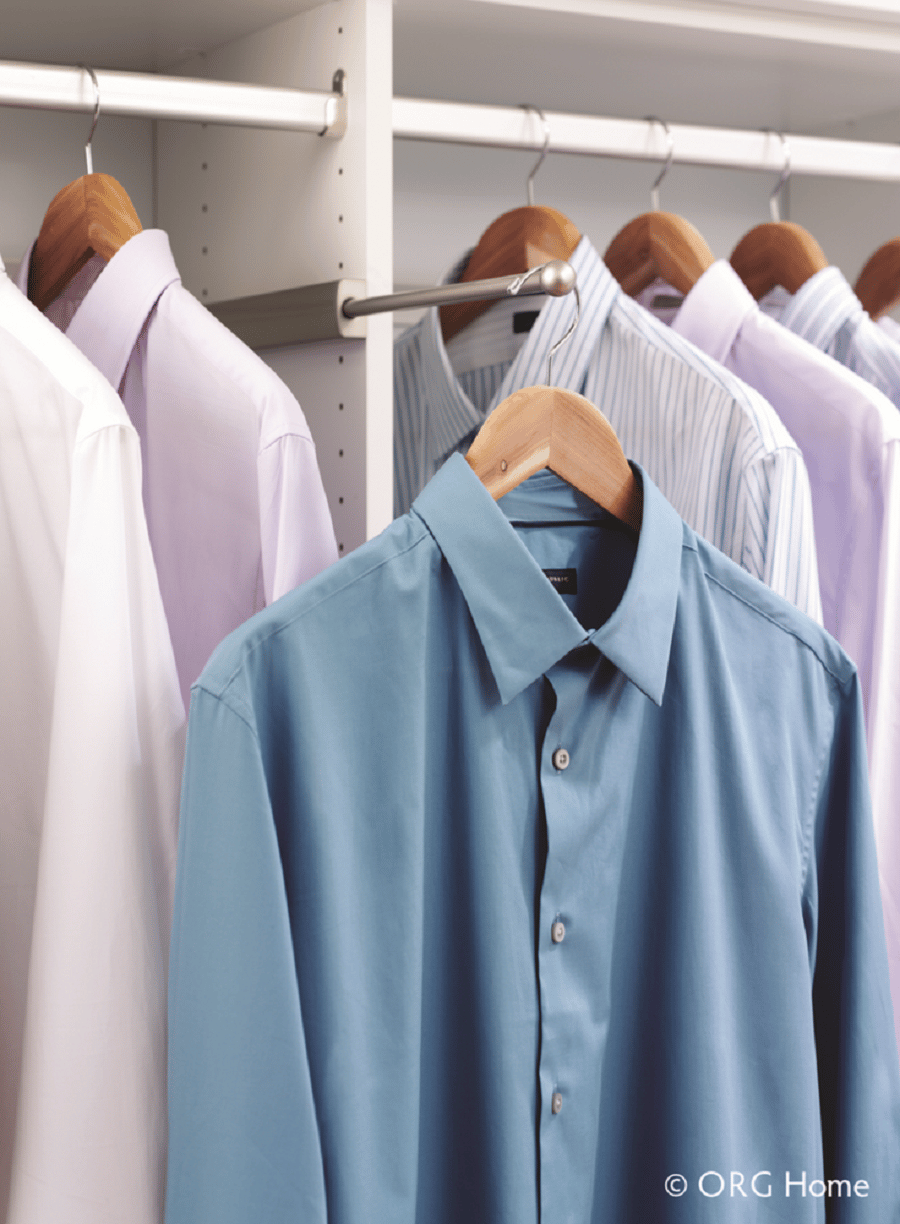 Make sure – before you sign on the bottom line for this remodel – you know how easy the materials recommended will be to maintain.

Question #5) How can you add more function? What are the costs and constraints with your ideas?
You'd love to have a washer and dryer inside your closet to make doing laundry uber-convenient. Or you'd like to add your Peloton bike inside your larger closet so you can stop working out in your musty old basement.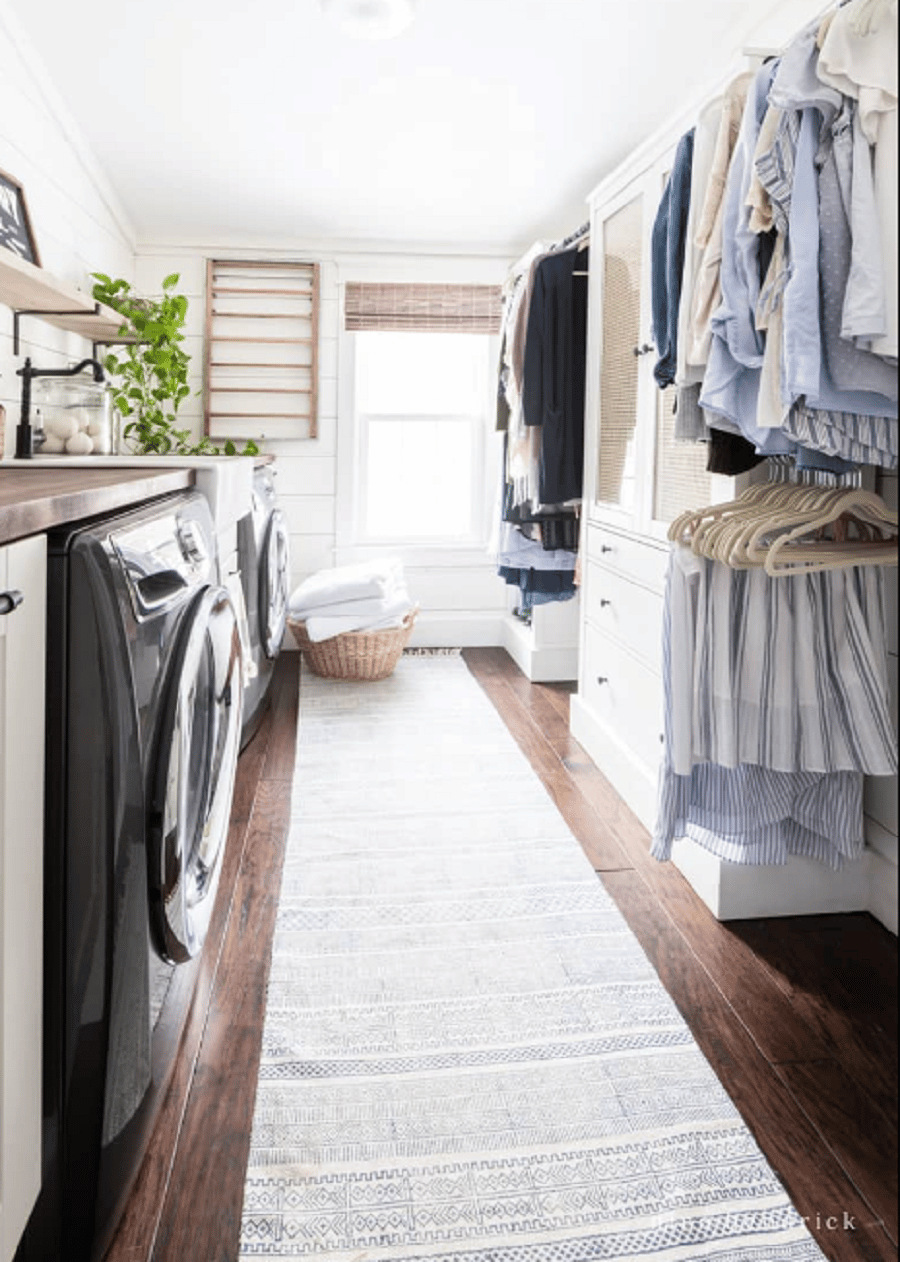 Image Source: Nina Hendrick
Before you get too excited about adding more function into this combined remodel job, have a conversation (and get an estimate) of what it'll require to make this happen. Some 'great ideas' don't look as great after you find out the practical cost ramifications of your decisions. Know your costs BEFORE you open your checkbook or share your Venmo account.
Question #6) What products can you use to turn your closet and bathroom into a WOW experience?
So, you want a master bathroom and closet which go beyond function and create the private spa or wardrobe you've always desired. And now you finally have money to afford an inspired design. But you're not sure how to make an impact, yet not have your project get too crazy expensive. If so – here's 3 ideas to consider:
Idea #1 The Freestanding bathtub – Nothing commands attention when entering a bathroom than a freestanding bathtub. And even if you don't use the tub a lot, it adds style points you'll eat up every day.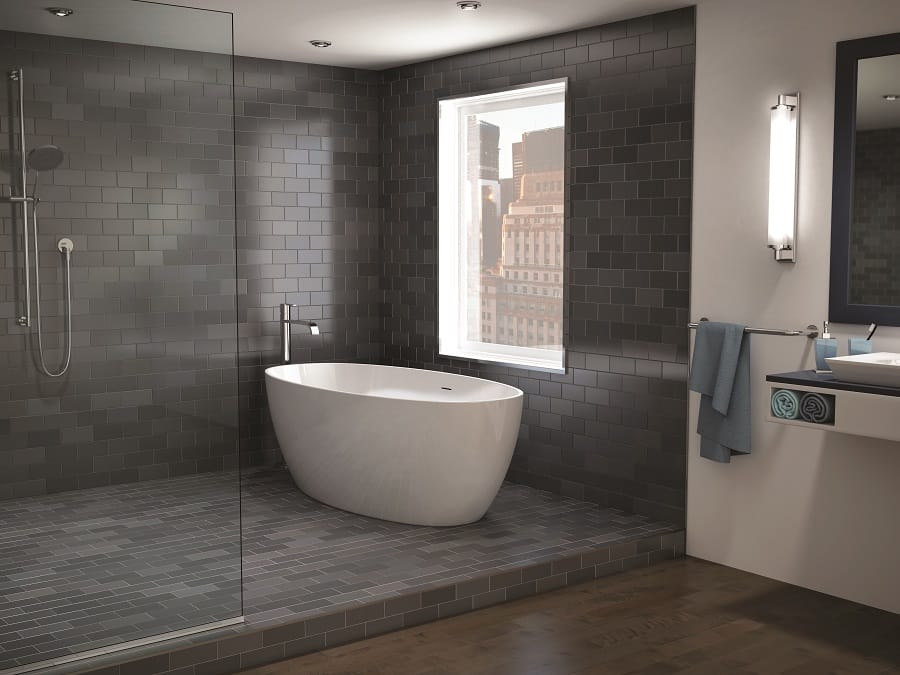 Idea #2 – Add closet drawers on your 'feature wall' – Most closets look ugly because you see well-worn casual clothes when walking in. However, a smart strategy to add wow to your closet in including pull-out doors and drawers when you come in vs. your everyday hanging clothes. They'll not only add style – but you can also store more in drawers than on hangers.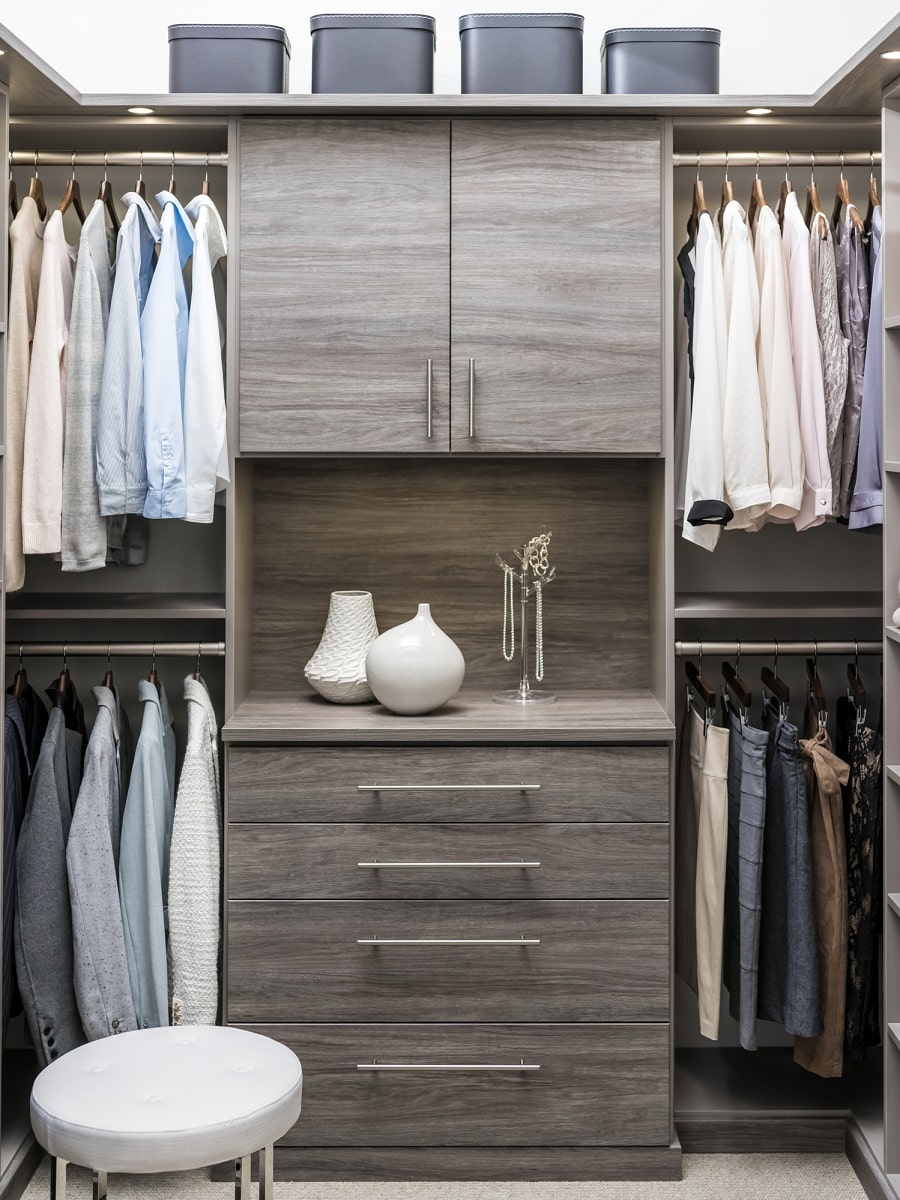 Idea #3 – Add light – Nothing makes a bathroom or closet feel closed in (and uninviting) than a dark space. Add a skylight, transom, or full window (above your soaking tub for example) to make the space feel lighter and brighter.

Question #7) Will these spaces 'live well' for the long run, even if a family member's mobility isn't the best?
You can create the greatest closet or bathroom known to man-and-woman-kind, only to end up with a useless investment a short time later if the mobility of someone using the space goes in the wrong direction.
This is why you need to look at bathroom products like one level wet room bathroom floors, low profile shower pans and low maintenance shower walls to make sure your bathroom will live well no matter how long you stay in the home.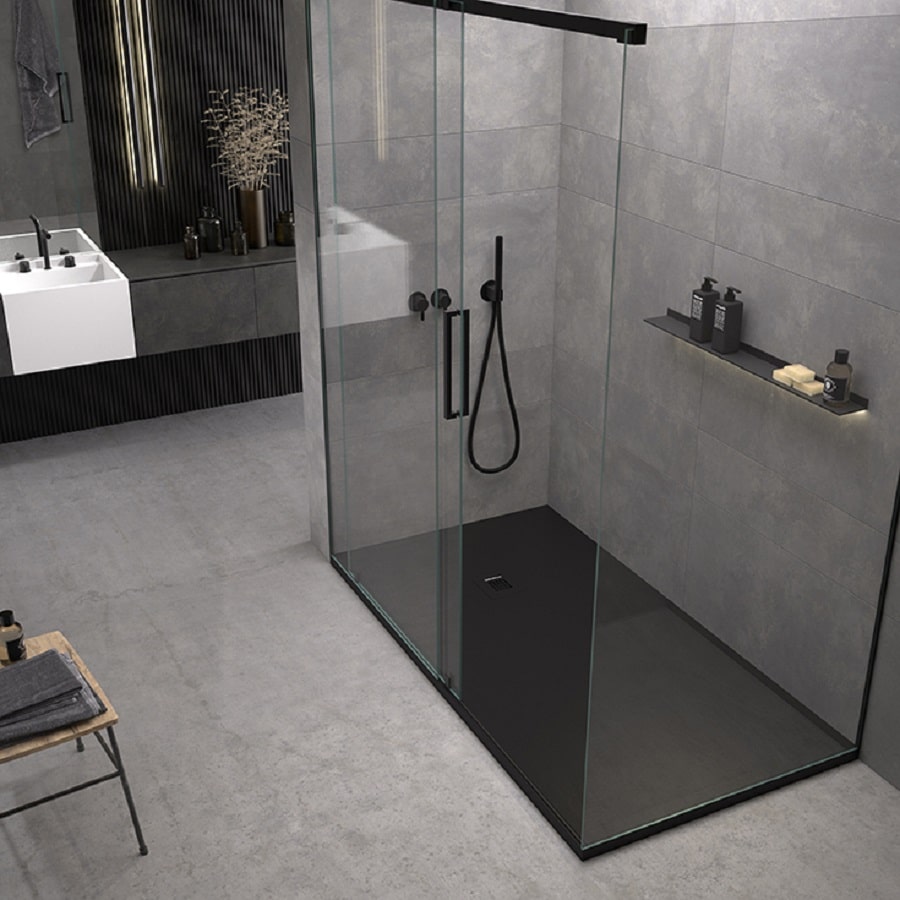 Then you need to understand the benefits (and design considerations) of creating a universal design closet (this would be one which will work even if mobility isn't the greatest). Learn more by reading 8 Tips for a Universal Design Closet.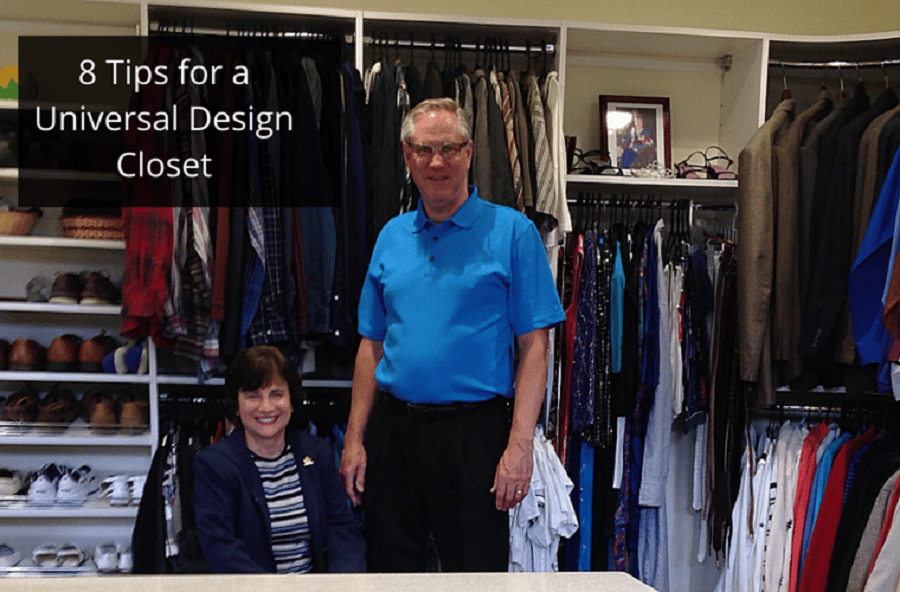 Question #8) How can you improve lighting, yet maintain privacy in your master bathroom and closet?
Let's face it – master bathrooms and master closets are likely the only places in your home you're parading around in your 'birthday suit.' And unless you have a Matthew McConaughey or Beyonce body, you desperately want to keep these private spaces, well…. private. However, you also don't want them to be dark and dingy. But how can you accomplish both objectives? Here's a few ideas:
Idea #1 – Add a transom window – These horizontal windows are placed near the ceiling to bring in natural light, without a clear view at 'eye-level.'
Idea #2 – Use a high privacy glass block bathroom window – Even if you have a large soaking tub, a frosted or high privacy glass block window can let light stream in (without curtains) and without giving the neighbors a 'show.'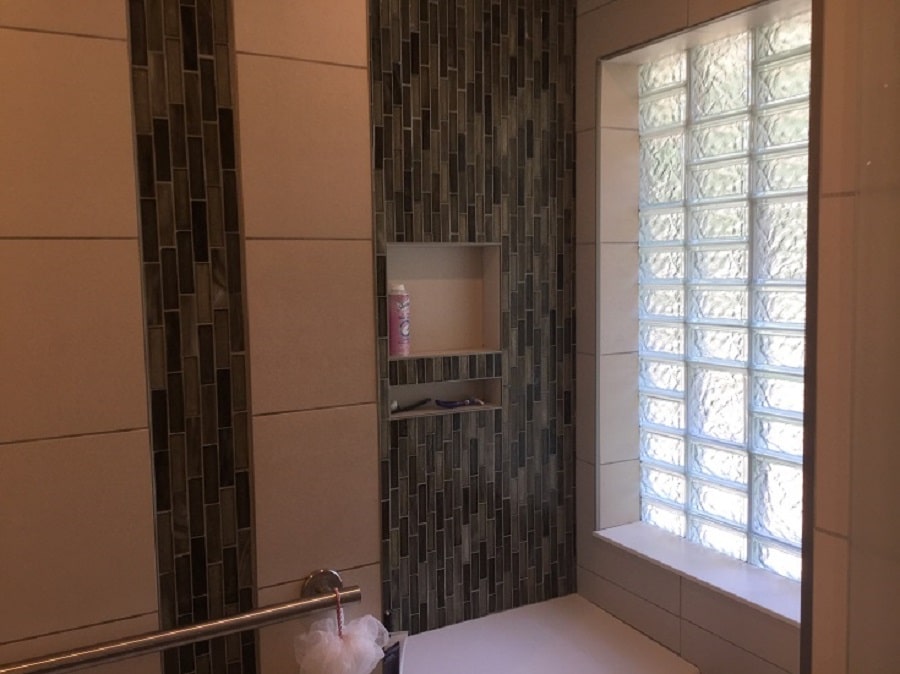 Idea #3 – Add lighting inside closet sections. With lighting built into the closet sections, you'll be able to see your clothes even if you have no windows.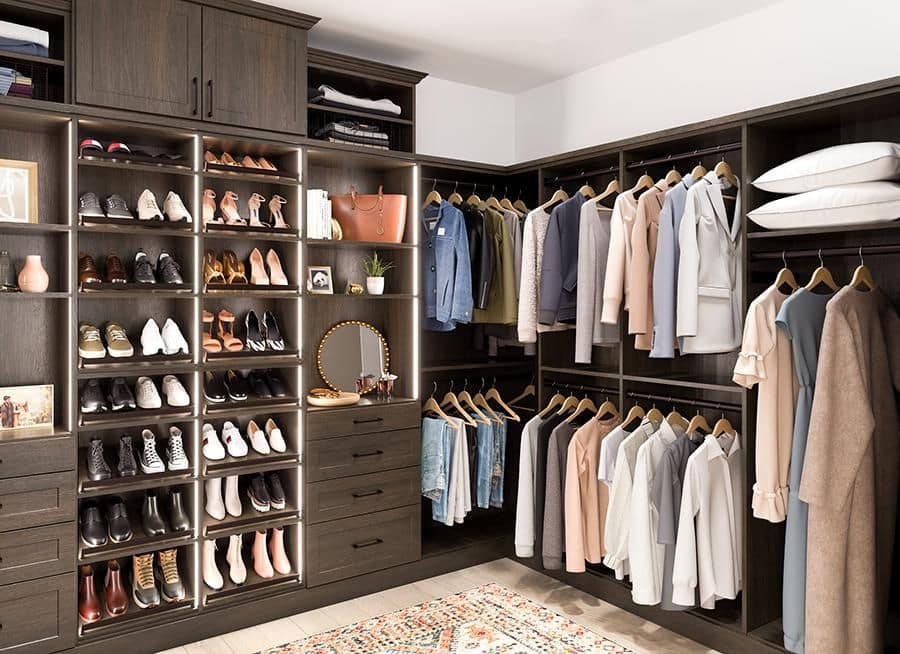 Question #9) Should you focus on resale, or your individual needs, in a closet and bathroom design?
My knee-jerk reaction is I'd tell you to focus on you first (because if you're spending money, you should enjoy the spaces you're investing in). However, I can understand (especially if you plan to move shortly) why resale is on your mind.
But – I'll also argue – if you plan wisely, you can achieve both objectives.
For example, in the closet if you buy an adjustable closet system (with increment holes on the side which allows someone else to change from long hanging to double hanging or shelving, for example) you can redesign an existing closet without removing any of the side support sections.
In addition, for a bathroom if you use a Transitionalist style (vs. a Contemporary or Traditional style) you can 'go down the middle' and create a look which works for the broadest range of people – and makes reselling simpler.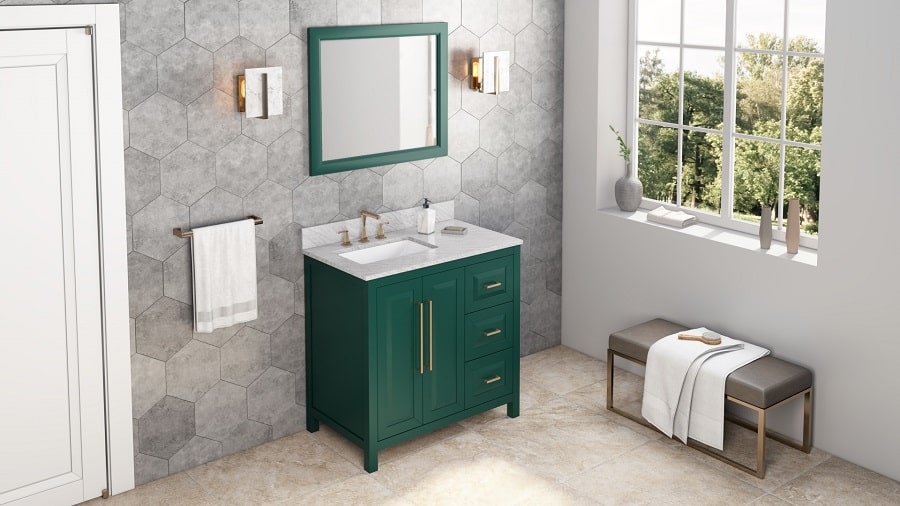 It can be possible to have your cake and eat it to – if you design thoughtfully for yourself and others who may buy your home.
Question #10) How can my closet and bathroom designs look more cohesive?
Since you can usually see into the closet as you're looking at the bathroom, it's smart to ensure the designs 'work together.' And there are a few strategies you can use to make this happen.
For example, consider using flooring to pull things together. Run your luxury vinyl plank or hardwood flooring from the bathroom right into the closet.
Another idea is to use the same design style for your cabinet door and drawer fronts. For example, if you use Shaker cabinets in the bathroom, carry those door fronts into the closet.
Or another way to pull things together is to use the same hardware finishes on door handles, hanging rods and shower fixtures. If you're using matte black on the shower doors and faucets, use them on your closet cabinets and closet rods as well.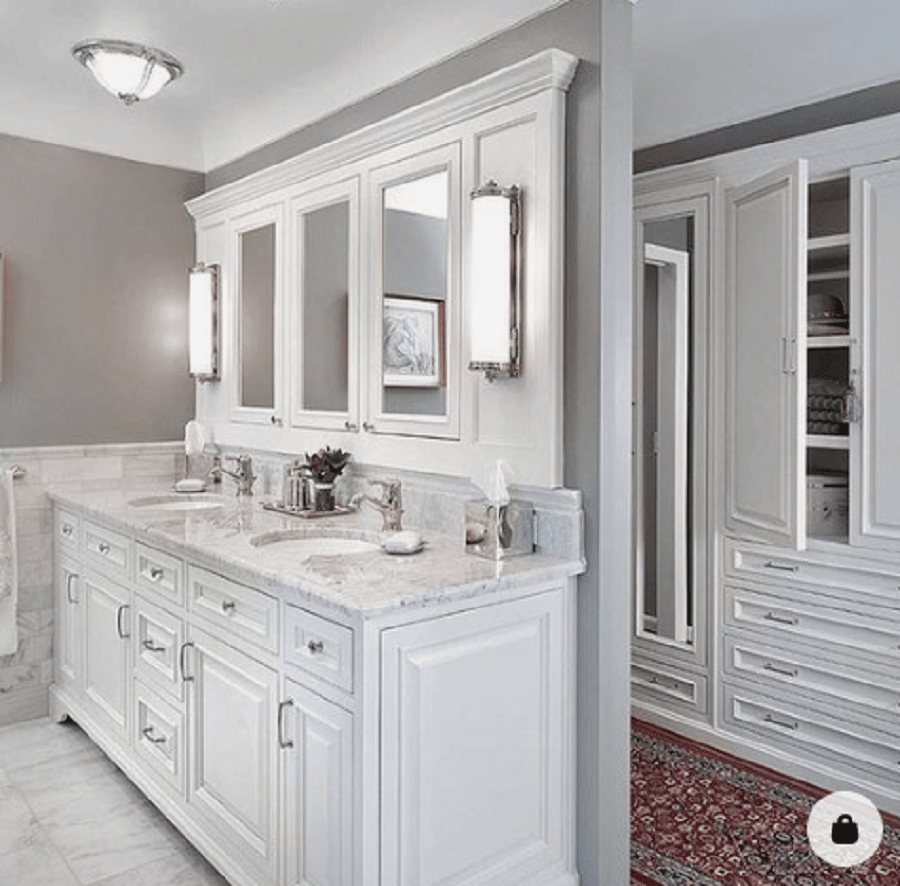 Image Source: Pinterest
So, do you have a better feel how to make your closet and bathroom remodel more fun, functional, and cohesive? Do you need design assistance or product recommendations for either room?
Remodeling one room can be hard enough, but when you try to make 2 rooms work together, things get doubly-difficult.
Given this fact, my plan in this article was to provide tips on how to accomplish this goal and/or to arm you with the right questions to ask your contractor, designer, or architect.
And while I know these tips can be helpful, they aren't specific to your home or needs. And this is where me and my team would love to help.
If you're working on a bathroom remodeling project anywhere in the country and want input on showers, bathtubs or bathroom vanity products call a Bathroom Product Specialist at Innovate Building Solutions at 877-668-5888. For a local Cleveland bath remodeling contractor call The Bath Doctor at 216-531-6085.
And if you're looking for custom closet design ideas in Columbus Ohio, call Innovate Home Org at 614-545-6888 (and if you're not in the Columbus area – I may be able to refer you to other closet designers across the country).
Thanks for reading – Mike
---
Tags: accessible closet design, accessible closet design Columbus, and custom closet design, bathroom and closet remodeling, bathroom remodeling Cleveland, best closet size, closet remodel Columbus, cohesive bath, doing bathroom and closet remodel together, improving bathroom storage, improving closet storage, increasing closet function, low maintenance closet system, luxury Columbus closet, upscale Columbus closet