5 Tips for a Super-Useful and Fun Walk in Closet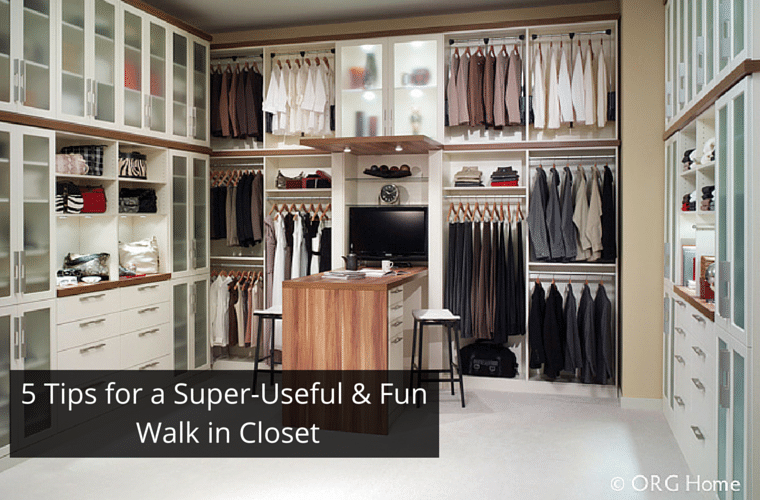 You may be saying right now "a fun closet, you must be kidding me!" Yes – you heard that right – not only a fun closet, but also one which is super-useful. While I'll admit I'm not a magician (and I don't play one on TV) I do have some tips to rejuvenate your closet which you may not even realize has actually been doomed from being useful from the start.
Ouch – doomed from the start – why is that? The reason most closet are doomed and don't function well is they were not design for YOU! Most home builders install a "generic closet" with wire shelving or a simple closet rod with a shelf above with nobody in particular in mind.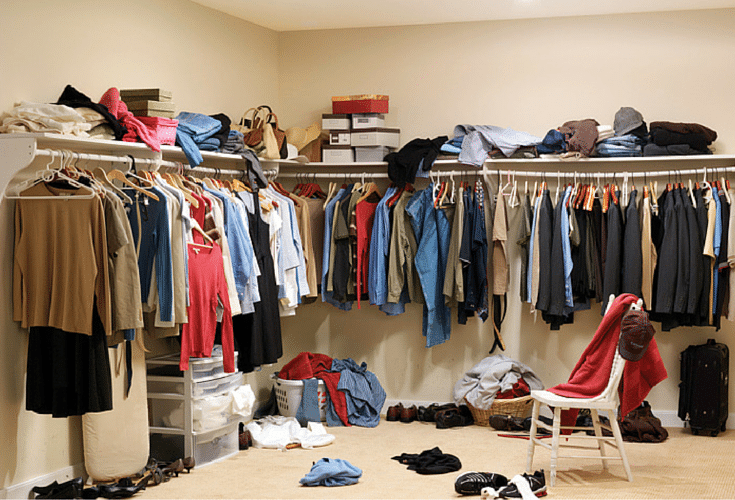 You and your family are not generic. To have a fun closet which is useful it needs to be designed with you and whomever else you share your walk in closet with. This truth applies whether you're in Upper Arlington, New Albany, Cleveland or any other place on the map. In your family what you wear is different, how you hang your clothes is different and how big or small you are also makes a difference.
So – how can you make your closet super-useful (with your specific needs and wants in mind) and also fun? Let's dig into 5 tips.
Tip #1 – Your shoes need to experience lift off!
You need to lift your shoes off the floor right now! Most people's shoes are strewn around in a haphazard fashion on the floor. The problem with this is two fold. First – you often can't see the shoes because they are buried by clothing which comes out deeper from the walls than the shoes (note – most shoes are 6" – 12" deep and most clothes which are on hangers come out 23" into the space). Second – why make it tough on yourself having to bend over to get your shoes? Here's two quick ideas to improve your shoe storage. First go through our shoes and only keep those you love. Then put the shoes behind a "shoe fence" or in a "shoe cubby" at a level where you can see and select them easily.
Tip #2 – Folding can be the key to an efficient and visually effective closet
Here's a little known fact. Did you know you can get approximately 3 times more clothing folded on a shelf or in a drawer than in the same square footage as if you hung them on hangers?
You can get 3 x more clothes if they are folded vs. hanging in your #closet.
Click To Tweet
That's a 3:1 return on your closet space investment. To make this folding strategy really work make sure to add shelves or drawers to your
closet design
. In addition you'll want to keep your folded items 12" apart (this is the standard width of a properly folded shirt or blouse). Closet shelves and drawers will help you increase your space and move towards a super-useful design.
To get the "gold star" with this tip I would recommend reading the book "The Life-changing magic of tidying up" by Marie Kondo. You'll learn how to properly fold clothes and also how to stand them up in a drawer so you can actually see and easily pull out the item you like the best (this method makes it easier to retrieve folded clothes than trying to pull something out of a stack on a shelf).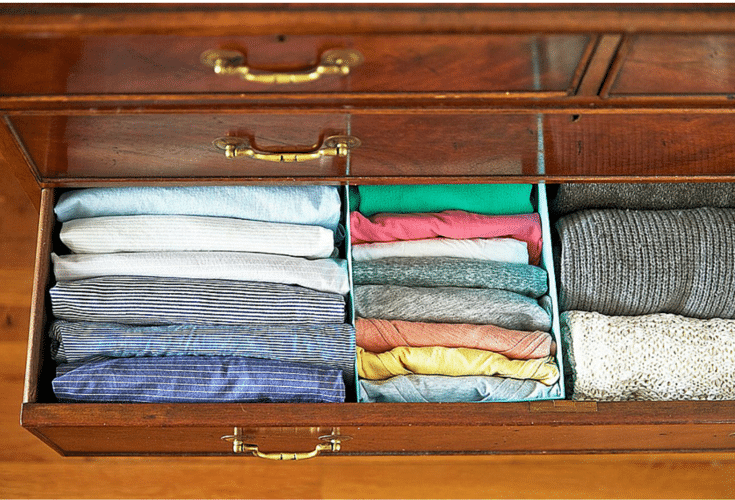 Tip #3 – Don't forget to top it off – your closet shelf that is
If you look in your closet today is the space at the top unused? Don't let this space go to waste. Add a shelf above the closet rod to put light, bulky and infrequently used items like blankets, sleeping bags or extra pillows. Having a useful closet is all about maximizing every square inch!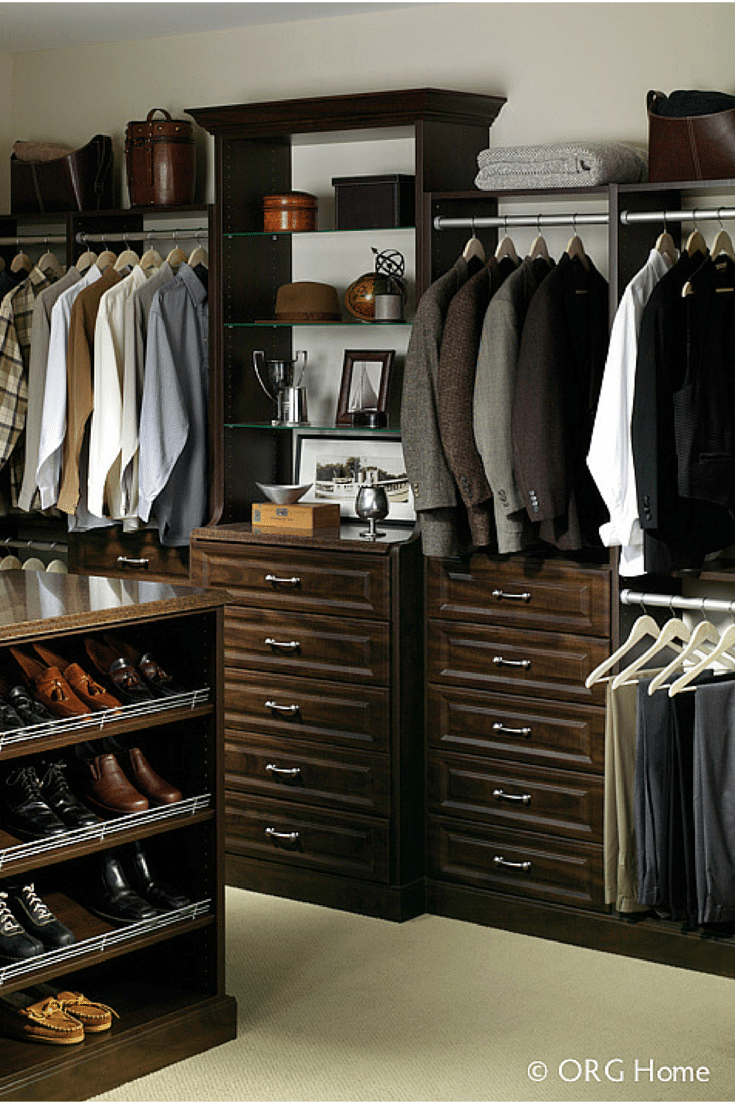 Tip #4 – "Girls just wanna have fun" – secret jewelry storage which is all about you!
Excellent closet design (whether you live in Columbus Ohio or Columbia South Carolina) can and should be all about YOU! For a fun closet you've got to put an end to your generic builder closet once and for all. How fun would it best to have a slide out velvet lined jewelry drawer to pick out the perfect outfit for a night on town listening to the Cleveland Orchestra or seeing the Columbus Ballet? Imagine no stress trying to find the perfect piece of jewelry for an important business presentation or your next formal event.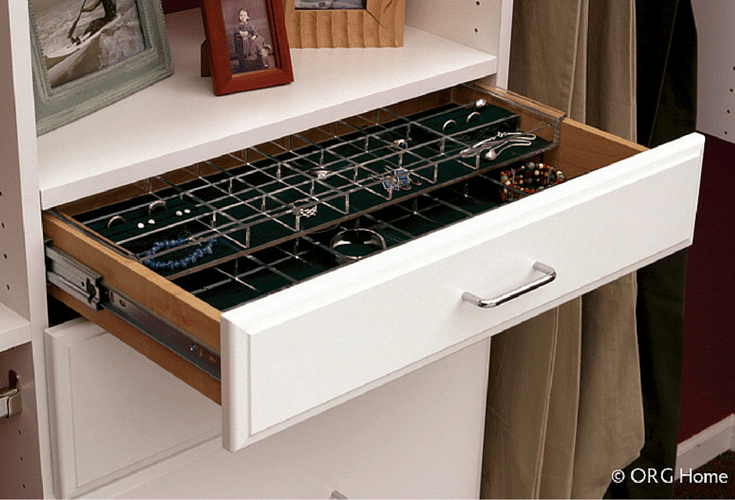 Tip #5 – Visually divide, not conquer. A harmonious his and hers walk in closet
OK – you're a neat freak and he's a bit of a slob (yes – your Mother in Law did warn you about him!). What is universally true is no two people are alike (in life or sharing a closet). A walk in closet needs to work for both peoples' variations of neatness and cater to the specific needs of each. An excellent way to keep your side distinctive from your partners is to use a visual separation with a section of closet cabinetry. This will provide a useful "divide" between sections, it is visually interesting and lets each person maintain their own space.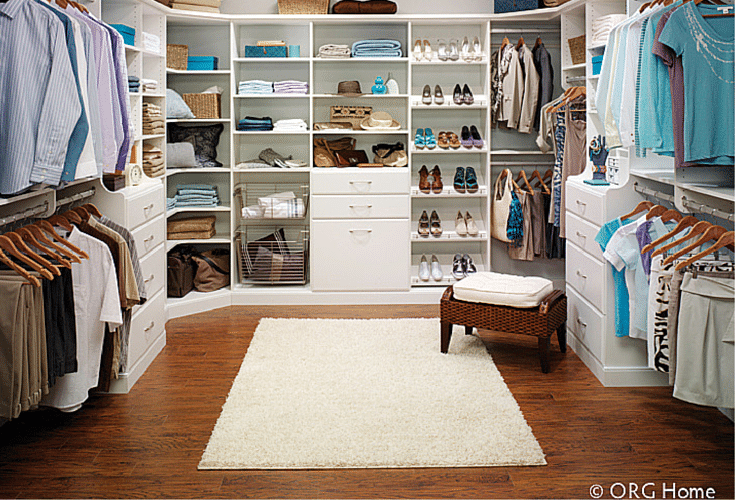 Conclusion
A useful and fun closet is possible with the right closet design strategies. Which of these closet tips would help your space the most? Comment or call the numbers below for free closet design advice or a consultation.
###
For a Columbus walk in closet call Innovate Home Org in Columbus at 614-545-6888 or for a Cleveland closet design 216-658-1290.
Follow the author on Twitter @Mike_Foti or our companies' @InnovateBuild and @InnovateHomeOrg.
---
Tags: Cleveland closet, closet cabinetry, closet cabinetry Cleveland, closet cabinetry Columbus, closet design, closet design Cleveland, closet design Columbus, closet tips, Columbus closet, fun closet, jewelry drawer, new Albany, shoe shelves, shoe storage, Upper Arlington closet, walk in closet Cleveland, walk in closet Columbus