7 Steps to get the Max out of your Reach in Closet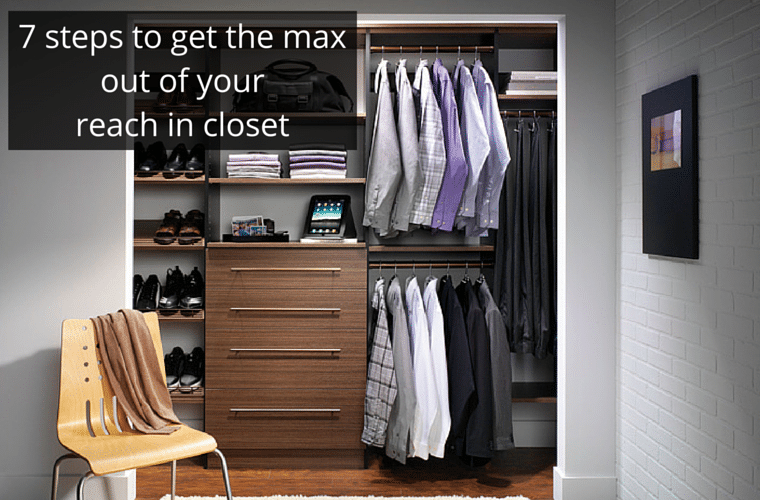 Wouldn't it be cool if the small reach in closet in your Upper Arlington, Dublin or Columbus home could suddenly turn into a glamorous walk in closet complete with a chandelier and a seating area like a Hollywood star? Well unless you're going to convert the entire bedroom into a walk in closet (which has been done after the kids leave the nest) the most practical strategy for your reach in closet is to take Mom's advice and do the most with what you have today. So – how can you get the max out of your crammed reach in closet without adding any space. Start following the 7 steps below and you'll be on your way.
Step #1 – Declutter your closet – "if it don't fit you must acquit!"
Even with the best closet organizer system known to man (or woman) you won't have an efficient and easy to use reach in closet until you get rid of your junk!
'Even the best #closet organizer system won't work until the space is free from #clutter.'
Click To Tweet
Take everything (yes I mean everything) out of the closet and separate like items into piles. If a garment is stained, discolored or too big or too small you cannot let it back into the closet. Donate what could be used by others. If you remain hopeful of being able to use the "too" items (those which are too big or too small) put them into a clear plastic bin with a date on it. After one year pull out the "too" items and if they still don't fit now you must acquit them of service to you!
Step #2 – Categorize and strategize
Now that you're through the tough purging and decluttering choices in Step 1 it's time to categorize what's left and strategize the best way these items should be put back into the closet. Put your things together into the following categories:
Items for hanging – The most logical items you'll want to hang are long dresses, gowns, suits, blouses, dress shirts, men's slacks and coats.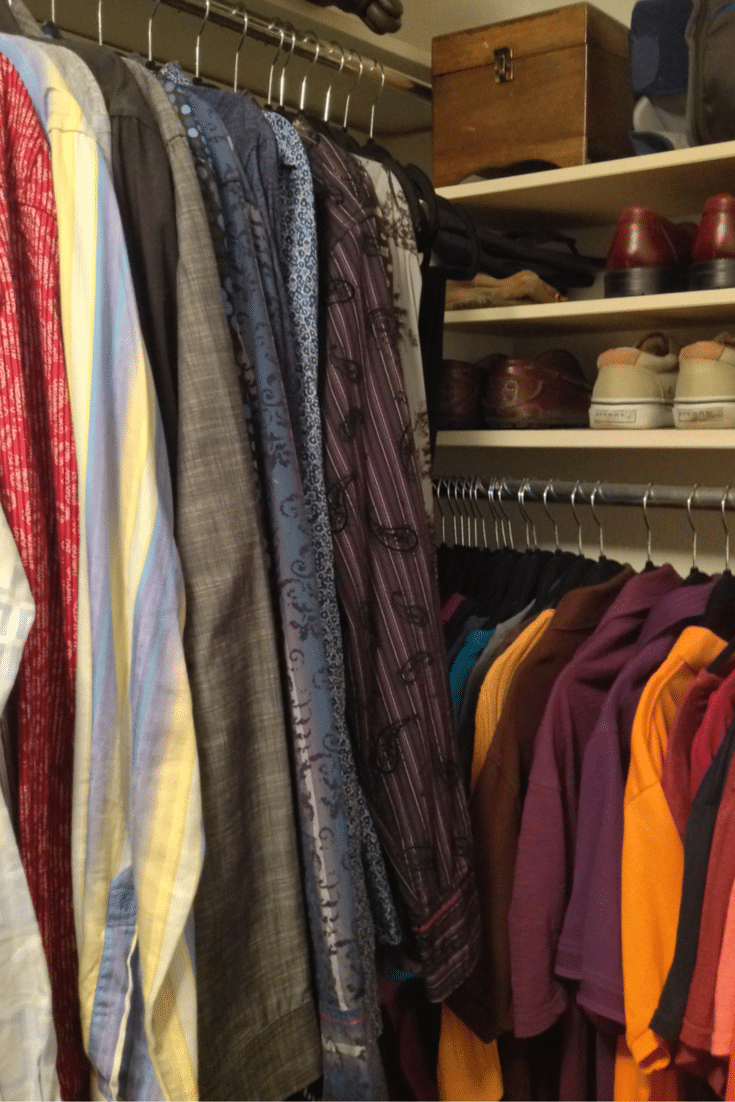 Items to put in drawers – Drawers can be an efficient way to store those things you either don't want to see or can be more productively stored away from sight. The best candidates for drawers include underwear, socks, t-shirts, jewelry, pantyhose, ties and belts.
Items to stack on adjustable shelves – You'll want to use shelving for those things which either don't do well on hangers (like sweaters which can get stretched out), large bulky items (like sweatshirts and sleeping bags) or hats and miscellaneous boxes.
Step #3 – Create (or get help with) a closet design
Look at your clothing piles and category lists in Step 2 to get a handle on what mix of storage you need and begin to develop a closet design. Evaluate if you need more hanging space (check out the tip in step 4), increased drawer capacity (see step 5), some adjustable shelves (discussed in step 6) for folded bulky or unique items or a cool place to store your "bling" (step 7 has some ideas). If design isn't your thing get help from a professional closet designer.
Step #4 – Learn how to get BOGO in hanging space
If you're like me I'm sure you love a BOGO (buy one, get one free) offer. Well you can actually get a little BOGO vibe in your closet with this design step. Most existing closets have one rod at the top of the closet. By moving the location of the rod and adding a second one below you'll be able to get 2X the space in the same area. This step can be super helpful if you have a large amount of shirts, blouses, slacks and suits which require hanging.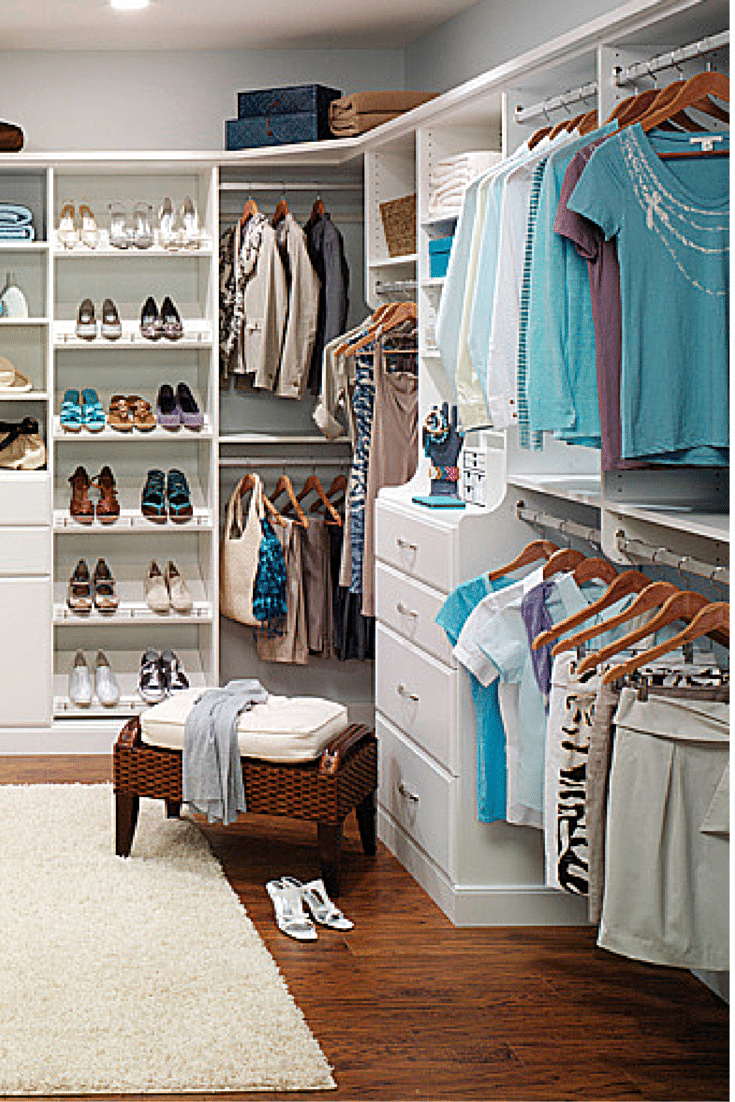 Step #5 – See how folding techniques and drawers can be your friend
One of the things that blew my mind is when I learned that you can actually get 3x times more storage by folding clothes than putting them on hangers (for years I hung up all of my running clothes and t-shirts and it took a lot of time to find what I needed because all the clothes were pushed against each other).
'You can get 3x the space by folding #clothes in a drawer than hanging them!'
Click To Tweet
By using the "Kon-Marie" folding method I am now able to neatly get so much more into my drawers – which also creates more space for hanging. Look for opportunities to use drawers. Use ones with less depth for products like socks, undergarments and ties. Use deeper drawers for jeans, athletic gear and t-shirts.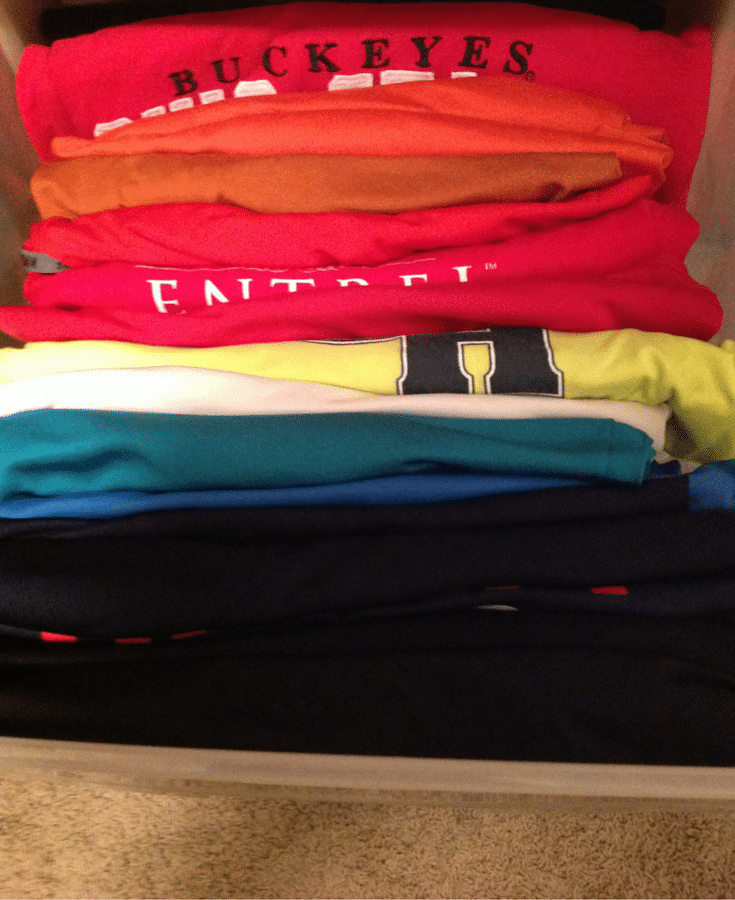 Step #6 – Don't allow yourself to be "fixed" into one design
An effective closet design will actually adjust to you and your families' needs as they change. The challenge with many older built-in wood shelving units is they can't be adjusted. For a modern reach in closet design adjustable shelves can be huge. They can be set to display your shoes (at various heights) or a provide however big a space you need for stacks of sweaters for your winter wardrobe.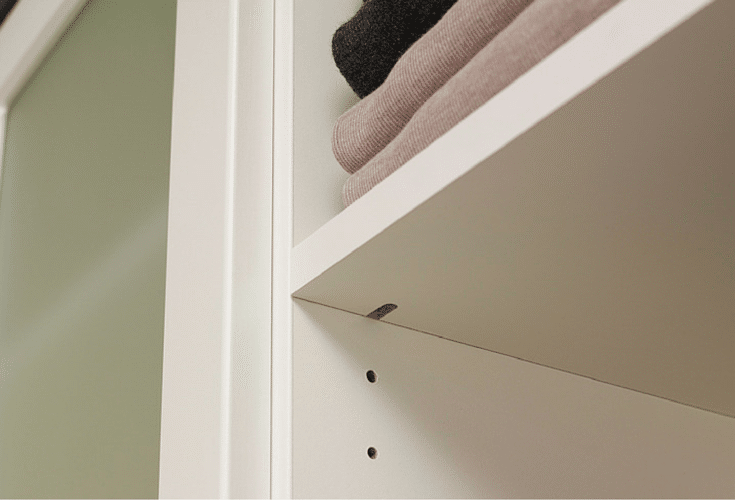 Step #7 – Remember "girls just wanna have fun" – planning for your bling
I'm sure it can be frustrating trying to find just the right piece of jewelry if you're headed to a formal event, the Columbus Ballet or just going out for a night on the town in Downtown Cleveland if your jewelry is not organized. Finding your bling actually can become something you like to do by adding either a specialized velvet lined jewelry drawer and/or a hanging system for your necklaces. You don't have to have a huge closet to enjoy a little luxury.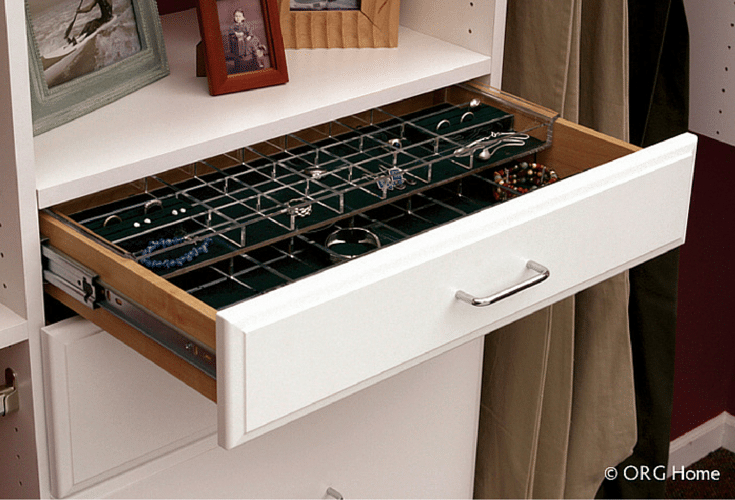 Conclusion
Although this article didn't have any magical ideas to create the large closet with the chandelier hopefully you now can see how a reach in closet can be designed to not only increase the amount of effective space you have – but also to have fun touches which will make it a pleasure to use.
###
If you want more information on a Cleveland or Columbus reach in closet call Innovate Home Org in Columbus at 614-545-6888 or 216-658-1290.
Follow the author on Twitter @Mike_Foti or our companies' @InnovateBuild and @InnovateHomeOrg.
Save
Save
Save
---