5 Cool Roll in Pantry and Entryway Design Elements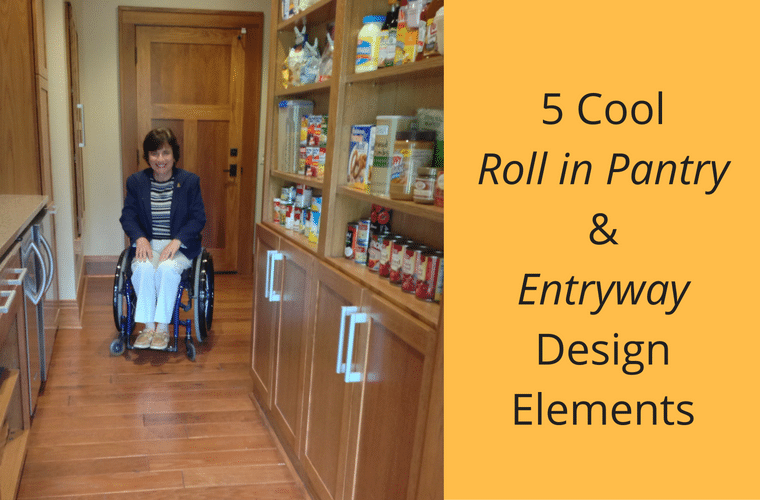 There is no reason a kitchen pantry or entryway can't be a breeze to navigate from a wheelchair and I'm determined to prove to you it's possible! Why am I so sure this is doable? Well, I've had the opportunity to tour the home of Rosemarie Rossetti and Mark Leder in Columbus– and as you'll see this is not my first tour of their home.
In case you haven't had the chance to follow along in Part 1 of the series I looked at how Rosemarie and Mark created a universal design closet (universal design is making a space work for people of all abilities). Their closet works flawlessly for Mark (who is a tall 6'4" guy) and for Rosemarie who moves around in her wheelchair. In Part 2 I looked at the universal design laundry room and provided more tips for a universal and accessible design.
This home is literally a school (or you can call it a laboratory if you're a science geek – it's official name is the Universal Design Living Laboratory) on how a home can be designed for people of all abilities (even if you get around in the seated position of a wheelchair), yet still is cool and stylish.
'The Universal Design Living Laboratory is THE school for #universaldesign.'
Click To Tweet
I have to admit to being a bit of a "homer" for Rosemarie and Mark since they are long-time friends of mine. With that being said this home is everything right (or can be right) about creating a home which can work for anyone – even those in a wheelchair. Now – that's enough of the commercial for Rosemarie and Mark. Let's take a look at their roll in pantry and entryway design and how it can help your home design.
At this point you may be asking "so what is so cool about their roll in pantry and entryway? Let's take a closer look at 5 key design elements. At the end of the article I'd love to get your feedback about what you liked best (or are a bit envious the feature is not in your home today!).
Key design element #1 – One level access off the garage
A roll in design isn't of much value unless you can easily roll into the space (you're probably saying, "well isn't that obvious Mike!"). Although this point is logical most homes have to be "modified" to accommodate a wheelchair. These home modifications often include a ramp from the garage into the home and the need to widen the doorways to 36". In this home the steps from the garage where eliminated so it is easy to roll in and all the doors (both inside and out) are 36" wide.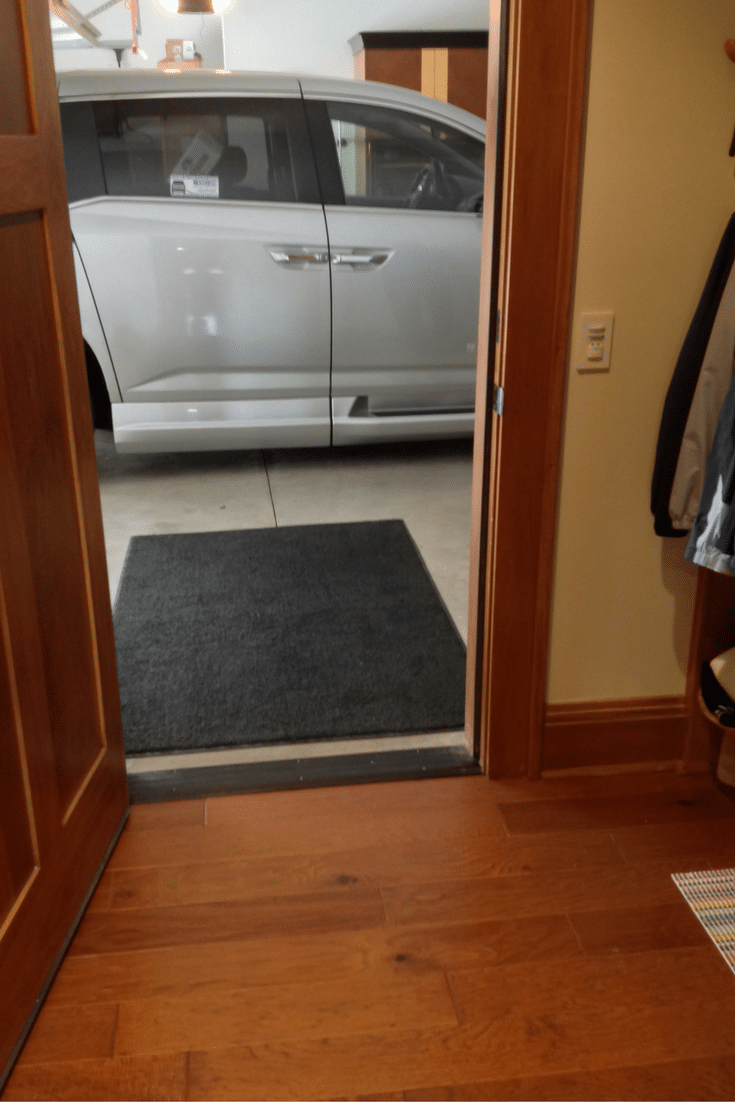 With the current roll in design Rosemarie (who is paralyzed from the waist down) is able to take 2 to 3 bags of groceries in on her lap at a time. In her old home it was much more difficult because she had to go up a ramp with grocery bags. Intelligent universal design is as easy to use as it is smart.
Key design element #2 – Pull out cleaning storage cabinet
It's not easy bending over from a wheelchair to get things out of pantry cabinets and drawers. Making a design where things "come to you" increases the functionality of the space. This full sized pull out pantry cabinet insert from Rev-a-shelf is quite functional for Rosemarie and Mark. With hanging racks, trays and shelves it provides the ultimate in pantry organization. It seems like this cabinet could store the entire cleaning section of the grocery store!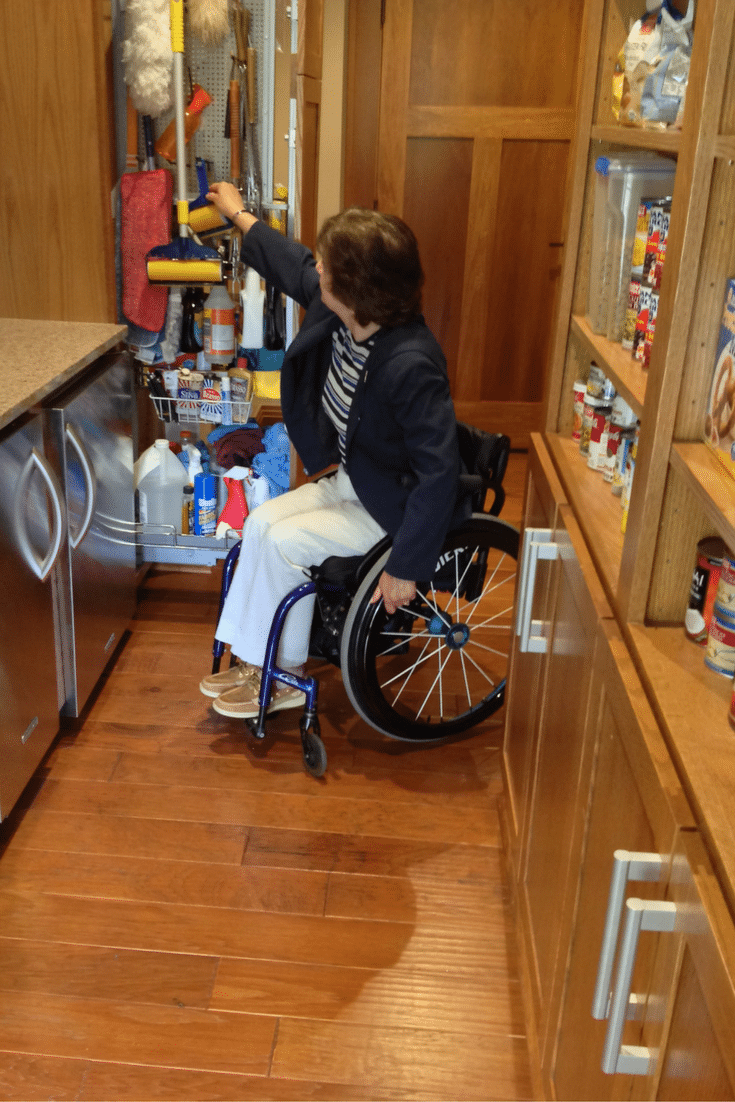 It was positioned to be able to be fully extended so Rosemarie can even have access to products stored in the back. The only thing it doesn't do is the cleaning work itself (well now that's a bummer!).
Key design element #3 – use every inch
What often separates excellent from "so-so" design is the creativity of the minds of the designers themselves.
'It's the creativity of #designers which makes a universal design work.'
Click To Tweet
The team at KraftMaid (who provided the cabinetry for the project) saw a storage opportunity which would be easy for most designers to miss. It was a thin 6" space as you enter the pantry (the pantry is located off Rosemarie and Mark's kitchen). This shallow area became an opportune place for cans and even has an entire cabinet shelf with various types of pastas (you know with a name like Rosemarie Rossetti being able to whip a good spaghetti sauce is essential – now if I can just get her to invite me over for some!).
Key design element #4 – slide out cart
Wouldn't it be cool to have a prep cart which could actually come to you? This cart was designed by universal kitchen design expert Mary Jo Peterson and provides a buffet space which can be taken from the pantry right to the kitchen table (which is a nice feature when there is a lot of cooking going on during the holidays). This rolling cart has a quartz countertop and can move in any direction.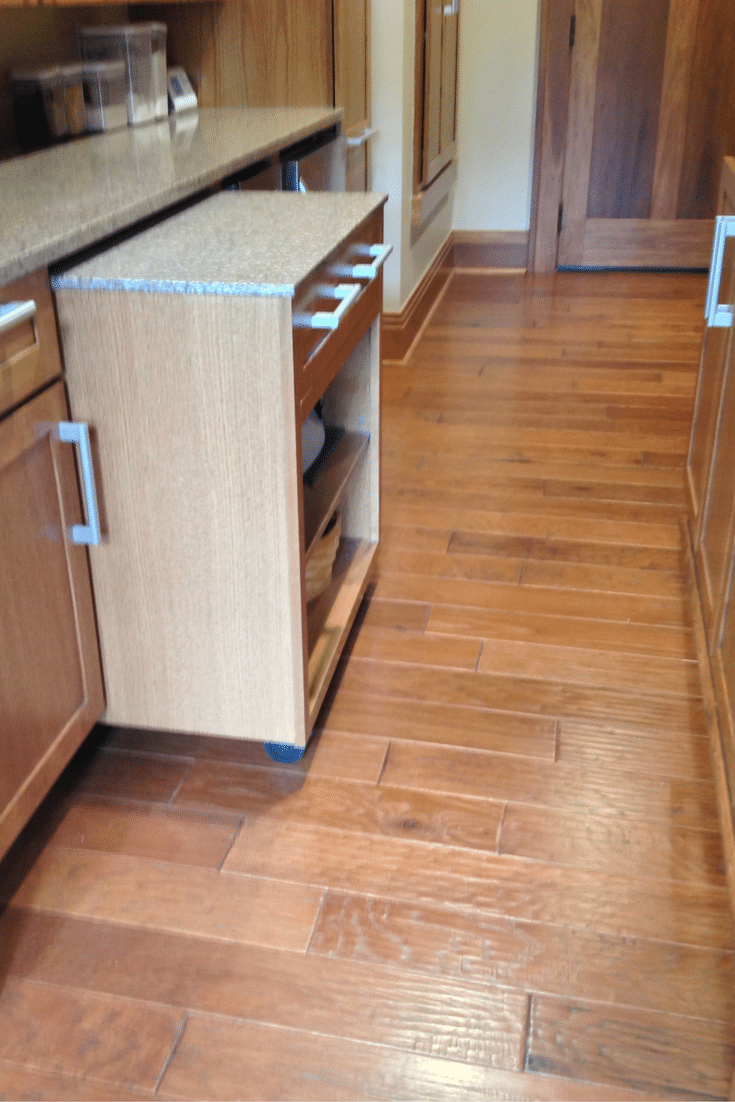 Key design element #5 – quick access to coats, scarves and gloves
An entryway without a place to put your favorites coats, scarves and gloves just wouldn't make sense. Strategically located right as you come in from the garage is a single hanging section for all of these elements. This rod was located 57" off the ground so it is easy for Rosemarie and Mark to reach. There is even a mirror located by the coats so they can make sure they look "marvelous" before going out of the door.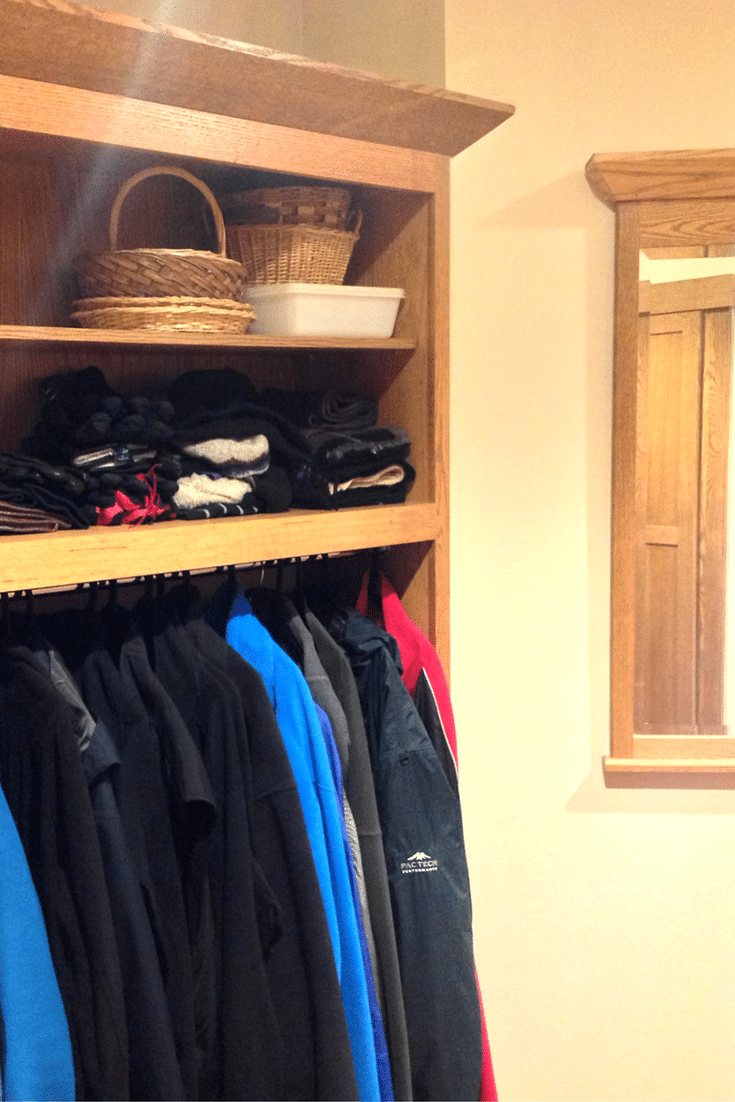 Conclusion
While I wish I could say universal design was easy to do, but what would be a fair statement is "effective universal design is thoughtful design." If you're looking to design a roll in pantry or entryway use the Internet to read and research your options. Check out the Universal Design Living Laboratory site which has tons of links to useful products and services, a virtual and video tour, photos, and articles. I would also suggest contacting companies who have people on staff who specialize in this particular type of design (note: these individuals often have training from the National Association of Home Builders and are called "Certified Aging in Place Specialist" (CAPS). As a CAPS person myself I love the training but hate the name (I don't know anyone who wants to "age in place." We all want to be active and enjoy life like Rosemarie and Mark!").
If you have questions, comments or need help with an entryway or pantry design comment or call the numbers below. Now that we're at the end of the article what is your favorite design element from Rosemarie and Mark's project?
###
For help with a Columbus pantry design or roll in entryway call Innovate Home Org in Columbus at 614-545-6888 or in Cleveland call 216-658-1290. For information about the Universal Design Living Laboratory call Rosemarie or Mark at 614-471-6100.
Follow the author @Mike_Foti or our companies' @InnovateBuild and @InnovateHomeOrg on Twitter.
Save
Save
---
Tags: Cleveland pantry design, Columbus pantry design, Mark Leder, Mary Jo Peterson, pantry design, pantry design Cleveland, pantry design Columbus, pantry design for a wheelchair, roll in entryway, roll in pantry, Rosemarie Rossettie, UDLL, universal design, universal design entryway, universal design living laboratory, universal design pantry