5 Critical Tips to Super-Charge Hanging Space in your Closet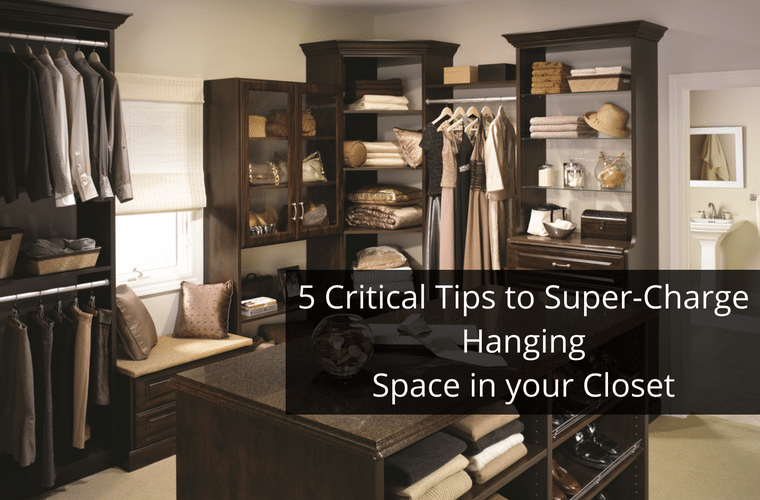 If you look at most closets the largest amount of space is allocated to hanging (vs. shelves and drawers). With so much area set aside for this purpose why is it so many closets have clothes which are all smooshed together? I don't know about you but for me and my wife our formerly overstuffed closet was a source of wasted time and stress on a daily basis!
The challenge is how can you use your hanging space most effectively – whether you have a spacious walk in closet or a teeny, tiny reach in closet?
In this article we'll take a look at the 5 critical tips to get the max out of your hanging space. Your closet today may frustrate you but don't "hang up" on it (bad pun intended) until you've checked these 5 tips off your to-do list.
Tip #1 – Don't resist the urge to purge – putting your closet on a diet
There is no closet organization system which can, as my Dad used to say "fit 10 lbs. of s*** into a 5 lb. bag," yet this is where many of our closets evolve (or should I say devolve). We buy something new and attempt to jam it in. If something doesn't fit, isn't in style or is stained or discolored we leave it hanging anyway. This continuous process of adding clothes without taking clothes out adds to the "weight" of our closet.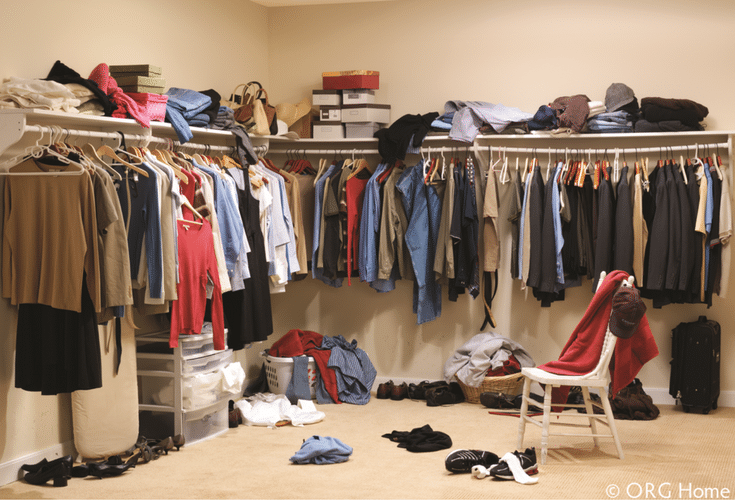 It's time to put your closet on a diet. Get rid of unneeded pounds (of clothes). Shed the discolored, stained and poorly fitted shirts and skirts and donate them to Columbus organizations like Dress for Success, Goodwill or the Salvation Army. If you're hopeful you will fit back into these clothes "someday," store them in a clear plastic bins elsewhere in your home with a date on them for 1 year from now (after that one year if you still can't wear them donate them). When you buy something new discipline yourself to get rid of something old. Don't allow extra "pounds" to accumulate.
When I did a massive decluttering process in my closet a year ago I purged 6 bags of clothes and I still only use about 50% of what's in my closet today. It might be time for round 2 of purging to shed more "pounds" of clothes from my closet!
Tip #2 – To hang or not to hang, that is the question
Just because you hang a garment today doesn't mean that's the best way to store it.
'Just because you can #hang a garment - doesn't mean it's the best way to store it.'
Click To Tweet
If you're hanging bulky sweaters or sweatshirts you'll not only get those annoying spots on the shoulders but they take up a lot of width (usually 2" per sweater) on your
hanging rods
. If you fold the sweaters on shelves you'll free up hang space.
If you're hanging pants long (by the cuff), fold them over to gain vertical space.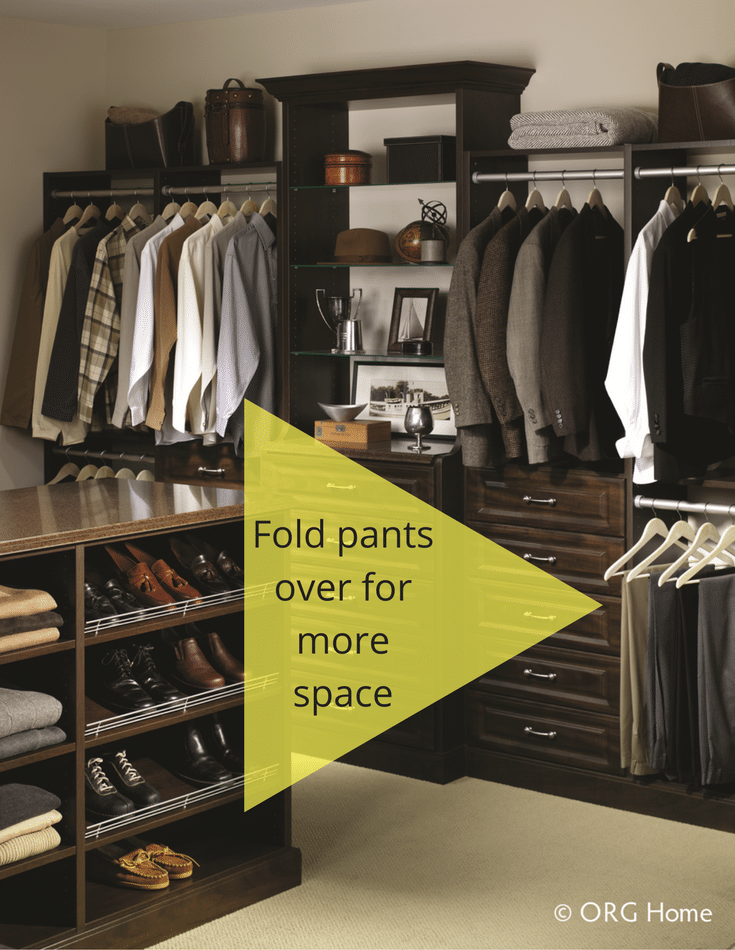 In my case I gained a bunch of hanging space by moving my running shirts (yes I am an obcessed jogger and it is a sickness) (which take 1" width on rods) into a full extension drawer (folded upright). Now I can get 3x more running shirts in this drawer vs. the space to hang them.
Tip #3 – Thinking long term or short stature
Is it difficult for you to reach the top hanging shelve of your closet today (they "vertically challenged" people are sighing right now)? Have you asked yourself how well your closet would work for you (or family member) if there was need for a wheelchair or a walker? For people who are shorter or use a wheelchair their existing closet systems work badly.
What's cool today is you can have a closet which works if you're shorter (or in a wheelchair) by using a pull down closet rod. With this product your hanging clothes come to you!
'Pull down #closet rods bring the clothes to you!'
Click To Tweet
You don't need to be as tall as Terrell Pryor or Joey Bosa of the Ohio State Buckeyes to reach your clothes.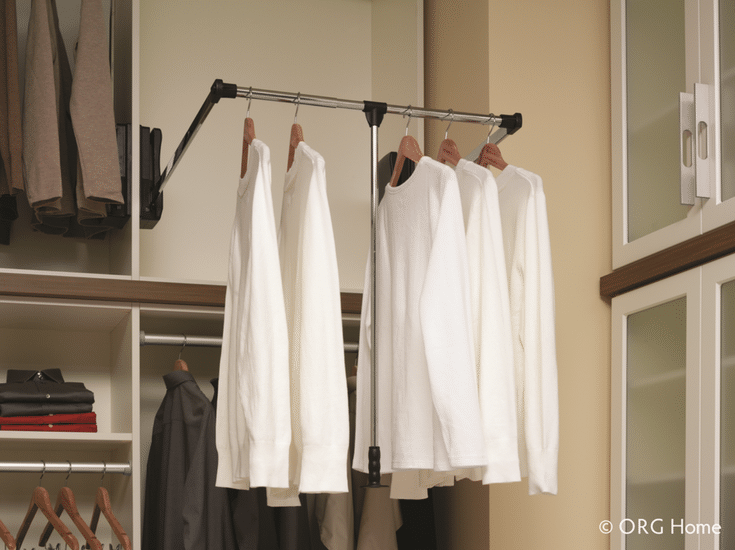 Tip #4 – It's all about YOU – a closet (and hanging space) designed for YOU
I remember this moment like it was yesterday. My wife and I were getting ready to drive to Detroit with Christopher (the 3 year old son of our two best friends) who were going to pick up his newly adopted sister, Jacqueline, coming from South Korea. Christopher out of the clear blue said emphatically, "My house, my toys!" You see Christopher was attempting to let his Mom and Dad (and my wife and I) know he was staking his claim (which would be unsuccessful) to the toys and things in HIS (not his newly adopted sisters') house. You may be wondering what this has to do with closet hanging space?
Well a closet design should be all about, "your clothes and your house." It should be planned around you and whomever else will be using the space. If you're tall and wear a lot of dresses and gowns and go to formal events (like the Columbus Symphony or Orchestra) you'll want long hanging sections (which is 64" from the floor to the closet rod) in your design. If you're petite and/or your husband has a lot of sports coats or likes to hang his pants by the cuff medium hanging sections (which are 52" from the floor) will be best.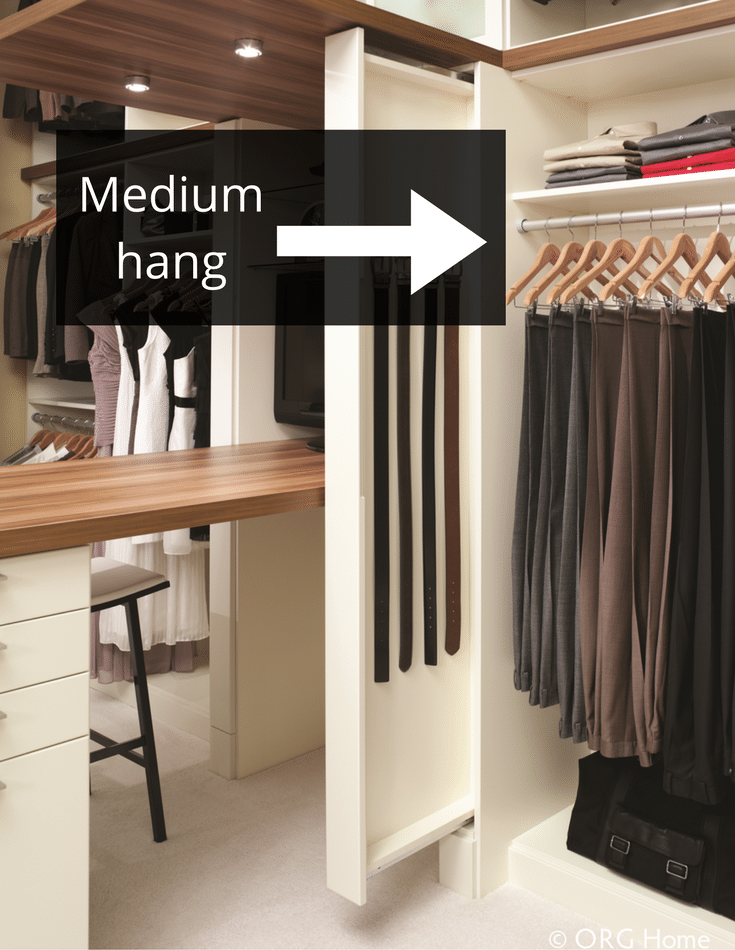 To maximize storage of blouses, shirts and pants (folded over) the double hang sections with 2 closet rods in a section will give you the biggest bang for your buck.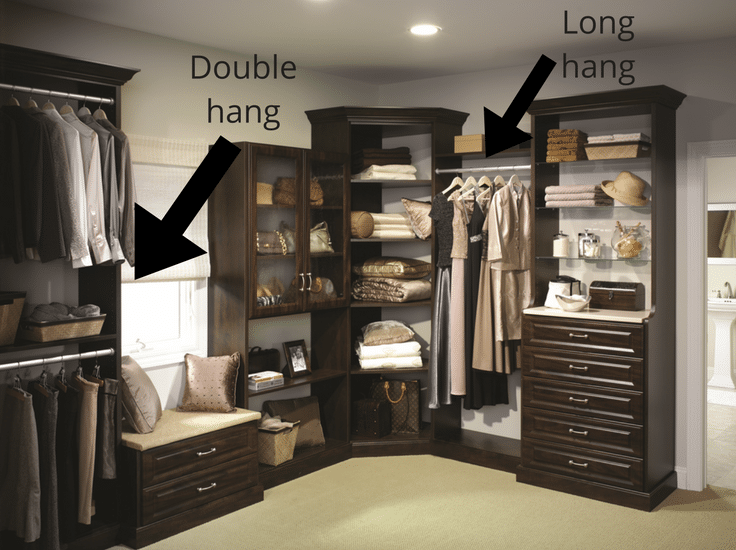 Remember the closet should be all about YOU!
Tip #5 – Becoming the closet Nazi
Yes, this tip isn't the most politically sensitive analogy but if you want an organized closet (at least on your side) in your Columbus home you've got to stay militant and disciplined. Here a couple of things you must refuse to allow:
Don't let people drop their clothes, laundry, packages and extra bags on your side of the closet. I would recommend creating a "his" and "hers" side so at least your side can be neat. Remember tip #4, this closet is all about you!
Don't add even one new hanging item without discarding an existing item – otherwise your closet will just grow and get crowded again.
Conclusion
Designing your hanging space is critical whether you have a walk in or small reach in closet. When designing this space remember its' all about you and what your needs are (now and in the future). If you're like 99% of the people you'll need to put your closet on a "diet" (getting rid of a your seldom used clothes) and be militant to not let the space devolve over time. If you're looking for a custom closet design whether you're in New Albany, Pickerington, Upper Arlington or anywhere in Central Ohio we would be honored to help you. Call us at the numbers below.
###
If you want more information on a Cleveland or Columbus walk in closet call Innovate Home Org in Columbus at 614-545-6888 or 216-658-1290.
Follow the author on Twitter @Mike_Foti or our companies' @InnovateBuild and @InnovateHomeOrg.
---
Tags: closet design, closet design Columbus, closet tips, Columbus closet, Columbus custom closet, double hang closet, double hang in closets, double hang rod, hanging space Columbus closet, hanging space in a closet, New Albany closet, Pickerington closet, single hang closet, single hanging rod, Upper Arlington closet