7 Essential Factors to Compare Wood and Laminate Closet Systems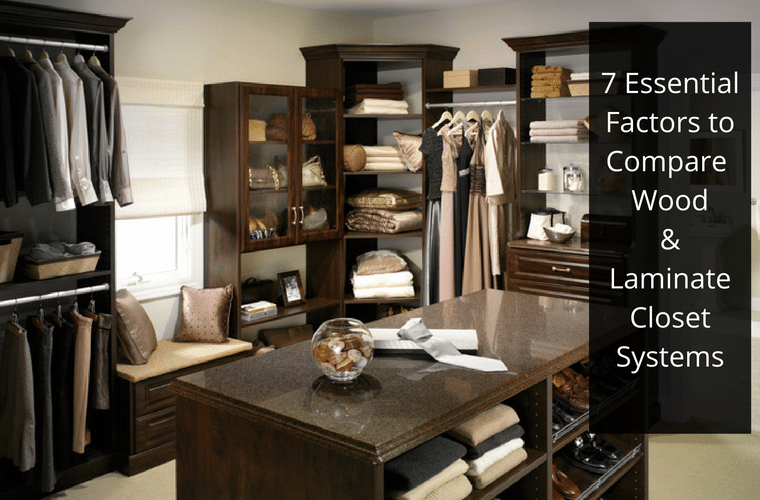 Heather's Dad pulled her aside and said, "Heather you need to get the real McCoy – a solid wood closet. It's thick, durable and you can stain it to match your furniture." While Daddy always has an opinion (and as a Dad I resemble that remark) – unless he's an expert in closet organization systems he may not always see the full picture to know what's best for your situation. Both laminate and wood closet systems can be excellent alternatives – as long as you understand the strengths and weaknesses of both, and your needs.
If you're in desperate need to blow up your poorly designed existing closets you need to know the key factors to make the best decision for your family. Dig into the 7 factors below and the choice will become clearer.
Factor #1 – How important is the cost of your closet?
If cost was no object I would own the 2 seater Mercedes I've had my eye since B.K (before kids). Buying this car would be a completely impractical purchase with one kid in college and two others not far behind – but I'm still dreaming about it! The reality is – for most of us – cost matters. While we may drool at Kloe Kardashian's $100,000 closet but it's probably not in the cards for us (at this time). So what does this have to do with wood vs. laminate closets?
In short, laminate closets are produced in cost-efficient factories where custom wood closets are often built by a carpenter on site.
Given the cost of the materials and installation methods, a wood closet will usually cost more (and be less functional- more about that later) than a laminate closet.
Advantage: Laminate closet
Factor #2 – Do you want a custom stain?
If you want to match your wood species and stain color to existing furniture a wood closet will allow you to make this happen. In addition, it's possible with wood to re-stain and re-varnish if you get tired of your current decorating theme.
Laminate closets do offer many popular wood grain looks which can also provide the same look (more cost effectively as wood) but the system cannot be changed as the laminate top surface is fused to the wood board underneath.
Advantage: Wood closet
Factor #3 – Who will be using this closet?
If your kids are like mine TLC (tender loving care) and closets don't go hand in hand. If the clothes find the closet (with my one son that is a minor miracle) they are not neatly folded or removed with a gentle touch. Laminate closets are more durable than wood (which can be scratched or dented) and will stand up to more abuse.
Advantage: Laminate closet
Factor #4 – Do you need to maximize every inch of your closet space?
You've seen these glamour wood closets of the stars with soaring ceilings, a large island and a couch. Their space seems to be boundless. Then you look at your current closet (sigh). Clothes are jammed in like sardines. While the glamour closet is aspirational and inspirational it's not your reality! If you need to leverage every inch the laminate option will be best.
'To leverage every square inch of #closet space a laminate system will be better than wood.'
Click To Tweet
Since the supports can be shared between the laminate sections you can actually get more storage in the same square footage (or square "inch-age" if that's a word).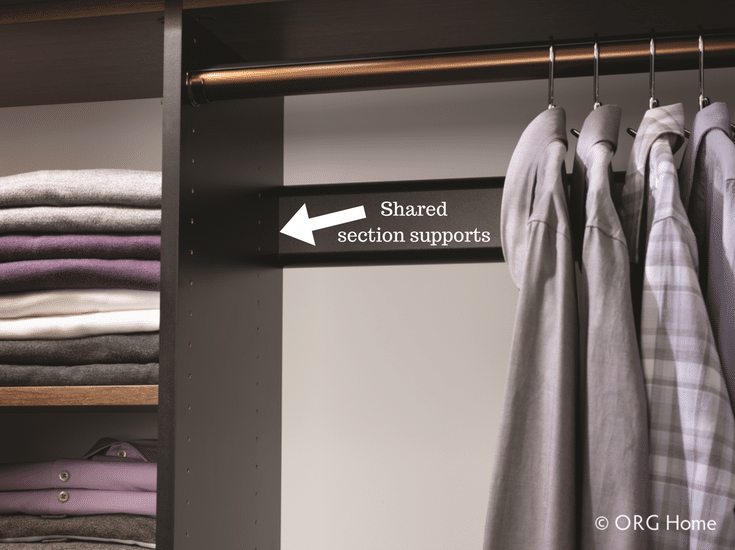 In addition, since there are "increment" holes in the side supports so you can adjust your closet shelving up and down to minimize any "dead" spaces between shelves.
Advantage: Laminate closet
Factor #5 – Who will maintain the closet
If you answered nobody to this question e you're like most people. Too much stuff to do and too little time to do it. On the other hand, if your spouse is an "aspiring Bob Villa" (or you have "Murphy Brown-esque" resident handyman – I might be dating myself here) who loves to tinker with wood the solid wood closet – and it's upkeep – may be right up his/her alley.
The reality is wood can dent, warp or chip over time. It will need to be maintained. In addition, the wood should be regularly lemon oiled, whereas the laminate only need to be wiped down. If you want low maintenance laminate is the hands down winner.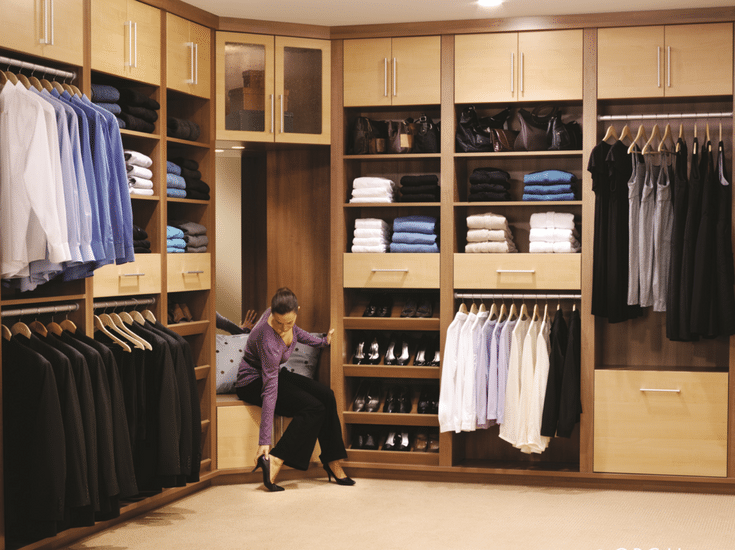 Advantage: Laminate closet
Factor #6 – What is this closet system made of?
What's great about wood is you know what lurks underneath the top surface – more of the same. With a laminate closet system, the "guts" of the board underneath are not all created equal. Underneath the laminate veneer there could be plywood, particle board or a higher grade fiberboard. If you choose a laminate system make sure to ask what the board is made of and ask how thick it is.
Advantage: Wood closet
Factor #7 – Are moisture and humidity a problem for you?
Since many master closets are located off the master bathroom humidity and moisture content can be high. Natural wood is negatively impacted by humidity which can cause the wood boards to warp, rot or be a place for bugs to infiltrate.
'In moist climates or #closets by bathrooms laminate will perform better than wood.'
Click To Tweet
With a high pressure laminate closet the wood is protected by the laminate from moisture.
Conclusion
While Heather's Dad mentioned earlier was well meaning there are more factors to decide between a wood and a laminate closet than getting the "real McCoy." If you're still uncertain what's best for you – what I didn't tell is there is actually a hybrid option. Look into getting laminate cabinets with wood fronts. This is like getting the best of both worlds.
If you have questions, comments or need help with a laminate or wood front closet design call the numbers below or add your thoughts to this post.
###
For help with a Columbus home organization project call Innovate Home Org in Columbus at 614-545-6888 or in Cleveland call 216-658-1290.
Follow the author @Mike_Foti or our companies' @InnovateBuild and @InnovateHomeOrg on Twitter.
---