7 Magical Tips to Combine Two Closets into One on a Tight Budget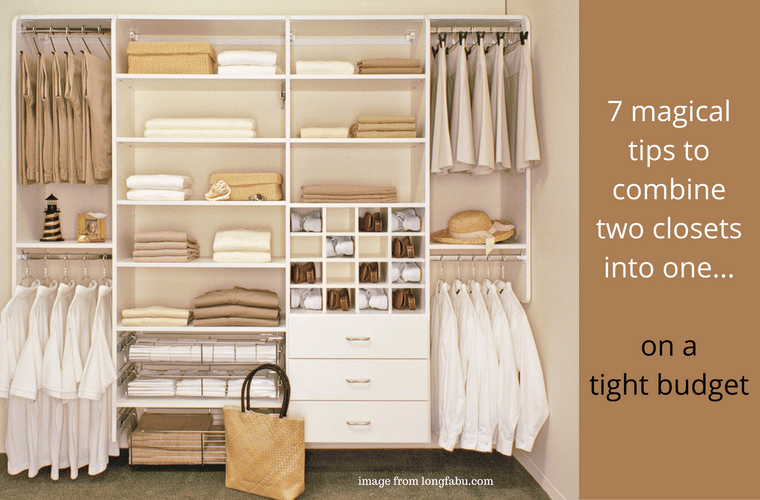 OK – I'm not a magician and I don't play one on TV so you may be asking, "How can you combine two closets into one?" Well even if you and I aren't magicians you may still need to get the skill to combine two closets into one. Why you may ask? I've had many cases our Columbus custom closet division has been called out to somebody's house saying HELP – I've moved into my boyfriend's house (who happens to be a bit of a slob) and there is no room for my clothes! Or we get a call from the fiancée and they are combining two households into one (with some kids in tow) and the existing closets just "ain't happening." No matter where you live in the country I'll bet there are some of your out there who can relate to this challenge! Your existing closet was not designed to work for 2 people with the amount of shoes and clothes you own.
So how can you perform some magic? How can you make two closets (the one in your old home and the one you're moving into with your boyfriend, partner or significant other) work for both of you without spending a ton of dough? You'll need a healthy combination of decluttering, design and watching "de-budget" (OK de-budget is not a word but I thought it sounded fun).
Let's take a look at 7 "magical" tips to get a "two for one" closet special and make your existing smaller than you'd like closet work for both of you.
Magical Tip #1 – Start with a healthy dose of decluttering and get rid of 1/3 of your stuff
It's time to be brutally honest. If you're like most people, the 80/20 rule definitely applies to your clothing and shoes. You wear 20% of your clothes 80% of the time! Most of our clothes, shoes and jewelry never see the light of day. So why continue to "trap" them in your closet with no place to go? Something has "gotta give" to make this combined closet work.
Here's the plan:
Step 1) Pull everything out and group them by type (blouses with blouses, pants with pants etc.).
Step 2) Look for discolored items, clothes that don't fit, duplicates and presents you've received from family and friends but you have no interest in wearing.
Step 3) Donate everything you can from step 2. If you're hopeful (and I can relate to this because I'm a "glass half full guy") those clothes that don't fit today will soon be perfect because of the diet you're on, put them in a clear plastic bin with a date one year from now. If they still don't fit after a year I would recommend you donate them at that point.
If you're like many people and just can't bring yourself to discard things, bring in a professional organizer to lead you through the task. You can't combine two closets into one master closet without taking a "scalpel" to things you no longer wear.
Magical Tip #2 – Recognize your closet has "structural" problems and get design help
Most closets have structural problems which make it nearly impossible to effectively combine two closets into one. OK – that sounds depressing, but it's true! I don't mean structural in the sense that's it's going to crumble to the floor. I mean structural in the sense it has not been designed to hold the amount of clothes most American (and Central Ohio) homeowners have today. You know why this is the case? It's because most home builders don't think you care about storage. Why do I make this claim? Well I've gone into $500,000 to million dollar new homes and they are still putting in a single rod at the top of the closet with a shelf above it and calling it done in most walk in closets.
'Most home builders don't care about #closet storage!'
Click To Tweet
I guess they're thinking nobody will really notice how bad this master closet storage will work out for them.
So what can you do? Call in a professional closet designer and have them look at your space. They should evaluate not only what your partner is jamming into the closet now, but what the game-plan is going to be for the future. Have them create a 3D design so can "see" your revised space come to life.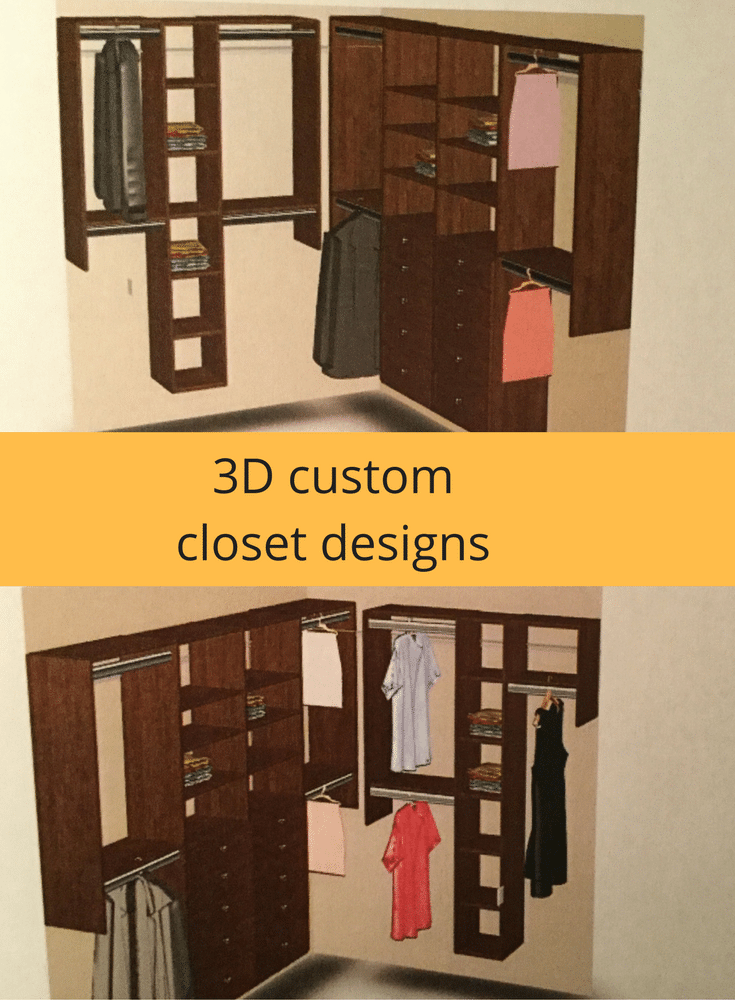 While a cool design can be fun, if this home just doesn't justify the "celebrity closet to the stars" you'll need tips 3 to 7 to keep "de-budget" in line.
Magical Tip #3 – Don't get hung out to dry with an expensive closet. Use a wall hung solution to keep costs down.
The glam closets on Pinterest have fancy woodwork, intricate crown molding, fluted corners which scream out opulent. That would be cool for you too. But wait, get a hold of yourself. Your goal with this project is more about function than cosmetics. You need to stay practical.
One way to keep the budget in line is to use a wall mounted closet vs. a floor based system.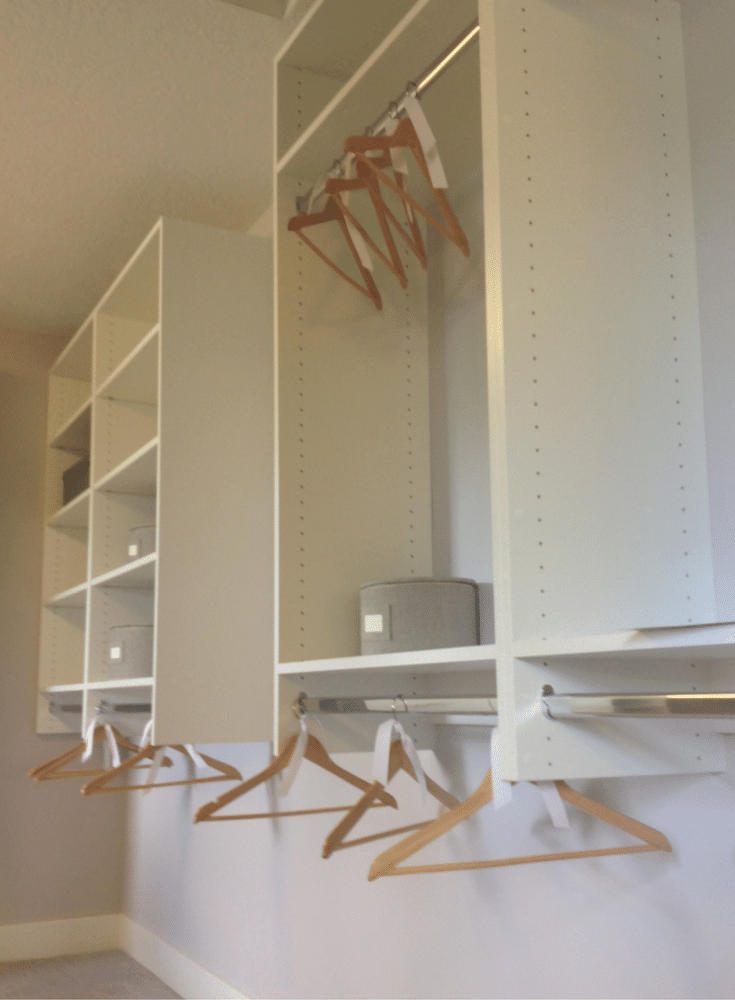 A wall mounted closet will save you money on the trim pieces (you won't have toe kicks and don't need fancy moldings) – but equally as important it actually gives you more room. The toe- kick at the bottom or crown molding at the top look nice but takes up valuable storage space. With a wall hung system you'll be able to use every inch of space.
Magical Tip #4 – Don't let it all "hang out." Use more shelves and less hanging space
You may be used to letting it all hang out (by that I mean hanging up all of your clothes). I am a recovering hanging guy myself. It wasn't until I started reading organization books like Spark Joy and The Life Changing Magic of Tidying Up by Marie Kondo (the "guress" – not sure if this is a word – of organization) that I learned you can get 2 to 3 times more clothing in neatly folded piles vs. on hangers! When I learned this the 20 running shirts I have (yes – I have a running obsession and run an hour a day) now are folded vs. on hangers. Are you hanging too much? Gain room and include more shelving in your design.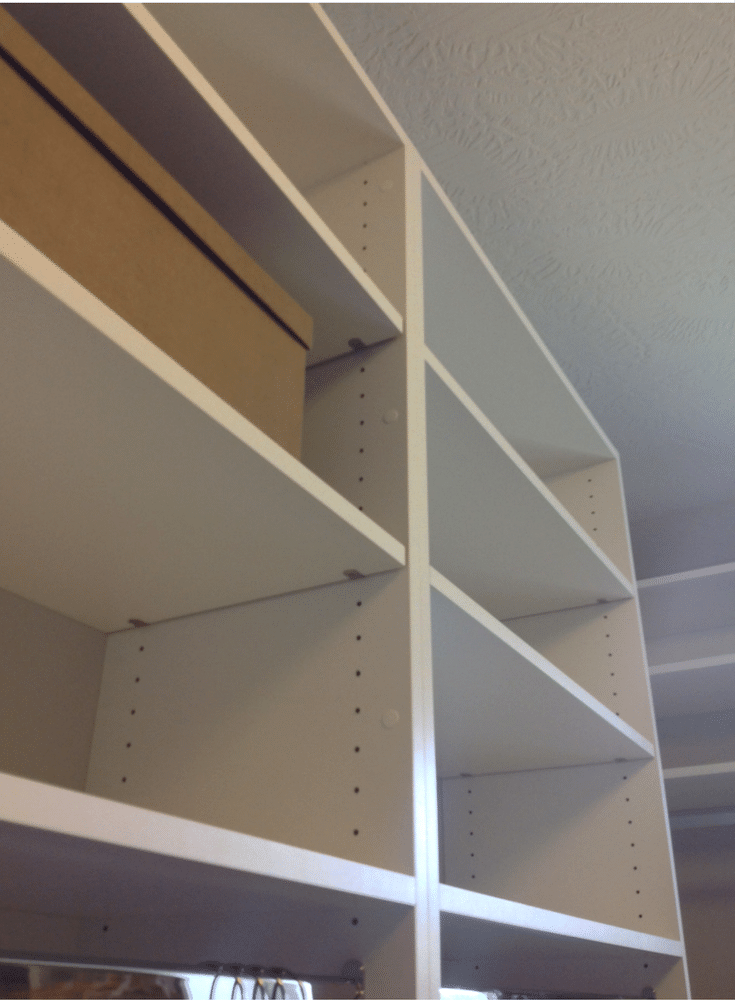 Magical Tip #5 – Make sure you have the ability to adjust
Whether in life, or in a closet, the ability to adjust is critical. Do not buy a new closet system that doesn't have holes on the side of the vertical supports so you can adjust them. This is a big mistake. You want the design to be flexible for you and your husband (boyfriend, partner, significant other etc.) needs. With holes on the sides of the shelf and rod supports you'll have the ability to add shelves and/or you move hanging sections higher or lower. Don't pin yourself into a fixed wood closet design without adjustability.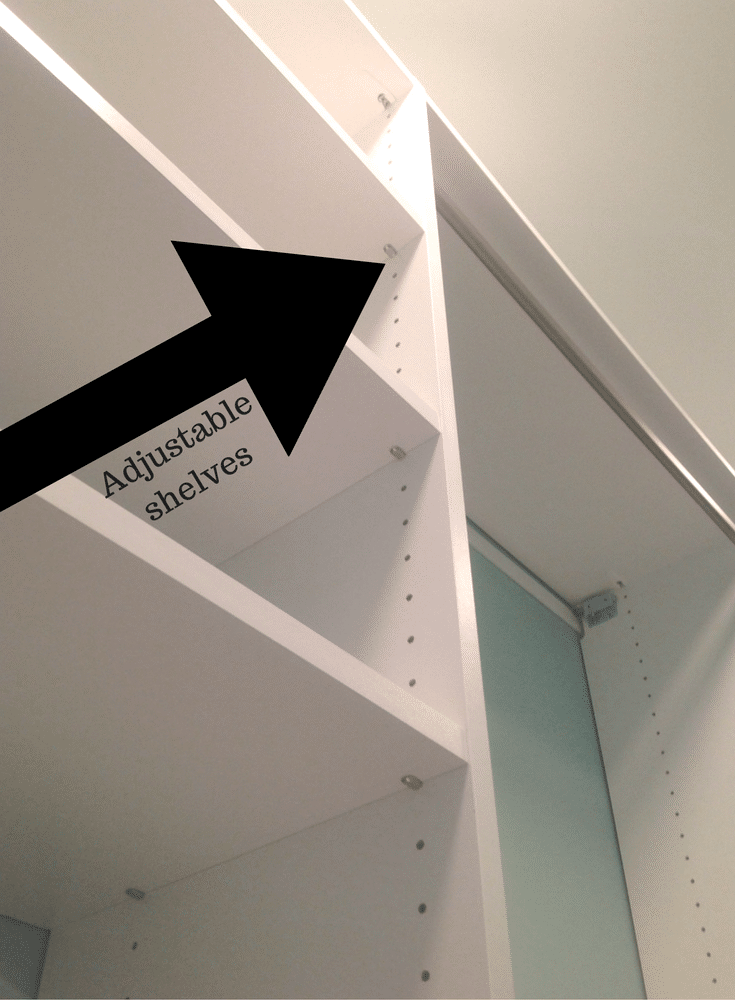 Magical Tip #6 – Get the best of both worlds. Design a cost effective "semi-custom" closet
One of the good things about "off the shelf" closet systems is they come in standard sizes. One of the bad things about "off the shelf" closet systems is they don't come in sizes or configurations to use every inch of your closet (and when you're combining two closets into one you need every inch).
What you really need is a "semi-custom" closet system. With a semi-custom system the designer (yes – I'm one of these types) can use multiple widths of standard shelving and closet sections to keep the cost down and use the space most effectively. For example, in a recent tight customized closet design I was working on in the Westerville suburb of Columbus I made 14" wide shelving space for 30 pairs of the shoes the girlfriend had (2 pairs of women's shoes will take up about 14-15" of width) and made 18" wide shelves for the 10 pairs of shoes the boyfriend had (men's shoes are generally a bit wider). 3" difference doesn't seem like a lot but when every inch counts why waste any space?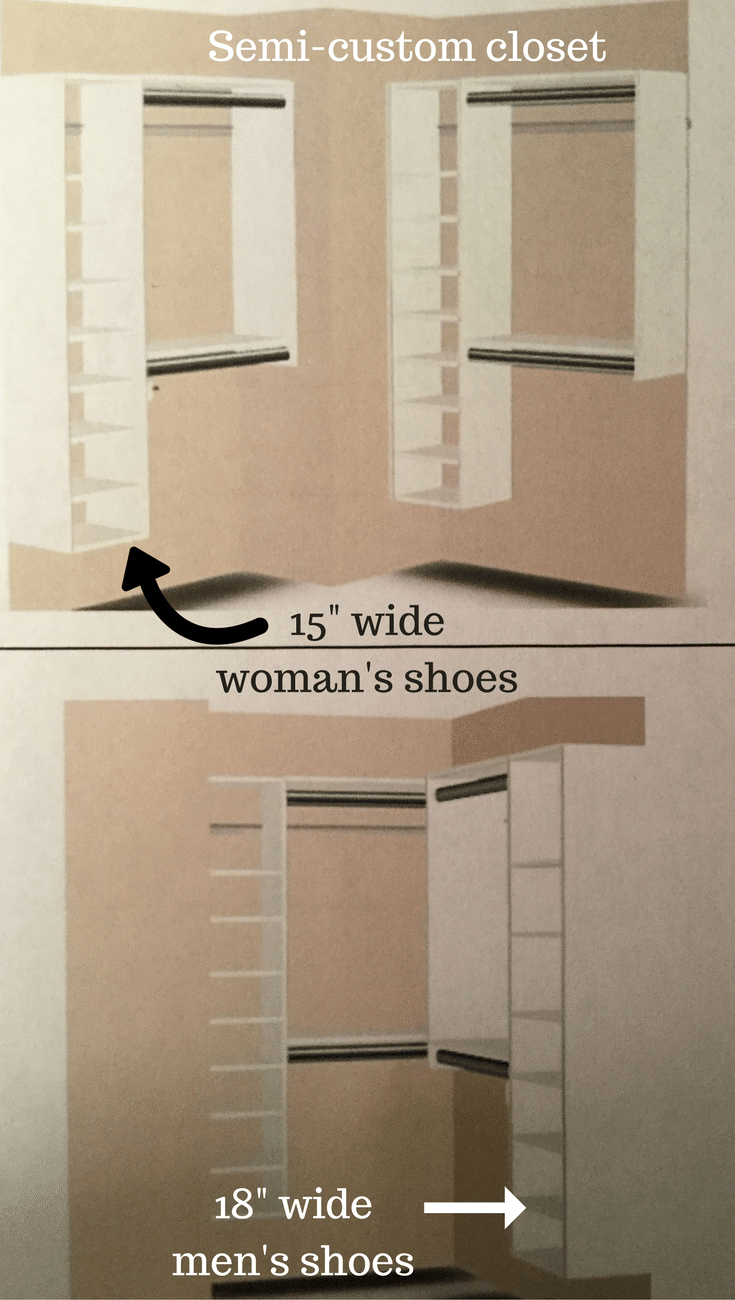 In addition, with semi-custom closet you can make sure to have closet rods and shelves finish at the end of the wall (no wasted space in the corners).
Magical tip #7 – Go incognito! Get rid of your drawers….'er I mean the drawers.
OK – I'm not advocating to get rid of your underwear and parade around naked so you can save some money on clothing and closet space. What I am suggesting is if you want to keep the master closet costs lower, eliminate the use of drawers.
'To keep #closet costs down eliminate your drawers...'er I mean eliminate the drawers!'
Click To Tweet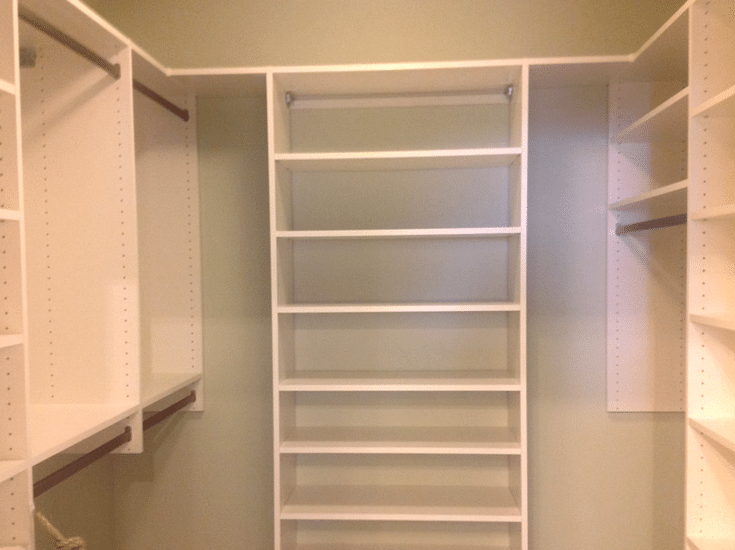 Drawers are one of the most expensive elements in a closet design (there is the drawer box, the slides, possibly slow close operators etc.). In this case put your socks, jewelry, underwear etc. in a dresser. Now if you want to jazz up the look of the closet and add flexibility by all means use drawers.
Conclusion
My goal with this article was to impart a bit of "closet magic" to help you combine two closets into one (so you and your partners can co-exists with a bit less stress). How did I do? Please comment below or call if you want help with a free closet design for your Columbus or Cleveland home.
###
For a Columbus walk in closet call Innovate Home Org in Columbus at 614-545-6888 or for a Cleveland closet design 216-658-1290.
Follow the author on Twitter @Mike_Foti or our companies' @InnovateBuild and @InnovateHomeOrg.
---
Tags: budget closet, budget closet design tips, closet design, closet design Cleveland, closet design Columbus, closet tips, Columbus couples, Columbus customized closet, Columbus premium closet, Columbus walk in closet, combine two closets into one, combining two closets into one, custom closet Columbus, moving in with boyfriend, moving in with fiancée, moving in with partner