7 Little Known Organization Products for a Cool Custom Closet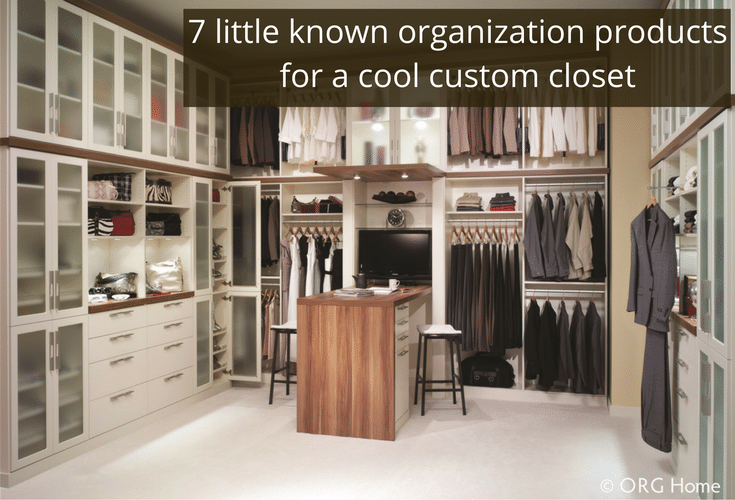 One key to upgrading your closet is to include cool little known organization products to increase function and style while keeping an eye on your budget. But how can this be done? The key is to find (and include) some little-known closet storage products which can make getting dressed for work or a fancy evening at the Columbus Opera no longer as stressful as watching Karl Wallenda tight rope over the Grand Canyon (I have to admit to you I just didn't have the guts to watch him the last time he was on TV doing this).
Let's take a look at 7 little known products to transform your inflexible wire or wood "system" into a premium closet which others would be dying to have!
Little known closet product #1 – LED lighted wardrobe rod
I don't know about you – but for me color blindness is a problem. What's funny is it was even a bigger problem for an employee of mine several years ago. You see she actually wore one brown shoe and one black shoe (of the same type) on the same day! She was bumming when she figured this out. We got a good laugh!

One big problem we have when a closet is too dark, or lacks natural light (which is true of most closets), is it's harder to coordinate your clothes (or shoes) for the day. Also – if you're like me and you have 3 bulbs in your closet lighting fixture you also wait until ALL of them are burned out before removing the lighting fixture to change them (so most of the time you're operating without the maximum amount of light). Hopefully your spouse or significant other is not as lazy as I am about this!

There is a way to fix this problem. The solution is to use closet wardrobe rods with LED lighting built into the rod. It will help you locate your clothes faster and even help your colorblindness as well!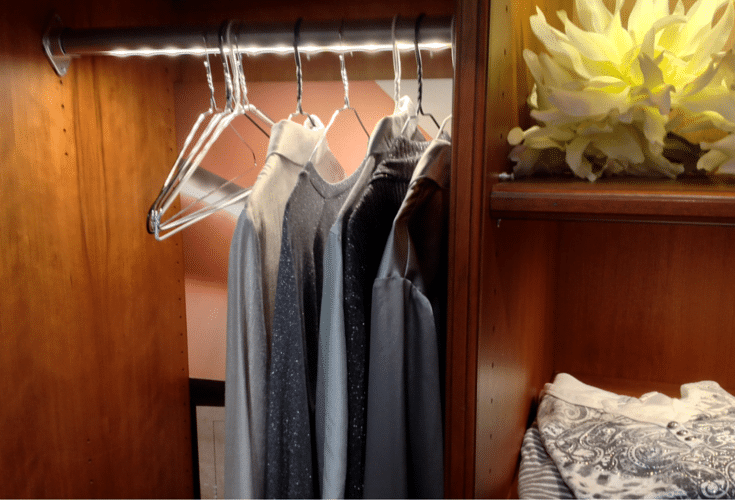 Little known closet product #2 – Fold down ironing boards
Wouldn't it be a dream if you could get your husband or significant other to do all the ironing (and have your clothes nicely pressed for you every morning)? If you're like most people in the world "that ain't happening!" Getting ready can be a real hassle when you finally find the outfit you want to wear and it's hopelessly wrinkled. Then you've got to put on some clothes (so your kids don't see you walking through the house naked), set up the ironing board in your basement or laundry room (yuk) and press today's outfit. What a pain in the ***!

There's a better way. Install a small ironing board which comes out of your custom closet cabinetry. Now you can do small touch-ups without a hassle and get ready quicker. Now that's a concept! There is one key detail to consider though. Make sure you have an electrical outlet to plug in the iron.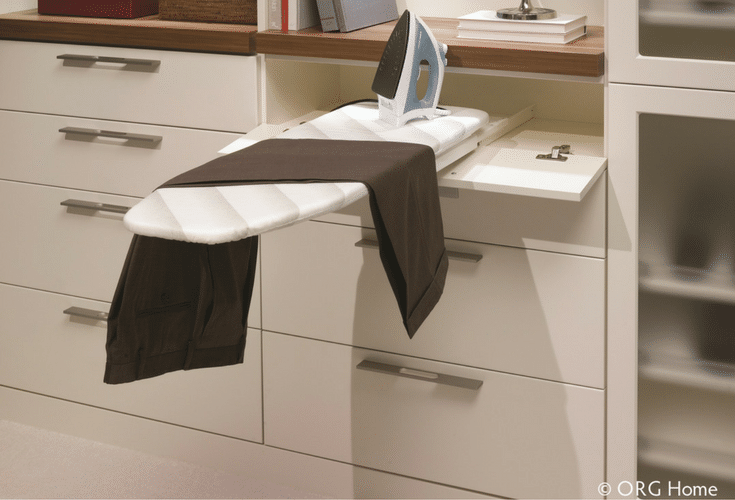 Little known closet product #3 – a hidden hamper for the minimalist with OCD

Piles of dirty clothes on the floor is enough to make the aspiring minimalist with more than a touch of OCD go over the emotional edge! If visual clutter gives you anxiety (and it certainly does for me and my wife) making sure you can contain dirty clothes where you can't see them would be an excellent feature of the closet. This goal can be accomplished with a fold down hamper built into your premium closet. This feature will benefit you whether you like in Westerville, Powell, or Dublin Ohio or Ireland for that matter!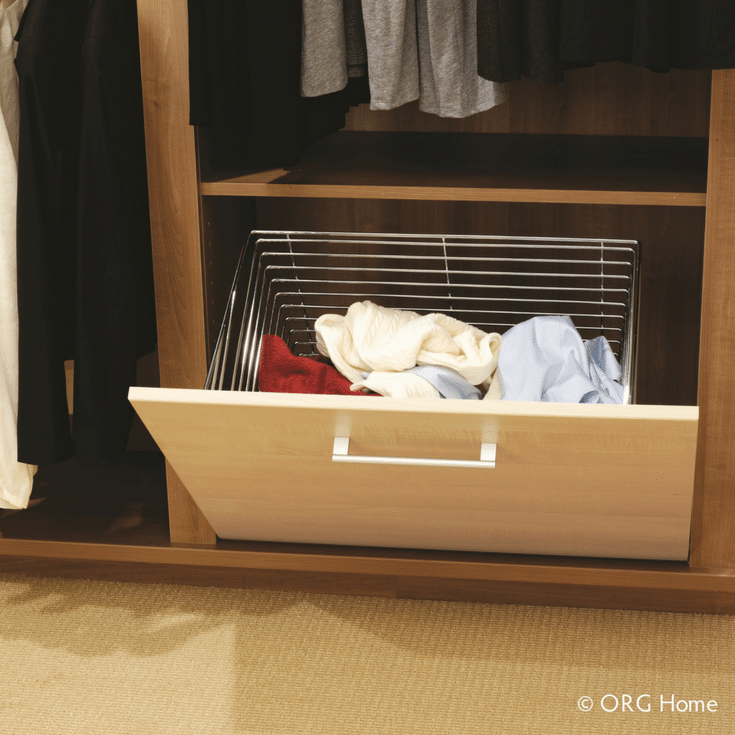 Little known closet product #4 – a closet which is equipped to "handle" your boots

Fashions change and your closet needs to be equipped to handle what you're wearing now. Let's face it – today women's boots are hot. You've got ankle boots, booties, rain boots, knee high boots and if you're a theater goer maybe even a pair of "kinky boots" (Kinky Boots is a reference to a a fun and entertaining Broadway show). The challenge is, how are you going to store these boots.

I love this new product from Hafele which is a special pull out drawer specifically for boots. They no longer need to be thrown on the floor in some crazy haphazard fashion. Would you like one of these in your closet?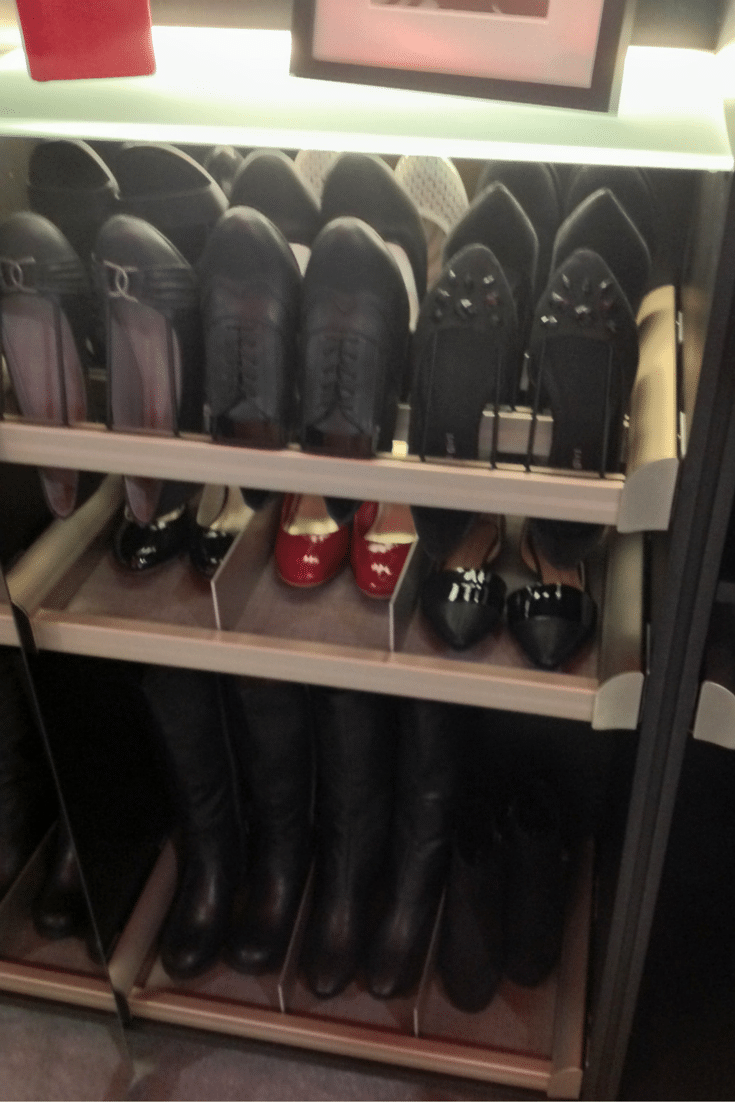 Little known closet product #5 – two-tiered jewelry trays

If your jewelry is a tangled mess you're not alone. Some jewelry might be hanging on a few hooks in the closet, some thrown into the dresser drawers all tangled up. Searching for the perfect set of earrings, necklace or bracelet can be a major pain. This is where a jewelry drawer box can be a luxury you really owe it to yourself to have. We love this two tiered box below. It gives a lot of storage space and it's velvet lined design feels wonderful on your hands.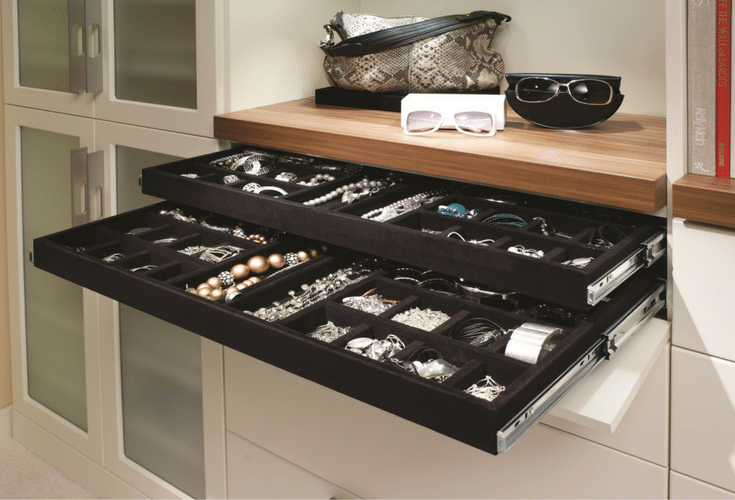 Little know closet product #6 – pull down wardrobe rods for the "vertically challenged"
If you're still waiting for that growth spurt your mom promised you when you were 13 to happen (and it still hasn't happened) this little known closet product can help you "level" the playing field to reach EVERYTHING in your closet. If you have some taller ceilings you can now take advantage of this height by installing pull down closet rods. Just grab the handle and the clothes come to you. That's cool!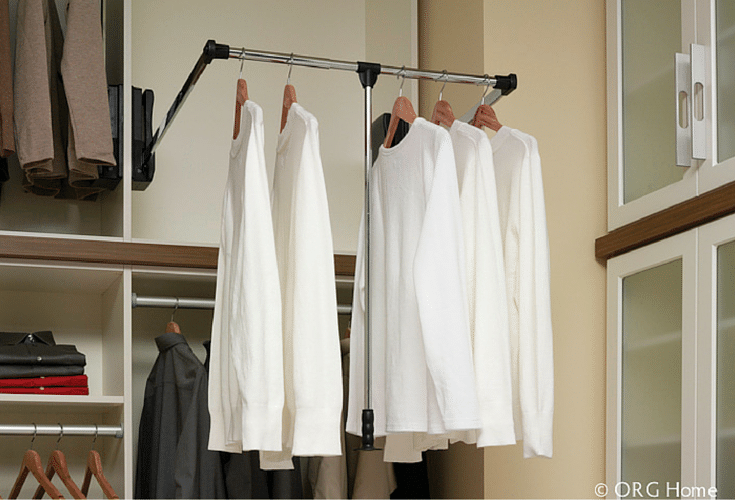 Little known closet product #7 – slide out mirror

Now that you can find your nice boots, your clothes can be nicely pressed with your in-closet ironing board and you were able to reach your clothes with the pull down wardrobe rod you'll want to get a last-look before heading out the door. This is where a slide out mirror comes in handy. Pull it out, check out how you look, make any minor adjustments and out the door you go!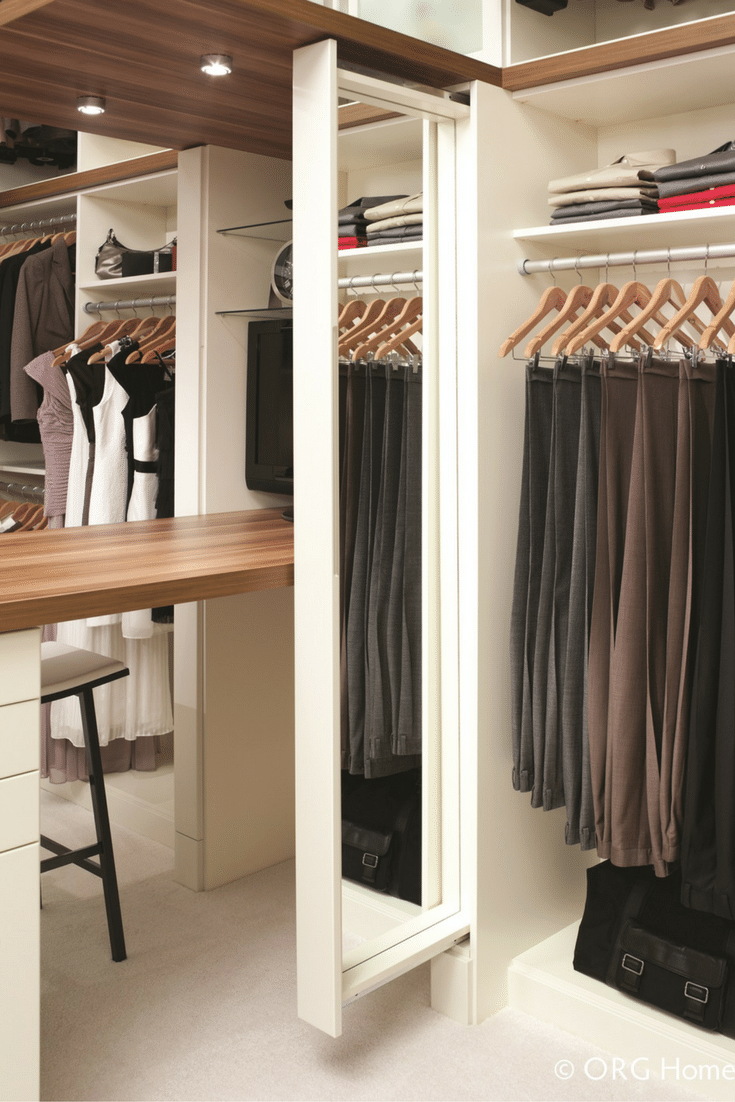 Conclusion
Why continue to put up with a closet which functions poorly and looks even worse. With some expert closet design advice you can transform your "generic" closet into a premium one with the 7 little know product features discussed above.

What are you waiting for? Call Innovate Home Org to help you through a custom closet design and professional installation. We are here to help in Columbus at 614-545-6888 or in Cleveland at 216-658-1290.

###

Follow the author @Mike_Foti or our companies' @InnovateBuild and @InnovateHomeOrg on Twitter for more information about closet products and design.

Are you frustrated with your generic "builders grade special" wire closet which gives you lines on your sweaters, allows your shoes to literally slip through the cracks, and is as inflexible as an army tank? Have you dreamed about a custom closet which would eliminate these storage problems? Wouldn't it be nice to have the "drool-worthy" style and functionality you see from the stars' closets on Instagram?
---
Tags: closet accessories, closet boot storage, closet fold down ironing board, Columbus closet accessories, Columbus custom closet, Columbus lighting, Columbus OH closet, Columbus premium closet, Columbus walk in closet, custom closet, Dublin OH closet, ironing board, LED closet lighting, LED wardrobe rod, lighted wardrobe rods, Powell OH closet, pull down wardrobe rod, slide out closet mirror, walk in closet, Westerville OH closet