6 Key Factors to Compare Wood vs. Metal Garage Cabinetry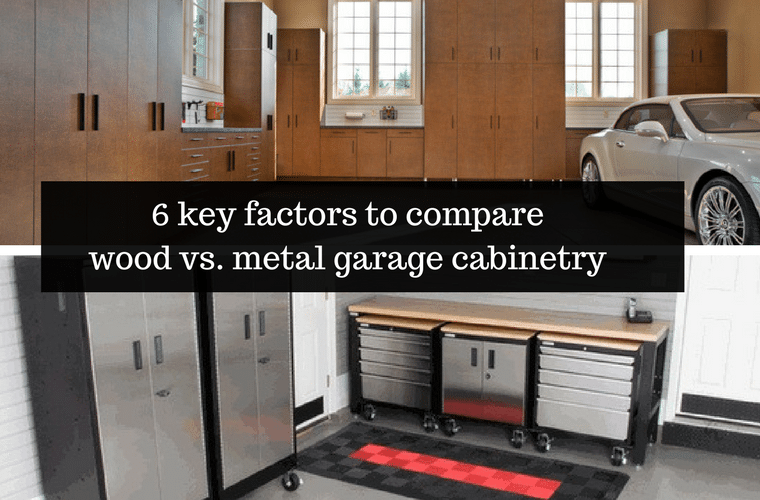 Maybe your garage isn't a complete nightmare on Elm Street – but's it's also not the inspired "man-cave-like" or "super gear-head" industrial space with sleek metal or laminate covered wood cabinetry you've dreamed of either. The options to transform your garage into a fun, cool and highly functional space are daunting.
If you want to go cheap, it's simple. Go to Home Depot, Lowes or Menards and grab some easy to assemble (but flimsy) plastic cabinets. Another option- check out your remnant building supply store and buy some used kitchen cabinets and slap them up. These options won't scream quality and cool – but they may be enough to get 'er done (if the items you're storing are light and looks aren't important).
On the other hand, if you want a quality, durable and high end garage cabinetry system for your home in Dublin, Westerville, New Albany or Worthington, you'll most likely be deciding between metal or a laminate covered wood system. The challenge becomes how to sift through the choices and determine what's best for you. Just like you don't want to leave home without your American Express card (or at least that's what the commercial wants you to believe) – you don't want to make an investment in premium garage cabinets without figuring out if a laminate covered wood or metal system is best for you. The following 6 factors will make your choice clearer.
Factor #1 – How big is your budget for garage cabinetry?
It's a bummer that most remodeling projects are more expensive than you think they're going to be – and higher quality garage cabinetry is not cheap. If you want a nice product which will last, but are also trying to keep these costs lighter on your pocketbook you'll find the laminate covered wood cabinets will be lower priced than metal.
Factor #2 – Are you a self-professed "gear-head" or a "busy executive who wants a stylish functional garage?"
Ask yourself, "Why am I looking to improve the storage and function of my garage?" If you're a Harley Davidson or classic car fanatic who will be elbows-deep working on your prized possessions in your heated garage, metal based rolling cabinets are a logical choice. They will move with you and your work.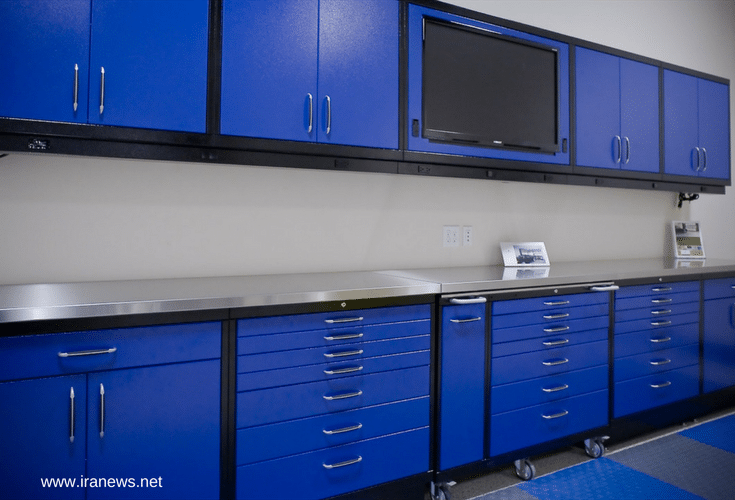 If, on the other hand, you want to see a sleek, organized garage when you drive in after a long day of work (and have a garage which is cool enough to entertain friends) stylish laminate wood-based units will be the ticket.
Factor #3 – What's the weight of the items you're looking to store in your garage cabinets?
Not all metal cabinets are the same. Some are made with aluminum skins others are made of steel. Not all wood garage cabinets are the same either. Some have thicker 1" shelves and back panels to keep bugs and moisture out. Some come with Euro style hinges for easy adjustments (others with lesser cost piano hinges). Although product features within these two types of cabinets will vary, what is generally true is the thicker grade metal cabinets are rated to carry heavier loads.
If you're storing car and motorcycle parts or heavy industrial grade tools for bigger repair jobs metal can be a good choice. If your needs are to have a place for your golf clubs, skiing equipment, ladders, rakes and holiday decorations – the laminated wood system will get the job done – with style- and without the bigger costs of metal.
Factor #4 – Will a job relocation be in your immediate future?
Moving is a pain in the butt! It can be even more painful when you realize you've made a recent investment in a home improvement project which you can't take with you to new home you're being relocated to. Since rolling metal cabinets can be packed up and put onto your Mayflower or United Van Lines moving truck they are a good choice for the upwardly mobile career executive who is on the move – a lot!
Factor #5 – On the floor or onto your garage walls – that is the question
Garage floors (especially in cold weather cities like Columbus or Cleveland Ohio) can be a funky collection of the weirdest bugs, leaves, salt and dirt you've ever NOT wanted to become acquainted with. What's also difficult is garage floor space can be tough to come by (have you ever asked yourself – why didn't the builder make this garage a few feet wider so you wouldn't keep banging the car doors against all your things?).
Gaining garage floor space and not having to store things on your too often too dirty garage floor would be a welcome change. But how? This is where wall-hung laminate garage cabinets come in. With the units mounted firmly to the wall you'll now be able to have a place for your lawnmower and trash cans in the garage while also gaining storage above them. This is a "double bonus" you'll get with a wall hung garage cabinet system.
Wall hung #garage cabinets are a double-bonus - more storage and items off the dirty floor.'
Click To Tweet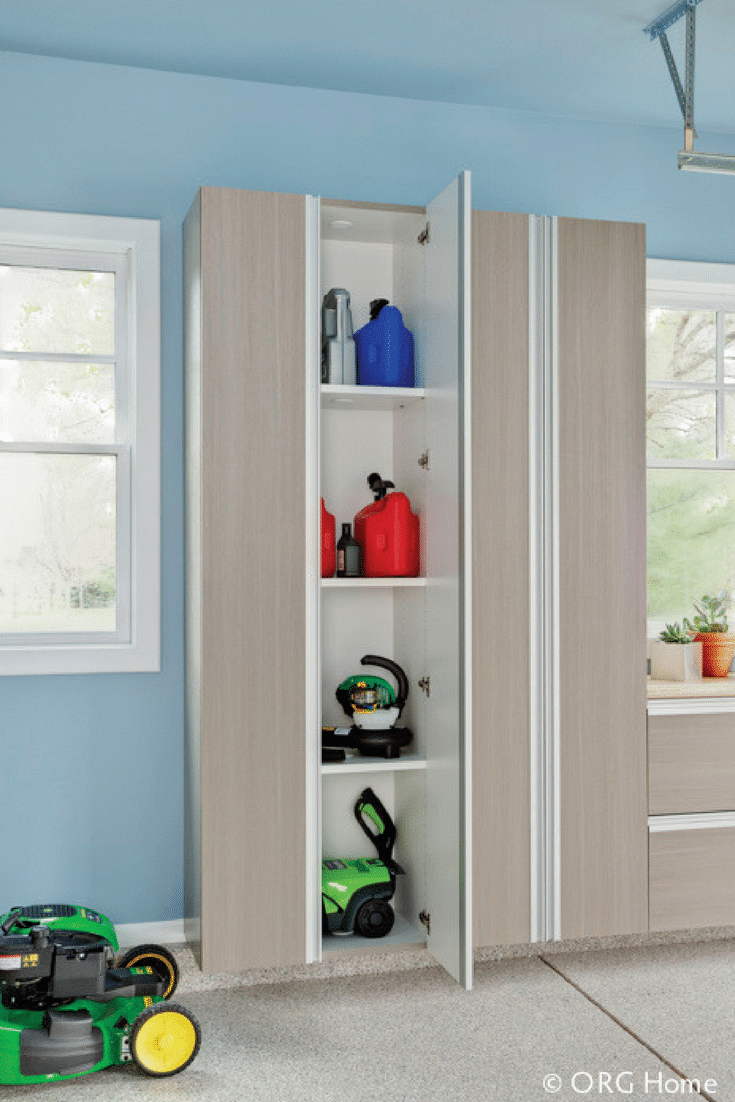 Factor #6 – Utility vs. "Cool-tility" (creating your man-cave garage experience)
Life is too short (and crazy) to not be enjoyed! And let's be honest. If all you really wanted was some basic racking head off to your nearest home center and grab some low-cost plastic garage shelving units and call it done.
Perhaps you've got a vision for something cooler for your garage. How about an entertainment zone with a TV where you and 'da boys' watch the Ohio State Buckeyes crush the team up North?
When they come over you can even show off your extra tall cabinets with your golf clubs neatly stored inside. With laminate garage cabinets your garage can be a "man-cave" extension of you!
Garage #cabinets can be a #mancave extension of you!
Click To Tweet
Conclusion
Just like not everyone is a OSU Buckeye's fan (can you imagine that???), there is no one garage cabinetry system which is perfect for everyone. I hope these 6 factors help you work through the cluttered (pun intended) decision making process to choose the right system for your new and improved garage. If you'd like to get help with your Cleveland or Columbus garage cabinet project (and get a Free 3D garage design call Innovate Home Org at 614-545-6888 (Columbus) or 216-658-1290 (Cleveland)
---
Tags: Columbus garage cabinetry, Columbus garage cabinets, Dublin garage cabinets, garage cabinetry, garage cabinetry system, laminate garage cabinetry, metal garage cabinets, New Albany garage cabinets, premium garage cabinetry, wall mounted garage cabinets, Westerville garage cabinets, wood garage cabinets, Worthington garage cabinets