How to get an inspiring custom closet with a first-time homebuyer budget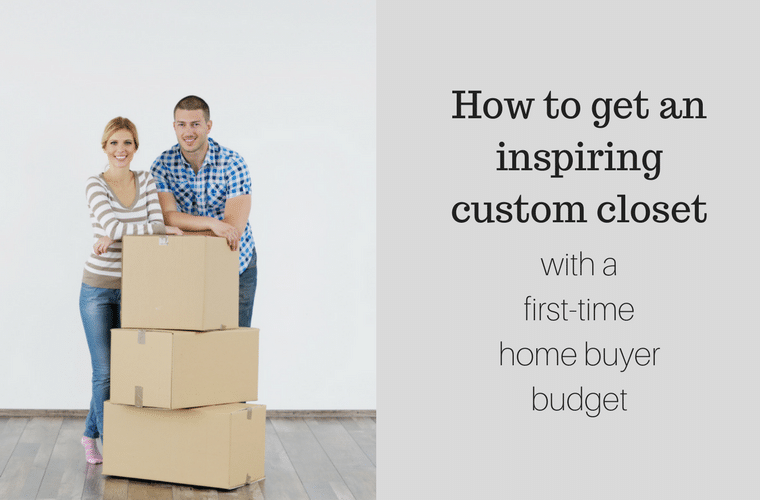 You love your clothes and shoes. Your Mom and Dad have known it for 31 years, you husband Mark has only experienced it for a bit over 3. So, when you realtor showed you the perfect 3-bedroom starter home in the Westerville suburb of Columbus you knew something would have to be done with the bent and completely unworkable thin wire walk in closet in the master bedroom. There's no way all your stuff is going to fit in THAT SPACE (and oh, you do need to leave a little room for Mark's stuff as well – ha! ha!). As Mark joked with you when he saw the closet, "Mini-Kloe ('er Kardashian) I think this closet ain't gonna cut it!"
When you started visiting homes with your realtor you also started pinning like a madwoman on Pinterest. Now you have a slew of cool images from those ultra-chic celebrity closets. You know it doesn't take a neurosurgeon, a rocket scientist (or name any of your favorite geek occupations here) to figure out you can't afford the celebrity closet on the "rising-somewhat-slowly" two income budget you and Mark have now. Plus, with a baby on the way in 4 months (wow), you've got to be thoughtful about where you invest your money.
The challenge is how do you get a "Dom Perigone-like" custom closet on a "Local craft beer like" budget? How do you find the right closet company who won't snub their nose at working on your modest budget closet. How do you find someone who can show you cool 3D designs to see what's possible? How can you combine cool, clean, contemporary and AFFORDABLE into one neat package? Your needs and wants are big-time, your budget not so much.
In this article, I'm going to share with you 5 practical tips new home buyers can use to get an inspiring (and functional) closet on a reasonable budget. But, this advice comes with a warning. Don't skip any of the tips. To get the maximum value out of your minimalist wallet you must be well-versed and well-researched before dishing out your money on a custom closet. You might have heard the saying – "caveat emptor" – Latin for let the buyer beware. In today's environment…. let the buyer research their pants off – OK, not literally though!).
First time custom closet buyer Tip #1 – Spill out your champagne tastes, but crack open your beer budget
It's fun to have a vision of your ultimate closet. Any experienced closet designer knows a well thought out project will begin with your vision. But a lofty within without a realistic understanding of your priorities and what you can afford will be a lesson in frustration. There is no sense telling the designer you want an island with a granite countertop, velvet lined drawers and custom crown molding if your budget today won't support this dream closet.
I would recommend sharing up front an approximate range you have to spend. Ask the designer to show you designs they have done for others and what the pricing of these projects has been. By sharing these prices up front it will save you time (and being let down) wanting champagne product features, but not being able to afford them. This openness will also help the designer to not only design for today's budget, but also talk which features you could "bolt on" (add on) in the future. One example would be adding drawers or velvet lined jewelry compartments. If you can't afford these today, the closet can be designed with standard width spaces (18", 24", 30" and 36") so you can add drawers down the road as funds allow.
First time closet buyer Tip #2 – Separate your wants from your needs
Isn't it a bummer you can't have everything you want in life? Having a child likely means less vacations for you. Taking on a new position often involves more hours at work. Life = tradeoffs.
Buying a closet system is the same thing. You may love the look of raised shoe shelves – but if space (and budget) is tight flat shelving will be best.
Crown molding will look elegant– but it also costs more and reduces the amount of useable storage space. Before you meet with your closet designer come up with a list of "have-to-haves" and "want-to-haves." This will help keep you in budget and focused on what matters most.
First time closet buyer Tip #3 – Are you in this house for the long-haul, or is it a stopping place on the road to progress? You need to think like a house flipper or real estate agent.
While nothing is forever it's smart when planning any home improvement project to think through how long you plan to live in this home. If you know you are Mark are likely to get relocated (and it's not possible to take a closet system with you) you should not go on a spending extravaganza on closets. If, on the other hand, you think this is the home and neighborhood you want to be in for 5 to 10 years (in today's world that's a LONG TIME!) then adding luxury closet features will make sense.
Keep an eye on the value of your home. It's nice to have the fanciest, most expensive, home on the block – until you go to sell the home and have trouble getting your money out. Ask a professional realtor what improvements have a good ROI for this home. I remember my Dad telling me to get the cheapest home on the block – then thoughtfully and strategically make it better. I don't think Dad lead me wrong on this one.
First time closet buyer tip #4 – Work with an up to date closet design professional who will help you 'see" what you're getting
When you're having, work done at your home it's no time to settle for "Chuck in a truck." Once you get into your home you'll have the chance to meet Chuck – the "home improvement professional" (sarcasm intended here). He'll come late to the appointment. Will scribble things down on a yellow legal pad which might have a bit of Coke from lunch spilled onto it. He'll tell you, "Lady I'll get back to you on this." Maybe he'll follow up with something. Often, he won't.
A professional closet designer can (and should) be different. They will begin by asking you questions. How do you want the closet to work? What are you going to store in the space? What do you may want to store in other closets? They'll ask about styles and finishes you'd like. Most importantly they will do a 3D design for you. Why – might you ask – is a 3D design important? It's because most people don't think in 2D. A hand drawn sketch on a sheet of graph paper is OK – IF YOU KNOW WHAT YOUR LOOKING AT! Since this is your first-time closet project it will be easier to visualize a design which shows all the angles and will even have some "clothes" inside the drawing so you can see how your space will live. Insist on professional design from the start – no "Chuck in the truck" with penciled drawings.
First time closet buyer tip #5 – It's not about "arm-twisting" and phony sales, it's about educating and fair pricing
Have you enjoyed your experiences going to a car dealership (especially the used car dealership when you were younger) and having to deal with the slick (and not very knowledgeable) salesperson? He would go back and forth with his manager and you'd have to haggle about prices? It's hard when you know more about the car than they do, but still must deal with them to get "through" the process of buying the car you want.
A custom closet buying experience should not feel like you're buying from a high pressure used car salesperson who tells you, "sign tonight or this deal is off the table – all the while knowing that's a bunch of crap!" You're a professional and you deserve to work with professionals in the closet buying process. Look for a closet designer who is a "student of their game." Do they have resources to help you understand the products and installation process (maybe informational blog posts, videos, literature etc.)? Do they have a computerized pricing system so you can see how adding (or subtracting) features will impact the price?
Closet buying – can and should be – a professional and exciting experience. You deserve it – and can get it – IF you do your homework.
Conclusion
There is no reason you can't get an inspirational closet which is designed to fit your budget. The challenge is to go into the closet buying process with your vision and a pre-determined game plan of what matters most to you. Make sure to work with a closet design professional – who will add information, ideas and realistic and transparent pricing to the process. As a first-time homebuyer doing any type of home improvement project you need to bring the smarts your parents taught you to the table. Make wise choices and you'll end up with a home you'll love.
Do you want more help or a free design?
If you'd like help and pricing or a free 3D closet design in Columbus or Cleveland Ohio call Innovate Home Org at 614-545-6888 or 216-658-1290.
###
Follow Mike, the author of this article, on Twitter @Mike_Foti or our companies' @InnovateBuild and @InnovateHomeOrg.
Save
Save
---
Tags: bedroom closet, bedroom closet Columbus, closet design, closet design Columbus, closet designer, closet designer Columbus, closet organizer, closet organizers, closet organizers Columbus, closet planner, closet tips, clothes storage, Columbus Board of Realtors, Columbus real estate, Columbus realtor, efficient closet, efficient closet Columbus, first time home buyer, free 3D closet design, home buyer, luxury closet, luxury closet Columbus, new home buyer, new home buyer Columbus, organize closet, organized closet Columbus, practical closet, practical closet Columbus, real estate, realtor, realtor Columbus, realtors, walk in closet Columbus