7 smart tips for a luxury custom closet (even if you don't have a huge space)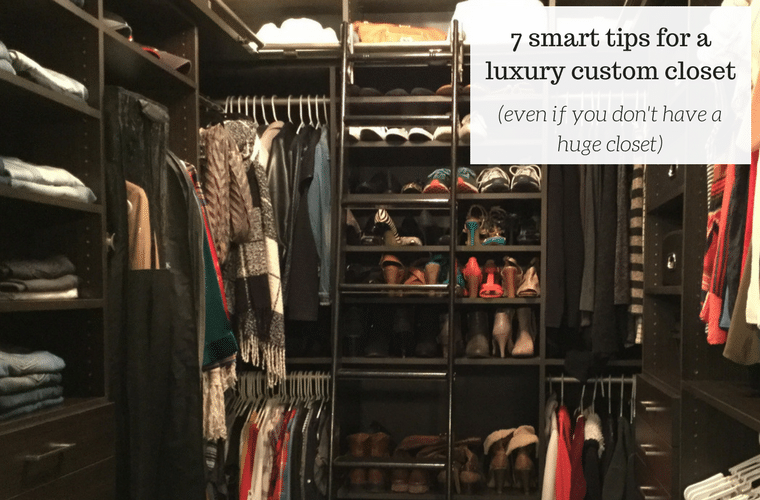 An 8' x 9' closet may seem large to most, but not if you're used to a glamour closet more than twice the size with an island and chaise lounge in the middle. Life has a way of happening……altering our paths…. changing us and our surroundings.
Brandie's story
In the case of Brandie Price, life dished up a difficult blow when her husband passed away 3 years. She was left with a sprawling 6,000 square foot home she shared with her step son. When he left for college, Brandie was alone in a large home filled with memories. Whether she liked it or not, one chapter of her life would need to morph into another.
Although her career as a surgical nurse keeps her hopping, the memories and size of her Powell Ohio home just didn't make sense anymore. Sure, she would miss some of the dramatic features including the organized luxury closet with the open seating area and island. Yes, her existing home was beautiful, but life's path was calling her to move on.
Brandie asked, "What is my next step? Where should I live now as a single career woman? What is my path? This is the question all of us struggle with as time (and relationships) evolve.
Brandie decided her next step would be to move to a new, smaller home. This home would need to be in a nice, safe neighborhood with convenient access to work and events in the City of Columbus. She found this home in Upper Arlington Ohio. The challenge is – the home would need work to fit her style, her lifestyle and need for organized surroundings. The home she bought did not meet all these criteria. So – it was time to let the dust fly. Let the "remodeling games" begin!
An "almost whole-house" remodeling project
This remodeling road – like many in life – would have it share of ups and downs (having to find a second general contractor during the project was just one of the challenges). At the end of a disruptive one year process the major remodeling project is in the rearview mirror. She has a new open kitchen with ample storage, an updated stone fireplace and a contemporary sleek bathroom. One key element which also was addressed in this project was the master bedroom closet!
Something needed to be done to fit all of Brandie's clothes (for work, for corporate events and just for having fun on the weekends). The challenge would be as my Dad used to say, "You can't fit 10 pounds of stuff into a 5-pound bag. The existing master closet wasn't the expansive one she had in her 6,000 square-foot home (unless Brandie decided to make the master bedroom her closet and would choose to sleep outside on the lawn (probably not going to happen – ha! ha)!"
Brandie would need a plan to make her 8' x 9' space work as well (if not better) than the expansive custom closet she had in her old home. But how? In the article below I'll share 7 smart tips and ideas Brandie used (in conjunction with our team at Innovate Home Org) to make her smaller master closet dramatic, stylish and uber-practical. As Brandie said to me, "Mike, even though this closet has a smaller area than my last one – it's actually designed to provide more room and is even more stylish." Let's see below how Brandie made this happen.
Smart Luxury Closet Tip #1 – Going up – using vertical storage space and a library ladder for dramatic style and practicality
If you can't grow your closet outwards (in Brandie's case the master bedroom and bathroom were in the way) why not grow your space upwards? Brandie had her contractor remove the top of the closet and create a vaulted ceiling which measures 14' on the left side by 11' on the right. A soaring ceiling is nice, but it is of no value if you don't have a way to reach things at the top.
'A vaulted #closet ceiling is of no value if you don't have a ladder to reach things.'
Click To Tweet
This required the use of a rolling
library ladder
.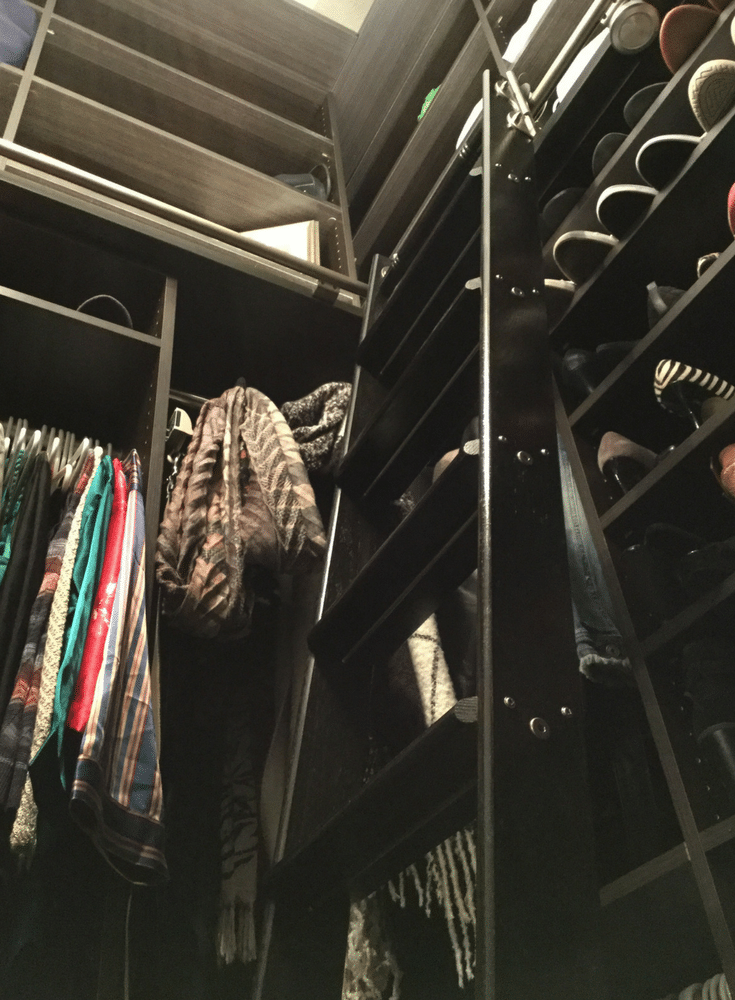 This 16" wide, red oak ladder (which was supplied from Customer Service Hardware) was stained a rich dark brown color to match the deep color of the mocha drawers and vertical support panels. The ladder only weighs 20 pounds so it is simple to move from one support rail to another. It can also be adjusted side to side to make room for the ironing board or getting clothes out. It has an automatic braking feature so it will only slide and move when you want it to.
The upper level shelving was design at a 16" depth so the storage is simple to reach when standing on the ladder. Brandie stores lesser used hats and formal clothing on this level. This shelving rests on a 21" deep by 1 1/8" thick support shelf so there was room to mount LED lighting. The lower level cabinets were set at 24" depth to keep the clothes concealed and provide increase shoe storage (see tip #4).
Smart luxury closet tip #2 – Light for drama, impact and practicality
It doesn't do any good to create a vaulted ceiling (and add volume to your closet) if you can't see what you've got. Years ago, it would have been difficult to light this space since lighting from an overhead fixture wouldn't have been bright enough to cover the closet sections on two levels. With the dramatic growth and cost-effectiveness in LED lighting (this type of lights are now estimated to be 36% of the lighting market) it's practical to have well illuminated spaces in hanging sections (and even in your drawers) in a 2-level closet. I would love more lighting in my closet because like a lot of guys I'm color-blind!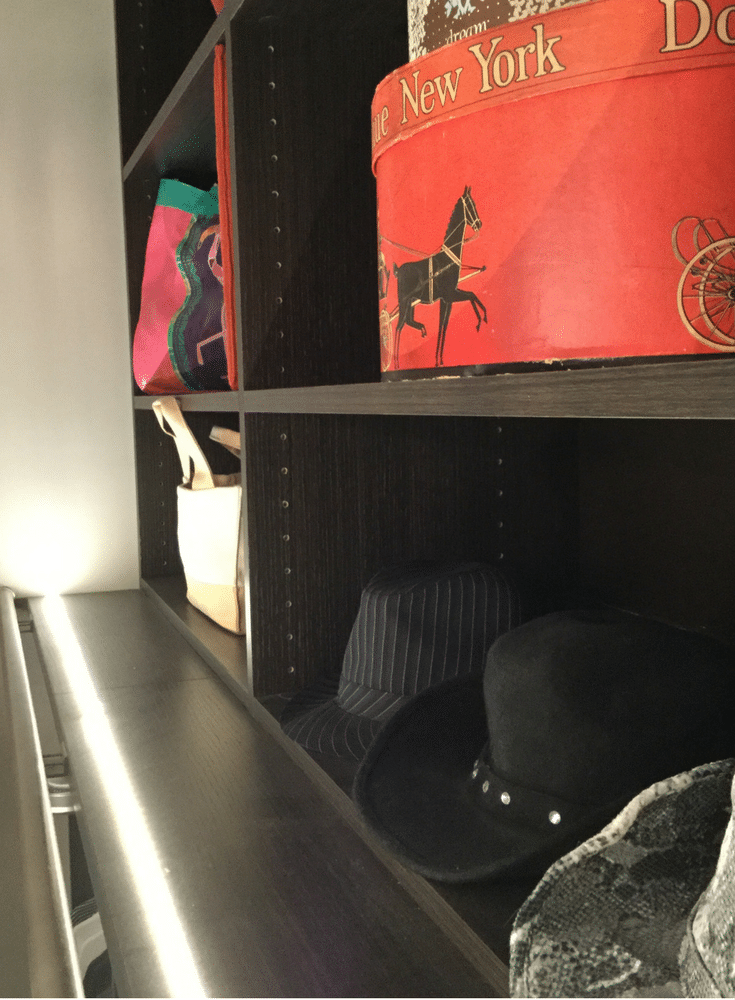 Brandie chose simple rope LED lighting strips which were placed on the top of the 21" deep surface separating the top from the bottom closet sections (this rope lighting was concealed behind the library ladder railings). The rope lighting illuminates the second level shelving and hanging sections. In addition, there are puck LED lights shining down on the first level.
I also must mention the dramatic way-cool Crystal Orb chandelier suspended from the ceiling Brandie got from Overstock.com. This lighting fixture proves cool does not have to be expensive!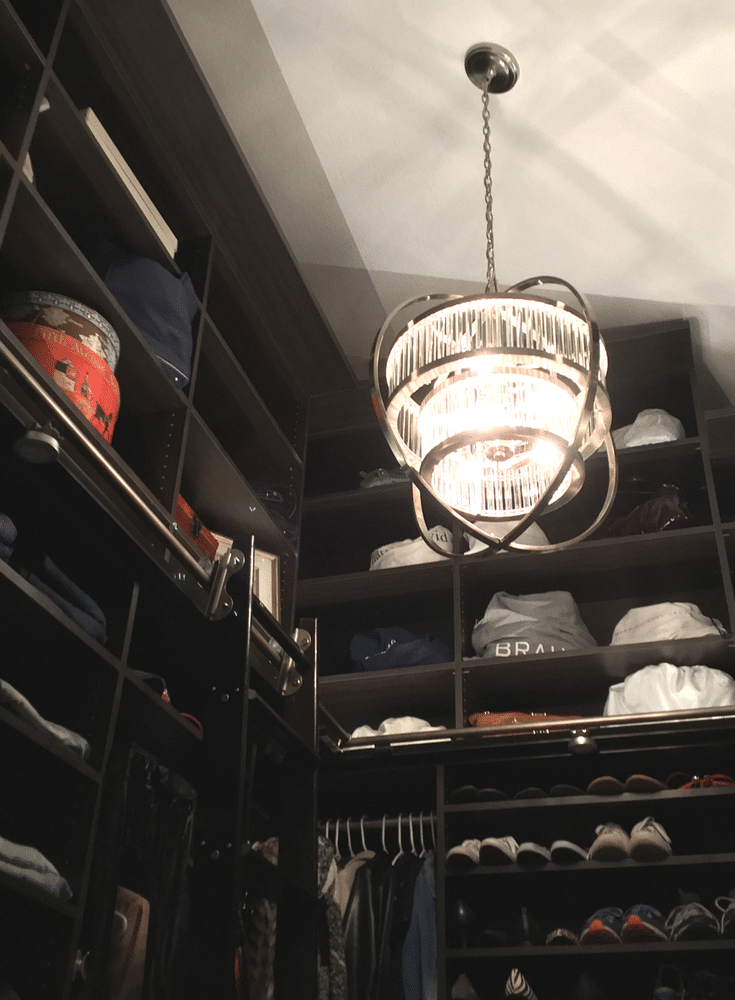 Smart luxury closet tip #3 – Design for today, but make your closet flexible enough it will work for tomorrow
While Brandie designed this closet to work for her needs today, you never relationally what tomorrow will bring. Towards that end, the closet was designed with a his and hers closet layout with drawers on both sides. If the time comes to share her custom closet with someone else – it is designed for that. The other reason this is a smart strategy is the home provides a framework which will work for any future couple looking to buy this home.
Luxury closet tip #4 – Go deep – using closet shelving depth to increase storage and reduce ironing
Have you ever seen cheap 12" deep closet shelving where the sweaters and pants hang off the edge or worse yet, wire shelving will leave line marks on your favorite sweaters? Using a better shelving depth (at least 14" deep) and shelving material (laminates or wood over wire) has a dramatic impact on your personal efficiency (you won't have to iron your clothes so often) and the storage capacity of your closet.
I loved the smart space planning Brandie used with her shoe shelves. First, we chose flat shelves vs. the fancier "raised shelves" to get more pairs in the same space. Second, she positions her shoes in an alternating front/back fashion (see the image below) to get more pairs side by side in the same space. Lastly – the 24" deep shelves allow her to have 2 rows of shoes on one shelf! How cool is that? More bang for her shoe shelving bucks!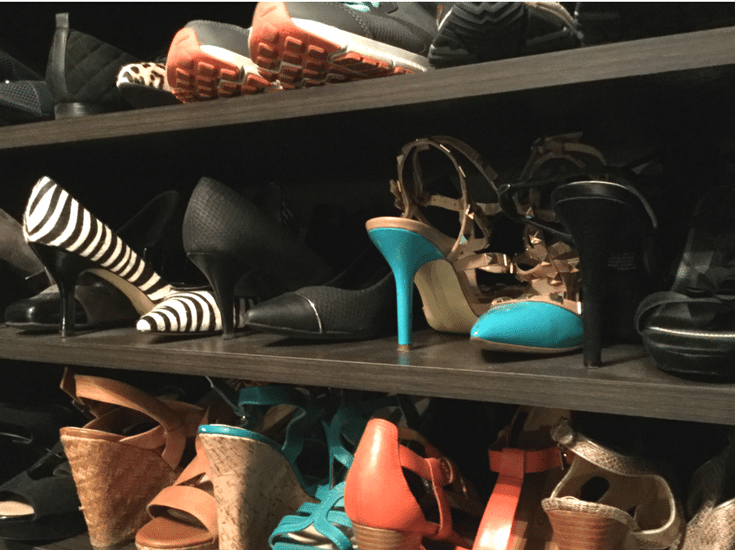 Also, to keep the space neater she purchased inexpensive black leather containers to put those hard to fold items like her surgical scrubs inside. A simple trick – yet it makes the space orderly and pretty.
Luxury closet tip #5 – Pull out functionality and style – making life easier with valet rods, tie racks and belt racks
Just like in life, with a well-planned closet design it's the little things which makes a big difference. A closet which "lives" well will be designed around your needs and how you're going to use the space.
One small feature Brandie loves is the valet rod which slides out from the left hanging section. She uses this rod every day to hang up wet clothing to air dry. It can also be a good feature to plan and stage tomorrow's outfit.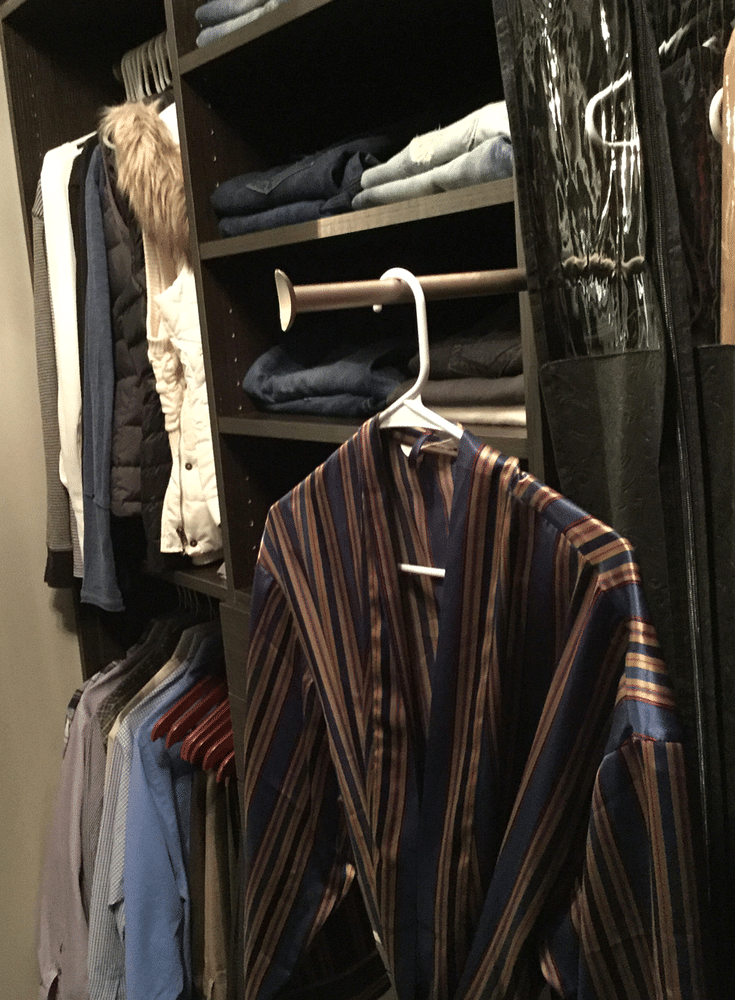 The belt and tile racks also provide useful, concealed storage.
Luxury closet tip #6 – Create a sense of flow with the adjoining rooms
When you design, and create a luxury closet it's not simply a space to jam all your stuff into – it's a room to be enjoyed (both in its practicality and its design aesthetic). But a closet room (and yes, I do consider cool closets like this to be a room), does not exist in isolation. It's part of the flow and purpose of the entire home. It should look fitting and stylish in the context of the master bedroom and master bathroom which are often visually connected to it (and Brandie has a cool master bathroom as you can see below).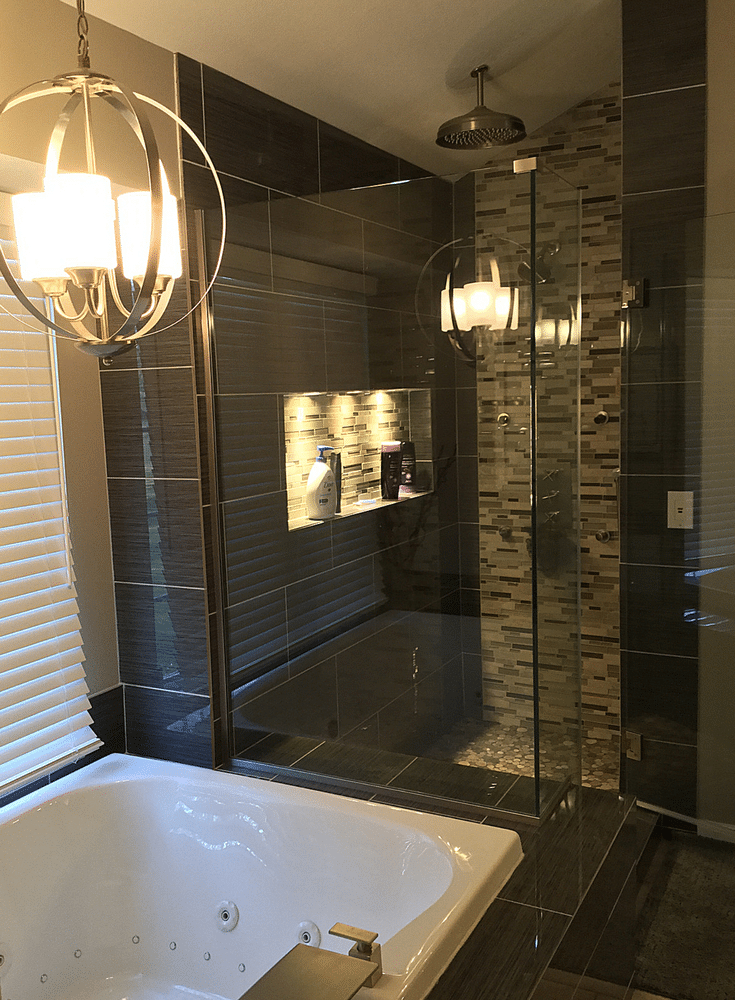 I think the dark contemporary tones of the master closet blend effortlessly with the sleek large format tiles in the shower. The chandeliers in both rooms both have a consistent theme which visually tie the spaces together. These spaces flow.
'A well designed #closet will flow from one room to another.'
Click To Tweet
Luxury closet tip #7 – A closet design just for you!
You shouldn't have a custom closet designed– unless it is truly designer around you. Otherwise just put up some inexpensive wire shelving from a big box store or get a generic closet "system" (I'm being kind calling it a system) installed by "Crank it out Builders Inc." What's fun is Brandie's closet was planned to work with her specific needs and accessories. One cool feature is these 3 pull out velvet lined jewelry drawer boxes.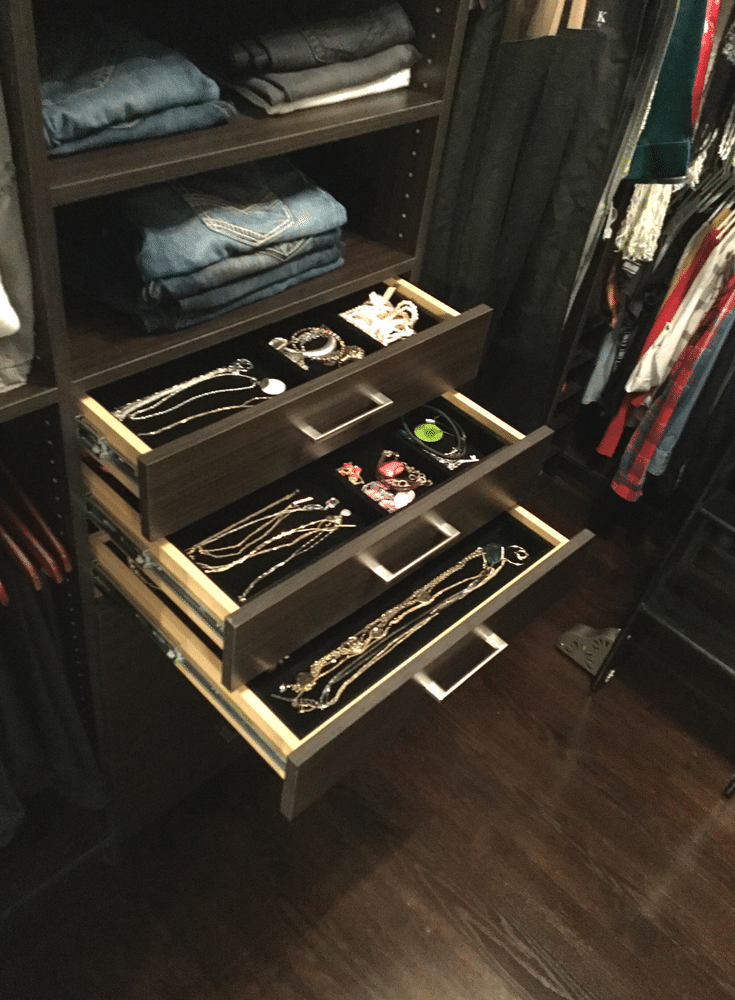 In addition there are adjustable shelving compartments at the top sized to fit her hats. There is even a small cubby in the bottom left hand section for her colored flip-flop collection! Is your closet designed and outfitted around you? If not, could it be?
Conclusion
While life has a way of throwing some lemons at all of us – it's nice to see people like Brandie Price can make lemonade out of them. This soaring luxury bedroom closet is as dramatic as it is practical. Well done, Brandie!
Can I (or a member of my team) be of assistance to you?
Do you need help designing the closet of your dreams (even if it isn't as big as you'd like)? If so I (or a member of my team) would love to help. Give us a call, comment below or click on this link to get a free 3D closet design built just for you. We are looking forward to meeting (and helping) you!
###
For help with a Columbus custom closet call Innovate Home Org at 614-545-6888 or in Cleveland call 216-658-1290.
Follow the author @Mike_Foti or our companies' @InnovateBuild and @InnovateHomeOrg on Twitter.
Save
Save
---
Tags: 2 level closet, 2 story closet, bedroom closet, bedroom closet Columbus, closet chandelier, closet chandeliers in Columbus, closet design, closet design Columbus, CS Hardware, custom closet, custom closet Columbus, Customer Service Hardware, his and hers closet, his and hers closet in Columbus, jewelry boxes, jewelry boxes in a custom closet, ladder for a closet, library ladder, library ladder Columbus, luxury closet, luxury closet Columbus, master bedroom closet, multi-level closet, Powell custom closet, Powell Ohio closet, rolling library ladder, small closet, small closet Columbus, small custom closet, small custom closet Columbus, smaller custom closet, tall closet, Upper Arlington closet, Upper Arlington custom closet