3 simple steps to solve your garage storage problems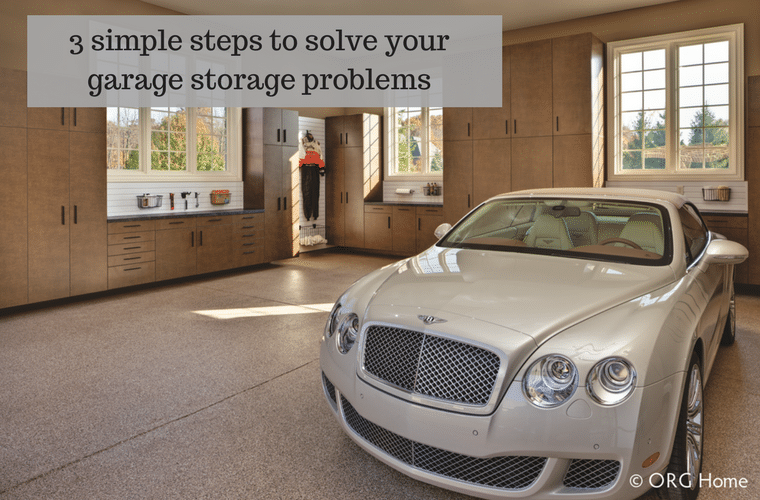 Did you know that 1/3 of people who own a home with a garage don't park inside because they have too much stuff ('er junk) in it? An oversupply of yard equipment, tools, sporting goods, holiday decorations, paint cans, bug sprays, unused furniture can make you think it's impossible to stay on top of your garage storage. You may be asking, where can I begin?
Since your 2 or 3 car garage is the largest room in the house that no one sleeps or eats in, it is a convenient dumping grounds for anything you're not sure where to put next. You know what I'm talking about here – unused furniture, old books, excess supplies for your home office, old bookcases…. the list goes on and on. How can you gain control over garage storage puzzle and transform this large space into an organized "room" which works for you (and allows you to park the car inside again)?
In this article, I'm going to take you through 3 simple (OK maybe not so simple) steps to eliminate clutter, gain (and keep) control over your garage so you don't end up on the next episode of Hoarding: Buried Alive!

Step 1 – Determine what stays and what goes from your garage
If you've really let your garage get out of hand this first step will be the toughest. As my Dad used to say, "You can't fit 10 lbs. of s*** into a 5-pound bag." So, if your garage is overfilled the day of reckoning has arrived. Here's what you need to do:
Have a dumpster on hand
Put everything broken, dangerous or unusable into the garbage immediately. Don't get fooled into thinking you will possibly, maybe or eventually fix it – it ain't gonna happen!
A Noah's Arc strategy will come in handy – Pull everything out, group common items together
Put yard equipment in one area, hand tools in another, holiday decorations in another, sporting equipment in another. Discard or donate duplicates. If the kids no longer use the sporting equipment then donate them. If you have spare parts, mats, or tires for cars, trucks or motorcycles you don't own get rid of them.
Remember Johnnie Cochran's quote, "If it don't fit you must acquit"
I've seen some weird stuff d in garages. Tables, bookcases, old office equipment to name a few. Unless you're going to cozy up with a good book in your garage this stuff must go. In almost every case any furniture stored in a garage has a low chance of seeing the light of day again. Garages are best suited for items which are used outside or extra bulk storage of household goods which don't fit easily inside (large containers of water, pet food, paper towels etc.). Does everything in your garage today belong there? If it don't fit you must acquit.
'If the #storage don't fit, you must acquit.' (Johniee Cochran would say).
Click To Tweet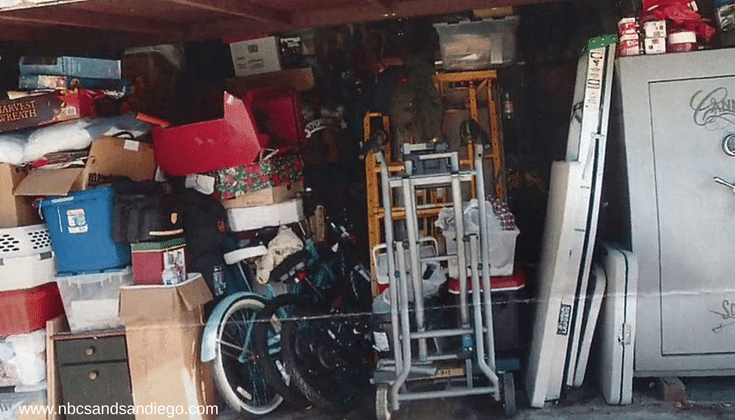 Step 2 – Develop a garage storage game plan
Now that you've got the garage reasonably thinned out it's time to figure out an effective garage storage strategy. Let's look at the types of storage options you can use (note – you will likely use a combination of these choices):
Option 1 – Enclosed garage cabinets
If you really want a clutter-free look garage cabinets are a must. They are mounted to the walls (so it's simple to clean underneath) and are offered in different depths, custom sizes and available in a wide range of decorative wood-looking laminate fronts. They are the perfect way to conceal your storage and protect valuable items like golf clubs and power tools from bad Columbus winters.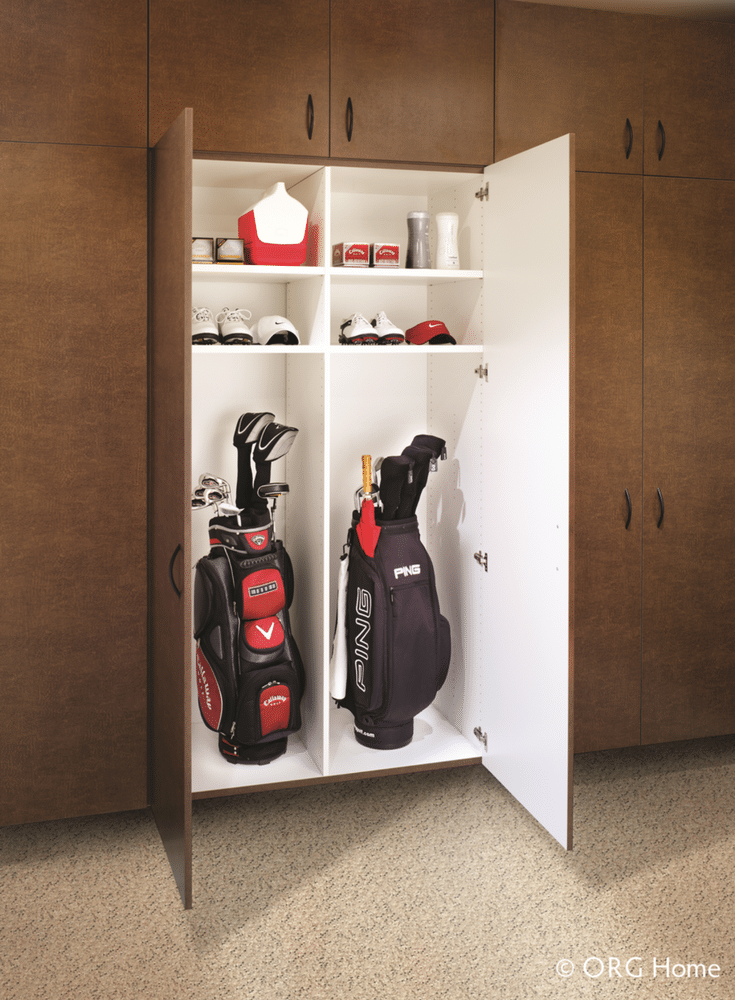 Another advantage is you can add locks on the doors to keep your kids or grandkids away from dangerous substances like gasoline cans, bug sprays and paint. It's nice to know the shelving in laminate garage cabinets is adjustable so you can move you need to.
Option 2 – Open shelving systems
Open shelving racks are less expensive than garage cabinets because they don't have doors or side panels. They are made of plastic, wood, steel or aluminum. The biggest advantage of this type of garage storage system is they are low cost. The biggest disadvantage is you still see the clutter (so it's hard to feel like the space is neat).
Option 3 – Slat wall organization wall and pegboard systems
Have you ever had a rake fly back at you when you stepped on it, or looked everywhere for the screwdriver when you were knee-deep working on a project (if you say no you've really got it going on!). A garage can be a crazy jungle to navigate and sometimes a downright dangerous place to walk.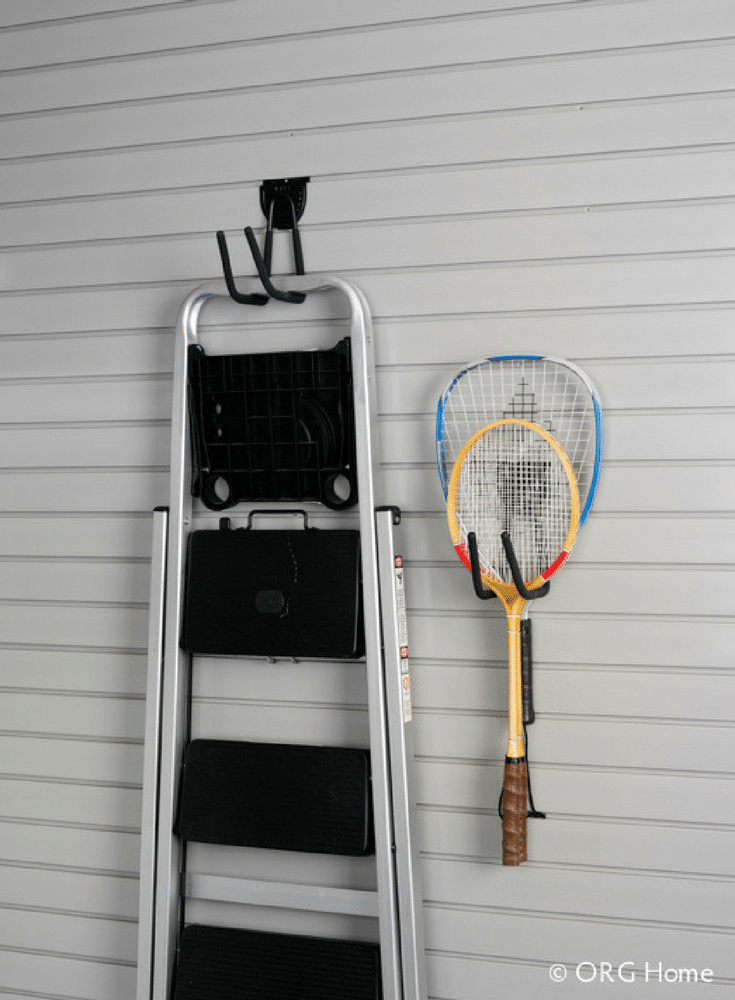 A way to tame this craziness is with an organization slat wall system. One place these systems are effectively used is on the sides of your garage where your car doors open. They are perfect for thin, tall items like rakes, shoves, brooms, bikes, ladders and sporting equipment. They are also an excellent complement above a workbench for tools, spray cans and even a convenient place for a paper towel holder. One bonus place to use them is by the entry door leading from the garage into the house to hang books bags or coats.
Option 4 – A garage workbench for the hobbyist, tinkerer or gardener
It can be a pain to work on projects if you don't have a durable surface to cut, drill or set your things on. This is where a garage workbench comes in handy. These surfaces can be made of aluminum, high pressure laminates or decorative maple butcher block and provide a convenient place to repot a plant, work on a project for your grandson or assemble car or truck parts.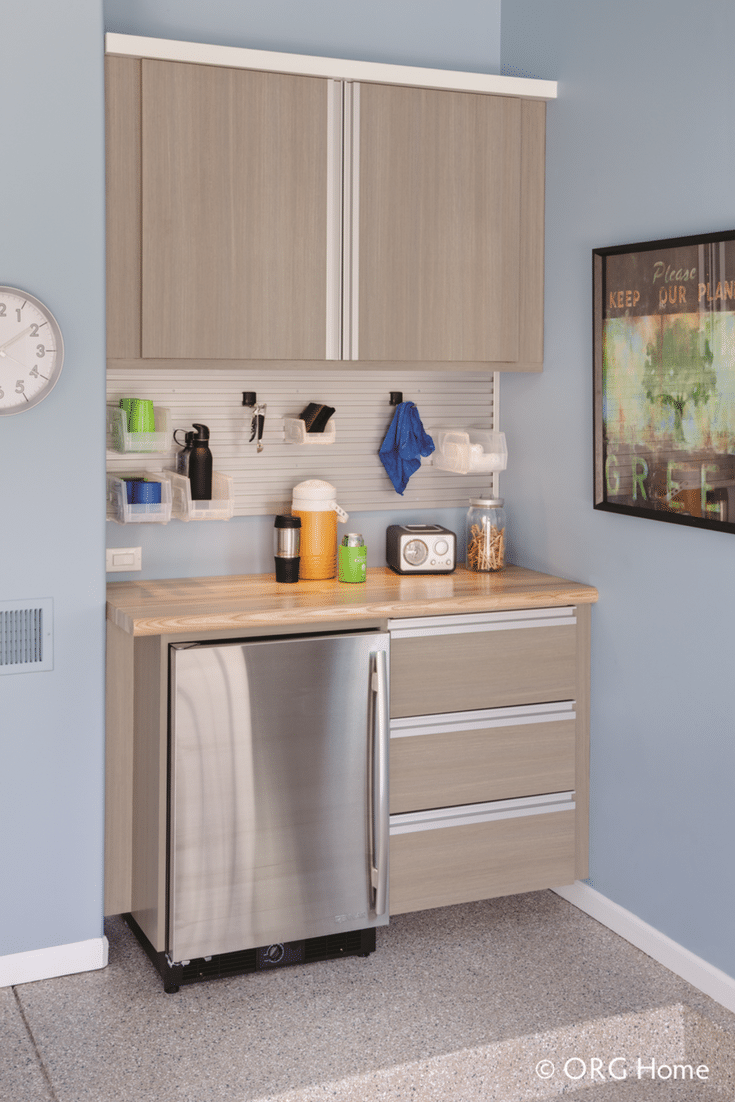 Option 5 – A rolling cart
If you are a self-professed gear-head, a rolling cart will be a welcome addition to your garage. With this option the cart can be rolled to you while working on your car, truck or motorcycle. This makes finding tools easy and convenient.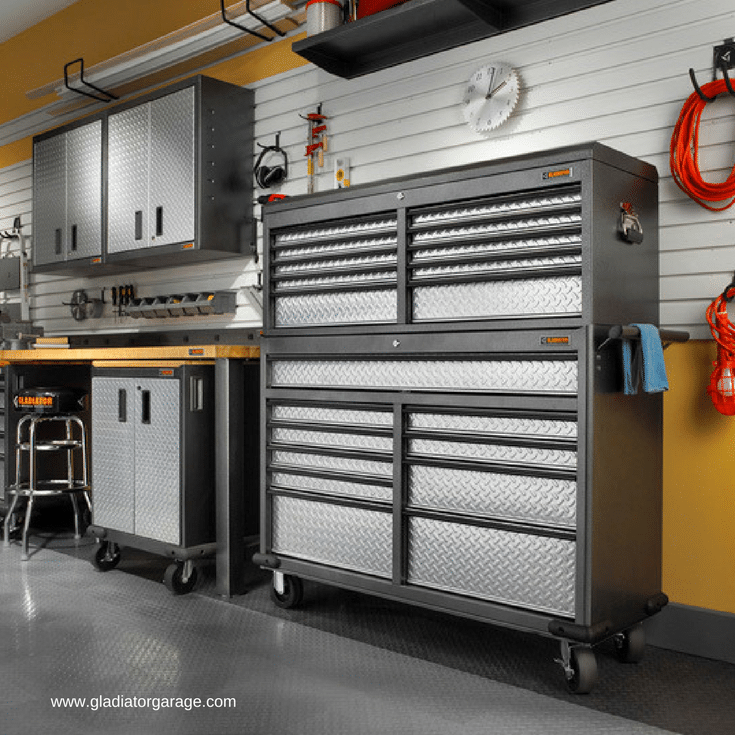 Option 6 – The garage overhead storage unit
Overhead storage units are wonderful if you're agile enough to climb on a ladder and place large bulky storage up and out of the way. Using the volume of your garage is a great strategy for excess paper towels, suitcases, holiday decorations or lighter sporting equipment – basically for bulky items you don't need as frequently.
'Use the height advantage of your #garage with an overhead storage unit.'
Click To Tweet
Option 7 – Bins, bags and baskets
There are some items due to their shape are difficult to store (basketballs and footballs for example). Putting them on shelves is a lesson in futility because they want to roll out when you open the garage cabinets. To bring these items under control (and to have an organized way to group like items together) bins and baskets are a wonderful choice. They can be hung off a slat wall system (mentioned in option 3) or installed on slides inside a cabinet.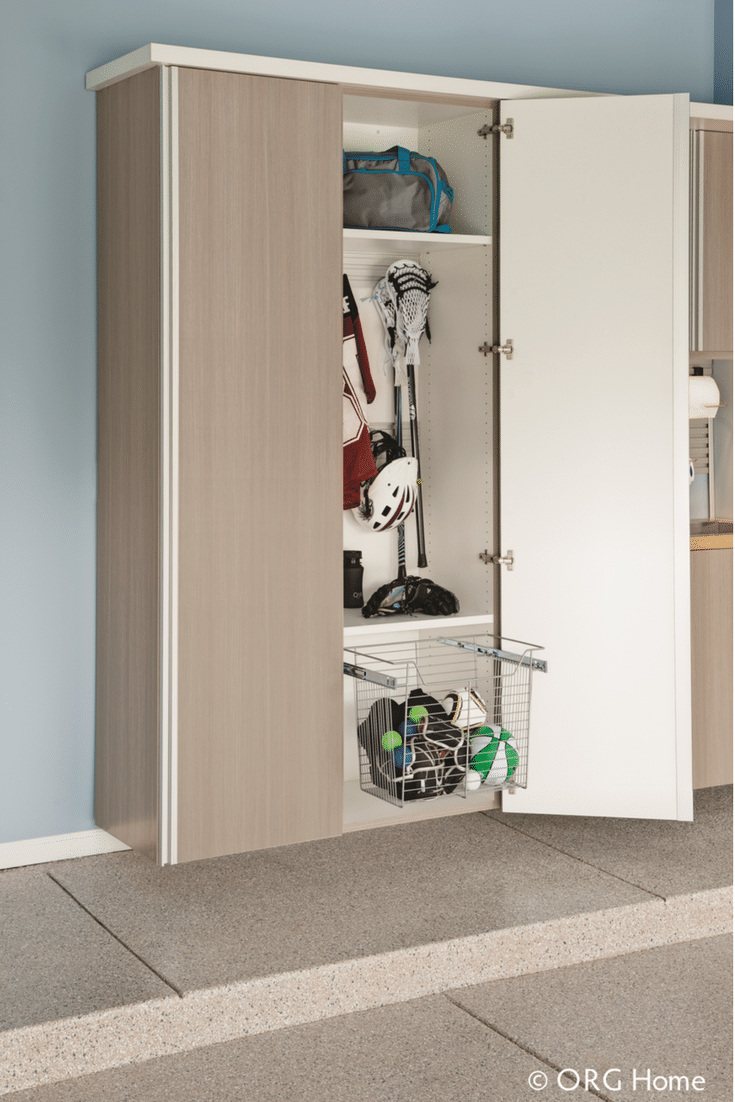 Step 3 – How to keep the garage organized
Anyone who has a "junk drawer" in their kitchen knows it's one thing to organize a space, it's quite another thing to keep it organized (aren't junk drawers the worst?). The challenge is to develop a system to not let your garage disintegrate into the messy state it was when you started this project? Use these 3 garage storage discipline tips to keep things in line.
Garage Storage Discipline Tip 1 – The one for one exchange
Accumulation and clutter happen when stuff goes in and nothing comes out. Discipline yourself to donate or discard one item from the garage for every new item you bring in. This is THE way to keep clutter under control – one in, one out.
Garage Storage Discipline Tip 2 – Don't assign blame, assign responsibility
If no one takes responsibility for keeping the garage clean (after all it's not their room they are likely to say) it quickly becomes a mess. Here's an idea for you. Preschedule a quarterly garage cleanup day and give members of your family pre-assigned areas they are responsible for (for example if your husband is the biggest user of the workbench give him that area etc.). This way if they keep their areas clean they can skip the clean-up day and do something fun.
Garage Storage Discipline Tip 3 – Don't allow dumped items to become a "storage cemetery." Everything must find its final resting place (which isn't necessarily the garage)
Garages and basement are the top places to dump stuff you don't know what to do with it (does your garage resemble this remark?). How can you stop your garage from becoming a dumping grounds (and put a finite amount of time something dumped can stay without finding it's "final resting place"). I recommend putting a "discard by" date on the books, tools or furniture which have been dumped on the garage floor. Use the same principal as you do with the date on your milk carton – once the dumped item is past its expiration date it has to go.
Conclusion
It's easy for a garage to become the #1 clutter room of your home (although the garage may have to fight it out with the basement for this "honor."). To combat against this problem be diligent (and a bit militant). Ruthlessly determine what needs to stay and what goes. Develop a garage game plan (if you're not sure how to do this call a garage design professional). Finally commit to staying organized by using the garage storage discipline tricks mentioned above.
How can I (and my team) help you?
If you're not sure where to start with this daunting project (and have no concept how much it will cost for a custom garage cabinetry system) we would love to help with a Free 3D garage design service. Give us a call at 614-545-5888 in Columbus or 216-658-1290 in Cleveland.
###
Follow the author @Mike_Foti or our companies' @InnovateBuild and @InnovateHomeOrg on Twitter.
Save
Save
Save
Save
Save
Save
---
Tags: best garage cabinets, best garage cabinets Columbus, best garage organization, best garage storage system, Columbus garage clutter, declutter Columbus garage, declutter garage, garage cabinet systems, garage ceiling storage, garage clutter, garage organization, garage organization systems, garage shelving, garage shelving Columbus, garage systems, garage wall cabinets, garage wall cabinets Columbus, garage wall mounted shelving, garage wall organizers, garage wall shelves, garage wall shelving systems, garage wall storage solutions, garage workbench, garage workbench columbus, how to declutter