How to reduce the cost of a custom walk in closet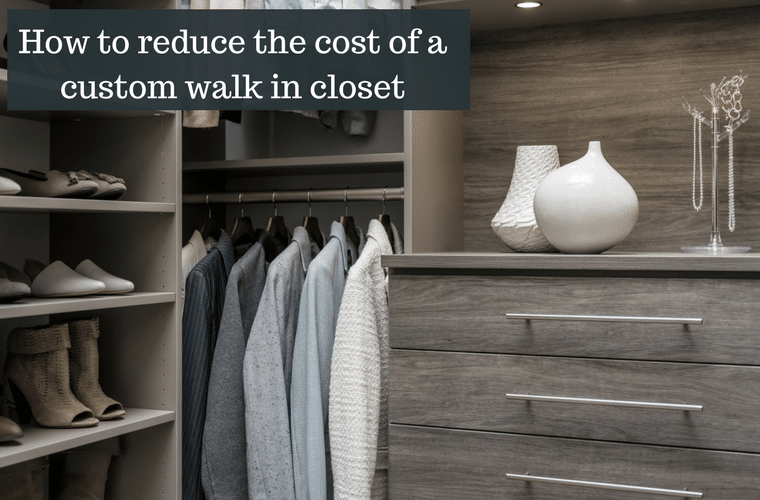 Have you dreamt about a glamorous walk in custom closet but are afraid to get prices on it because of how much it will cost? It is certainly less costly to stick with your frustrating, inflexible, builders-grade wire closet with piles of shoes haphazardly sitting on the floor, no drawers and clothes squeezed in like too many clowns in a Volkswagen. The question is, do you really want to put up with this disorganization for years to come? Why deal with the challenge of finding your favorite blouse, the perfect-fitting skirt or dazzling shoes you need to find for tomorrow's important client meeting?
I'm here to tell you it's possible to enjoy a custom closet without breaking the bank or giving up your first-born son or daughter (although on some days you might gladly given them away – just kidding). Simply use the 7 tips below to keep a lid on costs – while getting a space specifically designed for you. Let's check out these strategies.
Tip #1 – Hang it, don't floor it – the closet it is
It can look luxurious to build a custom closet system from the floor up with decorative base and custom crown molding. While these closets look cool and have a decorative feel they also elevate costs. It's nice to add decorative trim if you've got the disposable income, but if money is tight there is a simpler space-efficient way to accomplish your goals. The efficient approach is to use a wall hung closet system.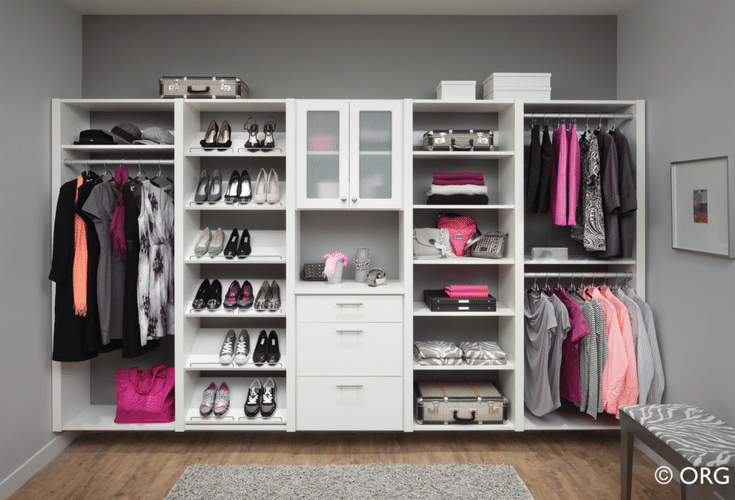 It will save you money since the vertical support panels don't have to go to the floor – yet you still get the same amount of hanging, shelving and drawer space. It's efficient without losing effectiveness.
Tip #2 – Laminate system over a wood closet
Today the majority of custom closet systems are manufactured in plants using laminate door, drawers and shelves vs. a carpenter building a custom wood unit at the job site. You may ask why? With advancements in laminates today you can get realistic wood look, at a fraction of the cost. Also, the quality is better because the sections are routed and cut with computer numerical controlled equipment vs. being cut on you front yard or garage by a finished carpenter which will only look as good as the day your contractor is having. With textured wood laminates you can't tell them from the real thing, they cost less and wear better because they won't get dings like wood.
'Textured laminate #closets look like real wood!'
Click To Tweet
Laminates are durable, will look better in the long run, and save you money!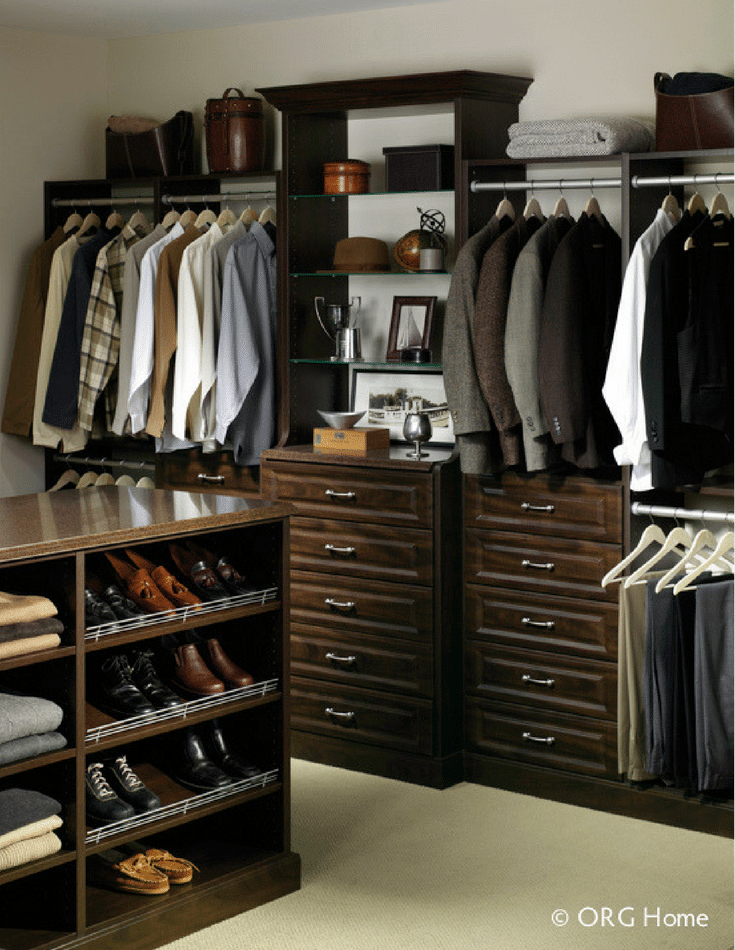 Tip #3 – Just like your wedding dress, think white
Textured wood-like laminates are pretty (and less costly than wood – like mentioned in tip 2) but they have a higher price tag than a white laminate which will perform the same function. Usually white laminates are 10% cheaper than the wood looking laminates so they are a logical choice when you're watching every penny. In addition, white is a classic architectural color which goes well with traditional interior spaces.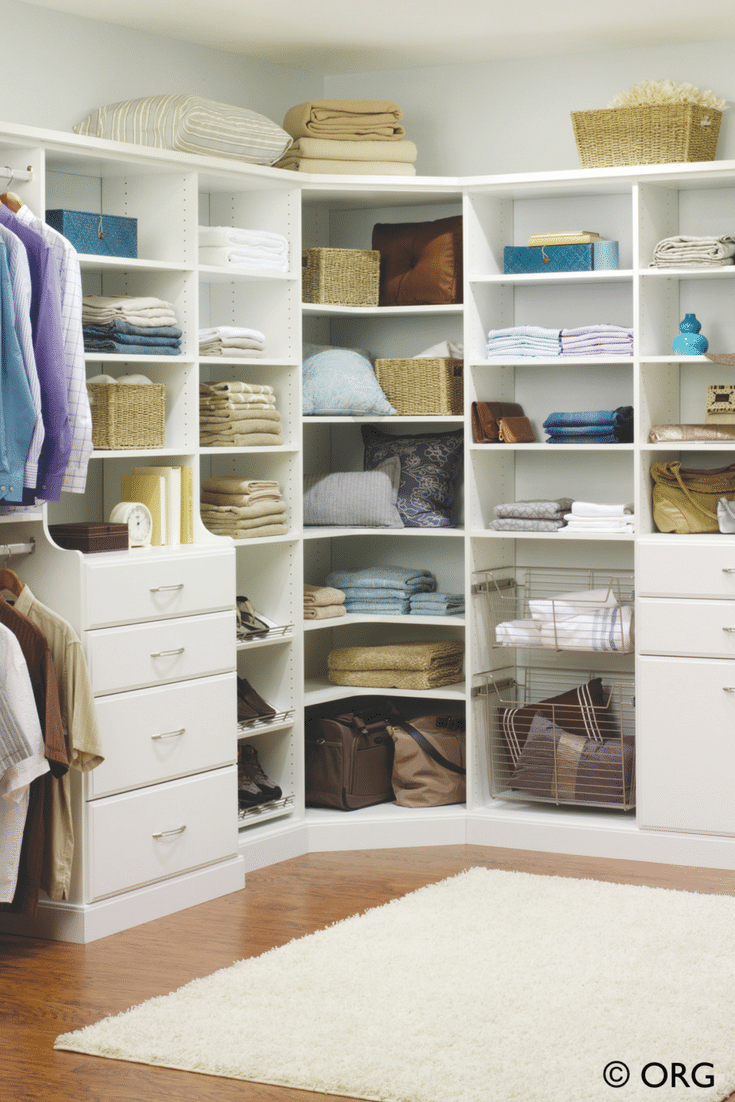 Tip #4 – Design with standard section widths, but use custom dimensions to max out your wall to wall storage
Most closet systems are made with standard width sections of 12", 15" 18", 24", 30" and 36". The wider the sections the lower the cost of your system (a design with all 36" widths will cost less than one with 18" section because there are less support panels). In general, using standard widths will be a sound decision for your pocketbook – but there is one exception where you don't want to stick with common sizes. This is at the ends/corners of your custom closet. If you go with standard sizes you'll end up with unused space in the corners. If you're like me you can't afford to waste any inch!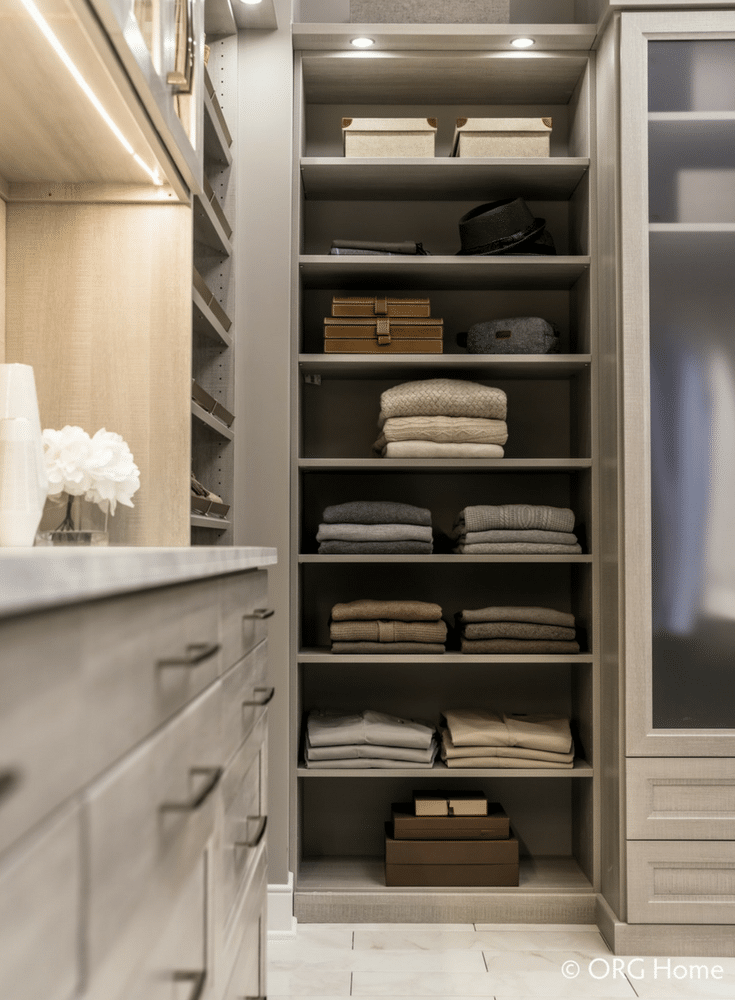 Tip #5 – Make sure your closet can "flex" with you
Just like you need to flex your muscles before yoga, weightlifting or running, your closet needs to "flex" as styles and your needs change. Maybe you get a new executive position in downtown Columbus and need to stock up on dresses vs. the jeans you wear to work today. You may be styling in more boots than ever which are hidden under a double hanging section on the floor so you can barely see them today.
If you're like most people you're existing closet is not made to flex when your needs and styles change. With new custom closet systems there are holes on the sides of the vertical supports so you can move shoe shelves and hanging sections around to fit your current needs (or your clothing for a particular season).
'Is your #closet system adjustable to flex to your future needs?'
Click To Tweet
This flexibility allows you to save on buying expensive add-on storage systems.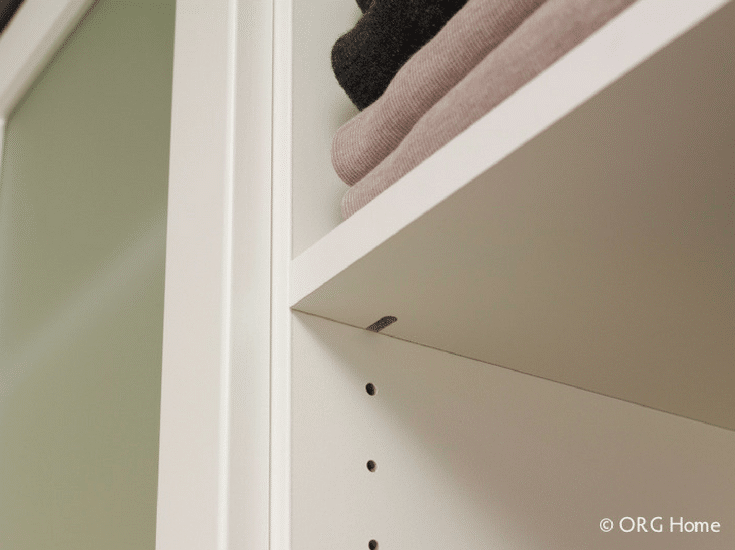 Tip #6 – Keep it minimalist, keep it open
There are two strategies to keep clothing and closet costs down. First, consider adopting a minimalist style wardrobe and being thoughtful on what your buying and discarding. Second, embrace an open contemporary minimalist look. You can do this by eliminating costly elements like doors and drawers. Doors often require deeper sections which are more expensive. The key to a neat minimalist closet is having discipline to not over stuff the space so you can quickly locate things and the closet looks nice even when it is open.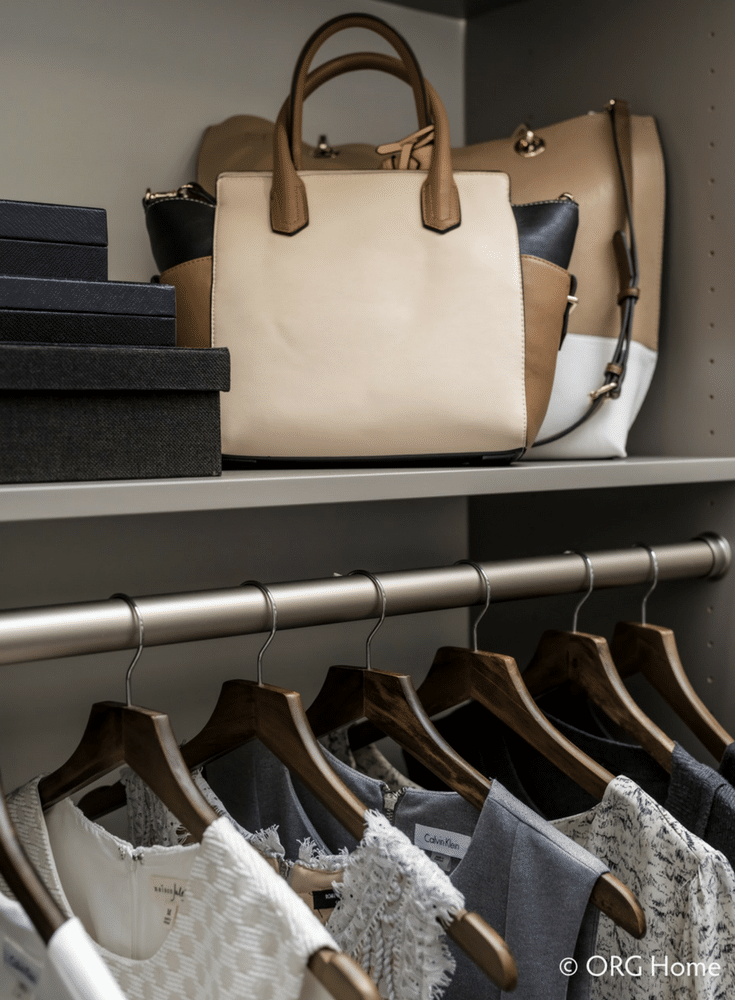 Tip #7 – "Try before you buy – the case to get a free 3d closet design
Do you find it hard to understand a closet design if you can't visualize how your dresses, blouses, jeans and shoes will work in the new layout? It's hard for anyone to understand something they haven't experienced before. This is where a computer aided 3D design program comes in handy. A professional closet designer can meet at your home, talk about current and future needs and develop a plan where you can see – and most importantly – collaborate to fit your daily routines and storage needs.
Conclusion
A custom closet thoughtfully designed not only will work for you – but with the tips above can be cost-effective as well. Have these points helped you see cost-saving ideas you could incorporate in your next closet project?
How can I (or a member of my team) help you with your next custom closet?
As I mentioned in tip 7 it's impossible to "see" how a new custom closet will look without actually seeing it! Click here for a Free 3D custom closet design or call in Columbus at 614-545-6888 or Cleveland at 216-658-1290.
###
Follow the author on Twitter @Mike_Foti or our companies' @InnovateBuild and @InnovateHomeOrg.
---
Tags: 3D closet design, closet design, closet design Cleveland, closet design Columbus, closet designer, closet organizer, closet organizer Columbus, closet tips, Columbus closet designer, Columbus closet organizer, custom closet design, custom closet design Columbus, custom closet organizers, custom closet organizers Columbus, efficient closet design, free 3D closet design, organized closet, organized closet Columbus, walk in closet Cleveland, walk in closet Columbus, walk in closet organizer, walk in closet organizer Columbus, wall closet, wall closet Columbus