7 must-have laundry room storage zones to conquer laundry day without a hassle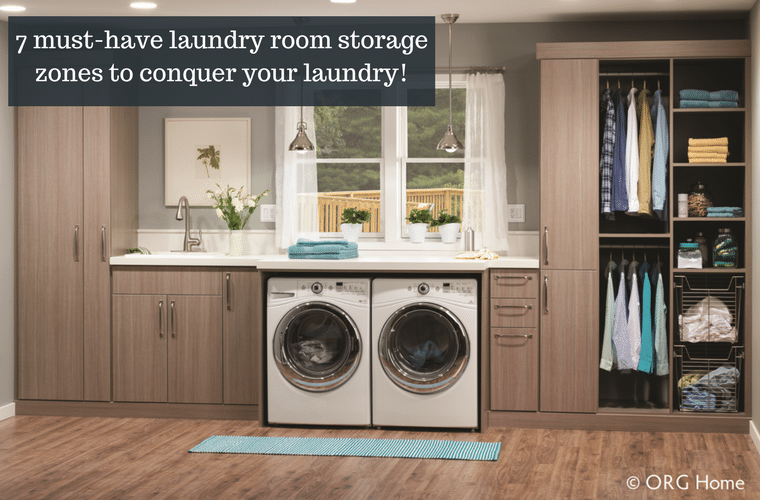 Who (other than my fantastic oh-so-Italian Mother in law Pierina) loves to do laundry? OK – that answer would be nobody. What if I told you doing laundry could become easier if you were to organize your laundry room into 7 specific zones? Would you be intrigued if you could cut the time doing this tasty task, increase your storage and be able to eliminate visual clutter which makes this room look like a blown-up mess today? If you desperately need to get your laundry room organized check out the 7 zones below.
Laundry room storage zone #1 – The "counter zone" – guaranteed to flatten your frustration
Whether you have a big laundry room or a way-to-small one like me it pays (in the job getting done quicker) to fold your clothes when they get out of the dryer before you quickly chuck them into your laundry basket (I know this from experience because my wife doesn't love when I hurry and throw everything in the basket and it gets wrinkled. As a guy – the wrinkles don't bug me as much). This is where a laundry counter comes in.
A laundry room counter (whether it's made of granite, quartz or a simple cost-effective laminate countertop) makes folding simple and gives you a place to put a tub (if you don't have a sink) to soak your things to get stains out.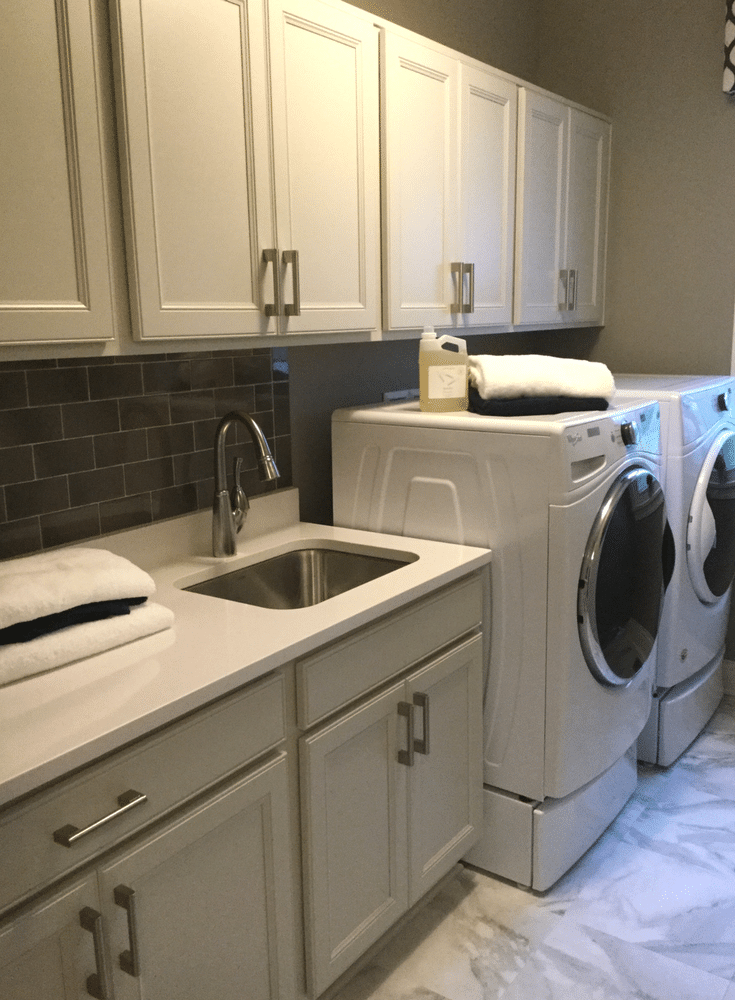 If you don't have a large laundry room where you can create a long counter – installing a small one over the washer and dryer is an excellent idea. This will not only help with sorting, but your socks and underwear won't end up buried in the scary space between the washer and dryer (or go up to the land of lost socks and underwear).
Laundry storage zone #2 – It's OK to keep your clothes hanging (not your family) …especially if you've got a "hanging zone"
Would you like to hang your favorite blouses immediately when they're done in the washer and dryer? Is the hangers-on-the-back-of-the-doorknob method just not cutting it for you? This is where a hanging zone is super-useful. Consider, installing a laundry room hanging rod over a sink (if you have one) for clothes you'd like to drip dry from the washer.
Another option is to use a 24" deep enclosed laundry cabinet so you can keep them wrinkle-free before you have time to put them away. If you don't have a 24" deep space for a cabinet, a pull-out wardrobe rod can give you a convenient place to hang and you can push the rod back in when it's not in use so it disappears from sight.
Laundry room storage zone #3 – The Eliott Ness Untouchables "safety storage zone"
I may be dating myself with the Untouchables analogy (this was a show in the early 1960's about crime fighting agents battling the underworld in Chicago in the 1930's) – but there are certain things you want to be "untouchable" in your laundry room. You want your kids (or grandkids) to be safe. You know they mean the world to you and you'll do anything to avoid an unnecessary (and expensive) trip to the Emergency Room before they drink or got into their eyes a dangerous cleaning solution. For this reason, you need an "untouchables" zone in your laundry room.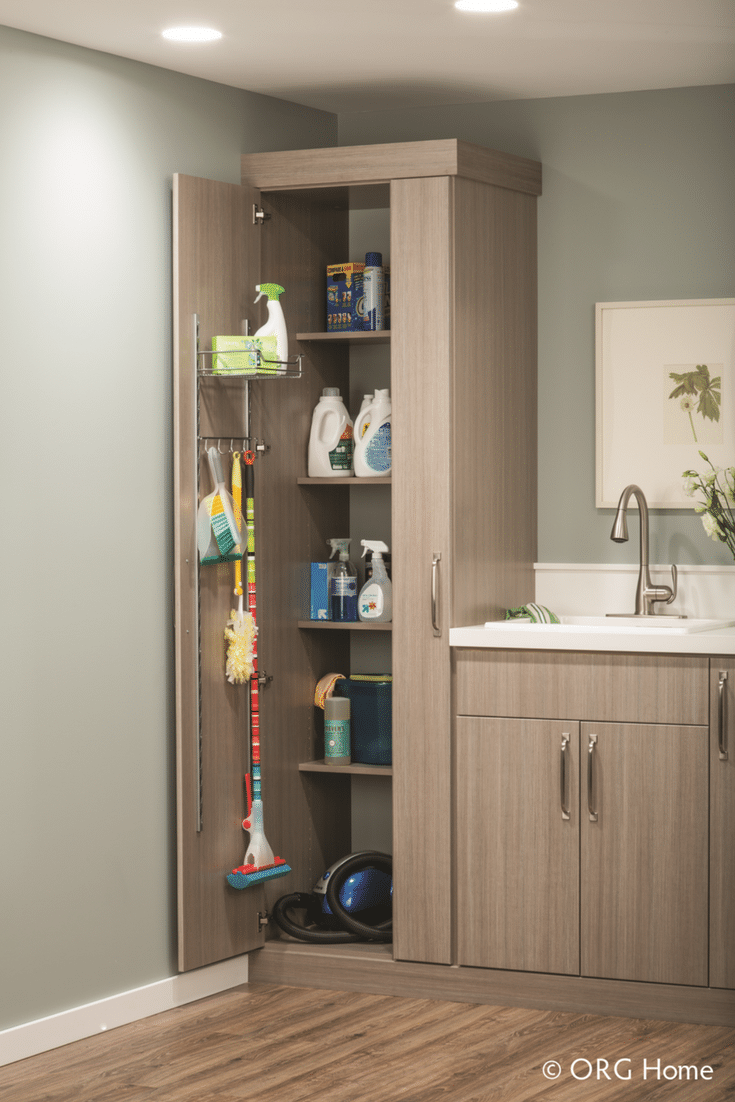 Consider adding a laundry closet cabinet with a child-protected lock. This will give you piece of mind – even when you're not around to watch them like a hawk.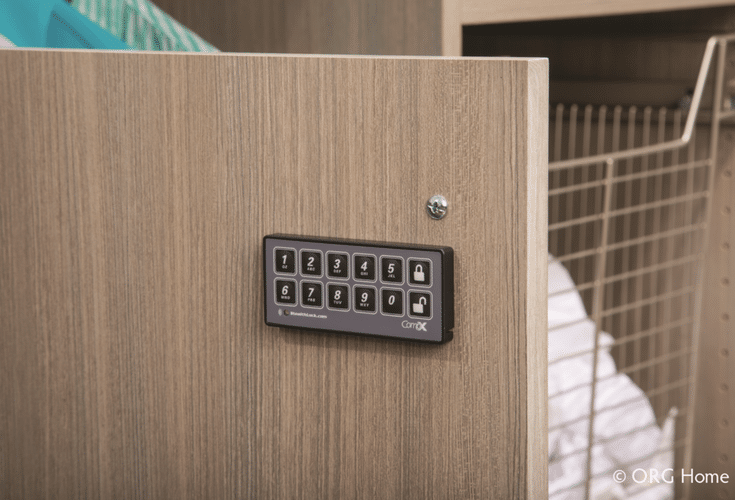 Laundry room storage zone #4 – Go vertical, gain volume. The "floating shelves or upper cabinetry storage zone"
Sometimes the solutions to all your problems come from looking up. Yes – God is the answer – but in this case, I'm going "worldly" here and thinking about the often-blank top section of your laundry room walls being the answer for more laundry room storage.
In your budget is tight, basic floating laundry shelves on the upper walls will help you gain room.
Take your upper storage space to the next level (not only for your laundry supplies but also for room for lesser used holiday candles, lotions, towels etc.) by using closed upper cabinets. In addition to creating entirely new storage space – they add the advantage of keeping clutter behind closed doors.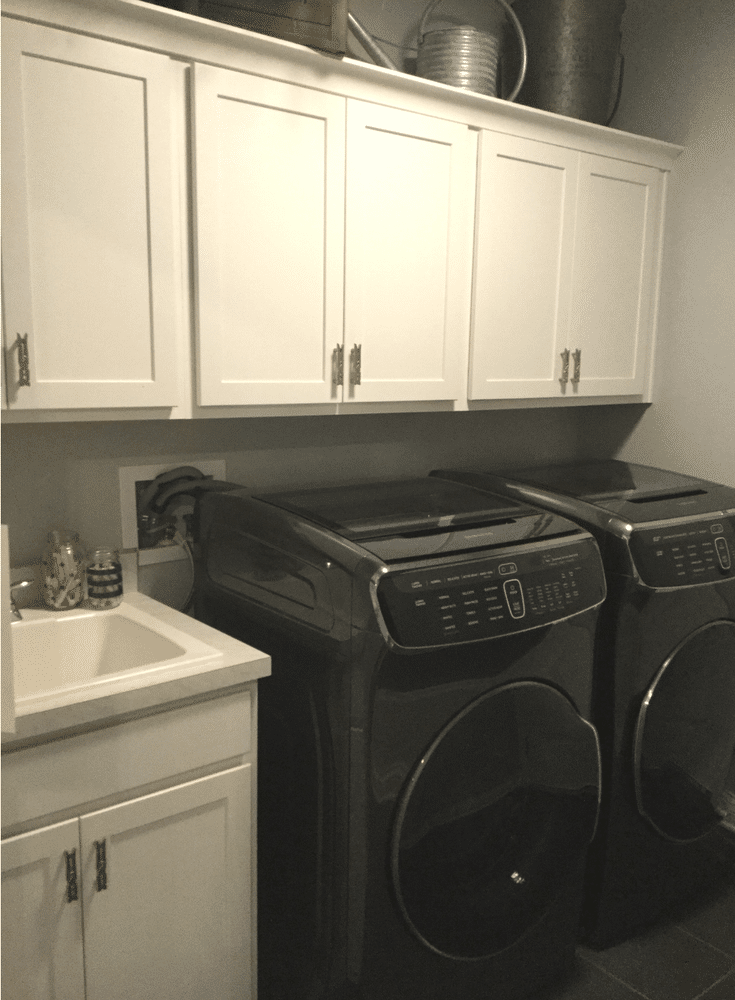 Laundry room storage zone #5 – The sort out the confusion "sorting zone"
Whether it's "lucky" you, or a member of your family, who gets the "honor" of running the oh-so-quiet ('er I'm lying here) washer and dryer on laundry day – having everything presorted by colors, whites, delicates etc. can save time and hassle. This is where labeled storage bins and canvas storage baskets come in handy.
Everyone who brings a basket of dirty clothes down will now know where to put their stuff for the lucky contestant who gets to participate in the "glorious" laundry day.

Laundry room storage zone #6 – It's time to press into action – the "tiny hidden ironing board zone"
If your laundry room is like mine there's not enough room to set up a full-sized ironing board. However, it would still be a nice (and save time) to give your pants, shirts and blouses a quick pressing when they come out of the dryer. This is where the hidden ironing board works perfectly. It slides out of a drawer and gets you into ironing action in a jiffy (hey – does anyone even use the word jiffy anymore?).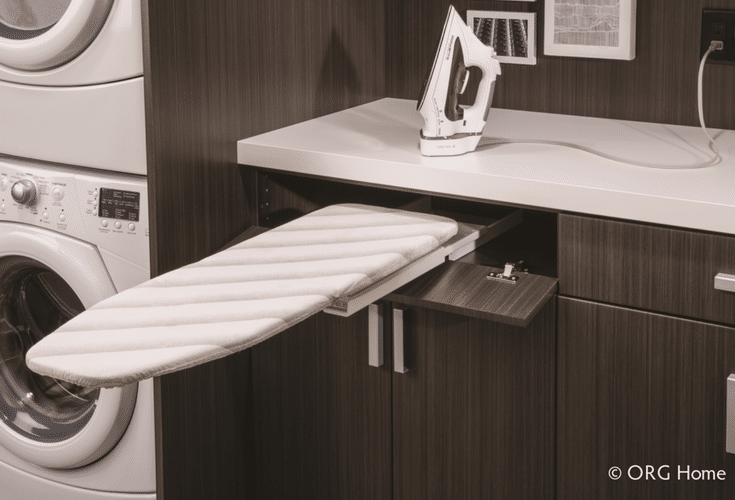 Laundry room storage zone #7 – The ultimate oxymoron – the "lux laundry room zone"
Now you may think I've lost my mind. You may be saying, "Mike – a laundry room being a luxury space – you've got to be kidding!" Well – maybe I've lost my mind a bit, but I do believe if a laundry room is light and inviting it will take the drudgery "somewhat" out of this task. How is this possible – you may ask? Consider these ideas:
Install a transom window – Numerous studies have shown natural light not only makes you more alert, but it also makes you more productive, lowers blood pressure and makes it easier to tell your light colors from your dark (as a guy who is color-blind this is a good benefit for me).
Slap up a new coat of light colored paint – If adding a window isn't possible (i.e. the laundry room doesn't have an outside wall) a fresh coat of light-colored paint makes the room nice and bright to walk in.
Use a feature wall of bold wallpaper – Why settle for a boring laundry space? Add pizzazz, add personality with wallpaper which pops.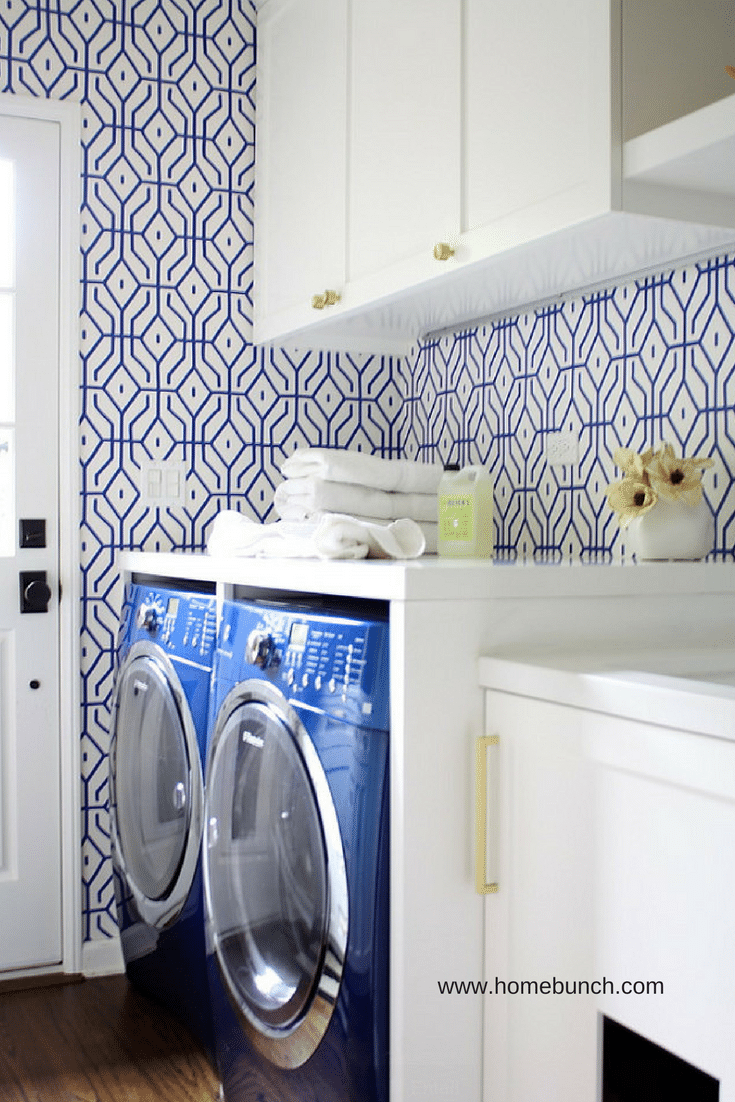 Conclusion
Do you think these 7 laundry storage zones can save you time on laundry day – and cut down the monotomy….at least a bit? Feel free to comment or add your questions and input below.
###
How can I (or a member of my team) help you?
If you need help with a storage system for your Columbus or Cleveland home get a Free 3D laundry room design and see how your space can be transformed. Contact Innovate Home Org in Columbus at 614-545-6888 or in Cleveland 216-658-1290.
For more information on organization systems and design trends follow me on Twitter @Mike_Foti or my companies' @InnovateBuild and @InnovateHomeOrg.
Save
Save
---
Tags: Columbus laundry cabinets, Columbus laundry closet, Columbus laundry design, Columbus laundry organizer, Columbus laundry room, Columbus laundry shelves, laundry cabinets, laundry closet, laundry day, laundry design, laundry organizer, laundry room, laundry room accessories, laundry room décor, laundry room design, laundry room shelves, laundry room shelving, laundry room storage