7 tips to eliminate your scary kitchen pantry before holiday guests show up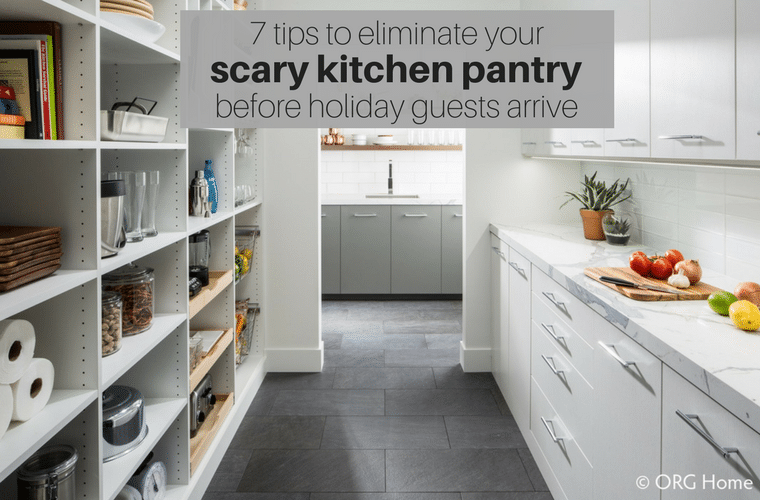 The holiday season (and especially Thanksgiving) is the best. We've been hosting Turkey-day 23 years and running with our "weird family." The reason I say weird is all 20 of us get actually get along. No judgmental family members chiming ('er butting) into your life telling you what you "should" do. Fantastic food including my sister in laws "Greek stuffing." My sister Venera brings her famous cheesecake. Rose makes cranberry covered Brie for Mark (my almost-brother-in-law). Fantastic food and family – one totally cool part about the holidays.
Now for the tough part. It's a monumental task organizing and preparing for the day.
I admit holidays are easier for me than for Rose (my wife). She takes charge of meal planning, does most of the shopping and getting the house prepped and organized for company. It WILL be ultra-organized and festive with lots of candles and the fireplace going.
The big day is crazy-hectic. When the guests arrive with their fantastic trays of oh-so-non-fattening food (OK – that's a lie!) they immediately ask, "Where should I put? Is there space in the fridge or your pantry?" As the meal and appetizers are set said out they want to know, "Where can I find a knife? Do you have a cutting board or cookie tray I can use?" The need for organization and storage is off the charts in the rush of the holiday event.
Hosting a holiday is infinitely more stressful if your pantry cabinet looks like a cyclone hit it. You can't be on top of your "holiday game" if you can't find those little used items (the big Thanksgiving platter, cookie trays, stem wear for fancy bottles of wine or special holiday drinks). You need to be able to find things – in the midst of everyone's demands and the beautiful chaos that is Thanksgiving, Christmas, Chanukkiah – fill in the name of your holiday here.
The question becomes how can you reduce the stress of hosting and benefit from an organized pantry you'll enjoy (and will save you aggravation) year-round? Read these 7 tips to not only eliminate the scariness from your pantry – but to have this well-used room of your home become a source of pride and an extension of your beautiful kitchen. At the end let me know which tips will help your space the most.
Tip #1 – Determine if you want to "trick your existing pantry" or "treat yourself to a newly designed pantry"
There are basically 2 approaches you can use with your pantry. Either you're going to work with what you have (your existing structure) and make the best of it, or you'll treat yourself to a new pantry customized and adjustable to your needs. Let's look at both options.
Working with your existing pantry – If you decide to work with your existing pantry (which will be cheaper) look for products which can be attached to, clipped on or brought into the space. Go to the Container Store, Bed Bath & Beyond or World Market and get clear plastic bins for your bulk goods.
Get clip on baskets to use dead space between the immovable shelves you have today. Bring in wicker baskets where you can organize, group and label your things. Do little things to notch up what you have.
Invest in a new adjustable pantry design – The worst thing about existing pantries is the shelving cannot be moved. You can't adjust a taller area for cereal boxes or have less distance between shelves for shorter canned goods. In addition, you likely don't have sliding baskets, drawers or shelves so you can see in the back.
With a new pantry system, you can customize it to fit your Columbus, Dublin, Powell or New Albany (you fill in the name of where you live here) home and make use of every inch of space. Pull outs, baskets and drawers can all be incorporated into your design.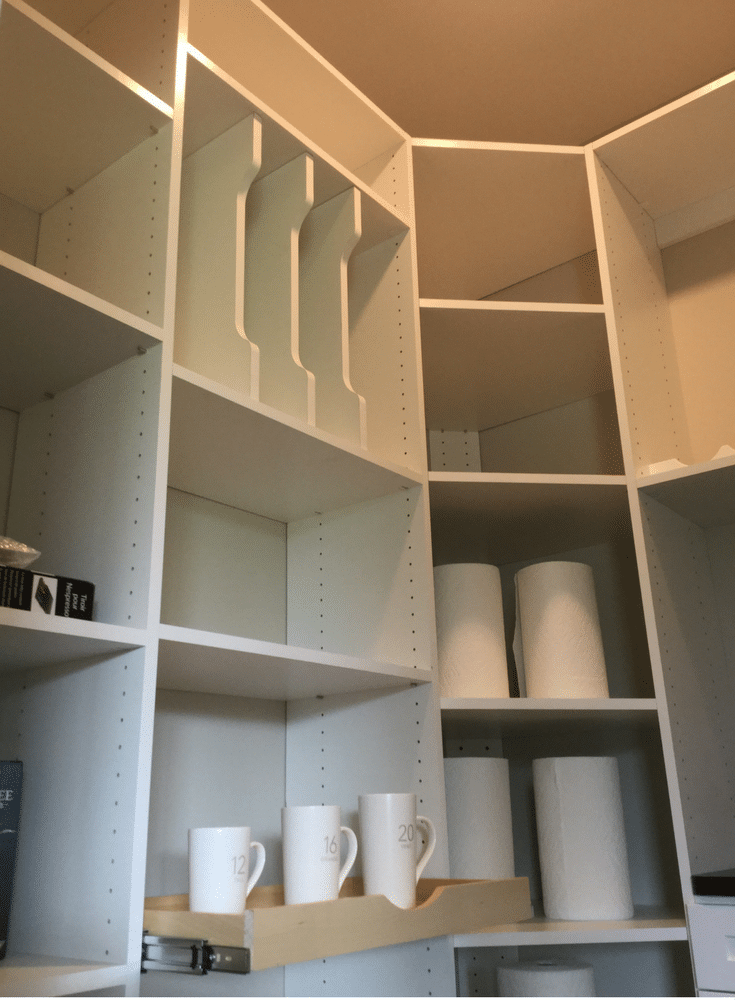 Tip #2 – Get real and ruthless decluttering your pantry
Most of us can't find what we need because there are duplicates, expired products and kitchen utensils cluttering the pantry we simple aren't going to (or shouldn't) use. To win the battle over a messy pantry before the holidays you must get ruthless in decluttering.
Time permitting, pull out everything. Sort by types of goods (baking in one section, entertainment items in another, canned goods in another, utensils and pots and pans in another). Look for duplicates and anything where expiration dates have passed. If there are other food items which "looked good" at the time – but you know there's not a snowball's chance of being used, donate them to a local food pantry.

If decluttering is a problem for you, seek out a local home organizer skilled in leading you through this un-tasty (bad food pun intended here) task.
Tip #3 – Zone in for a better organized pantry closet
If your pantry is a jumbled mess, I can tell you I've seen that situation before in numerous home organization appointments. Gain control over a small pantry closet or a walk in pantry by approaching it strategically and reorganizing the space in zones. You may ask, "What type of zones are you talking about?" Consider creating these areas:
A baking zone – In this spot have slots for cooking trays, shelves for your flour, mixes and frosting. Put dry ingredients into air tight square space-efficient rectangular containers with labels. They will look nice and you can see them easily.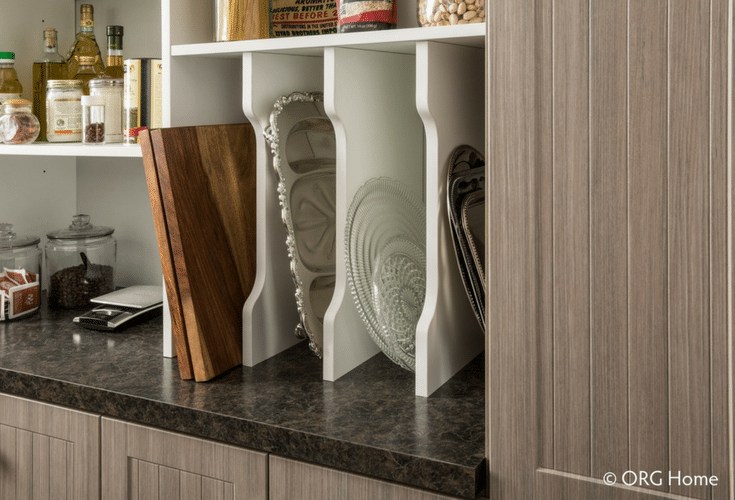 A canned good zone – Use scoop style pull out shelves (space permitting) which "come to you" so you can see what's in the back. Space them close together to use your cubic area efficiently.
A snack zone – Create an area for late night snacks and cereal boxes for the kids. If you have small kids design this lower so they can get to them (or maybe not – if you don't want them to be easily accessible – ha! ha).
An entertainment zone – If you like to entertain create an area for wine storage, stem wear for drinks, shakers, your ice bucket and alcohol.
Tip #4 – As Mrs. Thomas might say (if there actually is Mrs. Thomas) – fill those nooks and crannies
As is true with any space-efficient organization system, look to thoughtfully fill "gaps" (i.e. unused areas) in your pantry. As you open your pantry is there a single set of shelves along the back with space on the sides where you can add some new "pockets" of storage? If you have fixed shelves which are equally spaced, would you benefit from a custom pantry system where the shelves are adjustable (eliminating dead space above the cans and not enough height for cereal boxes).
If you need pantry organization ideas in Columbus get help from a pantry designer who can give you a 3D design to visualize your new space.
Tip #5 – Think like an accountant (FIFO) – first goods in are the first good out
It's been said what you don't see can't hurt you. However, this advice doesn't apply to food rotting in the bowels of your pantry. It can get scary as you dig deep in the back of your pantry shelves. The best way to solve this is to use pull out drawers or baskets so you can "rotate" your stock –like your favorite grocery store.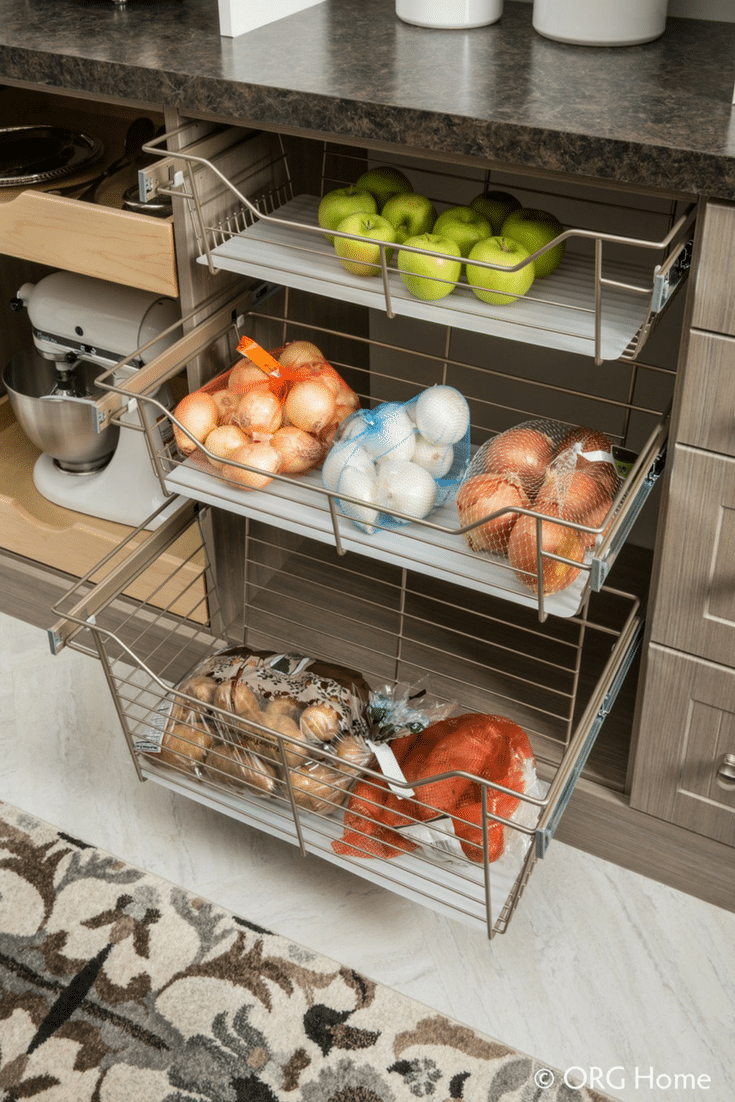 As your accountant would say, you want the "first goods in" to be the "first goods out" (what you buy first needs to be used first).
If you don't room for pull out drawers or baskets – then do not completely fill the depth of your stationary shelves. Put what you just bought at the store today into the back. Move up the other older items to the front. This will help minimize waste.
Tip #6 – Find unexpected pantry storage opportunities
When your pantry is not as big as you wish (let's get real – who doesn't wish they had more space?), you've got to be uber-thoughtful and strategic using what you do have. Look for unexpected storage opportunities.

One idea is to put your door to use beyond simply opening and closing. Doors can be a place for lid storage, for spice racks or even a chalkboard for your family to add to a running grocery list.
Tip #7 – Will it blend? Your pantry with your kitchen that is.
No, this isn't a tip to make sure you have a place in the pantry for the blender (although it's a good idea). It's also not a "pitch" to buy a Blendtec blender (they are the company who made the funny video series showing items like IPhones being blended). When I'm saying, "will it blend," I'm talking about seeing your pantry beyond its utilitarian function.
A pantry can, and should be, a cohesive part of your kitchen.
'Your #pantry should have a cohesive look with your kitchen.'
Click To Tweet
It's design, textures and color should make sense with the rest of your kitchen. If you're into Shaker or a clean Euro style cabinet – use them in your walk-in pantry to match the kitchen. Do you love the cool gray tones which are popular in modern kitchens today? Carry this look over to the pantry.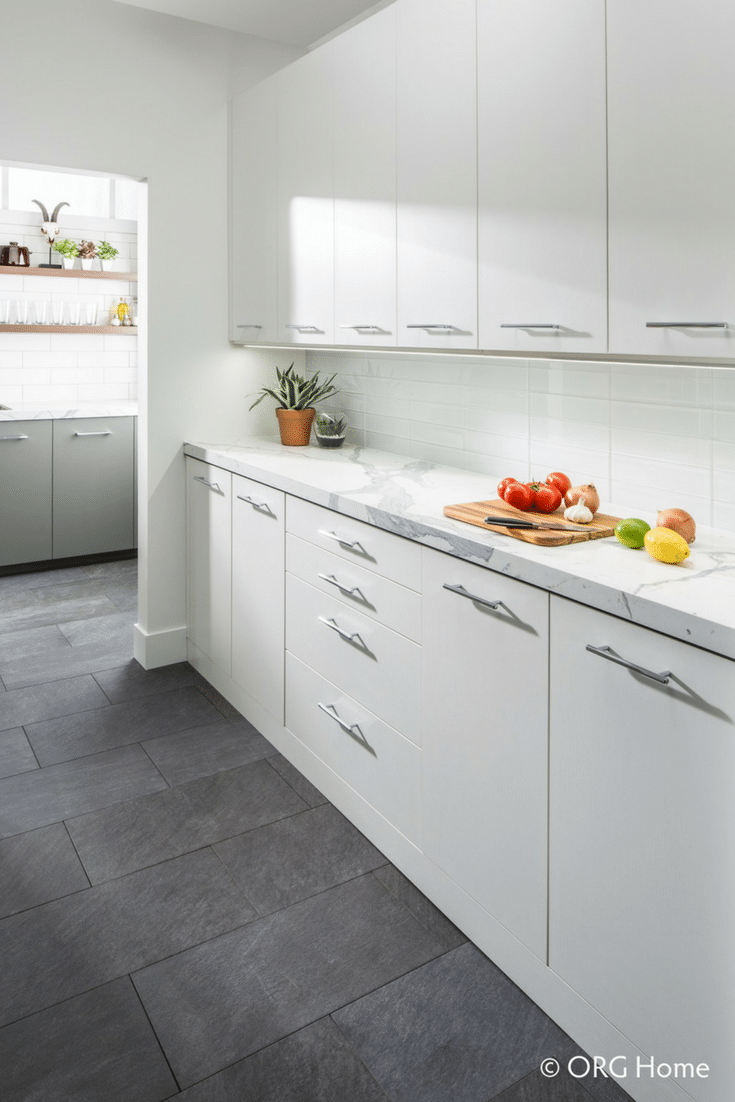 Don't let your pantry be the ugly stepchild of your kitchen!
Conclusion – How can I (or my team) – help you?
Although the holiday season is fast approaching (I can almost taste the turkey and my sister in law Georgene's Greek stuffing) it's not too late to get rid of the eyesore which is your pantry.
Revisit the 7 tips above and get some "quick wins" to improve your existing pantry shelving. If you want a permanent makeover call us and we'll not only look at your space – but give you a Free 3D pantry design as well. Contact Innovate Home Org in Columbus at 614-545-6888 or in Cleveland at 216-658-1290.
If you'd like more advice and resources on pantries or other home organization systems for your closets, entryway, mudroom or garage follow me on Twitter @Mike_Foti or our companies' @InnovateBuild and @InnovateHomeOrg.

---
Tags: Columbus pantry cabinet, Columbus pantry closet, Columbus pantry closet design, Columbus pantry closet organizers, Columbus pantry organization ideas, Columbus pantry shelves, Columbus pantry shelving, Columbus walk in pantry, minimalist pantry, organizing for the holidays, pantry cabinet, pantry closet, pantry closet design, pantry closet organizers, pantry organization ideas, pantry shelves, pantry shelving, pantry storage, walk in pantry.