6 Hot Storage Ideas for a Downtown Loft Apartment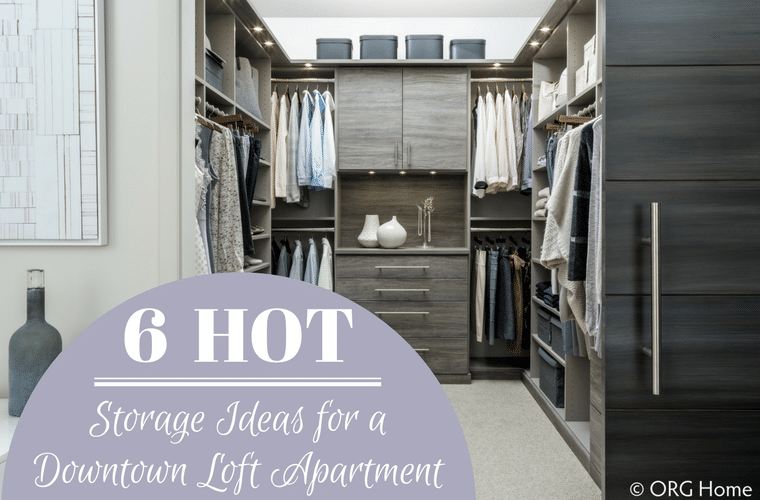 If you've decided to take the plunge and live in a downtown loft apartment or condominium you're likely in one of two categories.
Your hair is graying, thinning and Botox and Ms. Clairol have become your BFF's. You've emptied the nest and your kids are FINALLY off the payroll. Whew – you can't believe it's happened!
You've got plenty of hair, but not as much money as you'd like (but at least you're no longer bumming gas money off Mom and Dad). You now have a professional job in and are finally getting into a 'somewhat' better financial footing. If only those student loans would go away …but that's another subject (yes – pun intended).
You've scoured the Columbus loft landscape. Italian Village, Nationwide Arena and Downtown all have their strengths and weaknesses. You've toured Vetro Lofts, 570 Lofts and Atrium Lofts to name a few. You've made your decision. This IS happening!
You and your husband, girlfriend or partner now have serious space-planning decisions to make. It didn't take you long until you wanted to shout out in fear, "Honey, where did they put our storage?" The panic of not having enough space sets in. Even if you embraced every 'KonMari' organization method known to man (and woman), you can't declutter away ALL your life's possessions.
Yes, your downtown loft condo is urban, contemporary and going to be super-cool. It's close to your favorite restaurants and art galleries. However, it's still going to be a pain figuring out where to put all your stuff. The high ceilings, exposed brick walls and large industrial windows capture the lifestyle you desire. However, no matter how progressive Columbus becomes you're still not planning on going outside naked because you don't have any place to hang your clothes!
You need more closet space.
You need a place for your favorite books and art pieces.
You need a comfortable place for guests and family when they stay the night.
You need a place to work at home – a place to store your files, copy paper and manuals) since your company went to a telecommuting business model last year to save costs.
How – exactly – are these storage, display, sleeping and home office needs going to work in half the square footage of your sprawling suburban home? You wish you had your old creepy basement and dirty garage today.
In this article, I'll give you with 6 hot storage ideas to strategically use the volume, walls and furniture in your Columbus loft or condominium to make your square footage work overtime for you. At the end, let me know which of these ideas are happening, which are not, and add your ones to the mix. Let's check out the list.
Loft storage idea #1 – Design a custom wardrobe closet to be built into your loft
Wouldn't it be nice to have separate closets like your suburban Westerville or Dublin home had? Those days are now in the rearview mirror – a distant memory – just like teaching your now 23-year-old son, Christopher, to ride a bike.
It's painfully obvious your new loft WAS NOT designed around your existing bedroom furniture.
The question is – where are you going to put your clothes without a separate closet and with some of your current bedroom furniture not being the right size or fitting the interior design style for your new loft?
The answer is- a custom wardrobe closet. This closet can be designed with 21 different lusters, matte or woodgrain finishes, crafted to fit your clothing and storage needs.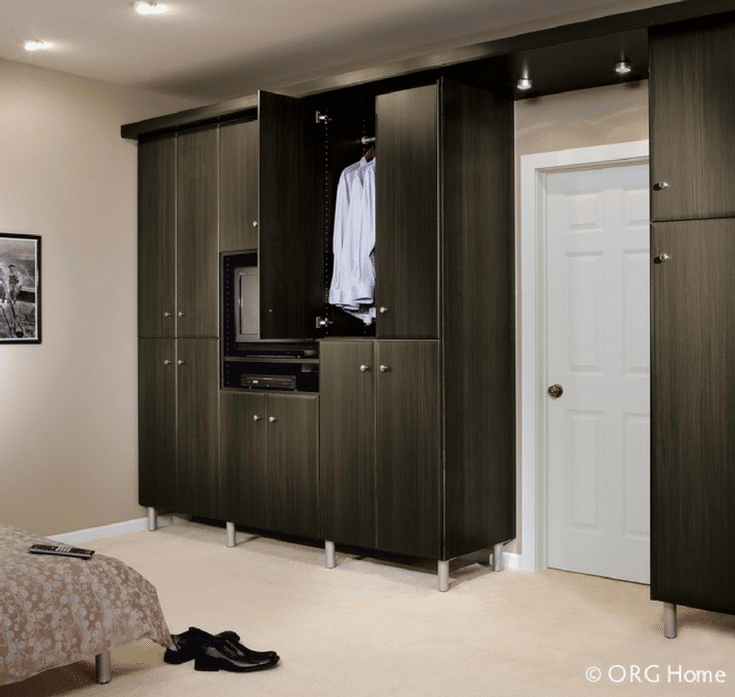 Loft storage idea #2 – Go vertical, my friends, with a rolling library ladder (it doesn't have to be used in a library)
I love the Dos Equis 'Stay Thirsty My Friends' commercials – and in a loft condo oozing with entertainment and dining options, my guess is being thirsty won't be a problem for you. 'Finding' storage, however, is another matter. This is where the need to 'go vertical' is critical. A way to effectively use your height is with a rolling library ladder. These ladders are simple to move to operate – sliding from side to side just like your hip barn door.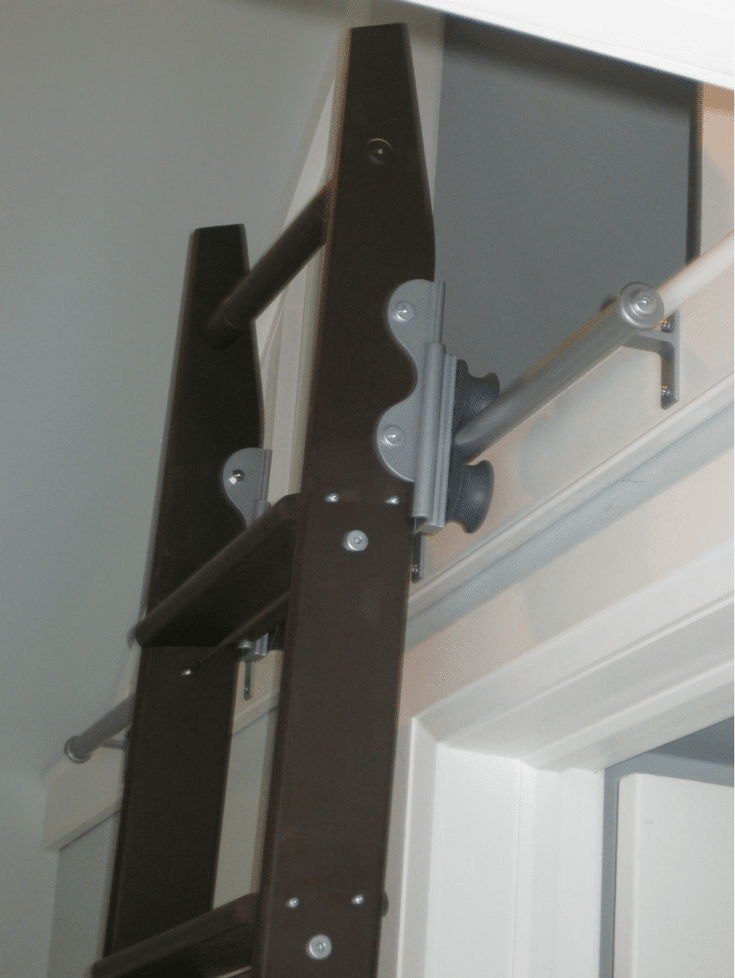 Put your volume to use and install cabinets high off the ground in your kitchen, bedroom, bathroom or living room– wherever it makes sense.
Ladders are cool. Ladders are important. Ladder are fun in high volume, small square footages places.
Loft storage idea #3 – A bed for your guests needs to be more than just a bed
When your son, or daughter, comes back into town and sleeps over to go to the big game and watch the Buckeyes crush the team up North, you want them to have a comfortable place to sleep. The challenge is how can you afford to chew up massive space in your loft apartment with a bed only used a handful of times during the year? You can't afford infrequently-used space.

The solution is the multi-purpose Murphy wall bed. By day it's a home office complete with a work surface, filing cabinets, shelves and drawers. At night it folds down with a 10" or 11" thick full-sized mattress for a good night's sleep. You won't put your guests through the torturous experience of the metal bars jamming into their back from an uncomfortable futon or sleeper couch.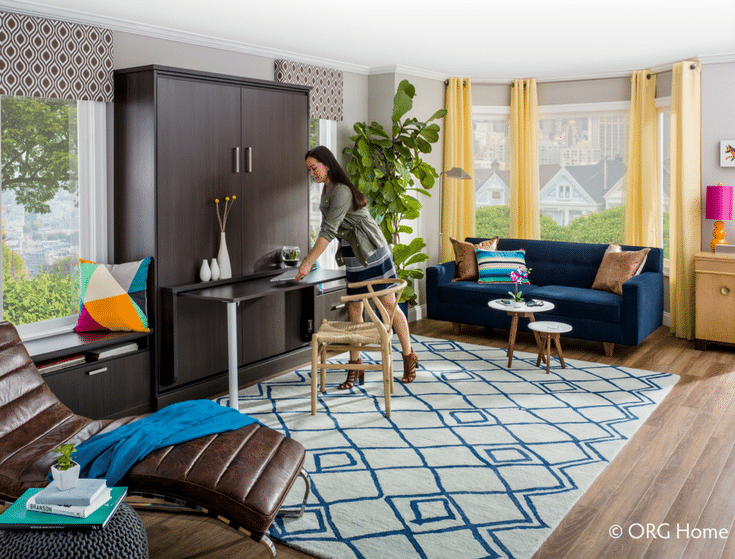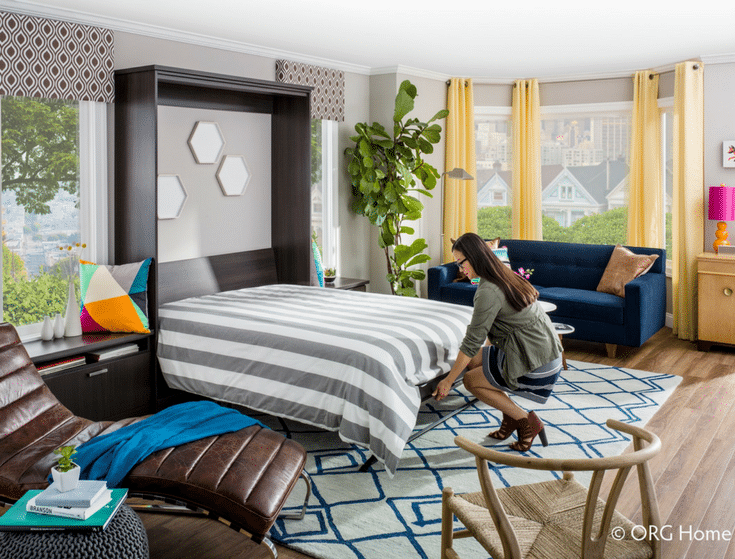 Loft storage idea #4 – The ubiquitous (I'm showing off my fancy words here) floating shelves
Old industrial loft apartments were not built to be an apartment or condo. They were built to be a factory or warehouse. This means you'll have obstructions, funky corners and strange spaces to find a purpose for. These eclectic areas are the perfect opportunity for floating storage shelves.
There is a wide array of shelves made from laminate, chunky wood surfaces and even glass with LED lighting. They'll give you a sense of cool-factor and storage in the same breath.
Loft storage idea #5 – Don't settle for a 'no-design' builders-grade wire closet. You need a 'fully functioning' adjustable closet system.
Since your loft is minimalist in square footage, your walk in (if you're lucky enough to have this) or reach in closet must work space wonders for you. No builders-grade single rod, single shelf closet will handle your stuff.
You loft may be minimalist, but your closet needs to be 'maximalist.' You'll need a 'fully functioning closet.' Not sure what a fully functioning closet is? It not only has double hanging spaces (i.e. two rods placed in the same vertical place) and shelves which adjust as your needs change– but also drawers for your socks, underwear and jewelry. With this type of closet, you can get completely ready without waking up your partner. Another feature of a fully functioning closet is it can adjust (the rods, shelves etc.) to your needs.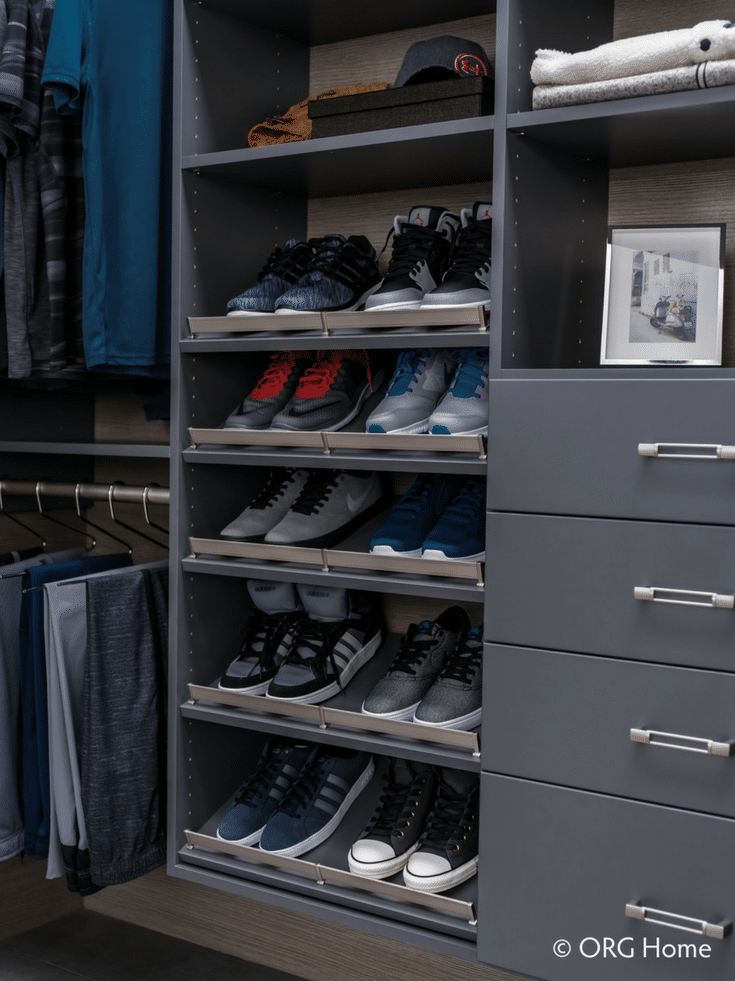 It's true, a fully functioning closet will cost more than the $65 your builder will 'credit' (air quotes intended here) you for the cheap wire option if you opt to have them not install for you– but it will give you 3 to 4 times more storage than the wire option.
Loft storage idea #6 – Make your living room entertainment center about more than entertaining
It's nice to have an entertainment center for your TV and electronic equipment – but what are you doing with the space above and below it? With a custom entertainment and storage system you can add deeper base cabinets (available in 14", 16", 19" and 24" depths) to get more things behind closed doors and eliminate visual clutter. Use more of your height with 14" wall hung cabinets also.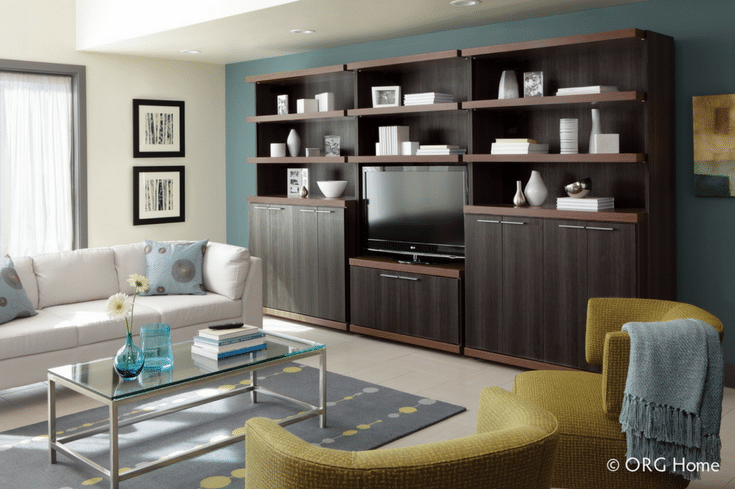 Conclusion
Moving into a loft condominium is exciting. Once the bloom of this decision made however, you've got to tackle the challenge of woefully inadequate closets and cabinets. While you're not moving into an off-the-grid tiny home – many of the storage problems are the same.
Stay committed to research storage solutions before you move in. This way you won't end up wasting money or hauling up 3 flights of stairs old furniture which, at the end of the day, doesn't work in your odd-sized space. I'd love to hear your opinions on these 6 ideas and others you'd like to add as well.
How can I (or my team) help you with loft storage solutions?
If you'd like to learn more about a wardrobe closet, Murphy bed, library ladder or custom entertainment center give us a call. We're happy to do a Free 3D design including storage and cabinetry solutions for you. You can reach our company (Innovate Home Org) in Columbus at 614-545-6888 or in Cleveland at 216-658-1290.
If you're a Twitter fan connect with me @MikeFoti or my companies @InnovateHomeOrg or @InnovateBuild for information on home organization systems, interior design and a little bad humor thrown in from time to time.
---
Tags: adjustable closet, adjustable closet Columbus, Columbus custom loft, Columbus loft, Columbus wardrobe closet, custom loft, custom loft apartment, custom loft Columbus, Desk Murphy Bed, floating shelves, floating shelves Columbus, KonMari, KonMari method, library ladder, library ladder Columbus, library ladder for a loft, loft housing, Marie Kondo, Murphy bed, Murphy bed Columbus, Murphy wall bed