7 Sizzling Hot Design Trends to Ramp up Your Storage Spaces in 2018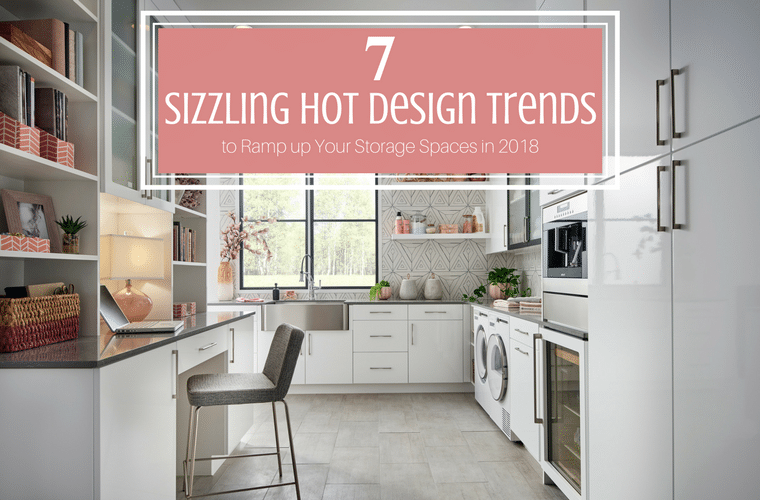 There are situations where I wish I could go back to the days when I was growing up. Visiting Grandma's house for a fresh Italian meal is one of them. The smell of garlic bread with fresh parsley flakes or her famous pizza (with the thick crust, diced up tomatoes, and small bits of anchovies – yes, I know some of you are grossed out about that) baking in the oven. If I could only get another slice of it today.
However, there are other aspects about Grandma's house I'd want no part of today. Her small reach in closets with single pole and wood shelf at the top would be jammed full of clothes if I had to live in her old house today. Attempting to find canned goods, cereal for the kids or cooking equipment on her shallow fixed kitchen cupboard shelves would be a pain. What would be even nastier would be going into the 'dungeon' ('er AKA her basement) do to laundry. This damp, dark place with no counters to fold or place clothes, except her rickety rope tied into the dusty floor joists would not be good.
I'd love eating Grandma's fresh baked meals but living in her house and dealing with her storage systems (which worked back in her day) would be another thing.
Our lifestyles, our wardrobes and styles change. Our storage systems need to evolve with our lives. While you and I may love Grandma, living in her home with outdated storage would be another thing.
You may be asking, "what does hot design trends for storage spaces have to do with Grandma's house?"
First, if you're looking to buy a home with 'character' (this can be another word for fixer-upper, or money-pit you're going to sink A LOT of cash into) in an affluent, yet older Columbus neighborhood like Worthington, Upper Arlington or Victorian Village you'll find the storage spaces are terrible. Closets, pantries and laundry rooms have a 'grandma-used-to-live-here,' kind of aura about them.
Second, if you buy a new home in Powell, Pataskala or New Albany (or name your upscale town here) your custom builder often doesn't have a clue about trends in organization systems. Yes – they will be on top of the latest in Quartz countertops and Shaker style kitchen cabinets. However, ask them about storage systems and how to get more out of your space. You'll find they're clueless. If you don't dig into ideas to get efficient closets yourself, you'll get stuck with the builders cheap and ugly fixed shelves, rods and poles.
Why should your storage systems be the red-haired stepchild of your new (or recently purchased) home? Wasn't better storage a BIG reason you decided to move in the first place? Why settle for outdated, cheap and inflexible storage systems whether you're buying a home with 'character' you'll be remodeling, or a brand-spanking-new custom home?
You don't have to be a victim of bad storage anymore.
Take a 'virtual trip' with me to see the latest in storage system design trends. I saw some cool stuff following my recent 'pilgrimage' to the 2018 Cabinets and Closets Conference in beautiful, sunny and warm (and did I say warm?) Pasadena California. As I look out my office in Columbus Ohio now at snow (in April of all things) can't I got back to So-Cal? Please!
Below I've summarized 7 sizzling hot interior design trends which will not only make your storage systems (i.e. your walk-in closets, pantries, entryways and home offices) work better, but will also make them stylish and sexy. And don't you deserve better spaces? Let's check out these 7 hot trends.
Interior design storage trend #1 – Contemporary overtakes traditional
Clean simple lines are in. Intricate and ornate are out. Contemporary cabinetry (with it's simple lines) is easier to maintain (there are no small nooks and crannies which are painful to dust). It's design simplicity makes drawer fronts and crown molding not only less complex – but (get this) less costly! Even if 'ultra-modern' is not your vibe, Mid-Century modern is hot, hot, hot. If you've historically leaned towards traditional design tastes, 2018 is the year to consider modern or transitional for your storage spaces (and home in general).
Interior design storage trend #2 – 'Matchy-matchy' is waaaay out, Mixology is in!
My wife Rose and I knew it wasn't right – and we tried not to laugh. When we went out to dinner recently to an inventive restaurant in Hudson Ohio called Downtown 140, we saw a couple who brought along their 2 young sons (I would guess they were about 10 and 14 years old). What's was so funny (and I had to feel embarrassed for these young guys) is their Mom (I can't imagine their Dad would have done this to them), dressed them in matching khaki pants and a white shirt. Boy – I bet they were LOVING dressing up like each other (sarcasm intended here)!
Just like 'Matchy-matchy' is way out in clothing, 'matchy-matchy' in interior design is SO out as well!
If you're stuck in an interior design fashion time-warp, imagine these 2 young boys being subjected to dressing alike in a public. Get bold and break out of your 'go-to' matchy-matchy interior design look.
What's hot today is a bit of 'mixology.' Mixology is using sleek high gloss cabinetry with matte black frames – like in this upscale laundry room design. It can be using different color doors – in the same visual surface. 2018 is not the time to be tame. Don't be afraid. Go bold and mix it up.
Interior design storage trend #3 – Understand hardware 'jewelry' trends – brushed, not polished
In the cabinetry industry pulls and knobs are called the 'jewelry' of storage units. And just like your bell-bottom pants, tie-dye shirts and powder blue leisure suits (yes – I'll admit wearing one of these as a young boy. In my defense my Mom made me wear it), hardware trends come and go.
For example, if you dumped your old brass fixtures they are back…. sort of. Today what's trending is not the bright polished brass of days gone by, but brushed brass (or even a brushed rose gold). The new look is subtle, elegant and not 'in your face' like your old builders-grade framed bright brass doors, knobs and pulls used to be. Dress up your closets, home office or pantries with fashionable hardware. It will make a BIG difference in the finished look.
Interior design storage trend #4 – Your storage system doesn't have to be made of wood to have style and character
Wood is wonderful – but it has its drawbacks. Can you say maintenance, chipping staining and painting – not to mention sustainability.
As Michele Weitzel of Northern Contours said in her presentation at the 2018 Cabinets and Closets Conference, "Textured laminates are giving wood a run for their money." A new process (called Embossed in Register printing technology) is now used in flooring and cabinetry to mimic the grain and feel of real wood in stronger, lower maintenance laminate products. Choose from diverse styles like a 5-piece Shaker style door to a Scandi-Chic or Boho storage pantry or kitchen. Laminates last longer and live better than wood.
If you've poo-pooed laminates in the past, it's time to revisit this material.
Interior design storage trend #5 – The 'Not So Big,' Oh So Smart House. Multi-use spaces are efficient and hot.
Whether you're an empty nester downsizing into a sleek loft apartment in Columbus (or any city in the US for that matter), or a Millennial embracing micro-living (in places like the City Now project in Denver Colorado) the desire for smart, sustainable and space-effective design has never been more in demand.
One way to make your spaces work harder is to think beyond a 'single room function.' Think multi-purpose. Ask yourself, "How can I get more storage – and usage – bang for my square footage buck?" Can a low-usage guest bedroom be converted into a multi-purpose office or workout room with a desk Murphy bed? How about a living room which serves double duty as a bedroom like the one below?
To realize the "Not So Big House" (check out this book on smart space design), you'll need to evolve to the "Oh-So-Smart" House. As Richie Demarco (Manager of the Closet Division of Richelieu Hardware) said, "The micro-living trend isn't just for small spaces. Multi-function storage frees up space, so you can spare the expense of a costly room addition."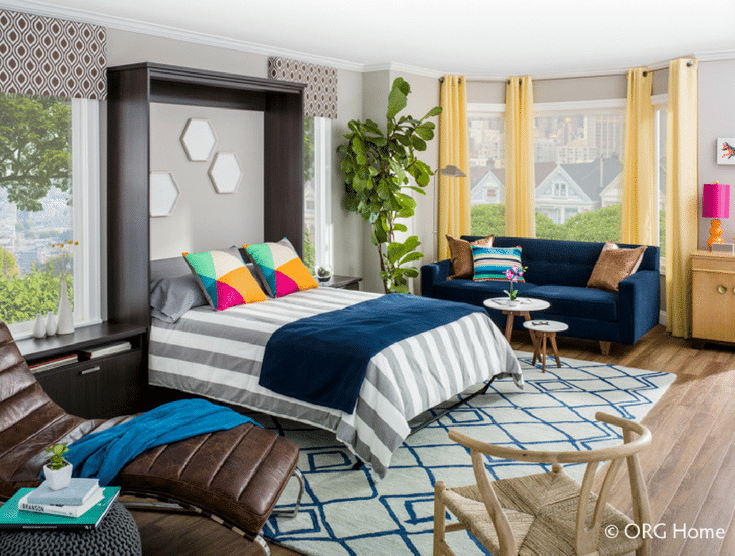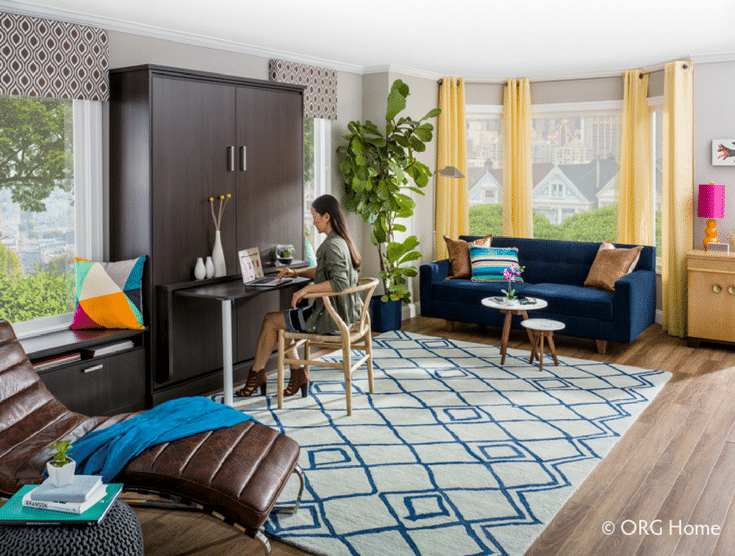 Interior design storage trend #6 – Realize the latest in cabinet styles by Shake(r)ing it up!
If your research on Houzz and Pinterest keeps showing Shaker style cabinets, it's no coincidence. It's estimated today 7 out of 10 kitchens, walk in closets, pantries, entryways and bathroom vanities are using Shaker style doors and drawer fronts. Why is this style sizzling hot in 2018?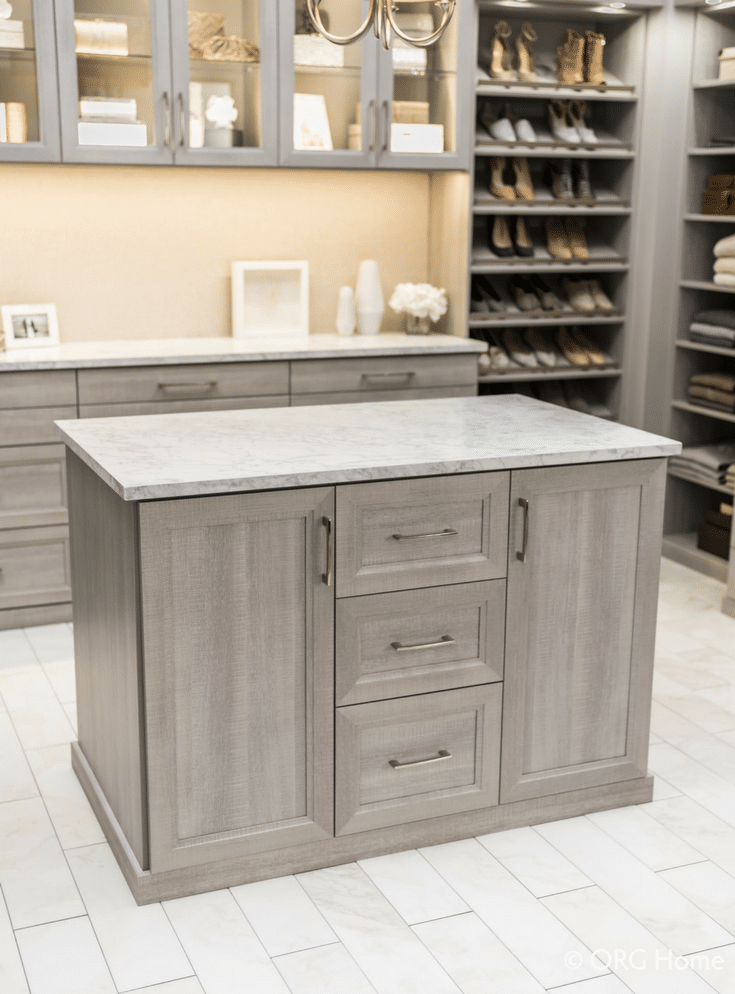 The flexibility of the Shaker look is driving its popularity. With the right choice of pulls and knobs Shaker can take on a traditional, transitional or contemporary look. If you sell your home and the next owners don't like your style, they can simply change out the pulls to cost-effectively create a new design.
Interior design storage trend #7 – Nanotechnology allows high-style and a relaxed worry-free lifestyle to be joined at the hip
It's fun to see technology make our lives better (and not add complexity). Although I still can't figure out why Apple can make so many cool iPhone features, but can't figure out how to manufacture a phone which will hold a charge longer than a blink of an eyelash (but I digress).
The use of nanotechnology (this is technology which deals with small atoms and molecules) can add style and reduce the upkeep of your storage spaces. Nanotechnology can't help you run faster or jump higher – but it can be used in storage cabinets to make them easier to dust (because of anti-static properties), repel germs, softer to the touch and eliminate fingerprints (how cool is that if you have small kids?). Now, you can even use a fashion-forward matte black finish (which is predicted to be super-hot in 2018) and not worry about investing in a 55-foot-tall spray can of Pledge.
Conclusion
In the beginning of this article I talked fondly (and nostalgically) about the smells and experience of visiting Grandma's house back in the day. While there are things to love about 'the old days' –storage 'systems' in these older homes are not one of them!
If you're remodeling a classic, yet-outdated custom home, building new in the 'burbs,' or trying to figure out how you're going to eek out more storage in a downtown loft apartment – don't you owe it to yourself to not get stuck with outdated storage systems? Why be frustrated and disorganized every time you to look for your dress, canned goods or your boots?
Take advantage of these 7 interior design storage trends and you'll have a cool space which lives well for you – each and every day.
How can I (or my team) help you?
If you're not a storage expert (and you don't play on TV like Jay Pritchett on Modern Family), we'd be honored to guide you through your next entryway, pantry shelving or walk in closet design. Call Innovate Home Org in Columbus at 614-545-6888 or click here for a Free 3D design.
###
Follow me on Twitter @Mike_Foti or our companies' @InnovateBuild and @InnovateHomeOrg for more insight on storage designs and remodeling (with a little wacky humor thrown in along the way).
---
Tags: Cabinet and Closet Conference, closet design, guest bedroom, interior design trends, micro-living, microliving, multi-purpose rooms, Not So Big House, pantry design, pantry shelving, pantry shelving Columbus, pantry storage, pantry storage Columbus, spare room, storage, storage systems, storage trends, walk in closet, walk in closet Columbus