The 10 Most Aggravating Garage Storage Problems (and How to Fix Them)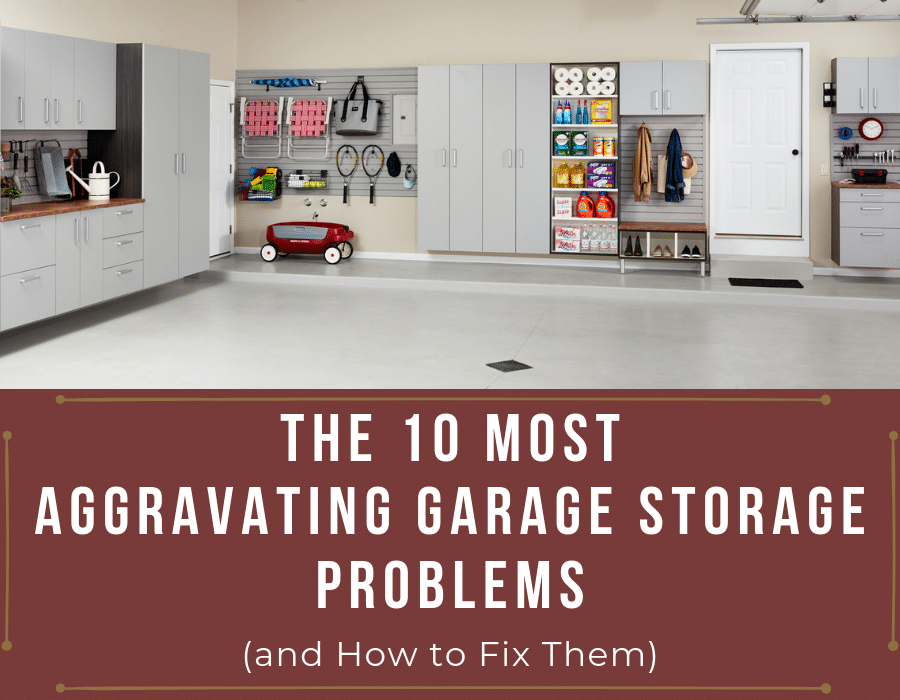 25% of homeowners keep their garage doors closed because they're embarrassed others will see in.
Over 1/3 of homeowners can't park their cars, SUV's and trucks in their garage because they've got too much stuff (or you can call it junk) stored inside.
Most people think of the garage as the ugliest 'room' of their house (or they don't consider this huge space a room at all but use it like the home's oversized junk drawer).
Your garage is a pain you wish would fix itself.
Now that Spring has FINALLY sprung in Columbus Ohio (or anywhere you live), isn't it time to clean out and organize that eyesore of a garage. Isn't it time to stop enduring the embarrassment and clutter you walk through every day?
In this article my goal is to help you with a plan. A plan for what, you may ask? Well, I'll identify the 10 most aggravating garage storage problems (in no particular order) and dish out practical ideas to fix them once and for all. At the end, I'd love your feedback on which is the biggest pain for you. I'd love to hear problems 11, 12, and 13 you'd not only like on the list, but would like someone (anyone) to chime in with solutions for you.
Let's dig into the first 10 problems.
Garage storage problem #1 – Your car and SUV doors are always banging into things
You may have thought, "If I only owned a Mini-Cooper or a Smart Car I wouldn't have car or truck doors which resemble a bad road. My kids swing them into everything stored on the sides of the garage."
Even though you think about having a small car, you know you love your 'big rig,' and you know your garage is not a one-size-fits-all proposition. This doggone space just can't be stretched. So, what can you do to prevent more 'bumps and bruises' to your car, SUV or truck doors?
The simple way to solve this problem is getting your tools, bags, ladders and hockey and lacrosse sticks off the ground and onto a garage Slat wall system. Slat wall is a fire-resistant (unlike standard pegboard systems) cellular PVC product where you hang hooks and baskets to get your things off the ground. They'll no longer be targets for your next dinged and dented door.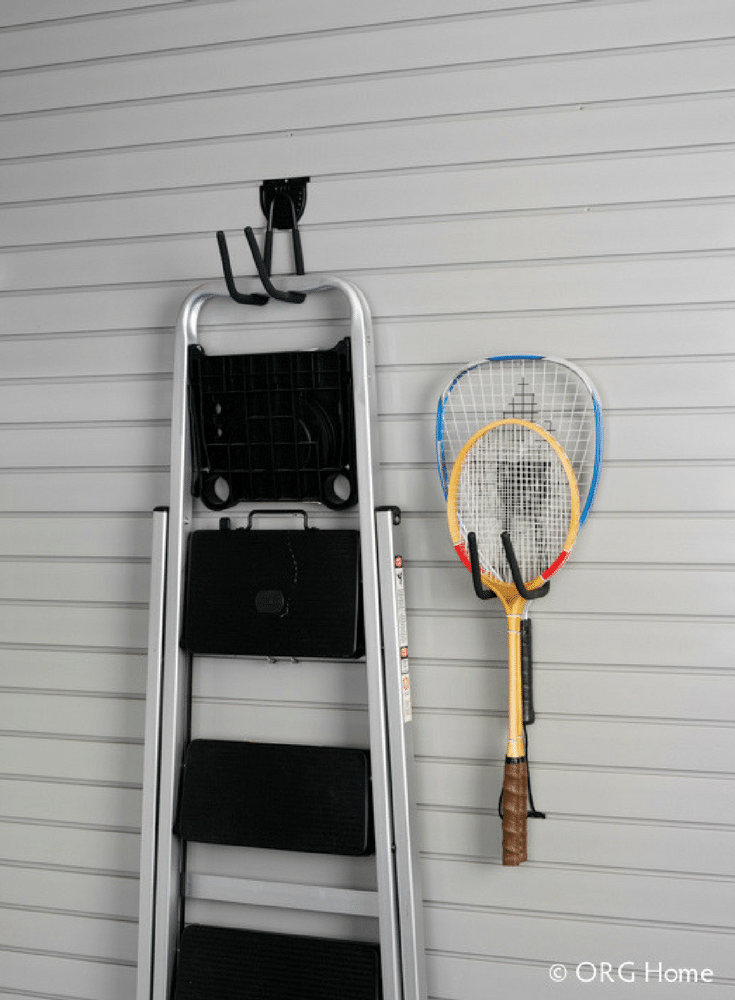 Garage storage problem #2 – Too much stuff, too little room
Article upon article upon article has been written about this topic. That topic would be decluttering. And here's what you know about decluttering:
Garage decluttering isn't fun.
Garage decluttering isn't easy.
Garage decluttering sucks up time you'd rather use doing almost anything else (OK – maybe it's better, by a little, than a root canal).

If you (or your partner) can't bring yourself to take the time to do this job, or don't have the guts to throw anything out, the best recommendation I can make is to bring in a professional organizer (note – one good one I know – although there are many out there – is Major Organizers in Columbus Ohio. And no, I'm not paid for this endorsement either – ha! ha!
A professional organizer will help you 'sift through your rubble,' sort the duplicates, recommend what to toss, donate, recycle or keep.
Sometimes it's best to let others do what you CAN'T do yourself.
Garage storage problem #3 – Visual clutter drives you nuts
On my kitchen counter (unless my wife Rose is dishing out one of her crazy-great Italian dishes) you'll see practically nothing with the exception of a canvas box.
You may wonder, what does my kitchen counter have to do with garage storage problems? Well Rose HATES visual clutter. She's on a one-woman mission to rid our house of it. So, instead of seeing my junk on the counter I have one box to put it in (even with a hole in the back so you don't see the cell phone cord).
While there is no visual clutter, I'll tell you, "It ain't pretty in that box." However, this isn't a problem for Rose because she can't see it. Visual clutter problem resolved.
Conversely, items stored on cheap, store-bought open shelves in your garage are similar to the clutter which used to exist on my kitchen counters. No matter how hard you 'try' to make the piles look neat, they don't (and your spouse or partner isn't diggin' it!).
Your garage solution to this problem (like my canvas box on the kitchen counter) are enclosed garage cabinets. Your space will look neat and clean on the outside (no more visual clutter), no matter what's lurking on the inside!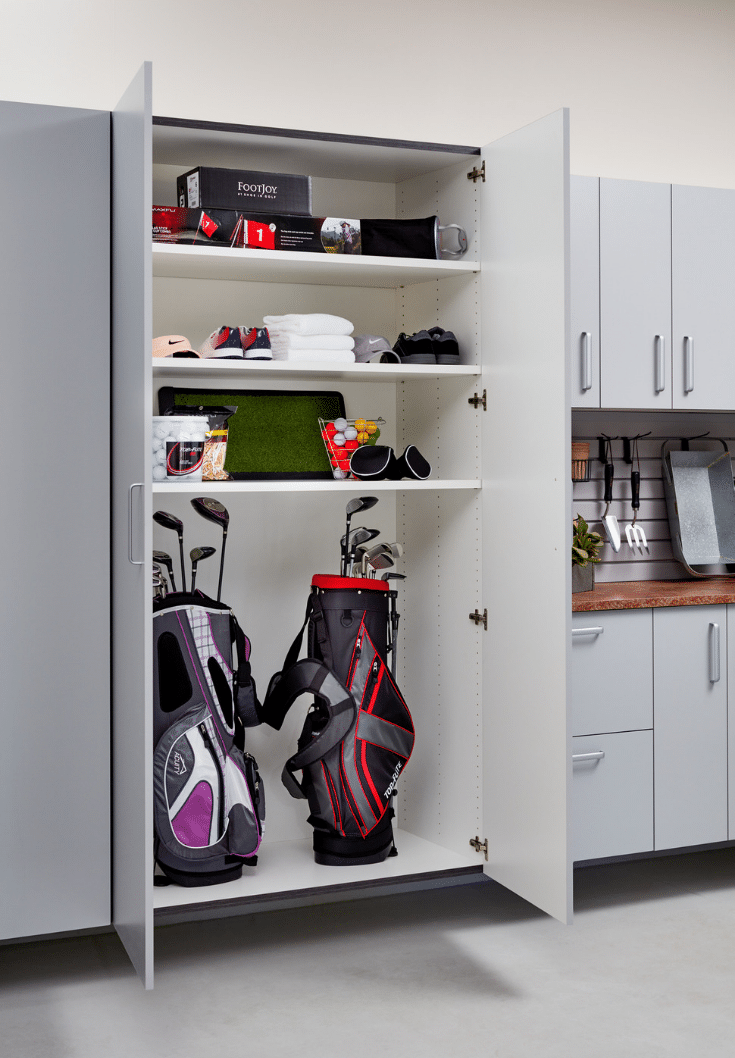 Garage storage problem #4 – There's no place to work on anything
Think about this. You're 'attempting' to repair your lawnmower (again) or cutting molding to dress up your dining room. Since your spouse didn't want you trapesing through the house and cutting in the basement you're stuck in the garage – trying to do it.
You keep muttering under your breath (OK – if we're being real your swearing out loud), "Where the h*** did I put my ___________ (you fill in the blank)."
Projects done outside are the ultimate lesson in frustration. You're constantly playing the 'in search of' game. You're wondering is there a way to organize (and find) your tools when working outside?
The answer is, yes there is. It's with a garage workbench. With a workbench you'll have your tools at your hands with handy, dandy storage options like magnetic tool-holders, drawers for small screws, nuts, extension cords and even power tools.
Garage storage problem #5 – You can't see a thing (and changing lightbulbs mounted on the garage ceiling is getting more dangerous all the time)
If your garage lighting is terrible, I can feel your pain. One or two lonely lightbulbs 10' off the ground (which are burned out most of the time) doesn't cut the mustard. They're a pain to replace.
Garages, especially those without windows) are terrifyingly dark. So, what can you do about it? Here's 3 ideas:
Idea 1 – Create an opening and add a glass block garage window – 3" thick glass block windows let light in, but keep anyone out who may be thinking a garage window is the perfect way to break in and take your stuff.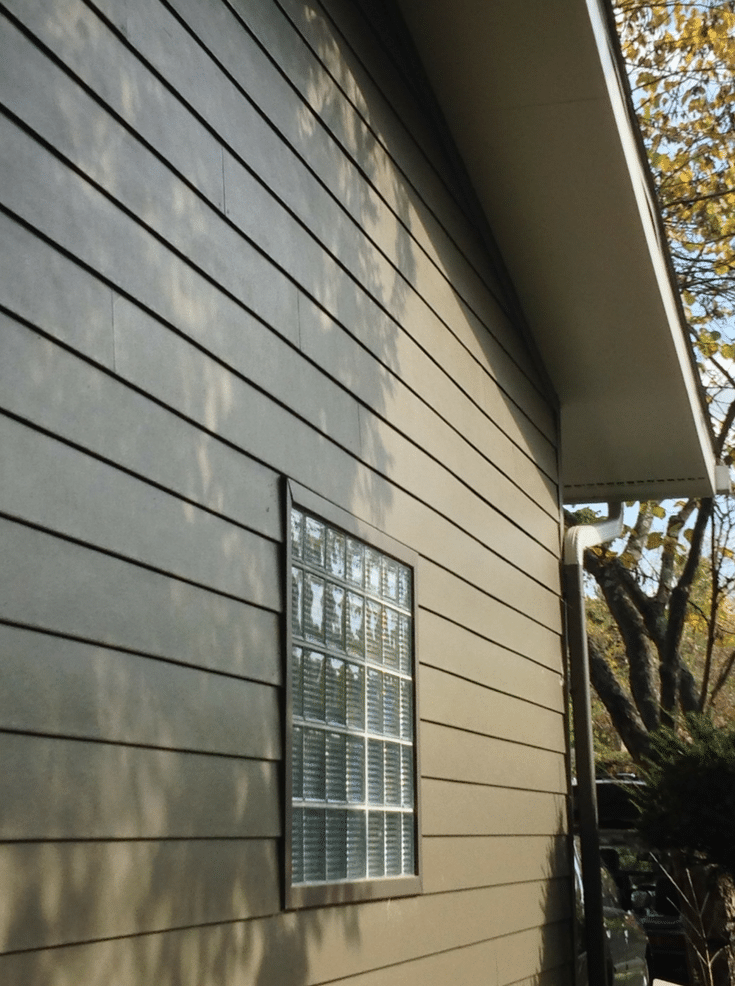 Idea 2 – Add hanging shop lights – A double fluorescent fixture over your new workbench will be a God-send to find those teeny, tiny parts you can't seem to locate.
Idea 3 – LED light strips – There's nothing more satisfying than lighting you rarely need to change. With 50,000 hours of life you can install LED strips and forget about them.
Garage storage problem #6 – Bowed, cracked and bent shelving
It 'sounded like' a good idea. You took the old kitchen cabinets and hung them up in the garage. And it was a good idea until… the shelf cracked and spilled motor oil all onto the garage floor (it was a good thing the paint can didn't open up!).
Low quality particle board shelves or a thin metal shelving unit you get at your local big-box store on sale is just that. They're cheap, thin and can crack or bow under the weight. After all you store heavy stuff in your garage (paint cans, potting soil, automotive parts to name a few).

Since you're storing heavy things you need shelves designed to handle the weight. That's why these 1" thick laminated garage shelves are designed perfectly for this need.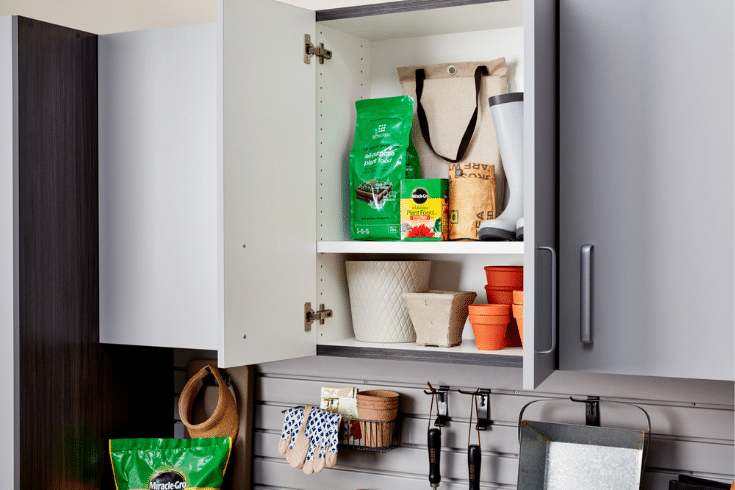 Garage storage problem #7 – My 'rig' is too long for storage at the back and parking
As mentioned earlier, over 1/3 of vehicles in the United States are parked outside due to a lack of room. Often the 'standard' 20' depth of a common garage simply isn't enough, and if they builder cheaped-out and made your side walls 19' deep, you're really up a creek without a paddle (as they say).
One simple solution (depending on how much you have to store) is to add wall hung cabinets set above where your car or truck will be parked. In this case you can have your cake (parking your truck) and eat it too (adding shelving above the front hood of your rig).
Garage storage problem #8 – Your garage floor is pitted, stained and uneven
It's hard to get excited about upgrading your garage storage system when the floor looks like you're traveling on Mars.
Fortunately, this rough, pitted and stained surface can be fixed. However, a can of floor paint at the big-box ain't gonna do it! Better, more durable options include polyurethane epoxy coatings and interlocking PVC tiles.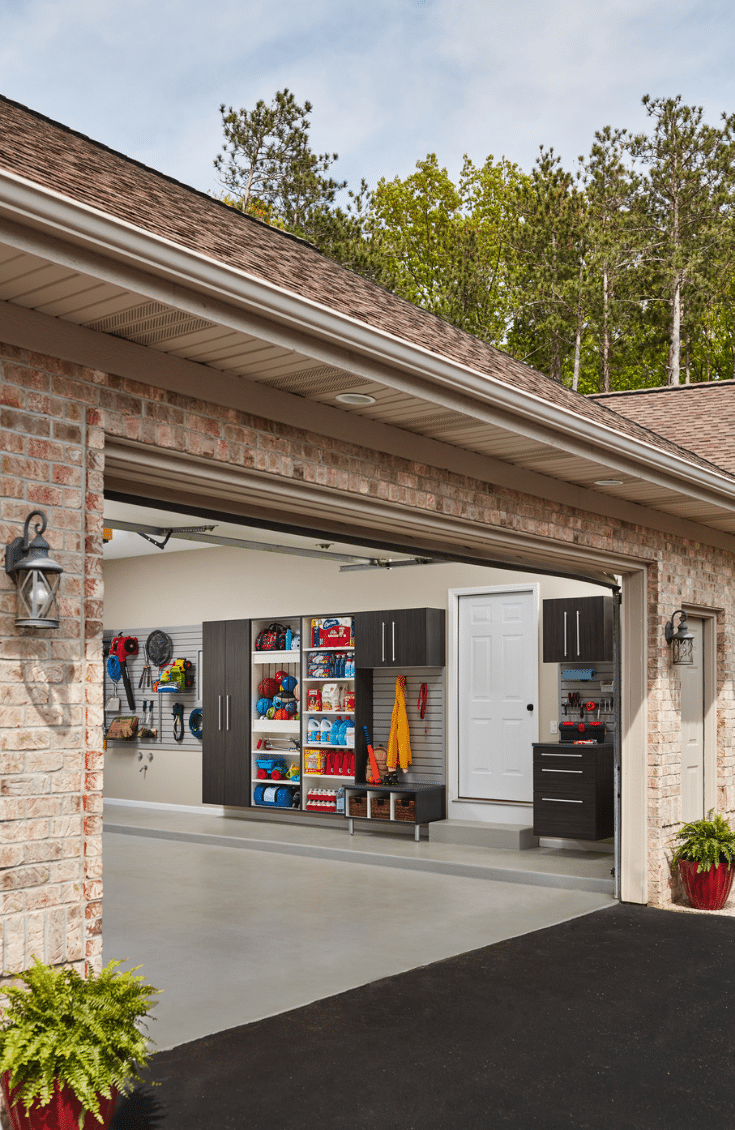 Changing the feel of your garage often requires ramping up the tired garage floor.
Garage storage problem #9 – Your kids sporting equipment is everywhere
Balls and sticks dropped haphazardly on the garage floor.
Field hockey, soccer, and football sports bags littered on the ground waiting for someone ('er that would be you – parent) to pick them up and put them somewhere.
A soccer ball stuck under your car…. again!
If you've experienced any of these garage storage problems, you're officially…a parent!
Your garage doesn't have to be a soccer ball, sports bag, bike and sporting goods store nightmare.
The first step to fix this hassle is to invest in a garage organization system. Sturdy bike hooks on organization slat wall systems are a start. A ball stay inside a garage cabinet can centralize what they love to play with. An entry system with hooks for sports bags and bookbags can be an awesome add-on.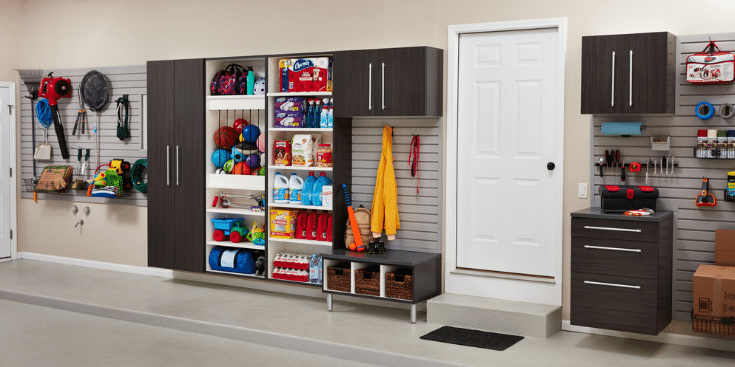 The second step (yes, it's way harder than the first), is instilling the discipline to get your kids to use the system. And when you figure this out – give me a call. I'm all ears to learn a thing or two from you.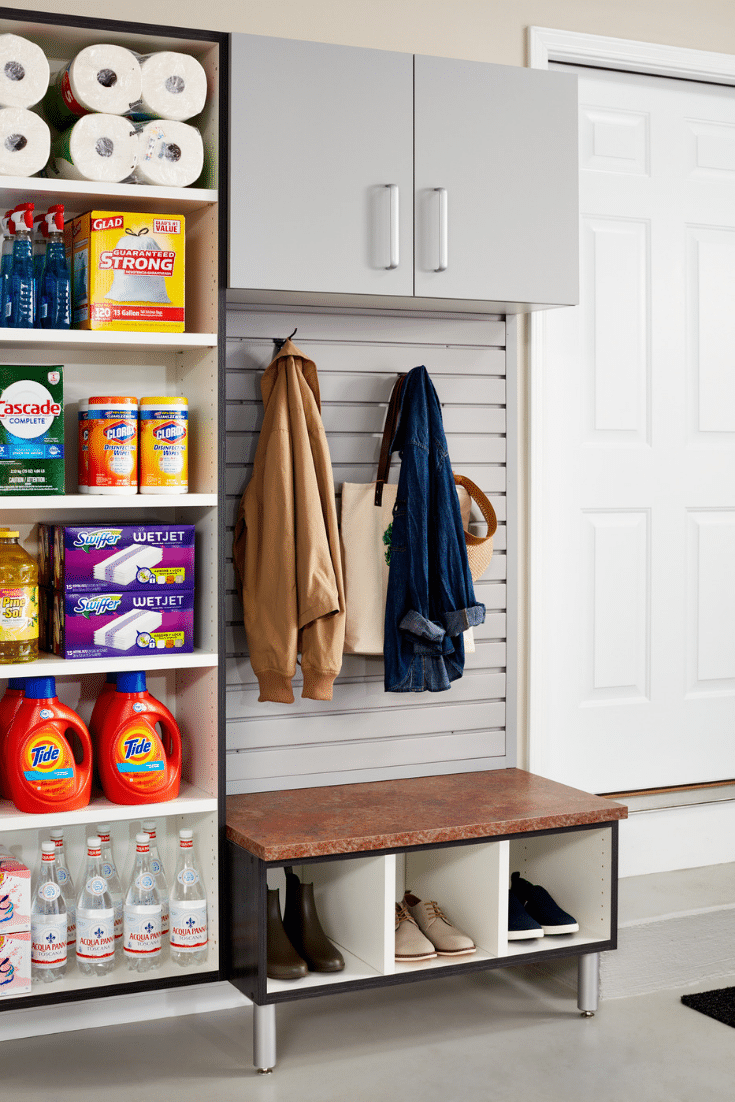 Garage storage problem #10 – Cleaning underneath floor-based storage racks and shelves
If you're ever had the 'displeasure' of cleaning under metal and wood garage storage racks which sit on the floor you may have said to yourself, "I never knew bugs could have that many legs!"
Dark, closed in spaces under garage shelves are breeding ground for crazy insects (not to mention those scurry things you cringe seeing if they get into the house).
The better choice is to use wall hung garage cabinets. They not only make it simpler to clean underneath and hose the garage down, they're sturdier than the flimsy shelving you're putting up with today.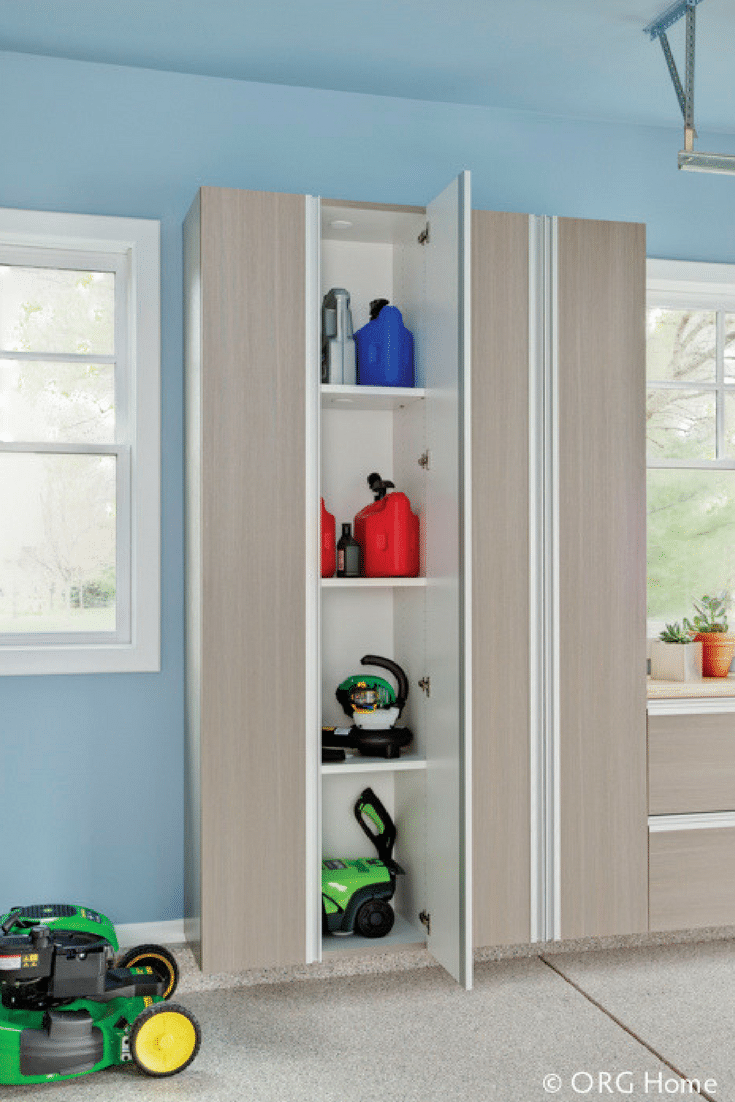 Conclusion
So, which garage problems is your biggest pain and needs to be fixed RIGHT NOW? Are there problems 11, 12 and 13 you want to add to the list and get feedback about? Would fixing these top 10 help eliminate your clutter and the visual embarrassment which is your garage today?
If you live in Columbus (or Cleveland) Ohio and desperately want to gain control over your cluttered, ugly jungle which is your garage, we'd love to help. Please click on the links or give us a call at the numbers below.
How can I (and my team) help you?
If you'd like help developing a plan for your messy Columbus Ohio garage – we're here for you. Call 614-545-5888 or click here to get your Free 3D garage design.
###
If you'd like more information on garage and home organization (with a bit of bad humor along the way) follow me on LinkedIn @MikeFotiLinkedIn or on Twitter @Mike_Foti or my companies' @InnovateBuild and @InnovateHomeOrg.
---
Tags: Columbus garage storage, garage cabinetry, garage cabinetry Columbus, garage flooring, garage flooring systems, garage lighting, garage lighting Columbus, garage planning, garage shelves, garage shelving, garage slat wall, garage slat wall Columbus, garage storage, garage storage Columbus, garage storage plan, garage storage problems, garage storage system, garage storage system Columbus, garage workbench, garage workbench columbus, glass block windows Columbus, thick garage shelving, wall hung garage cabinets