The 7 Biggest Mistakes of a Poorly Designed Home Office (and how to fix them)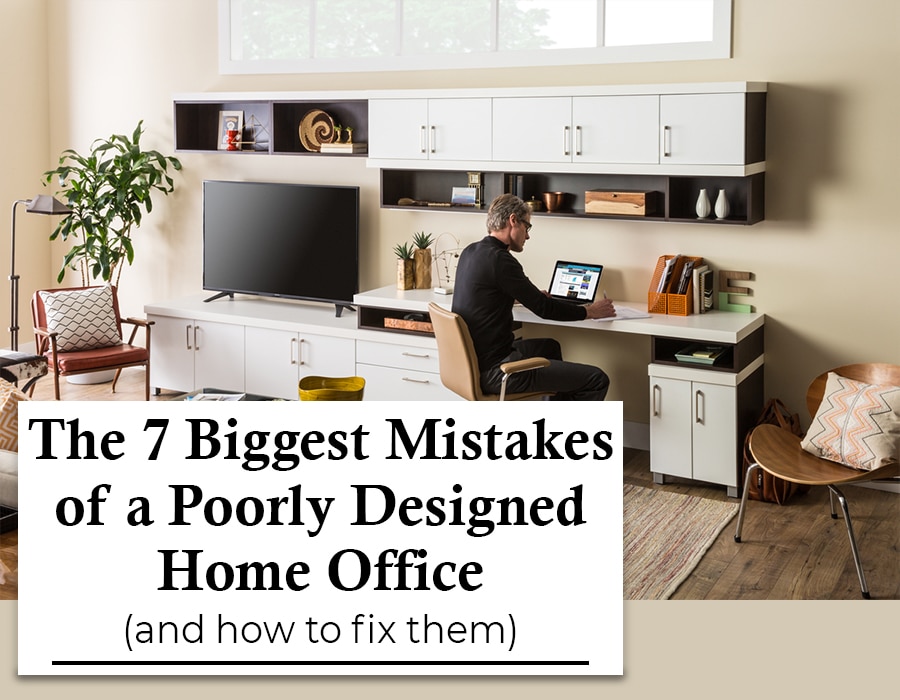 If this global pandemic has taught us anything (other than it's important to live with family who gets along) it's that the need for a well-functioning home office has never been greater.
Working from home sounds great…in theory. However, when you combine these 3 elements you have the ingredients for a home office productivity disaster.
Element #1– Constant interruptions from the kids, your spouse or partner (bless their heart, as the Southerns say) makes it impossible to focus.
Element #2 – Uncomfortable and cheap 'office furniture' are a big problem when you're using them every day.
Element #3 – When a 'storage system' is practically non-existent it's a pain to find anything. You want to pull your hair out.
Whether you've been 'thrown into' being a remote worker temporarily, or working from home is part of your routine with 'gig economy assignments, or you just want a decent place to pay bills, a home office which ISN'T a disaster would be a big bonus. And if you're using your home office A LOT during this pandemic you may relate to the comment my friend Christina Relyea, Sales and Marketing Manager at JB Cutting said to me. Christina said, "Mike, I think our new home office during this looooong 'stay at home' has practically saved my marriage!"
If you know your home office (or kitchen table or living room chair you're 'calling' a home office today) is a productivity nightmare but aren't sure where to start to 'right this ship', I understand your pain. I work with customers who HATE, HATE, HATE their home offices (or lack thereof). They're desperately seeking solutions to cluttered, disorganized and downright ugly spaces. And that's where I'd like to start this article.
I (along with five very experienced friends of mine) will look at the 7 biggest mistakes people make (or worse yet – have to live through) with home offices. And more importantly, we'll give you practical tips to fix these problems even if you don't have a Bill Gates budget.
At the end let me know which of these mistakes are the biggest pain for you and desperately seeking answers for. As this trend towards remote work grows, you've got to find a way to make your home office work FOR YOU…and not AGAINST YOU! Now, let's dig into the mistakes…and solutions.
Mistake #1– There's no place to put things! Stuff is piled up everywhere
If the area you're using for your home office is one step above the 'junk drawer' in your kitchen you're not unlike most people. Bills thrown on the desktop. The kid's projects laid out; half done. Extra packages thrown around the corners of the room waiting to be put away …. by someone … and that someone is usually you!
If chaos is the word to describe your office (or at the least the area you're using for your office), then hang your hat on the old phrase 'misery loves company.' Here's the good news though. You don't have to be miserable. But you may need help to make your space organized and productive. The challenge is how to make efficiency your reality, even if you're not planning to trade in your family and all their junk (although you'd like to on some days).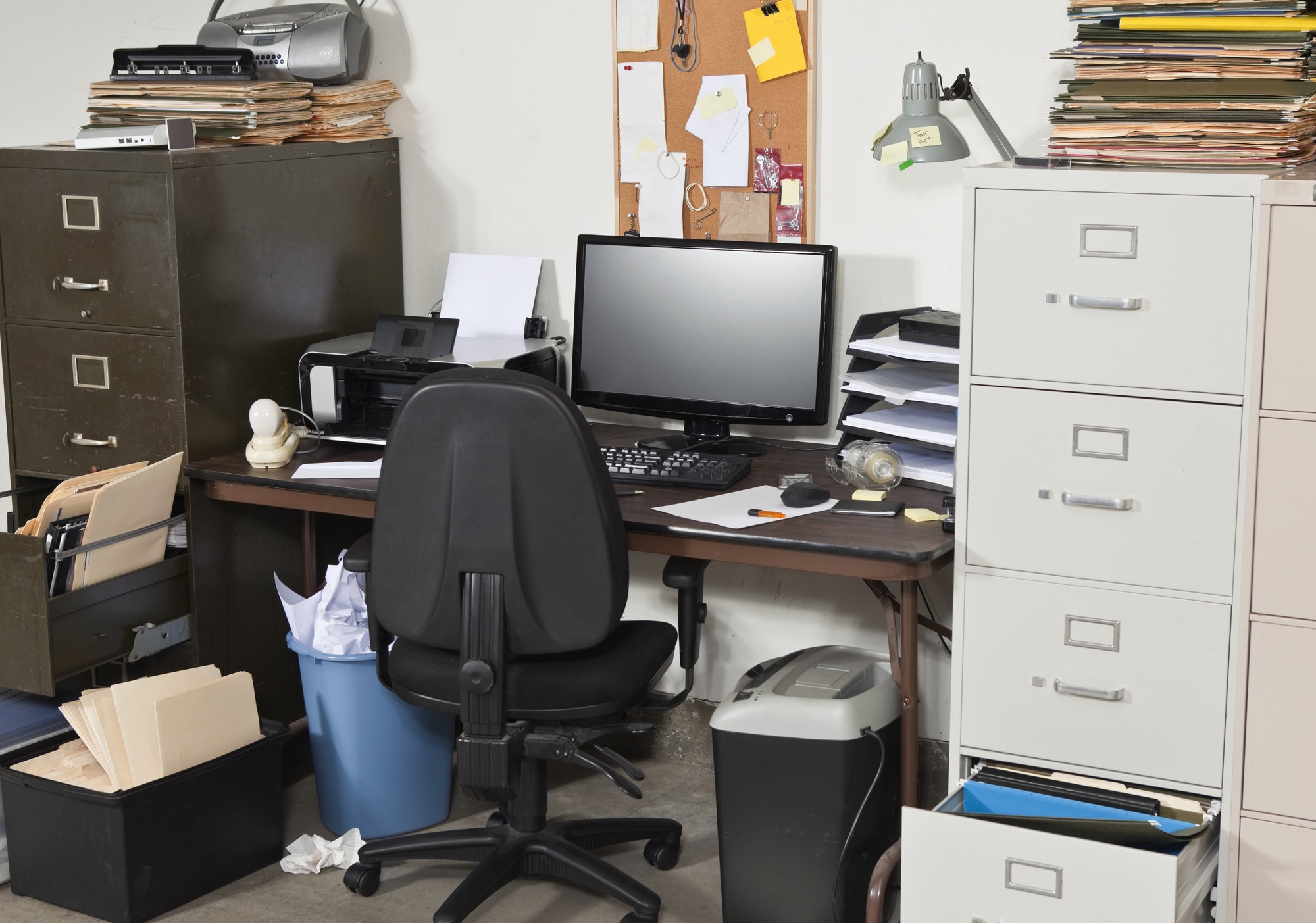 But you may be wondering how can you gain storage to (at least) hide all this stuff where no storage exists today? Here's 3 ideas:
Idea #1 – Add upper cabinets – The height of your room is a hidden gem for an organized home office. Upper cabinets don't take up floor space, but they do give you room for copier supplies, kids arts and crafts or reference manuals.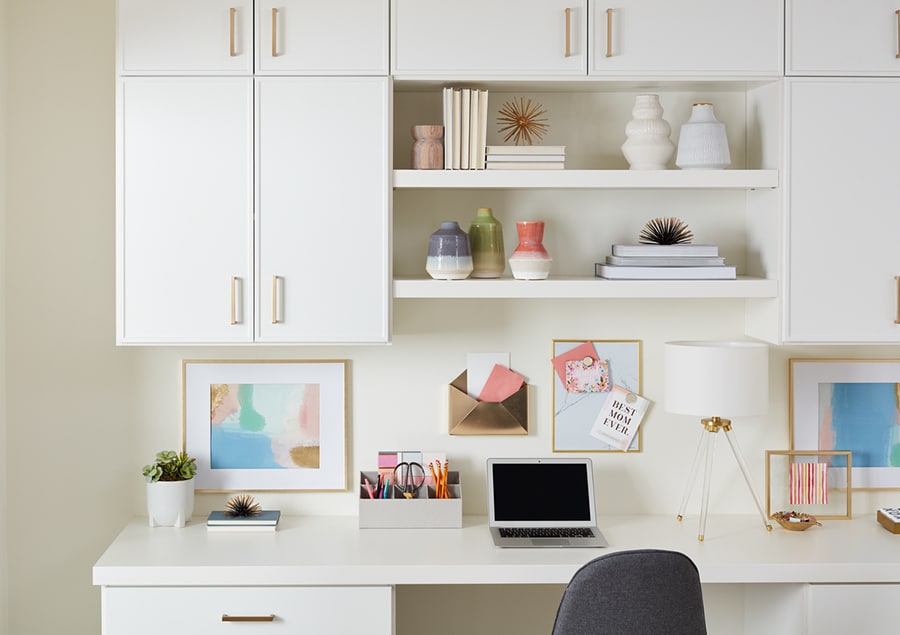 Idea #2 – Find filing cabinets or bins – There's nothing which creates a cluttered mind faster than a cluttered office. When nothing has a place, chaos ensues. Filing drawers are a staple (no big-box store pun intended) for efficient storage.
Idea #3 – Use doors and drawers for a neat and tidy space– One key to effective home office design according to Carlissa Montoya of CM Closet Design is to hide your stuff. As Carly told me, "Mike, who wants to see the printer or the shredder in a home office? They're ugly (and take up valuable floor or countertop space). I recommend hiding them behind a door. However, make sure to not place them too low to the ground so they're easy to reach."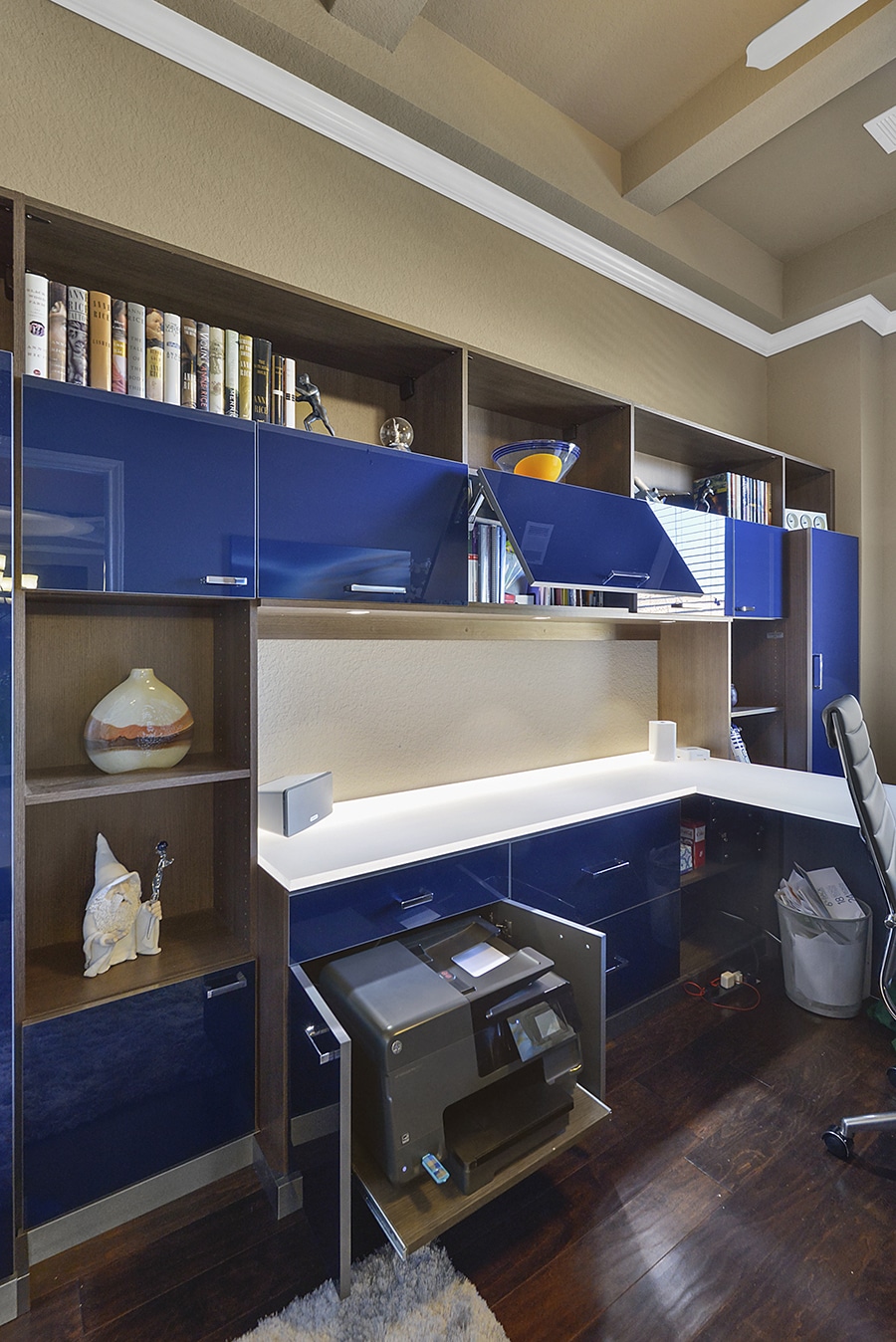 Image Source: Designed by CM Closet Design, Built by California Closets
Mistake #2– A big ugly, old desk 'eats the room.'
For those who can remember back this far, think about when you dreamed of rising the 'corporate ladder.' Think about when you dreamed of a separate office in the corporation with your name on the door and a BIG mahogany desk. It was back in those days when you wanted to put an initial in front of your first name (something like B. Michael Foti) to show how truly distinguished you were!
Well those 'good 'ol days' (if they were even good 'ol days) are long gone!
Today if you're stuck with a big, old mahogany desk in your den or spare room it's more likely your enemy than a symbol you've 'arrived' as the President of your home. Its eating up the room. It looks behind the times. While this 'isn't your Father's Oldsmobile,' it surely looks like your Father's big 'ol desk.
If you're living with the mistake of a large ancient desk which eats the room, it's time to go to "Home Office Design Reform School.' It's time to chuck the massive desk. You (or your spouse) need to evolve to a stylish, sleek, and practical work surface.
Two smarter options include the following:
Option 1 – An open work desk where you can slide filing cabinets underneath.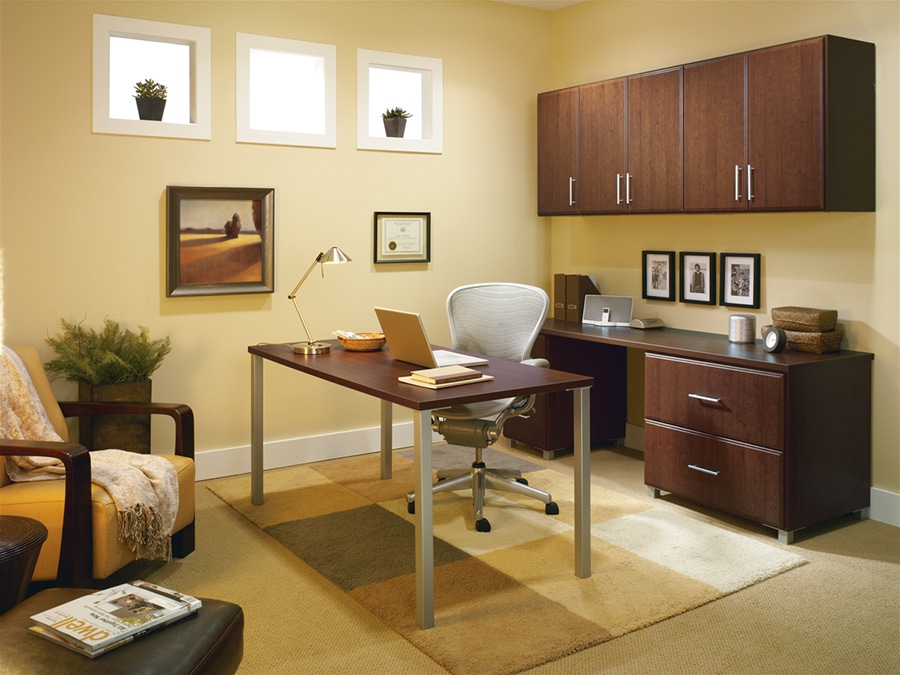 Option 2 – A stand up desk. As Richie Demarco (US Market Development Manager with Richelieu tells it, "Mike a must have for a custom home office is a sit to stand desk. Sitting for 8 hours a day not only gives you a stiff neck and back, but you're not improving your health one bit as well." This type of desk can help your posture and help shed a few pounds (even though your spouse still constantly tells you you're hot…. or something like that).
Mistake #3– You don't think you have space for a home office
In a perfect world you'd have a big den you could close off from the world and work in complete privacy. However, this is not the world many live in today. You may be resorting to your kitchen table as your 'home office.' You may be plopping your device on your lap while trying to get comfortable in the living room to work (all while your kids are playing and making a 'ruckus' (that term brings back memories of Mom – but I digress).
Your 'home office' today may not be an office at all.
If you don't think you have a place for (at least a) 'semi-private' home office maybe you haven't looked hard enough. Here's 2 home office space-creating ideas which have 'saved the work-day' for many others.
Space-creating office idea #1 – Put your spare bedroom to use – Spare bedrooms are usually a waste of space. The bed is fixed and ready (and eats up the room). You're waiting for the few days a year Uncle Louie, Aunt Betty or your husband's annoying Fraternity brother come to sleep over (and no, none of my Kappa Sigma frat bros have EVER resembled this remark!).
While you do need a spare bedroom for the occasional (wanted or unwanted) visitor, you need to put this room to better use. A way to do this – and have a productive room 100% of the time is to combine a Murphy wall bed with a desk. This option can give you a desk and a bed in a space as small as 10' x 10' (with room to spare when the bed is in the upright position).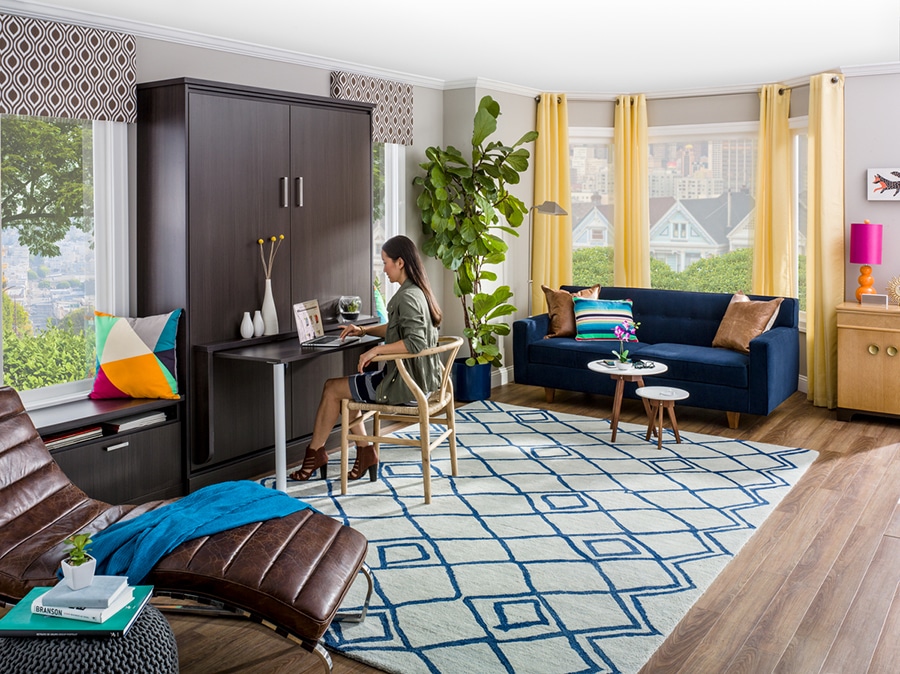 A second 'stow-away-bed' option (if you have a wider room) is combining a small desk with a Murphy wall bed . In this option you have a comfortable bed for guests and a full-sized desk for you to use every day.
Space-creating office idea #2 – The '#Cloffice' or 'Pocket Office' – Believe it or not, a closet can make a perfect home office. As Wendy Scott (Master Storage Designer at Boutique Closets and Cabinetry) said to me, "Mike, a trend I'm seeing is the 'pocket office.' It's a mini office 6' x 7' or even 4' x 6'. It's efficient. It's private. It puts an end to old style designs with those stupid desks in the kitchen which are just junk collectors."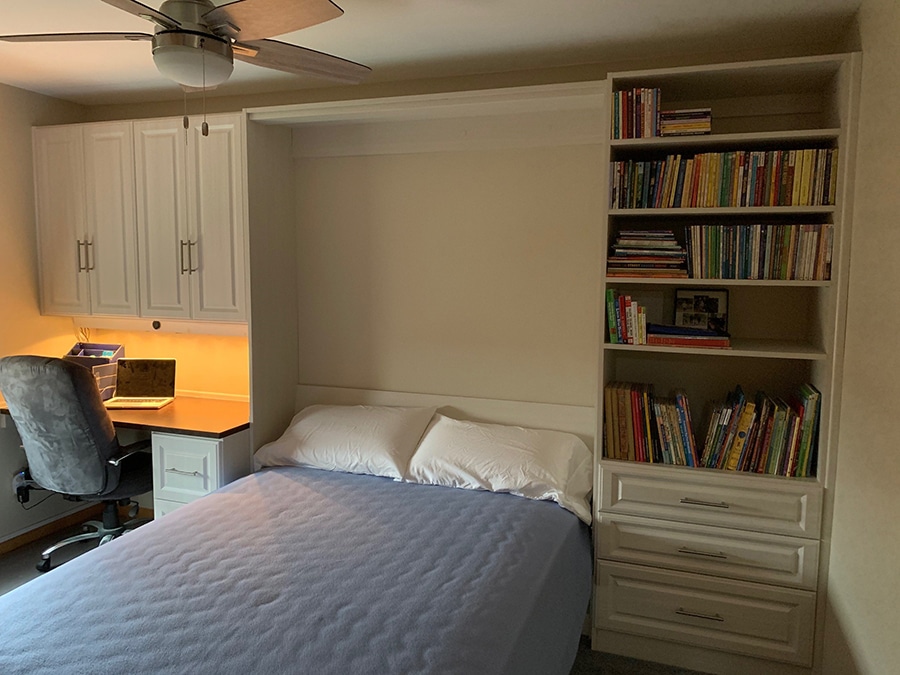 Mistake #4– Your lighting is terrible
Sure your 15-year-old daughter can read (practically) in the dark. Although you fantasize about aging like fine wine, your Botox treatments and Eye Doctor appointment tell you otherwise.
Bad lighting (or too much light – with glare from the sun) can be hard on your eyes and productivity. It makes your work harder (as if it isn't hard enough in the first place). The question is what can you do to use lighting to your advantage and increase (at least to some degree) your enjoyment with work? Give these bright ideas (yes, it's a bad pun, but I resemble that remark) some thought.
Bright idea #1 – Know how natural light will affect your screen – As Eric Marshall, President of Kitchens and Closets by DEA Remodeling told me, "Mike, it's critical to consider how natural light will affect your computer screen. Will you have too much glare? In addition, think about the positioning of your screen and if it will offer you the privacy you need."
Bright idea #2- If possible, don't position your desk facing the wall. Space permitting, put your desk in the middle of the room with a window view (if you're lucky enough to have one). There's no better light than natural light. And BTW, who exactly is inspired staring at a blank wall anyway?
Bright idea #3- Improve your overhead light. Get a fixture which uses brighter LED bulbs. Light in your workspace needs to be brighter than light in a spare bedroom or closet alcove with one dimly light bulb.
Bright idea #4 – Add task lighting by your desk. Consider an LED lamp with a USB charger to add task lighting and minimize the 'spaghetti strands' of wires everywhere.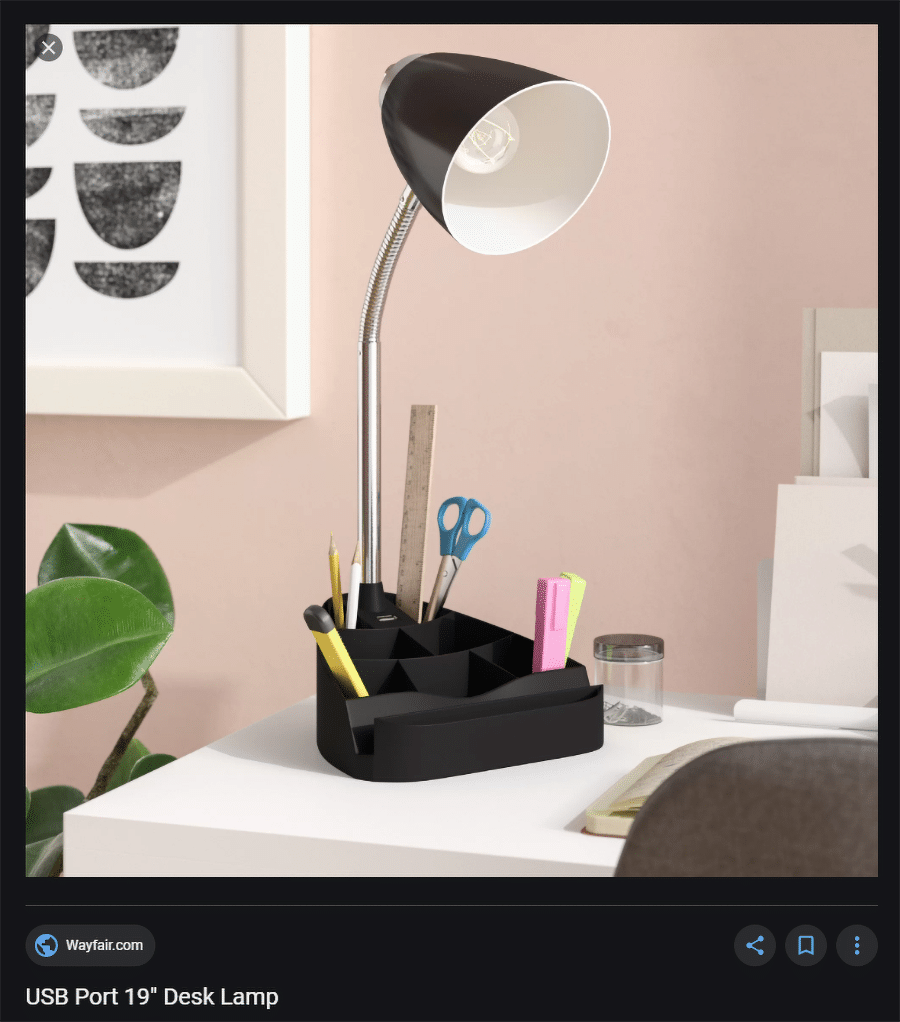 Image Source: www.wayfair.com
Mistake #5 – Don't put up with the 'land of tacky unmatched office furniture.' Build your home office to suite YOU!
Are you still stuck using your husband's cheap department store desk he had back in his 'good 'ol college' days? While his parents bought him this desk to 'get him by on the cheap' it's still 'adorning' (sounds fancy doesn't it) your den or spare bedroom to this day. And you're crystal-clear about one big thing glaring at this cheap 'furniture'….
It's an embarrassment.
Sure, it was assembled in a jiffy 'back in the day,' and didn't cost much. However, here's the problem. It doesn't match the rest of your house. It has a certain 'Dollar-Store-Esque' vibe.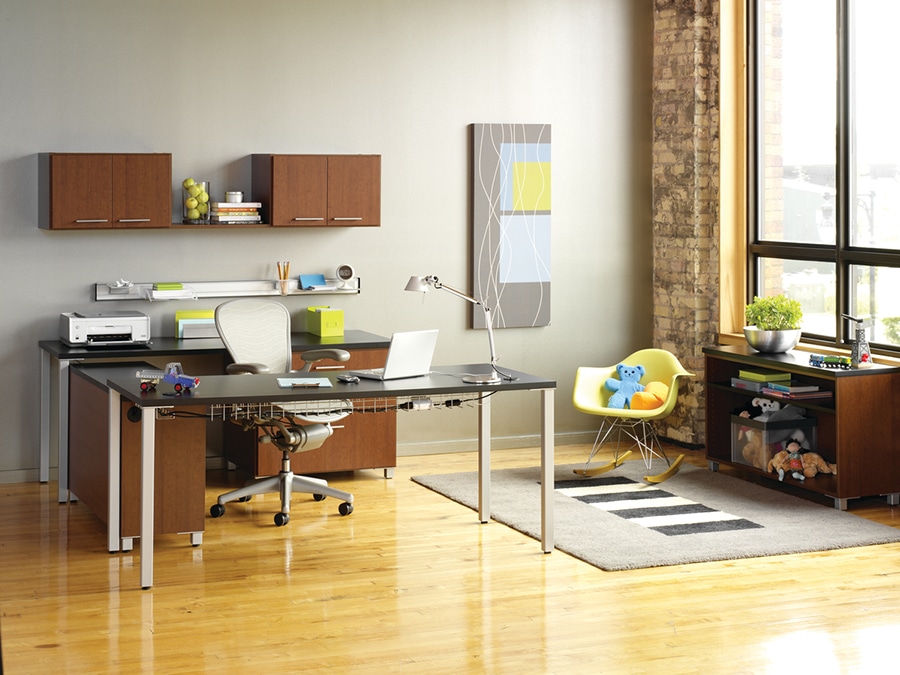 When you design this space, you need to build it to work (literally) for you and your loved ones. As Christina Relyea (Sales and Marketing Manager of JB Cutting told me), "Mike we designed our new home office around our needs. You see my husband has heavy manuals. Given this we upgraded to ¾" thick drawer boxes (vs. the standard 5/8") with slow close operators so they're built to last." Check out a picture of Christina's finished office below.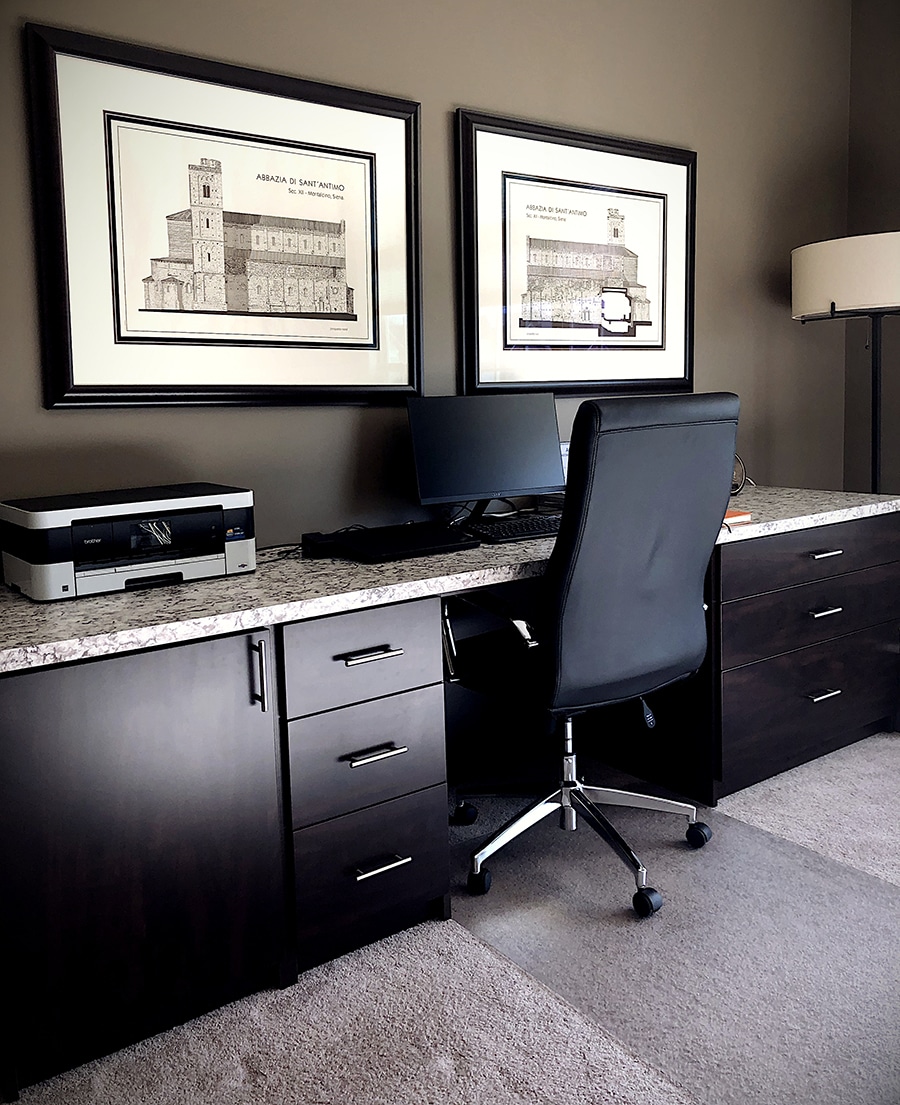 Image Source: JB Cutting
You shouldn't put up with crappy department store furniture (sorry about my professional description) when you can replace it with a durable and stylish system which compliments your décor. Check out laminate built in office cabinets and desks. You'll find fun contemporary textured surfaces, or transitional white Shaker style designs or a classic traditional cherry look. Don't deal with junky furniture you're desperately trying to hide from your guests anymore.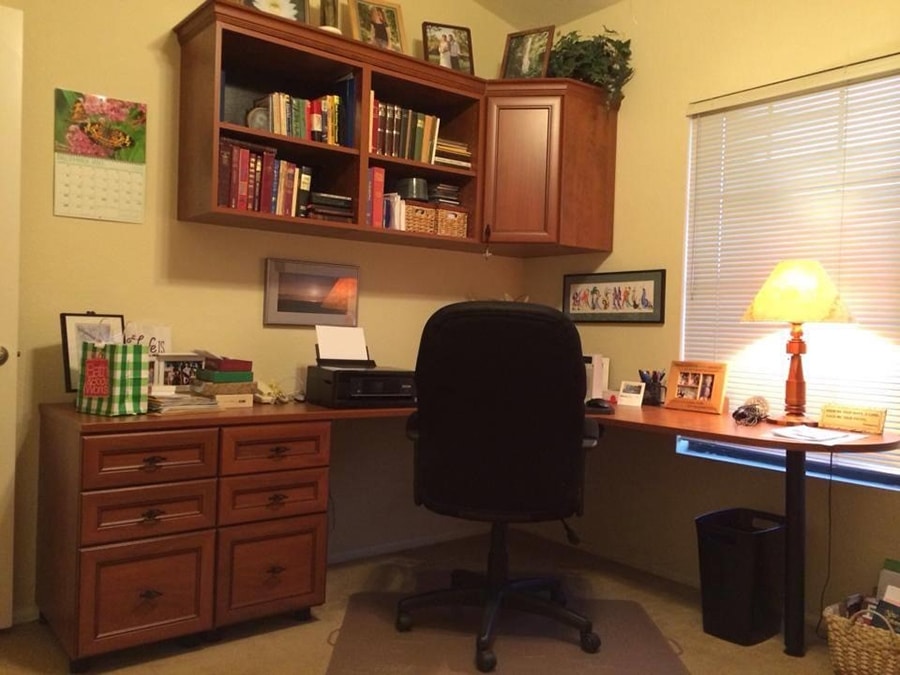 Image Source: Kitchen and Closets By DEA Remodeling
Mistake #6 – You don't have 'office hours' or a way to 'shut down shop' at the end of the day
While many employers are hesitant to use remote teams for fear people will 'goof off,' actually quite the opposite work ethic is the case. Its been shown most remote workers (or gig economy subcontractors) usually work too much, not too little at home.
While big companies might initially like this, it leads to burnout and turnover. Sure – it's important to work hard and be productive, but it's also important to have balance and a separation between 'work and home life.' And this is where a smart home office design (and the right 'home office attitude) comes into place.
First to be productive in your home office, according to home office designer Wendy Scott you've got to have the right attitude and frame of mind. As Wendy told me, "I recommend you start your workday off right by creating consistent work hours. Then get dressed just like you're going into the office. Don't mentally start your workday behind the 8-ball. Be disciplined and ready to go!"
No matter what space you choose for your home office cabinets and desks you need the ability to focus on work. You need to be ready for work when you're working and able to 'shut work off' at the end of the day when you're not.
If possible, choose a space (or a wall within a room) where you can close the door at the end of the day (even if this is a closet door). Effective (and productive) home offices are NOT kitchen tables or living room couches. Using these 'common spaces' creates chaos. However, if you do need to use a living room for your workspace consider a 'fold up' desk which can be tucked away at the end of the day.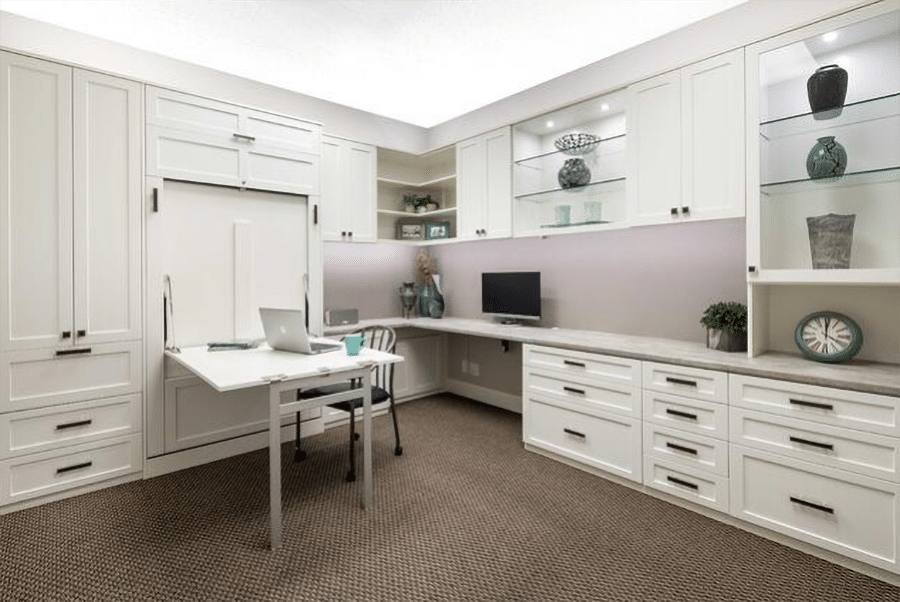 Image source: Valet Custom Closets
Mistake #7 – Ending the 'spaghetti wires' you love to hate
OK – I'll admit as an Italian I think about spaghetti A LOT. However– as an Italian whose is watching his cholesterol (yes, my wife is trying to make me eat healthier) it's usually the whole wheat variety. And while spaghetti is a beautiful thing on the kitchen table, a spaghetti string of wires and cables in your home office is not so wonderful.
They're a trip hazard. They make your space look sloppy and create visual clutter. Wires and the back of your electronic devices are the enemy of a beautiful office design. So, how can you manage the necessary evil (wires and cords) without huge costs from an electrician to add or move outlets? I'll tell you THE SECRET if you promise not to tell anyone else. Here it is…
It's all about 'concealed weapons.'
Not sure, what type of 'concealed weapons' I (and my friends) are talking about? Read on.
'Concealed wire weapon #1' I learned in an article titled How to Hide Cords, Plus All My Tricks for Cable Management. Using a power desk supply organizer, cords are grouped together and mounted in one pouch on the underside of the desk.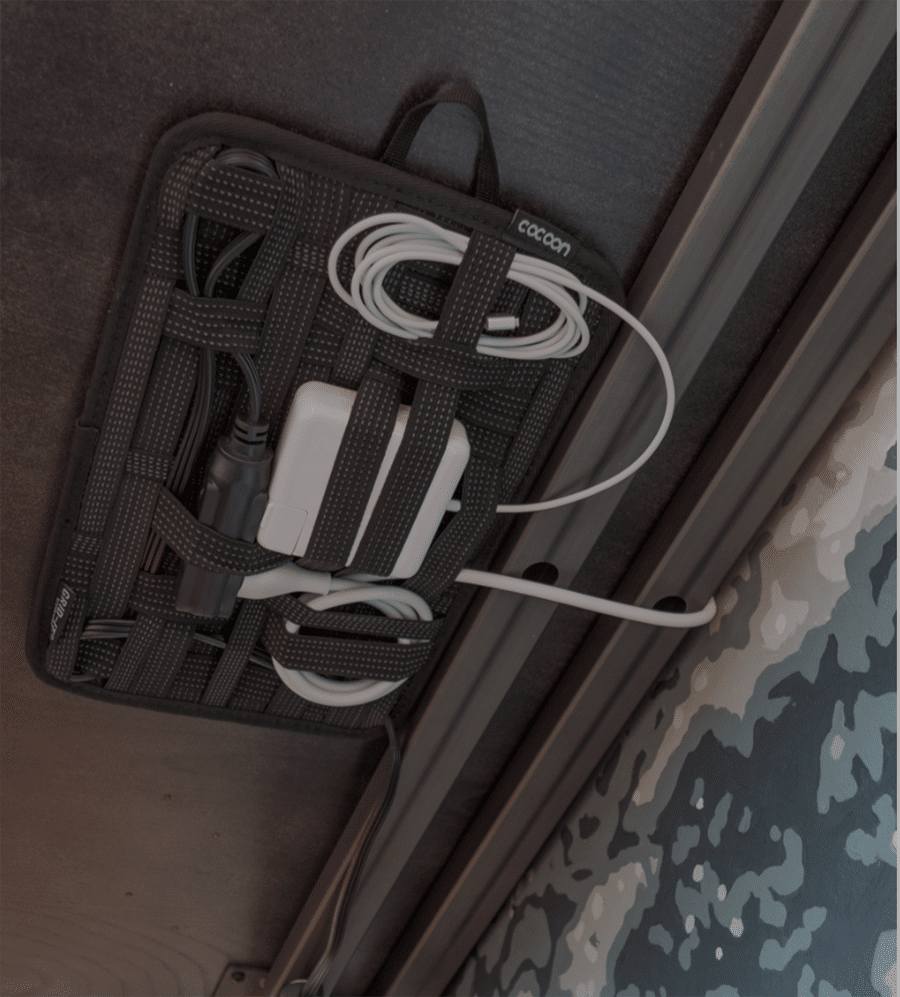 Image Source: The Gold Hive
'Concealed wire weapon #2' is adding a pull-out drawer to hide your printer (and its evil cables). This strategy may require cutting a hole in the back of your cabinet.
'Concealed wire weapon #3' is to beautify your 'back side.' No, not that back side, but the back side of your desk. Check out the ideas for stylish concealed wire storage in Kelley Nan's article titled Hide Computer Cords When Your Desk is in The Middle of the Room. Kelley's advice is to be strategic where your computer and equipment is positioned. Hide cords behind beautiful flower arrangements or under a wood document tray or file box. Get rid of the U-G-L-Y back side of your computer, once and for all.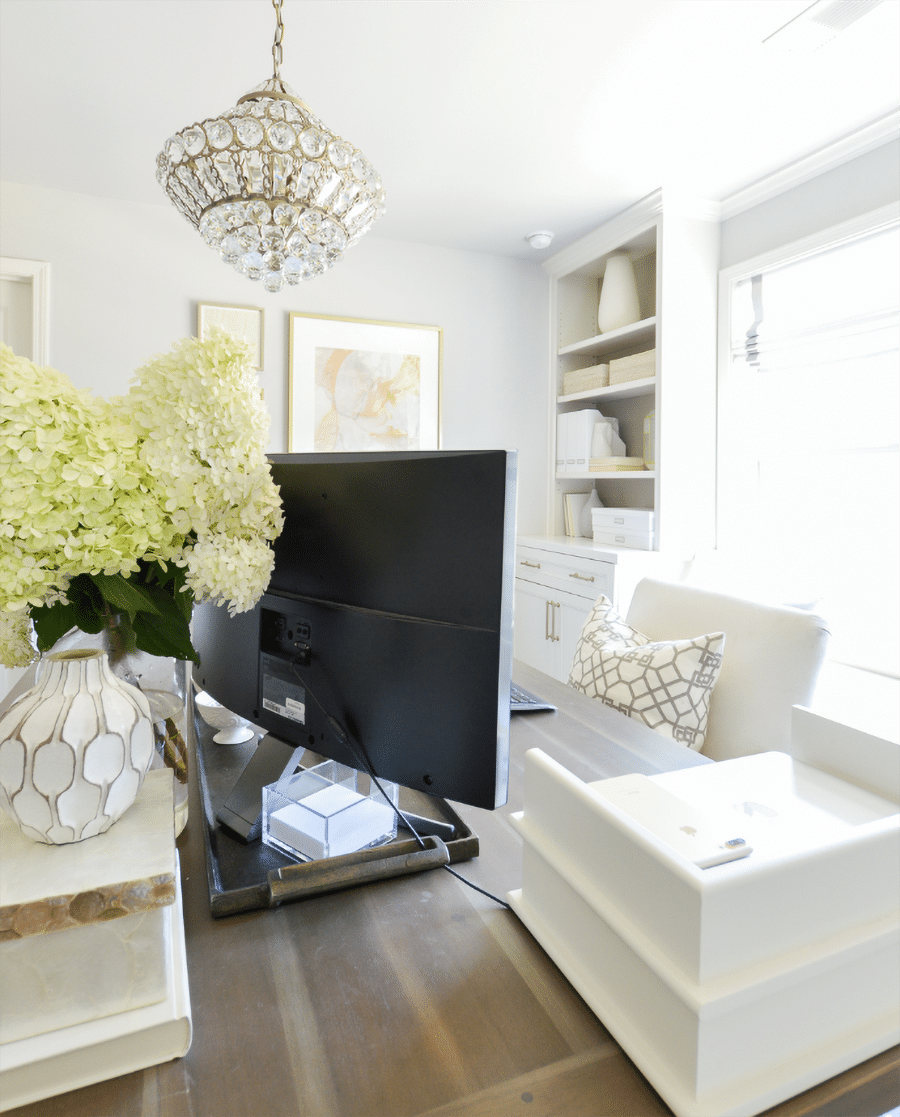 Image Source: Kelleynan
'Concealed wire weapon #4' is to include the 'power grommet.' If you're not sure what a power grommet is, here's what my friend Richie Demarco (US Market Development Manager of Richelieu) says, "While every desk should have at least one or two wire grommets to pull your wires through, a really cool desk has power. With all our power needs today a grommet with an outlet and USB on your desktop is the perfect way to stop the spaghetti of wires dangling from your desk." And that 'anti-spaghetti-wire' advice also comes from Richie – a fellow Italian like myself!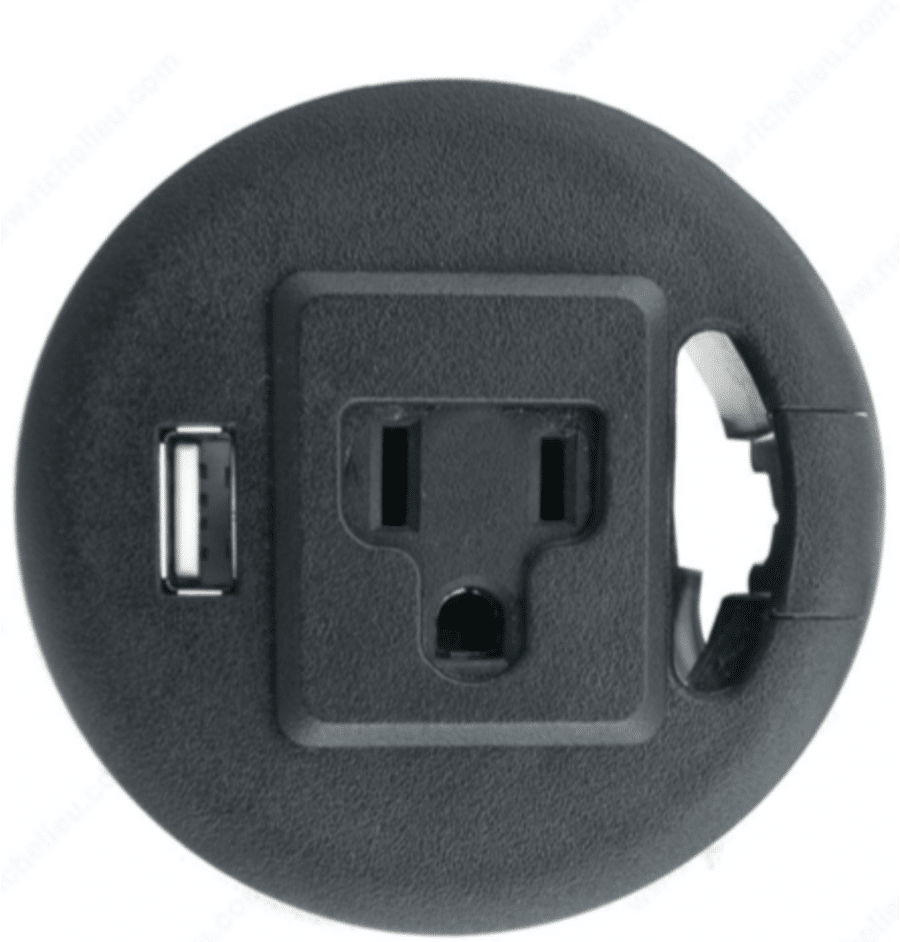 Image Source: Richelieu
How can we help you next?
Designing an effective home office is not simple. You need to be productive. You need storage and a place to find things. You want an area which is inviting and doesn't look as tacky as your partner's old college dorm room.
While space planning (and finding the right storage and furniture which works) isn't easy-peasy-lemon-squeezy, it's also not the Impossible Dream.
If you're struggling where to start designing your custom home office without mortgaging your kid's college funds – I totally (said just like a Valley Girl) understand.
Here's what I'd recommend in 2 simple words….
Get help!
Don't go it alone and end up with another (yes – newer, but possibly not much more effective) hodge-podge of 'organization systems' which don't quite work with how you work.
Get help from a home office designer or organizer. Think twice so you only spend money once!
If you're aspiring to get an organized home office or built in office shelving in Cleveland or Columbus call Innovate Home Org – we'd be glad to help. If you're outside of Ohio, yet still need help call and ask for me (I'm Mike). I'll contact my buds in the home organization business around the country and try to get you a referral and the assistance you need. Here are ways to contact my company (if you're in the Columbus or Cleveland Ohio markets) and my 'industry buds' who have been 'knee-deep' in home office designs for years:
If you're looking for a home office system in Texas contact Carlissa Montoya of CM Closet Design at 210-386-9907.
If you're looking for thermafoil doors and drawers for a home office design contact Christina Relyea at JB Cutting at 586-468-4765.
If you're in New Jersey looking for a home office system contact Wendy Scott (Master Storage Designer) with Boutique Closets and Cabinetry at 908-328-7004.
###
If you'd like more information with a custom home office in Columbus, garage, pantry, entryway or custom closet design (with a bit of bad humor thrown in for good…and bad…measure) follow me on LinkedIn @MikeFotiLinkedIn.
---
Tags: Boutique Closets and Cabinetry, built in office Columbus, built-in cabinets Columbus, Carlissa Montoya, Christina Relyea, CM Closet Design, Columbus custom home office, Columbus interior design, custom home offices Columbus, Eric Marshall, home office design, home office design Columbus, home office ideas Columbus, home office mistakes, home office problems, JB Cutting, Kitchen and Closets by DEA Remodeling, New Albany home office, Richelieu, Richie Demarco, Wendy Scott