9 Reasons You Shouldn't Hire a Trim Carpenter to Design & Install Your Custom Closet (and 3 Reasons You Should)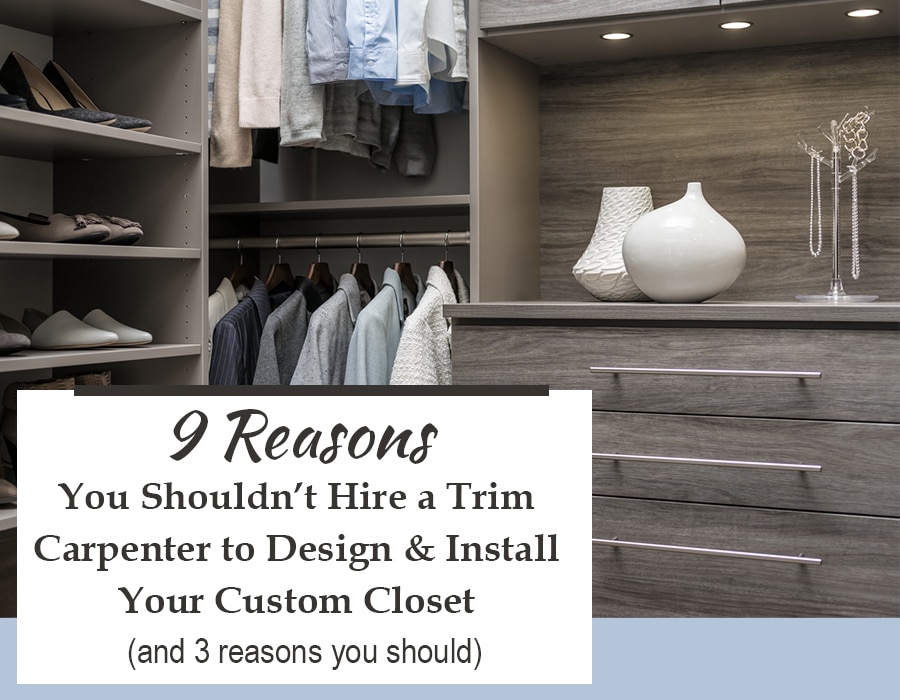 OK, I'll admit right up front I'm not an 'innocent bystander' in my POV (point of view) in this article. I'm not a trim carpenter, and I don't play one on TV, but I have seen plenty of closets they've built in wood. And yes – I do lead a business which is focused on custom closets (or 'niched-down' if you're a former b-school person like me) in Columbus Ohio which are made from laminates (which compete with wood systems).
It's from this vantage point I've had the (dis)pleasure of 'up close and personal' looks at thousands of closets people like you DESPERATELY want to replace. These closets aren't working well (it's either that or people are lonely and want to invite closet guys and gals out to their place for company).
Many have wire shelving a builder/remodeler 'slapped in' at the end of the project. They wanted the job done – cheap, cheap, cheap! Other closets the builder used their trim carpenter to 'throw up' (oops, sorry for the bad analogy) a few rods and plywood or painted wood shelves to wrap the job up.'
Simply stated…
Closets are the 'red-haired-stepchild' of new home building and remodeling jobs. They're done cheaply without much thought. This lack of attention results in F-R-U-S-T-R-A-T-E-D owners!
And you know what's even worse? These poor functioning closets (no matter how 'cheap' they were when they went in) often need to be replaced. They end up being a waste of your money (no matter how little money was spent in the beginning). This makes little sense to me. And as my Dad used to drill into my head, "Michael, if you can't do it right, don't do it at all!"
In this article my goal is simple. I want to help you to get it right the first time (whether it's using a custom closet company like mine who uses laminate systems (or from one of the closet design company owners I interviewed for this post)– or it's to use a trim carpenter who will use a wood product (and there's a lot of good ones out there also).
The simple question is who is the best person (or company) for you? Whether you want the most functional design at the best price or it's getting a laid-out closet all your BFF's will ooh and aah about. And you know what…it's not always best to choose a custom laminate closet company like mine (oops, did I really say that???). And in this article, I'll tell you why.
So, let's take a peek at 9 reasons you shouldn't (and 3 reasons you should) hire a trim carpenter to build a custom closet in your new home or remodel.
Reason #1 you shouldn't hire a trim carpenter to build your custom closet– They can't be an expert at everything involving wood!
Trim carpenters are trim carpenters. They aren't God (or even Jesus… although he WAS a carpenter). They simply can't know everything.
In preparation for this article I wanted to learn more about trim carpentry and did a little "Googling." I searched 'trim carpenters Columbus Ohio.' I found the top ones and visited their sites. Here's what their websites promoted.
Kitchen and bathroom cabinets.
Bookshelves
Custom mantels
Door and window casings and moldings
Staircases
The tops ones in search didn't even mention they install or design custom closets. Two did have bullet points on their site which said we also do custom closets (it was a BTW – (By the Way we also do…) service.
Let's face it, trim carpenters aren't focused on the closet and how to (design) and organize your things. They do LOTS OF THINGS with wood, but that DOESN'T MEAN they are storage design experts.
As Master Storage Designer and Co-Owner of Boutique Closets and Cabinetry (Wendy Scott) told me, "Mike there is a BIG difference between being a closet installer (and hanging up rods and shelves) and being a closet designer. I design closets specifically around the needs of the woman or man who works with me. I eliminate their closet frustrations. I add beauty to their private closet spaces." And if you look below, you'll see Wendy's not too shabby at her craft!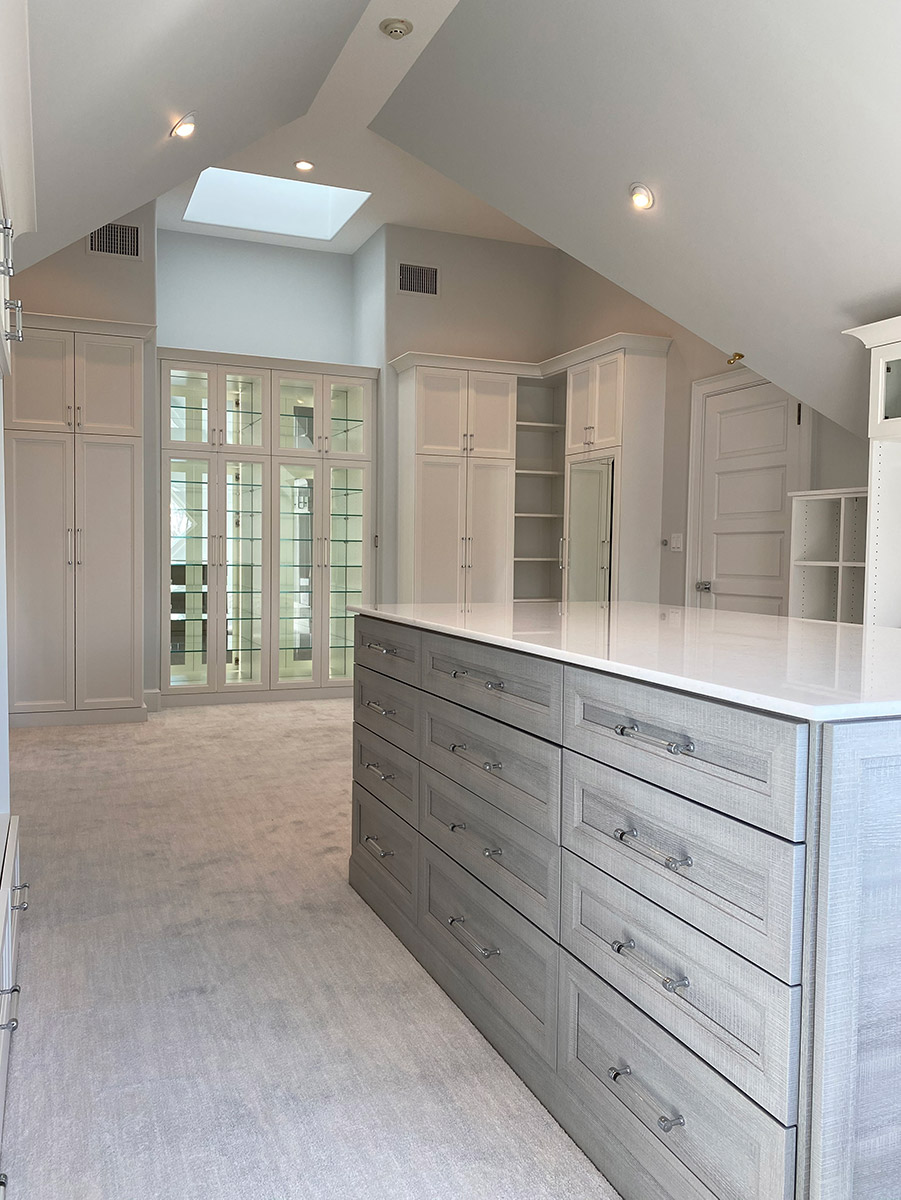 Image Source: Boutique Closets and Cabinetry
Here's the question for you. Is it best to hire a 'generalist' in wood products (a trim carpenter) or a 'specialist' (a custom closet company) to design your master walk in closet for you?

Reason #2 you shouldn't hire a trim carpenter to build your custom closet– Most of their systems aren't adjustable.
Life comes at you fast. Your shoes and clothing styles change constantly.
One year boots are in. The next year it's flats.
One year long dresses are the latest and greatest. The next year it's pants suits (OK – maybe only Hillary Clinton thinks the highest fashion option are ALWAYS pants suits. Sorry, I couldn't resist).
The point is you need a closet system which is flexible and can change as your wardrobe changes.
This is an area where custom laminate closet systems have it all over wood (or 'painted plywood systems' – more about this later – put in by the original builder). Laminate systems have 'increment holes' in the sides so you can move your rods and shelves up and down.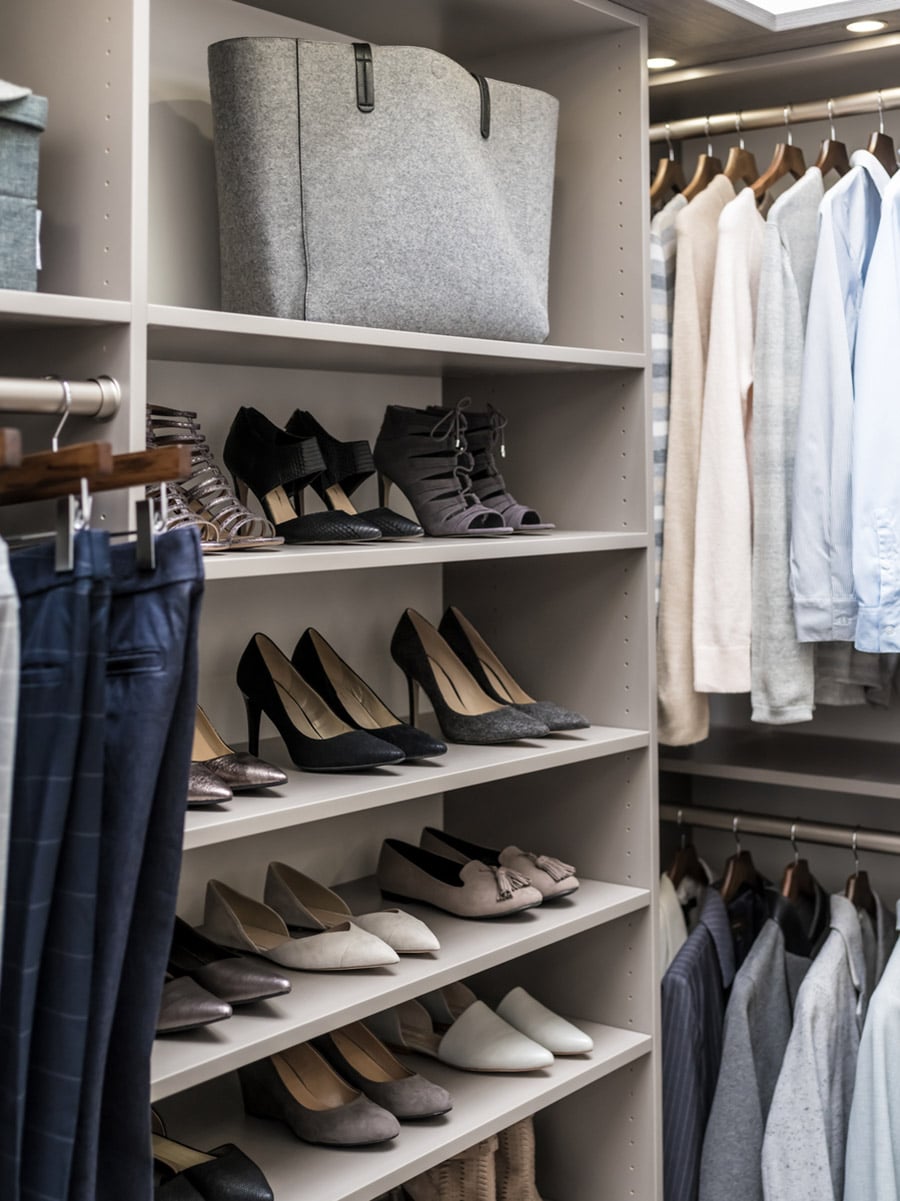 Why get 'stuck' with a fixed carpenter-built system when you can have complete adjustability for the life of your closet?
Reason #3 you shouldn't hire a trim carpenter to build your custom closet– Maintenance.
Who loves maintenance? 'Er – that would be nobody!
You (and your spouse) have enough to do caring for kids and parents. Who wants to repaint or repair dings in wood shelving in your closet?
Although it's nice to have the 'character' of wood, when does 'character' transform itself to be a pain in your butt?
With laminate closet systems there is zero maintenance. The top surface is hard and won't dent, crack or need repainted. It's not susceptible to warping – which can be an issue with a master closet next to your steamy bathroom.

Reason #4 you shouldn't hire a trim carpenter to build your custom closet– You'll get little – to no- warranty.
Have you ever seen a written closet warranty for wood shelving? I haven't and I'm in the custom closet biz. If you do have your general 'builders' warranty' it's often only for 1 to 5 years after your home was built.
With custom closet systems it's not uncommon to have a lifetime warranty. Companies will repair or replace faulty parts with no charge for you.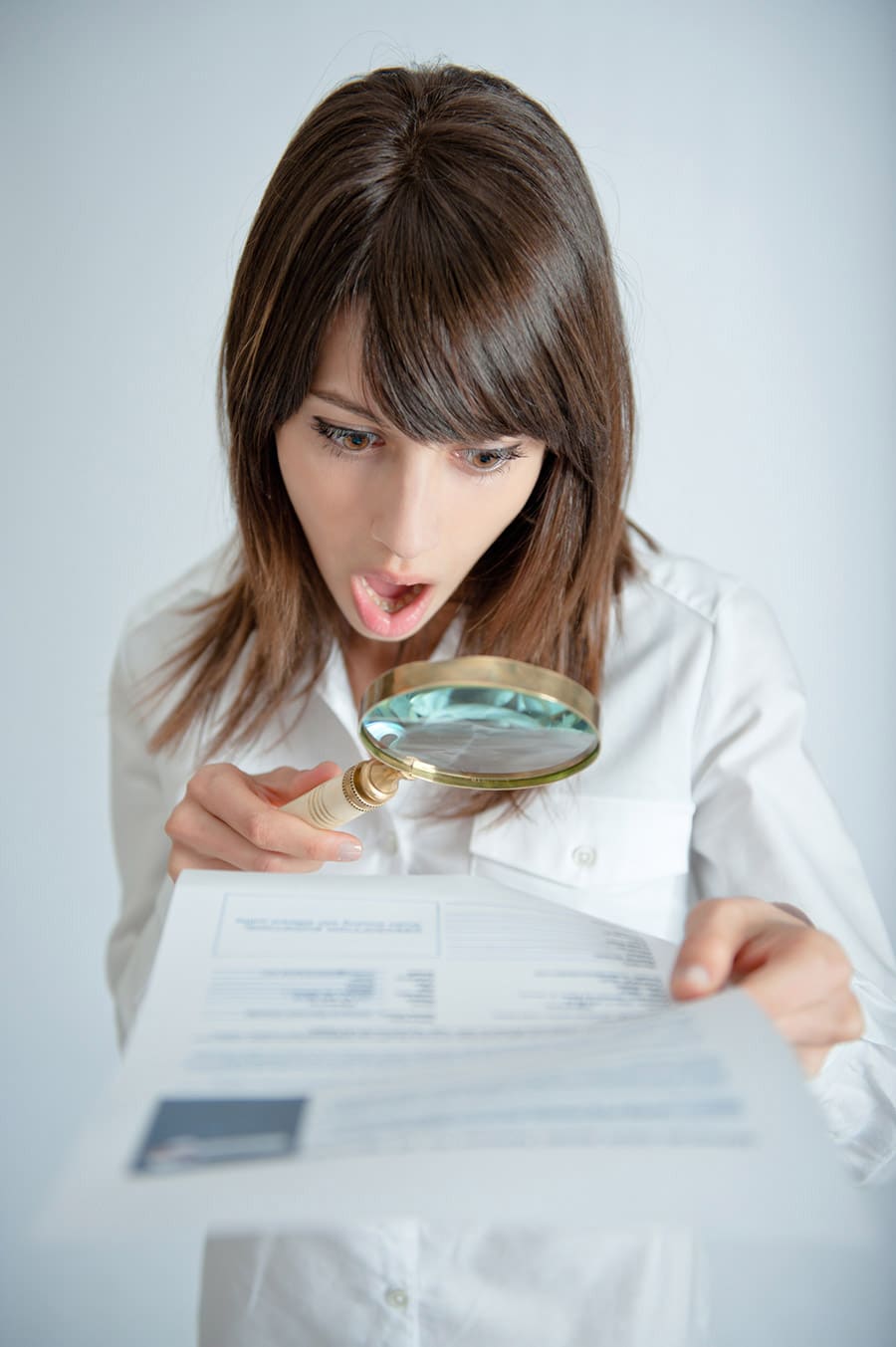 I've experienced – first-hand – wood and wire closet systems which have (literally) fallen off the wall. Their owners must pick up the pieces (and clothing, literally) and search (quickly) for a new system.
Why settle for no warranty when you can have peace of mind with a lifetime warranty?
Reason #5 you shouldn't hire a trim carpenter to build your custom closet– It's hard to match parts if you want to add to the system down the road.
It was so nice the builder matched the stain on the wood closet system to the bathroom cabinets when your home was built 20 years ago. Now, your closet shelves are nicked, scratched, dented, and fading and your handyman tells you it's going to be hard to redo and get new stain to match the old.
With laminate closet systems you can get the same colors (and even patterns) to match years later without worry.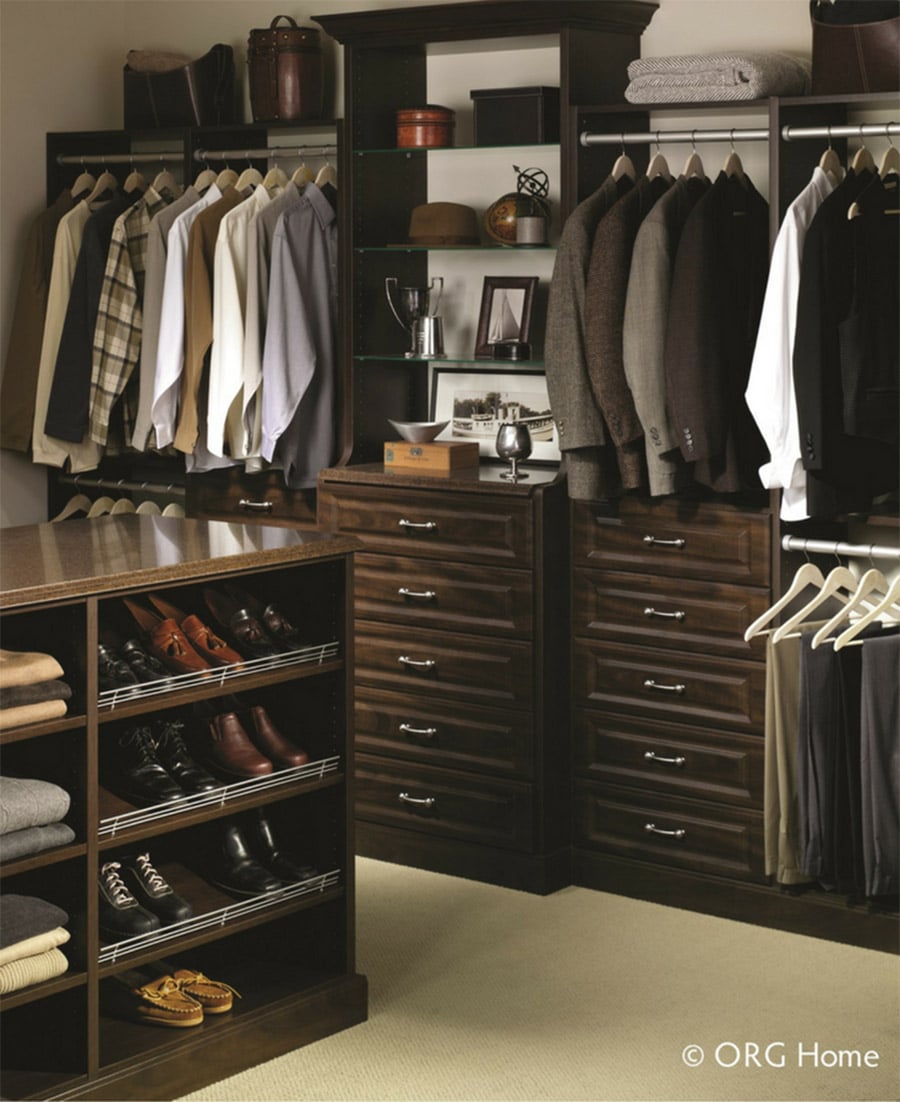 Reason #6 you shouldn't hire a trim carpenter to build your custom closet– You don't want the job to drag on FOREVER
If you're a person who HATE, HATE, HATES to have contractors in your home, I feel your pain. While everyone would love to have a beautiful new closet, who likes the installation time you have to put yourself through to get there?
And here's the problem if you hire a trim carpenter. Most of their cutting and sanding is done on the job site ('er that would be at your home and you'll have wood dust and shavings everywhere to prove it). On the other hand, laminate closet system parts are machine-manufactured to size in a plant using CNC (Computer Numerical Control) equipment. You not only get a more precise finished project, but your job will be installed with LESS TIME IN YOUR HOME. That's a win for you!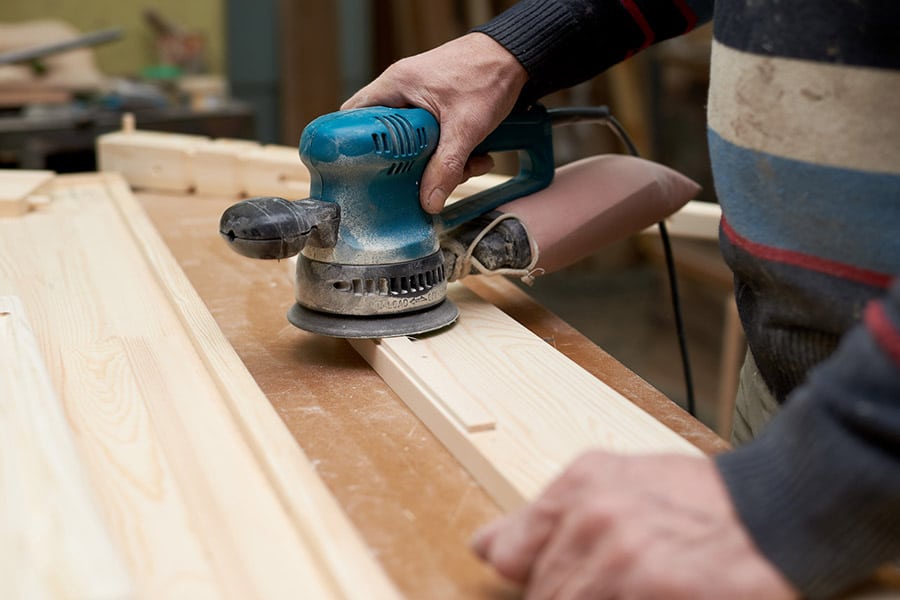 Reason #7 you shouldn't hire a trim carpenter to build your custom closet– You don't have to worry about humidity and how it will affect your wood closet
Let's face facts, wood and humidity aren't best friends. And when your bathroom is next to your closet (or you live in a high-humidity climate) moisture in the air is the enemy to the shape of a wood closet system.
Unlike wood closets, laminate covered organizers cover the wood core on the inside. Shelves and support sections won't warp. And who wants to worry about warped wood?
Reason #8 you shouldn't hire a trim carpenter to build your custom closet– Wood products can fade when exposed to sunlight
You invest a lot of time choosing just the right stain for your custom wood closet. Then Father Time (and sunlight) injects himself onto your closet. He's as unkind to the consistency of your closet stain as 'Old Man Winter' is to the walkway and driveway of your home (this is spoken like a Columbus Ohio guy who thinks Global Warming might not be that bad after all. OK, just kidding!).
Unfortunately, stained wood can (and does) change color over time. On the other hand, laminate – with its hard coat process– is consistent.
Reason #9 you shouldn't hire a trim carpenter to build your custom closet– Where are the options?
A custom closet becomes truly custom when it's designed to work around you. Here's examples of options many love:
Example 1) If your husband wears lots of suits he needs tie and belt racks to store them.
Example 2) If you HATE the look (and smell) of your clothes hampers, you'd appreciate fold down bins to hide your dirty laundry.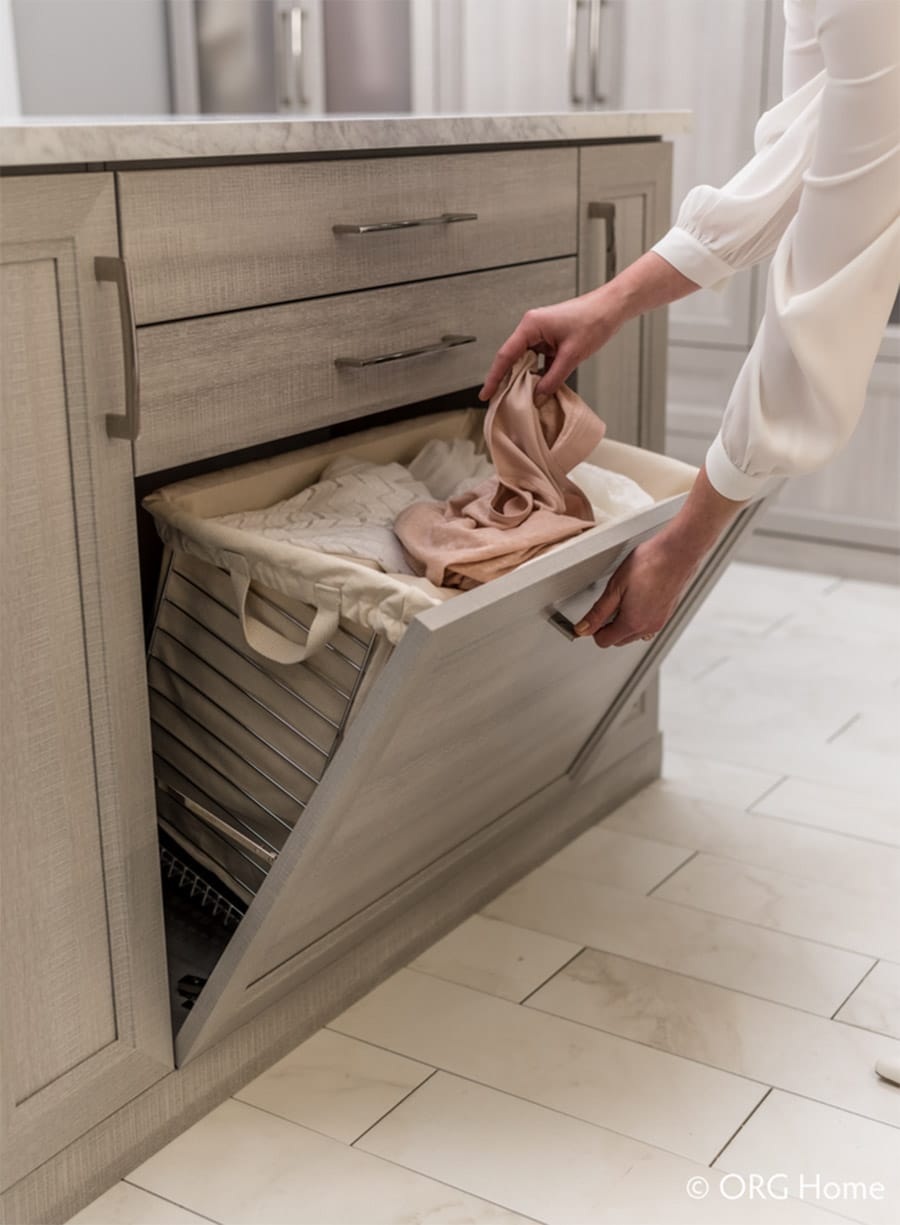 Example 3) If you want to stage tomorrow's outfit there are valet rods (although they sound fancy, they're actually quite affordable) to make it happen.
Example 4) If you want a glamour closet with mirrors and doors it can made to fit your space like a glove. Check out another fun closet from Wendy from Boutique Closets and Cabinetry below.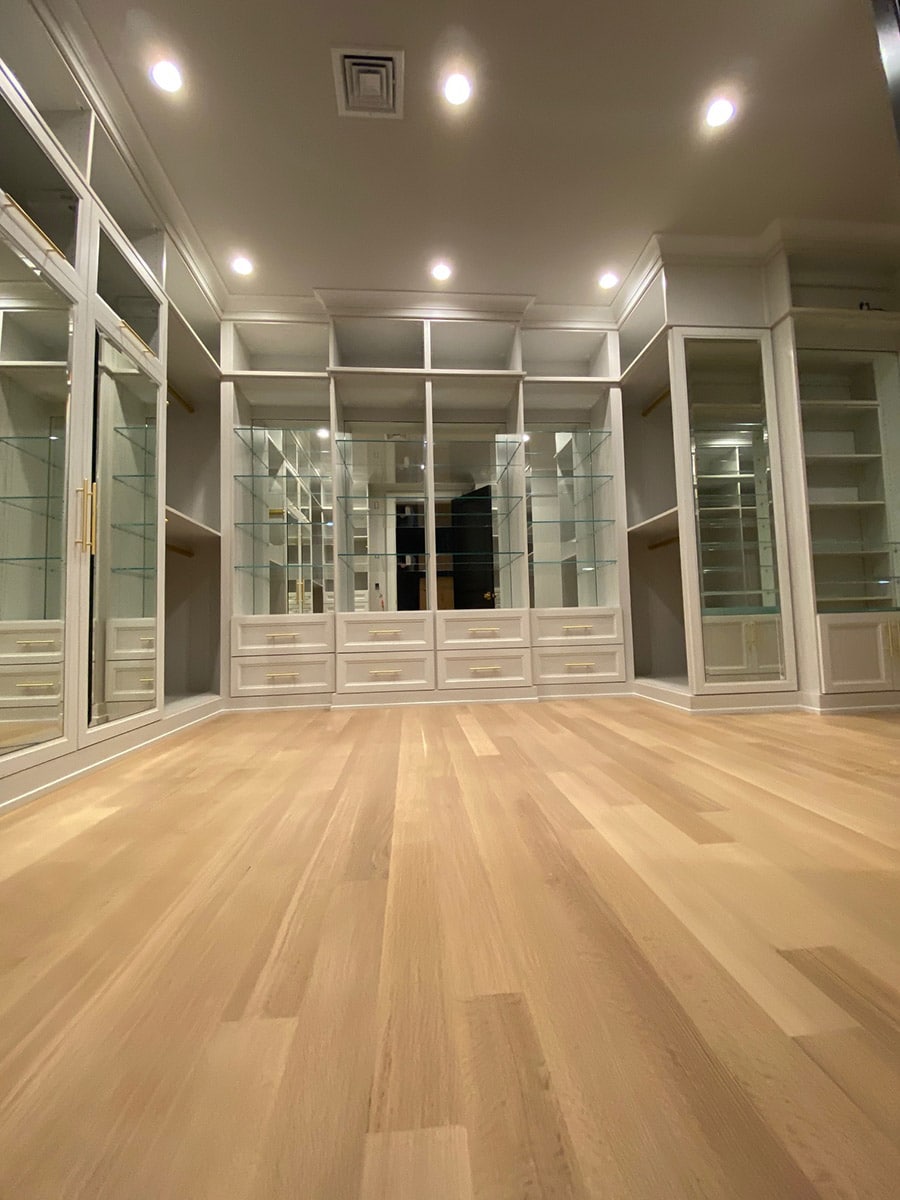 Image Source: Boutique Closets and Cabinetry
And although trim carpenters can build a basic closet, they're rarely aware of (or have the sources for) custom closet accessories to organize your pants, ties, belts or bracelets.
On the other hand, custom closet companies work daily with the latest accessories and buy them in bulk, so you won't have to take out a 2nd mortgage to get them.

Reason #1 you should hire a trim carpenter to build your custom closet– You can pay less …depending on the type of wood they're using
The good news is, when your builder or remodeler says they're going to have their trim guy (or gal…on rare occasions) put in a 'wood closet' it's often less expensive for you. And it's always nice to spend less money. However, there's one big reality you must keep in mind. And that reality is…
Wood closets are not all created equal.
There are levels of wood closets. Here's what I mean.
Top level wood system #1 – high end hardwood) For the top of the line wood project (which WILL NOT be cheap), your trim carpenter can use solid hardwood. This happens rarely, but when hardwood is used it can be sharp. Although, be aware – in most cases – like the one below, the system isn't adjustable).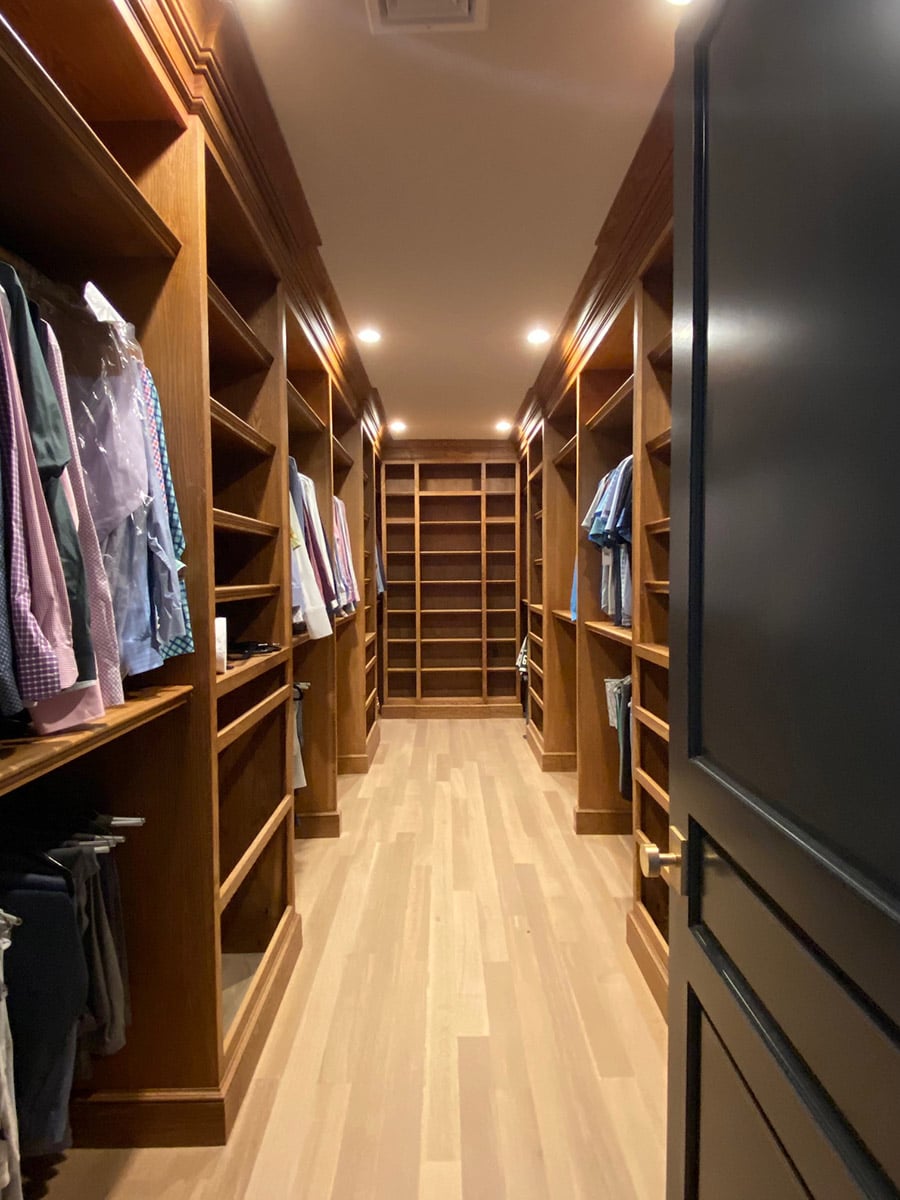 Mid-level wood system #2 – very nice veneer) Another high-end wood closet alternative (which is also more expensive than laminate) will be a wood veneer over plywood. These closets are more dimensionally sound than hardwood, and have the benefit of being more cost effective – but still won't be cheap (and will be more expensive than a custom laminate closet).
Lowest level wood system #3 – price-busting painted or stained plywood or MDF) What you need to know is in most cases when your builder/remodeler says you're getting a 'wood closet' (and you're happily surprised by its cost) what their trim carpenter is using is MDF (which is short for Multi Density Fiberboard) or painted plywood. MDF is an engineered wood which is made by breaking down hardwood and combining it with wax or a resin binder. And plywood is sheets of wood veneer glued together. It isn't hardwood or a nice veneer.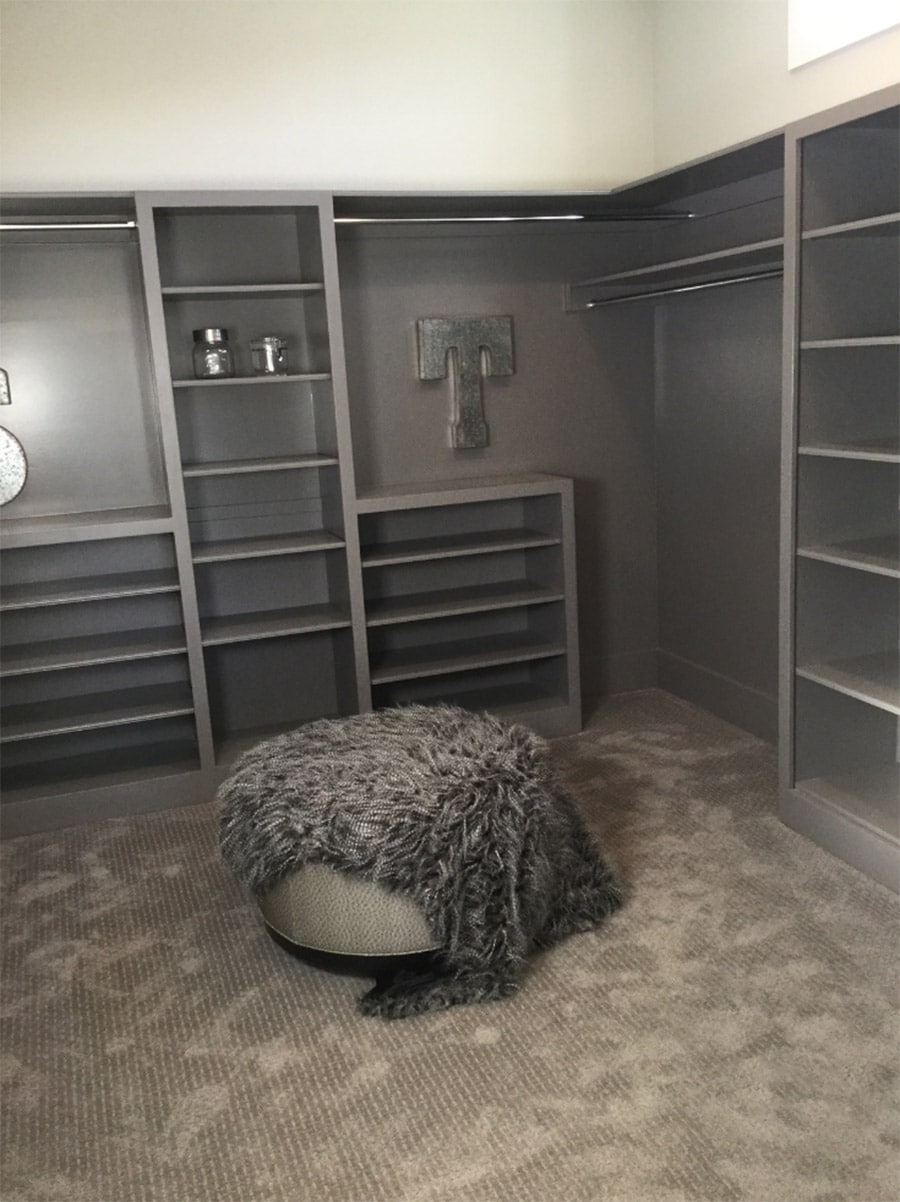 Here's an example of a painted MDF closet. Although it 'looks' nice, to me as a 'closet guy' it's got wasted storage EVERYWHERE (note the dead space above the top shelf)! It also has Z-E-R-O adjustability.
And while plywood or MDF options don't have the character of solid hardwood or wood veneer, they're less expensive than most closet options (except for wire shelving which is the bottom of the barrel system you may be putting up with today). As Barry Curewitz of Closet Possible says, "If you're only going to be in your home a short time, maybe a trim carpenter closet will be adequate. However, if you're in your place for the long-haul a custom designed laminate closet will function so much better, at a reasonable price."
Reason #2 you should hire a trim carpenter to build your custom closet– You can enjoy the character (and the 'Real McCoy') aspects of hardwoods
While it's true newly advanced laminate manufacturing techniques (like the Embossed in Register process which makes grain patterns in laminate) have made it super-hard to tell laminate from real wood, they still aren't real hardwood.
Real hardwood has distinctive graining patterns. It can be stained to match cabinets in an adjoining room. You can use different wood species for a custom look.
Reason #3 you should hire a trim carpenter to build your custom closet– One less contractor in the mix
While you'll get a more efficiently-designed closet with a custom closet company, coordinating ONE MORE CONTRACTOR can be the pain in the rear you'd like to do without (especially if you're general contracting your own new home or remodel). If your closet is as 'vanilla' as it gets (mostly rods and shelves), the skills (and lower level of design expertise) of a trim carpenter may be all you need.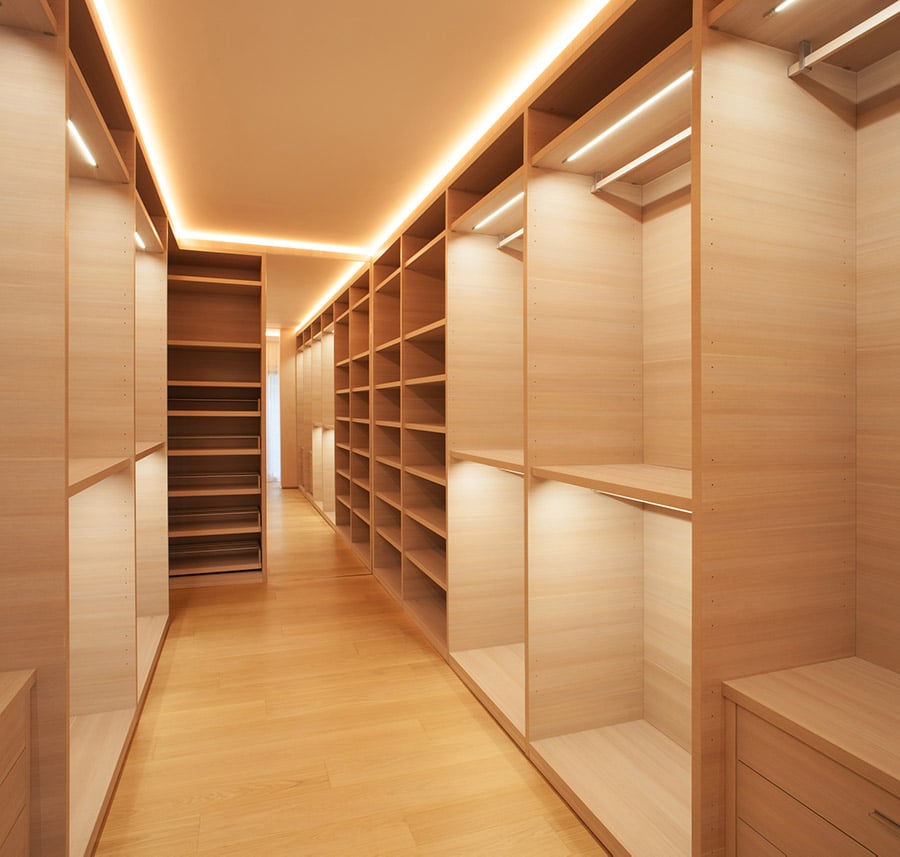 In addition, since your trim carpenter is also doing your moldings, staircase, and fireplace mantel they can take care of your closets at the same time.
What's your next step?
While deciding whether to use a trim carpenter or a custom closet company who specializes in laminate systems isn't a life or death decision, making the choice which ensures you get the best value, look and function for your money is so important. Who likes to blow money anyway (unless you're Mike Tyson, Meat Loaf or Dennis Rodman)?
So, if you're wondering how to find qualified closet companies or trim carpenters in your area here's 3 things you can do:
If you're in Columbus Ohio you can call my company – Innovate Home Org at 614-545-6888. After all I still need to fund my daughter Jade's college! Yes, it's a shameless plug (and plea to fund Jade's school), but what can I say.
If you're outside Ohio, you can ask me for a referral. You can call one of my closet buddies who contributed to this article at the numbers below. You can find for a closet design professional through the Association of Closet and Storage Professionals.
If you want a 'trim carpenter' Google them with the phrase 'Trim carpenters/Your City name)
Thanks for reading!
Mike
Here's how to reach us
If you're in Columbus Ohio and want to learn more 'custom closet' click for a Free 3D Closet Design, or call 614-545-6888.
And if you're on LinkedIn connect with me @MikeFotiLinkedIn. Thanks for reading!
Mike
---