How Much Does an Installed Custom Walk in Closet Cost? (including 5 ideas to save you money)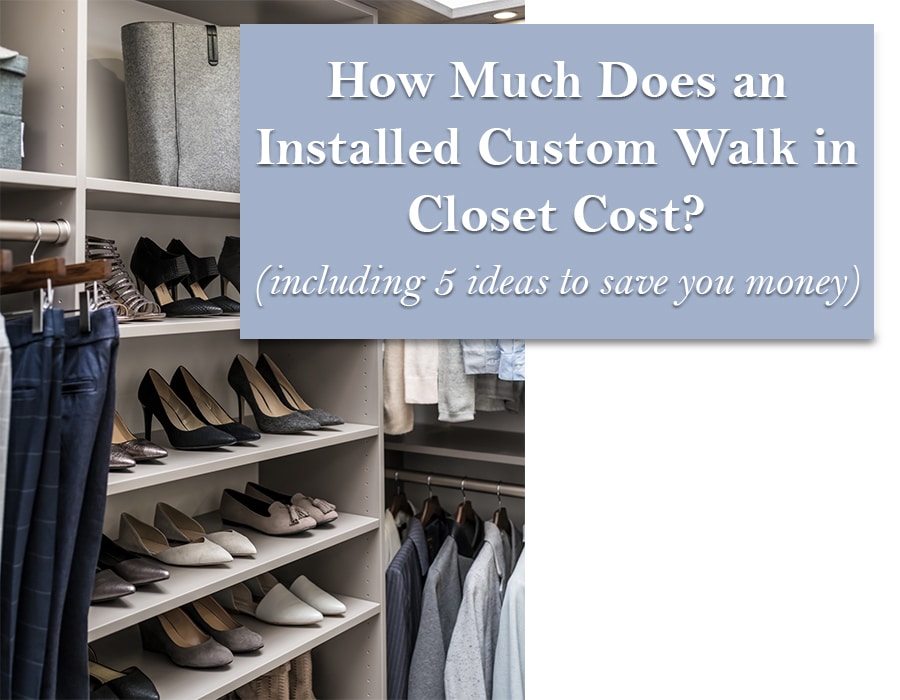 As someone who leads a business designing and installing custom closets in Columbus Ohio I KNOW I could give you a cop-out answer to the question of how much an installed walk in closet costs in 2 words or less…
It depends.
It depends on the height and depth of the closet system.
It depends on how much hanging vs. shelving vs. drawers you use.
It depends if the closet is a standard white color or uses an advanced textured laminate which looks just like real wood (without the maintenance).
This 'it depends' list can go on and on. And I know it doesn't help you one darn bit to give you a general price range how much a custom closet will cost. You need REAL numbers. You need to KNOW what to expect so you can determine if a professionally installed closet (or even a store-bought DIY one) is a project you can afford.
So, how can you get a handle on how much your custom walk in closet will cost? To help you here's what I'm going to do. I'm going to create a real-life walk in custom closet design example for a 'U-shaped' closet and give you REAL prices. For this example, I'll use a room with a 10' 'back wall' and two 8' side walls. Then I'll show you how pricing for this walk in closet changes as I tweak the 'it depends' variables.
My goal with this article is simple. I want to give you an idea what your closet will cost so you'll know if you want to dig into the project further. So, enough of this introductory B.S., here's the 3-part outline we'll follow.
Part I) I'll give you the 'specs' (no, I don't mean bifocals, but I do mean the paraments) of our base pricing example. I'll also share how this 'base pricing' design solves the 5 biggest closet design problems (even without the cost of fancy or expensive custom closet 'bells and whistles').
Part II) We'll look at 5 key pricing variables and how they change the price of the 'base design.'
Part III) I'll give you 5 practical ideas to keep the lid on your costs.
PART I) Our custom closet 'base pricing' example which solves 5 of the 'deadliest' closet design problems
In the drawing below you'll see the 'floor plan' for our closet pricing example. It has one 'back wall' 10' wide (120") and 2 'side walls' 8' wide (96"). I've assumed an 8' (96") ceiling height.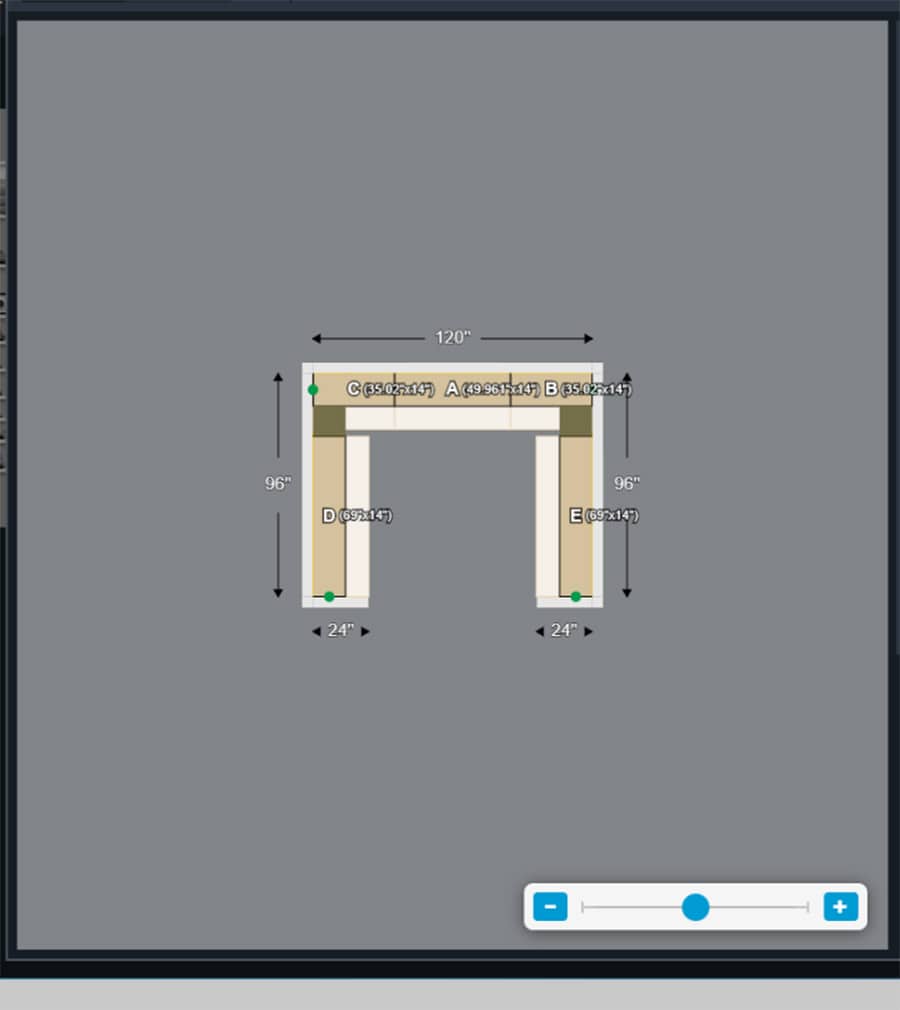 Our 'base pricing' example (check out the 3D design below) is designed and priced with the following assumptions:

It uses a cost-effective 'wall hung' closet organizer system. This means the closet support pieces are attached with a rail to the studs in the wall. This system DOES NOT go down to the floor.
The color is white (this is most cost-effective).
The drawers are a flat (non-patterned), contemporary 'Euro-style' fronts (which is cost-effective).
The system 'height' is 84" (i.e. the top shelf is placed 84" above the finished floor (or as architects would say 'AFF' -Above Finished Floor). Note I just threw in this 'industry jargon' to impress you. Is it working?
The system depth is 14" (this is how deep the shelves and drawers are).
The closet is designed for 2 people with two sets of drawers.
The system is professionally installed.
There are 'bridge shelves' for continuous storage at the top.
There are shoe shelves on both sides of the closet.
The installed cost of our 'base' custom walk in closet = $3,690
It's nice to know this basic (from a closet designer's perspective) layout eliminates 5 HUGE closet problems most people HATE about their existing walk-in closets:
Problem #1 – The 'dead corners' are gone – Many 'builder installed' wire and plywood closets put hanging clothes against hanging clothes in the corners. This makes dead space. This design eliminates the dead corners with hanging in one corner and shelving in the wall perpendicular to it.
Problem #2 – The 'top shelf' in most closets is waaaaaay too low! – Most builders closets put the top shelf from 2' to 2.5' below the ceiling. This results in a HUGE waste of space at the top. Since this closet has an 84" system height (in an 8' high space), you'll have a 1' space above the top shelf. It's efficient, yet still large enough for storage at the top.
Problem #3 – There's not enough hanging space – Many closets with only a 'single rod' are not efficient. With 'double hang' sections (with one clothes rod on top another), you'll double the amount of clothes in the same cubic space. In this example there's a total of 310 linear inches of hanging space (96" on left side, 96" on the right side and 118" on the back wall). There's plenty of hanging plus you also get drawers and more shelves than in a 'builders-grade' closet with wire or wood shelving.
Problem #4 – Continuous storage on the top shelf – Since there are 'bridge shelves' in the 2 corners, you'll get storage along the entire top shelf.
Problem #5 – Shoes don't need to 'live' in a hopeless heap on the floor– Since there are tighter spaced shelves for shoe storage, you'll get them off the floor (and with laminate closet systems the shelves can adjust to the height of your shoes or boots).
So, you may be wondering how this base pricing example can help you get a 'rough idea' of what your closet might cost? OK, so now it's to time to use the simple formula below to give you this answer (and no, people who get sweaty palms even thinking about math, this equation is super-easy math and -hopefully- WON'T remind you of your nerdy 8th grade Geometry teacher).

How to figure out the cost of your walk-in closet from this 'base pricing' example
While the method I'll explain below won't be perfect, it'll give you a 'rough idea' of the cost of your closet.
For our base example I'm going to figure out the cost/linear inch of this custom closet. So, we'll add up the linear inches of 'buildable' wall first.
Linear inches of wall space for our 'base example' – (120" back wall) + (96" left side wall) + (96" right side wall) = 312 linear inches in the entire design.
Then I'll divide our installed cost by the number of linear inches to get the cost per linear inch.
Our cost/linear inch ($3,690 installed cost/ 312 linear inches) = $11.83/ cost per linear inch for our base example
Now to figure out your closet cost add the linear inches of your 'buildable' wall space x our cost/linear inch to get a rough budget of your cost for a basic white wall hung closet in a room with an 8' ceiling.
So – let's say you have 250 linear inches of walls. Your project cost based on the same layout style of the base pricing example would be…
Your cost – (250 linear inches) x ($11.83/cost per linear inch) = $2,956.
Now, that wasn't too hard…was it?
So, now let's move on to 'Part II' of our custom closet pricing outline and see how 5 of the most critical 'it depends' variables will change the cost of our 'base closet' defined above.
PART II) How five ('it depends' variables impact the cost of a custom closet design)
Variable #1 – How much more will it cost to use a 'floor based' system (i.e. a closet which looks like finished cabinetry and is built to the floor) vs. the 'wall hung' design in our 'base pricing' example?
After changing our 'base pricing' example from a wall hung to a floor-based system (which has sections built to the floor) the price increased to $4,698 (a 27% increase).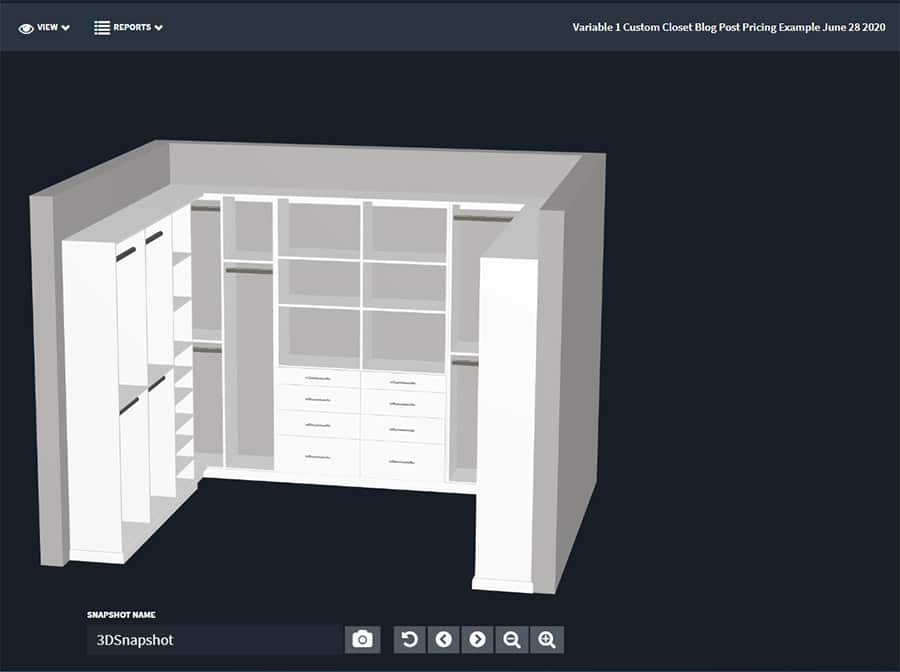 Variable #2 -How will increasing (or decreasing) the depth of a custom closet system impact cost?
While it doesn't take a genius to figure out using deeper sections than the 14" chosen for the base example will add cost and making them shallower (let's say using 12" deep) will reduce costs, I'm not a fan of the 12" option. And here's why.
With a 12" system (which is likely what you, unfortunately, own today with your wire or plywood builder-supplied shelving) you'll end up with a sloppy looking closet. Your sweaters and/or shoes hang over the edge. Your drawers in a 12" system (if you include them) won't hold much. Given this, if you change depth, I'd recommend using deeper sections, not shallower ones than the 14" deep base example.
So, now let's build off our (now) floor-based system and increase the depth of our drawer sections (after all you know you have TONS of t-shirts, yoga pants and jewelry you MUST fit in). I've changed the two 14" drawer stacks to a 19" depth. The price for the job increased to $5,066 (an 8% increase).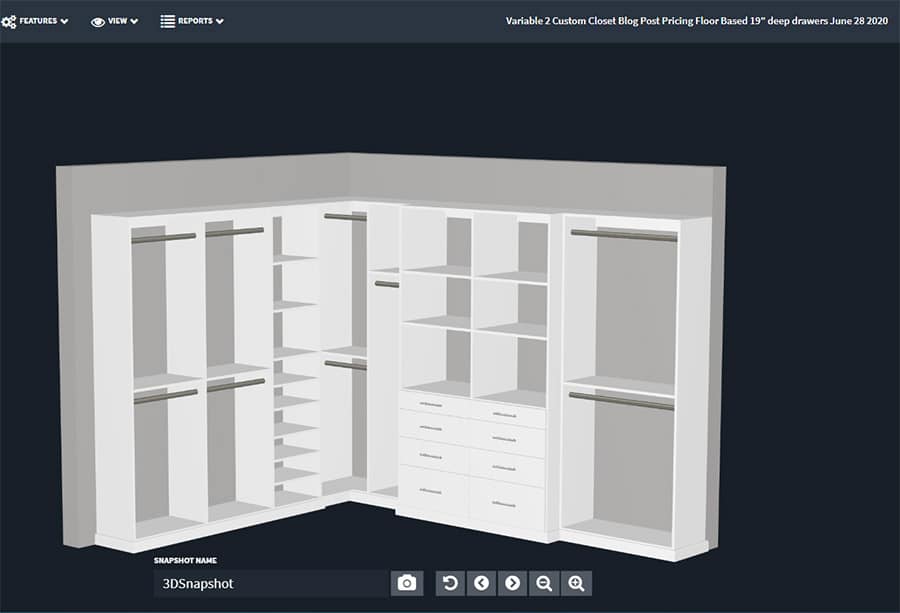 Variable #3- How can color, a wood look, and a textured wood pattern impact the price of a custom closet
So, you think a white closet looks way too 'IKEA' and boring. And I'm with you. So, while white drawers and shelves are cost-effective, they may not compliment your bathroom vanities and counters in the adjoining space. There's NO WAY you want your custom closet to look like a cheap 'boxed-up' product you grabbed off the shelf at your neighborhood big box store. So, what can you do?
Well – here's the good news. You can not only add color to your closet, but also smooth (or textured) wood grain looks in an adjustable laminate closet system.
Let's see how upgraded colors, a smooth wood finish and textured wood-like selections impact our (now) 14" floor-based system with two 19" deep sets of drawers.
Example 1- You changed from white to an 'eggshell ivory' or 'breakwater' (a light gray) color – The price increased to $5,733, a 13% change.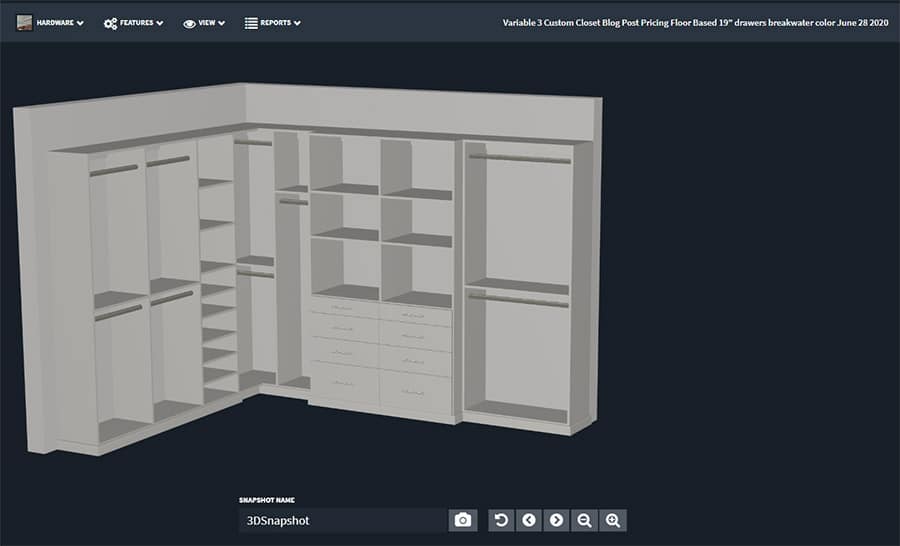 Example 2- You changed from white to a luster (i.e. smooth) finish with a mocha or tannin (cherry-look) finish– The price increased to $5,720, a 13% change.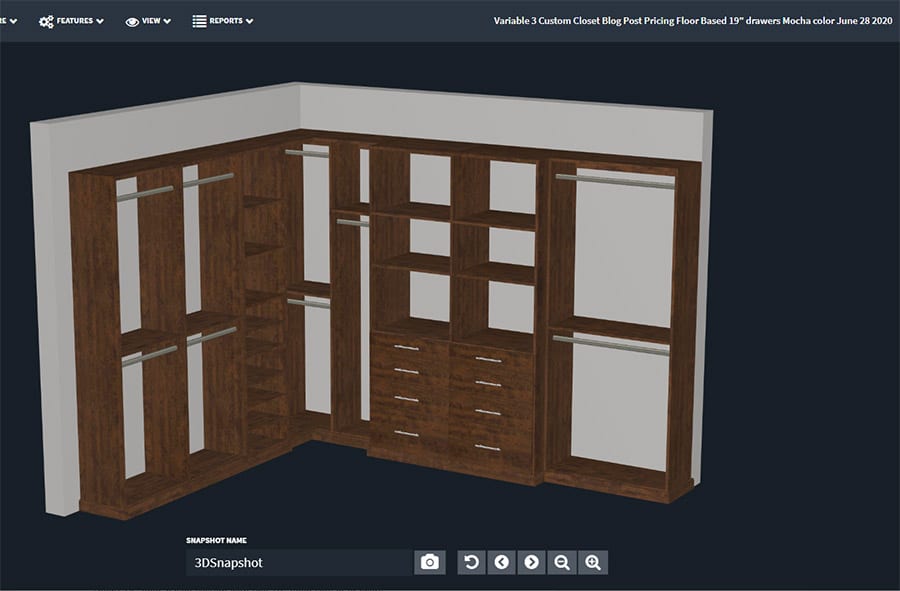 Example 3- You changed from white to a popular textured woodgrain natural finish like the 'river rock' (shown below) or 'ore' (a dark black and gray) color – The price increased to $5,983, an 18% change.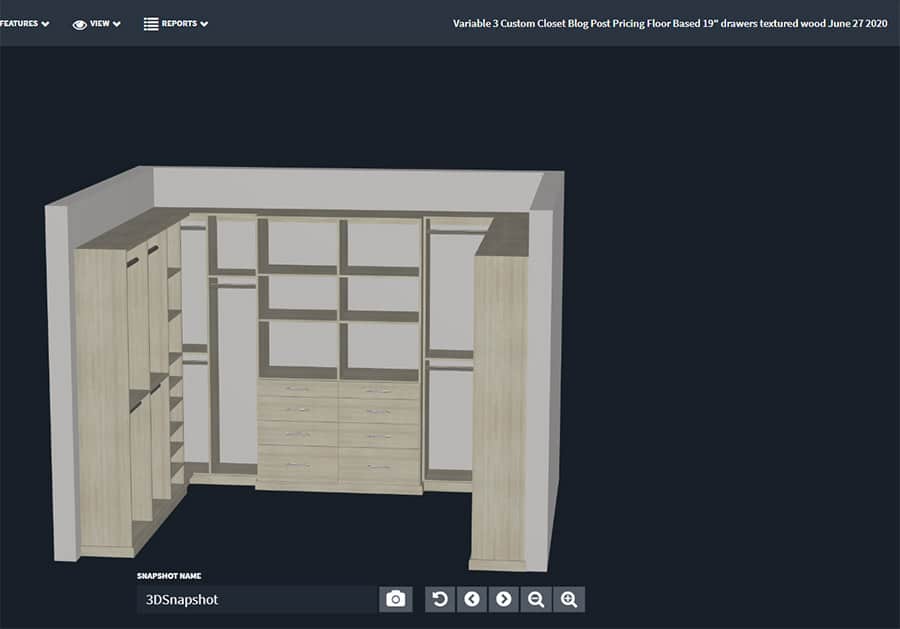 Variable #4 – How does the cost of a custom closet increase if I upgrade from flat (Euro) drawers or doors to a Transitional Shaker style or Traditional raised panel design?
Your look, feel and architectural style is taken up a notch with the right selection of door and drawer fronts (as you can see in the example below). The simple symmetry of Shaker doors and drawers is all the rage whether you live in Columbus Ohio or Columbus Georgia. Or if you love a classic look, the raised panel design goes perfect with a Colonial or Cape Cod home.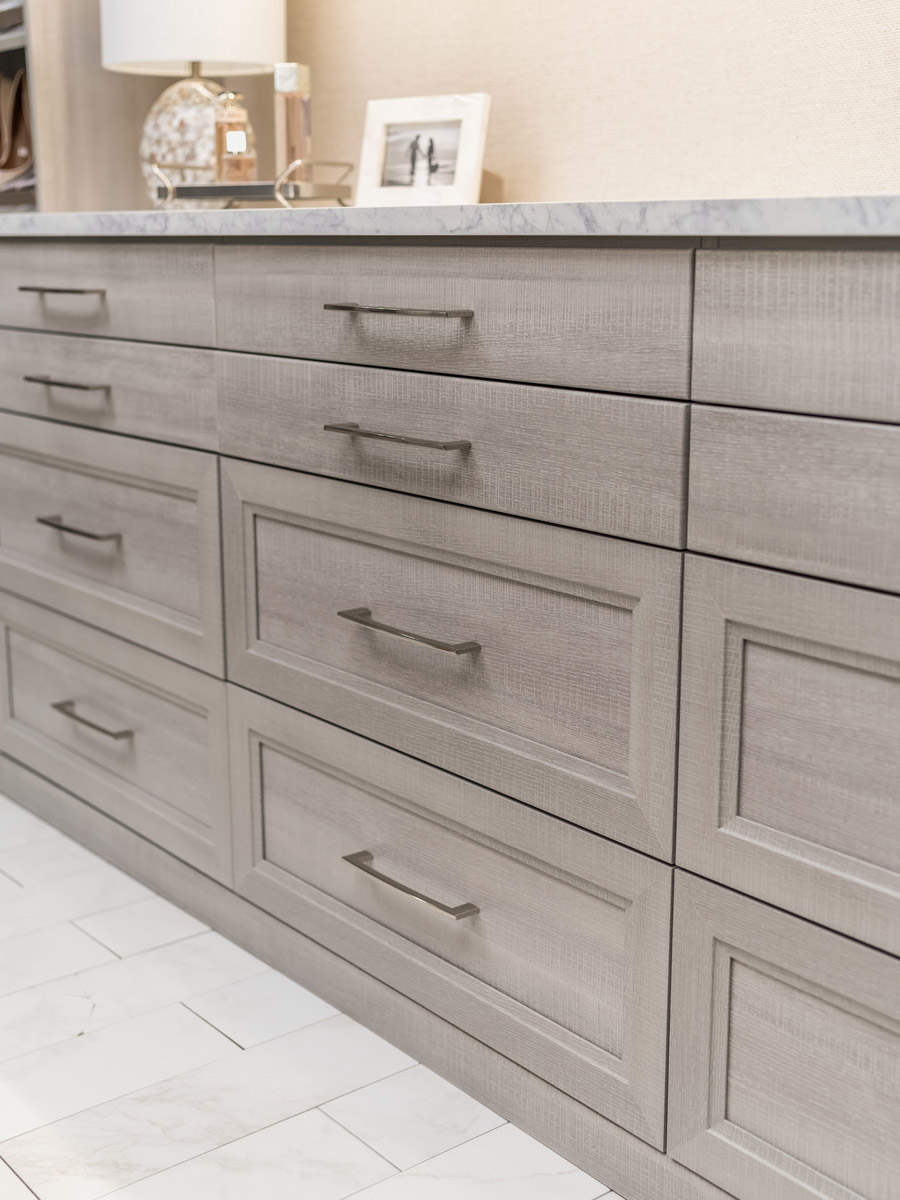 In our example, changing from a standard flat Euro style door to a Shaker or Raised Panel option increased the price to $5,924, a 4% increase over the same design/color combo with the lower-cost, flat Euro style drawer fronts.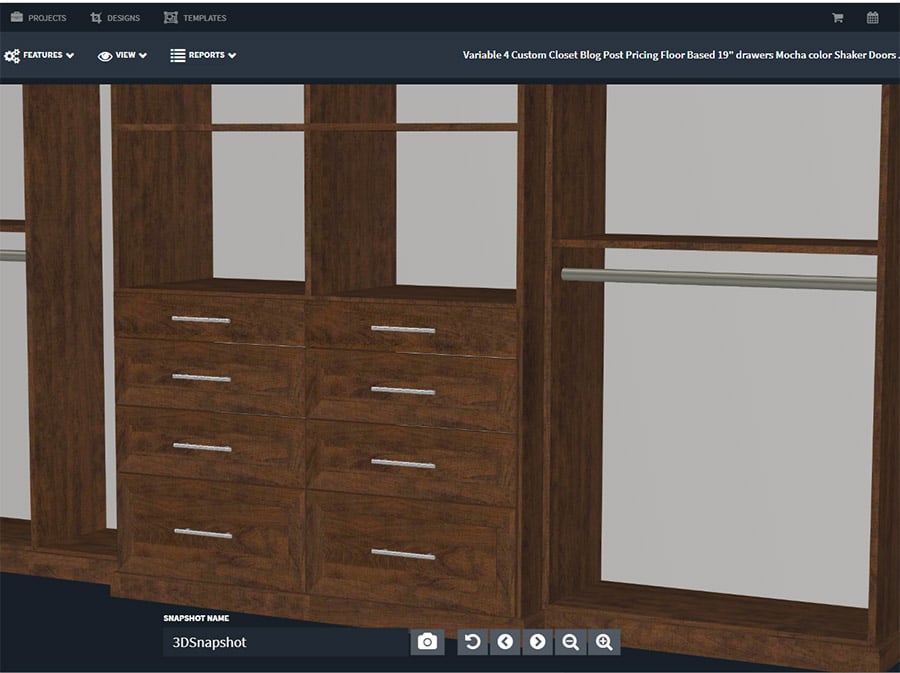 Variable #5- How much extra does it cost to hire a professional closet installation company vs. doing it myself?
As you know from the beginning of this article, I'm the owner of a company which designs and installs custom closet systems. What this means is I'm looking at our costs (and profit margins) ALL THE TIME. We need to make a fair profit to stay in business and serve our customers. And what you likely don't know about me is I'm a self-described 'business geek.' I grew up being a junior version of the Michael P. Keaton character from the TV sitcom Family Ties (if you're old enough to remember back that far). The bottom line is, I LOVE business (and the businesses I am fortunate enough to own and lead today)!
And being a business geek means knowing your 'numbers.' And here's two important numbers I know from leading a custom closet company in Columbus Ohio I'll share with you.
Approximately 87% of the cost of a custom closet are materials.
Approximately 13% of the cost of a custom closet is labor.
And in the companies I'm leading right now the 13% labor number as a percentage of the entire project is the smallest labor component of all the different remodeling businesses I lead (note – I also have a bathroom remodeling, nationwide building material wholesale and glass block and glass flooring businesses). But, what does this mean for you?
Well – 13% is NOT a big percentage of labor vs. 87% of the job cost going into materials. So, IMHO when you hire a professional closet company you get a lot of value for the 13% you pay. Here's what you'll get:
A Free 3D closet design or Free virtual closet estimate (note – not all closet installation companies do this for free, but ours – and many of our competitors, do).
Design expertise to make sure you don't repeat the 'closet errors' in your past.
A broader selection of widths, depths, colors, textures, and accessories then you'll find on the shelves of a big box store.
A lifetime material AND labor installation guarantee.
The question you'll want to think through is the 13% of 'potential' labor savings (if you don't screw up the installation) worth the hassle of DIY'ing the job.
Ok, so now that we're done talking about 'adding costs' in the 5 variables above, let's now turn our attention in Part III of this pricing outline to 5 practical tips you can use to reduce the cost of your custom closet.
Part III – Five practical ideas to reduce the cost of a custom closet
Tip #1 to reduce the cost of a custom closet – Use either a complete 'wall hung' (or a partial wall hung unit) vs. a floor-based system
While there are certain cases where you have to use a floor-based system (for example when we increased our drawer depths to 19" in variable 2 the system became too deep to safely hang off a rail on the wall), in many cases the 14" deep system (especially for hanging and shelving sections) will do the same job as deeper floor based units, at a lesser cost.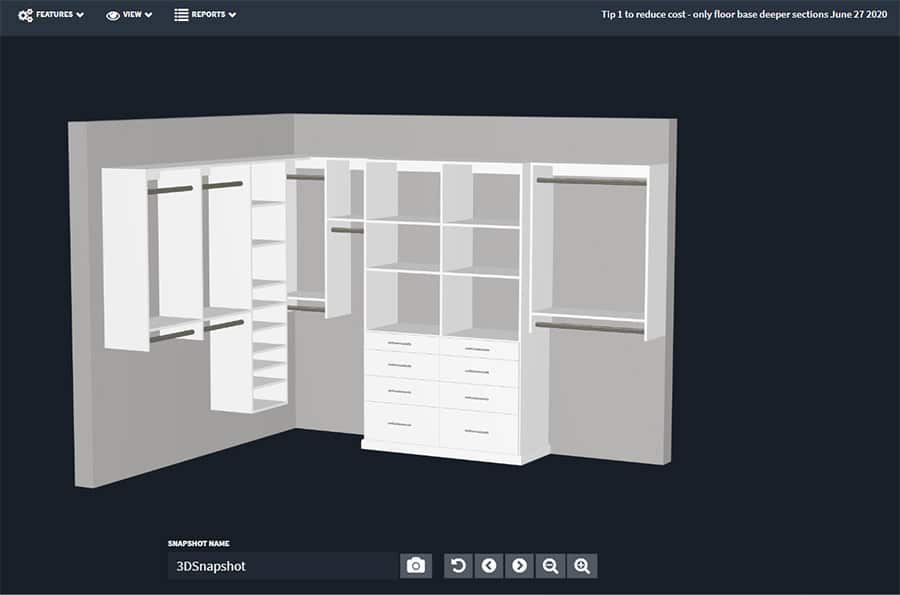 In many designs I use a 'combo system' where the drawer sections are deeper (and floor based) and the hanging and shelving sections are wall hung. For example if you take 'variable 2' where our entire system was floor based and you change the layout to only have the 19" drawer sections floor based, the total project cost is $4,146 (or 18% less than the entire closet being floor based). Consider a mixed system to save money, yet not compromise extra function (like getting the deeper drawers you DESPERATELY need!) or the extra 'stylistic punch' which comes from varying depths.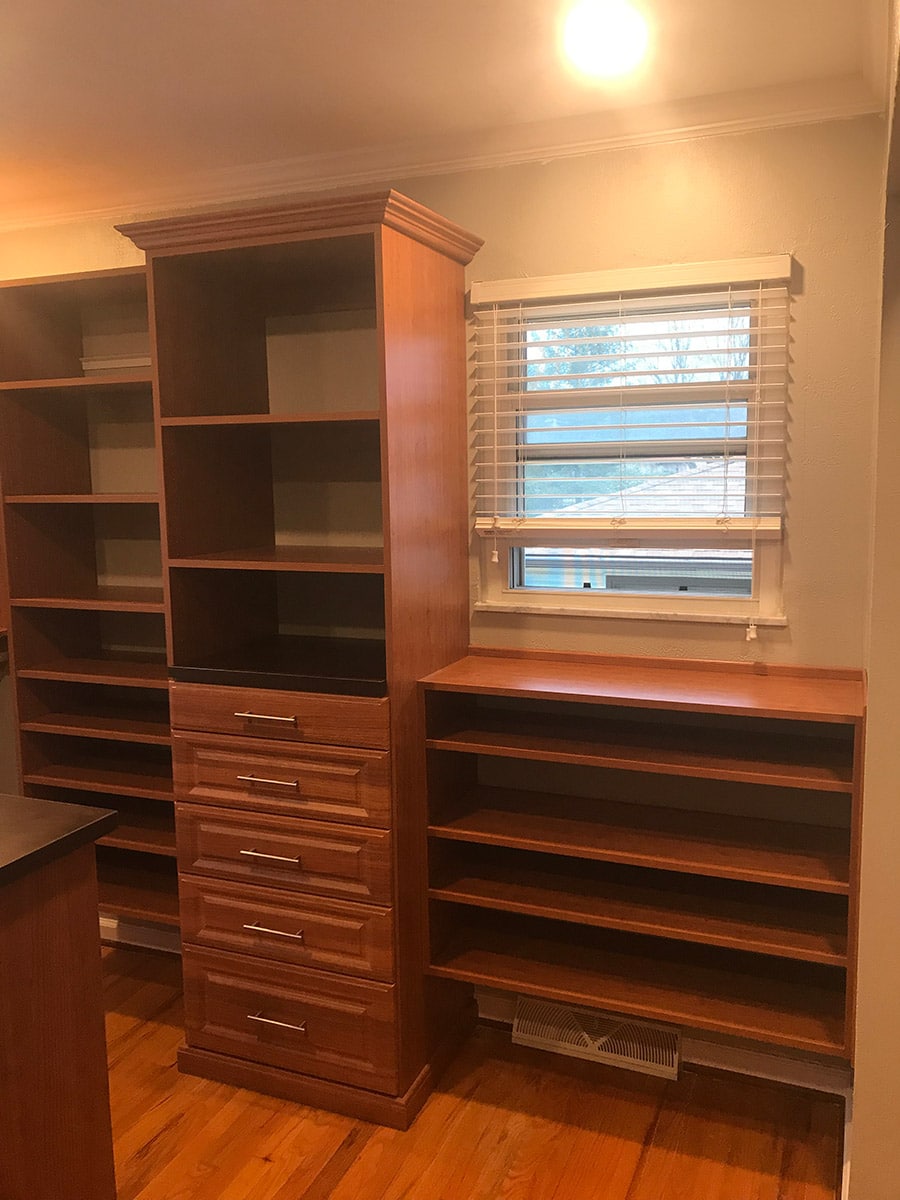 Tip #2 to reduce the cost of a custom closet – Stick with a white smooth laminate
Sure it's fun to splurge for colors or invest in a distinctive textured laminate to add 'style' points. However, when you get real and come to the 'brass tacks' (whatever brass tacks is anyway) you may be the only one (other than your spouse or significant 'utter') who is going to see your closet. If this space is ALL about function, and LESS about fashion, choosing a white laminate closet can be the 'workhouse' which does the trick for you.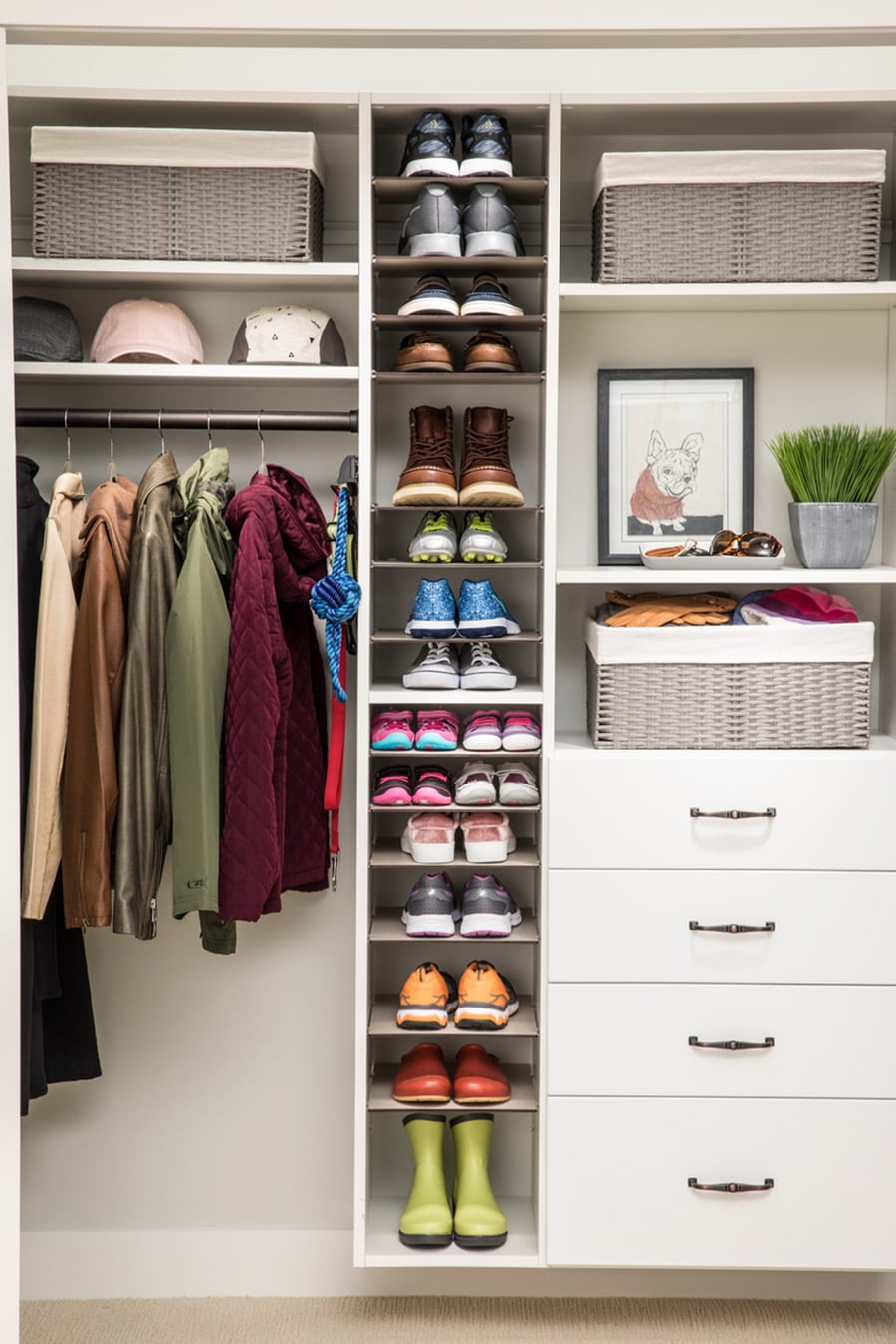 So, if you want to keep it cost-effective (and bright, especially if your closet has zero natural light), design it in a high-volume, low-cost white color.
Tip #3 to reduce the cost of a custom closet – Use more 'hanging' sections and less sections with drawers and doors
While I can argue you'll improve function with drawers (and be able to fit more in your closet with more drawers vs. less hanging), there's no debating hanging sections are FAR cheaper than drawer sections. If you NEED to keep a tight lid on the budget, eliminate drawers and doors from your closet design (and dig into doing a massive declutter of your dresser in the bedroom).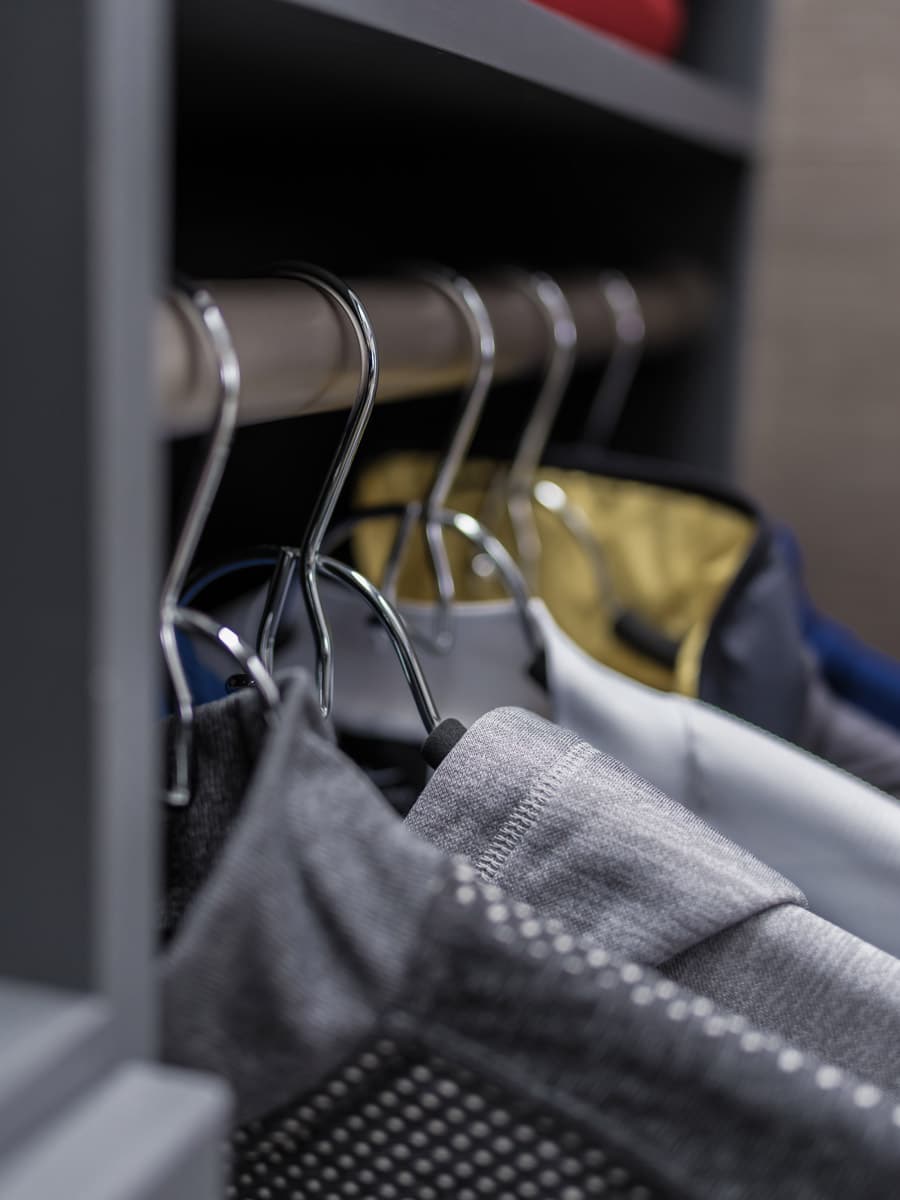 Tip #4 to reduce the cost of a custom closet – Make your sections wider…within reason
If you increase the width between sections (let's say from 24" to 36") you'll save money because there are fewer vertical supports between sections, you'll need to pay for.
And while this can be a sound cost-cutting strategy, I'll warn you it's not always smart. Make sure you don't make the sections too wide where your closet rods start to sag (or worse yet, break). This would be 'penny-wise and pound-foolish' as my Dad used to say. Or don't make the sections too wide and then don't have the right mix of 'long hanging' (for dresses and coats) vs. 'double-hanging' (for your blouses and pants).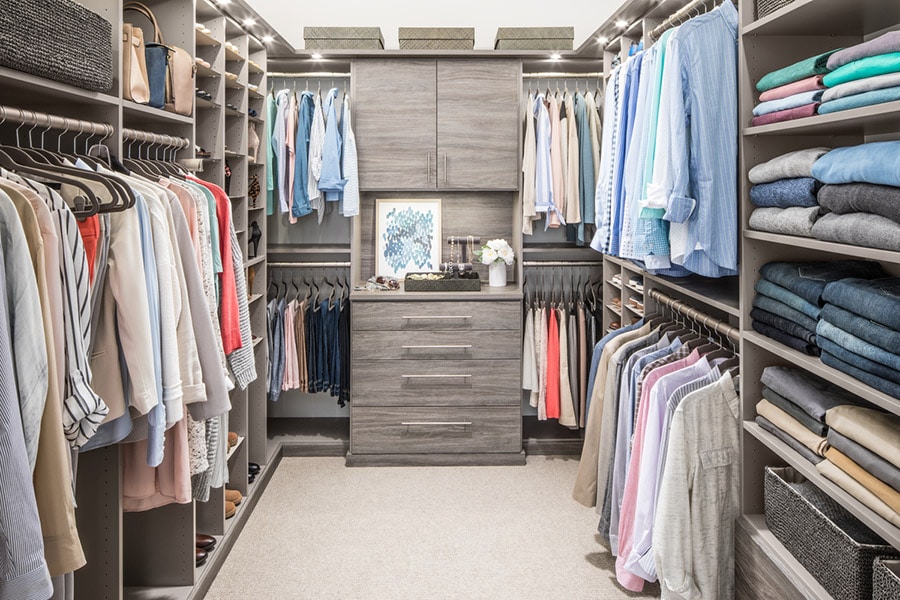 Tip #5 to reduce the cost of a custom closet – Shrink your system to a 12" depth
OK – I'm going to fess up and tell you this is a cost-reduction strategy I'm NOT a fan of (but it is a cost-reduction strategy you can use).
Many 'store-bought' closet systems (or low-budget closet installation companies) use 12" deep closets as their standard. And while this product offering saves THEM money (since a 12" system is 14% less material than a 14" closet) IMHO it doesn't 'live' much better than the 12" wire shelving or painted plywood unit the builder slapped in your home years ago.
While it's true you can use the 12" system, you also need to 'keep it real' (as Randy Jackson on American Idol used to say) and know your closet will look sloppier and sweaters and shoes might hang off the edge. And lastly you won't want to include drawers in a 12" design because they'll be oh-so-shallow.
So, where should you start to get exact pricing for your custom closet? And how can I (or my team) help you?
While I wish I could tell you I've given you a comprehensive (soup to nuts) guide to every option known to man or woman for a custom closet – in reality, I've just scratched the surface.
I haven't covered the cost of a crazy number of 'whistles and bells' you can add to your custom closet. You may want crown molding, decorative hardware (often thought of as the 'jewelry' of the closet), valet rods, tie racks, belt racks, jewelry drawer trays…and the list goes on and on.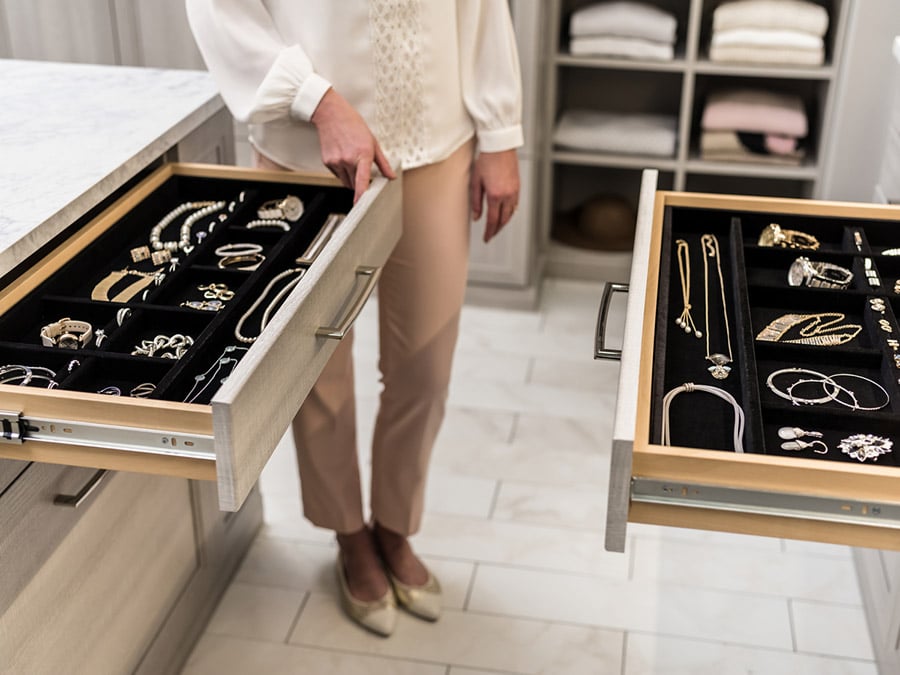 The cost of your custom closet is driven by many elements, not only including the many variables mentioned above but also where you live. I'm sure my custom closet prices in Columbus Ohio are waaaay cheaper than the same-sized closet installed in a New York City high-rise apartment.
So, how can you get an exact price of an installed custom walk in closet? Here's 3 ideas:
Idea #1) If you're in Columbus Ohio and would like a Free 3D closet design, call Innovate Home Org at 614-545-6888. Yes, it's a shameless plug for my business, but if you have a 17 year old daughter like me looking to go to college you know I NEED to get more jobs lined up (ha! ha!).
Idea #2) if you're in Columbus Ohio and just want a 'rough idea' of price to budget the job for the future (or are sweating bullets meeting a wacky guy like me or one of my staff (although there's not as wacky as I am), a Virtual 3D design appointment can be your ticket.
Idea #3) If you're not in my company's service area write in the comments below (or call me) and I'll refer you to a closet buddy of mine across the country) or to my industry association the Association of Closet and Storage Professionals.
Thanks for reading,
Mike
---
Tags: closet pricing, Columbus walk in closet pricing, cost of a closet Columbus, cost of a walk in closet, custom walk in closet pricing, how to price a walk a walk in closet, how to save money walk in closet, installed closet pricing, price of a walk in closet, walk in closet budgeting, walk in closet Columbus, walk in closet pricing