11 Tricks to Add Style to a Custom Closet WITHOUT Breaking the Bank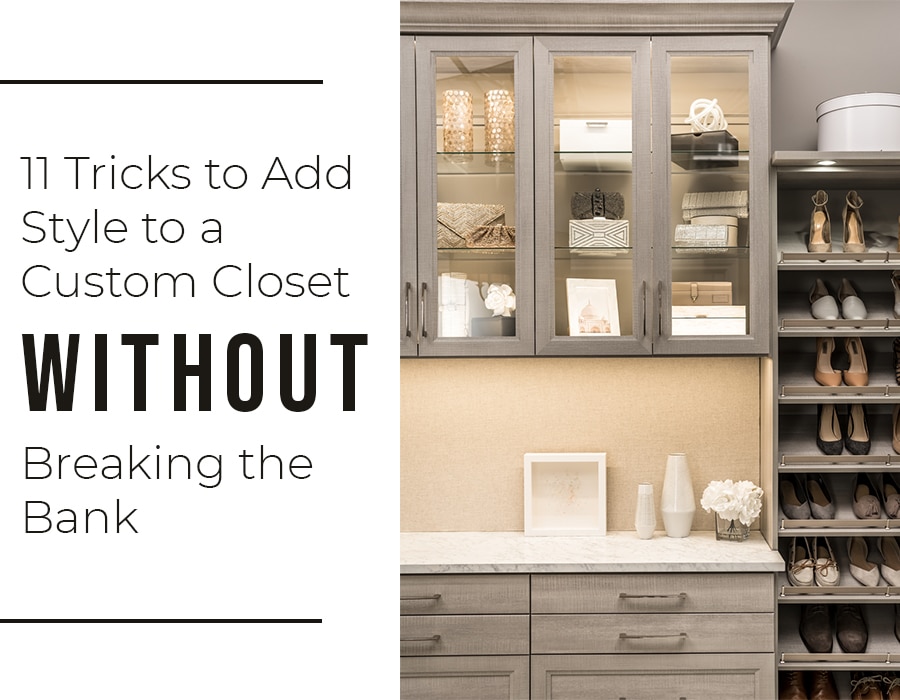 If you have Kim Kardashian's budget, stop reading RIGHT NOW!
OK, if I'm a gambling man, I'll bet most (if not all) of you are still reading.
You've seen Kim's drool-worthy custom closets adorning the pages of tabloid magazines and Pinterest alike. And sure, you'd soooo love to have your closet be as stylish as hers. But here's one sobering thought you know……
That ain't happenin'
OK, 'there's still a chance' it could happen like Lloyd Christmas (played by Jim Carey) says in this clip from Dumb and Dumber.
However, if we're being real, a Kim Kardashian custom walk-in closet is a long shot.
But, if you're being practical and NOT expecting to win the lottery so you can get your very own Kim Kardashian closet, BUT you do want your new closet to go beyond functional and have fun elements (without breaking the bank), you've landed on the right article.
I'll give you 11 insider tricks I've used (and so have plenty of my closet designer friends across the country) to make a stylish custom walk in closet which WILL NOT break your bank account (or dig into the kids college fund).
Let's check out the tricks.
Trick #1 – Mix floor based, and wall hung closet systems
If you're not familiar with 'wall hung' and 'floor based' closets, a wall hung closet is less expensive (since the section separators don't reach to the floor and the system is hung on a wall). And 'floor based' units cost more because they use more material, but they also give a 'finished furniture' look.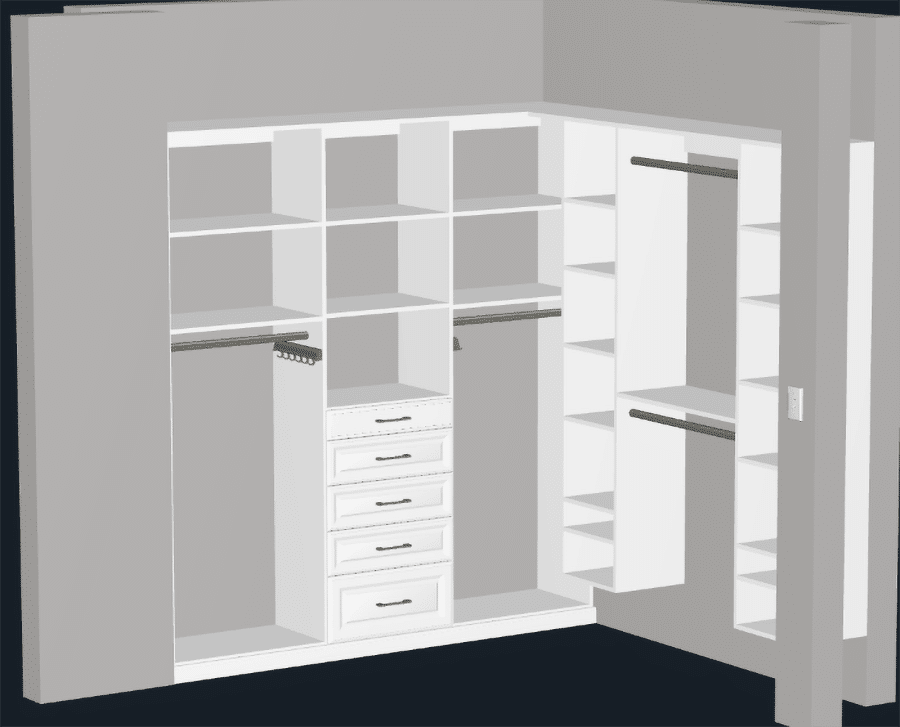 And while most people would prefer the look of a (more expensive) floor-based unit like you're surely seen in Kim's closet, your pocketbook may not support it. In these cases, a smart option is to use what I call a 'combo' closet solution. Use the 'floor based' system on your 'feature wall' (which is your best seen wall when you walk in). And use a wall hung closet in less visible areas.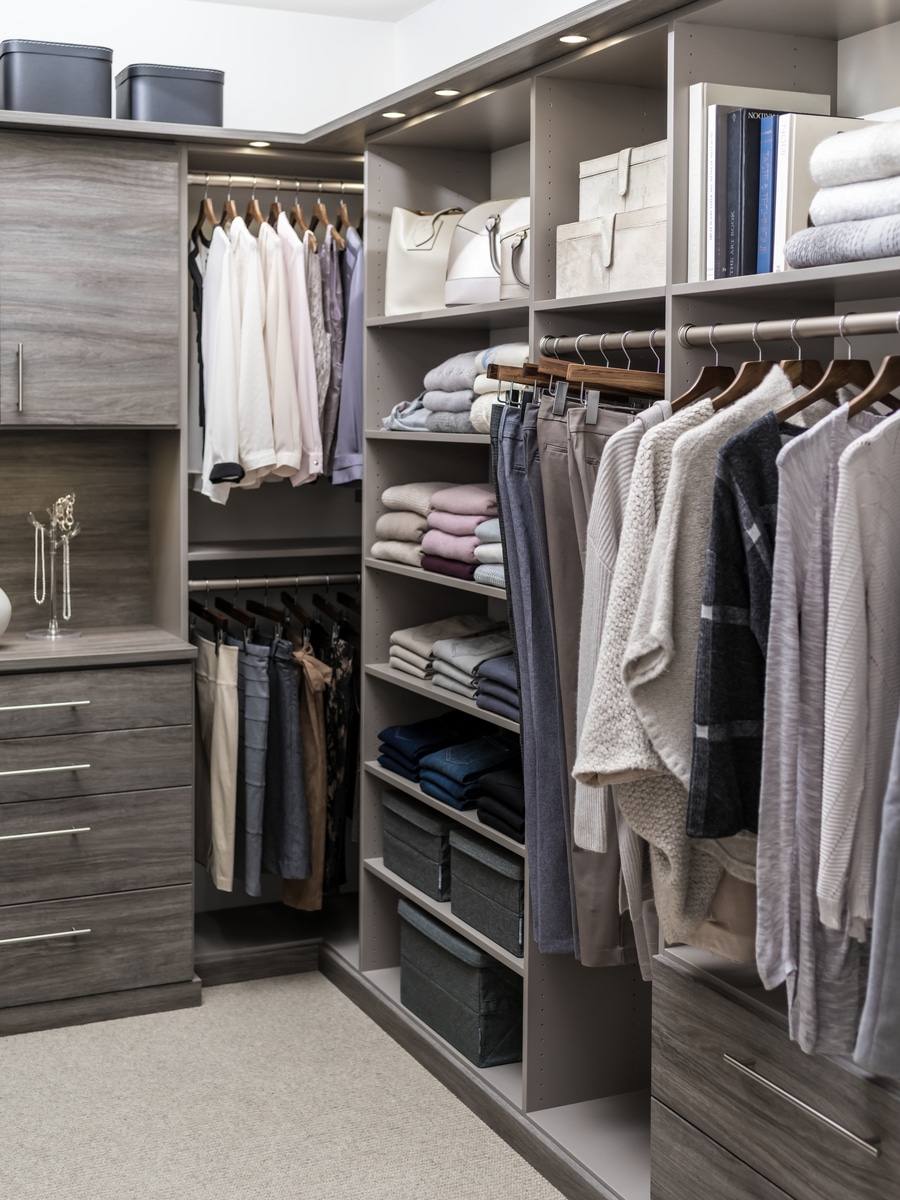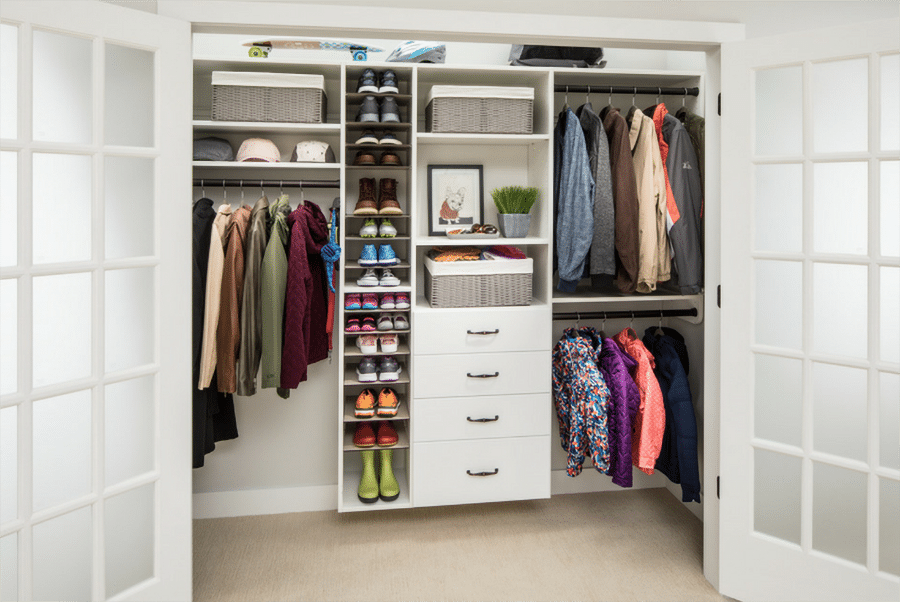 With this strategy you'll be smart with your money – yet still get a stylish and upper-end looking closet! And if you'd like to learn more about wall and floor-based systems read, How to Choose Between a Wall Mounted or Floor Based Closet Organizer.
Trick #2 – Use contrasting colors or patterns on your closet doors and drawers
Here's the simple truth about custom closet colors and patterns. The cheapest closet will be smooth and white.
And right now, you may be saying, "Mike, what's wrong with a smooth and white? It'll be eons better than the cheap, wire shelving I put up with today!" And I'll tell you there's nothing wrong with the plain, white laminate closet… if your goal is simply a better functioning closet.
However, if you want an exciting fashionable closet – the smooth, plain white variety will only give you a plain 'IKEA-ish' look. Yes, you'll get good value and improved organization, but you won't exactly put your personal 'stamp' on your space.
A fun way to add style on a budget is to use contrasting textured drawers or door fronts to jazz-up the 'same-old, same-old' white smooth closet. Adding decorative drawer fronts like you'll see in this design added only $45 total to the cost. However, it suddenly became a fashionable, not just a functional, closet. And don't you deserve a little pizzazz in your custom closet design?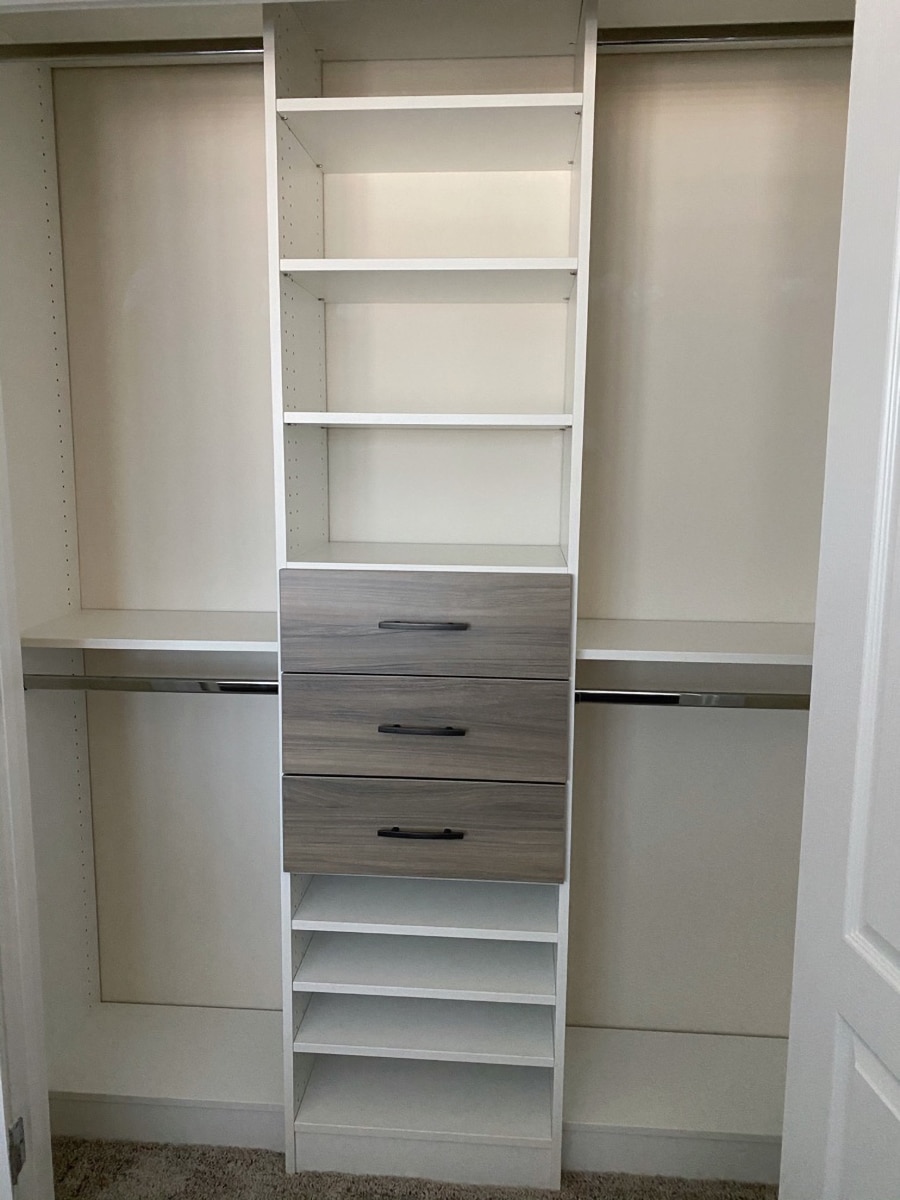 Trick #3 – Use 'partial-privacy' drawers vs. a full drawer front
It's nice to add drawers to your custom closet design so you can get 'fully ready' in your closet. Then you'll be able to find your socks, pantyhose, underwear in the closet vs. rummaging through your bedroom dresser drawers early in the morning and waking up your grouchy partner.
However, if I'm being honest with you (and why would I not be honest with you), drawers are the most expensive of the 'big 3' elements in a closet. And for those of you not familiar the 'BIG 3 closet elements,' they're (1) hanging, (2) shelving and (3) drawers.
You may be wondering how to get the function – and style – of drawers yet still keep costs down? Well – one idea is to use 'partial-privacy' drawers. These drawers include the 'inside drawer box' only (without the drawer front). This makes them more cost-effective for you.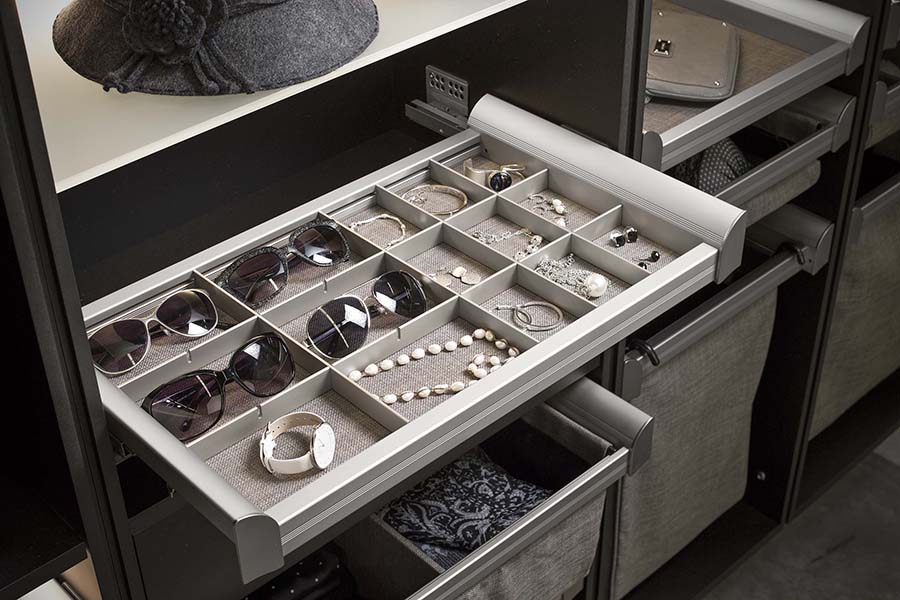 Trick #4 – Use cool hardware
Door and drawer hardware is the 'bling' of a custom closet. It's one feature which DOESN'T (normally) add a lot of cost, but it DOES show your personality.
So – why settle for a little (and hard to pull) boring chrome knob, when you can make a statement with a fun matte black handle or brushed brass pull?
There are soooo many fun hardware options. Just go into your local Restoration Hardware store or custom closet company showroom and let the drooling begin.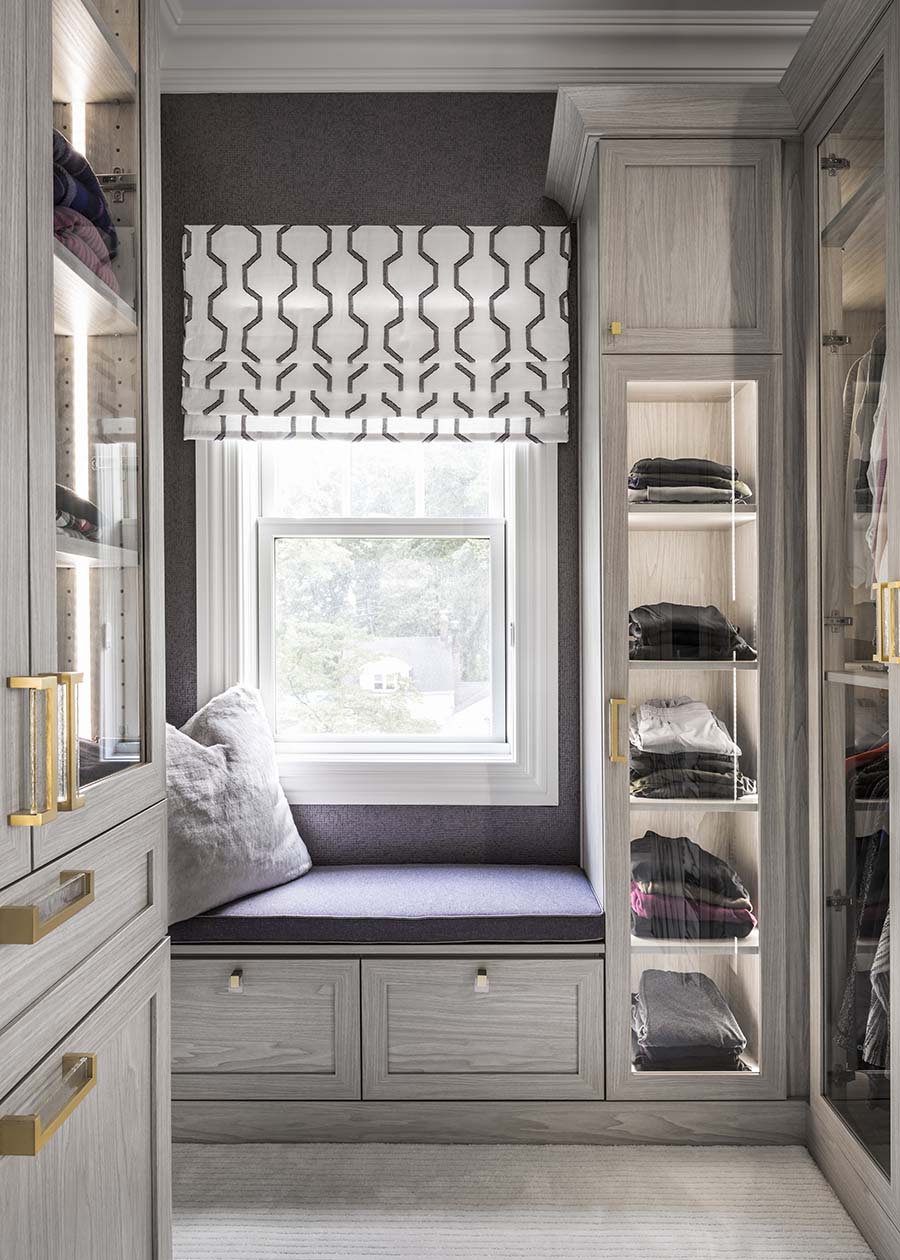 Image Source: Patty Miller Boutique Cabinetry and Closet
Trick #5 – Display what excites you 'front and center' in your design
This is a 'trick' which doesn't require ANY EXTRA MONEY (and I'm sure that's music to your ears), however it does require a thoughtful design.
If you love, love, love your shoes, display your most fashionable pairs where you see them when you enter the closet.
Conversely, if you've just entered step 1 (you admit you have a problem) of the 10 step Handbags Anonymous program (and have even been caught stashing a few of your finds in the deep, dark crevices of your closet so your partner wouldn't see them) then you'll love seeing your wonderful purses displayed on adjustable shelves when you enter your new closet.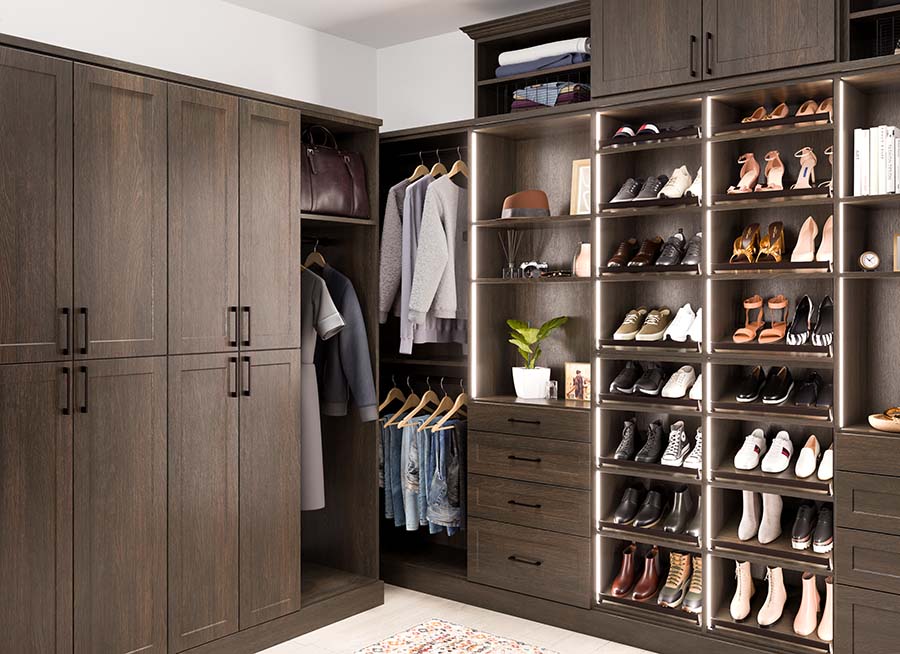 And if your budget is bigger, put these 'finds' on glass shelves with lighting like in this amazing closet designed by Patty Miller of Boutique Closets and Cabinetry. Now that's livin'. OK, if I'm being honest this idea may not be 'livin' on a budget,' but it doesn't hurt to dream, does it?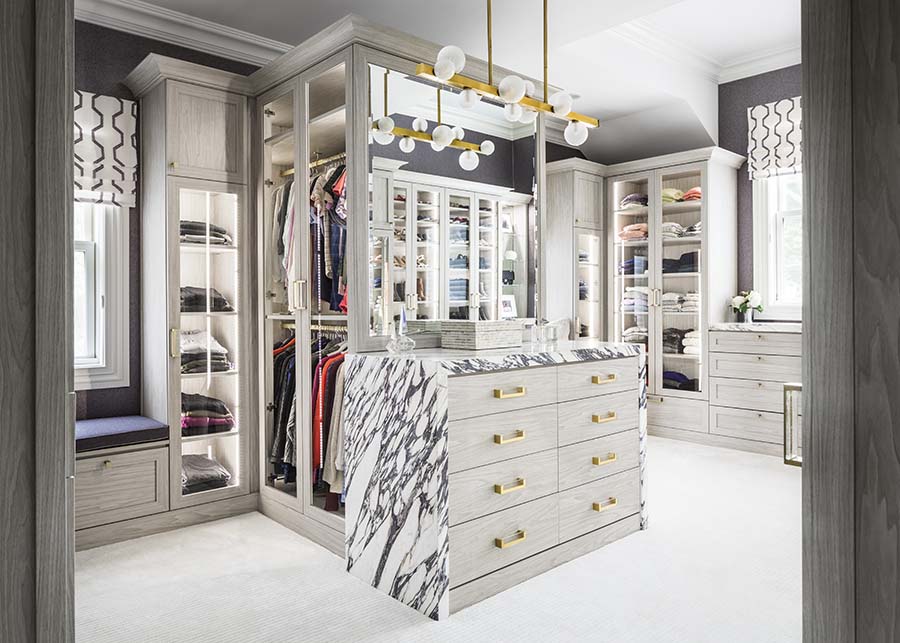 Image Source: Patty Miller of Boutique Closets and Cabinetry
Your closet can resemble an opulent display in a luxury boutique store… if you design it right.
Simply put – display what's cool.
Trick #6 – Use a back panel to make your 'feature wall' unique and fun
If you're not familiar with 'closet back panels,' they're decorative panels installed behind a closet system. They not only protect your walls from dings and the need to repaint but can be used to create a 'contrast' with your shelves to make them 'pop out' of the design.
While closet back panels are a luxury feature, they have an artistic element which cannot be denied.
And since you're trying to do this closet on a budget, you'll need to be much more strategic than Kim Kardashian on where you use them.
I recommend using a back panel in the 'feature wall' when you enter your closet. It'll give you the biggest bang for your decorative back panel bucks.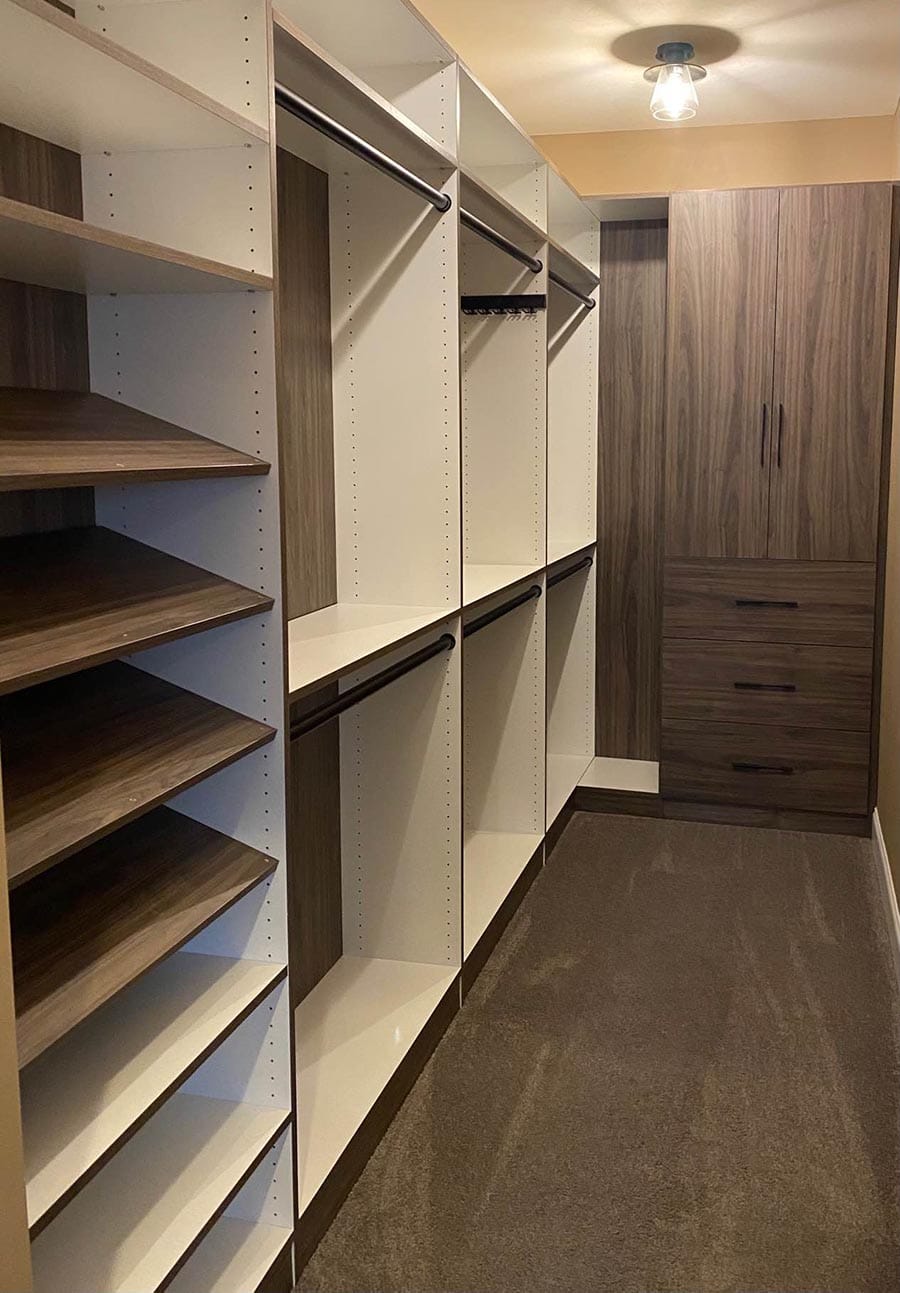 Trick #7 – Add décor
If you want the 'fancy look' of a custom closet (not just a space jam-packed with too many clothes), I'll warn you it will require two things (in this order).
The discipline to get organized.
Choosing the right décor pieces to show off your style.
First, let's look at the 'tough part' of this equation…. discipline.
You'll need the discipline to purge and donate things you're not wearing, so you'll have room for the fun part of this equation, which comes next.
After you've freed up room, allocate a shelf or two for fashionable décor pieces or artwork. And if you really want to get fancy, add LED lighting to highlight these pieces. And here's two crazy thoughts (and goals) to keep in mind….
Thought #1) Closets can be fun.
Yes, they can be fun can be IF you create space for fashionable art to elevate the mood of the space.
Challenge yourself to venture beyond the function of 'simple closet storage.' Then think about the importance of thought #2 below.
Thought #2) Don't you deserve some nice places in your life? And why can't the closet you use several times a day be this space?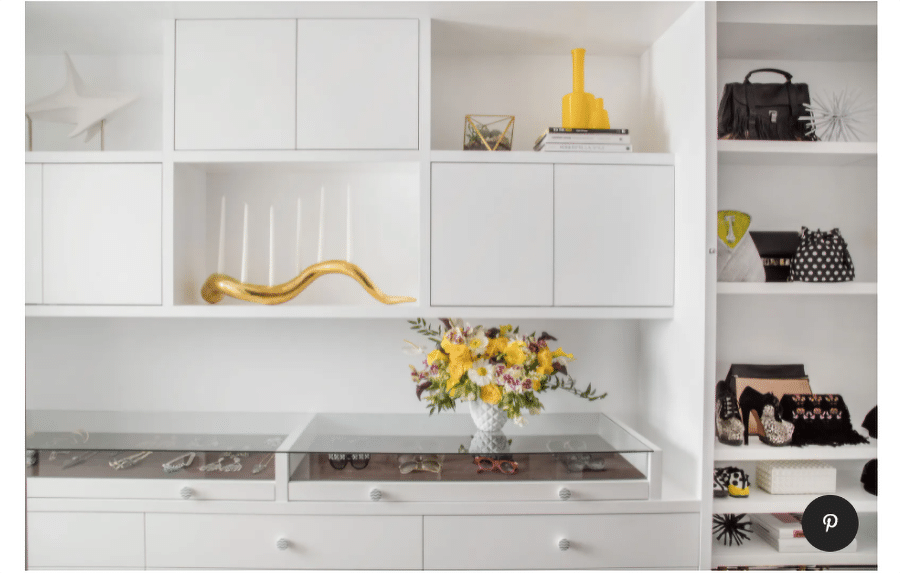 Image Source: www.architecturaldigest.com
Trick #8 – Use walls behind doors for 'stylish storage'
You need to use every doggone inch of your closet to fit your things. And this includes the thin space behind your in-swing door. And today you're the 'proud owner' (sarcasm intended) of more Dollar-Store-esque organizers behind this door than you can shake a stick at. And if you're being honest (and I certainly hope we're not being dishonest) these cheap organizers make your closet look U-G-L-Y.
And since you're looking to ramp up this space, it's time to go a 'little upscale' with your 'thin space storage.' One smart way to do this is with a decorative hook board. They're perfect for robes, jewelry or your partners never-ending hat collection.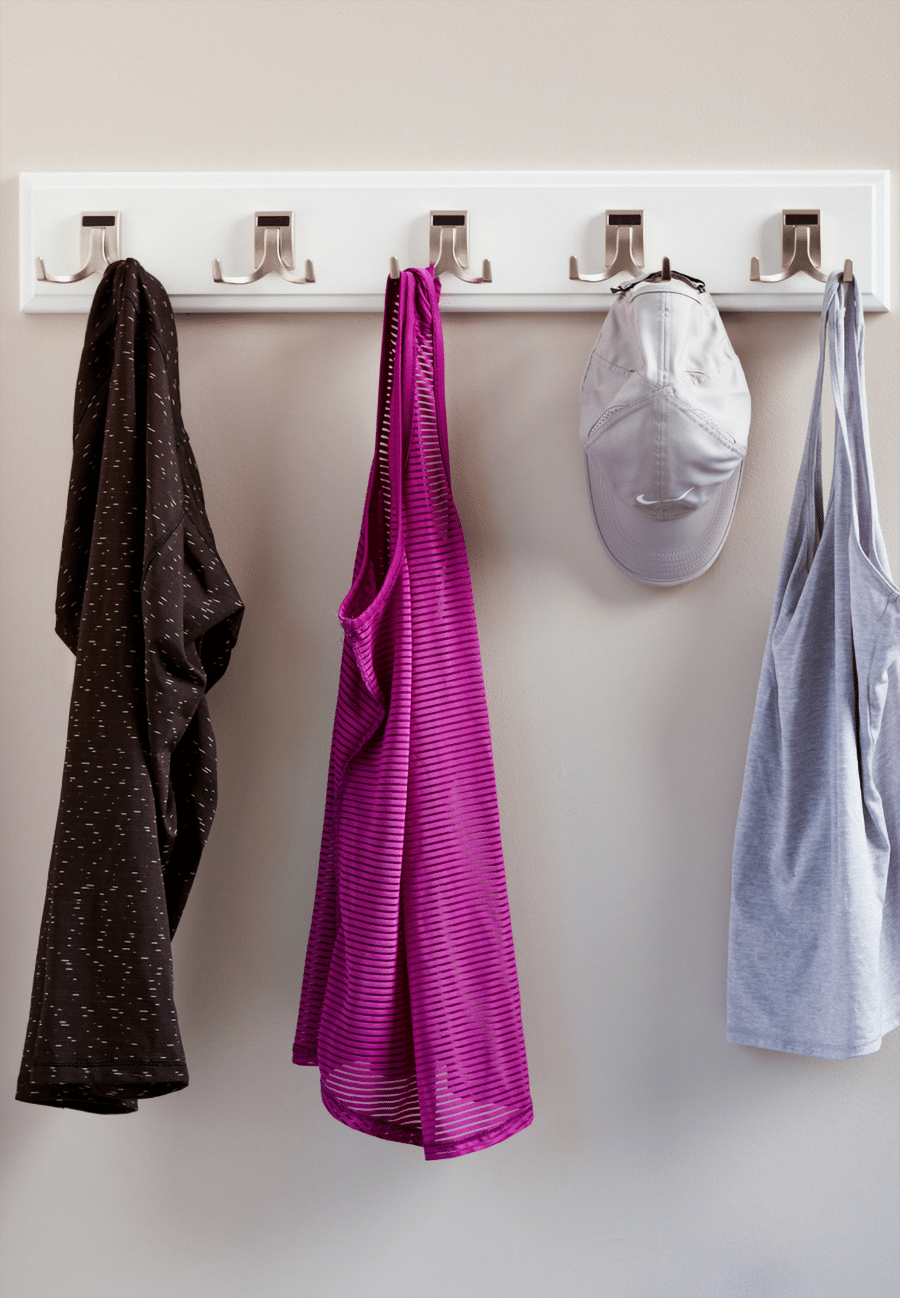 And if your budget's a bit bigger, this fashionable wall organizer will not only work for the items mentioned above, but also has hooks for your favorite pumps or boots. And did I mention it looks F-A-N-T-A-S-T-I-C and that the hooks can be moved around the system?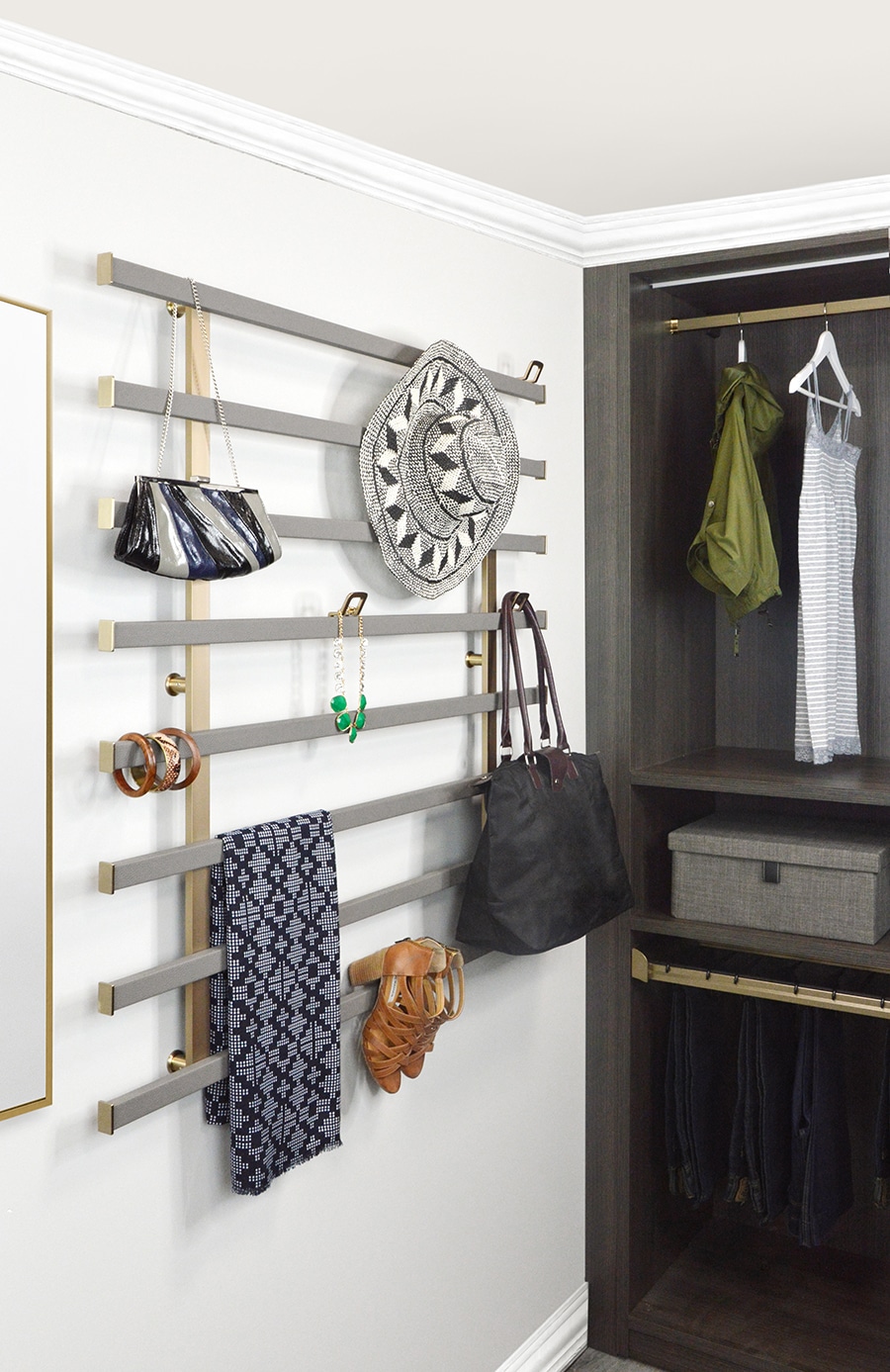 Trick #9 – Say 'bye-bye Felicia' to ugly hangers!
Your mish-mosh of hangers not only kills the look of your closet, but those big, bulky, and bendable (and not in a positive yogi-ish way) plastic hangers suck up more space than your overbearing Uncle Louie. And that's the bad news.
However, the good news is when you start using the right hangers you can actually make your closet a room you'll be proud to enter.
And the best way to do this is replacing your cheap wire and bulky plastic hangers with velvet ones. And here's 3 reasons why 'I love me some velvet hangers' (and don't you love my mastery of the English language?).
Reason #1 – They're thin – and don't take up much room.
Reason #2 – They're sturdy – and don't have the 'bend' of cheap wire hangers from the cleaners or those nasty plastic ones.
Reason #3 – Your clothes stay on the hanger. And who exactly likes picking up clothes off the closet floor? That would be NO ONE!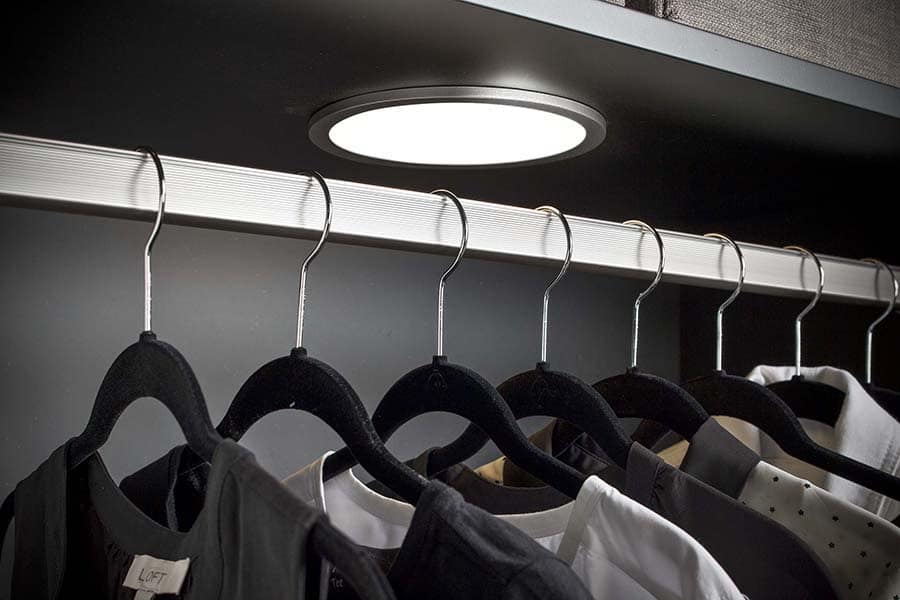 Trick #10 – Paint your closet walls a contrasting color to your closet shelves and drawers
To add 'punch,' even to a 'plain, white closet' a sure-fire strategy is use an idea as dramatic as your 14-year-old daughter (OK, maybe not that dramatic). This 'dramatic' idea is to choose a darker wall paint color against a light-colored closet system. It'll create a fun look even with a 'seemingly' plain closet.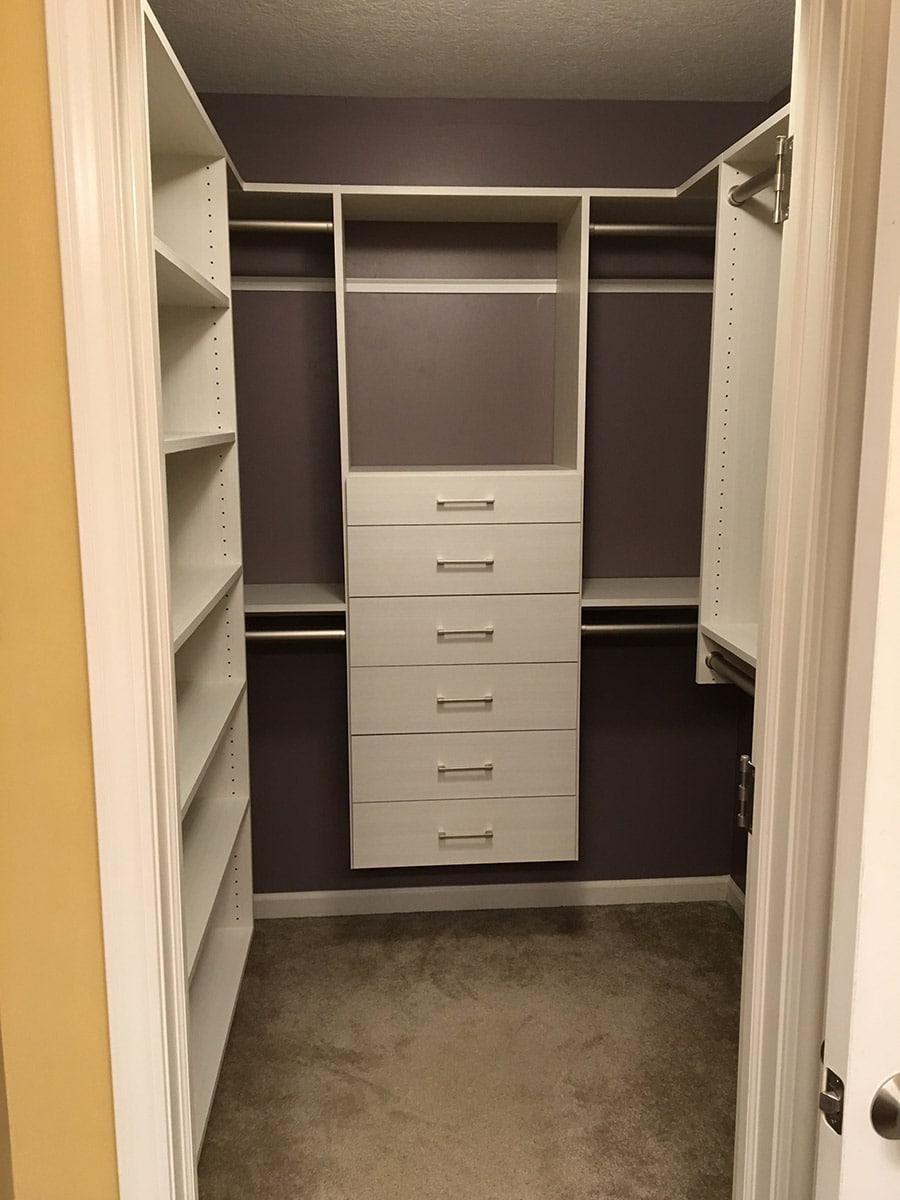 Trick #11 – Use one set of clear glass cabinet doors
Glass cabinet doors in a closet ooze luxury and a built-in look. Budget permitting, add one set of glass doors you see when you walk into your closet. These glass doors immediately signal this is YOUR special place. It's not simply a room stuffed with clothes. No, it's a space you love, not loath.
Do you need help incorporating these tricks into your closet design?
While I'd like to thank you for reading these 11 tricks, I can also understand how you may still be confused on where to begin designing a stylish (yet cost-effective0 custom closet. And I get this. You're not the owner of a custom closet company like Jay Pritchett AND you don't play him on Modern Family either!
So, if you need help with not only how to get a closet design which functions waaaay better, but one which is also fashionable WITHOUT breaking your budget, this is where me (and my team) would love to help.
If you live in Columbus Ohio, we'll do a Free 3D closet design. We'll help you prioritize and choose the luxury closet tricks which make the most sense for you. Call 614-545-6888 if you're in Central Ohio to get started now.
And if you don't live in Columbus Ohio (which I'm guessing applies to most of you), I'd be glad to refer you to some of my closet design buddies across the country. Just comment below with where you live and/or include your burning (OK – hopefully not literally) custom closet questions.
Thanks for reading.
Mike
###
If you'd like more information on garage, pantry, entryway or custom closet design follow me on LinkedIn @MikeFotiLinkedIn.
---
Tags: artwork in a closet, back panels in closets, closet colors and design, closet décor, closet décor Columbus, closet drawer fronts, closet hardware, closet hardware Columbus, closet shoe display Columbus, Columbus wall hung closet, custom closet artwork, custom closet design ideas, custom closet design tricks, custom closet hardware, floor based closet Columbus, furniture grade closet, glass cabinet closet doors, how to display your handbags, how to display your shoes, stylish behind the door storage, velvet hangers in a closet, wall hung closet