7 Smart Ideas to get more from your Murphy Wall Bed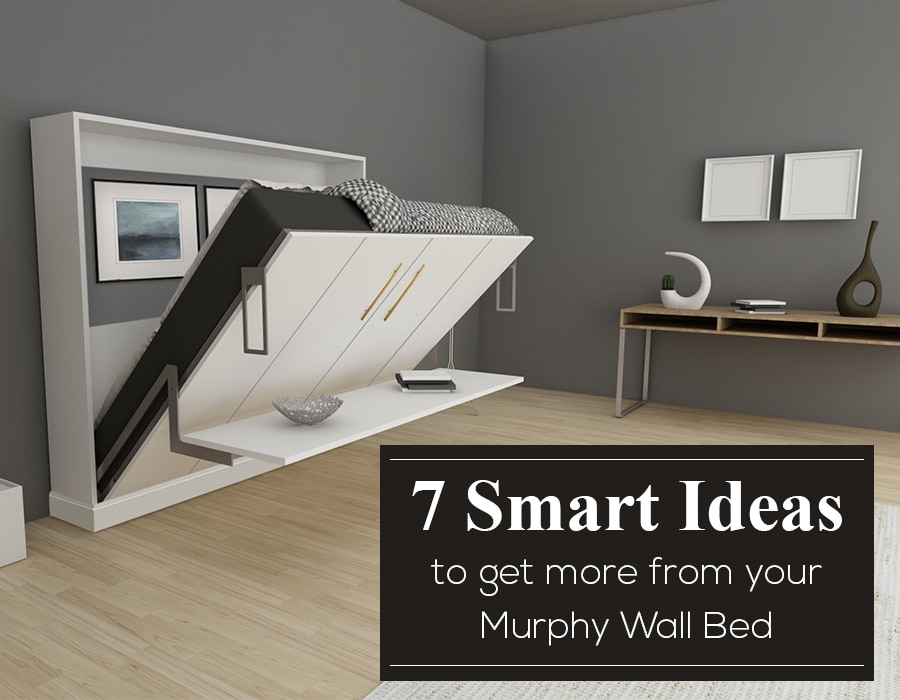 Whether you live in a 'sub-compact' condo in the city, or a smaller-than-you'd-like home in the burbs, you may be desperately trying to find room. You need space for yoga, crafting, or meditation. You may need another work at home office since your partner talks so doggone LOUD! And there's one thing which is perfectly clear…. 'finding' space is a challenge.
You've read about Murphy wall beds (the space saving bed which folds down from the wall). And it may be the solution to your problems. However, while you see the value of a bed which folds up and down to free up floor space, after you've researched 'standard' Murphy beds you still don't feel you've found a 'complete solution.' You're wondering….
Is there a way to add storage around the bed for clothes or office or crafting supplies?
How can I incorporate a home office and STILL have a bed in the same small room?
Where am I going to store the pillows for the Murphy bed?
How can this studio apartment, or small guest bedroom, become a multi-purpose room AND NOT feel cramped?
If you struggle with these challenges, you're not alone. Fortunately, Murphy bed innovations have exploded over the last few years. There are more options to add fun AND function and get more value from your Murphy wall bed.
And in this article, we'll take a 'deep dive' (to use the overused corporate term I HATE!) and look at 7 ideas to get more bang out of your Murphy wall bed bucks. Now, let's dig in.
Smart idea #1 to get more out of your Murphy bed – Add a fold down desk
Did you ever think you and your spouse or partner would BOTH be working at home? I know for one, BEFORE the pandemic I rarely worked at home. Now I love my 2 work-at-home days so I can aggressively plow through my 'to do' list. And because my wife and I can do our work-at-home routines from 2 separate areas of our home it works out well.
However, I KNOW this ISN'T the reality many of you have today. One of you may be working out of a cramped corner of the bedroom. Or worse yet you're 'trying' to be professional on Zoom calls surrounded by sticky cereal boxes and bills stacked on the kitchen table. It's not the best look for your professional reputation.
You're 'desperately seeking' (kind of sounds like a personals ad, doesn't it?) to find a quiet ('er with a door) work at home place where the kids can't barge in while you're trying to impress an important client. You need a place which is comfortable and doesn't force you to work in the dungeon (AKA your musty old basement either).
And the good news is the perfect place may be lurking in your underused spare bedroom or open space in your loft apartment.
You see today there are fold down Murphy wall beds with desks. These workspaces are convenient AND still provide a place for overnight guests (or for you to use everyday in your downtown studio apartment).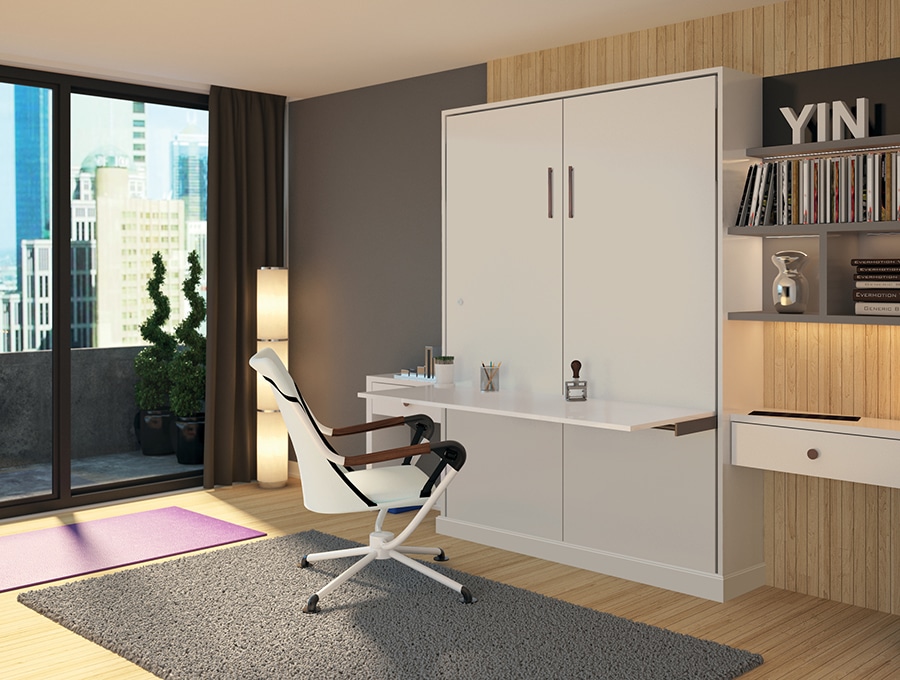 Smart idea #2 to get more out of your Murphy bed – Add shelving on the sides
You need places for folded clothes or office, or craft supplies, or books and artwork, but where can you put them? Well with a fold down bed (which looks like a piece of finished furniture) – you can add shelving units (with or without doors and drawers) for storage on the sides of the bed.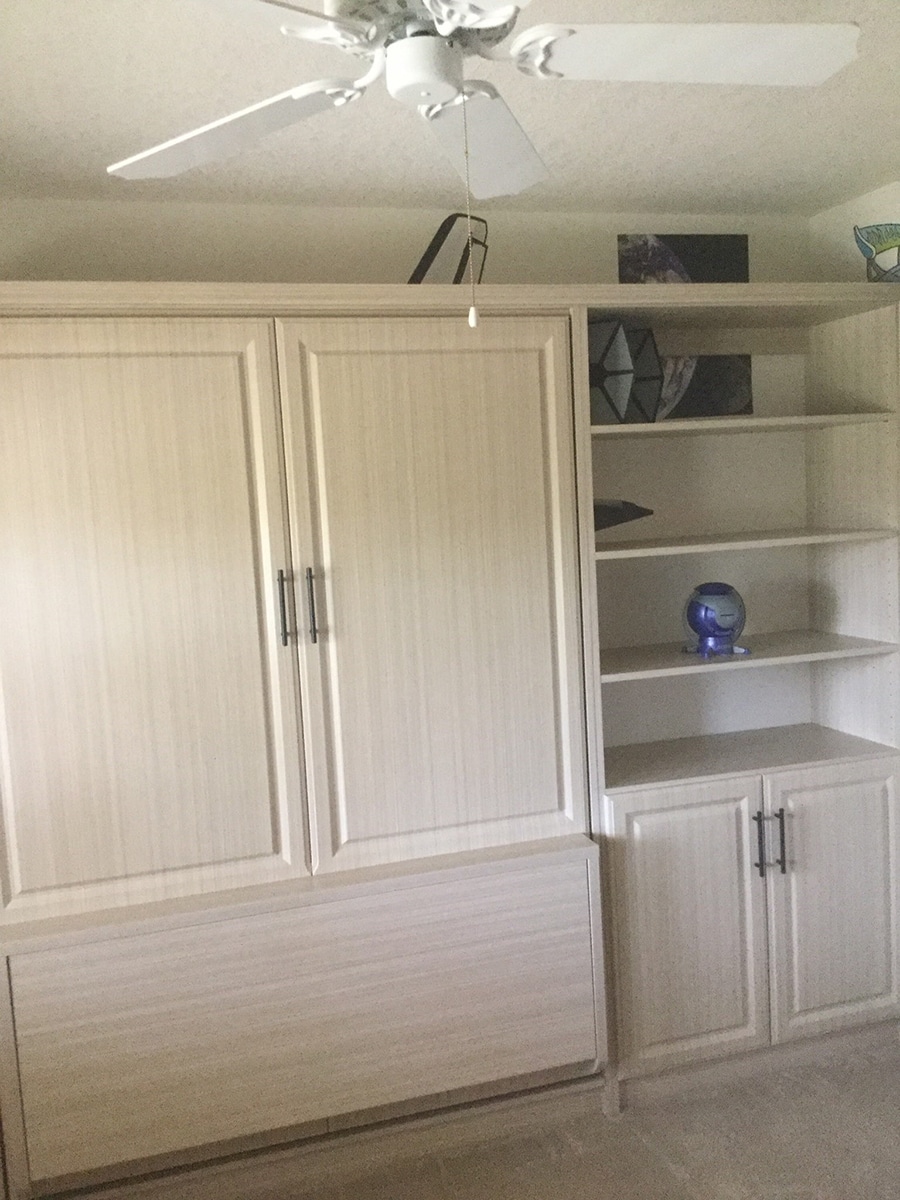 And what's even cooler about this is these shelving units can be made to fit any size space.
Storage, style, and bedding DO NOT have to be mutually exclusive.
Smart idea #3 to get more out of your Murphy bed – Add a pillow box
One of the things NOBODY tells you when you buy a Murphy bed is you CAN'T fold up the bed with the pillows in it! And while it's possible for the sheets to stay on the bed (unlike a sleeper sofa or futon) – you still have to do find someplace to store those doggone pillows when the bed is folded up into the wall.
And if your storage is already so limited – this may be no small feat to find a place to put the pillows.
However, this DOES NOT have to be YOUR problem. When you buy a Murphy bed with a pillow box in the back, you'll have a 'secret compartment' (kind of reminds you when you were a kid, doesn't it?) for the pillows. However, you do need to know a pillow box will cause the Murphy bed to extend 3" further into the room. This needs to be factored in to how the bed will fit into your loft apartment or spare bedroom. However, in most cases the extra 3" is not an issue.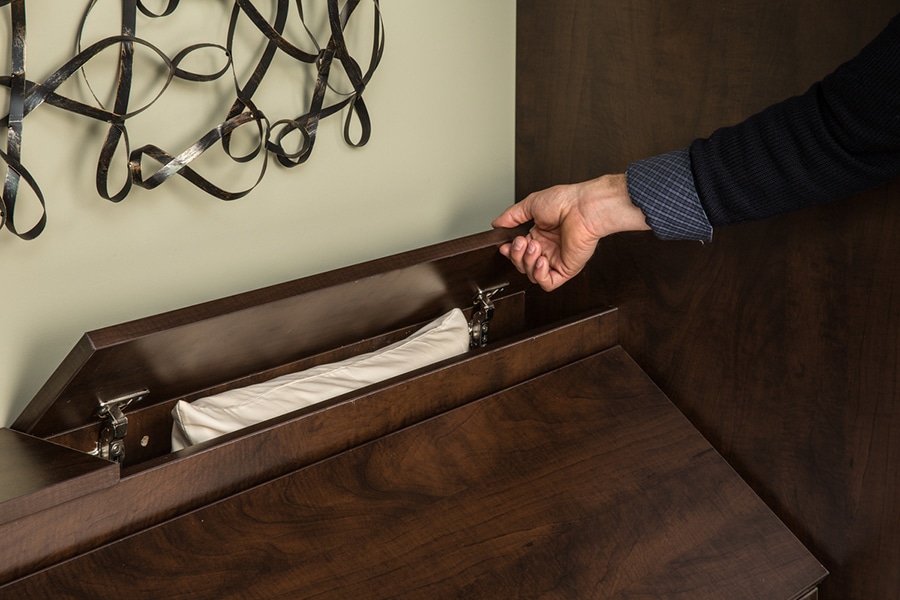 Smart idea #4 to get more out of your Murphy bed – Add a wardrobe closet
Buying a loft apartment in the old factory in the city SOUNDED like a wonderful UNTIL you and your partner 'attempted' to fit all your stuff in the unit. You asked yourself, "Do I really need to donate all my clothes just to live this urban lifestyle?"
Yes – the closets in loft apartments are pathetic. It's not something you gave a lot of thought to BEFORE you moved in. So, now that you're in, what can you do about it?
Well – if you get a Murphy bed (or even if you don't get a Murphy bed) you can add a wardrobe closet into a room. This unit can be made in the same design patterns as the bed AND will stop you from having to wear the same outfits every day (like you used to laugh about with your Junior High math teacher)!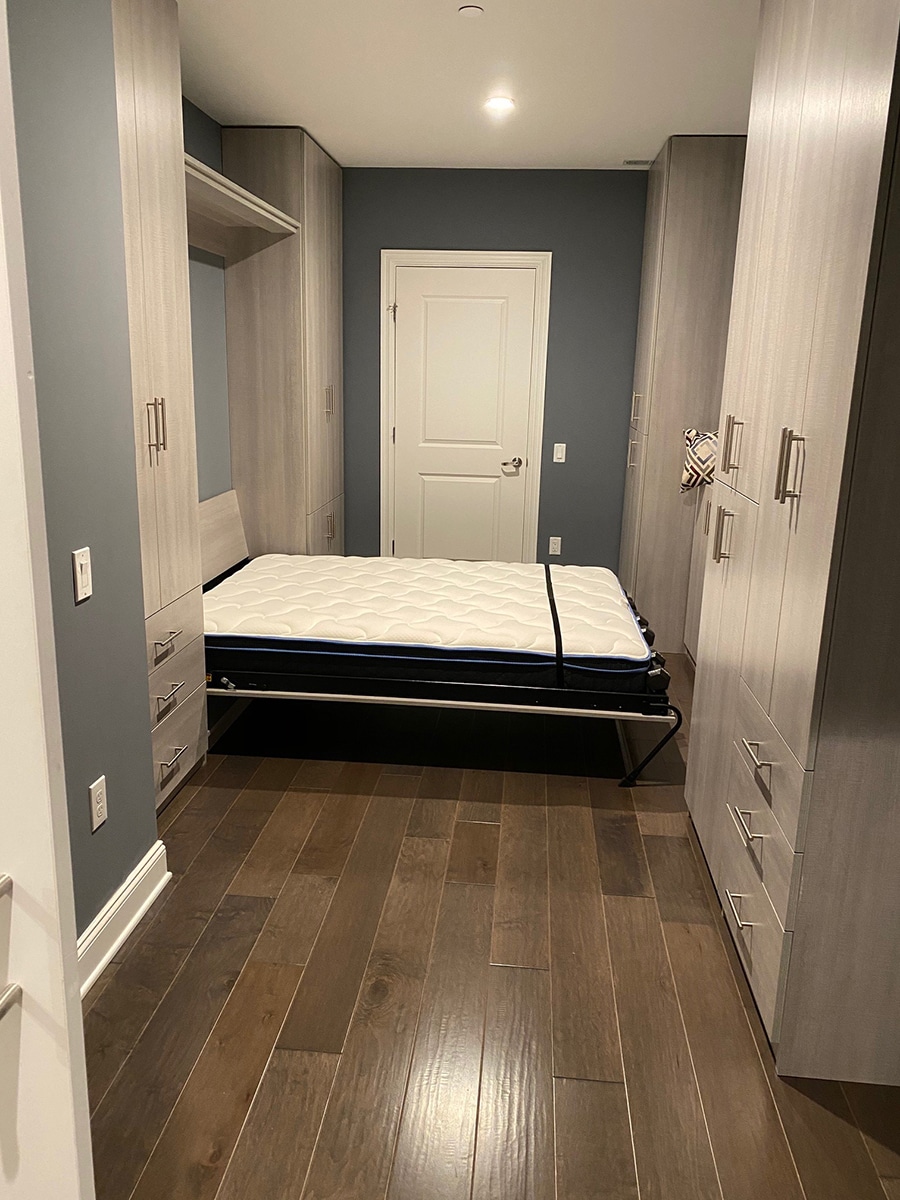 Smart idea #5 to get more out of your Murphy bed – Add a full desk
While the fold down desk in idea #1 is sleek and inviting, your home office needs may be more robust (and your desk may not be the minimalist 'experience' pictured on the front of office furniture catalogues).
OK – to be perfectly blunt, a fold down desk ain't gonna cut it for you. You need lots, and lots, and lots of filing cabinets, drawers, and desk space.
However, don't fear, with smart planning you can fit into a small guest bedroom not only the wall bed, but also a full-sized desk AND cabinets to boot – like you'll see in this picture from Valet Custom Closets.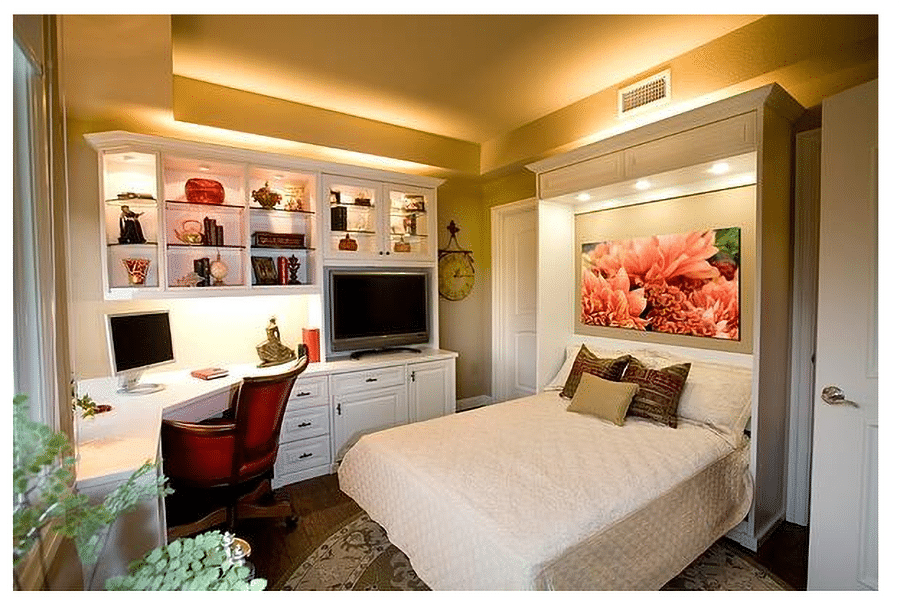 Now, how's that for smart space planning?
Smart idea #6 to get more out of your Murphy bed – Add a nightstand with drawers
While it's nice to have company over, you don't feel your being very hospitable if the only place they have to put their cell phone and duffle bags is on the floor. You want this space to look like a finished bedroom. You want your guests to be comfortable (OK – maybe not TOO comfortable if you're stuck hosting your crazy Aunt Harriett, but that's another subject). But how can you achieve this goal along and gain floor space with a Murphy bed?
Well, a smart way is to add a nightstand (with doors and drawers) at the side(s) of the bed. A nightstand provides a convenient place for a lamp, cell phones and additional household storage (and who has enough of that?).
And if you don't want to have a short nightstand – another way to make sure you have a shelf for a lamp, or cell phone is to add a pull-out shelf inside your side shelving units.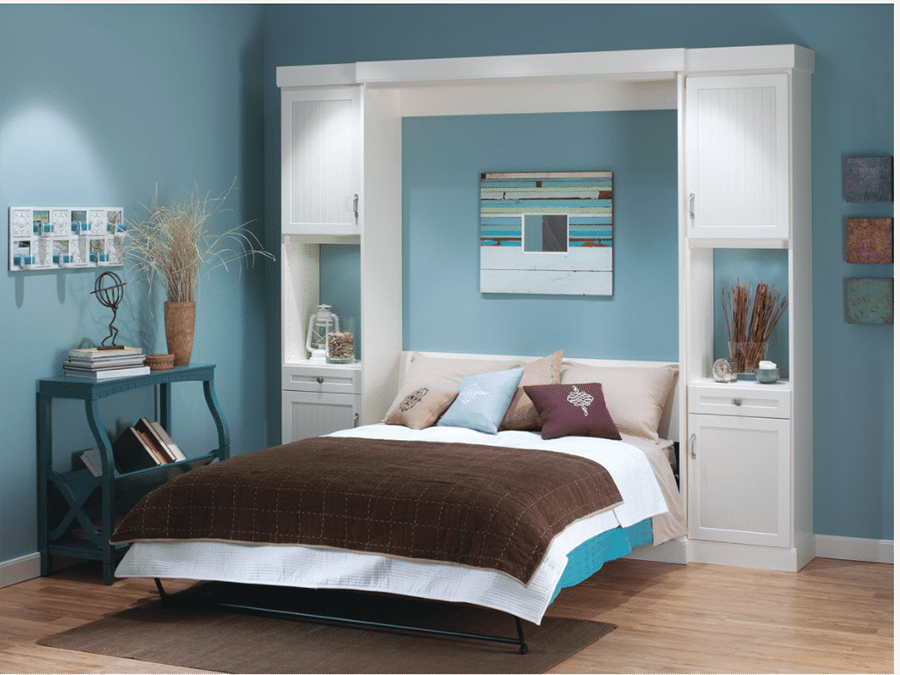 Smart idea #7 to get more out of your Murphy bed – Add lighting
This idea's not only stylish, but practical. If you're like many people, the overhead light in the spare bedroom isn't impressive (and doesn't exactly provide the best lighting either). And lighting in your loft – with its high ceilings – is challenging to say the least.
However, a smart way to combat this challenge is to add lighting within the Murphy bed. Use puck lights in the top of the beds framing or add lighting through a decorative top.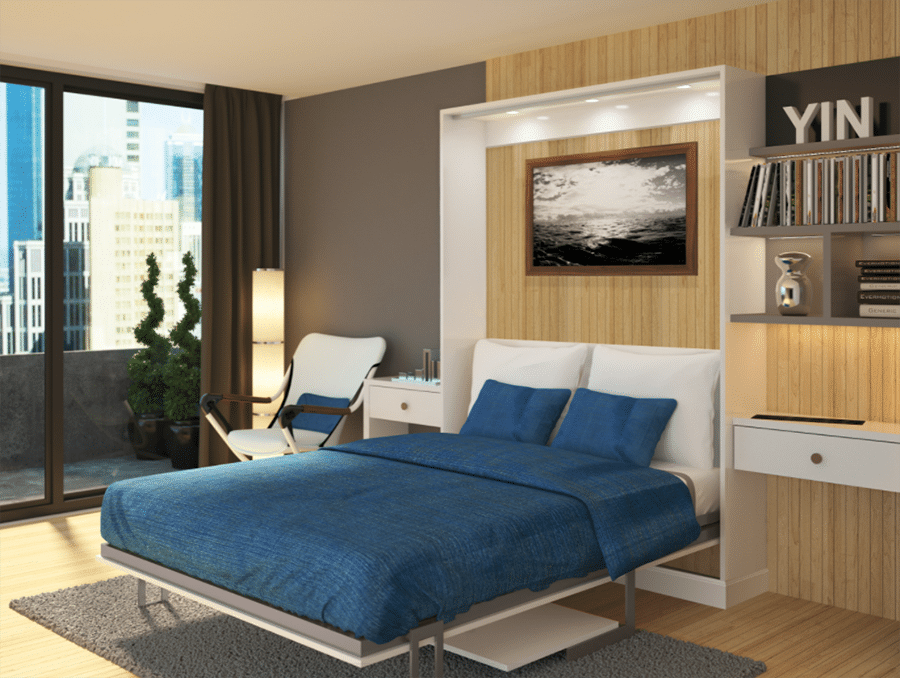 You – or your guests who like to read in bed – will appreciate this feature.
So, how should you add more function to your Murphy wall bed?
If the 'standard Murphy wall bed' is not your complete solution, I understand. Even though you may see basic DIY wall beds on the Internet you know you need more. You need storage. You need a desk. You need lighting and a place to put pillows. And you need someone to install this doggone bed (who guarantees it will work right). The bottom line is….
You need someone to guide you through the process.
You need someone to help you choose the right size Murphy bed for your space.
You need someone to maximize your storage and improve your lighting within the Murphy bed design.
And if this describes you – me and my team would love to help. You see if you're looking for a space saving bed in Columbus Ohio and want help my company Innovate Home Org would love to assist. Click for a Free 3D Murphy bed design or call 614-545-6888.
And if you're not in Central Ohio, never fear. In the comments below let me know where you live, and I'll refer you to friends in the bedding and home storage industry to help.
Thanks for reading – Mike
If you'd like more information on home organization, Murphy beds, interior design follow me on LinkedIn @MikeFotiLinkedIn.
---
Tags: Columbus fold down bed, Columbus murphy bed, Columbus pull down bed, Columbus space saving bed, Columbus wall bed, Columbus wardrobe closet, desk murphy bed Columbus, fold down desk in a bed, lighting a murphy bed, Murphy bed and a desk, nightstand around a murphy bed, pillow box in a Murphy bed, pull down bed, pull down bed Columbus, space saving bed, space saving bed Columbus