7 Steps to Create a Luxury Garage – even if yours is a mess today!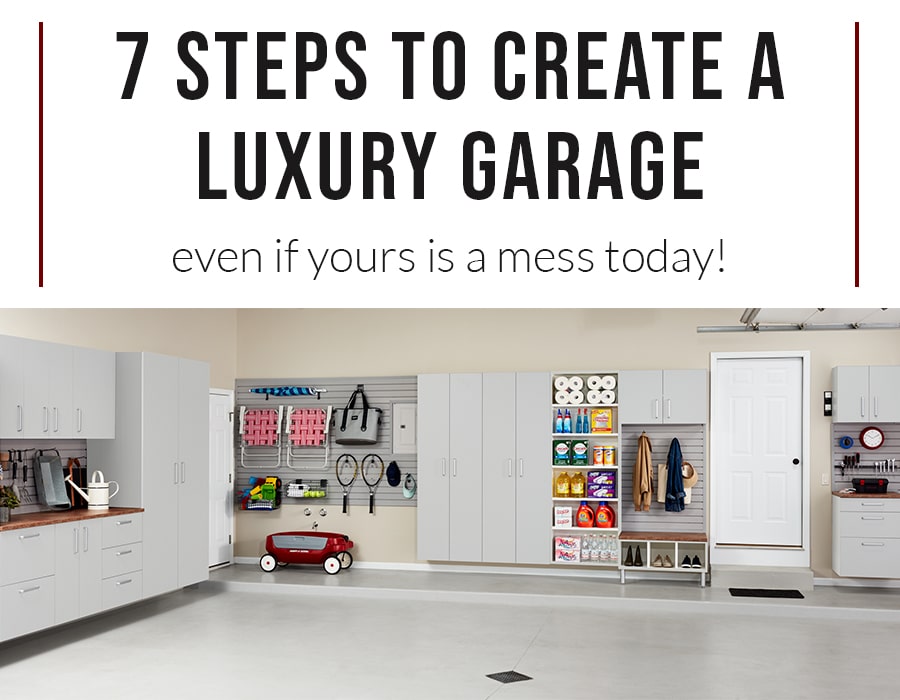 Do you HATE pulling into your garage? And yes, I'm assuming you have enough room to pull in – which may be a pipe dream. Boxes of holiday decorations are everywhere. Your kid's (largely unused) bikes are eating up the floor space, not to mention their balls scattered across the garage floor. And storage on your thin metal or plastic shelves is looking as 'organized' as your 15-year-old-son's bedroom – YUCK!
Oh, how you wish you didn't have to face your garage every day.
And then a thought came to you. What if you could have an organized garage system (and dare I say a luxurious one) you'd actually be proud to drive into? And since you've successfully remodeled your kitchen and master bathroom a few years ago, you're asking why should tackling the garage be the impossible dream?
The problem is you don't have a clue where to begin. You don't have a clue who(m) to call for help. You don't even know if your garage is deep enough or wide enough for a garage cabinetry system. And if this describes you, I get it.
In this article I'll show you a simple 7-step process to not only get your garage under control, but to make it luxurious, if you can believe that. Your garage DOES NOT have to be the red-haired stepchild of your home. It won't have to be a place you 'apologize' for anymore! Now, let's dig into the 7 steps.
Step #1– Do not resist the urge to purge
It doesn't take a crack detective to figure out how you got yourself into this mess of a garage. Every time you (or your spouse who can't throw anything out) didn't know where to store something, the same 'brilliant' idea came up.
Put it in the garage.
Now after years of reusing this 'brilliant strategy' your garage is 'stacked to the gills' (and isn't that a funny saying?) with boxes, tubs and sporting goods with an inch of dust on them.
And – quite frankly – to get your garage to 'evolve' into an organized state the process must begin with purging…and purging…and more purging.
And I know donating or discarding ANYTHING in the fear 'you might use it someday' can seem impossible to do. And if this describes you (or your spouse who won't throw anything out), it's best to contact a professional organizer (like those you can find in the National Association of Professional Organizers) to guide -or should I say drag you – through the process.
A wise person knows to get help when it's a task they can't do themselves.
Step #2– Work your way from the bottom ('er the garage floor) up
Your concrete floor sucks up spills like a sponge. It attracts dirt, dust, debris, and 'da-bugs' (hey- I thought 4 d's in a row sounded fun) you didn't know existed. And besides the cracks and unevenness are not a sight to behold.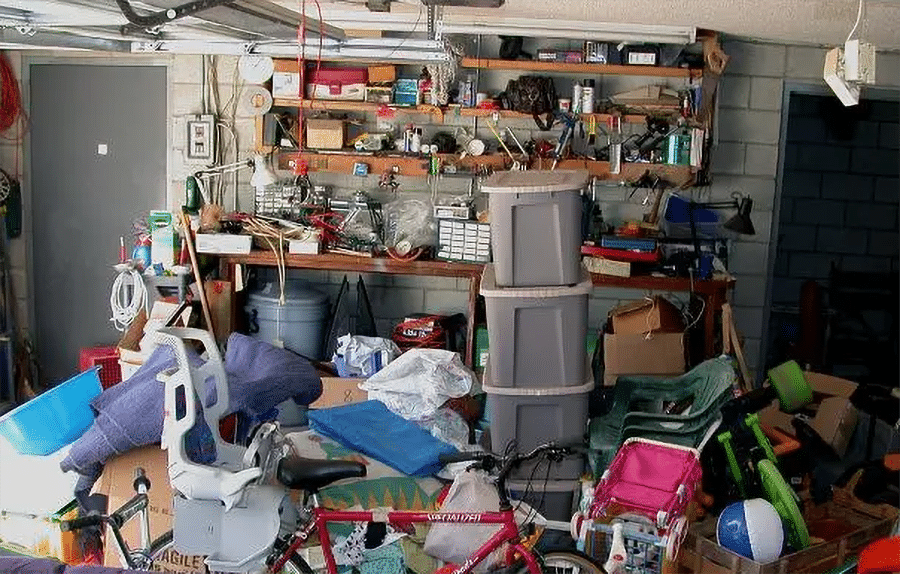 To get the finished 'man cave' or 'she-shed' you'd like, you'll need to start by making over your floor.
And while you can go to your favorite big box store and pick up DIY garage floor paint, I'll tell you from experience this 'cheap' approach will not serve you well. I remember trying a DIY garage paint system with my wife several years ago. We scrubbed and cleaned the floor. We applied the flex paint as directed. Within 1 WEEK it was peeling off! Ouch!
There are 2 proven (and professional) garage floor systems worthy of a close look. One is a smooth stain-resistant polyaspartic floor. It's far better than DIY epoxy floor paint and stands up to salt, hot tires and your kids motorized 'vehicles.' Many installers even give a lifetime guarantee.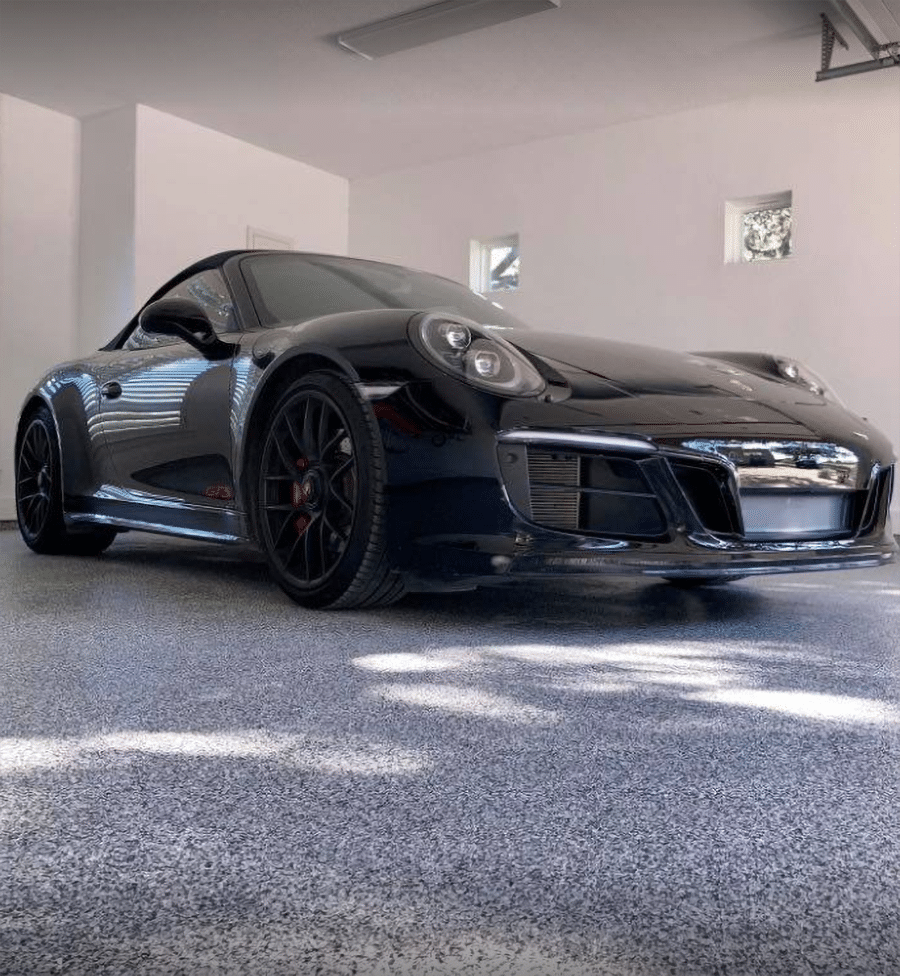 Image Source: www.encoregaragesanantonio.com
Another option are modular interlocking tiles. Create fun patterns. Get a 15-year warranty. Enjoy a garage floor you can brag about.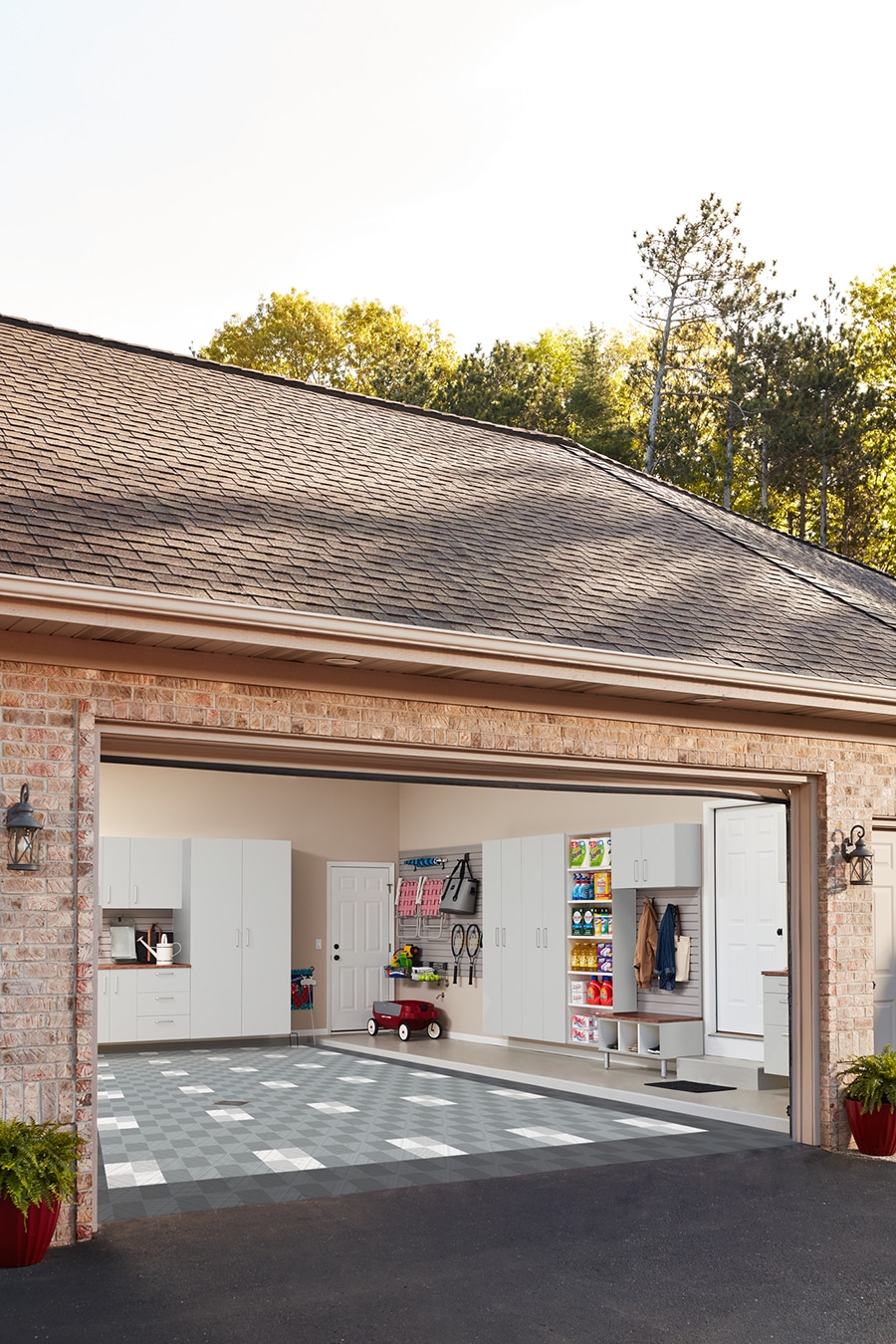 Step #3– Determine how you'd like to use your garage walls
To get the max from your garage walls you'll need to plan. The last thing you want is to buy garage cabinets only to find they don't fit your things. Or you can't open the doors of your SUV without banging a cabinet door.
First start with planning how you want to use the space. Determine which needs you're looking to fill with your new luxury garage organization system.
Are you looking for a workspace or place for hobbies? If so, including a workbench and for real luxury – a heater – is a welcome addition if you live in a cold climate like my very own Columbus Ohio.
Are you looking to create a man-cave to watch the Ohio State Buckeyes beat the team up North? If so – you'll not only need cabinetry (and possibly a fridge for 'adult beverages) but also outlets for your equipment.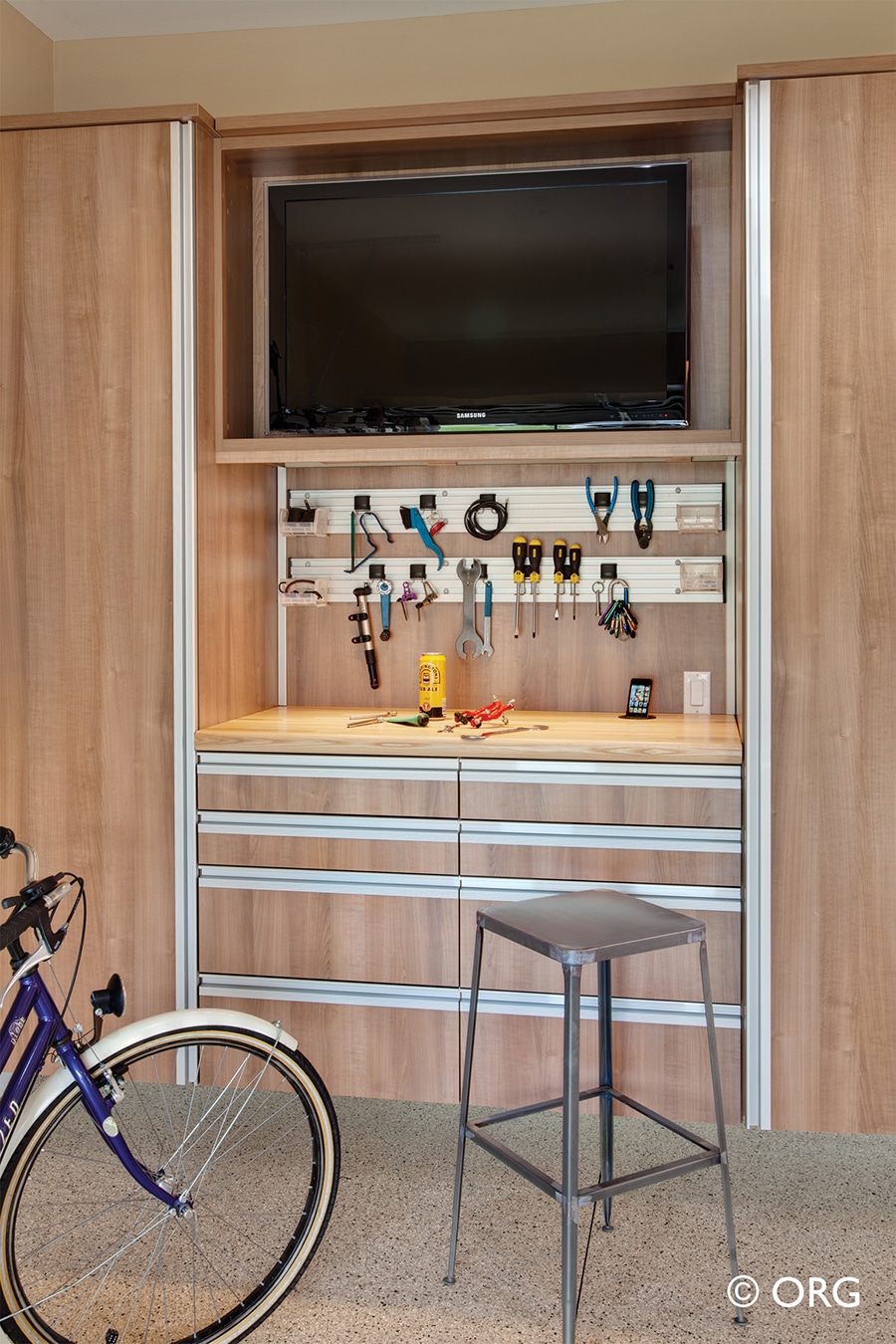 Are you looking to get rakes, shovels, and brooms off the floor, so you won't trip over them anymore? If so – you'll want a slatwall system.
Or are you desperately seeking storage space so you can – once again – park your SUV inside?
Don't do ANYTHING (or spend any money), until you have an overall plan for everything!
Step #4– Insist on a 3D garage design. Know where EVERYTHING is going
Perhaps you're not only NOT blessed (and yes, I know this is a double-negative) with ample garage space (as your small one car or shallow 2-car garage is a testament to), but your condo or homeowner's association also won't let you leave trash cans outside either! Your garage plan needs to not only include the cabinetry, workbench, and slatwall – but also where your cans, lawnmowers, refrigerators, and snow blowers will go.
Or perhaps your builder 'cheaped out' and played 'Honey I Shrank the Customers Garage' with a 19' deep floor plan (which barely fits your truck or SUV as it is). You don't know how you'll add cabinets on the back wall. However, you CAN make this happen with 'upper cabinets' so the 'nose' of your rig will fit under the cabinetry.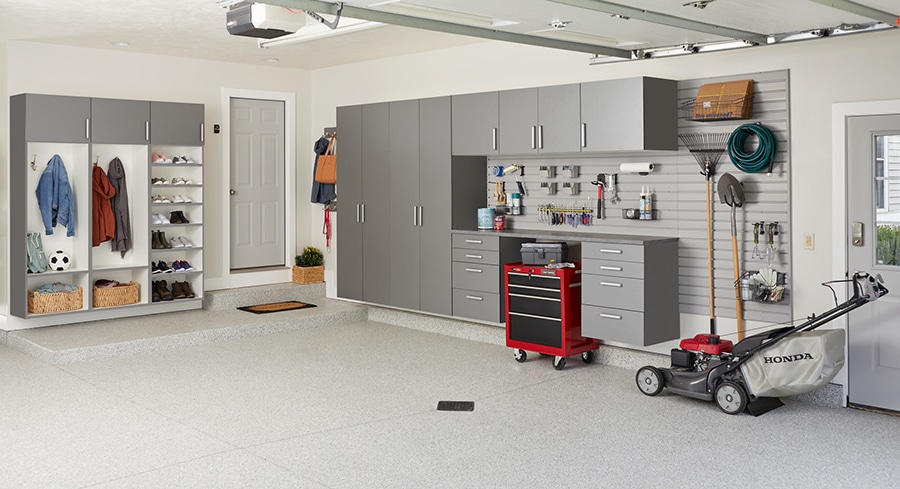 Or your garage is oh-so narrow, but still want to get the most from it. This could involve adding a thin slatwall system on your side walls.
Or you want a place to store the dirty, muddy, or grass-stained shoes you use in the yard. Wouldn't a garage shoe storage cabinet be a fantastic luxury?
No matter what obstacles your garage throws at you, a 3D plan (done by a garage design professional) can give you the roadmap (yes, that bad garage pun was intended) to a streamlined and thoughtful plan.
Insist on a 3D garage design to maximize every inch. 'See' your plan before blowing money.
Step #5– Determine if you want 'open shelving' or 'closed cabinets'
A significant cost in a garage organization design is cabinet storage. Not only do you need to consider if you want tall, base, or shallow upper cabinets, but you also need to determine if you want to 'see' the shelves (and the contents on them), or have your things hidden behind doors.
Basically, if you're on a razor-thin budget – and if visual clutter DOESN'T make you (or maybe more importantly your spouse) want to pull your hair out, open shelving will be the ticket. Since open shelves save money vs. full cabinets, they'll work for those with limited funds.
On the other hand, if you're looking for a luxury garage cabinet design for your Columbus home (or for your home anywhere in the country) the more expensive closed garage cabinets (which keep visual clutter from sight) is a must.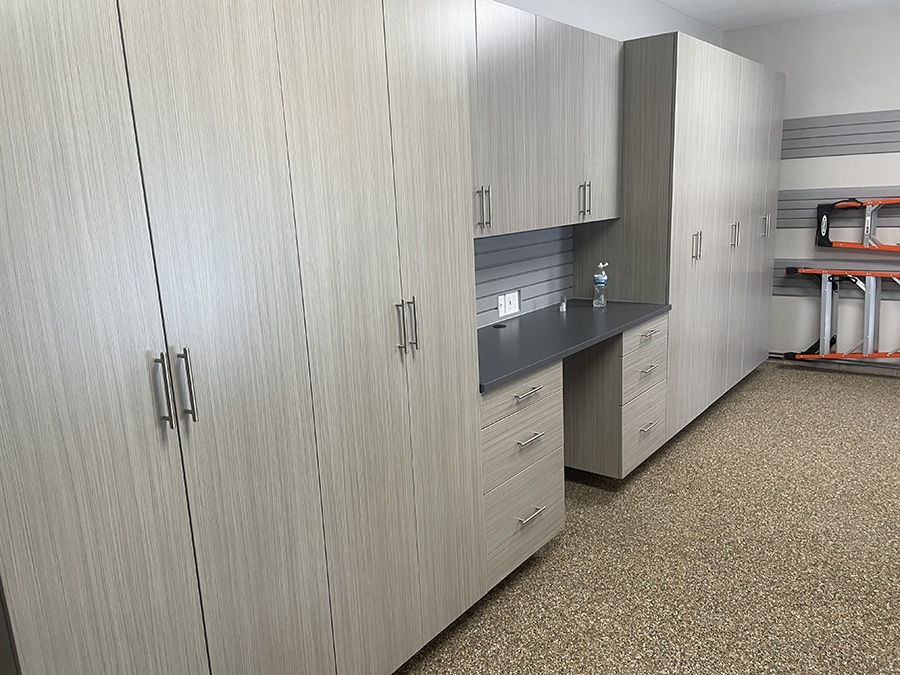 Step #6– Choose the right material for your cabinets and shelving
A luxury garage cabinet design WILL NOT use cheap plastic cabinets you grabbed on sale from your local home center. It won't use 'repurposed' kitchen cabinets with ½" thick shelves which worked for your drinking glasses and kid's plastic cups but are no match for jugs of windshield washer fluid, paint cans or 50 lb. bags of potting soil stored in the garage.
For heavy duty garage storage insist on either 1" thick thermally fused laminate garage shelving or a thick steel-framed system.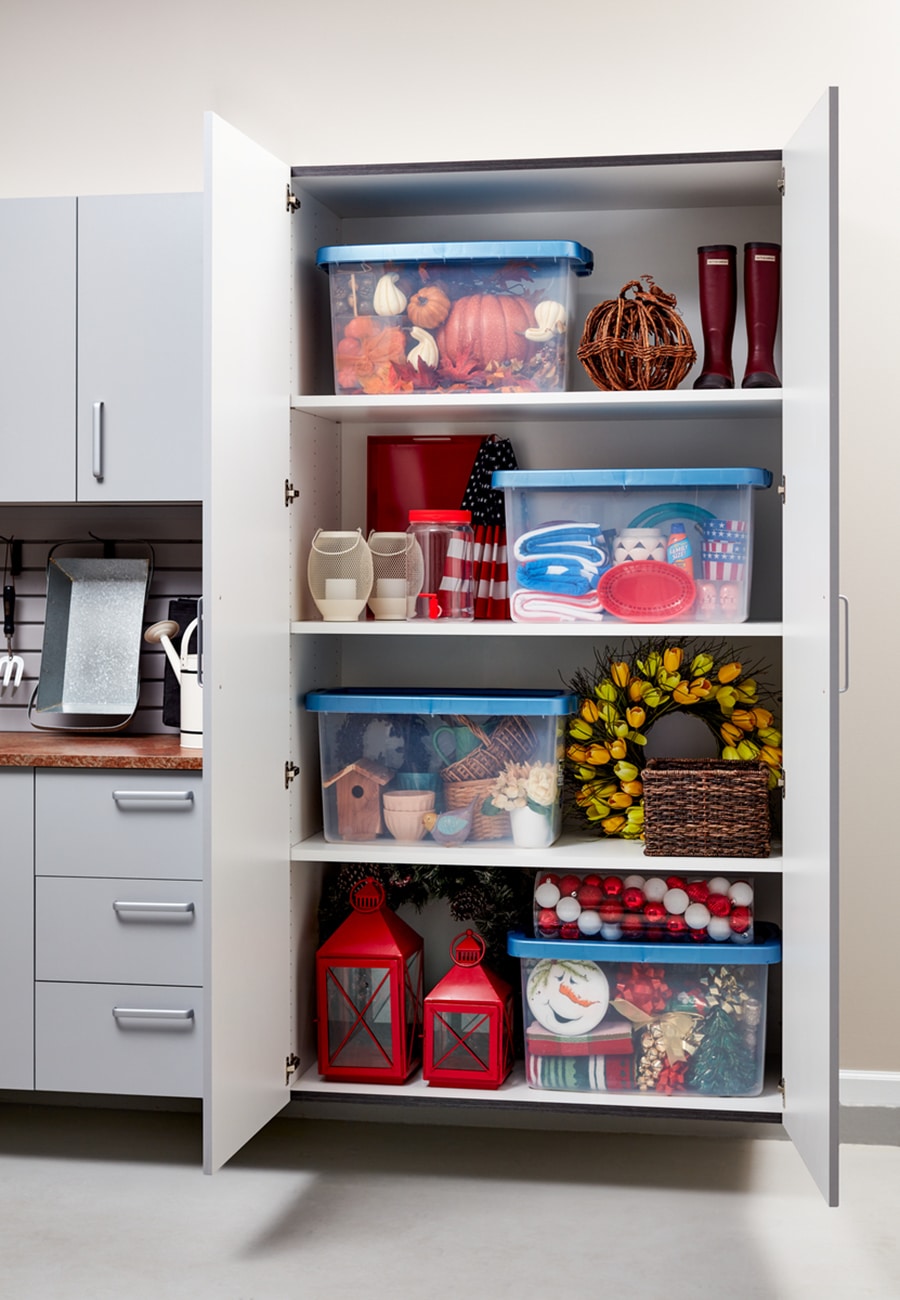 Step #7– Maximize shallow side wall storage
With the kids flinging open your SUV passenger doors and banging into 'God-knows-what,' figuring out a safe – yet effective – plan to use the side walls of your garage can be challenging.
Fortunately, a side-wall storage system (also called garage slatwalls) has evolved waaaay beyond the pegboard your dad used back in the day. Now with slatwall storage you can move and store rakes, shovels, and even Kayak's on the walls of your garage. Put storage high enough so the kids can't bang into things when they're in a rush to get out and get to their important video games with their BFF's.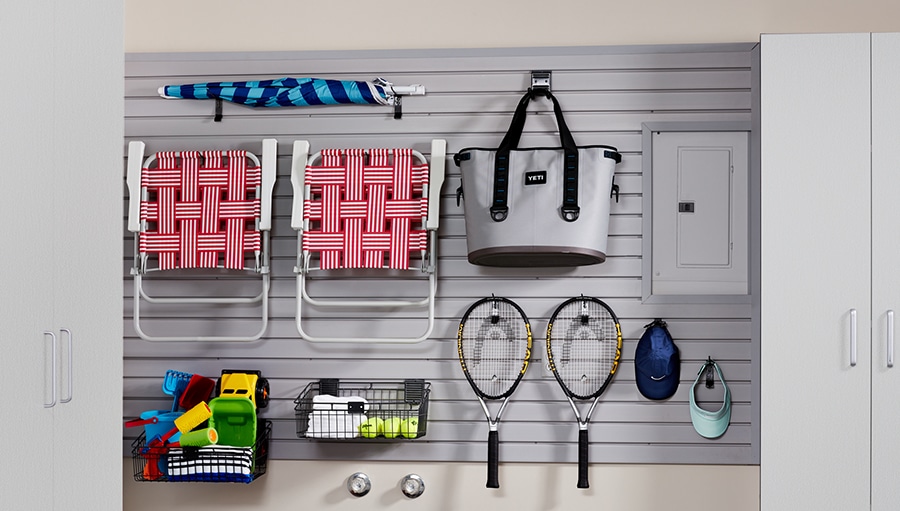 Side wall storage is an awesome way to add storage to a new luxury garage system – IF (and only if) it's strategically planned (see step 4 above).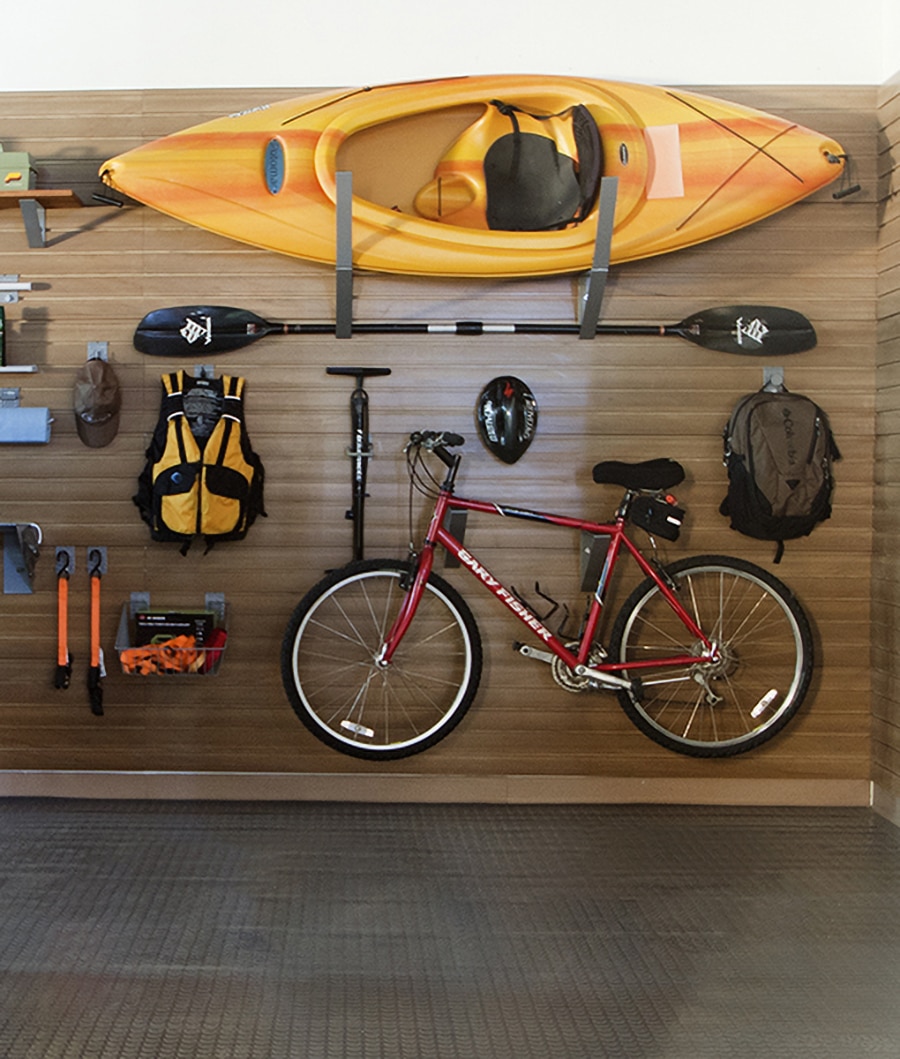 Do you need help developing a design for your luxury garage organization system?
If you're like most human beings (other than garage designers like me and my team), designing a garage IS NOT something you do everyday (or even every 20 years for that matter). Thinking through cabinet, workbench and slatwall details or where the trash cans, vehicles, lawnmowers, and refrigerators will go, is overwhelming.
So, if you're looking for a professionally designed and installed garage cabinet system in Columbus Ohio, my company (yes – this is where the shameless plug comes in – ha! ha!) would love to help. Call Innovate Home Org at 614-545-6888 or click for a Free 3D Garage Design. And if you're not in Columbus, in the comments below tell me where you live, and I'll try to find a friend in our home organization industry association to help you.
Thanks for reading – Mike
###
If you'd like more information on garage, pantry, entryway or custom closet design follow me on LinkedIn @MikeFotiLinkedIn.
---
Tags: 3D garage design, 3D garage plan, closed garage cabinetry., Columbus 3D garage design, Columbus 3D garage plan, Columbus garage cabinetry design, Columbus garage organization system, decluttering your garage, garage flooring, garage organization system, garage organization system Columbus, luxury garage cabinets Columbus, slatwall for garages