How to Use 7 Garage Storage Zones to Unlock Hidden Space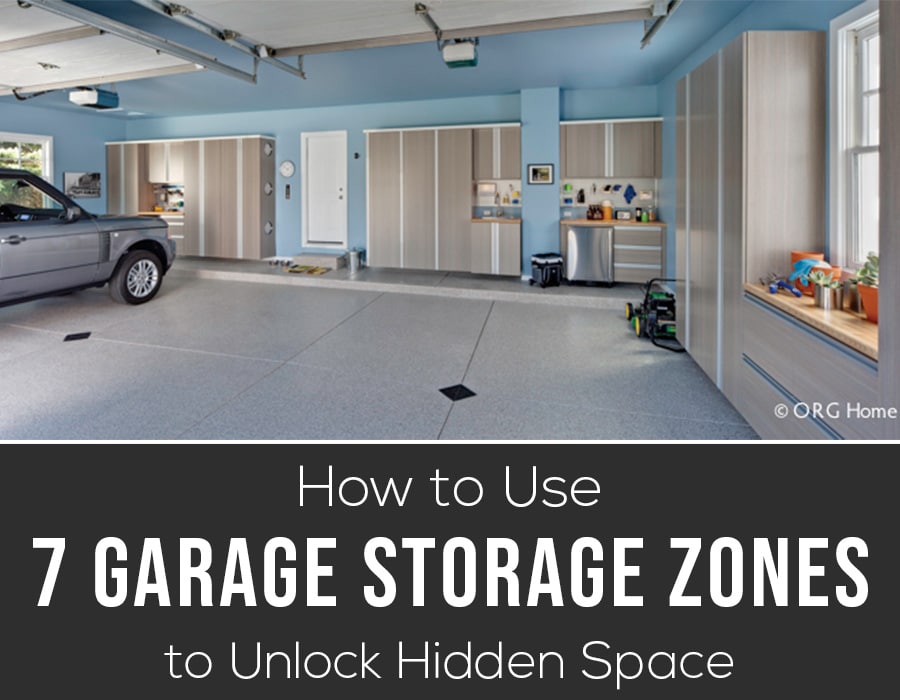 If you had a room in your home which was 22' x 22' or one that was 32' x 22' would you just jam everything against the edges of the room and call it "organized?" Probably not! Well you most likely already have this "room" which is commonly known as either a 2 or 3 car garage. This part of most homes is the "Rodney Dangerfield" area of the residence – it gets no respect. What if you could unlock some hidden garage storage with some organization zones?
Right now if you're like most people stuff is routinely dumped against the garage walls. The land of unused sporting equipment and seldom used decorations also call this space its home. Lastly if you're a toxic product (gas cans, oil, weed killing sprays) you'll feel right at home in this often cluttered mess known as the garage.
While what has been described above as the cluttered norm for a garage if you're strategic and thoughtful you can turn your Cleveland or Columbus garage into a "room" which actually works for you, not against you. All it takes is to "zone in" to create spaces within the garage to keep your things sorted and organized. Let's explore 6 standard zones and 1 "secret" zone to help you make sense of your garage today.
Set up #garage zones to claim your hidden storage space.
Click To Tweet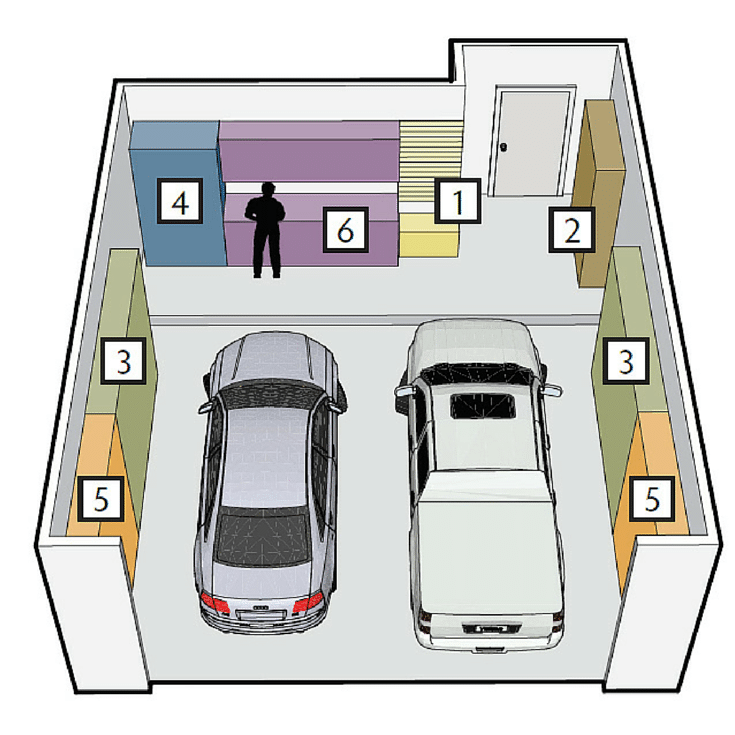 Zone #1 – Welcome home transition zone
Even if you don't have a specific entryway or mudroom with proper planning your garage can perform this function. Add a bench seat to take off muddy boots, work shoes or sneakers. Add some storage wall products and hooks and you've got a place to hang up school bags or coats before entering your home. Locate this zone as close as possible to the door going into the house.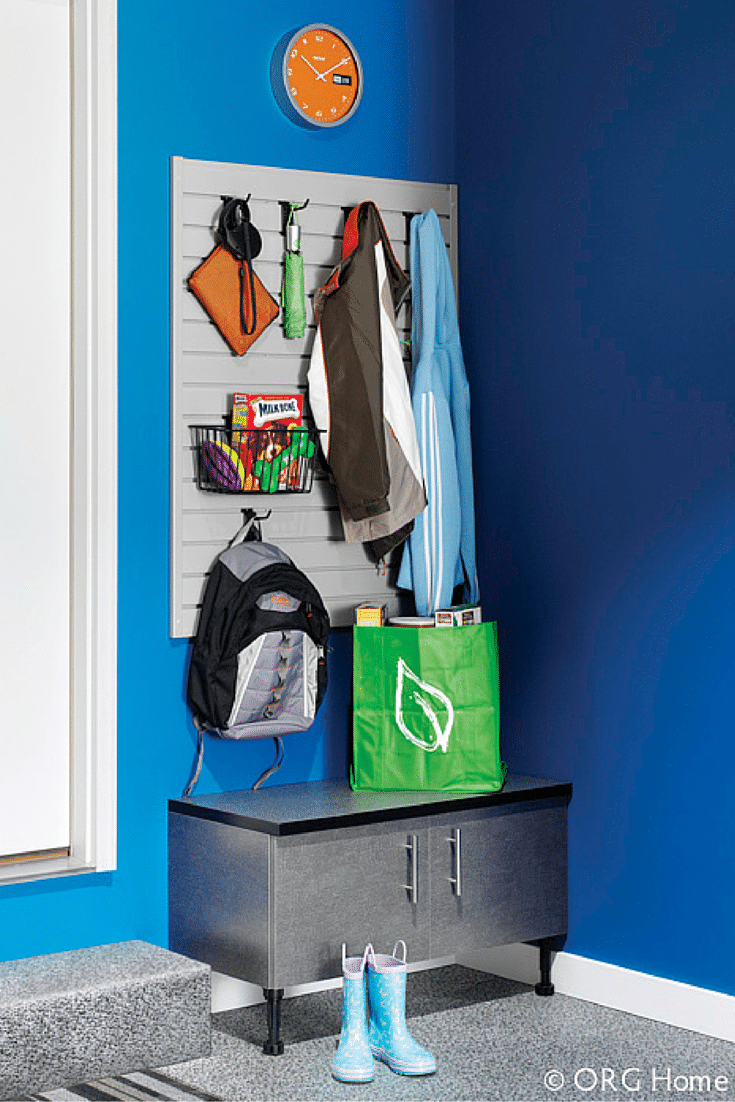 Zone #2 – Bulky garage storage and recycling center
Don't you wish you had more storage for cases of pop (OK, now you can tell I'm from the Midwest with the used of the word pop) large bottles, mops, brooms or to store away those "oh-so-beautiful" recycling bins? This can be a reality with the use of 16" to 23" base or garage storage cabinets by your door entry. If you want to get really fancy add spring loaded recycling doors so you don't even have to step onto to the garage floor to organize your items for recycling.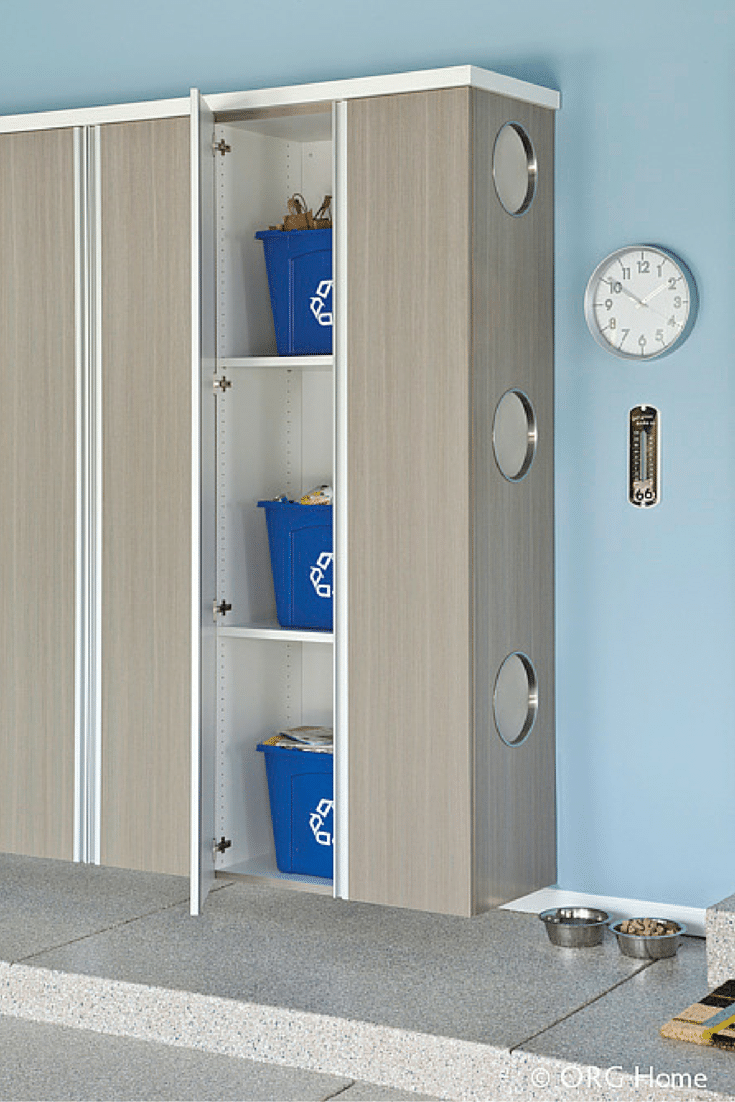 Zone #3 – Thin and thoughtful – hanging storage wall by the car doors
The tightest area in all garages (whether they are a one, two, three or even a four car garage) is the distance between your car and the wall where you open your car doors. Although this area is tight there is no reason it can't be effectively used. Add a thin storage wall system to hang your bikes, ladders, rakes or shovels. This is not only an efficient use of space, it will ensure you don't trip or knock over these items into your cars, SUV's or trucks.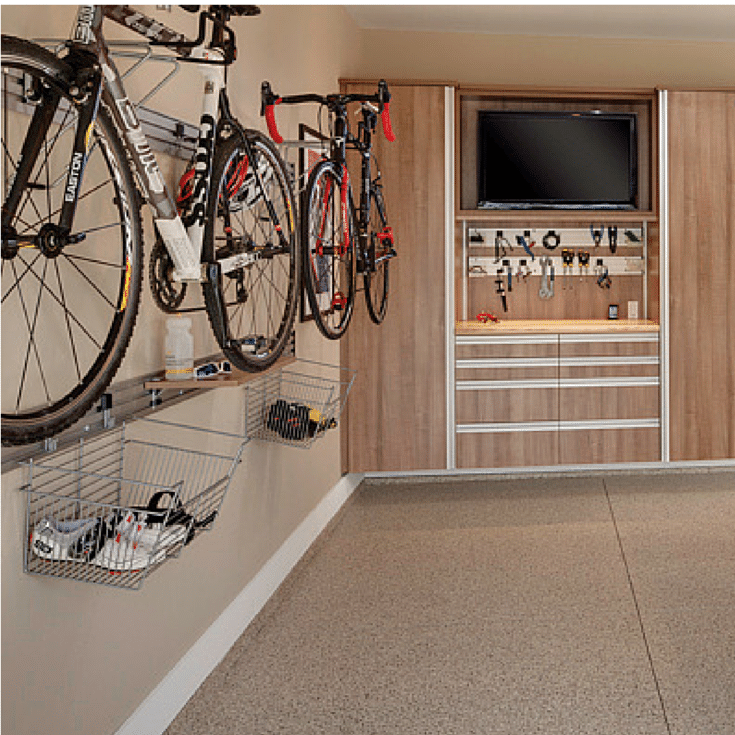 Zone #4 – Larger bulky storage for seasonal and infrequently used items
Maybe you have bins filled with seasonal sporting equipment, hunting gear for your next trip to the Woodbury Wildlife Area, or even massive amounts of outdoor Christmas and Halloween decorations your kids coerced you to buy. For these items 23" deep garage cabinets can keep things neatly stowed away – but also easily accessible.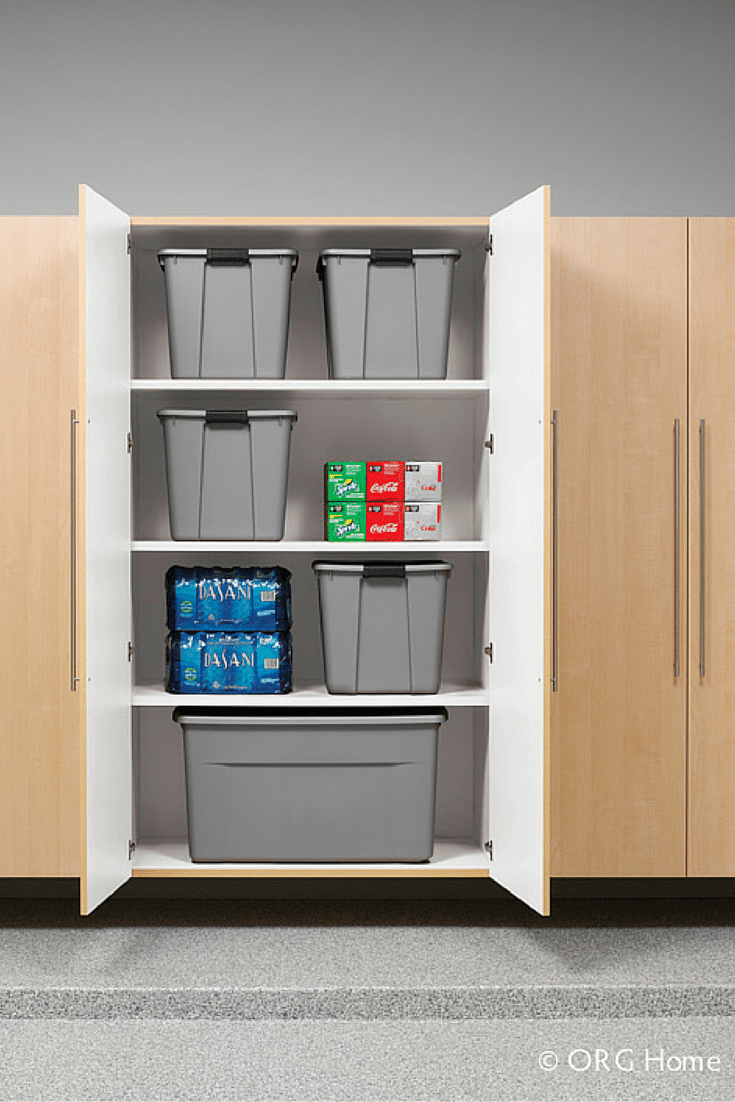 Zone #5 – Frequently used items outdoor items near the garage door
For those items you use a lot outside you'll want to locate them close to the garage door. Depending on the depth available on the side of your garage walls you can either choose 12" deep upper cabinets or up to 23" deep base garage cabinetry. For sports enthusiasts you may want to add some storage baskets for your favorite footballs, basketballs or volleyballs. You can also consider concealing your rakes and shovels inside these cabinets.
Put frequently used items (landscaping & sporting equipment) closest to your #garage doors.
Click To Tweet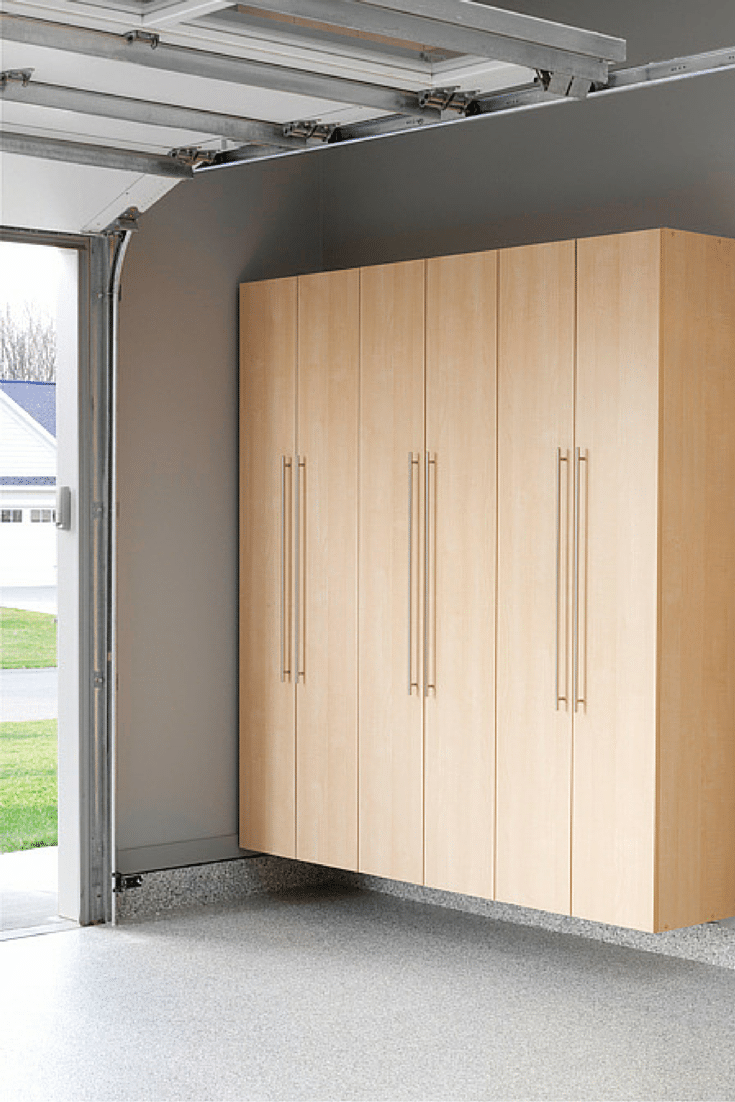 Zone #6 – The garage workbench
OK gear-heads and hobbyists this zones' for you! Wouldn't it be great to have an organized workbench to work on your classic cars, woodworking projects for your grandson or just a place to fix the weed wacker which broke? In addition to having a professional grade butcher block work surface a workbench also can have drawers to beef up your storage. These drawers can have dividers so you don't have to play the of-so-frustrating game of being "in search of" a screwdriver, nut or bolt. If you really want your buddies to be envious add an entertainment or beverage station to this workbench zone.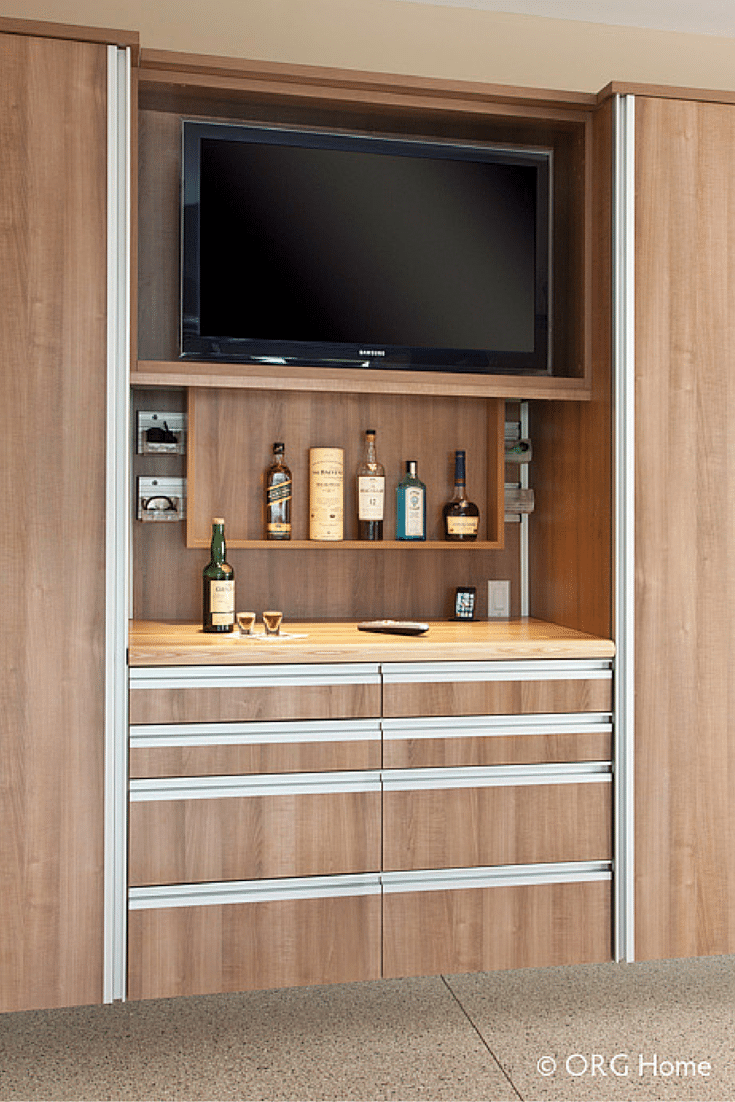 Bonus Zone #7 – Look up – your ceiling storage is waiting
While it is logical to look to the wall areas to gain storage, ceilings are prime (and often unused) cubic square footage. This space is best for bulky seldom used items like kayacks, suitcases, or a rooftop cargo carrier. Ceilings can be critical to use if you have a slab home which doesn't have basement storage.
Conclusion
Does your garage today look more like the Twilight Zone than an efficient and effective storage room for your home? Start segmenting your garage today (or get help from a Columbus garage designer) into these 7 work areas so your garage can start to work for you and not against you.
###
For help with a Columbus garage storage project call Innovate Home Org in Columbus at 614-545-6888 or in Cleveland call 216-658-1290.
Follow the author @Mike_Foti or our companies' @InnovateBuild and @InnovateHomeOrg on Twitter.
---
Tags: Columbus garage, Columbus garage storage, garage cabinetry, garage clutter, garage makeover, garage storage, New Albany garage, overhead garage storage, storage, storage zones, Westerville garage storage, workbench in a garage