How to Solve the Top 7 Garage Organization Problems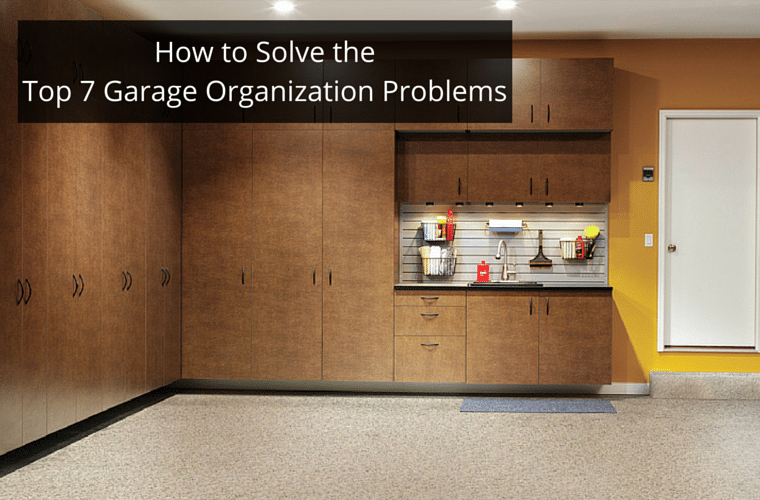 Hazardous, frustrating, non-functional, messy, bug infested and downright nasty – if these words describe your garage you're not alone (as a matter of fact you're in the majority of homeowners). The garage can become the "drop zone" for all varieties of unwanted and infrequently used stuff. Garden tools, holiday decorations, sporting equipment, unused car parts, small random pieces parts of all kinds can find their "final resting place" in the garage.
How can you rid yourself of the clutter which has eaten your garage and gain enough room to move the cars back in again? What steps or garage organization products can put you in the "driver seat" (sorry for the pun) to eliminate cluttered or a dangerous garage? Let's take a look at the top 7 garage organization problems and storage products to lick these challenges once and forever.
Garage problem #1 – The toxic wasteland – anti-freeze, gas cans, paint and solvents you don't want your kids to get into
It makes sense to store anti-freeze, oil, gas cans, solvents or if you're in Columbus cans of scarlet and gray paint for an upcoming remodeling project in your garage. Many of these products are flammable, dangerous for your kids and shouldn't in the house. If these items are lying on the floor in the garage or in cheap DIY units buckling under the weight the time has come for a new organizational strategy. One effective way to eliminate the toxic wasteland concern is to store these items in garage cabinets on upper shelves. If you really want to get the safety gold star put a lock on the garage cabinet door.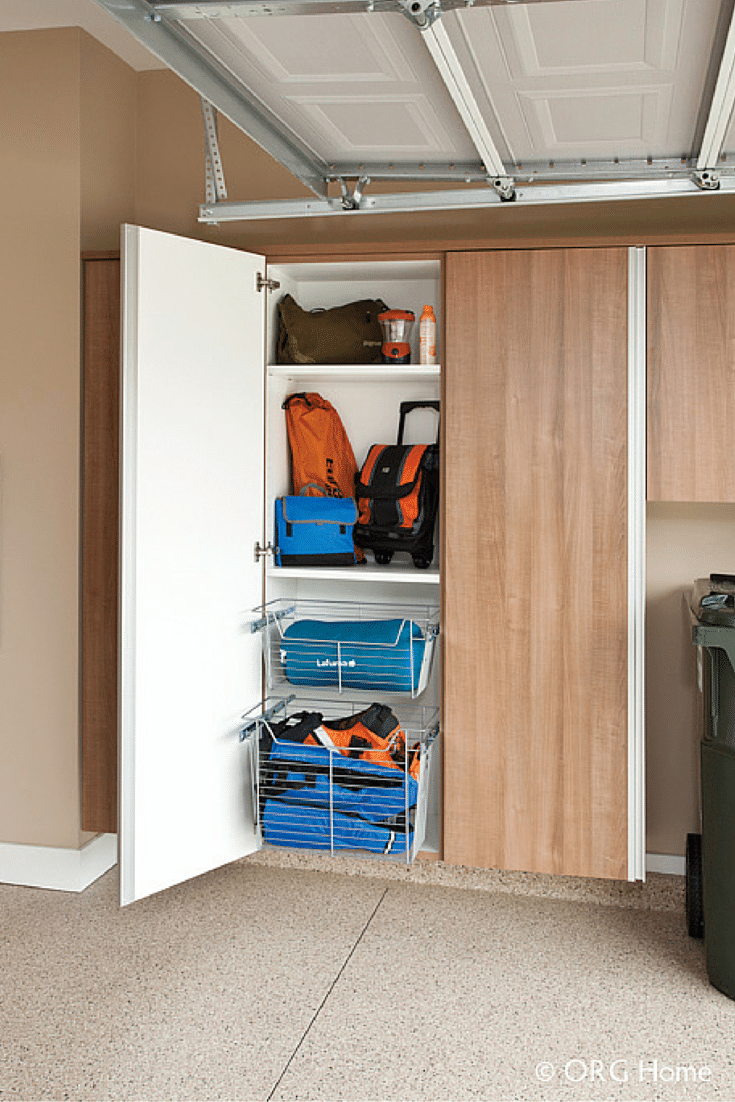 Garage problem #2 – Do sweat the small stuff – finding a way to organize the small pieces parts you go nuts trying to find
You're getting really angry. You've been looking high and low trying to find the right bolt, screw or Allen wrench to complete the repair on your "honey to do" list so you can get onto the important stuff (a tee time with the boys in Dublin at Muirfield).
Finding small parts and tools can be a time consuming and frustrating process….but this pain in the rear can (and should) be eliminated. Here's the secret – an organized workbench. If you put a workbench in the garage with drawers with divider trays you'll know where things are at.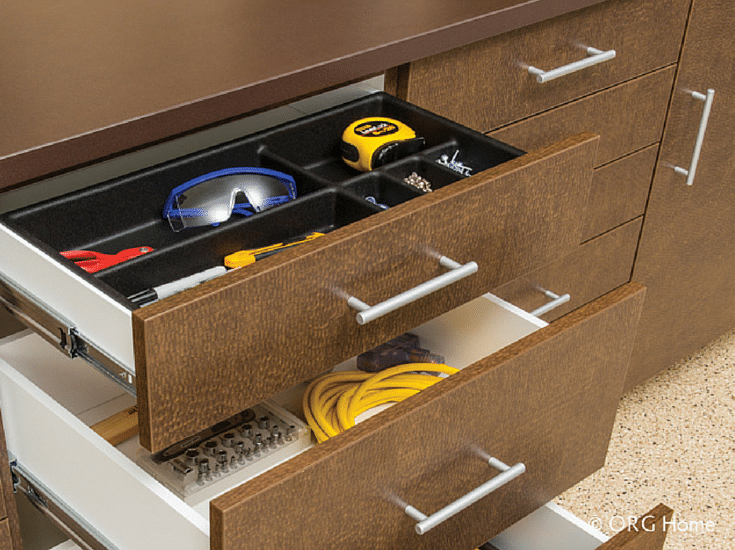 Another alternative option if you don't want or need a workbench is to use small bins in a garage wall storage system. Either way you'll know where to find stuff so you'll be on time teeing off!
Garage problem #3 – "Honey – our stuff ate our parking places" – decluttering the garage so you can get the cars back in
Hopefully this is not you – but for many people the garage storage problem has become so extreme the garage has so much junk you can no longer protect your car from the elements because there is no room to bring it in. In this case use this 5 step "extreme garage makeover" process (note – in the short run you're neighbors may see you as a bit of a junkyard dog):
Step 1 – Get your stuff out – Literally take everything out of the garage.
Step 2 – Organize by type – So you can see what duplications you have and what can be discarded it's a good idea to sort your things by type. Put gardening, camping and sporting gear, decorations, car products and tools into different areas on the lawn and driveway.
Step 3 – Donate, trash, and move to another spot in the home – Take the piles you created in step 2 and make a new area for things you want to donate, trash or move to another spot in the home (the items left from the original step 2 piles will be what you will move back into the garage).
Step 4 – Invest in baskets, plastic storage bins and labels – Creating a compartmentalized system to keep common items together will make keeping your newly organized central Ohio garage a showpiece (OK this may be going a bit too far!) and neat over the long run. Go out and buy plastic storage bins, labels or invest in quality garage cabinets with slide out baskets. These products will give you the "system" to keep things in their place.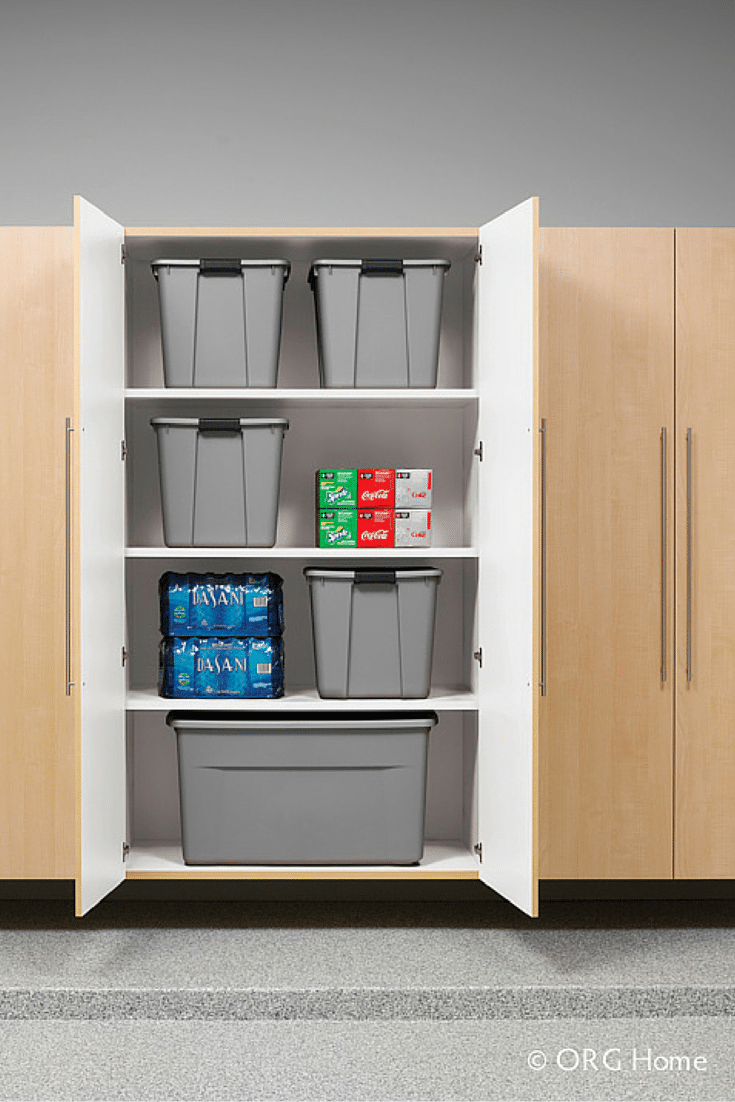 Step 5 – Move the stuff back in – This is the step you (and your neighbors) will love. Take your bins, and commonly grouped (and significantly paired down) things and move them back in. Now you're no longer the neighborhood junkyard dog!
Garage problem #4 – "Can't you work on that project outside?" Creating a place in the garage to cut, saw and tinker
Have you ever heard your wife or significant other complain about tracking through the house with a wood or metal part you cut in the basement and say, "Can't you do this project elsewhere?" Wouldn't it be cool to be able to do this project in your garage?
A way to liberate yourself from tracking sawed off parts is to install a garage workbench. They can be equipped with either a butcher block or laminate countertop and will keep the mess outside and make for a happier spouse.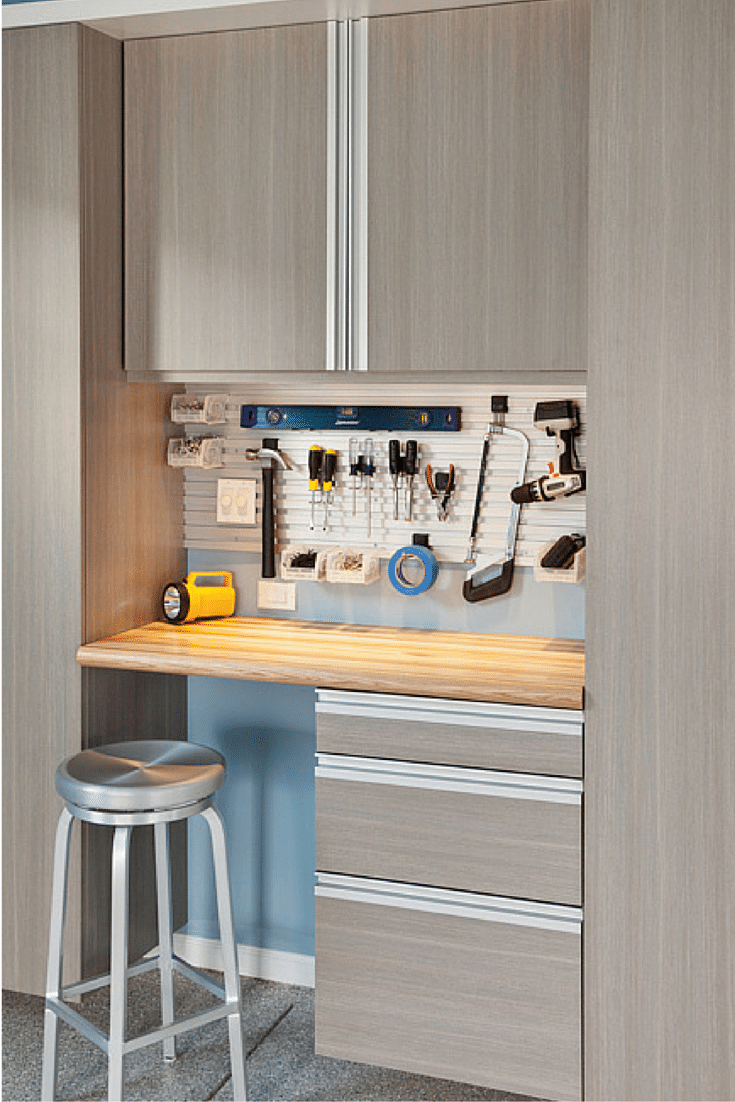 Garage problem #5 – "Rumbling, fumbling and stumbling" – the challenge of tools, ladders and bikes on the garage floor

Who hasn't knocked over a bike on the garage floor (hopefully not into the door of your brand new car) or stepped on a rake or other errant tool? In the garage I think we can all relate to the words of ESPN's Chris Berman about "rumbling, fumbling and stumbling" through our garage. There is a simple way to get rid of this problem. Use a pegboard or garage storage wall system you can safely and securely get items off the floor and also not have to worry about the consequences of them toppling over on your brand new sports car or injuring yourself.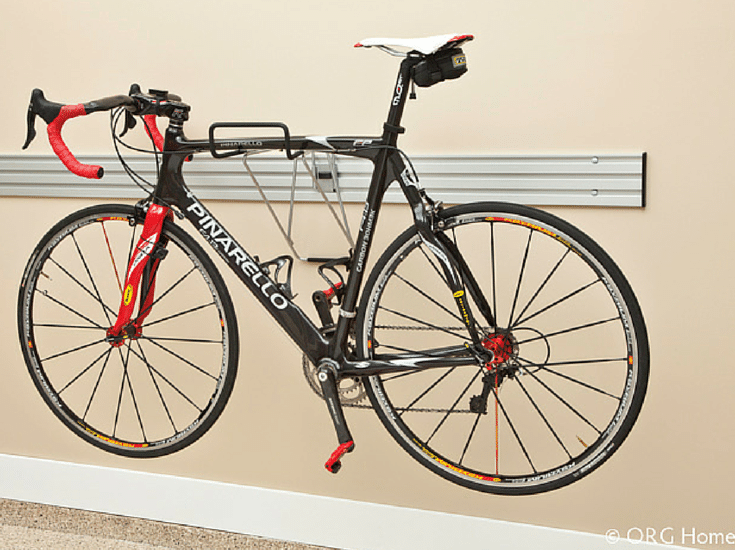 Garage problem #6 – The big, the bad and the bulky – Items you rarely use which take up too much garage floor space
It seemed like such a good idea to buy the kayak or ski poles last year but you just never seem to get around to using them. They are a major pain to tip toe around in the garage. Since the basement is full where can you put them now? The answer could be to think up and use a garage overhead storage solution (i.e. the ceiling). This will get bulky infrequently used items safely stored away and not in your way every time you open the car door.
Garage problem #7 – Bug infested….the nasty garage floor
The garage floor is scummy and nasty and when you start cleaning it you end up seeing bugs you never even knew existed. What can be done to fix problem? Instead of going to Home Depot and getting one of those DIY floor coating systems which wear off a week after they have been put on (I know this problem from personal experience – see below) think about hiring a garage floor company to add an epoxy or polyurethane floor coating system. This gives your newly organized garage a fresh, clean and polished look.
Conclusion
Yes – the garage is often the "Rodney Dangerfield" of all of the "rooms" of the house (many people don't even consider it to be a room). Imagine the benefits of improved and increased storage and the ability to get all your cars into your garage!
If you want a free design consultation on a Columbus garage storage system (even if you live in New Albany, Powell or Westerville) call the numbers below or comment for some tips to get you on the road to a better garage.
###
For help with a Columbus garage cabinets call Innovate Home Org in Columbus at 614-545-6888 or in Cleveland call 216-658-1290.
Follow the author @Mike_Foti or our companies' @InnovateBuild and @InnovateHomeOrg on Twitter.
---
Tags: Columbus garage, Columbus garage organization, Columbus garage storage, garage cabinetry, garage clutter, garage makeover, garage storage, garage work bench, New Albany garage, overhead garage storage, Westerville garage storage, workbench in a garage