6 Awesome Tips for a Custom Walk in Closet Island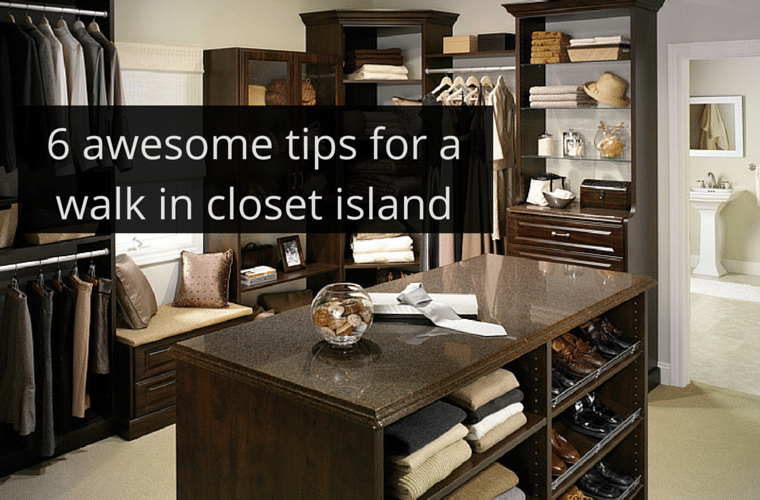 When you think of an island what comes to mind? If it's a tropical island it might be peace, tranquility, relaxation or if you're like me it's the sound of the steel drums. With a kitchen island it might be the laughter of your family or friends enjoying each other's company with the smell of your perfect lasagna baking in the oven (OK –now you know I'm Italian!).
Now when you think of an island for a walk in closet what comes to mind? If your mind went blank or have a funny and puzzled look on your face imagining a closet island you're not alone. Many people aren't even aware you can put an island in a closet or what this feature should look like if it is included in a closet design.
If you want a glamour closet or just one which functionally does the job of organizing your clothes, shoes and jewelry – an island can be a welcome addition to your closet. Now is the time to embrace, enjoy and create spaces (and a closet in this case) which bring you joy, a sense of peacefulness, tranquility and belonging. This is where a closet island comes in.
Let's take a look at 6 tips which can transform your tired and messy walk in closet into a space you actually enjoy using.
Tip #1 – Have a vision – go beyond closet to a dressing room
The word closet just feels mundane – basically it's a room with a bunch of clothes stuck on rods, shelves and shoes on the floor. To have an inspirational room think about how your clothes and shoes can be "displayed" (not just stuck in there) like a high-end retail store. Look to create a space which highlights the favorite pieces in your wardrobe vs. a jam-packed closet where your clothes (if they could talk) would be begging you to give them more space.
'Who wants a #closet when you could have a dressing room?'
Click To Tweet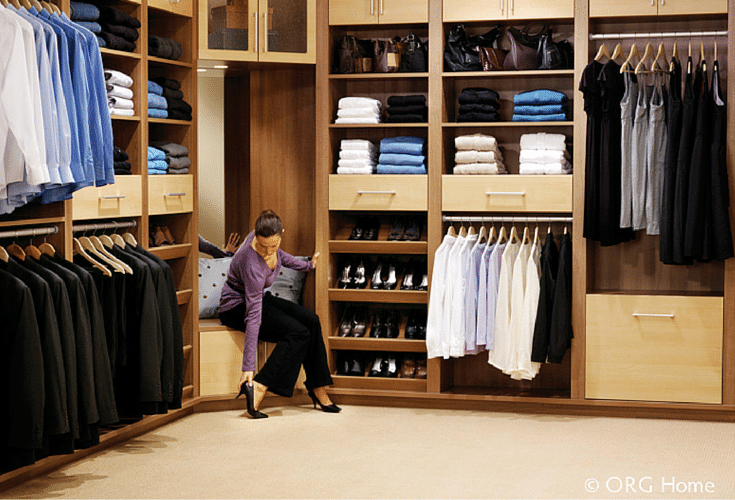 An island can serve as an excellent place to add more drawers, have a conveniently place for your favorite shoes or to set out your wardrobe selection for tomorrow. However you need to know that before you can realize this glamorous vision or a custom closet with an island there is a big BUT! What is that big but?
To convert your existing walk in closet (especially if it's anything like my current closet) to someplace special it will need to undergo a major purging first. Use the advice of "tidying" expert Marie Kondo and pull each category of clothes out of your closet one at time. Hold them in your hand – and ask "does this garment give me joy?" If not – donate or discard it immediately. Even with the best vision or closet organization system if you have too much clutter an awesome or glamourous closet just isn't happening.
Tip #2 – "Don't try to fit 10 lb. of s*** into a 5 lb bag" – allowing enough room for a closet island
I still remember my Dad using the phrase above to drive home the point to not to force too many things into too small a space. The same logic is true for a closet island. Allow at least 24" around the island to have enough room to walk around and pull out any drawers you might have (note – 36" is best to fully extend your drawers). If you're designing a roll in closet for someone in a wheelchair allow 36" between the island and the clothes and cabinetry on the perimeter walls.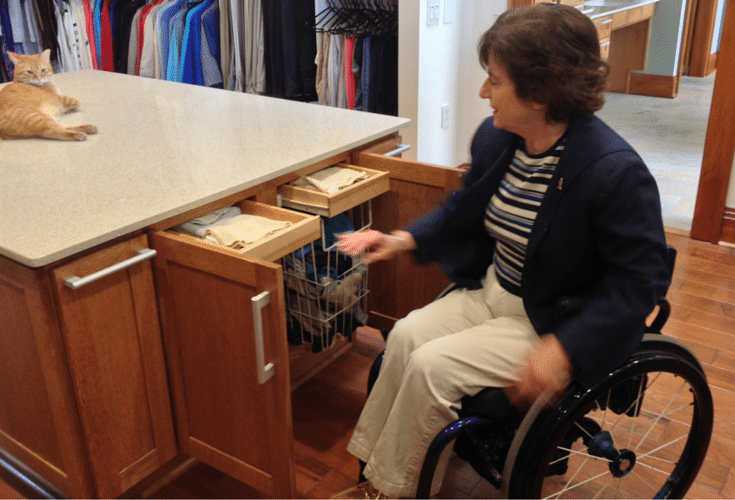 Tip #3 – Shelf spacing – don't get too spaced out
There is nothing more frustrating than wasted space in a closet. Since most folded shirts and blouses require 12" of width it's best to space out your shelves either 12, 24 or 36" apart (if you use a dimension like 18" you'll have 6" which is not well utilized).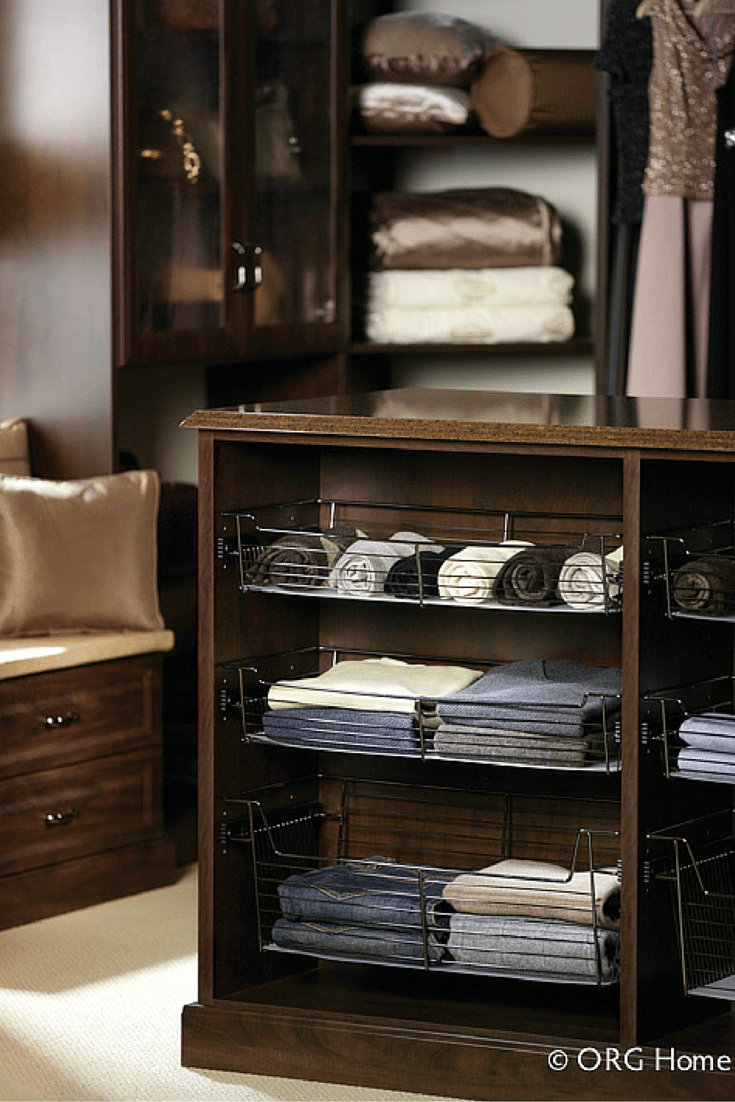 Tip #4 – Will it blend? Designing your closet to respect its surroundings
OK – you've seen a cool looking modern minimalist closet in Architectural Digest you just love – but your bedroom and home style is traditional. What do you do? Since your master closet should be a natural extension of the adjoining space it's best to choose closet cabinetry drawer fronts and styles which fit with the surrounding areas.
'Choose #closet cabinetry which blends with the adjoining rooms and home.'
Click To Tweet
Fortunately there is a wide range of styles to choose from. For example if you're looking for European style cabinets for your urban loft style in the Short North or Victorian Village you're in luck. On the other hand if you want to compliment a newly renovated traditional home in Upper Arlington or Bexley an Arch or Shaker style or more traditional style closet system will look best.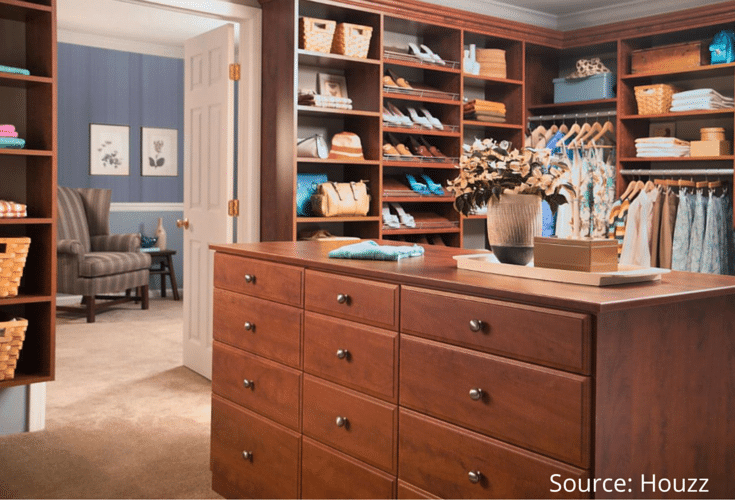 Tip #5 – Design with your comfort in mind – determining the height of the closet island
What is great about islands is they provide a place to set out clothes for tomorrow, an area to sort and fold laundry provide a surface to display a piece of art which brightens your day. You'll make this feature shine by carefully planning the heights of the countertop and toe kicks (this is the area above the floor where the cabinetry starts). The two most common countertop heights used are 36" and 42".
However if you're designing for a family member in a wheelchair you'll want to do two things. First, drop the standard height of the counter to 32" above the floor and increase the toe kick area under the counter to 9" so a wheelchair can roll up under the island easily.
Tip 6 – Counter(topping) it off with an eye on style and the environment
If you're like me you've learned over the years to make smarter and better informed decisions (if you were to contact some of my college buddies you'd find a few not so bright decisions in my past). I'm sure at this stage in your life home improvement choices are more educated and focused on what you know will work for you.
In today's closet island countertops there are a multitude of options for you to choose from. The most common choices are granite, quartz and high pressure laminate tops.
Another option you may not have heard about is an environmentally conscious "Forterra" surface. This 2" thick laminate covered system is an engineered structural panel system with a honeycomb design which uses recycled content for an eco-friendly design. It is not only environmentally responsible, but it provides a surface which can be made in longer lengths and is stronger.
Conclusion
After reading these 6 tips for a custom closet island do you want one (or have room for one) in your closet? If you're in Cleveland, Columbus or anywhere around the country we'd love to hear how we can help you with a your next closet project. Comment or call us on the numbers below.
###
For a Columbus master closet call Innovate Home Org in Columbus at 614-545-6888 or for a Cleveland walk in closet 216-658-1290.
Follow the author on Twitter @Mike_Foti or our companies' @InnovateBuild and @InnovateHomeOrg.
---
Tags: bexley closet, closet design, closet design Cleveland, closet design Columbus, closet island, closet islands, closet tips, Columbus closet, custom closet island, custom walk in closet, short north closet, Upper Arlington closet, Victorian village closet, walk in closet Cleveland, walk in closet Columbus