9 Simple Do's and Don'ts for Organized Closet Shoe Storage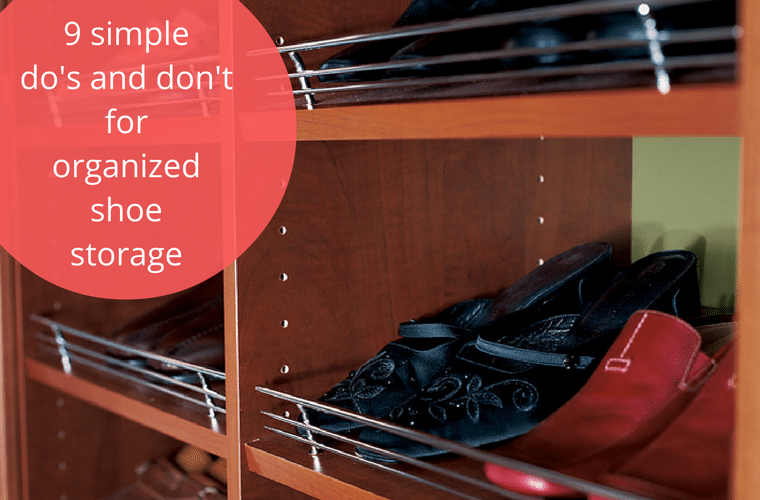 The morning rush is on. You've got the kids (mostly) ready for school. You've found the perfect outfit to wear for the presentation to the board of directors and you're looking for those fashionable new heels you just bought. Where the heck are those shoes??? Your rummaging frantically through the floor of your closet. It's so hard to find anything! Your shoes are buried under a mountain of pants, blouses and jackets. The clock is ticking. If you're late your boss is going to be furious with you!
Does your life resemble this frantic panic stricken routine? This type of morning would make you "normal." You are living a way-too-stressed out life. Aren't there days you'd like to escape everything and just run off to some island ALL BY YOURSELF? Being organized as a working mom is so critical.
The panic finding your shoes in a reach in or walk in closet doesn't need to exist. What is needed is to know the do's (and get rid of the don'ts) for organized shoe storage in your closet. Is it tough? Not really. You just need to follow these 9 simple tips. Since I'm a half full guy there will be 2x as many do's than don'ts in these tips!
Tip #1) Do make your shoe storage shelves adjustable
Just like the seasons change so does the type of shoes you're wearing. In the Fall and Winter you'll likely be wearing tall or knee high boots, Uggs and leather shoes. In the Spring and Summer it will be time to crank out your flats, sandals, mules, open toe shoes and slides. If you think about these seasonal shoes there's a couple of big difference in them. The Fall and Winter shoes are generally taller and wider. You want to have your shoes for each season to be as easy to find as possible. In addition, you want your closet shelving to be adjustable to accommodate that season. In the cold months you need fewer, taller shelves. In the summer the shoe shelves can be shorter. Is your closet shelving today equipped to adjust to the seasons?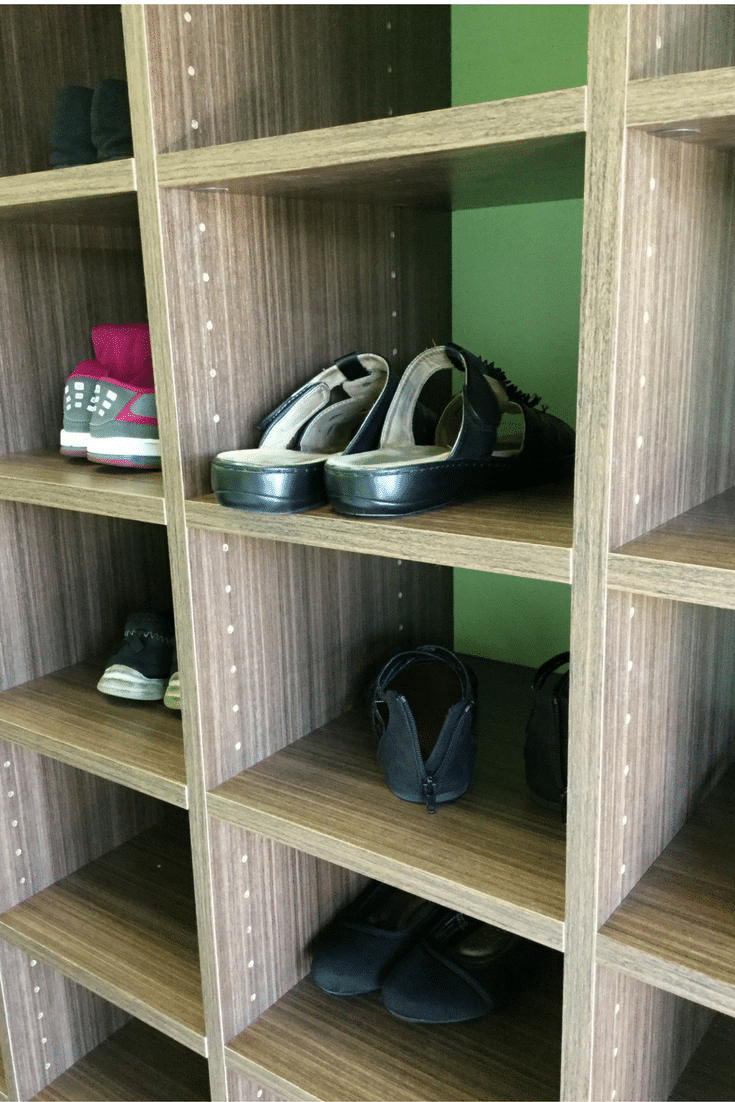 Tip #2) Do display your shoes in a custom closet!
As American Express might say, "Don't leave home without…..your shoes!" We need to listen to American Express! Since you're not leaving home without your shoes why let them be hard to find? If you have a large walk in closet display your shoes at an angle to make them stand out. If you want to get really upscale put some LED lighting on your fanciest pairs (the types of ones you wear when you're going to Columbus Symphony, Columbus Opera or a formal event).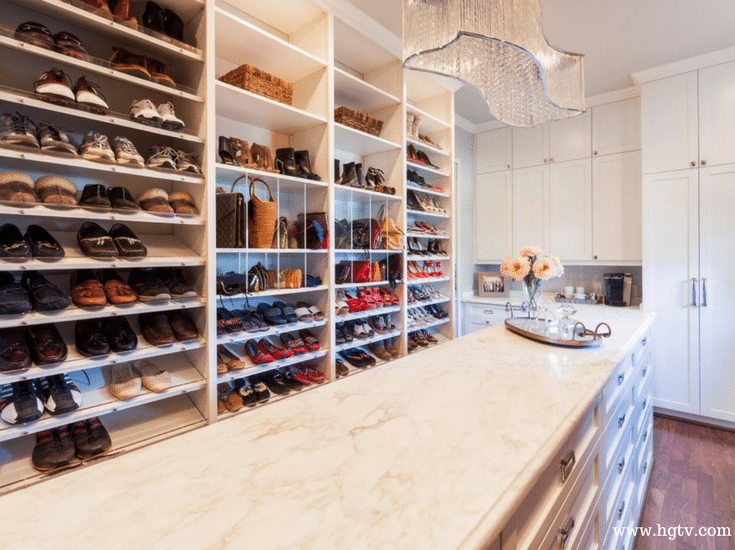 Tip #3) Don't let your shoes fall through the wire shelving cracks
Do you currently have not-so-glorious wire shelving that "Crank-it-Out Builders Inc." screwed into your closet and pantry walls right after they slapped some coats of bland beige or white paint on your walls? Let me say it simply. Wire shelving is terrible for shoe storage.
'Wire shelving is terrible for #shoe storage!'
Click To Tweet
If you can balance your shoes on these wire shelves you should quit your day job and become a magician.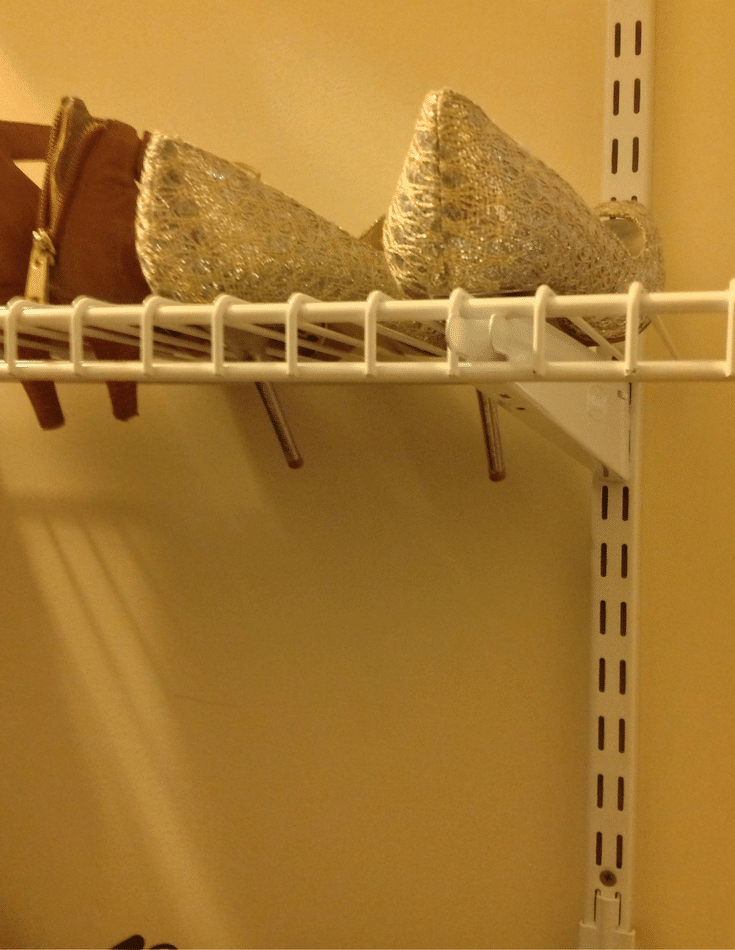 Dump the wire shelving and use a cost-effective laminate closet system with adjustable shelving (see tip 1). Your shoes will appreciate it and will no longer fall between the cracks.
Tip #4) Do use your pivoting door for secret shoe storage in a small closet
In an opulent fantasy world you'd have a glamorous closet just for your shoes. One closet for your sneakers and one for your dress shoes like Khloe Kardashian. Unfortunately, this fantasy world is not a reality… today. If you have a small closet with a door that pivots use the "hidden" space on the back of the door. There are many options for door hung shoe storage. Now your door will have a multi-purpose function.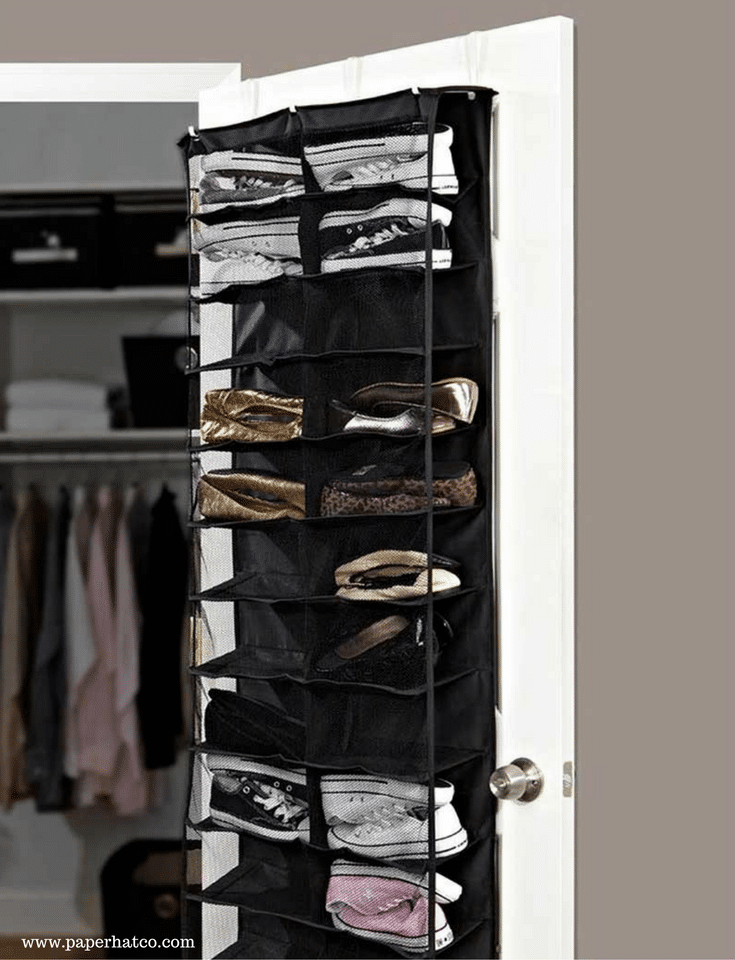 Tip #5) Do go back and forth with your shoes
If you're trying to make an important life or business decision going back and forth will not only be frustrating to others – but will make you seem wishy-washy. But there is a time where back and forth can be efficient and effective. That time is in shoe storage. When you place one shoe front facing and one shoe back facing you'll gain space. Not only do the shoes take up less room, you'll also be able to see the height of your heals from the front. Who ever knew going back and forth could be a good thing?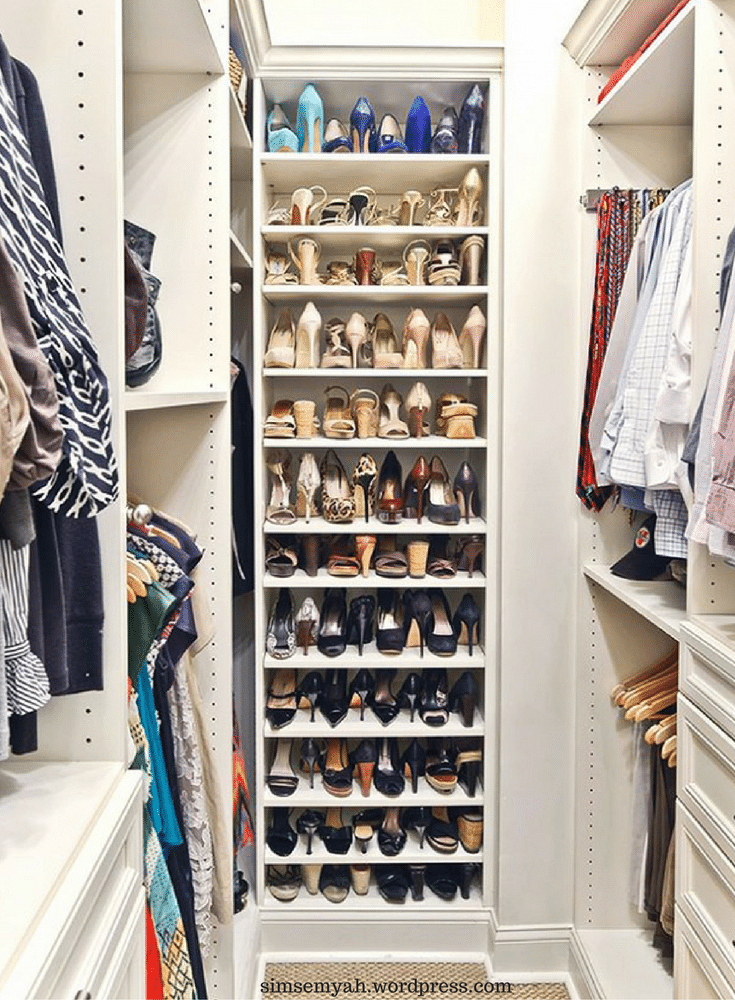 Tip #6) Don't use baskets
While baskets can be an excellent place for bulky or odd shaped items, when it comes to shoes a basket can quickly become a jumbled pain in the butt.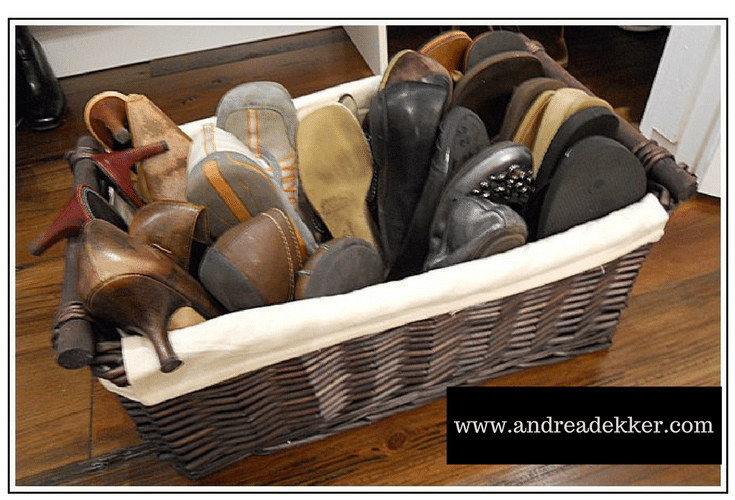 If you do LOVE your baskets you could put your shoes in their original boxes in baskets with a picture of them on the top of the box. In general, I would recommend staying away from baskets. If you just love your baskets, use a square or rectangular one over a round design. This will provide more efficient space.
Tip #7) Do use flat (not raised) shelves for smaller closets
The raised shelves I talked about it in tip 2 look fantastic IF (and that's a big if) you have the space. In most small reach in closets you have to fight to make every inch count. Raised shelves take up too much square "inch-age (not a word but I think it fits for closets!). Use adjustable shelves laid flat to get the biggest space bang for your buck.
'To maximize your #shoe storage use flat adjustable shelving.'
Click To Tweet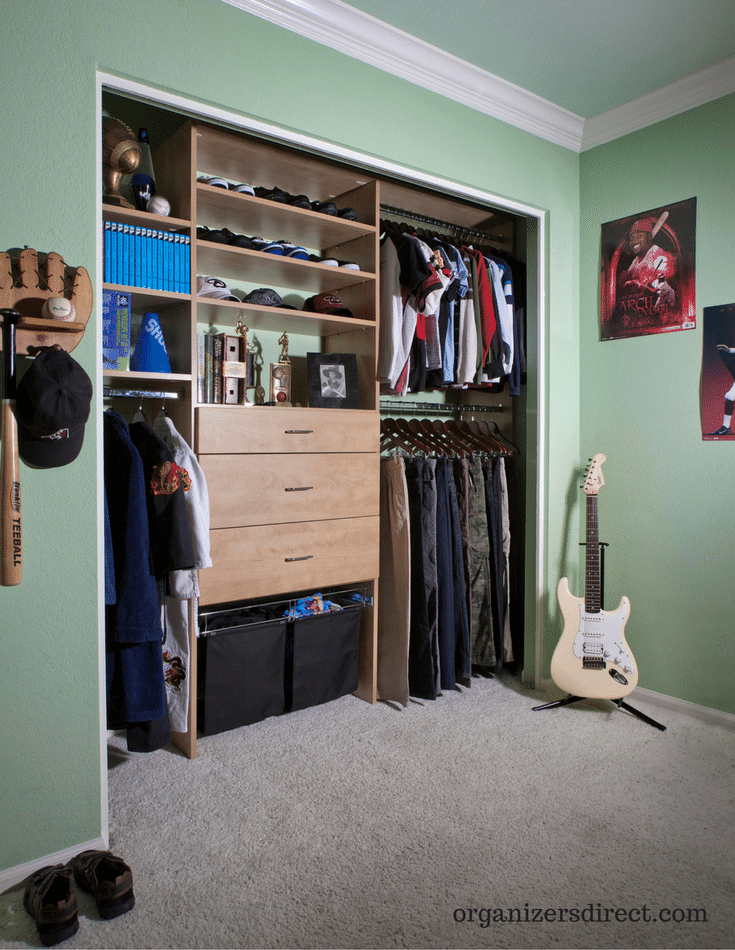 Tip #8) Do let your shoes come out of the closet….especially if space is limited
It's nice to leave all your shoes in the closet, but there are many cases this is not possible. In those instances keep your most frequently used pairs in the closet (you can do this with an eye on what season it is) and put your less frequently used pairs in under the bed storage. Another idea is to create "display shelves" in the bedroom of your most glorious and fancy shoes.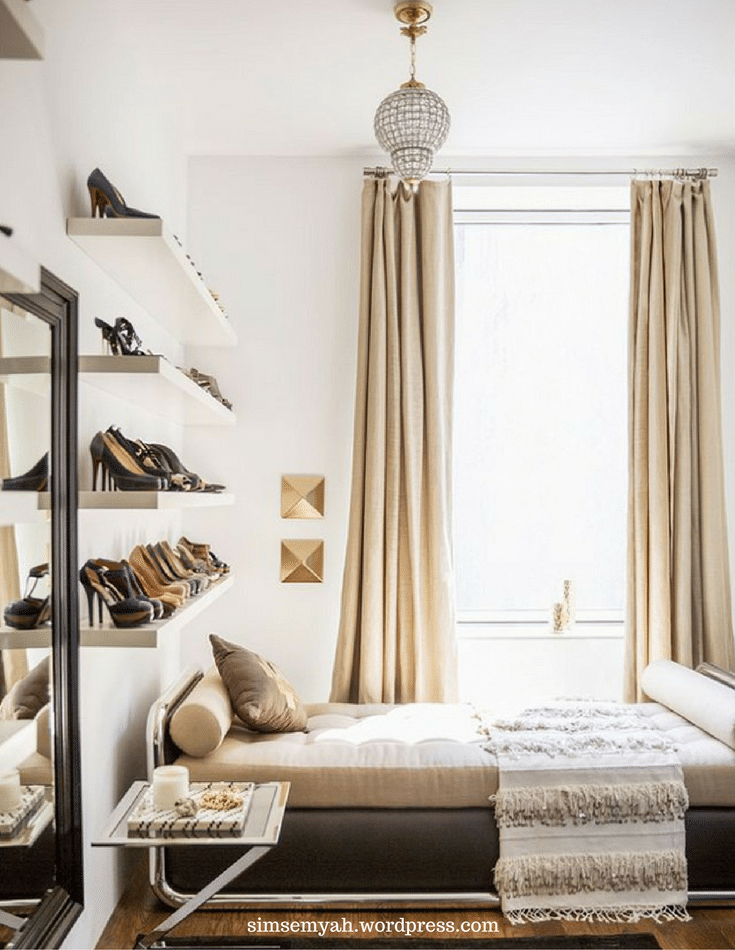 Tip #9) Don't love cubbies (no offense to those in Chicago!)
I'm not saying Chicago Cubs fans not to love your Cubbies, I'm saying don't use cubbies in a closet. You may ask. Why not? With cubbies there is a lot of shelving between each pair of shoes which doesn't allow you to fit as many pairs of shoes. In addition, you may have to stack them strangely to fit into these smaller spaces. Lastly, shoe cubbies are more expensive because there is more material in this storage layout.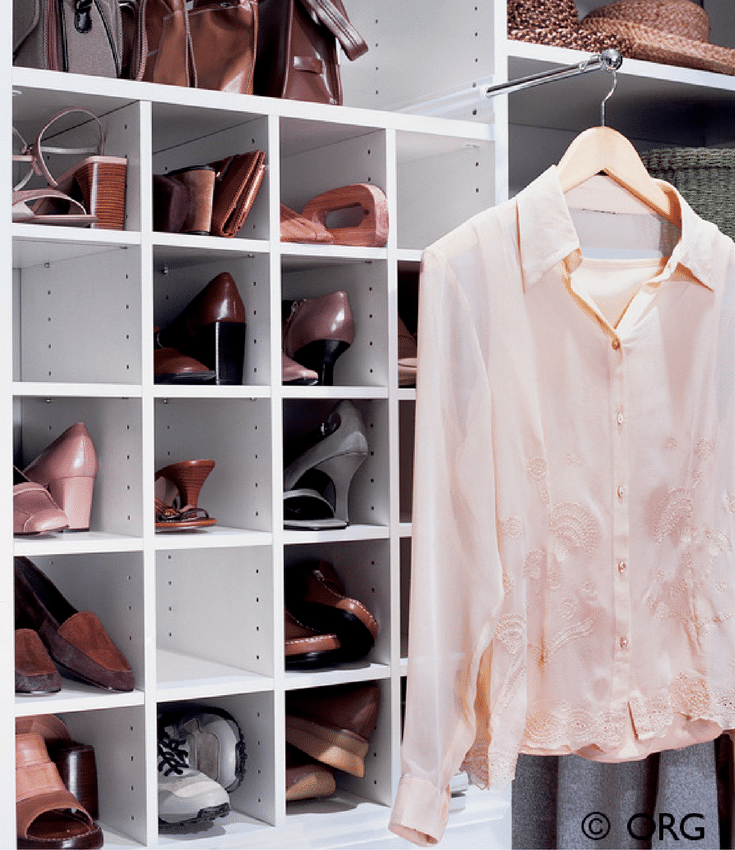 Conclusion
Finding your shoes does not need to be such a frustrating process. Just follow these simple 9 do's and don'ts and start relieving your stress getting ready for work or a fun day with the family.
If you have questions or comments or would like a free consultation and 3D closet design for a closet project in Columbus or Cleveland call the numbers below or add your thoughts to this post.
###
For help with a Columbus custom closet project call Innovate Home Org in Columbus at 614-545-6888 or in Cleveland call 216-658-1290.
Follow the author @Mike_Foti or our companies' @InnovateBuild and @InnovateHomeOrg on Twitter.
---
Tags: Columbus closet organizer, Columbus shoe storage, custom closet, custom closet Columbus, organized closet Columbus, shoe shelves, shoe shelves Columbus, shoe shelving, shoe storage, shoe storage Columbus, small closet Columbus, walk in closet Columbus